The Storm Skiing Podcast is now sponsored by Mountain Gazette. The first issue drops in November, and you can get 10 percent off subscriptions with the code "GOHIGHER10" at check-out. Get 10 percent off everything else with the code "EASTCOAST."
---
Who: John DeVivo, General Manager of Cannon Mountain, New Hampshire
Recorded on: October 6, 2020
Why I interviewed him: Because the first time I skied New Hampshire, I skied Cannon, and I skied Cannon first because everything I'd ever read about New Hampshire skiing led me to believe that this was the state's brawling alpha dog of lift-served skiing. And it is. In a state stuffed with very good ski areas, this is the very goodest for that particular sort of skier that cares about terrain first and everything else 204th. And yet, while Cannon (intentionally) isn't the corduroy kingdom that Bretton Woods or Waterville Valley is, it has evolved over DeVivo's 13-year tenure into a modern ski area, with an up-to-date snowmaking plant and ever-improving facilities. I wanted to talk to the guy who has kept Cannon as classic burly Cannon while shepherding the place into the modern era, guided Mittersill from abandoned hulk to vital part of the resort, and led the mountain through the Covid shutdown and beyond.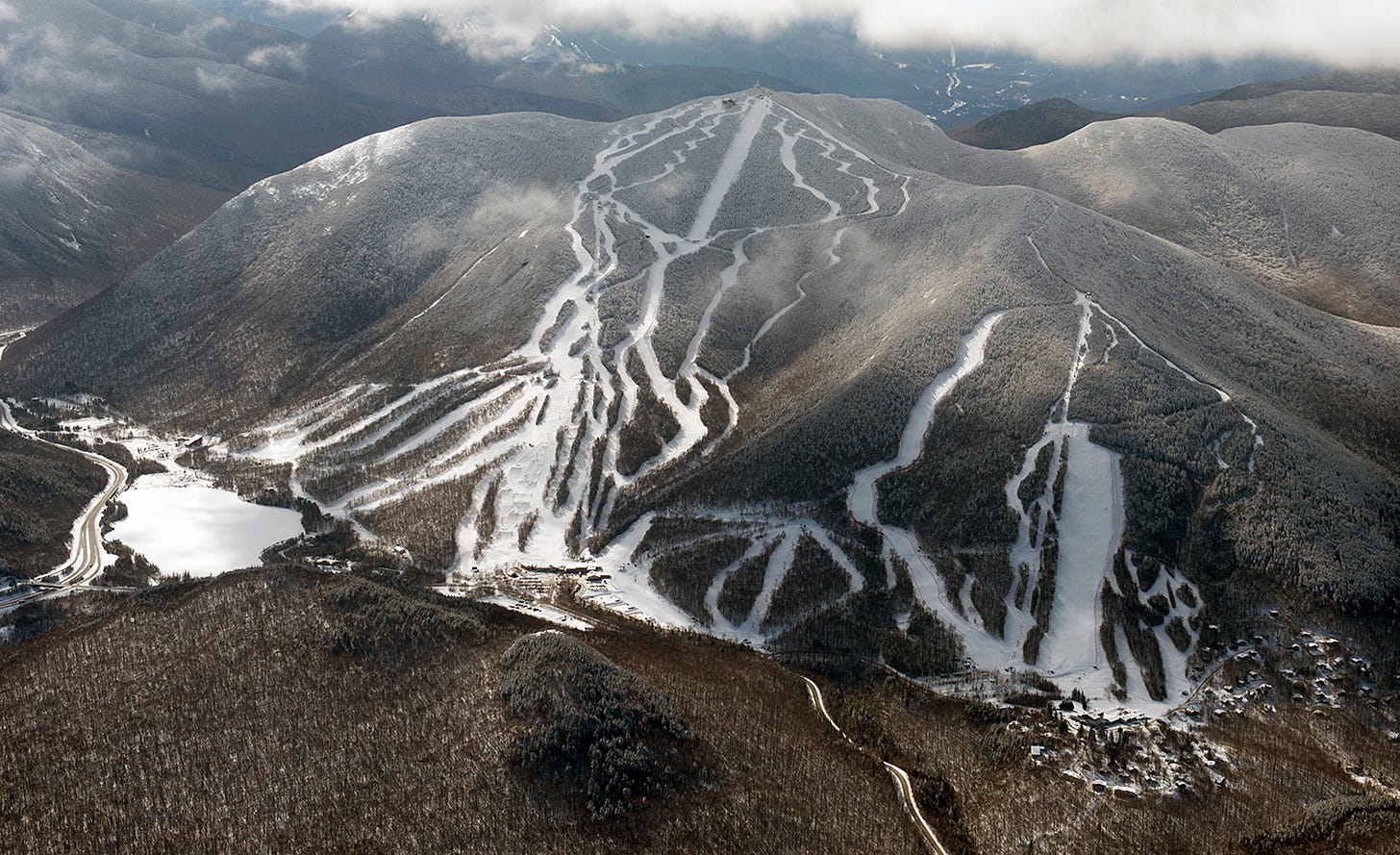 An aerial view of Cannon. That's Interstate 93 hugging the mountain on the left, and Mittersill on the right. Photo courtesy of Indy Pass.
What we talked about: Why Cannon stayed open in March after most of the rest of the Northeast turned the lights off; what finally pushed them to close; what happens when you're suddenly the place to be and it's the last thing that you want; how much snow fell on Cannon post-shutdown; how Cannon ops will look different in this Covid-disoriented ski season; whether the mountain will limit capacity or require reservations; New Hampshire's Covid-era ski area protocols; what happens if you make a ski reservation and then get sick?; whether the tram will run and what will influence that decision; why the tram may matter less at Cannon than it does at other ski areas; how chairlift operations may look different; the big new Something Cool coming to Mittersill, probably for the 2021-22 ski season; the Mittersill reclamation project; what the State of New Hampshire traded with the federal government to take over the abandoned ski area; the obstacles that Cannon needed to overcome to make the expansion happen; the evolution of Mittersill over the past decade and why it's now cut with a broad race slope; an argument for developing that land more than the radsters would maybe like; whether Mittersill will change more in the future, including if the area has outgrown the double; what the Franconia Ski Club is and why they're essential to the operation of Cannon; why the Mittersill chair is the "most expensive double chair in the history of mankind"; why higher-capacity lifts aren't always better; Cannon's pass refund and deferral options for the 2020-21 ski season; why the mountain didn't provide any kind of pass credit for last season's passholders; how skiers reacted to that decision; why the White Mountain Super Pass makes sense for Cannon and how the pass works from a sales point of view; the New Hampshire ski area that may join the pass in the future; why Cannon joined the Indy Pass and why they didn't withdraw when Covid strafed the Northeast and made capacity limits automatic for large ski areas; hey everyone reading this most people aren't skiers and are surprised to learn they do this whole snowskiing thing up there at this Cannon Mountain place; how the mountain handled the dead-of-winter tram evacuation of 2016; who was stuck on the upbound tram car and what they texted John; the condition of and future plans for Cannon's lift fleet; when the tram may be updated and what may change; why the summit lift at Attitash (not a typo) is a triple and is likely to remain a triple; why there won't be a lift up over The Saddle at Cannon; glades because if you crack my head open it's just cartoons of me skiing tree runs; why Cannon isn't going to go full Killington and just say everything boundary-to-boundary is part of the ski area; the unnamed and unmarked lines where you may find some gnarly out-of-bounds but wink-wink-go-crush-it terrain; Cannon's long-term snowmaking plan and why they'll never go for 100 percent coverage.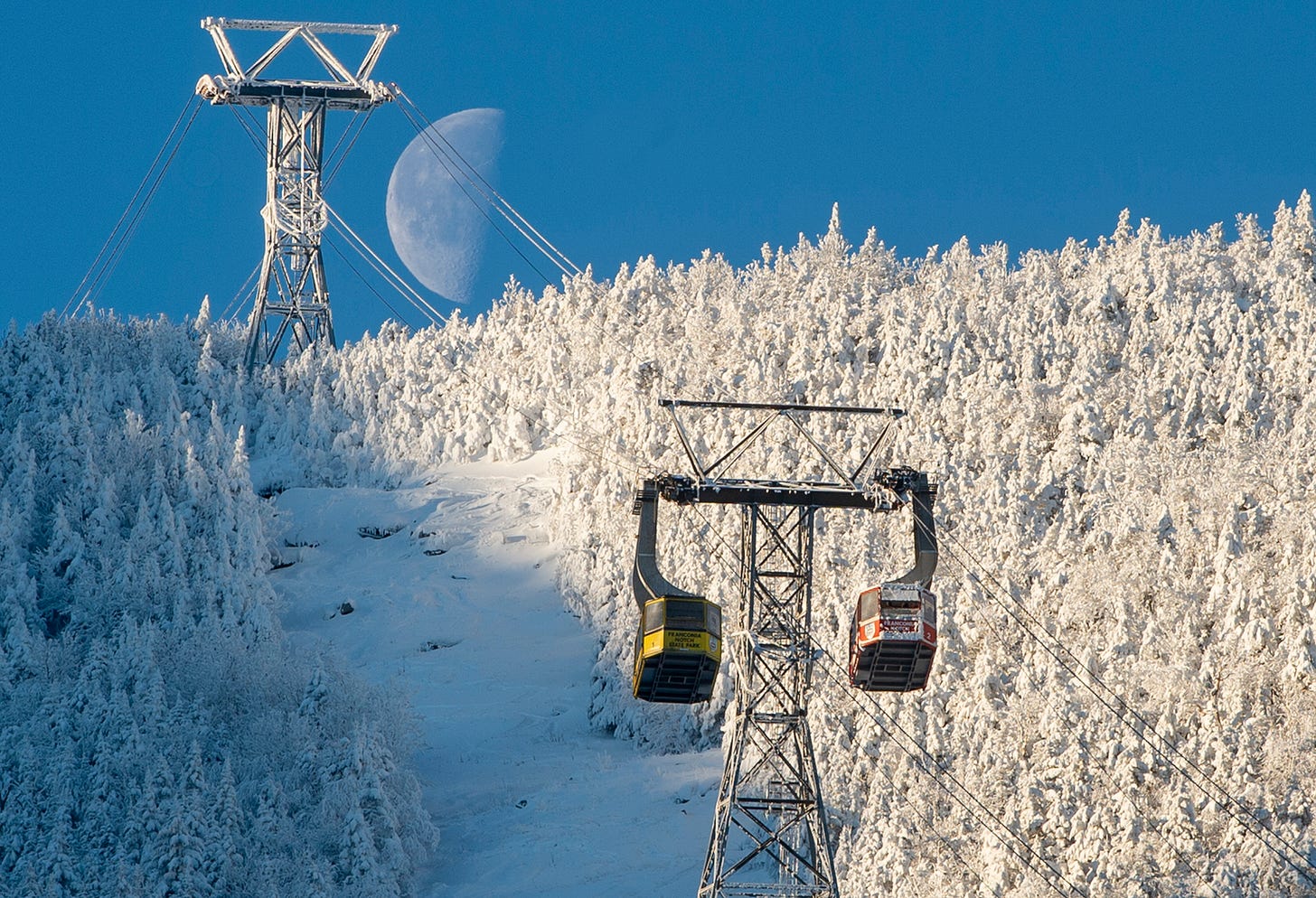 The Tram, not stuck in place. The original tram opened in 1938, and the current iteration dates to 1979. Photo courtesy of Indy Pass.
Why I thought that now was a good time for this interview: Because Cannon was one of the last four mountains in the Northeast – along with Waterville Valley, Bretton Woods, and Gunstock – to close when Covid moved over the Northeast like an eclipse in March, and I wanted to understand why the mountain made the decision to stay open. The ski area is also a member of the White Mountain Super Pass and became the de facto East Coast Indy Pass headliner when it joined the coalition in May, and since I'm obsessed with multipasses I thought we'd dig into those a bit. I also wanted to get a better understanding of how the Mittersill expansion has evolved from a natural-snow, winding old-New England backcountry-ish area to a semi-tamed but still-half-wild pod striped with a broad racing slope.
Why you should go there: Because with the Front Five and DJ's Tramline and marked and unmarked glades all over and a rambling breadth that awards exploration, Cannon is the top skier's mountain in New Hampshire. Unless it's Wildcat. But Cannon is larger and easier to get to and not part of the Epic Pass Bundle that is likely to transform all Included Mountains over the course of the next several Epic Quarters. From a skier's point of view, New Hampshire can be hard to sort out. It doesn't have a handful of dominant ski areas like Maine or a half dozen truly huge ones like Vermont. What it has instead is 15 or so medium-to-largish mountains that have all sunk over the decades into their particular skier's niche. And Cannon's niche is hardass bruiser with some endless gnarly runs spiraling off the summit, through the glades, and down the pitch toward Echo Lake. It has everything else you could want, of course, including terrific areas for beginners and racers cut across its sprawl. It's also home to one of the largest expansions in the Northeast over the past decade, as the formerly abandoned Mittersill ski area next door has been officially absorbed into the trailmap. And it has the tram, the only one in the state and one of only two in Northeast skiing, a novelty that is also one of the resort's most defining features. And besides all that it's easy to get to, towering over I-93 as you move south toward the Notch, materializing like a bucolic wintry landscape painting from the snowy days of yore. And if you hit it just right, this could be you: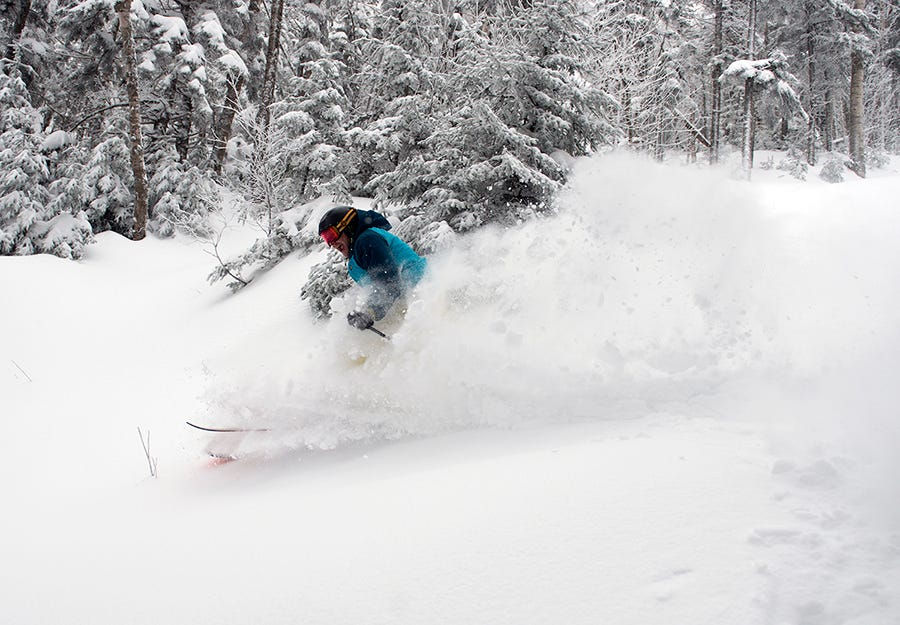 A bomber day at Cannon. It looks like the greatest thing in the world because it is. Photo courtesy of Indy Pass.
Questions I wish I'd asked: As usual I ran out of time before I could get to everything. I really wanted to talk about the mountain's Civilian Conservation Corps legacy and the pros and cons of state ownership. I'd hoped to get a bit into how New Hampshire leased out Mount Sunapee (now managed by Vail), in the late '90s but kept Cannon, and whether that was the right model for the ski area. I also wanted to talk about John's commitment to building a more inclusive leadership team.
What I got wrong: Back in February 2016, Cannon's tram broke down at the tail end of a freezing Valentine's Sunday. John and I spent a few minutes talking about how the mountain managed that, but I incorrectly stated that the date of the breakdown was December 2016. The correct date was clearly stated in the Ski article that I used as my primary source, but I skimmed the dateline at the top and mis-read the date.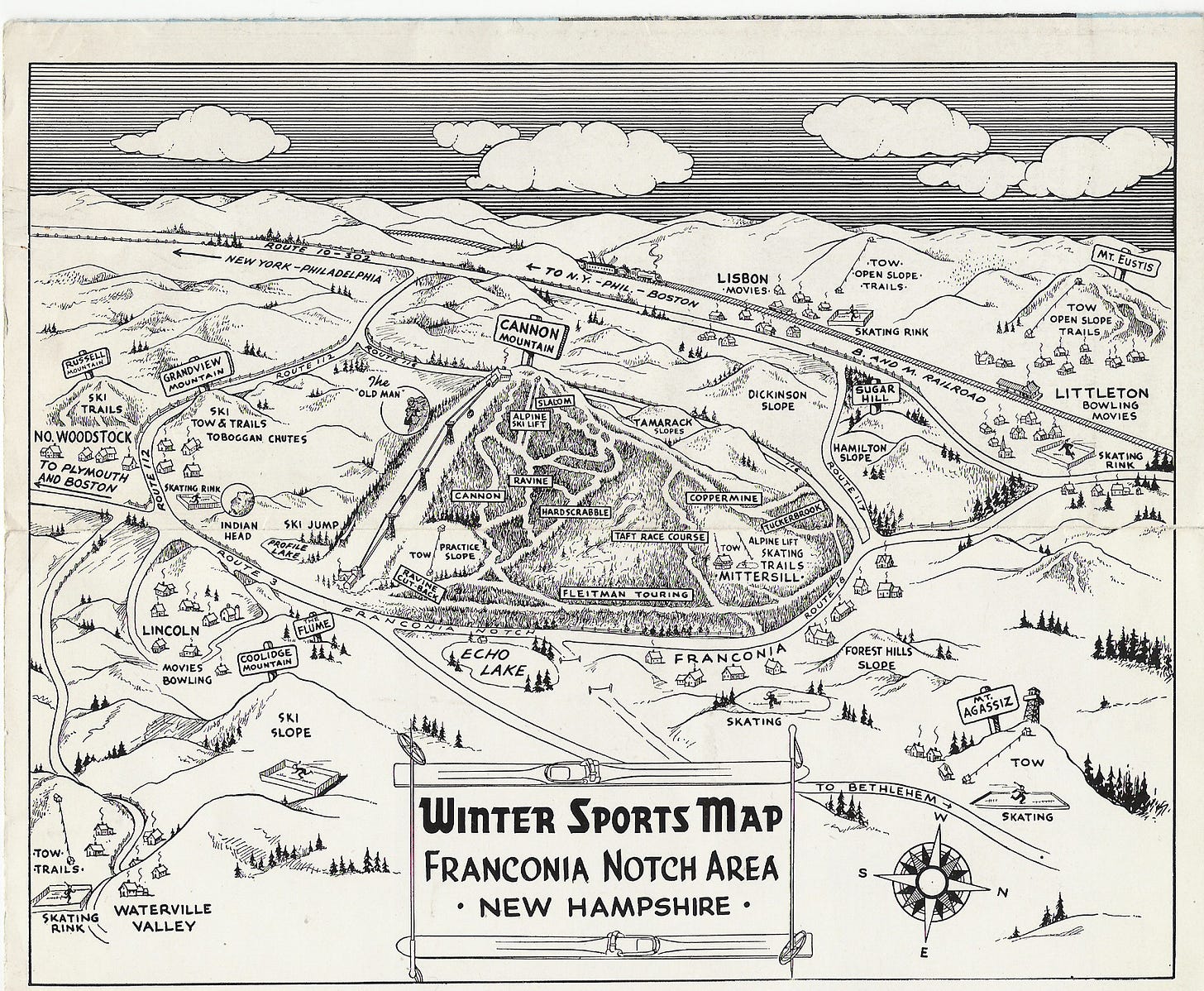 A Cannon trailmap from 1943, pre-interstate, pre-shaped ski, pre-high-speed lifts, and Goddamnit son pre-all this malarky about fake snow and four-wheel drive. Why, our cars didn't even have tires! We just rode around on empty rims. But seriously how crazy is it to see how many little ropetow operations were just bumping up from every little town?
Additional note I have to make because the world is filled with morons: So when John and I are discussing the tram evacuation, he relates that congresswoman Ann Kuster had been on the lift just before it stalled out, and says he was relieved she didn't end up stuck in there because the conspiracy crowd would think that the mountain was trying to "kidnap her." I want to be absolutely clear that this exchange occurred a full two days before news broke that a group of idiots in my home state of Michigan had been plotting for months to kidnap Governor Gretchen Whitmer, meaning the joke was just a joke like, "Hey what if you went to the grocery store and you got to the checkout and the checkout person wasn't a person but a walrus - Isn't that funny because it's an absurd thing that couldn't possibly happen?" and not an attempt to make light of a serious crime. And I'm saying all this because somehow we now live in a cartoon world where stupid shit like that happens every day and none of us can believe it but somehow enough people believe it to keep doing these things.
Additional reading/videos: Cannon's winter ops plan and season pass guarantee. And here's a pretty rad 2014 Ski The East shoot at Cannon:
---
Follow The Storm Skiing Journal on Facebook and Twitter.
COVID-19 & Skiing Podcasts: Author and Industry Veteran Chris Diamond | Boyne Resorts CEO Stephen Kircher | Magic Mountain President Geoff Hatheway | NSAA CEO Kelly Pawlak | Berkshire East/Catamount Owner & Goggles for Docs founder Jon Schaefer | Shaggy's Copper Country Skis Cofounder Jeff Thompson | Doppelmayr USA President Katharina Schmitz | Mt. Baldy GM Robby Ellingson | Alterra CEO Rusty Gregory | NSAA Director of Risk & Regulatory Affairs Dave Byrd
The Storm Skiing Podcasts: Killington & Pico GM Mike Solimano | Plattekill owners Danielle and Laszlo Vajtay | New England Lost Ski Areas Project Founder Jeremy Davis | Magic Mountain President Geoff Hatheway | Lift Blog Founder Peter Landsman | Boyne Resorts CEO Stephen Kircher | Burke Mountain GM Kevin Mack | Liftopia CEO Evan Reece | Berkshire East & Catamount Owner & GM Jon Schaefer | Vermont Ski + Ride and Vermont Sports Co-Publisher & Editor Lisa Lynn | Sugarbush President & COO Win Smith | Loon President & GM Jay Scambio | Sunday River President & GM Dana Bullen | Big Snow & Mountain Creek VP of Sales & Marketing Hugh Reynolds | Mad River Glen GM Matt Lillard | Indy Pass Founder Doug Fish | National Brotherhood of Skiers President Henri Rivers | Winter 4 Kids & National Winter Activity Center President & CEO Schone Malliet | Vail Veterans Program President & Founder Cheryl Jensen | Mountain Gazette Owner & Editor Mike Rogge | Squaw Valley Alpine Meadows President & CMO Ron Cohen | Aspiring Olympian Benjamin Alexander | Sugarloaf GM Karl Strand – Parts One & Two