This podcast hit paid subscribers' inboxes on Oct. 13. It dropped for free subscribers on Oct. 20. To receive future pods as soon as they're live, and to support independent ski journalism, please consider an upgrade to a paid subscription. You can also subscribe to the free tier below:
Who
Amy Ohran, Vice President and General Manager of Northstar, California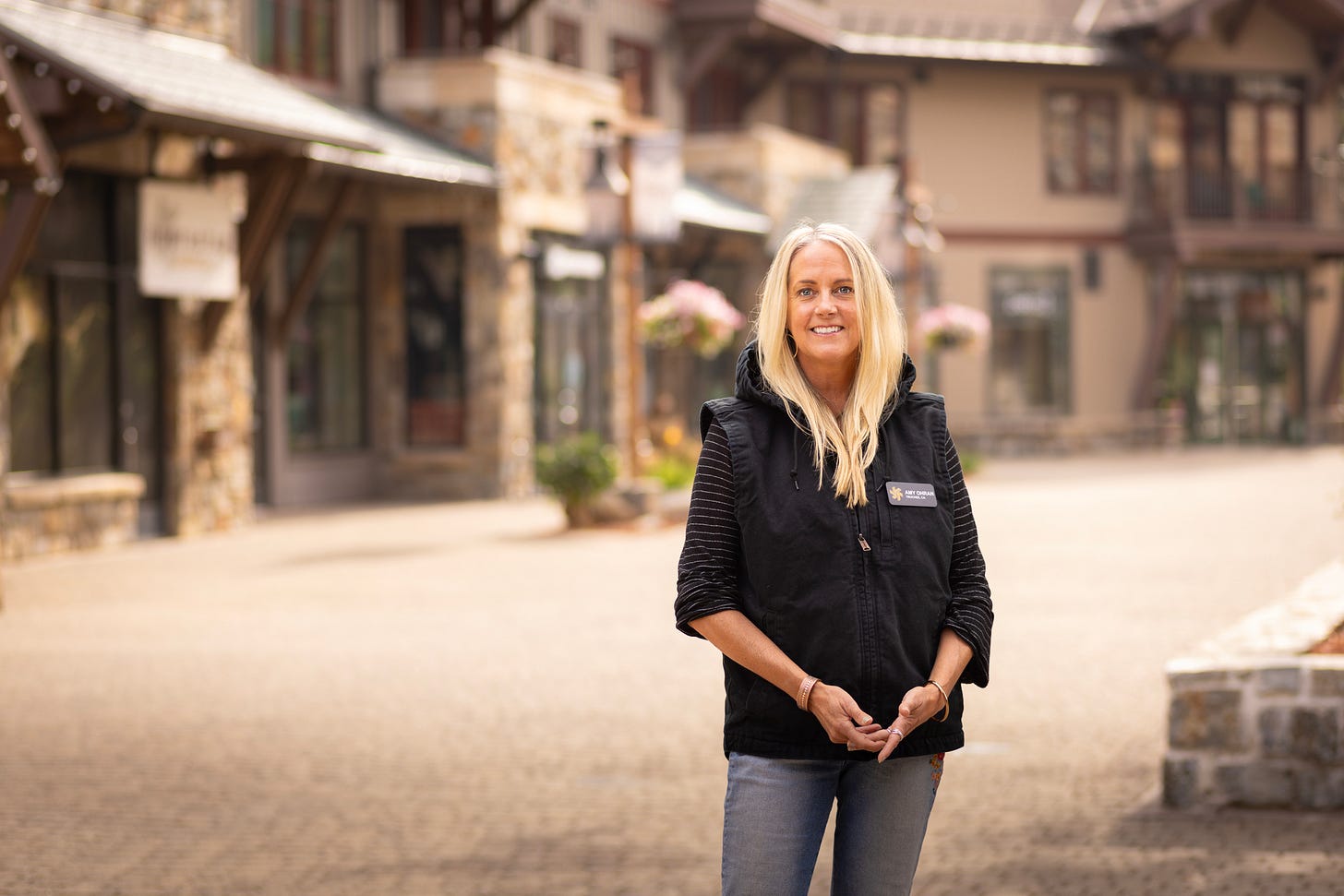 Recorded on
October 2, 2023
About Northstar
Click here for a mountain stats overview
Owned by: EPR Properties, operated by Vail Resorts
Located in: Truckee, California
Year founded: 1972
Pass affiliations:
Closest neighboring ski areas: Boreal (:21), Tahoe Donner (:22), Palisades Tahoe (:25), Diamond Peak (:25), Soda Springs (:25), Kingvale (:27), Sugar Bowl (:28), Donner Ski Ranch (:29), Mt. Rose (:30), Homewood (:35), Heavenly (:57) - travel times vary considerably pending traffic, weather, and time of year.
Base elevation: 6,330 feet (at the village)
Summit elevation: 8,610 feet (top of Mt. Pluto)
Vertical drop: 2,280 feet
Skiable Acres: 3,170 acres
Average annual snowfall: 350 inches
Trail count: 100 (27% advanced, 60% intermediate, 13% beginner)
Lift count: 20 (1 six-passenger gondola, 1 pulse gondola, 1 six/eight-passenger chondola, 1 high-speed six pack, 6 high-speed quads, 1 fixed-grip quad, 2 triples, 1 platter, 1 ropetow, 5 carpets – view Lift Blog's inventory of Northstar's lift fleet)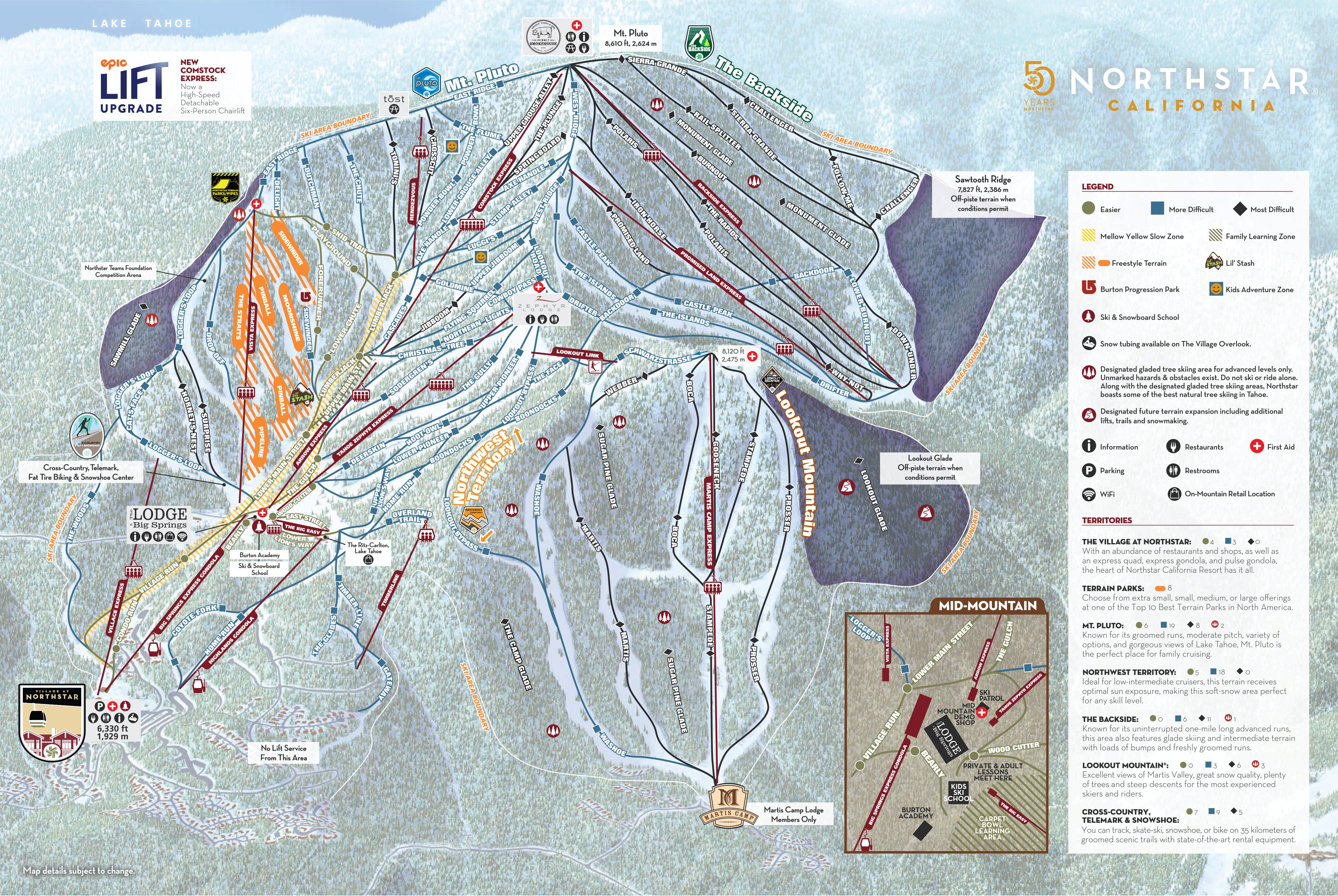 Why I interviewed her
I am slowly working my way through the continent's great ski regions. Aspen, Vail, Beaver Creek, Ski Cooper, Keystone, Breckenridge, and A-Basin along the I-70 corridor (Copper is coming). Snowbird, Solitude, Deer Valley, Sundance, and Snowbasin in the Wasatch (Park City is next). Jay Peak, Smugglers' Notch, Bolton Valley, Mad River Glen, Sugarbush, and Killington in Northern Vermont.
I'm a little behind in Tahoe. Before today, the only entrants into this worthy tome have been with the leaders of Palisades Tahoe and Heavenly. But I'm working my way around the lake. Northstar today. Mount Rose in November. I'll get to the rest as soon as I'm able (you can always access the full podcast archive, and view the upcoming schedule, here or from the stormskiing.com homepage).
I don't only cover megaresorts, of course, and the episodes with family-owned ski area operators always resonate deeply with my listeners. Many of you would prefer that I focus my energies solely on these under-covered gems. But corporate megaresorts matter a lot. They are where the vast majority of skier visits occur, and therefore are the backdrop to most skiers' wintertime stories. I personally love skiing them. They tend to be vast and varied, with excellent lift networks and gladed kingdoms mostly ignored by the masses. The "corporate blandness" so abhorred by posturing Brobots is, in practice, a sort of urban myth of the mountains. Vail Mountain and Stowe have as much quirk and character as Alta and Mad River Glen. Anyone who tells you different either hasn't skied them all, or is confusing popularity with soullessness.
Every ski area guards terrain virtues that no amount of marketing can beat out of it. Northstar has plenty: expansive glades, big snowfalls, terrific park, long fall-line runs. Unfortunately, the mountain is the LA Clippers of Lake Tahoe, overshadowed, always, by big Palisades, the LA Lakers of big-time Cali skiing.
But Northstar is a hella good ski area, as any NoCal shredder who's honest with themselves will admit. It's not KT-22, but it isn't trying to be. Most skier fantasize about lapping the Mothership, just as, I suppose, many playground basketball players fantasize about dunking from the freethrow line. In truth, most are better off lobbing shots from 15 feet out, just as most skiers are going to have a better day off Martis or Backside at Northstar than off the beastly pistes five miles southwest. But that revelation, relatively easy to arrive at, can be hard for progression-minded skiers to admit. And Northstar, because of that, often doesn't get the credit it deserves. But it's worth a deeper look.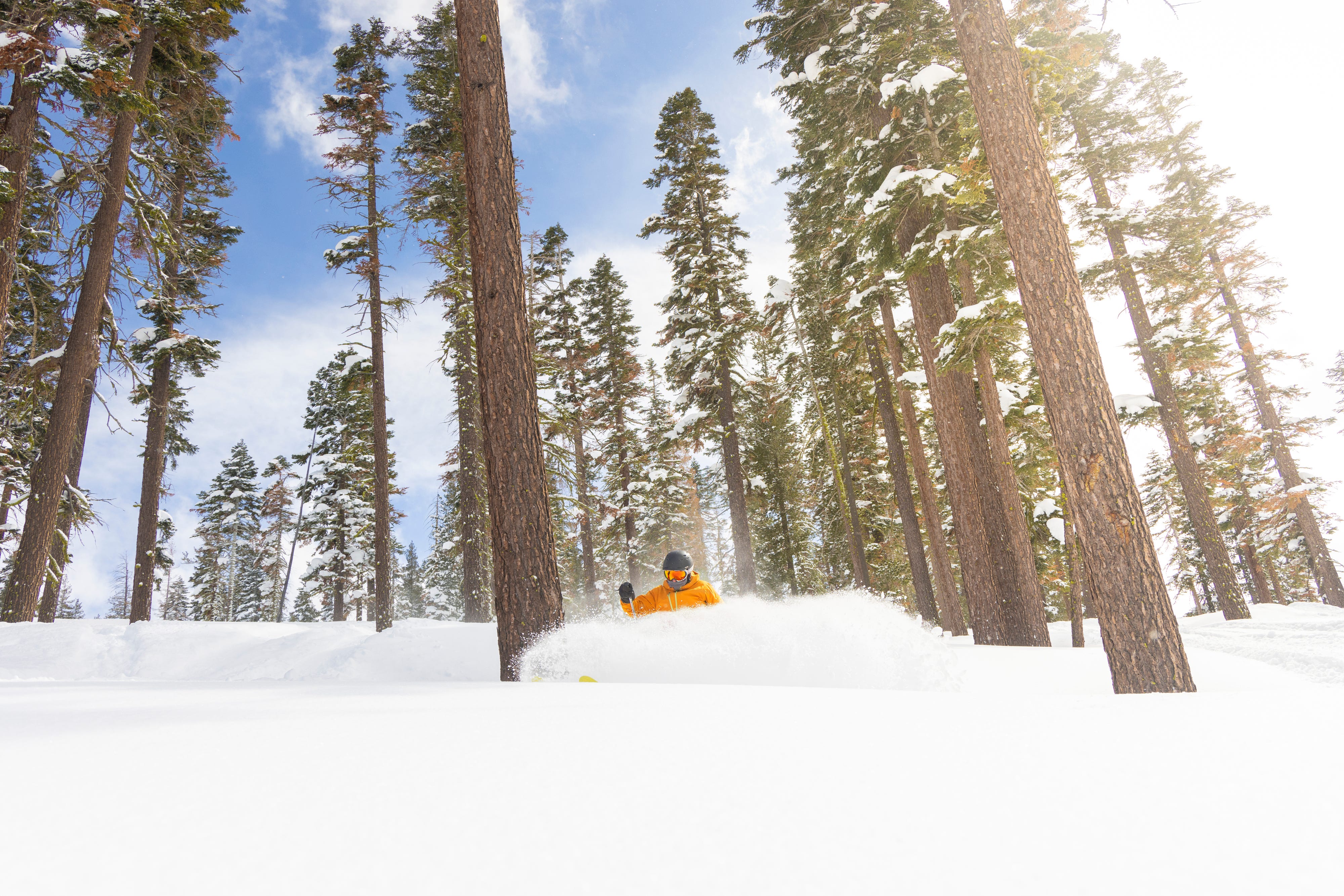 What we talked about
Tahoe's incredible 2022-23 winter; hey where'd our trail signs go?; comparing last year's big winter to the record 2016-17 season; navigating the Cottonwoods in a VW Bug; old-school Cottonwoods; rock-climbing as leadership academy; Bend in the 1990s; how two of Tahoe's smallest ski areas stay relevant in a land of giants; the importance of parks culture to Northstar; trying to be special in Tahoe's all-star lineup; Northstar's natural wind protection; who really owns Northstar; potential expansions on Sawtooth Ridge, Lookout Mountain, and Sawmill; potential terrain expansion within the current footprint; last year's Comstock lift upgrade; contemplating the future of the Rendezvous lift; which lift upgrade could come next; the proposed Castle Peak transport gondola; paid parking; the Epic Pass; a little-known benefit of the Tahoe Local Pass; the impact of Saturday blackouts; and Tōst.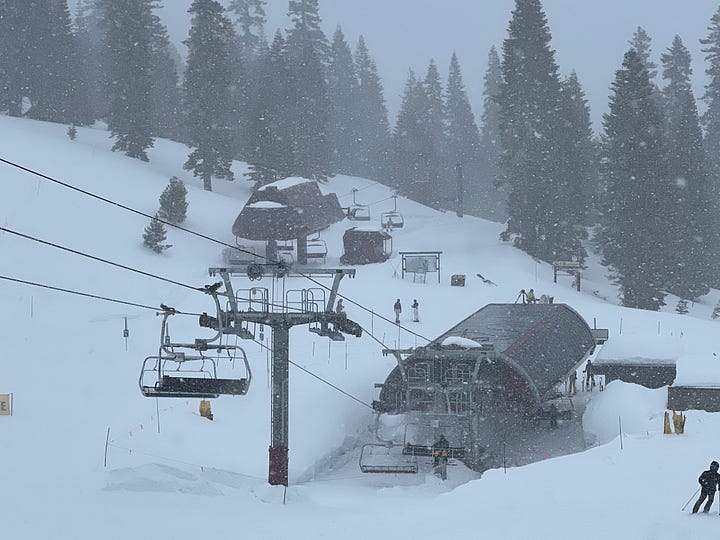 Why I thought that now was a good time for this interview
Vail Resorts' 2022 Epic Lift upgrade struck me as a mind-bending exercise. Not just because the company was attempting to build 21 new lifts in a single summer (they managed to complete 18), but because that number represents a fraction of Vail's hundreds of lifts across its 37 North American resorts. Vail Mountain alone houses 18 high-speed chairlifts and two gondolas. Park City owns 16 detachables. Whistler has six or nine gondolas – depending on how you count them – and 13 high-speed chairs. You can keep counting through Heavenly, Breckenridge, Keystone – how do you even maintain such a sprawling network, let alone continue to upgrade it?
Northstar managed to snag a piece of Vail's largess, securing a four-to-six replacement for the Comstock Express. It was just the third major lift upgrade since Vail bought the joint in 2010, following the 2011 addition of the Promised Land Express quad and the 2015 replacement of the Big Springs Gondola. So why Comstock? And what's next for a ski area with a trio of high-speed quads (Arrow, Backside, Vista), that are approaching that 30-year expiration date for first-generation detachable lifts?
Tahoe is also one of several U.S. ski regions coping with a generational crisis of untenable congestion and cost. The culprits, in no particular order, are an over-reliance on individual automobiles as the primary mechanism of ski resort access, megapasses that enable and empower more frequent skiing, a Covid-driven exodus from cities, a permanent shift to remote work, short-term rentals choking local housing stock, and reflexive opposition to any development of any kind by an array of NIMBYs and leaf defenders.
Northstar, an enormous and easy-to-access megaresort owned by the world's largest ski area operator and seated in America's most populous state, sits in the bullseye of several of these megatrends. The resort is responding with a big toolbox, tiering access across a variety of Epic Passes, implementing a partial paid parking plan, and continuing a masterplan that would increase on-mountain beds and decrease automobile congestion. Like every ski area, it's a work in progress, never quite finished and never quite perfect, but tiptoeing maybe a little closer to it every year.
What I got wrong
About the relative size of Northstar
I noted in Ohran's podcast intro that Northstar was America's ninth largest ski area. That's technically still true, but once Steamboat officially opens its Mahogany Ridge expansion this winter, the Alterra-owned resort will shoot up to the number eight spot, kicking Northstar down to number 10. Looking a few years down the road, Deer Valley is set to demote Northstar to number 11, once Mt. Fancypants completes its 3,700-acre expansion (boosting the mountain to 5,726 acres), and takes the fourth-place spot between Big Sky and Vail Mountain.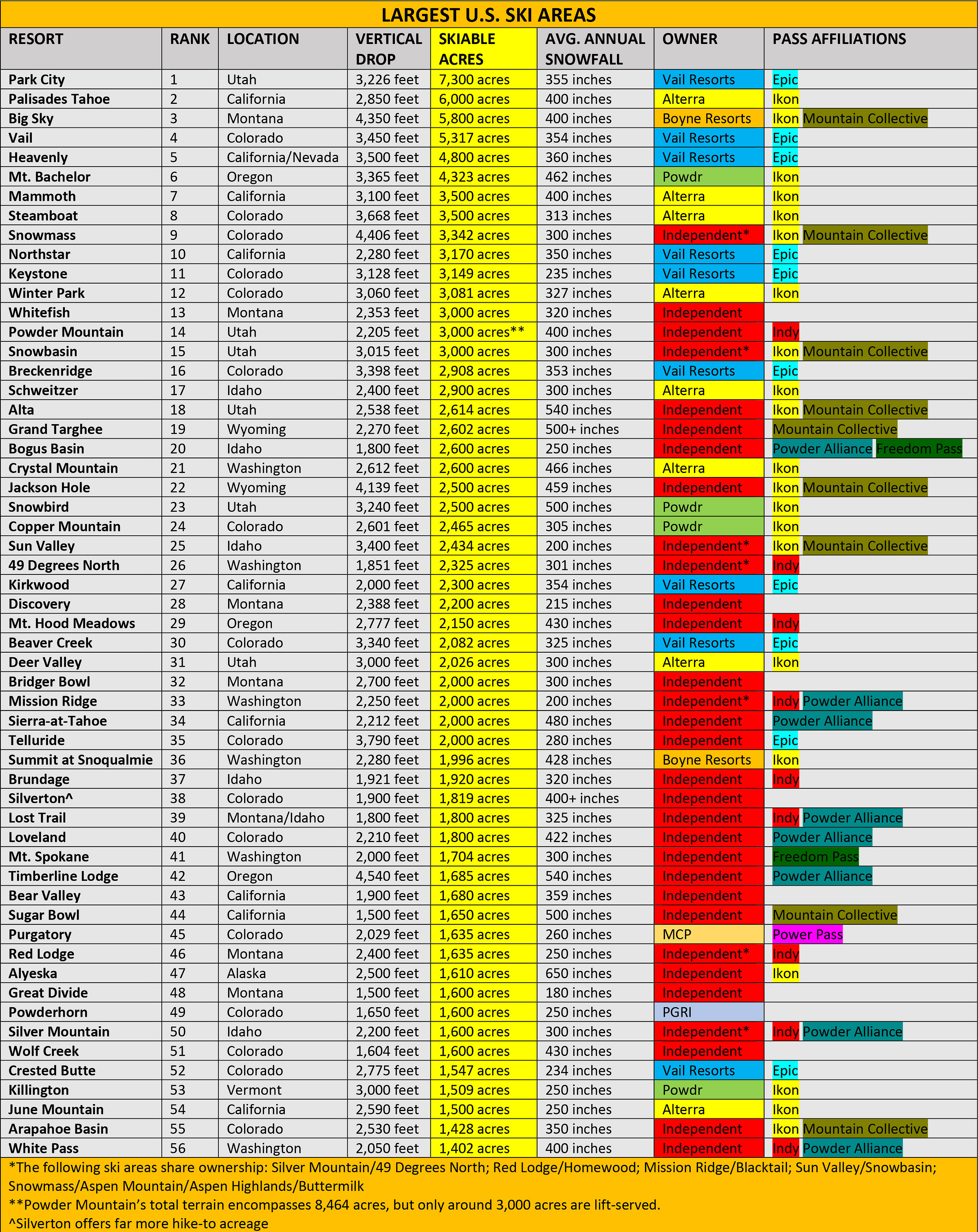 About the coming ski season
I noted that Northstar was opening, "probably around Thanksgiving." The resort's scheduled opening date is Nov. 17.
About Powdr's Tahoe complex
I asked Ohran about her experience running Powdr's "three ski areas" in Tahoe, before correcting that to "two ski areas." The confusion stemmed from the three distinct brands that Powdr operates in Tahoe: the Soda Springs ski area, the Boreal ski area, and the Woodward terrain park. While these are distinct brands, Woodward's winter facilities are part of Boreal ski area: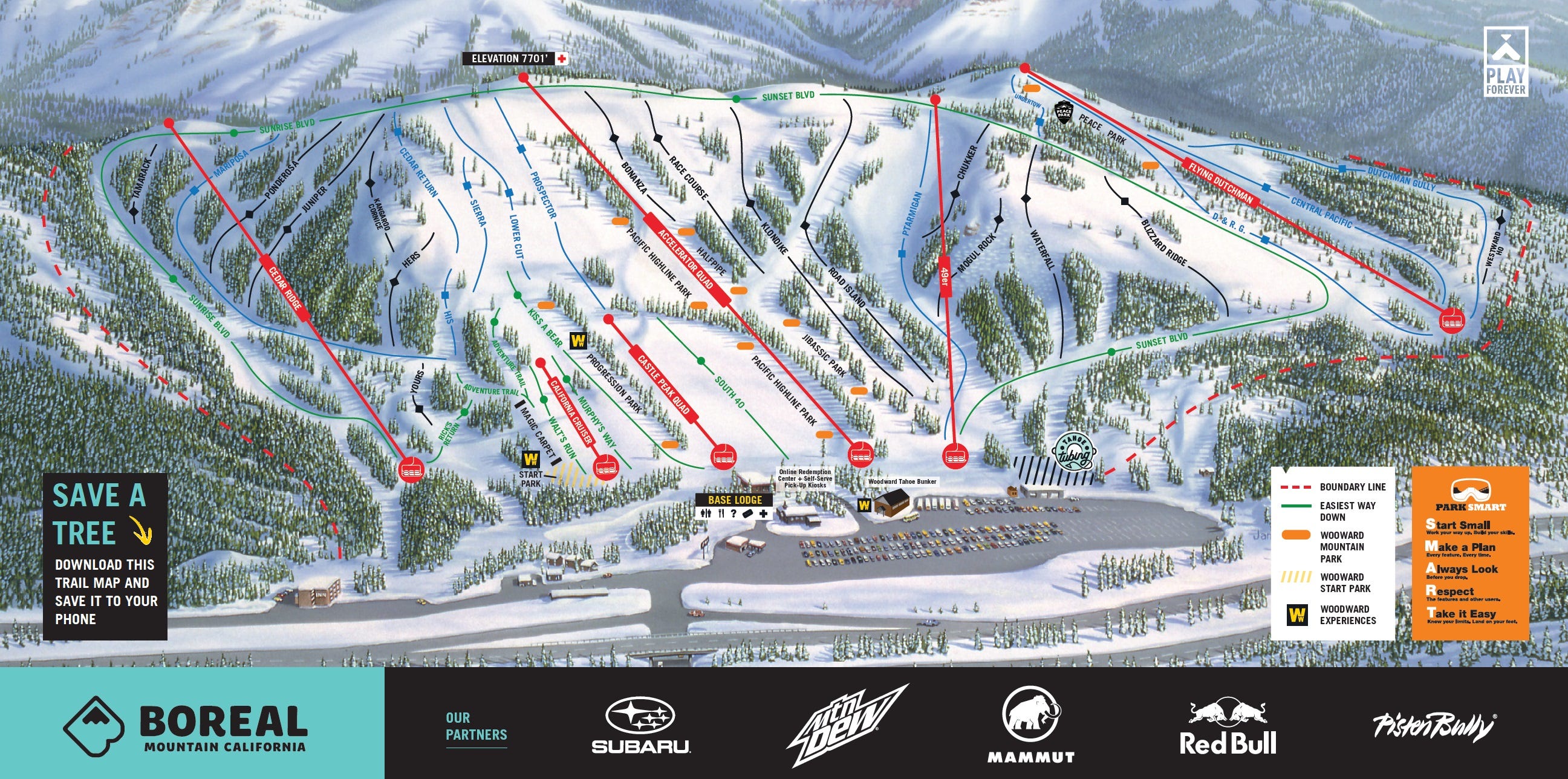 Why you should ski Northstar
The Brobots won't do much to surprise or interest you. That's why they're the Brobots. Rote takes, recited like multiplication tables, lacking nuance or context, designed to pledge allegiance to Brobot Nation. The Brobots hate Vail and the Ikon Pass. They despise "corporate" skiing, without ever defining what that is. They rage against ski-town congestion and traffic, while reflexively opposing any solutions that would require change of any kind. They worship dive bars, weed, and beanie caps. They despise tourists, chairlift safety bars, slopeside condos, and paid parking of any kind. They are the Brobots.
Lake Tah-Bro is a subspecies of Brobotus Americanus. Lake Tah-Bro wishes you weren't here, but since you are, he wants you to understand his commandments. One of which is this: "Flatstar" is not cool. Like you. Real-ass skiers ski Palisades (steep), Alpine (chill), or Kirkwood (wild). But OK, if you must, go see for yourself. Tah-Bro won't be joining you. He has to go buy a six-pack of craft beer to celebrate his six-month anniversary of moving here from Virginia, while tapping out a Tweet reminding everyone that he's a local.
It must be an exhausting way to live, having to constantly remind everyone how ridiculously cool you are. But luckily for you, I don't care about being cool. I'm a dad with two kids. I drive a minivan. I drink Miller Lite and rarely drive past a Taco Bell. My musical tastes are straightforward and mainstream. I track my ski days on an app and take a lot of pictures. I am not 100 percent sure which brand of ski boots I own (I trusted the bootfitter). My primary Brobot trait is that I like to ski mostly off-piste. Otherwise you can call me Sir Basic Bro. Or don't. I won't see it anyway – I stopped reading social media comments a long time ago.
Brah do you have a point here? Yes. My point is this: I am supremely qualified to tell you that Northstar is a great ski area. It is huge. It is interesting. It has more glades than you could manage if you spent all winter trying. It is threaded with an excellent high-speed lift network that, during the week, rarely has an over-abundance of skiers to actually ride it. You can cruise the wide-open or sail the empty trees. Park Brahs can park-out on the Vista Park Brah.
But if you take my advice and lap the place for an afternoon and find that it's just too flat for your radness, simply ask Ski Patrol if you can borrow a pair of scissors. Then cut the sleeves off your jacket and all under-layers, and descend each run in an arms-up posture of supreme muscle-itude. Everyone will be aware of and in awe of your studliness, and know that you are only skiing Flatstar as a sort of joke, the mountain a prop to your impossibly cool lifestyle. Your Instapost followers will love it.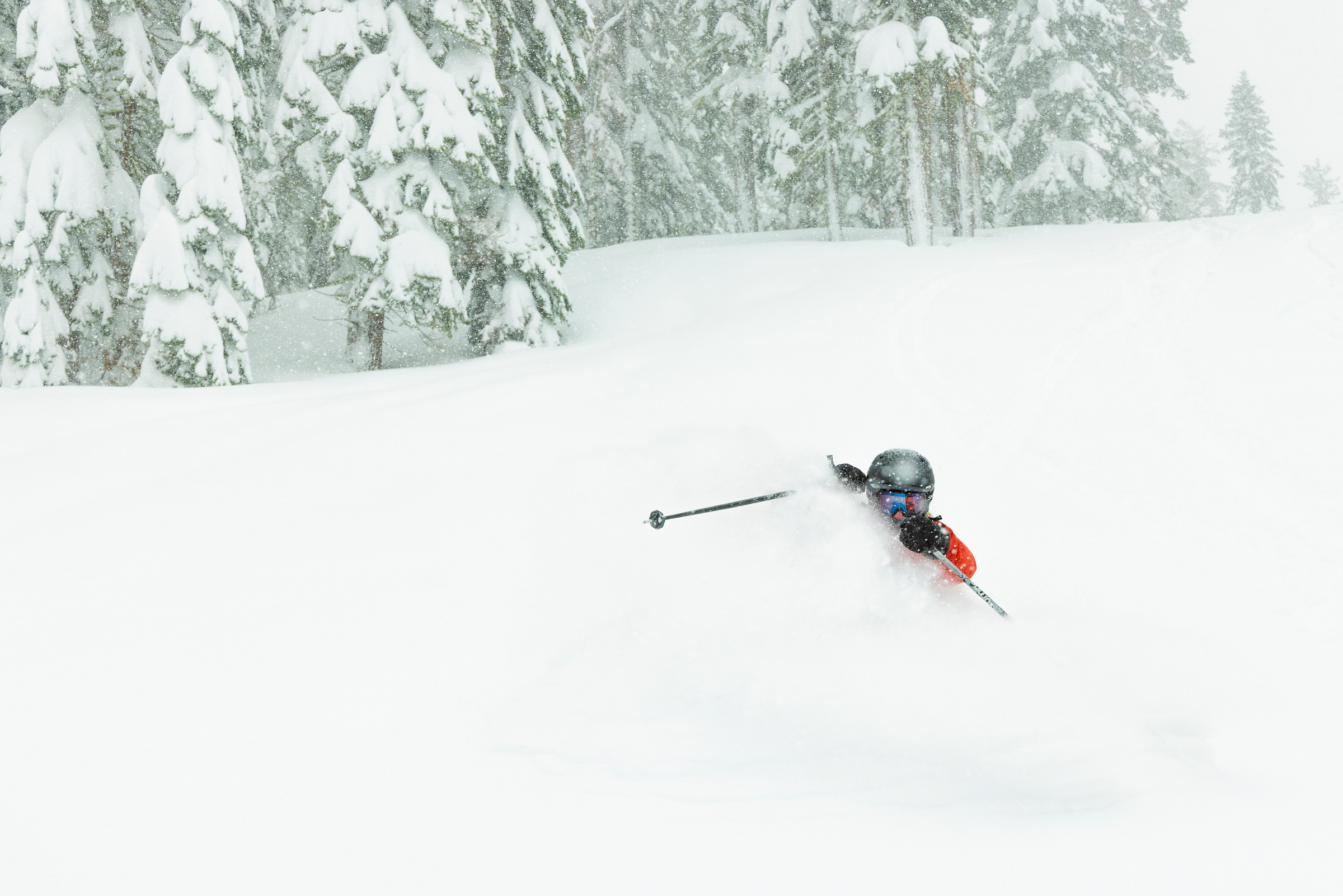 Podcast Notes
On Tahoe's competitive landscape
Tahoe hosts one of the densest clusters of ski areas in North America. Here are the 16 currently in operation: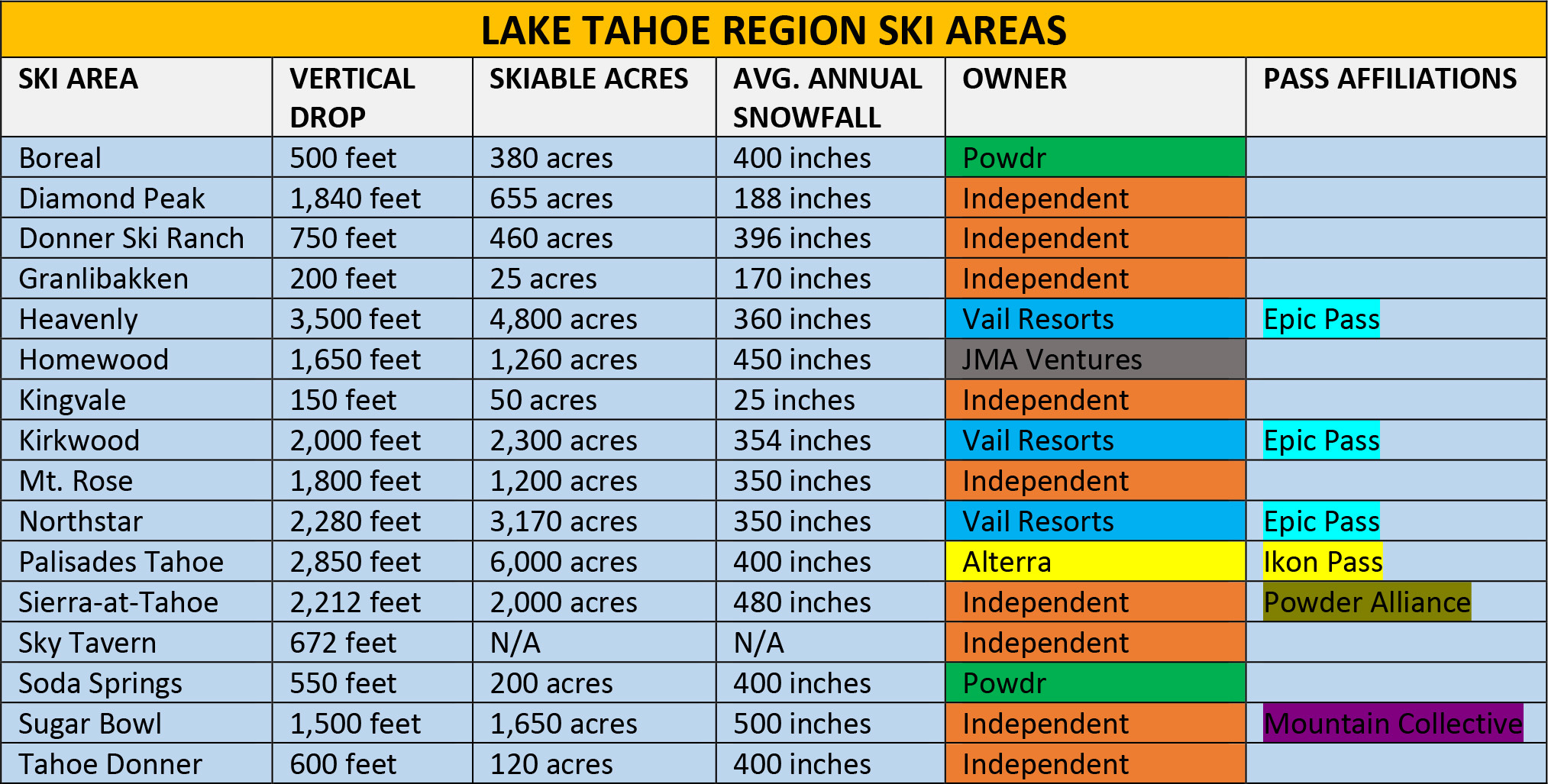 On Northstar's masterplan
Northstar's 2017 masterplan outlines several potential expansions, each of which we discuss in the podcast: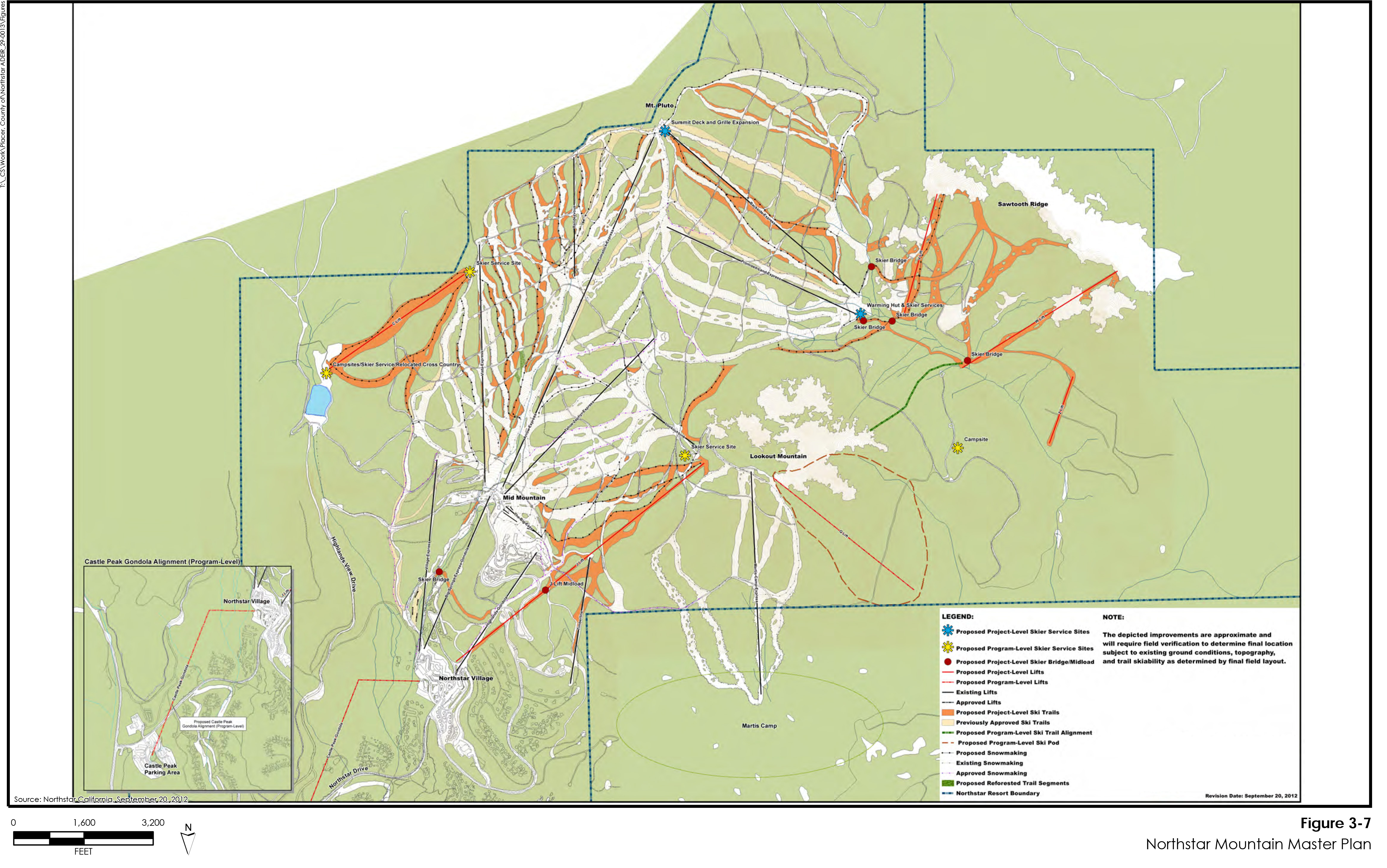 On the "My Epic" app
Ohran referenced Vail's new My Epic app, which I devoted a section to explaining in the article accompanying my recent Keystone podcast. The Epic Pass website notes that the app will be "launching in October."
On Northstar's original brand campaign
I couldn't find any relics from Northstar's 1972 "Everything in the middle of nowhere" ad campaign. I did, however, find this 1978 trailmap noting that all-day adult lift tickets cost $13: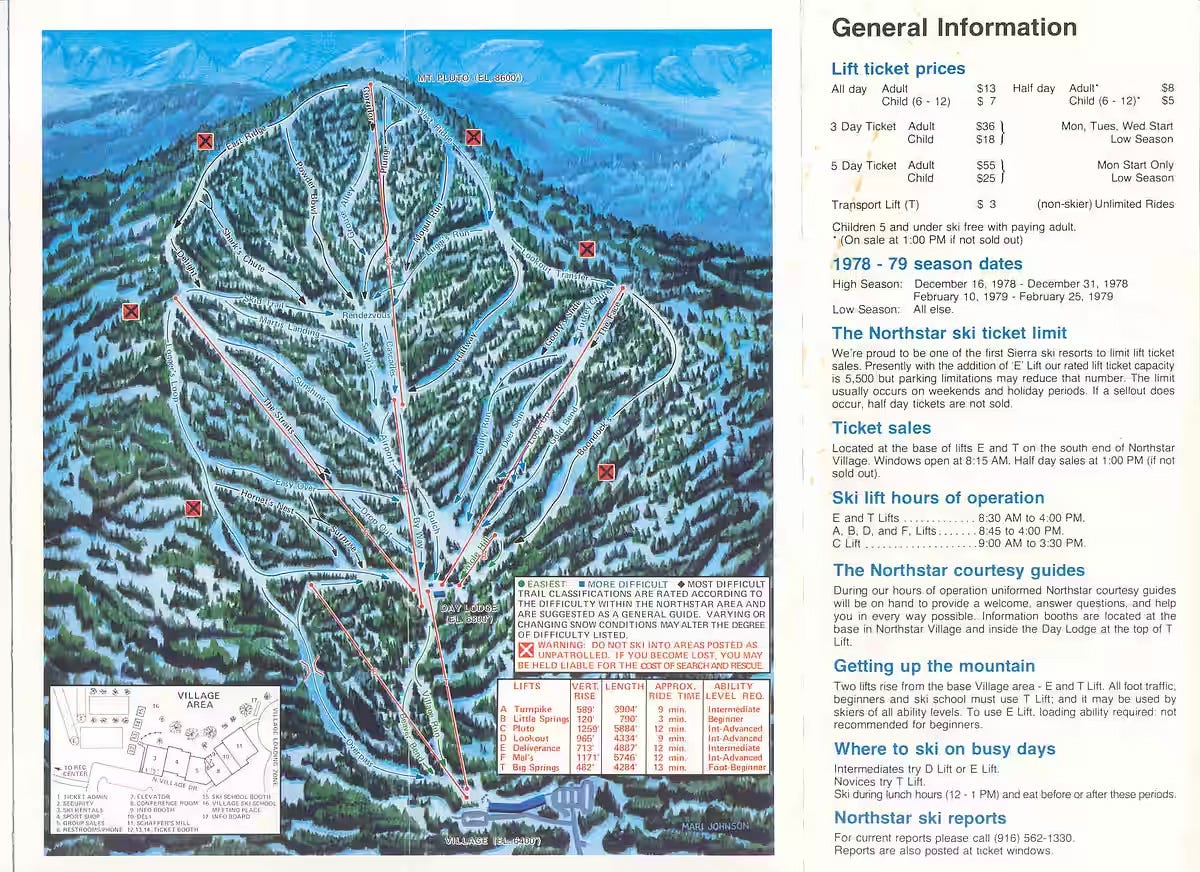 That's $64.02 adjusted for inflation, in case you're wondering.
The Sierra Sun ran a nice little history of Northstar last year, in honor of the resort's 50-year anniversary:
On Dec. 22, 1972, Northstar-at-Tahoe began spinning its original five lifts, operating under the motto "Everything in the middle of nowhere." The first lifts were given alphabetic names A, B, C, and D. A T-chair provided access to mid-mountain from the village. The cost for an adult to ski for the day in 1972 was $8, gear could be rented for $7.50, and a room for the night at the resort was $30. …

The 1980s brought further growth to the resort and in 1988 the first snowboarders took their turns at the resort. That year, George N. Gillett Jr., president of Colorado's Vail Associates purchased Northstar-at-Tahoe. By 1992, Gillett had run into financial troubles and lost Vail Associates. Gillett managed to come away with enough resources to form Booth Creek Ski Holdings, Inc. Gillett's new company focused on real estate development and creating multi-season resorts. In 1996, the company acquired Northstar-at-Tahoe, Sierra-at-Tahoe, and Bear Mountain for $127 million, and began developing the Big Springs area at Northstar. …

The new millennium brought with it a joint venture between Booth Creek Ski Holdings and East West Partners with the aim to complete the resort's real estate and mountain development plan. The first phase of the project opened in 2004 and included the foundation for the village along with the completion of Iron Horse North, Iron Horse South, and the Great Bear Lodge buildings. The ice rink and surrounding commercial space were completed during this time. Skiers and riders were also treated to new terrain with the installation of Lookout Lift.

From 2005 through 2008 work continued at the base of the mountain to complete the gondola building along with the Catamount and Big Horn buildings in the village. Collaboration between East West Partners and Hyatt Corp also began at this time, leading to the Northstar Lodge Hyatt project. The first building was started in May 2007 and completed in December 2008. Along with these came the Village Swim & Fitness center and the Highlands Gondola from the Northstar Lodge to The Ritz-Carlton Hotel and neighboring building.

In 2010, Vail Resorts, Inc., entered the fray and purchased Northstar-at-Tahoe from Booth Creek for $63 million, and later renamed it Northstar California Resort.
On Matt Jones
Ohran mentions Kirkwood GM Matt Jones once or twice during the pod, which we recorded on Oct. 2. This past Tuesday, Oct. 10, Alterra announced that they had hired Jones as the new president and chief operating officer of Stratton, Vermont.
On that deep deep winter
When I was skiing around Northstar in March, I snagged a bunch of hey-where'd-the-world-go shots of stuff buried in snow: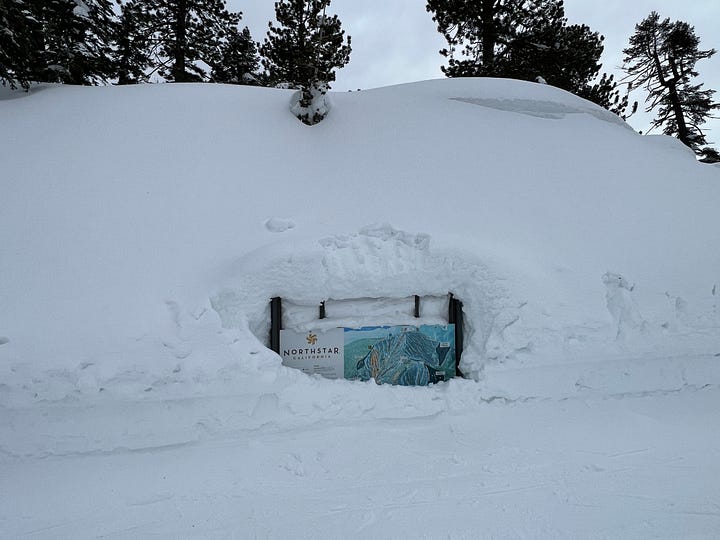 The Storm explores the world of lift-served skiing year-round. Join us.
The Storm publishes year-round, and guarantees 100 articles per year. This is article 85/100 in 2023, and number 471 since launching on Oct. 13, 2019. Want to send feedback? Reply to this email and I will answer (unless you sound insane, or, more likely, I just get busy). You can also email skiing@substack.com.