The Storm Skiing Podcast #15 | Download this episode on iTunes, Google Podcasts, Stitcher, TuneIn, Spotify, and Pocket Casts | Read the full overview at skiing.substack.com.
Who: Matt Lillard, General Manager of Mad River Glen, Vermont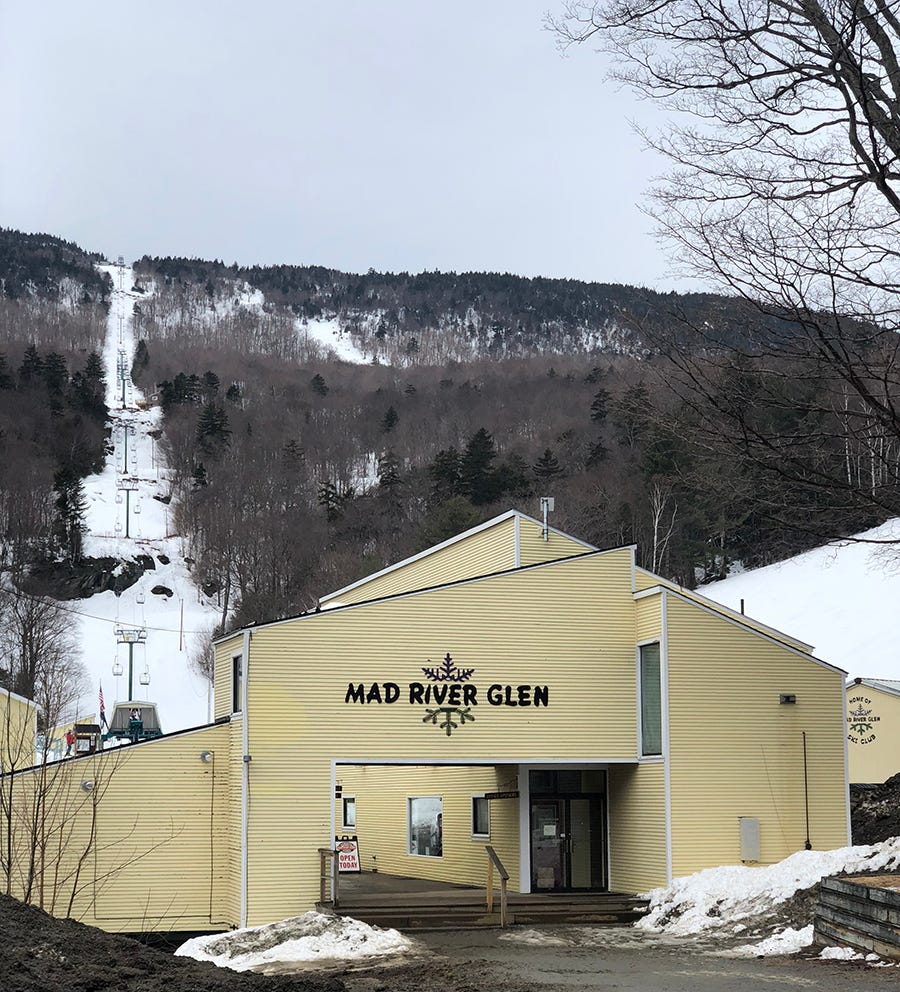 Welcome to Mad River Glen. The mountain welcomes you bit by bit, rewarding exploration.
Why I interviewed him: Because as the most invincibly independent mountain in the Northeast, Mad River Glen has a vital and underappreciated task: preserving skiing as skiing is no longer allowed to be, but as it always will be here, in this last and special place. No, you will not find the beartrap bindings or hatless crew-cut Austrians in knit sweaters of yore. Yes, you will find some (limited) snowmaking and probably more grooming than you're expecting. But you will also find those things that are quintessential MRG: the single chair rising 2,000 dead vertical feet to the summit, the tangled Mordor of Paradise, the absence of snowboards, and the general sense of time-warp displacement interrupted only by the 102-centimeter-underfoot sticks you're most likely rocking. If that sounds easy to pull off, then explain why every ski area in Vermont once looked like this and now they all look like a game of high-speed Chutes & Ladders. Not that there's anything wrong with that, and I can happily lap a high-speed lift all day long, but saying, "Yes, we're going to have a single chair forever," and then sticking to that by replacing the single chair with a new freaking single chair when you can't Elmer's the old one together anymore, is not such an easy feat in our hey-let's-tear-down-this-25-year-old-sports-stadium-and-build-a-new-sports-stadium disposable society. And yet, Mad River Glen is not some deteriorating relic; the mountain has simply determined that updating does not always have to mean high-speed detachable lifts with cupholders and bottle service. It can mean a few more snowguns and a newer, better, but equal-capacity lift. I wanted to talk to the caretaker-in-chief to see how MRG was managing that constant balance of living museum and ever-improving experience.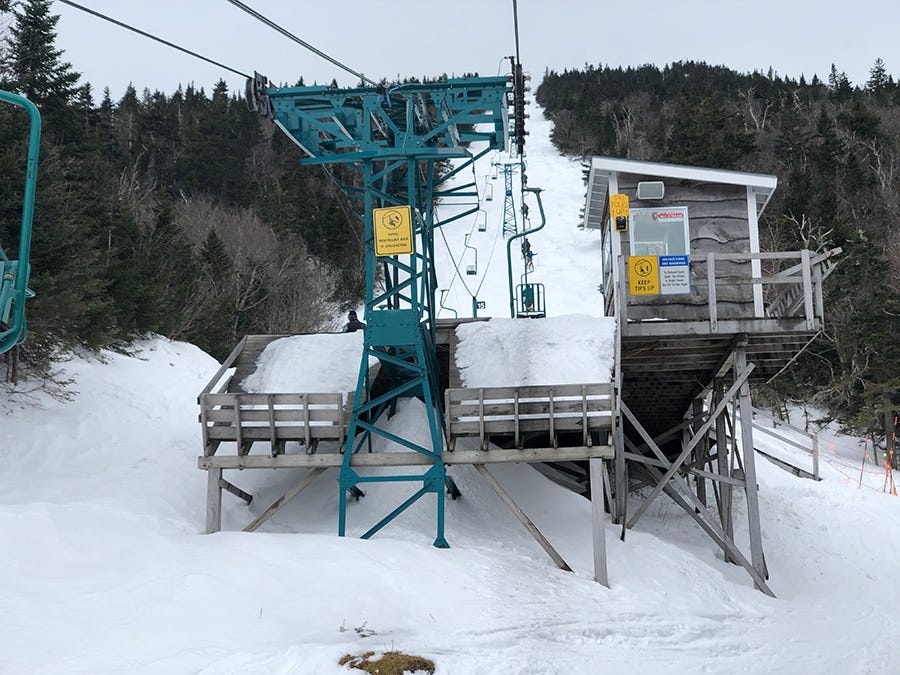 The single chair mid-station.
What we talked about: The Covid-19 shutdown on March 15 and how fast the whole thing accelerated; how the mountain safely delivered their passholders one last ski day while preventing a flood of traffic after nearby Stowe and Sugarbush shut down; why they shut down uphill skiing several weeks later; why it's so hard to limit the mountain to "locals only"; how the mountain helped out its employees after the early end to the season; the history and structure of the Mad River Glen co-op; why the MRG co-op has succeeded where so many similar efforts have failed; some background on the failed Magic Mountain co-op attempt; whether the co-op model could work as a template for independent mountains looking for a fair fight in a Megasaurus pass world; the bizarre reality but ultimate success of hosting this year's annual co-op board meeting online; why MRG season pass sales are surging even as the economy craters and the Ikon and Epic passes amp up their Northeast offerings; what's driving revenue north at the mountain in general; why offering discounted passes for people in their twenties is smart business; the mountains people are migrating from in favor of MRG passes; the mountain's plan to update its season pass offerings with some kind of refund or deferral policy; whether MRG is considering joining the Indy Pass or Freedom Pass; the $3.50 madhouse of Roll Back The Clock Day; how the mountain recorded a 13.5 percent jump in 2019-20 skier visits with 48 fewer operating days than the record 2018-19 season; how much the ski area is planning for various social distancing scenarios for the 2020-21 season; what may be different when you show up next season; how closely they're watching Mt. Baldy and Timberline and Southern Hemisphere skiing to inform next season's mountain management approach; the origin of the snowboarding ban; the likelihood of the co-op ever welcoming riders onto the mountain and what it would take to make that happen; the three things about Mad River Glen that would take a two-thirds vote by the board to change, and the one that's most likely to be revisited in the not-unforseeable future; How the mountain is evolving its snowmaking capability in a way that improves the experience without compromising the atmosphere; how MRG is working around its natural water limitations; the history and condition of the ski patrol and ski school building that MRG demolished and is replacing this summer; how they're updating the Base Box; MRG's future.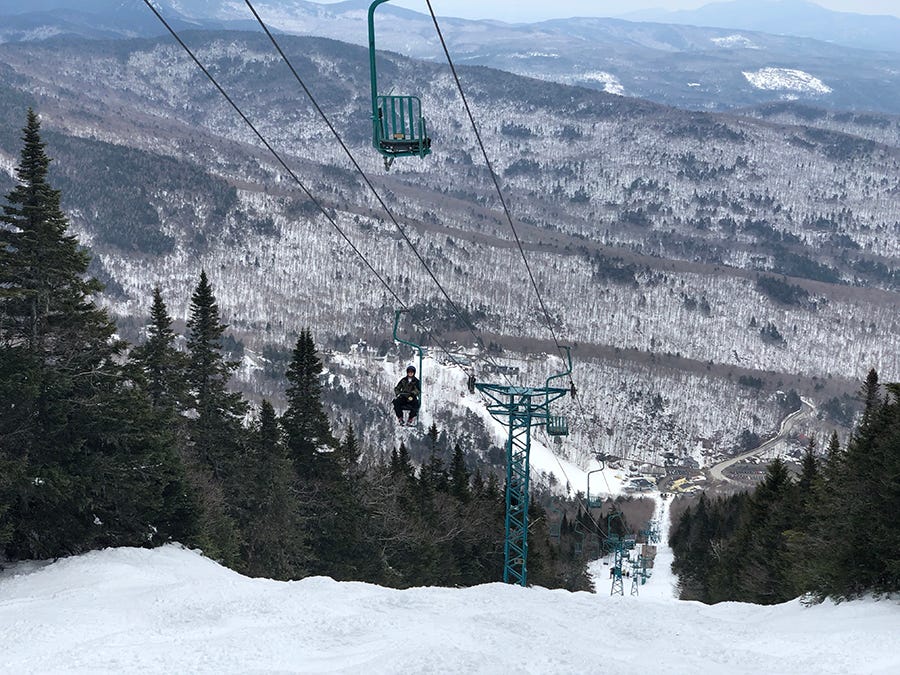 Looking down the single chair liftline.
Questions I wish I'd asked: Well I had about 50 things I wasn't able to get to, because when you're talking about a ski area as rich in character and history as Mad River Glen, the correct length of an all-inclusive podcast is basically as much time as exists to have the conversation. Topics that I prepared questions about but didn't get to include: the birdcage as an evolving après spot, the Stark Mountain Foundation, the recently wrapped Save Our Paradise campaign, the fact that MRG is the only ski area listed on the National Register of Historic Places, the underappreciated truth that it's actually a hell of a nice family mountain despite its famed rough-and-tumble terrain, the free kids' pass program (Matt touched on this a bit), the mountain's after-school programs, its bonhomie and joint college pass with neighboring Sugarbush, and how volunteers contribute labor to the mountain to complement its fundraising and traditional revenue streams. But the thing I really regret not going deep on is the single chair, which is arguably the most iconic chairlift of any kind in the entire country and is so closely knotted to the mountain's character, history, and identity that it is impossible to separate one from the other. I'll just have to hit it next time.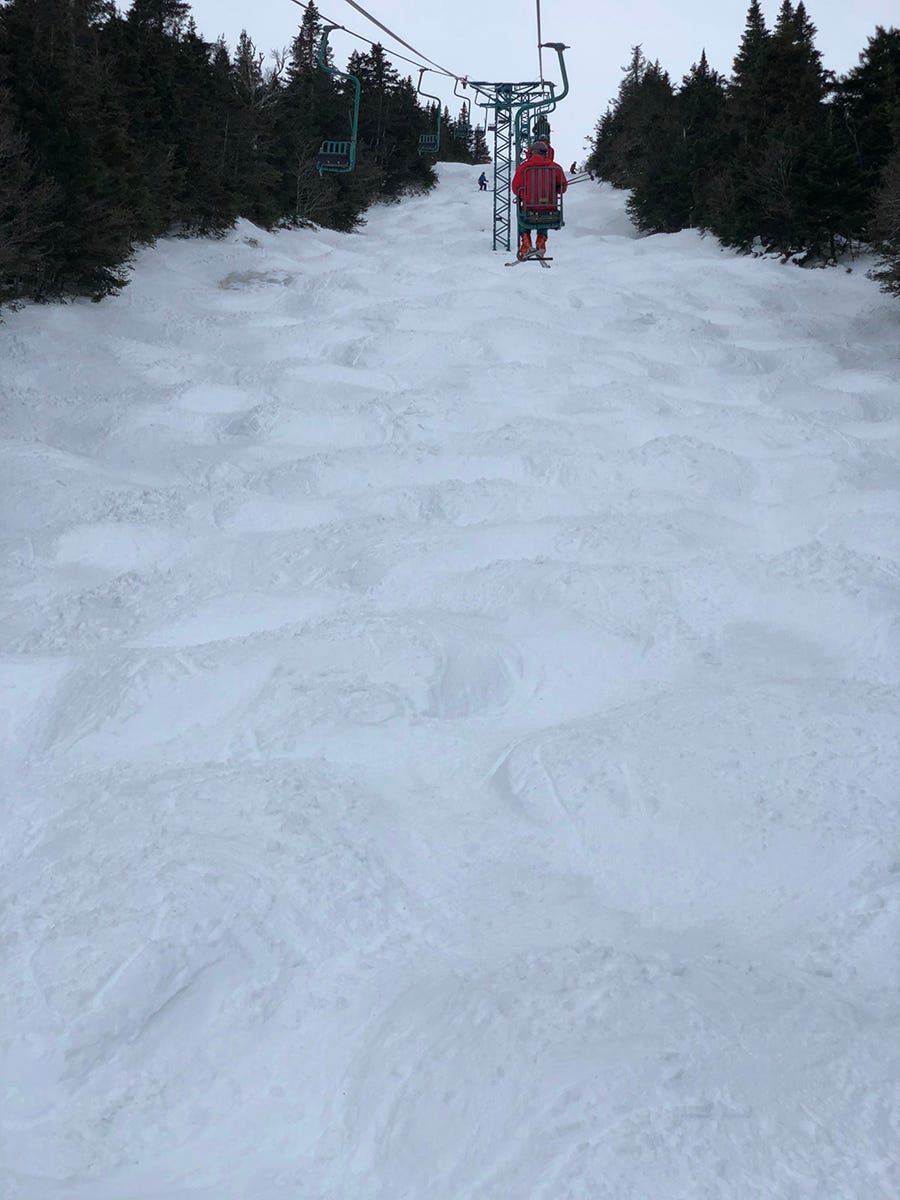 A bumpy ride below the single chair on a March afternoon.
Why I thought that now was a good time for this interview: Because Lillard, who took the head job at MRG in 2017, is new enough to have a fresh perspective but established enough to have a clear view of the direction the ski area should follow. He talks, for example, about pushing the mountain ops crew to start prepping to blow snow when temperatures dip in October, rather than waiting until December to fire up the guns, as per the ski area's longstanding custom. This shift in mentality probably explains why Mad River Glen clocked its longest season ever in the 2018-19 campaign, despite having a so-so snow year (a strong November and March also helped). Regardless, this change is emblematic of how Lillard is making smart, targeted changes that strengthen the ski experience without compromising the area's character. He's a young guy and likely to be running that show for quite some time, so I thought now was a good time to ground ourselves on who's running Mad River Glen and how he's approaching its future.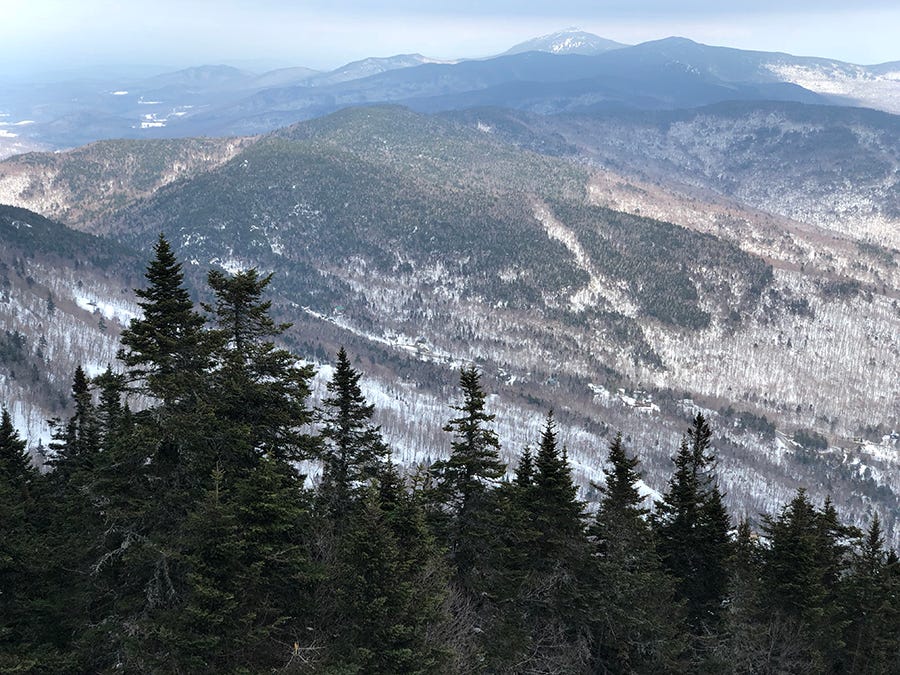 Looker's right off the single chair.
Why you should go there: Because this is it, the most distinct and well-defined ski area in the Northeast, if not the entire country. This is a place that knows what it is because it has been that thing for more than 70 years. You will find no identity crisis here. What you will find is a ski area that when you pull into the parking lot you'll say, "Where's the ski area?" and you'll look up at the rough-hewn outline of snow runnels threaded along the flanks of General Stark Mountain and the collection of base buildings bunched at the bottom and the liftlines cut vaguely up the rise and you'll say, "Oh. That's pretty cool." Or you'll say "screw this" and just drive over to Sugarbush - it depends on what kind of skier you are. But venture up and you'll find a trail network etched seamlessly down the fall line, a narrow maze of bumps and glades crisscrossing down the mountainside. While the difficulty of the marked black diamonds is somewhat overstated in the common lore, Paradise will give you nightmares if you venture back there before you're ready for it, and there is plenty of off-the-map rowdy stuff if you know where to go. And a ride on the single chair should be a life goal for any skier – lean back on that thing and try not grinning with a wow-I'm-actually-doing-this sense of arrival. It's a feeling that I'm telling you never quite wears off. If you are not from the Northeast and you find yourself here in the winter with just one day to ski, don't even consider going anywhere but Mad River Glen.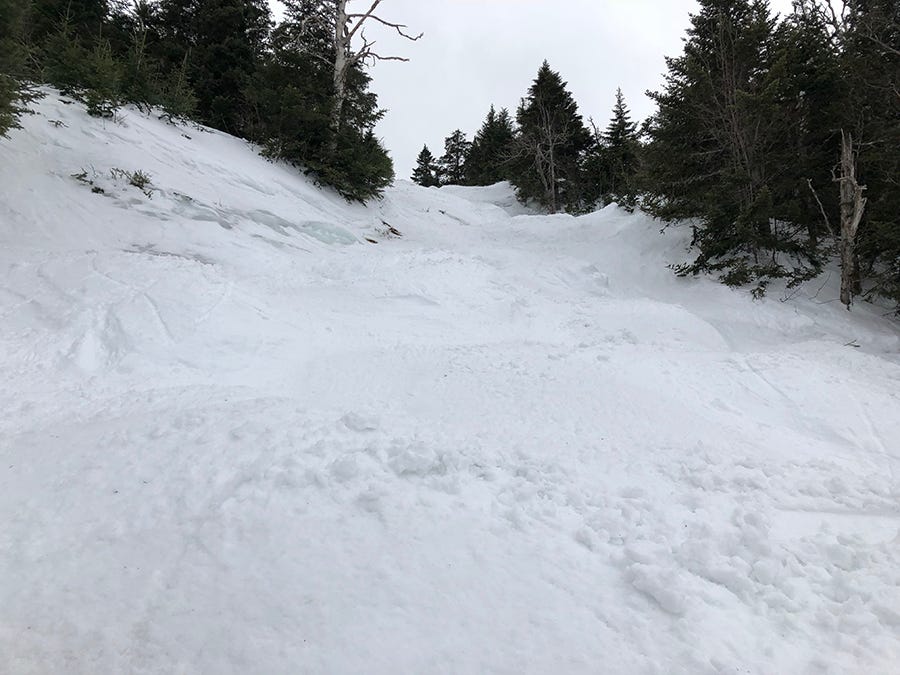 MRG has some fierce terrain. Pictured here is a small slice of Paradise, the mountain's marquee run.
Brief and pointless opinion on the snowboarding ban that will likely satisfy no one: As a completely objective observer who has no formal ties to the ski area and just dips in every year or two for a bombing run, I think the snowboarding ban is… silly. For me as a skier it doesn't really factor, but I do ride with snowboarders and it's inconvenient, when planning the next hunt, to have to count out one of the best pure skier's mountains in the region from the jump because boards aren't welcome. But it's no more than an eye-rolling whatever-it's-your-mountain-dudes sentiment for me. I also don't really buy the whole "snowboarders ruin the snow argument," because while there is the occasional dude-brah bulldozing beautiful pow with his board cranked across the hill like a teenager with a can of spray paint vandalizing a fine art museum, they are far outnumbered by the windshield-wipering two-plankers who grind the piste into an ice rink by 11 a.m. But looking from the drop-the-ban point of view, I do not agree with the oft-expressed-by-social-media-absolutists opinion that the ban is "racist." Allow me to relate a personal experience to illustrate this point: a few years ago, I was jogging in Florida at some type of sprawling housing development/resort complex. Some way through, I passed a golf course, and, thinking that looked like a pleasant place to run, headed into it. I did this for several days in a row. But on day three or four as I was moving along the paths in the morning sun through the pleasant trails and hillocks and greenery of this oasis, I was verbally confronted by a flock of golf nerds appalled that I would be running through their precious golf course. I responded by telling them to call the golf course police, which they assured me they would promptly do, and then I jogged off. Now, these pleasant folks were not cursing me out because of my race or ethnicity or anything else unchangeable or identifying about me – they were yelling at me because I was an asshole running on a golf course. Which now that I think about it seems like a stupid thing to do, even though it is honestly about the nicest environment I could imagine for the activity. And just as that golf course decided that its grounds were for one particular sport and not another, Mad River Glen has determined that its slopes are for skis and nothing else. Which, fine. If they decide tomorrow that the only way you can get down the mountain is by sliding on a cardboard cutout of Alfred E. Newman, then they can do that, as long as they don't decide that only certain types of people can ride the contraption down.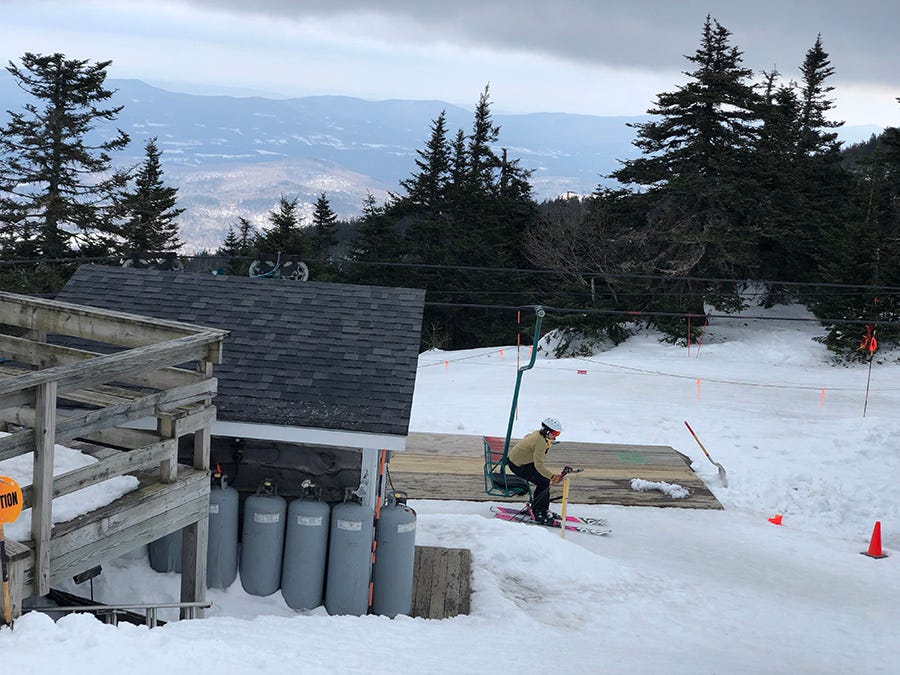 The top of the single chair. Skiers have to skate away to unload, which wasn't optimal for early snowboarders, as Matt notes in the interview.
Additional reading/videos:
Check out MRG's Facebook page for a pretty awesome video of them demolishing the ski patrol/ski school building. You can also view this year's annual, socially distant shareholders meeting.
Recorded on: May 13, 2020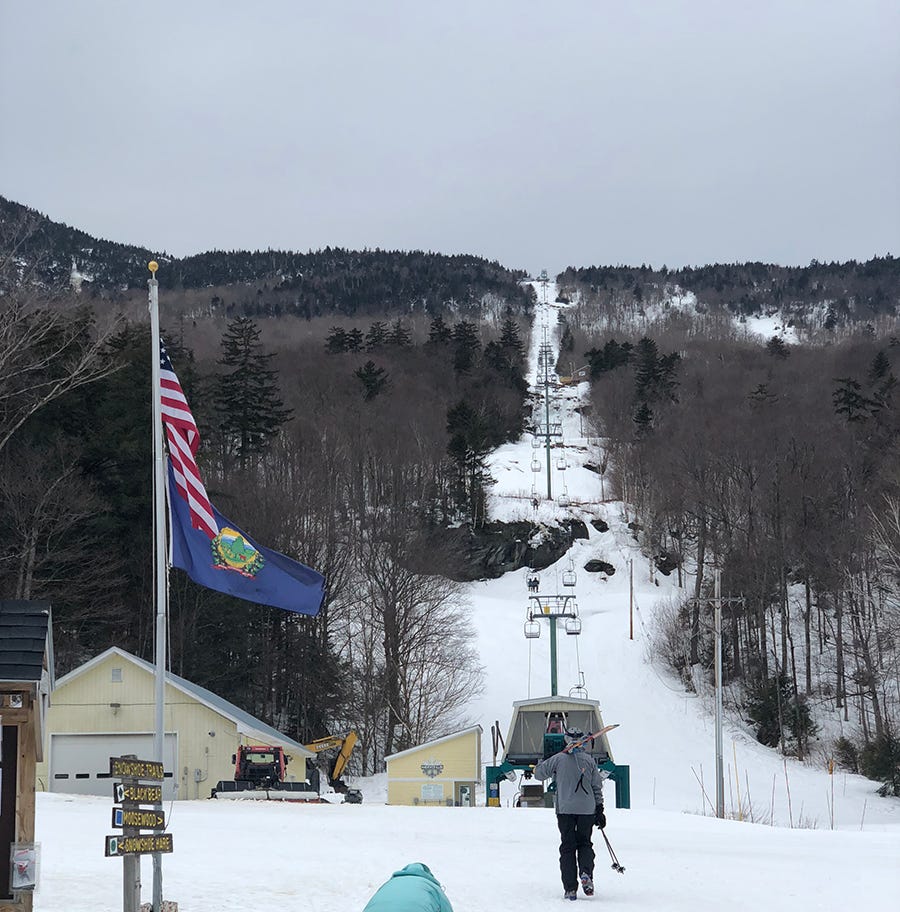 Looking up the Sunnyside Double, the ski area's other main lift (there are two additional doubles that service primarily easier terrain).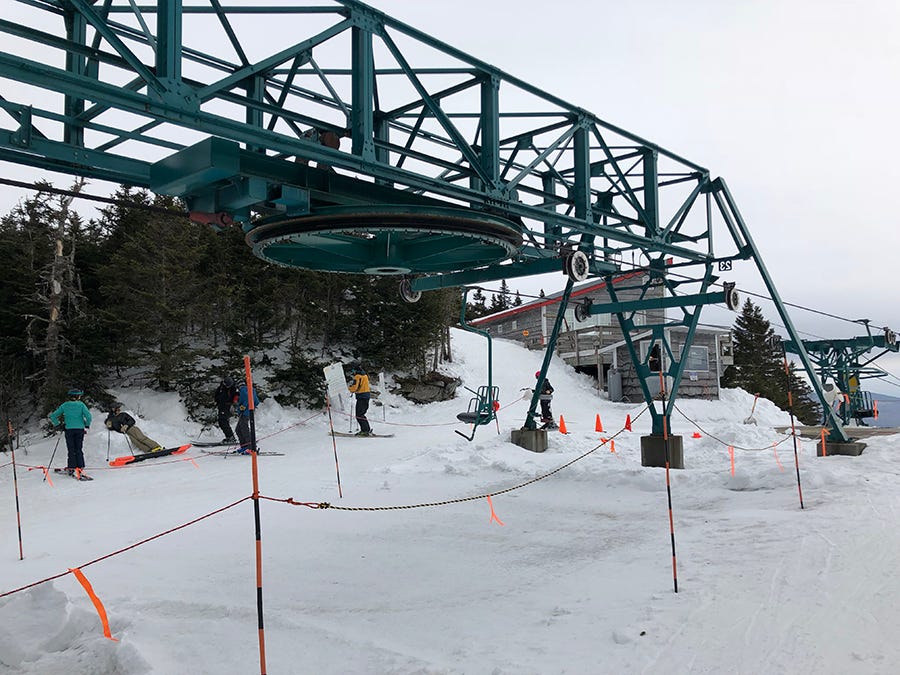 Another view of the top of the single chair.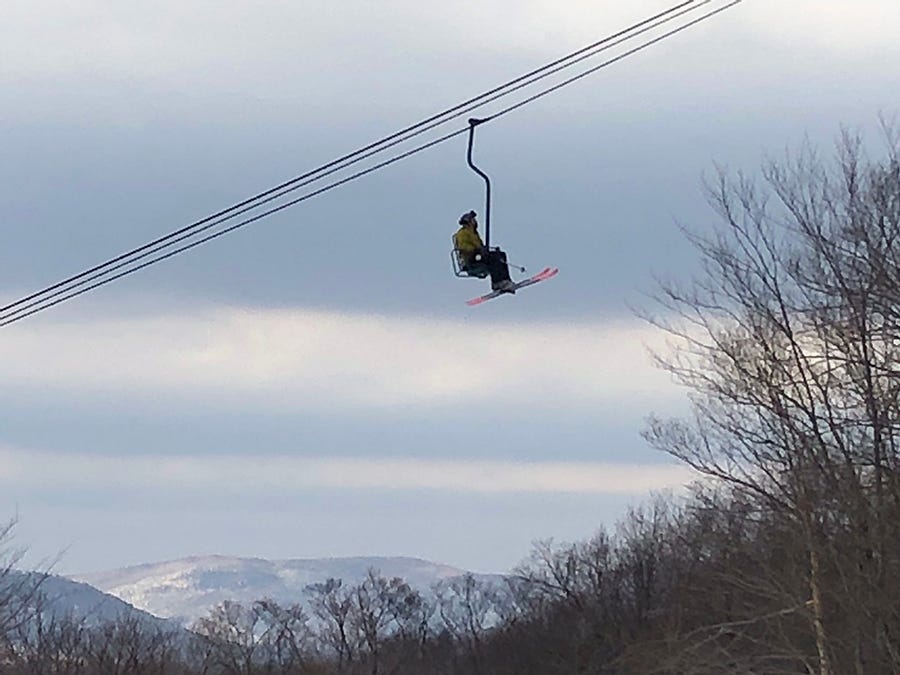 The single chair.
---
The Storm Skiing Podcast is on iTunes, Google Podcasts, Stitcher, TuneIn, and Pocket Casts. The Storm Skiing Journal publishes podcasts and other editorial content throughout the ski season. To receive new posts as soon as they are published, sign up for The Storm Skiing Journal Newsletter at skiing.substack.com. Follow The Storm Skiing Journal on Facebook and Twitter.
COVID-19 & Skiing Podcasts: Author and Industry Veteran Chris Diamond | Boyne Resorts CEO Stephen Kircher | Magic Mountain President Geoff Hatheway | NSAA CEO Kelly Pawlak | Berkshire East/Catamount Owner & Goggles for Docs founder Jon Schaefer | Shaggy's Copper Country Skis Cofounder Jeff Thompson | Doppelmayr USA President Katharina Schmitz | Mt. Baldy GM Robby Ellingson | Alterra CEO Rusty Gregory |
The Storm Skiing Podcasts: Killington & Pico GM Mike Solimano | Plattekill owners Danielle and Laszlo Vajtay | New England Lost Ski Areas Project Founder Jeremy Davis | Magic Mountain President Geoff Hatheway | Lift Blog Founder Peter Landsman | Boyne Resorts CEO Stephen Kircher | Burke Mountain GM Kevin Mack | Liftopia CEO Evan Reece | Berkshire East & Catamount Owner & GM Jon Schaefer | Vermont Ski + Ride and Vermont Sports Co-Publisher & Editor Lisa Lynn | Sugarbush President & COO Win Smith | Loon President & GM Jay Scambio | Sunday River President & GM Dana Bullen | Big Snow & Mountain Creek VP of Sales & Marketing Hugh Reynolds |