The Storm Skiing Podcast is now sponsored by Mountain Gazette. The first issue drops in November, and you can get 10 percent off your order - including your annual subscription - by entering the code "EASTCOAST" at check-out.
---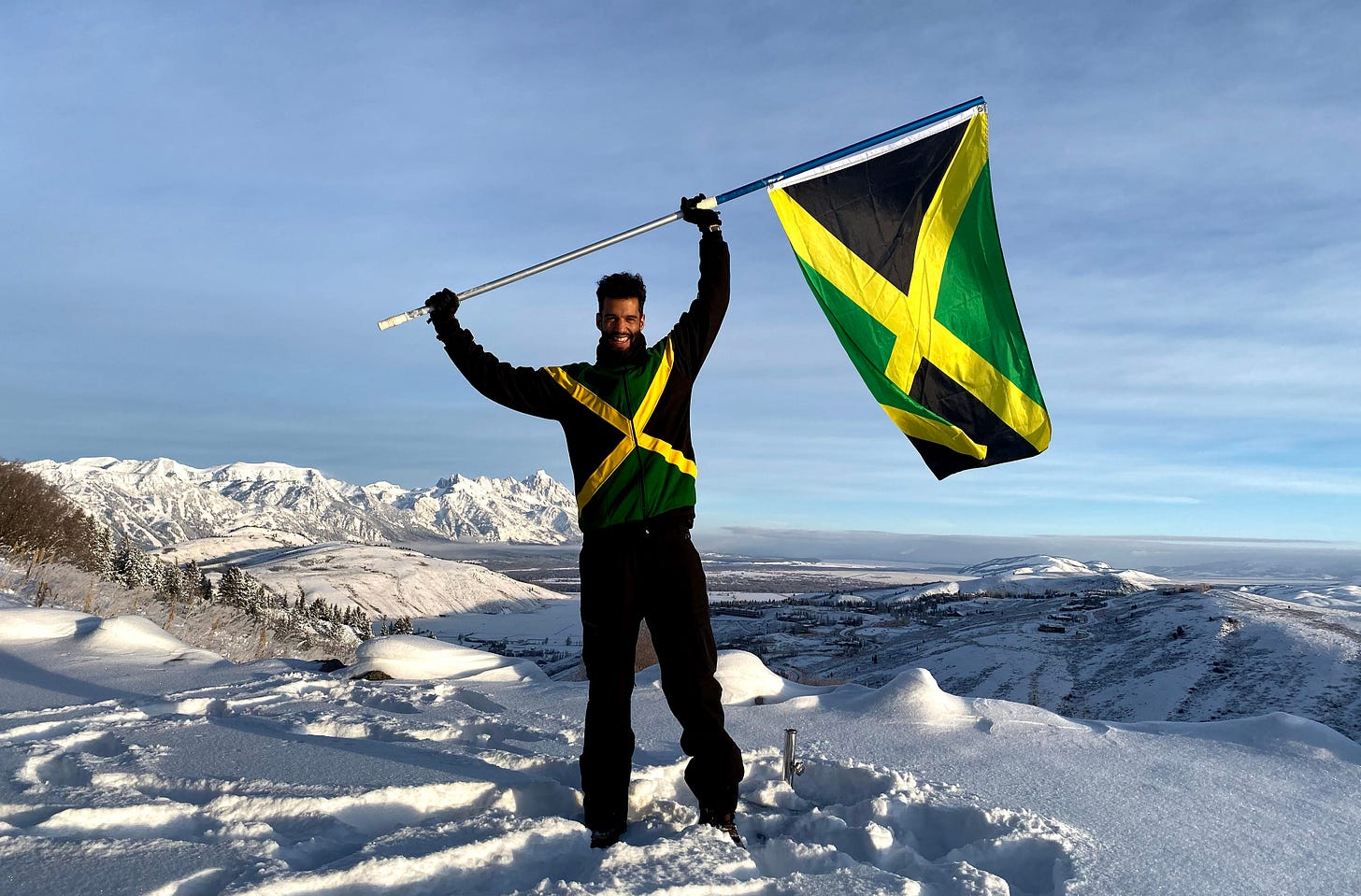 Who: Benjamin Alexander, Aspiring Olympic Skier for Jamaica
Why I interviewed him: Because this is a story you have to love. I have always respected and admired individuals who came to skiing as adults, especially because most adults seem to settle into some combination of mainlining television, getting fat, and buying things. Skiing is cold and expensive and hard, and if you aren't tossed out the back hatch of a minivan onto the slopes at age 4 like a paratrooper dropped from the back of a Globemaster then the chances you will pick it up diminish with each passing year. But if taking it up in your 30s is improbable, angling into it to the point where you can realistically hope to qualify for something so rarified as the Olympics is almost fantastical. Yet that is what Benjamin did and is doing. And even that exhilarating task almost sounds ho-hum after his globe-trotting amped-up life as an international deejay, a job title that almost sounds too cool to even be real. But it is and I wanted to hear about it, and I think you will too.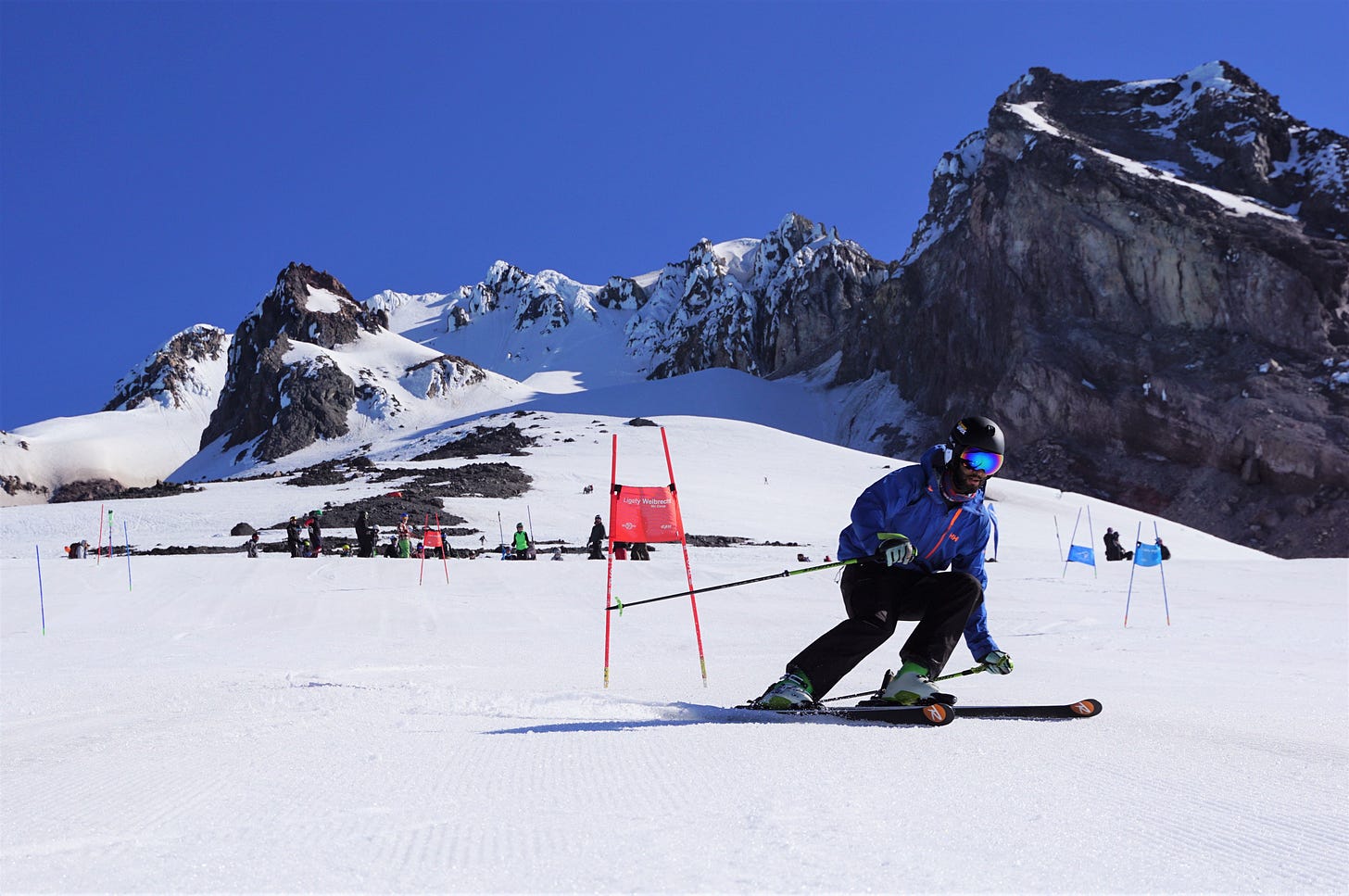 All photos courtesy of Benjamin Alexander.
What we talked about: Heading into the Jackson Hole backcountry when Covid descended; Benjamin's ancestral connection to Jamaica; England's skiing desert; the three blessings that make new skiers; London's turn-of-the-century pirate radio scene; breaking into that scene as a teenage deejay; hazards of the job; life in Asia; ditching a finance career for a roving international deejay career with a standing gig at Burning Man; landing at a heliski lodge when you don't ski, looking around and thinking, "Yeah, I want some of this"; a roving deejay's wild itinerary; where he first skied at age 32 and how that went; yardsaling on black diamonds at Mammoth; the performative glory and adrenaline of international deejay touring and making the decision to leave it all behind; why skiing was the next career move and how that evolved into an Olympic quest; when courage and speed trump form and technique; how to evolve from never-ever to alpine racer over the course of a few seasons; mental discipline and other transferable skills that drive excellence in such disparate disciplines as deejaying and skiing; settling into Jackson to master the sport and yeah I guess that's not a bad place to do it; the racing scene at Snow King and the boundless freeskiing temptations of Jackson Hole just down the road; how the wild variability of riding off-piste prepares a skier for the rhythm and relative predictability of racing; trekking into the nether regions to nail that last patch of summer snow; life in tourism-reliant Jamaica during tourism-annihilating Covid; the Jamaican diaspora; the Jamaican Olympic Association and their vision for the future; of course we talk about Cool Runnings and Benjamin's real-life connection with the real-life athletes behind that film; diversity in skiing and thoughts on the Vail-Alterra reckoning with the need to do better; Benjamin's positive experience skiing as a black man in a very white sport; the 2022 Beijing Olympics and the hope that things that are supposed to happen will start to happen again; Benjamin's path to the Olympics and a quick primer on racing and FIS points; questions about ski racing from someone who knows nothing about ski racing and some very patient answers to those questions.
Additional reading/videos:
Recorded on: Sept. 8, 2020
Additional note: This is the first Storm Skiing Podcast to feature the story of a skier - previous episodes have highlighted the leaders of ski areas or ski organizations. Let me know if you'd like to hear more of these kinds of interviews (there will always be plenty of ski area-focused episodes).
---
The Storm Skiing Podcast is on iTunes, Google Podcasts, Stitcher, TuneIn, and Pocket Casts. The Storm Skiing Journal publishes podcasts and other editorial content throughout the ski season. To receive new posts as soon as they are published, sign up for The Storm Skiing Journal Newsletter at skiing.substack.com. Follow The Storm Skiing Journal on Facebook and Twitter.
COVID-19 & Skiing Podcasts: Author and Industry Veteran Chris Diamond | Boyne Resorts CEO Stephen Kircher | Magic Mountain President Geoff Hatheway | NSAA CEO Kelly Pawlak| Berkshire East/Catamount Owner & Goggles for Docs founder Jon Schaefer | Shaggy's Copper Country Skis Cofounder Jeff Thompson | Doppelmayr USA President Katharina Schmitz | Mt. Baldy GM Robby Ellingson| Alterra CEO Rusty Gregory | NSAA Director of Risk & Regulatory Affairs Dave Byrd
The Storm Skiing Podcasts: Killington & Pico GM Mike Solimano | Plattekill owners Danielle and Laszlo Vajtay | New England Lost Ski Areas Project Founder Jeremy Davis | Magic Mountain President Geoff Hatheway | Lift Blog Founder Peter Landsman | Boyne Resorts CEO Stephen Kircher | Burke Mountain GM Kevin Mack | Liftopia CEO Evan Reece | Berkshire East & Catamount Owner & GM Jon Schaefer | Vermont Ski + Ride and Vermont Sports Co-Publisher & Editor Lisa Lynn | Sugarbush President & COO Win Smith | Loon President & GM Jay Scambio | Sunday River President & GM Dana Bullen | Big Snow & Mountain Creek VP of Sales & Marketing Hugh Reynolds | Mad River Glen GM Matt Lillard | Indy Pass Founder Doug Fish | National Brotherhood of Skiers President Henri Rivers | Winter 4 Kids & National Winter Activity Center President & CEO Schone Malliet | Vail Veterans Program President & Founder Cheryl Jensen | Mountain Gazette Owner & Editor Mike Rogge | Squaw Valley Alpine Meadows President & CMO Ron Cohen