The Storm Skiing Podcast #2 | Download this episode on iTunes and Google Play| Read the full overview at skiing.substack.com.
Who: Danielle and Laszlo Vajtay, Owners, Plattekill Mountain
Why I interviewed them: Because Plattekill flat amazes me. Situated deep in the Catskills interior, surrounded by better funded and bigger neighbors, nearly unknown outside of die-hard ski circles, the odds of this family-owned mountain still existing at all, let alone thriving, would seem remote in our days of octuple chairlifts and Ikonik gigapasses. But there it is, a sort of Little-Engine-That-Could clanking one refurbished snowgun at a time into 2019. This was not an accident. It was not luck. It was two people busting their ass for 26 years, reinvesting deliberately in the hill, plugging snowmaking at a one-run-per-annum rate into the incline, and slowly building a community around that intangible thing called atmosphere that makes skiing Plattekill unlike skiing anyplace else in the state. And they did all of that by avoiding debt like blue ice after a refreeze. How they did that against considerable odds was a story that I wanted to hear.
What we talked about: Skiing together since they were kids; their terrific first winter as owners (1993-94); when the mountain almost fell apart during their second, terrible winter (1994-95; imagine not opening until February!); snow farming; why real estate is a dumb strategy for building a sustainable ski business; the Plattekill model of deliberate investment/no debt; how the Plattekill model could have saved lost Catskills ski areas Bobcat and Cortina; the mountain is one giant glade; yes the front five double blacks are absolute freefalls but the mountain has some terrific greens and blues and for families or novices it offers a hell of a lot; turns out a The New York Times feature story about your mountain rental program is pretty damn good marketing, so if you own a mountain maybe do that? How the mountain rental program started when 20 people showed up on a midweek powder day and Laszlo was like, "we'll open for $2,500," and some dude was like, "cool," and they all went skiing; what happens when Vail sets up shop in your backyard by buying your largest rival; is Alterra buying Windham inevitable? And speaking of giant unwieldly conglomerates bwah-ha-ha-ha Platty is still here and has anyone seen American Skiing Company around here anywhere oh yeah there's its carcass in a Dumpster in lower Manhattan; Laszlo does have a favorite big ski conglomerate though; The Freedom Pass; the Indy Pass and why the Vajtays, uh, passed on it; where Platty's passholders come from; Belleayre. Oh, man, Belleayre. Laszlo is not a fan of operating in direct competition with a state-subsidized ski area, especially as a taxpayer who is essentially then doing the subsidizing. How can that be remedied? Laszlo has some ideas. Why the Vajtays would rather compete with Vail or Alterra than ORDA. Also – how often and where the Vajtays ski (turns out that when you own a mountain, you get to ski a lot); what Win Smith said to Laszlo when they went skiing together. Also, this: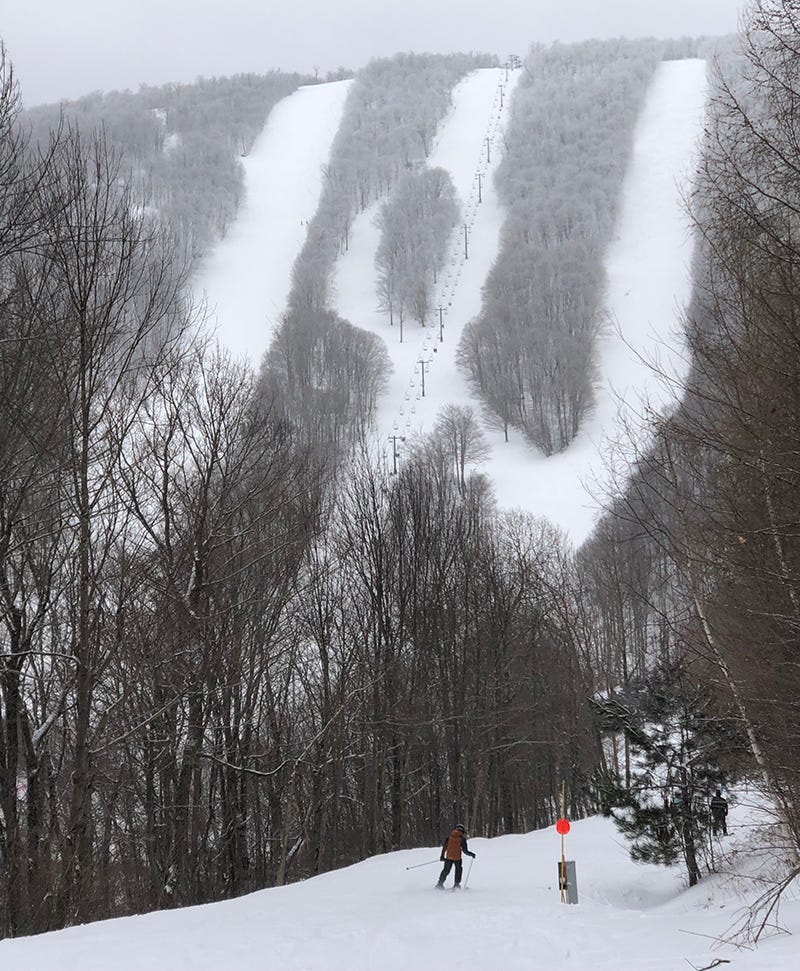 Four of Plattekill's front five double-black divebombers in February 2019. L to R: Northface, Giant Slalom, Plunge and Freefall. A T-bar used to run up Plunge. Laszlo talks about the painstaking process of refurbishing and installing the Northface Double Chair that replaced it and is pictured here.
Things that may be slightly outdated because we recorded this a while ago: Laszlo announced a reciprocity agreement with Homewood, a mountain seated on the shores of Lake Tahoe. The place looks rad but I've never skied there or anywhere in Tahoe (big ski resume gap). This appears to be a separate agreement from the Freedom Pass arrangement, as Homewood is not listed as a partner in that alliance but does have a pretty amazing list of season pass reciprocity deals (really wish more East Coast mountains forged these sorts of free-ticket partnerships with their neighbors instead of their standard "you can get 10 percent off a full-priced lift ticket at our partner mountains," which isn't much of a bargain when you can typically find those tickets far cheaper elsewhere). Platty's season pass details are here.
What I got wrong: When I mentioned that the three ORDA mountains (Belleayre, Gore, and Whiteface), were on Max Pass, I forgot to mention that Windham was as well. I sort of flubbed the description of Aspen's role in Alterra – The Aspen Skiing Company, which is in turn owned by Henry Crown and Company, owns Alterra in conjunction with KSL Capital Partners. I said something slightly different during the interview, but it's interesting to note that I don't think most skiers realize that Aspen is the Ikon analogue to Vail/Epic, and it's kind of amazing how they've transformed themselves into Captain Good Guy when their pass is more expensive and their day ticket prices are just a pair of disposable foot warmers cheaper than Vail's in most cases.
Why I thought that now was a good time for this interview: Plattekill is on a roll. Besides the aforementioned Times piece, an excellent Catskills write-up by Powder Magazine's Porter Fox last winter featured Plattekill (along with Belleayre and Hunter) prominently, describing it as a throwback, a scrappy survivor, and, most importantly, "the Alta of the Catskills" for its 150 inches of annual lake effect snow. The mountain rental program is working, and the place, relatively speaking, is thriving. This is in part I think due to a general backlash against our Ikonik/Epik landskape and the perceived cost and generic experience of skiing those mega-pass mountains. While I have both of these passes and will likely continue to buy them and believe the Disneyfication angle is overstated, I also make sure to ski Plattekill and other indies over the course of the winter, for exactly all of the reasons articulated above.
Why you should go there: Because this is the coolest damn ski hill in the state of New York. Yes, it's the smallest of the four Catskills mountains by acreage and vertical drop and number of lifts and size of the parking lot and size of the lodge. No, there are no high-speed lifts and the trails are shockingly narrow in places and the lodge is not some starchitect-designed spaceship ready to transport you to Jupiter. This is what skiing looks like when it's run not by block grants airlifted from Broomfield but real people who love their mountain and love skiing and put every damn thing they have into making it work. Plus, it's never crowded, the lift tickets are fairly priced, they have the friendliest lifties I've every encountered, and, yes, it feels like skiing in the 1960s. I think. Since I have no first-person recollecation of the 1960s, I'm going to make some assumptions here and say it feels like skiing in some indeterminate bygone era when kids didn't spend all their time smartphoning and playing the Halo. Seriously though, make a day for this one (as long as that day is a Friday through Sunday, because a midweek lift ticket is $4,500 – not bad actually if you can round up 100 friends or bribe your company into paying for it).
While we're on the subject of throwbacks: Ribbing the this-is-my-secret-mountain-don't-you-dare-tell-anyone-it-exists-let-them-all-ski-at-Hunter attitude of his core skiers, Laszlo says, "OK, just tell one friend," and then he mentions an old "and then they'll tell two friends" shampoo commercial. This appears to be that commercial:
A 1970s Brady Bunch-style version:
And then Wayne's World spoofed it:
While I was alive for most of that and doubtless saw the commercial dozens of times while my mom was re-watching that day's soap operas on our Betamax or whatever, I don't remember it at all. But apparently it was cultural currency back in the day.
---
The Storm Skiing Podcast is on iTunes, Google Podcasts, Stitcher, TuneIn, and Pocket Casts. The Storm Skiing Journal publishes podcasts and other editorial content throughout the ski season. To receive new posts as soon as they are published, sign up for The Storm Skiing Journal Newsletter at skiing.substack.com. Follow The Storm Skiing Journal on Facebook and Twitter.