The Storm Skiing Podcast #18 | Download this episode on iTunes, Google Podcasts, Spotify, Stitcher, TuneIn, and Pocket Casts | Read the full overview at skiing.substack.com.
Who: Schone Malliet, President and CEO of Winter 4 Kids and the National Winter Activity Center
Why I interviewed him: Because there it sits, improbable and amazing, in the mountains of northern New Jersey: a ski area, an entire mountain, gut renovated and precision engineered to do the one thing that the largest ski companies have mostly abandoned – get kids on snow. Especially kids who maybe wouldn't otherwise be skiing. Rising from the rubble of the abandoned and bankrupt Hidden Valley ski area, adjacent to frenetic Mountain Creek, The National Winter Activity Center is an oasis of calm routine, shuttling groups of children one after the next through six-part snowsports programs all winter long under the purview of Winter 4 Kids. In its deliberate recruitment, its methodical approach to streamlining and optimizing every part of the beginner ski experience, and its insistence that anyone can love snow and everyone should have the chance to find out whether they do, Winter 4 Kids is building the industry's future in a more expansive and inclusive way than anyone in America. The potential here is stratospheric. I wanted to talk to the person in charge of it all to see how they did it, how the organization is evolving, and what the rest of the industry could learn from them.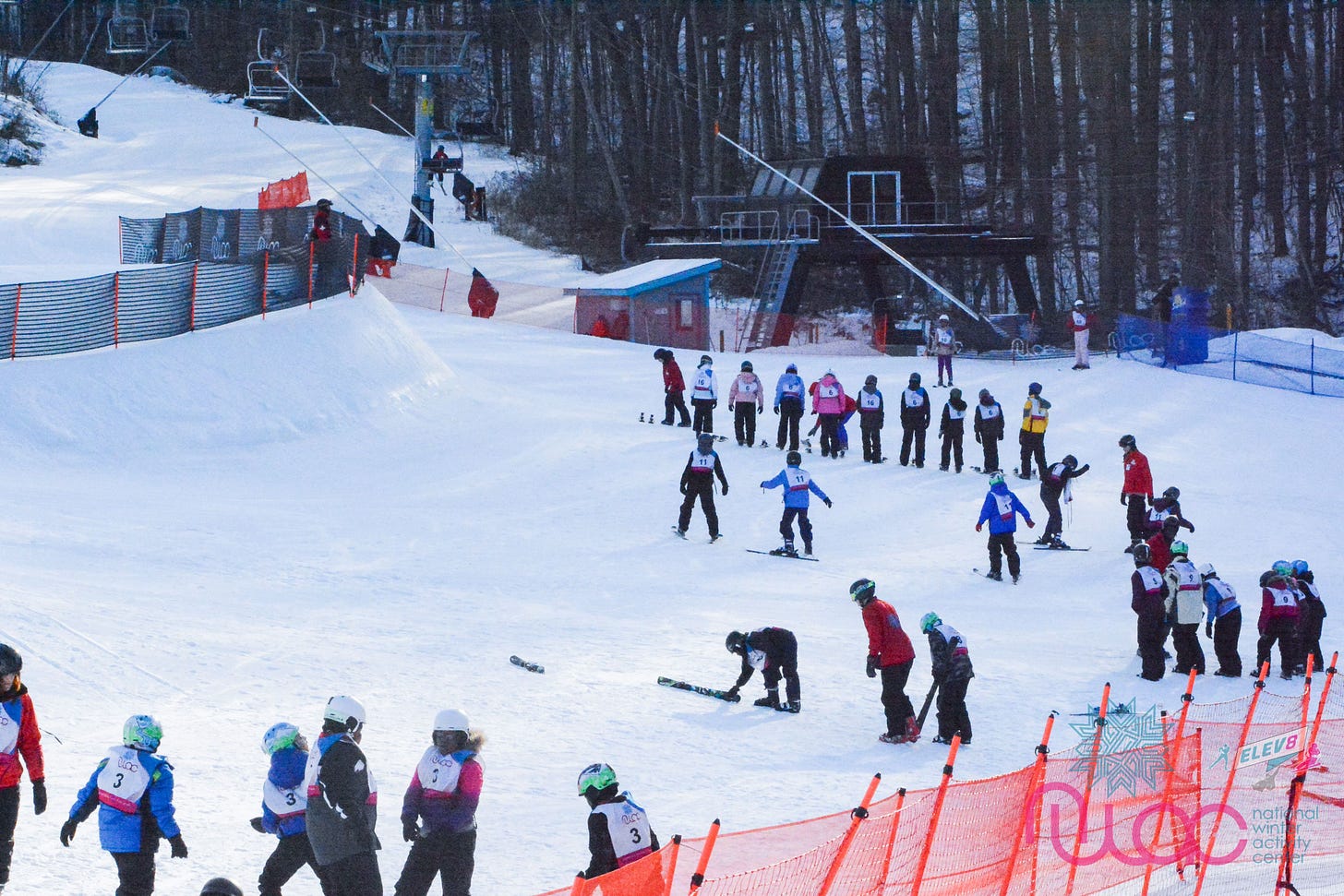 Kids on the snow at the National Winter Activity Center. Photo courtesy of Winter 4 Kids.
What we talked about: The origin and mission of Winter 4 Kids and why it eventually split from Share Winter; the social, geographic, and financial barriers to skiing; Jersey isn't all strip mall sprawl and terrible drivers as I've said again and again OK so just stop with that; the incredible undertaking of transforming the former Hidden Valley in New Jersey from a rotting lost ski area to a first-class winter sports activity with up-to-date chairlifts, snowmaking, lodges, trails, and equipment; combating New Jersey's garbage weather; rethinking a ski center as a regional resource rather than as a commerical enterprise; how the National Winter Activity Center is tailored to allow kids to flourish in a way that would be difficult at a public ski area; why starting their own ski area to nurture youth should only be done by someone who doesn't understand how hard it is; the ski industry is collectively facepalming new skiers; why most new skiers never return to the snow and the programs that have figured out how to fix that; how Winter 4 Kids gets children from the parking lot to the chairlift in a remarkable 18 minutes; how the great American summer camp experience informs the organization's winter sports programs; the balance between philanthropy and revenue and how the center hopes to become financially self-sufficient; the repeatability of its youth programs at other mountains; why the National Winter Activity Center is not open to the public; the cost of making a new skier and how much the industry can hope to recoup from that, both under traditional models and more innovative ones; how Vail and Alterra could partner with Winter 4 Kids to lock in the next generation of loyal skiers; Schone's reaction to Vail and Alterra's diversity memos; the danger of pre-determining an outcome based on children's life circumstances; how to partner with the center; the story behind the run called Shiffy's Turn.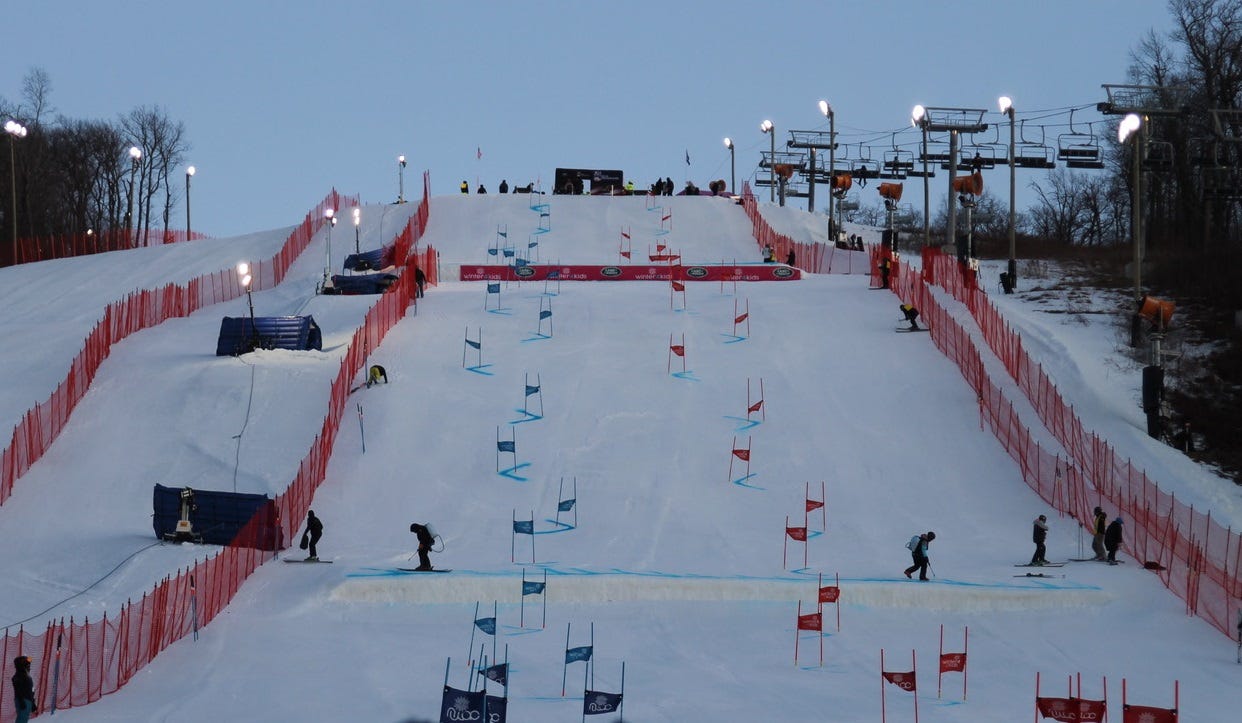 Gates set up at the National Winter Activity Center. Photo courtesy of Winter 4 Kids.
Question I wish I'd asked: I wanted to get a bit more of Schone's backstory, to understand how a person who has become so central to skiing's future emerged from The Bronx projects and how his business background helped him manage something as complex and hostile to its owners as a ski area. I also wanted to talk a bit more about the revenue/donation revenue split, the NORAM race the ski area hosted last winter, how they were planning around ongoing Covid-19 concerns, how the private-ski-area-as-philanthropy model differed from the private-ski-area-for-rich people model that flopped so profoundly at Hermitage Club, and any partnerships they may have with nearby public mountains. We also had a long phone conversation before this call in which we'd discussed ways to increase diversity in skiing's management ranks, and I'd hoped to get to that here, but there was just so much to talk about that it's going to have to wait until next time.
What I got wrong: At the end of the interview, I made a reference to "extreme" skiers, which is like calling the internet "the Information Superhighway," which is what it was called in 1995. Next time I'll act like I've watched a ski movie since Blizzard of Ahhhs dropped when the Soviet Union was still a thing.
Why I thought that now was a good time for this interview: When Vail Resorts CEO Rob Katz dropped his we-suck-at-diversity note on his employees last month, the industry was like, "Yup, don't we all." For skiing to have a future in a nation that is increasingly diverse, it is going to have to diversify, on the slopes where skiers ski, in the back offices where people manage the mountains, and in front of the cameras, where skiers jump and flip and bash in competition. And here is Winter 4 Kids, way out ahead of everyone else, the Rubik's Cube of getting the kids who no one thought would ever ski to and onto and back to the hill already solved, ready to share that knowledge and scale the whole operation up and out across the nation. My jaw dropped when Schone told me during the interview that a senior executive at one of the major ski companies told him that they don't care about making new skiers. That's like a lumber company not caring about growing new trees. Eventually, you'll have nothing left to harvest. They need to start caring, and understanding what Winter4Kids is doing and how they're doing it seems like the best place to begin. Plus, I've had the intention of profiling this center since the day I started the podcast. I only held back because I think the interviews are better when I'm discussing a place I've skied first-hand. But it was time to get over that.
More about Winter4Kids and The National Winter Activity Center:
Here's Hidden Valley trail map from 2011, if you want to get a sense of the ski area's historical layout (which is not how it is currently configured):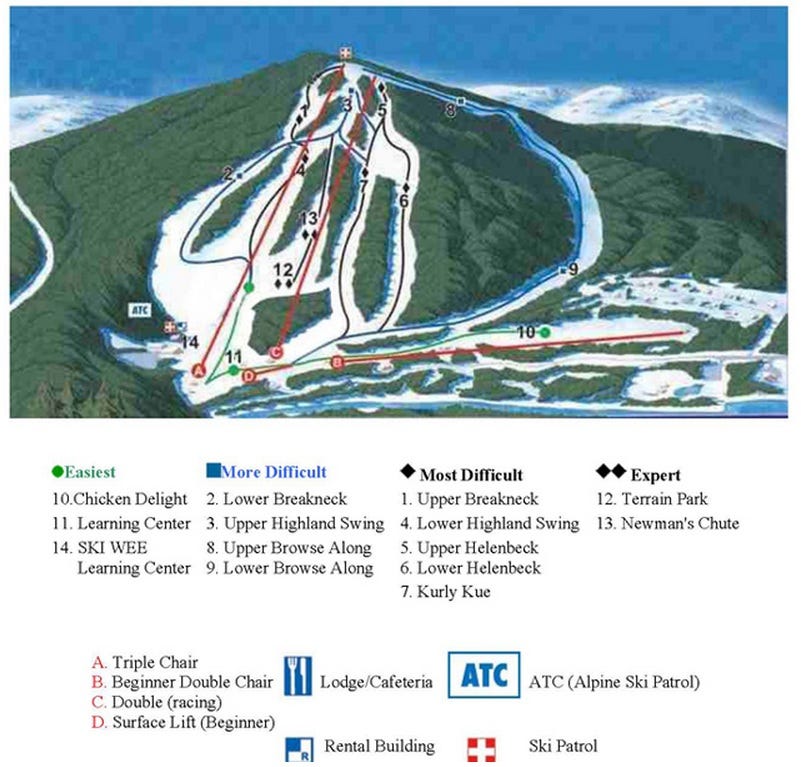 Recorded on: July 1, 2020
---
The Storm Skiing Podcast is on iTunes, Google Podcasts, Stitcher, TuneIn, and Pocket Casts. The Storm Skiing Journal publishes podcasts and other editorial content throughout the ski season. To receive new posts as soon as they are published, sign up for The Storm Skiing Journal Newsletter at skiing.substack.com. Follow The Storm Skiing Journal on Facebook and Twitter.
COVID-19 & Skiing Podcasts: Author and Industry Veteran Chris Diamond | Boyne Resorts CEO Stephen Kircher | Magic Mountain President Geoff Hatheway | NSAA CEO Kelly Pawlak | Berkshire East/Catamount Owner & Goggles for Docs founder Jon Schaefer | Shaggy's Copper Country Skis Cofounder Jeff Thompson | Doppelmayr USA President Katharina Schmitz | Mt. Baldy GM Robby Ellingson | Alterra CEO Rusty Gregory
The Storm Skiing Podcasts: Killington & Pico GM Mike Solimano | Plattekill owners Danielle and Laszlo Vajtay | New England Lost Ski Areas Project Founder Jeremy Davis | Magic Mountain President Geoff Hatheway | Lift Blog Founder Peter Landsman | Boyne Resorts CEO Stephen Kircher | Burke Mountain GM Kevin Mack | Liftopia CEO Evan Reece | Berkshire East & Catamount Owner & GM Jon Schaefer | Vermont Ski + Ride and Vermont Sports Co-Publisher & Editor Lisa Lynn | Sugarbush President & COO Win Smith | Loon President & GM Jay Scambio | Sunday River President & GM Dana Bullen | Big Snow & Mountain Creek VP of Sales & Marketing Hugh Reynolds | Mad River Glen GM Matt Lillard | Indy Pass Founder Doug Fish | National Brotherhood of Skiers President Henri Rivers