This podcast hit paid subscribers' inboxes on Nov. 6. It dropped for free subscribers on Nov. 13. To receive future pods as soon as they're live, and to support independent ski journalism, please consider an upgrade to a paid subscription. You can also subscribe to the free tier below:
Who
Tom Chasse, President and CEO of Schweitzer Mountain, Idaho
Recorded on
October 23, 2023
About Schweitzer
Click here for a mountain stats overview
Owned by: Alterra Mountain Company
Located in: Sandpoint, Idaho
Year founded: 1963
Pass affiliations:
Ikon Pass: unlimited

Ikon Base Pass, Ikon Base Plus Pass: 5 days with holiday blackouts
Closest neighboring ski areas: 49 Degrees North (1:30), Silver Mountain (1:42), Mt. Spokane (2:00), Lookout Pass (2:06), Turner Mountain (2:17) – travel times vary considerably depending upon weather, time of day, and time of year
Base elevation: 3,960 feet (at Outback Inn)
Summit elevation: 6,389 feet
Vertical drop: 2,429 feet
Skiable Acres: 2,900
Average annual snowfall: 300 inches
Trail count: 92 (10% Beginner, 40% Intermediate, 35% Advanced, 15% Expert)
Lift count: 10 (1 six-pack, 4 high-speed quads, 2 triples, 1 double, 1 T-bar, 1 carpet)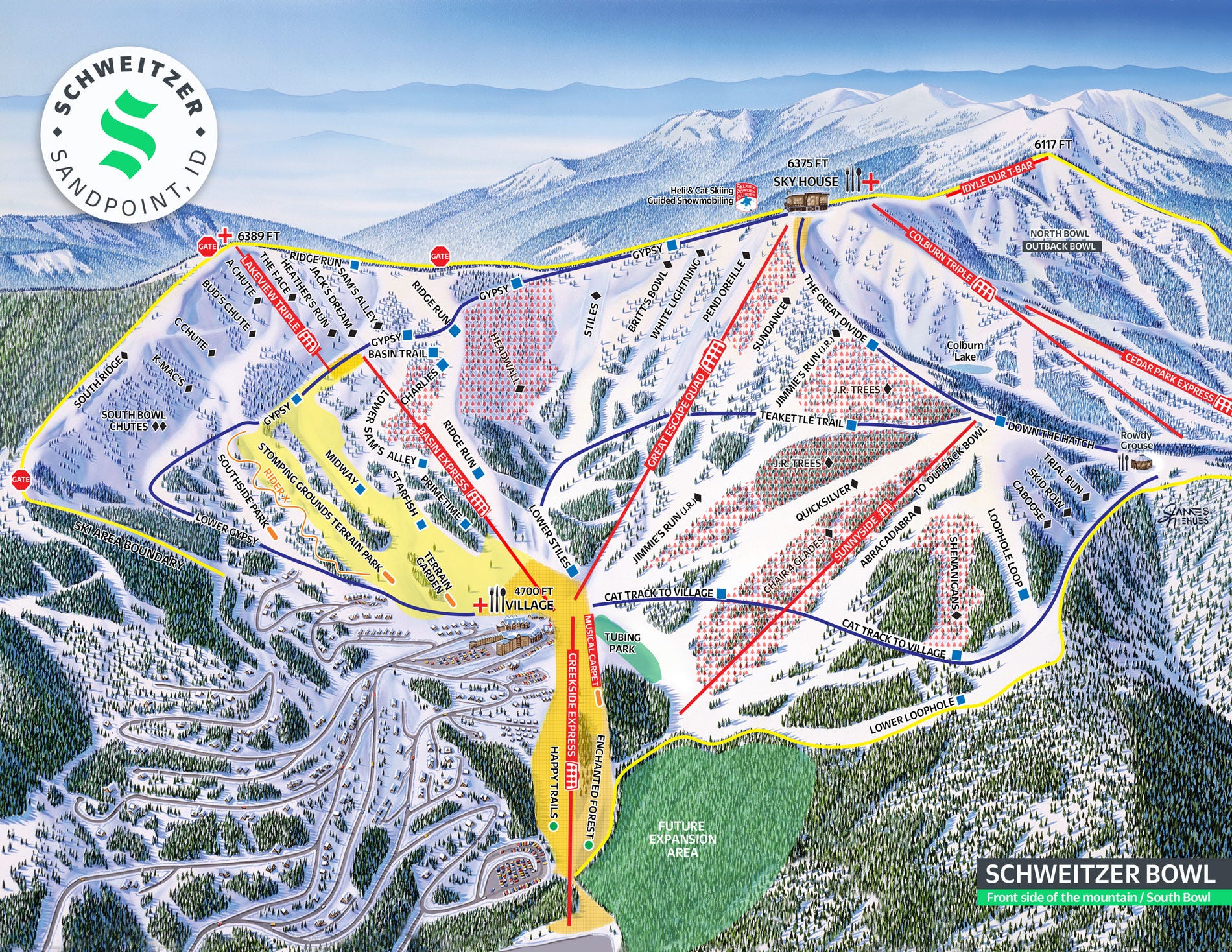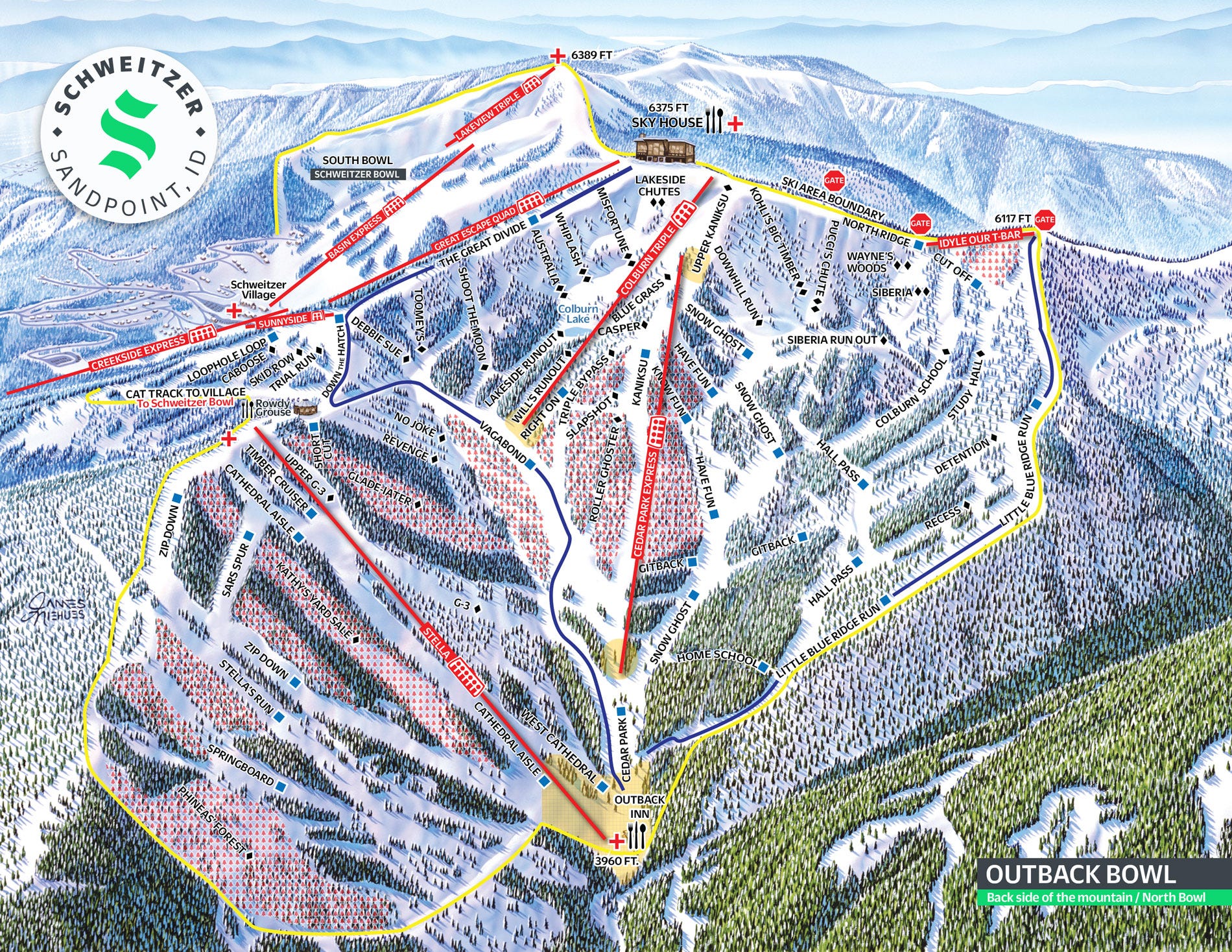 View historic Schweitzer trailmaps on skimap.org.
Why I interviewed him
Chasse first appeared on the podcast in January 2021, for what would turn out to be the penultimate episode in the Covid-19 & Skiing miniseries. Our focus was singular: to explore the stress and irritation shoved onto resort employees charged with mask-police duty. As I wrote at the time:
One of the biggest risks to the reconstituted-for-Covid ski season was always going to be that large numbers of knuckleheads would treat mask requirements as the first shots fired in Civil War II. Schweitzer, an enormous ski Narnia poking off the tip of the Idaho panhandle, became the most visible instance of this phenomenon when General Manager Tom Chasse chopped three days of twilight skiing after cantankerous Freedom Bros continually threw down with exhausted staff over requests to mask up. While violations of mask mandates haven't ignited widespread resort shutdowns and the vast majority of skiers seem resigned to them, Schweitzer's stand nonetheless distills the precarious nature of lift-served skiing amidst a still-raging pandemic. Skiers, if they grow careless and defiant, can shut down mountains. And so can the ski areas themselves, if they feel they can't safely manage the crowds descending upon them in this winter of there's-nothing-else-to-do. While it's unfortunate that a toxic jumble of misinformation, conspiracy theories, political chest-thumping, and ignorance has so thoroughly infected our population that even something as innocuous as riding a chairlift has become a culture war flashpoint, it has. And it's worth investigating the full story at Schweitzer to gauge how big the problem is and how to manage it in a way that allows us to all keep skiing.
We did talk about the mountain for a few minutes at the end, but I'd always meant to get back to Idaho's largest ski area. In 2022, I hosted the leaders of Tamarack, Bogus Basin, Brundage, and Sun Valley on the podcast. Now, I'm finally back at the top of the panhandle, to go deep on the future of Alterra Mountain Company's newest lift-served toy.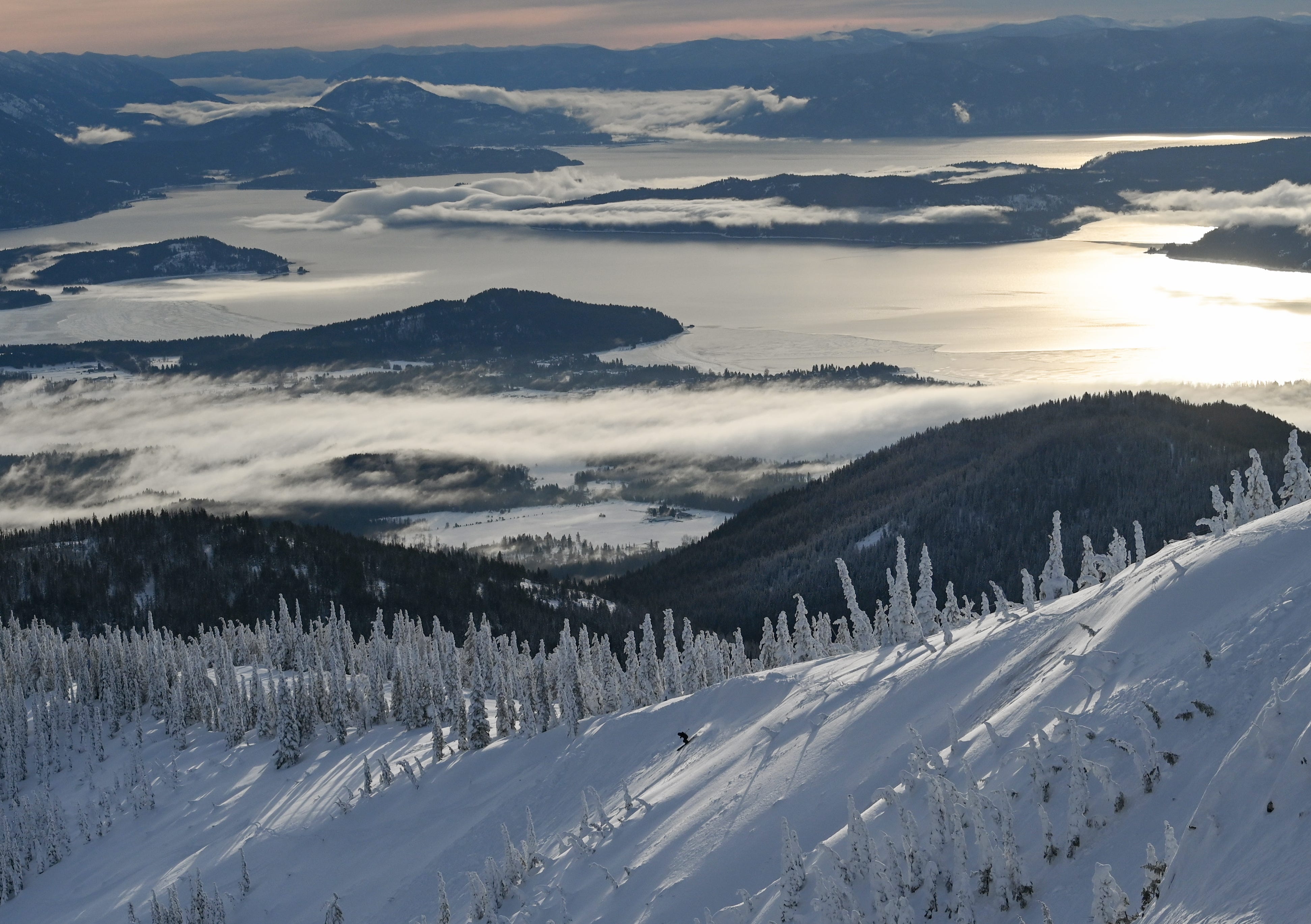 What we talked about
The new Creekside Express lift; a huge new parking lot incoming for the 2024-25 ski season; the evolution of the 2018 masterplan; why and how Schweitzer sold to Alterra; the advantages of joining a conglomerate versus remaining independent; whether Schweitzer could ever evolve into a destination resort; reflecting on the McCaw family legacy as Alterra takes control; thoughts on the demise-and-revival of Black Mountain, New Hampshire; the biggest difference between running a ski resort in New England versus the West; the slow, complete transformation of Schweitzer over the past two decades; the rationale behind the Outback Bowl lift upgrades; why Schweitzer's upper-mountain lifts are mostly fixed-grip machines; whether Alterra will continue with Schweitzer's 2018 masterplan or rethink it; potential for an additional future Outback Bowl lift, as outlined in the masterplan; contemplating future frontside lifts and terrain expansion; thoughts on a future Sunnyside lift replacement; how easy it would be to expand Schweitzer; the state of the ski area's snowmaking system; Schweitzer's creeping snowline; sustained and creative investment in employee housing; Ikon Pass access; locals' reaction to the mountain going unlimited on the full Ikon; whether Schweitzer could convert to the unlimited-with-blackouts tier on Ikon Base; dynamic pricing; whether the Musical Carpet will continue to be free; discount night-skiing; and whether Schweitzer's reciprocal season pass partners will remain after the 2023-24 ski season.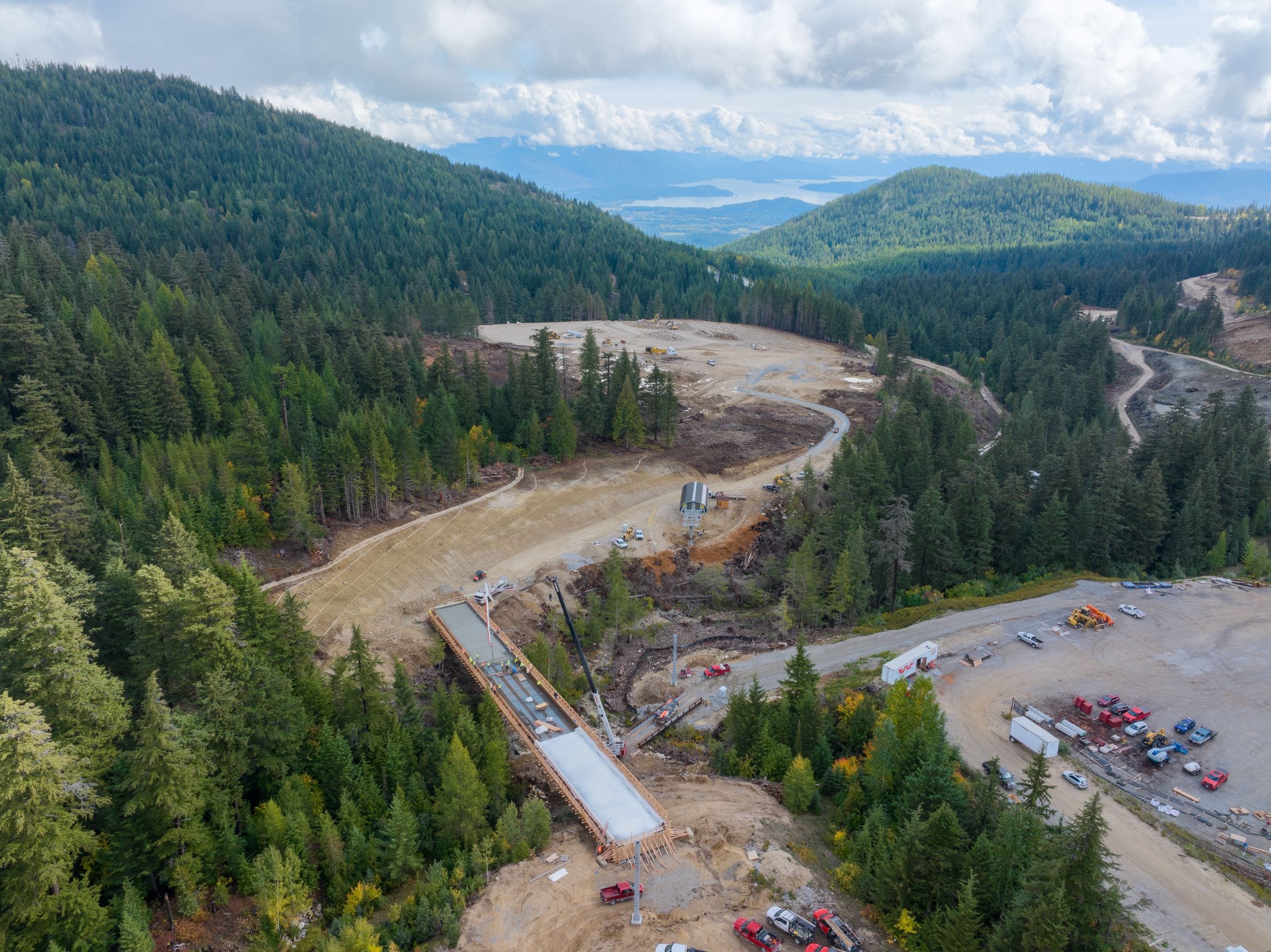 Why I thought that now was a good time for this interview
Until June, Schweitzer was the third-largest independent ski area in America, and just barely, trailing the 3,000 lift-served acres at Whitefish and Powder Mountain by just 100 acres. It's larger than Alta (2,614 acres), Grand Targhee (2,602), or Jackson Hole (2,500). That made this ever-improving resort lodged at the top of America the largest independent U.S. ski area on the Ikon Pass.
Well, that's all finished. Once Alterra dropped Idaho's second-largest ski area into its shopping cart in June, Schweitzer became another name on the Denver-based company's attendance sheet, their fifth-largest resort after Palisades Tahoe (6,000 acres), Mammoth (3,500), Steamboat (3,500), and Winter Park (3,081).
But what matters more than how the mountain stacks up on the stat sheet is how Alterra will facilitate Schweitzer's rapidly unfolding 2018 masterplan, which calls for a clutch of new lifts and a terrain expansion rising out of a Delaware-sized parking lot below the current base area. Schweitzer has so far moved quickly on the plan, dropping two brand-new lifts into Outback Bowl to replace an old centerpole double and activating a new high-speed quad called Creekside to replace the Musical Chairs double this past summer. Additional improvements include an upgrade to the Sunnyside lift and yet another lift in Outback. Is Alterra committed to all this?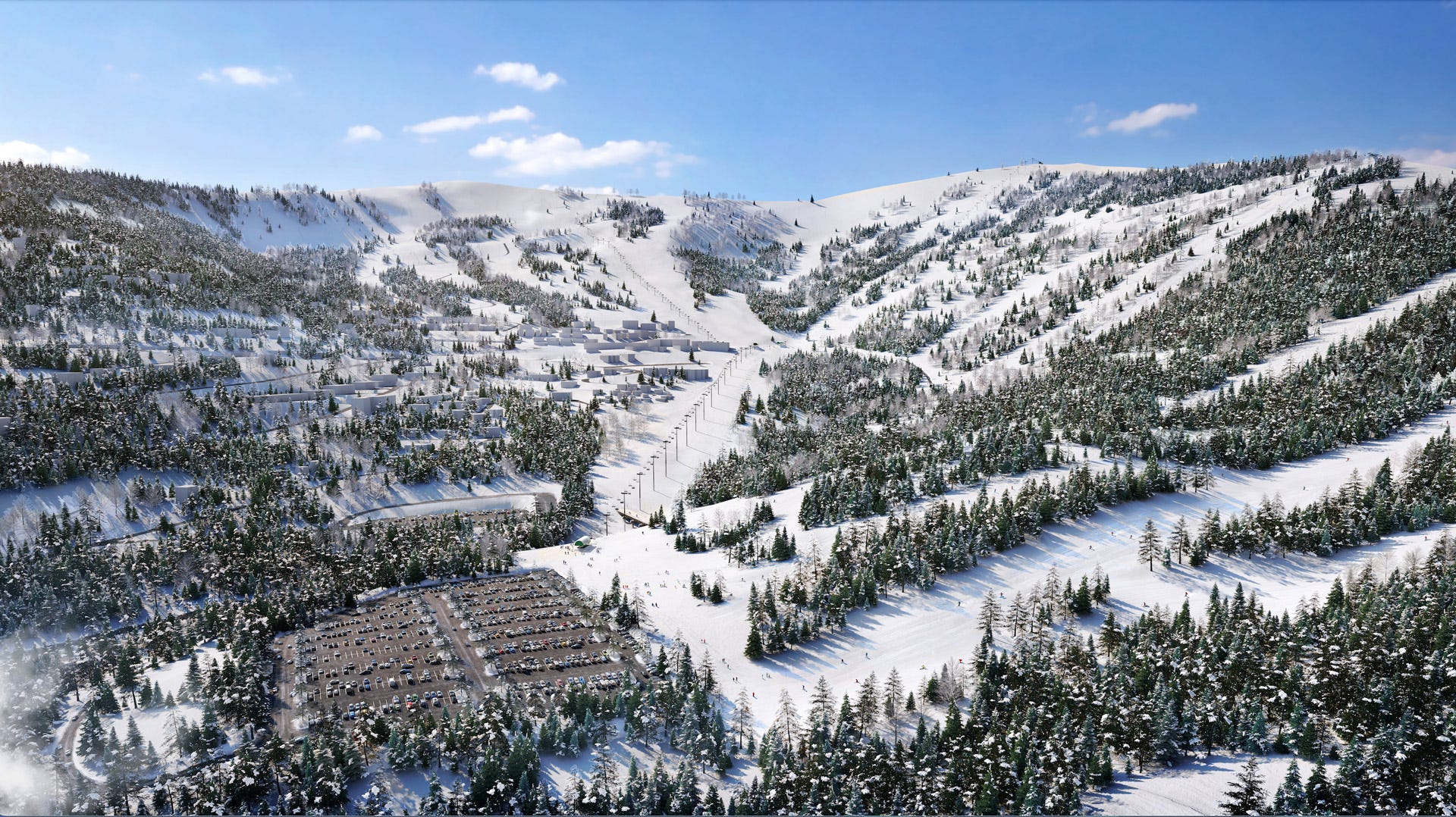 The company's rapid and comprehensive renovations or planned upgrades of Palisades Tahoe, Steamboat, and Deer Valley suggest that they will be. Alterra is not in the business of creating great day-ski areas. They are building destination ski resorts. Schweitzer, always improving but never quite gelling as a national bucket-lister, may have the captain it needs to finally get there.
What I got wrong
I asked Chasse if there was an "opportunity for a Snowcat operation." There already is one: Selkirk Powder runs day-long tours in Schweitzer's "west-northwest-facing bowls adjacent to the resort."
Why you should ski Schweitzer
Allow me to play the Ida-homer for a moment. All we ever hear about is traffic in Colorado. Traffic in the canyons. Traffic in Tahoe. Traffic at Mount Hood and all around Washington. Sometimes, idling amid stopped traffic in your eight-wheel-drive Chuckwagon Supreme Ultimate Asskicker Pickup Truck can seem as much a part of western skiing as pow and open bowls.
But when was the last time you heard someone gripe about ski traffic in Idaho? Probably never. Which is weird, because look at this: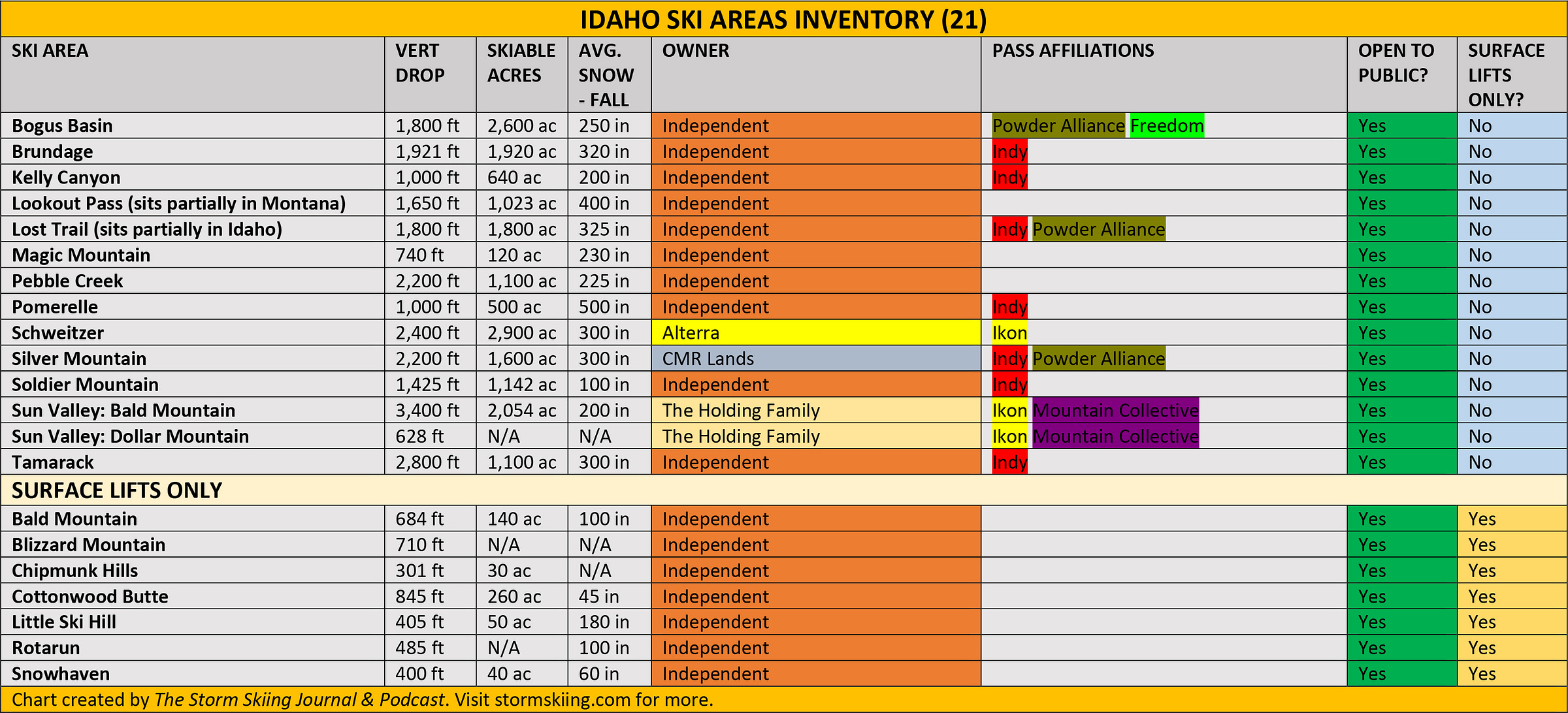 Ten ski areas with a thousand-plus acres of terrain; 12 with vertical drops topping 1,000 feet; seven that average 300 inches or more of snow per season. That's pretty, um, Epic (except that Vail has no mountains and no partners in this ripper of a ski state).
So what's going on? Over the weekend, I hosted a panel of ski area general managers at the Snowvana festival in Portland, Oregon. Among the participants were Tamarack President Scott Turlington and Silver Mountain GM Jeff Colburn. Both told me some version of, "we never have lift lines." Look again at those stats. What the hell?
Go to Idaho, is my point here, if you need a break from the madness. The state, along with neighboring Montana, may be the last refuge of big vert and big snow without big crowds in our current version of U.S. America.
Schweitzer, as it happens, is the largest ski area in the state. It also happens to be one of the most modern, along with Tamarack, which is not yet 20 years old, and Sun Valley, with its fleet of high-speed lifts. Schweitzer sports what was long the state's only six-pack (until Sun Valley upgraded Challenger this year), along with four high-speed quads. Of the remaining lifts, all are less than 20 years old with the exception of Sunnyside, a 1960s relic that is among the last artifacts of Old Schweitzer.
Chasse tells us on the podcast that the ski area could add hundreds of acres of terrain simply by moving a boundary rope. So why not do it? Because the mountain, as it stands, absorbs everyone who shows up to ski it pretty well.
A lot of the appeal of Idaho lies in the rough-and-tumble, in the dented-can feel of big, remote mountains towering forgotten in the hinterlands, centerpole doubles swinging empty up the incline. But that's changing, slowly, ski area by ski area. Schweitzer is way ahead of most on the upgrade progression, infrastructure built more like a Wasatch resort than that of its neighbors in Idaho and Washington. But the crowds – or relative lack of them – is still pure Idaho.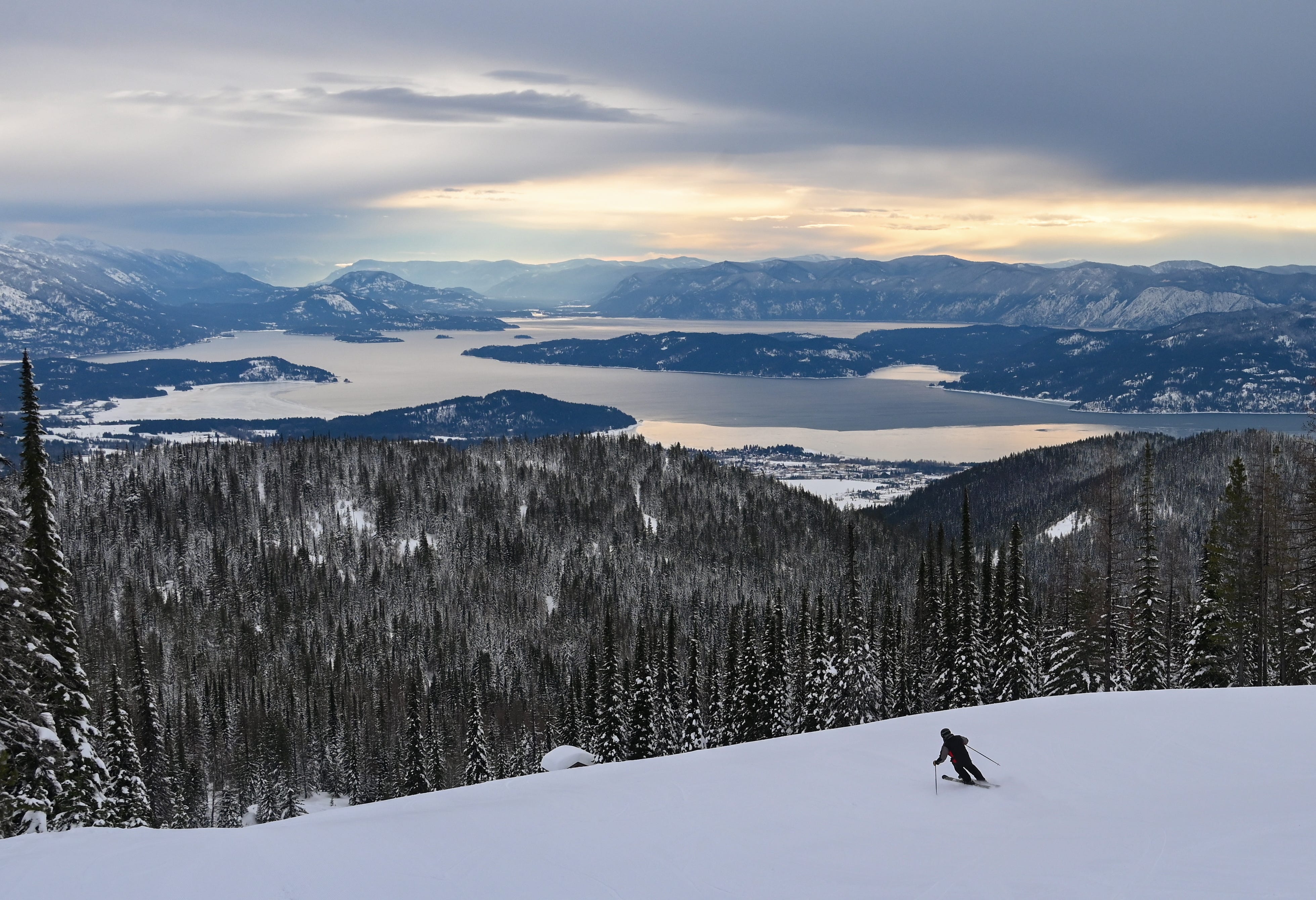 Podcast Notes
On Schweitzer's masterplan
Even though Schweitzer sits entirely on private land, the ski area published a masterplan similar to those of its Forest Service peers in 2018, outlining new lifts and terrain all over the mountain:
Though that plan has changed somewhat (Creekside, for instance, was not included), Schweitzer has continued to make progress against it. Alterra, it seems, will keep pushing it down the assembly line.
On the Alterra acquisition
In July, I hosted Alterra CEO Jared Smith on the podcast. We discuss the Schweitzer acquisition at the 53:48 mark:
On Alterra's megaresort ambitions
Without explicitly saying so, Alterra has undertaken an aggressive cross-portfolio supercharging of several marquee properties. Last year, the company sewed together the Palisades and Alpine Meadows sides of its giant California resort with a 2.1-mile-long gondola:
This year, Steamboat will open the second leg of its 3.1-mile-long, 10-passenger Wild Blue gondola and a several-hundred-acre terrain expansion (and attendant high-speed quad), on Mahogany Ridge: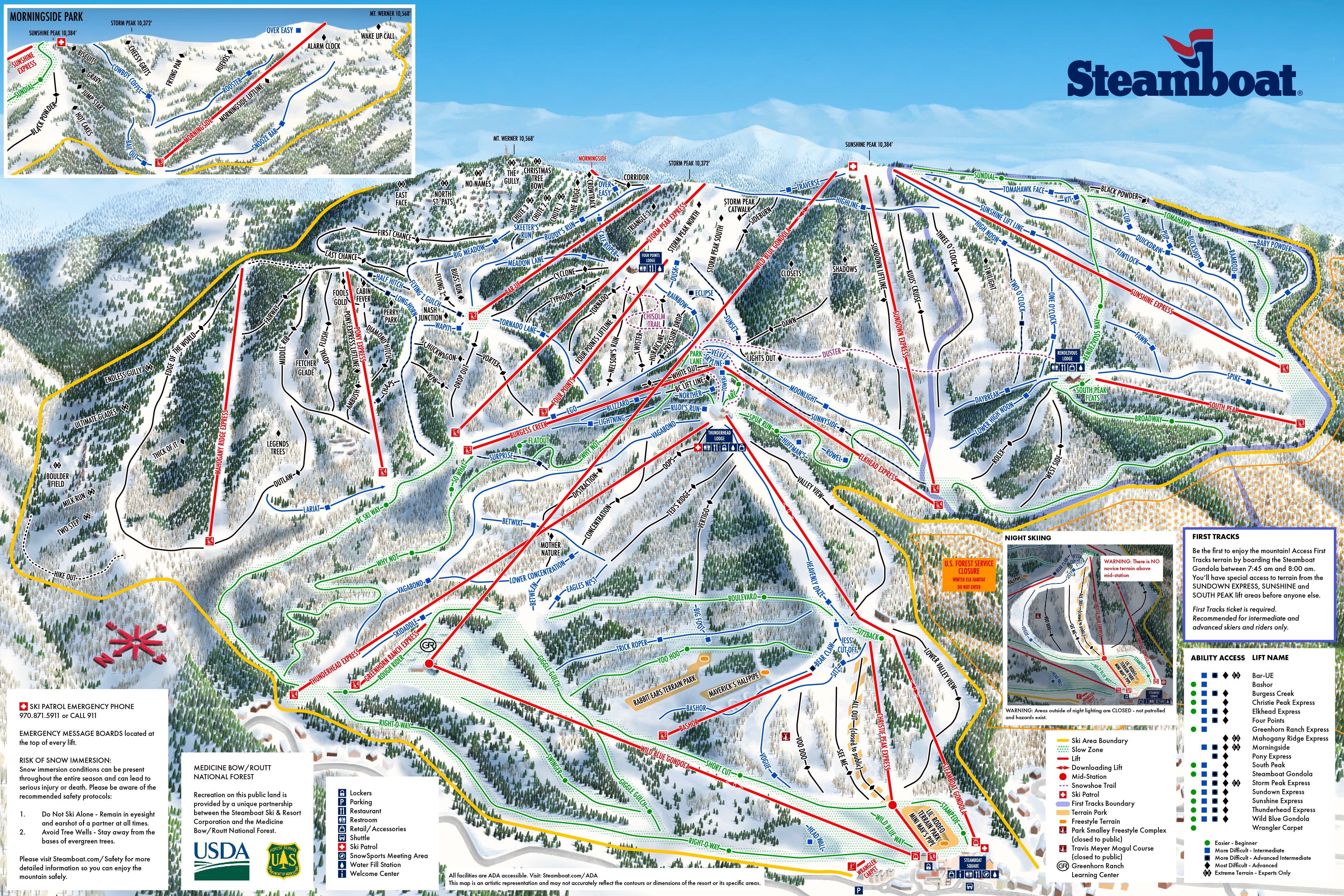 Earlier this year, Alterra announced a massive expansion that will make Deer Valley the fourth-largest ski area in America: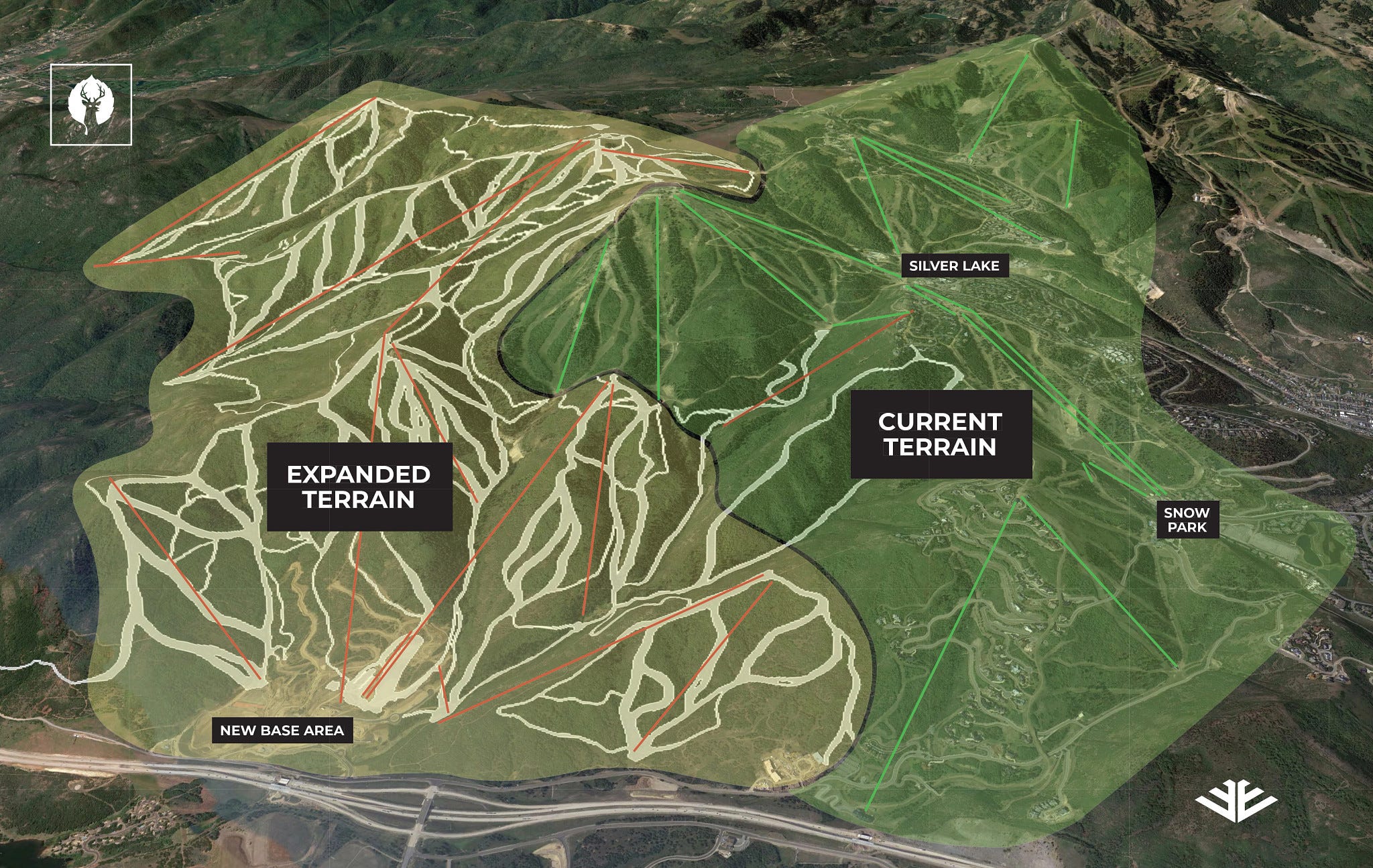 Winter Park's 2022 masterplan update included several proposed terrain pods and a gondola linking mountain to town: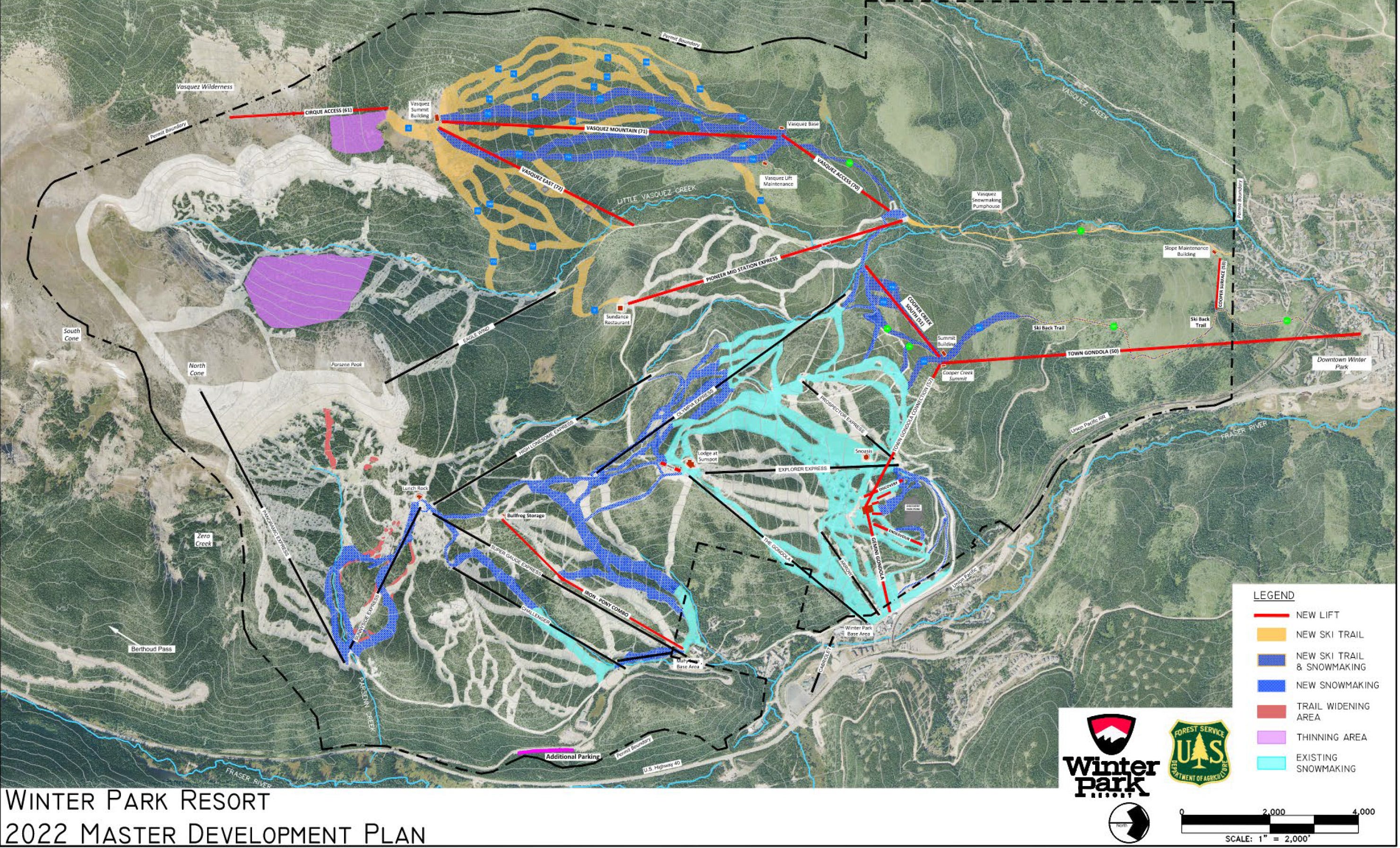 If my email inbox is any indication, New England Alterra skiers – meaning loyalists at Stratton and Sugarbush – are getting inpatient. When will the Colorado-based company turn its cash cannon east? I don't know, but it will happen.
On Mt. Wittier
Chasse learned how to ski at Mt. Wittier, New Hampshire. I included a whole bit on this place in a recent newsletter:
As far as ski area relics go, it's hard to find a more captivating artifact than the Mt. Whittier gondola. While the New Hampshire ski area has sat abandoned since the mid-1980s, towers for the four-passenger gondola still rise 1,300-vertical feet up the mountainside. Tower one stands, improbably, across New Hampshire State Highway 16, rising from a McDonald's parking lot. The still-intact haul rope stretches across this paved expanse and terminates at a garage-style door behind the property. Check it out:

Jeremy Davis, founder of the New England Lost Ski Areas Project, told me an amazing story when he appeared on The Storm Skiing Podcast in 2019. A childhood glimpse of the abandoned Mt. Whittier ignited his mad pursuit to document the region's lost ski areas. Years later, he returned for a closer look. He visited the shop that now occupies the former gondola base building, and the owner offered to let him peek in the garage. There, dusty but intact, sat many, or perhaps all, of the lift's 35 four-passenger gondola cars. It's still one of my favorite episodes:
A bizarre snowtubing outfit called "Mt. Madness" briefly operated around the turn of the century, according to New England Ski History. But other than the gondola, traces of the ski area have mostly disappeared. The forest cover is so thick that the original trail network is just scarcely visible on Google Maps.

The entire 797-acre property is now for sale, listed at $3.2 million. The gondola barn, it appears, is excluded, as is the money-making cell tower at the summit. But there might be enough here to hack the ski area back out of the wilderness: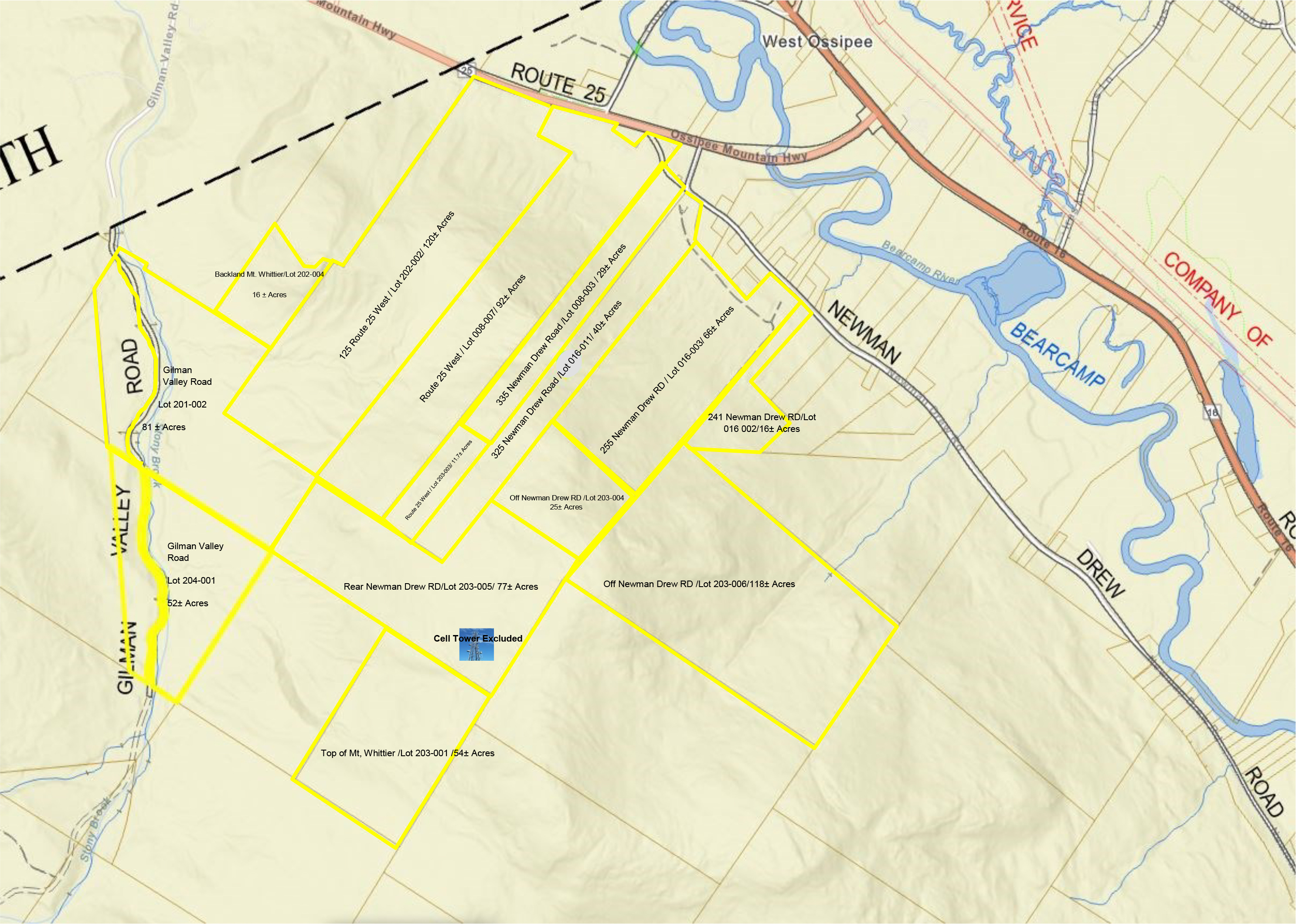 Which would, of course, cost you a lot more than $3.2 million. Whittier has a decent location, west of King Pine and south of Conway. But it's on the wrong side of New Hampshire for easy interstate access, and we're on the wrong side of history for realistically building a ski area in New England.
On the seasonal disruption of hunting in rural areas
Chasse points to hunting season as an unexpected operational disruption when he moved from New England to Idaho. If you've never lived in a rural area, it can be hard to appreciate how ingrained hunting is into local cultures. Where I grew up, in a small Michigan town, Nov. 15 – or "Deer Day," as the first day of the state's two-week rifle-hunting season was colloquially known – was an official school holiday. Morning announcements would warn high-schoolers to watch out for sugar beets – popular deer bait – on M-30. It's a whole thing.
On 2006 Schweitzer
It's hard to overstate just how much Schweitzer has evolved since the turn of the century. Until the Stella sixer arrived in 2000, the mountain was mostly a kingdom of pokey old double chairs, save for the Great Escape high-speed quad, which had arrived in 1990: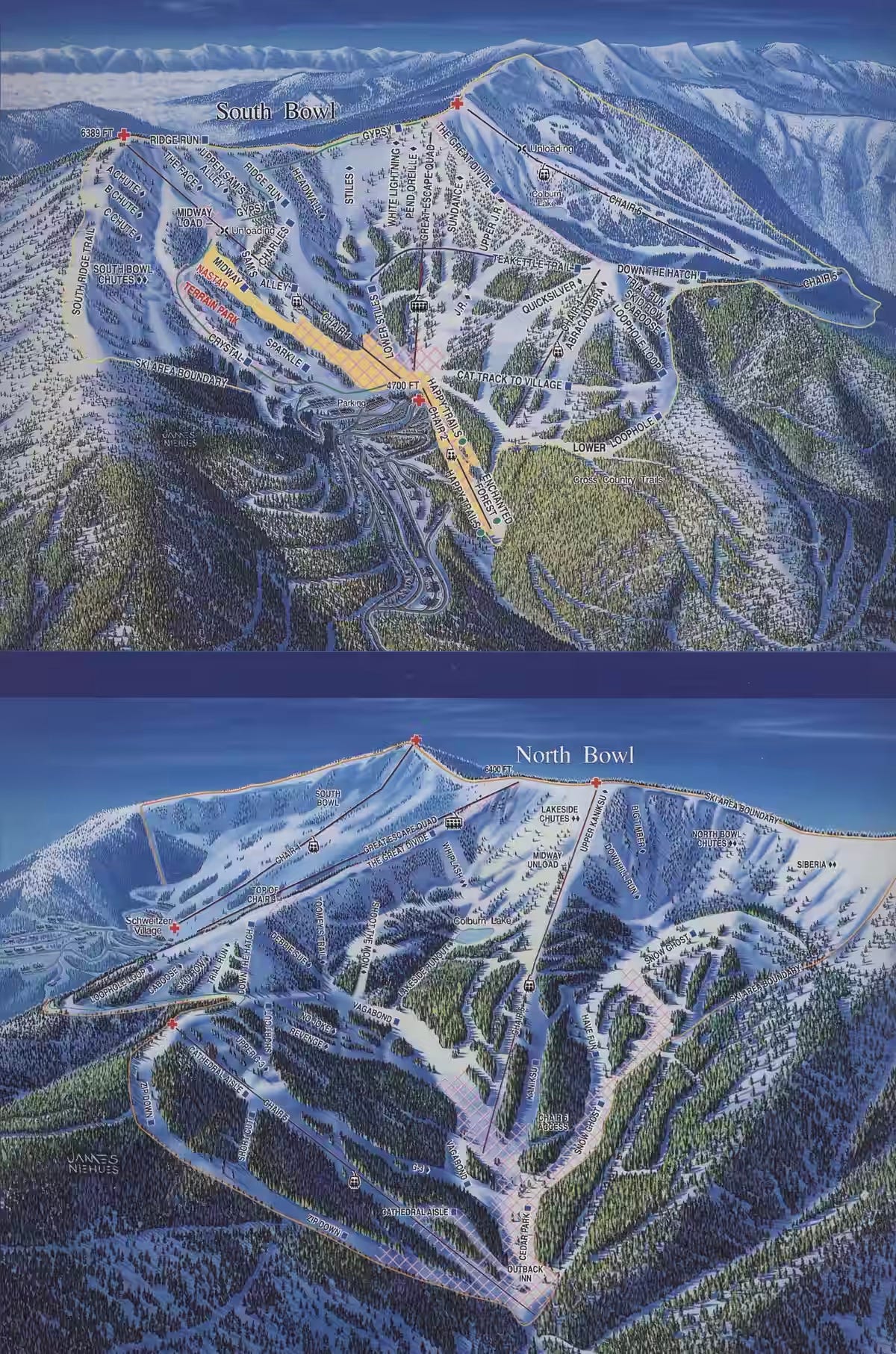 The only lift from that trailmap that remains is Sunnyside, then known as Chair 4. The Stella sixer replaced Chair 5 in 2000; Chair 1 gave way to the Basin Express and Lakeview triple in 2007; Chair 6 (Snow Ghost), came down for the Cedar Park Express quad and Colburn triple in 2019; and Creekside replaced Chair 2 (Musical Chairs), this past summer. In 2005, Schweitzer opened up an additional peak to lift service with the Idyle Our T-bar.
While lifts are (usually) a useful proxy for measuring a resort's modernization progress, they barely begin to really quantify the extreme changes at Schweitzer over the past few decades. Note, too, the parking lots that once lined the mountain at the Chair 2 summit – land that's since been repurposed for a village.
On Schweitzer's proximity to Powder Highway/BC mountains
Many reference materials stop listing ski areas at the top of America, as though that is the northern border of our ski world. But stop ignoring that big chunk of real estate known as "Canada," and Schweitzer suddenly sits in a far more interesting neighborhood. The ski area could be considered the southern-most stop on the Powder Highway, just down the road from Red and Whitewater, not far from Kimberley and Fernie, skiable on the same circuit as Revelstoke, Sun Peaks, Silver Star, Big White, Panorama, and Castle. It's a compelling roadtrip: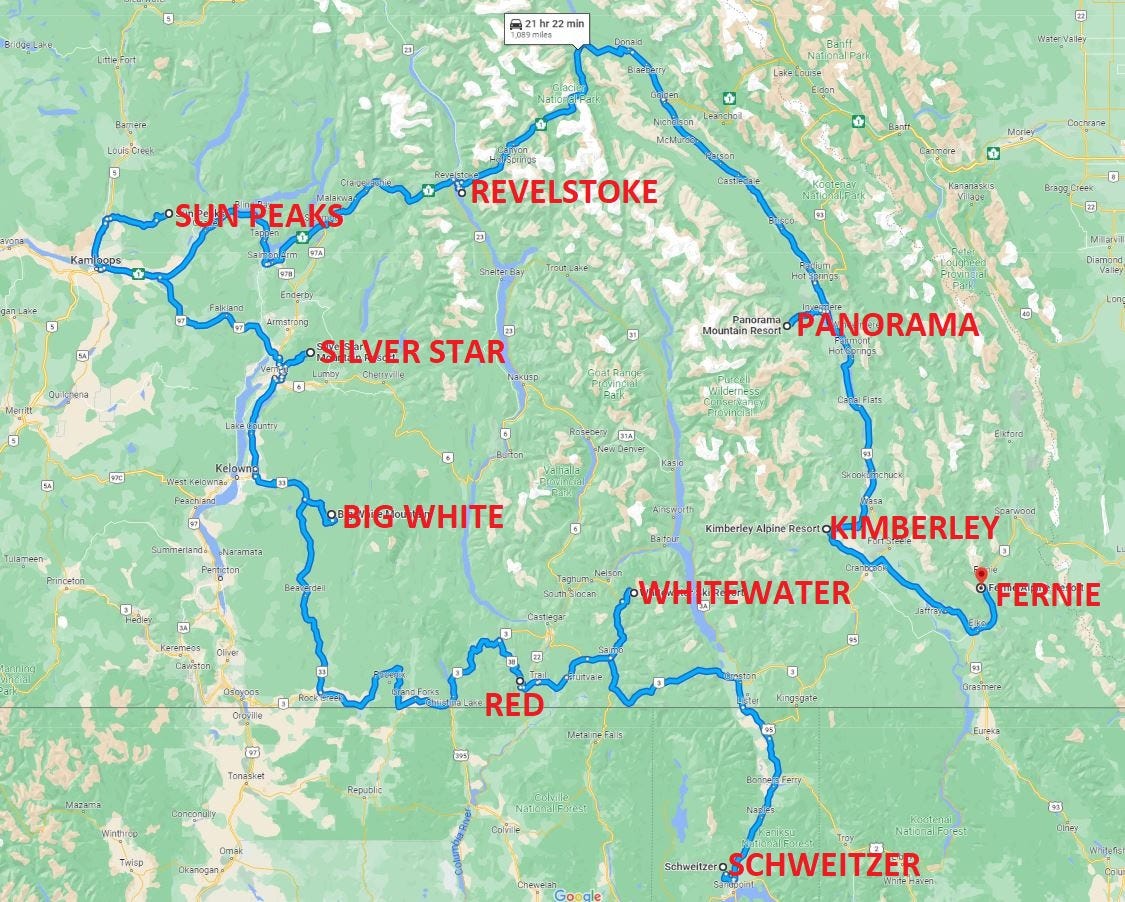 Yes, there area lot more ski areas in there, but these are most of the huge ones. And no, I don't know if all of these roads are open in the winter – the point here is to show the overall density, not program your GPS.
On Alterra's varying approach to its owned mountains on the Ikon Pass
Alterra, unlike Vail, does not treat all of its mountains equally on the top-tier Ikon Pass. Here's how the company's owned mountains sit on the various Ikon tiers: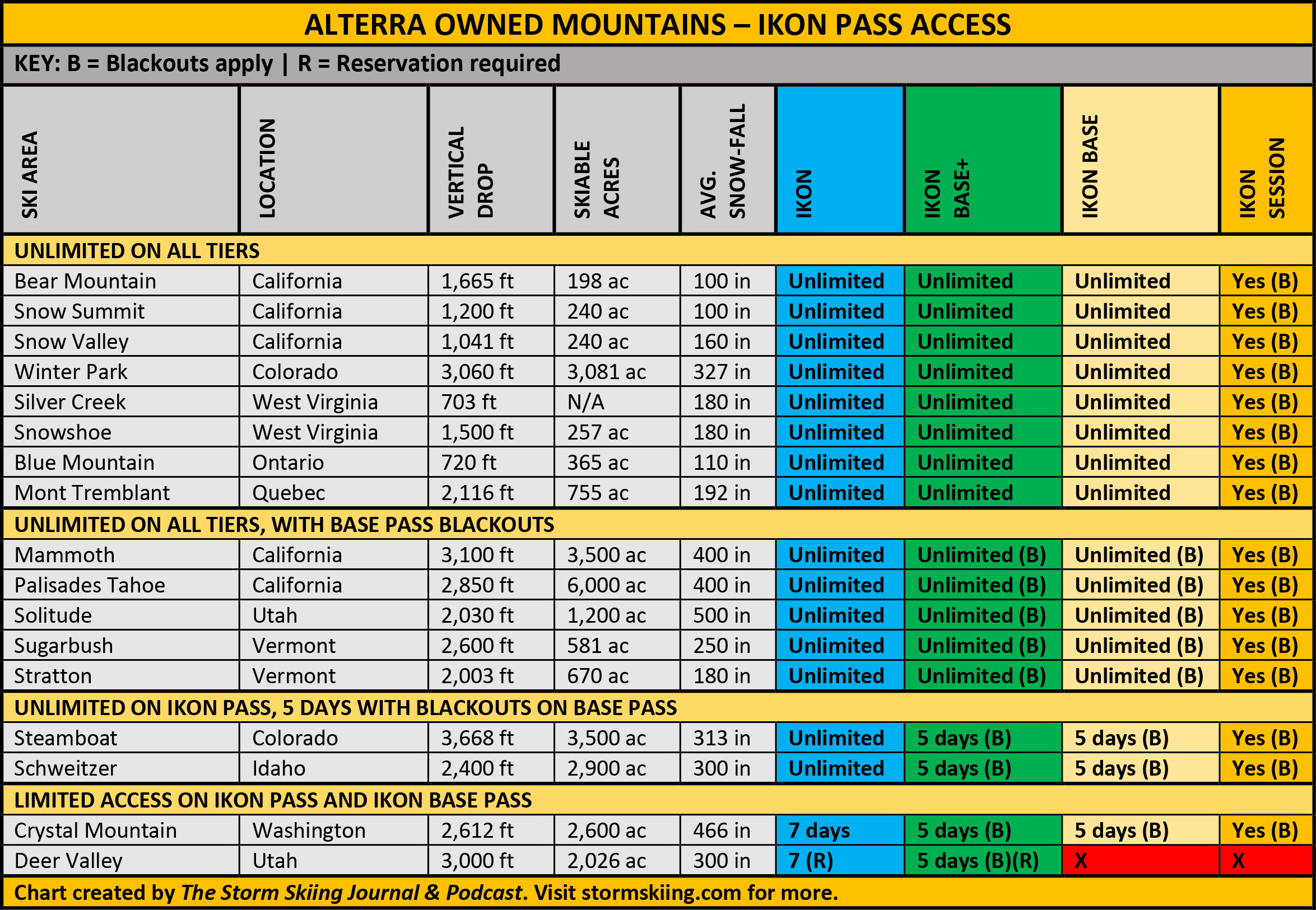 On cheap I-90 lift tickets
I've written about this a bunch of times, but the stretch of I-90 from Spokane to the Idaho-Montana border offers some of the most affordable big-mountain lift tickets in the country. Here's a look at 2022-23 walk-up lift ticket prices for the five mountains stretched across the region:

Next season's rates aren't live yet, but I expect them to be similar.
On Alterra lift ticket prices
I don't expect Schweitzer's lift tickets to stay proportionate to the rest of the region for long. Here are Alterra's top anticipated 2023-24 walk-up lift ticket rates at its owned resorts: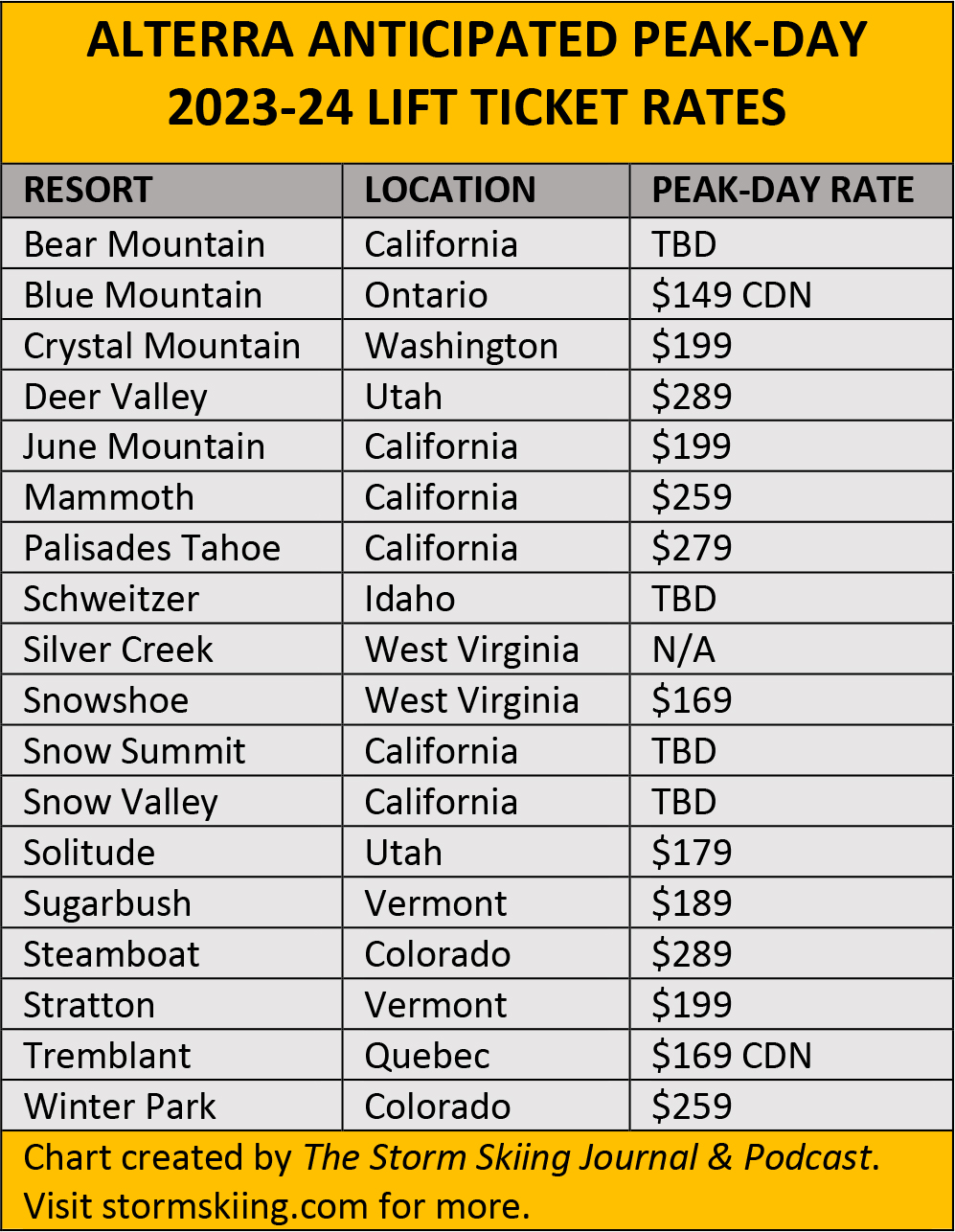 On Bogus Basin's reciprocal lift ticket program
I mentioned Bogus Basin's extensive reciprocal lift ticket program. It's pretty badass, as the ski area is a member of both the Freedom Pass and Powder Alliance, and has set up a bunch of independent reciprocals besides: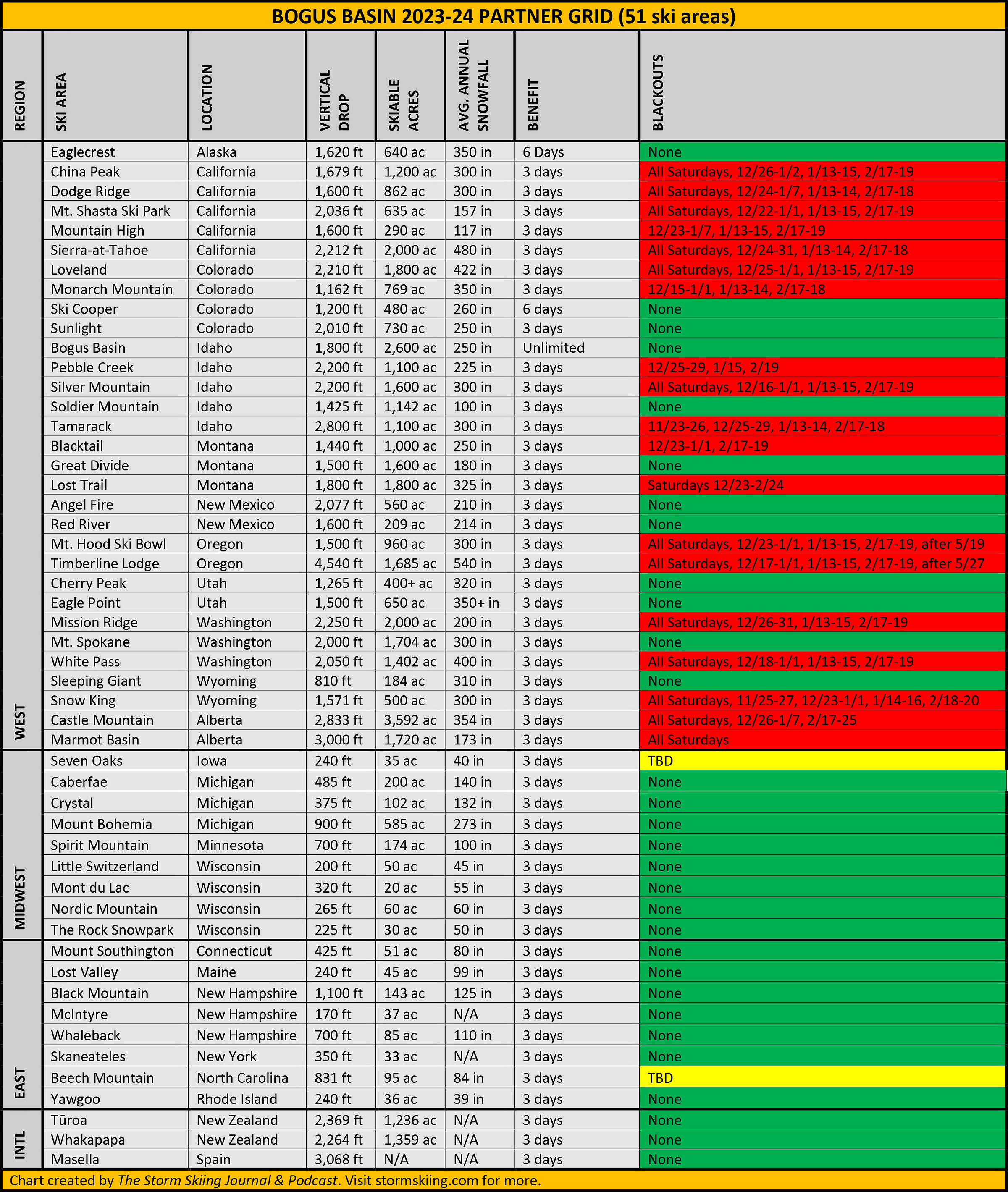 ---
The Storm explores the world of lift-served skiing year-round. Join us.
The Storm publishes year-round, and guarantees 100 articles per year. This is article 97/100 in 2023, and number 483 since launching on Oct. 13, 2019. Want to send feedback? Reply to this email and I will answer (unless you sound insane, or, more likely, I just get busy). You can also email skiing@substack.com.