The Storm Skiing Podcast #3 | Download this episode on iTunes and Google Play | Read the full overview at skiing.substack.com.
Who: Jeremy Davis, Founder of the New England Lost Ski Areas Project (NELSAP)
Why I interviewed him: In college I discovered a ski areas of Michigan map from the 1970s with photos of dudes wearing sweaters and no helmets or even hats and smiling and jumping and I was surprised to find several mountains dotted along the highway grid that I had never heard of, since I had heard of every operating ski area in the state. It had never occurred to me that something so substantial as a ski area could go bust, but there they were, once marked and now deleted. I figured every state must have five or six such areas. Man did I underestimate. NELSAP has logged more than 600 lost ski areas in New England and another 65 in New York. So don't hire me to count things. Instead, listen to Davis, who's been on the case for more than two decades and keeps discovering new lost areas and writing books about them.
What we talked about: The abandoned ski area that stoked his passion; why people care so much about these places; why this gigantic and impossible task fell on him, Some Dude on the Internet, and not like The Historical Society of Snowsportsskiing or some similarly named Official Organization; the part of tracking down lost ski areas that is like being some kind of hill-trekking Indiana Jones; why the absence in many cases of physical artifacts for, say, a ski area that operated for four days in 1958 and never again makes it imperative that we document this stuff now before everyone who remembers them is gone; the most impactful or interesting ski area losses in New York, Connecticut, Rhode Island, Massachusetts, Maine, New Hampshire, and Vermont; the happiest once-lost-and-now-found ski area stories; the lost ski area with the smallest vertical drop of them all (31 feet!); a lost ski area you can explore; why Ascutney is still cool even though it's a fraction of its peak size; the most likely lost ski area candidates to rise from the dead; lost ski areas you can explore; why the private ski area model a la Hermitage Club hasn't worked out for the most part in the Northeast; why some small ski areas continue to thrive in the mega-pass era; the man-that-would-have-been-incredible proposed large ski areas that were never developed because they couldn't get funding or environmental approval or for any number of other reasons; how, improbably, after two decades, Davis is still finding new lost ski areas; the funky or quirky lost ski areas that would have had the potential to survive the social media era by connecting with the Magic-MRG-Plattekill-oriented skiers who prefer soul with their snow; you're not going to believe where the Mount Whittier gondola cars are now; why TV meteorologists hate snow; how Davis, a meteorologist and obvious snow-lover, deals with this; Davis' latest book, about lost ski areas of the Berkshires; how you can support NELSAP; Davis has a Cranmore skimobile in his backyard!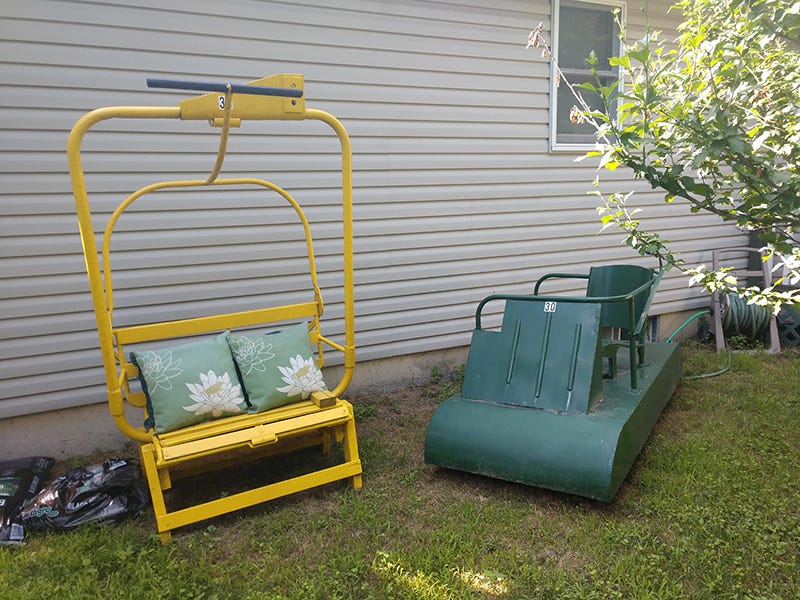 Davis tells the story of how he acquired a car from the retired Cranmore Skimobile, right, in the podcast. The double chair is from Nashoba Valley ski area in Massachusetts, where Davis learned to ski.
Things that may be slightly outdated because we recorded this a while ago: Davis identifies Cockaigne Resort in western New York as one of the most likely lost ski areas to come back online. We talk about 100-degree temperatures at one point in the interview, because we recorded it during the July heatwave – more than a month before Cockaigne announced that it would be back in business. So he didn't miss the memo or anything – his time machine was just broken that day. Same with his speculation on what would happen to the Hermitage Club, which was before the decision to sell off its assets, including the heated six-pack bubble, by a court-appointed trustee. The goal is to eventually push podcast publication much closer to production, but Davis was gracious enough to record this in the dead of summer even though he knew I wouldn't be launching until fall.
Question I wish I'd asked: There seems to be a discrepancy between the number of ski areas that Davis has identified and the numbers listed on the site – he estimates in the interview, for examples, that New York may have as many as 250 lost ski areas, but the site currently only lists 65 and doesn't include large recent shutdowns like Bobcat and Cortina. This is all completely understandable given the scale of the information and the fact that the dude has a day job and the site is the definition of a passion project. Still, I wish I'd given him the opportunity to talk a bit about the best way for folks to fill in the blanks (one of them is to read his Lost Ski Areas books).
What I got wrong: Probably something though nothing obvious when I re-listened. Feel free to point out all errors.
Why I thought that now was a good time for this interview: Because with most of the large ski areas in the Northeast now owned by one of the four big ski conglomerates or New York State and the smaller areas waiting to see where they fit in, it's a good time to take stock of what we've lost. Davis has incredibly deep knowledge not just of which ski areas failed, but when and why. Not all ski areas were meant to survive forever, of course, and not all of them need to, but by examining the past and the natural and economic forces that drove each of these hundreds of shutdowns, we can learn a lot about what makes a ski area work and how they can best situate themselves to survive the inevitable crummy winters and economic downturns. In some ways, I think The Great Ski Area Weed Out may be winding down, as pretty much anyone who neglected to invest in snowmaking infrastructure is long gone, and independent ski areas with affordable tickets are actually pretty well positioned as Vail's legions march east with their inevitable triple-digit lift tickets and $45 cheeze-fries-and-cup-of-ice-water combo deals.
Why you should visit the site: NELSAP is one of the best online ski museums anywhere. Did you know that there used to be skiing in The Bronx and on Long Island? That Massachusetts has 172(!) lost ski areas and counting? That one of those was an indoor ski slope that operated in a disused movie theater? The depth, detail, trivia and overall portrait of a lost world that exists on this site is an invaluable archive for anyone who cares about the history of Northeast skiing.
In case you were curious: I mention in the podcast intro that I started skiing at the now-lost Mott "Mountain" Michigan. The place seems to have rebranded several times after its initial shutdown, but the one that I remember and refer to in the podcast is Jasper Ski Resort, for which I picked up this flyer in the rest area just north of Clare off of what was then U.S. 27 and is now U.S. 127, because sometimes they rename highways and who knows why: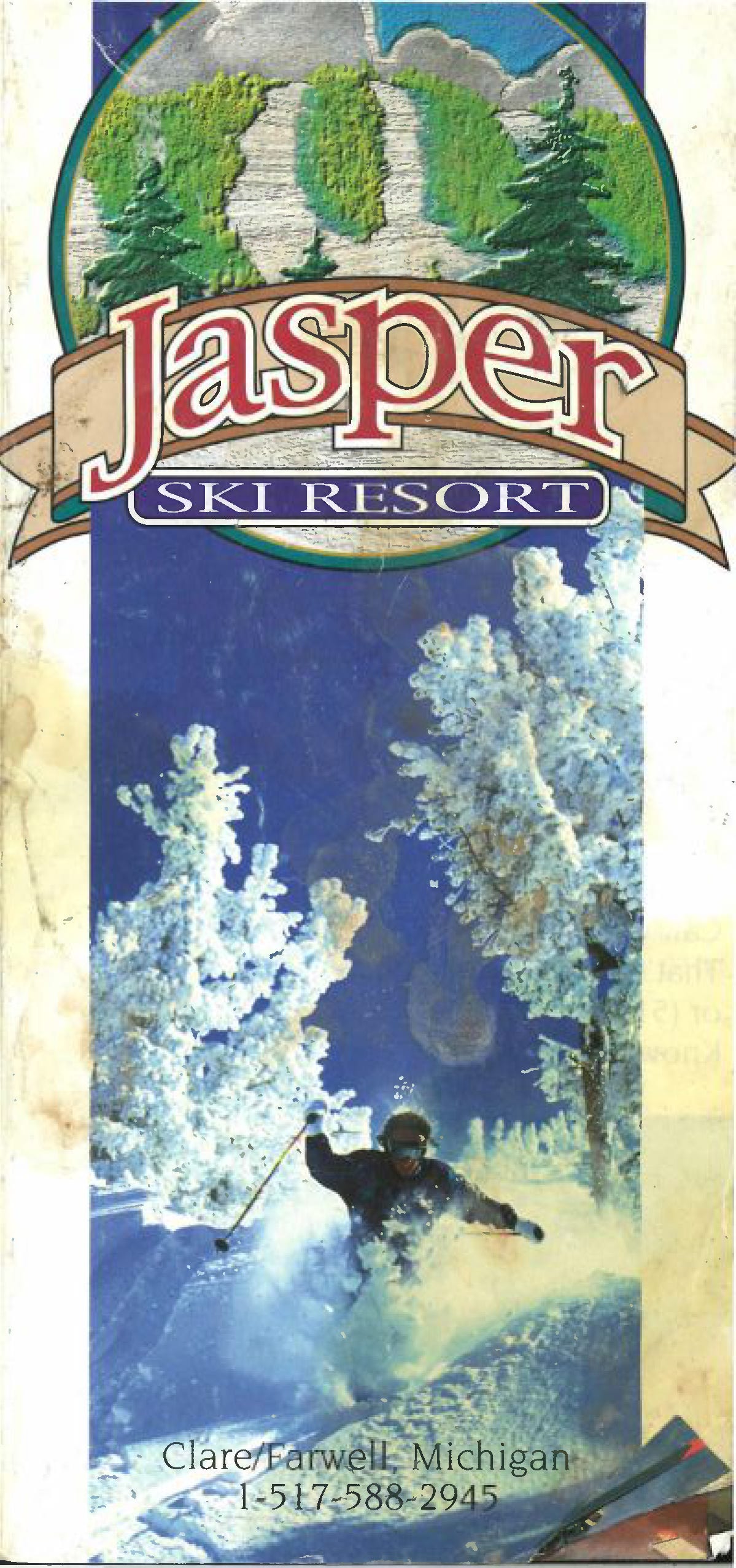 Set aside for a moment that there is a zero percent chance that this photo was taken east of the Eisenhower Tunnel - my favorite picture by far is the top center image on the inside of this designed-by-marketing-geniuses brochure: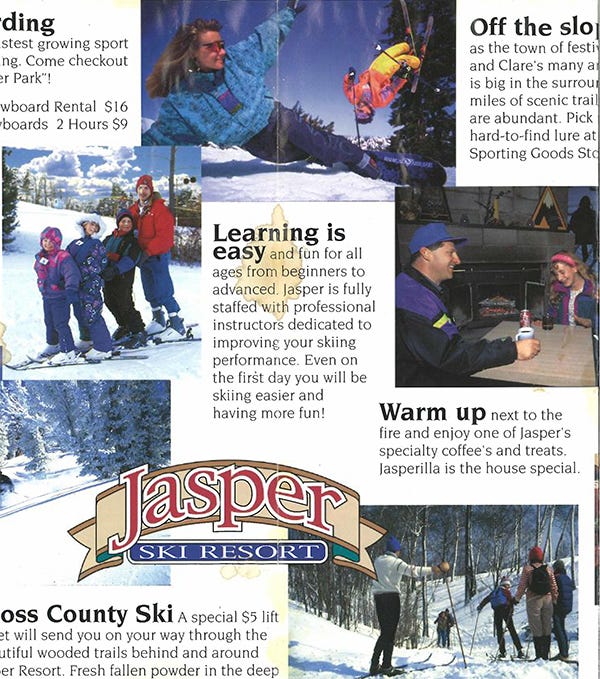 The snowboard chick hanging a carving angle disallowed by the laws of physics. The dude in the multi-colored neon ski suit crushing a front flip propelled apparently only by his ski pole. But the kicker is the mountain ridgeline fading off into the valley below, a vista that you would not have found in any version of Michigan stretching back to the beginning of geological history.
All of this is dated 1996. It's easy to forget that the internet was still in its primitive mostly-text state back then and it wasn't as easy to fact-check things. I feel sorry for anyone who came upon this brochure and actually planned a vacation here expecting to find the Midwestern version of Whitefish what with those snow ghosts haunting the pictures and all and instead just found 200-vertical-foot Mott Mountain.
---
The Storm Skiing Podcast is on iTunes. The Storm Skiing Journal publishes podcasts and other editorial content throughout the ski season. To receive new posts as soon as they are published, sign up for The Storm Skiing Journal Newsletter at skiing.substack.com. Follow The Storm Skiing Journal on Facebook and Twitter.
Check out previous podcasts: Killington GM Mike Solimano | Plattekill owners Danielle and Laszlo Vajtay