This podcast hit paid subscribers' inboxes on Oct. 26. It dropped for free subscribers on Nov. 2. To receive future pods as soon as they're live, and to support independent ski journalism, please consider an upgrade to a paid subscription. You can also subscribe to the free tier below:
Who
Ben Wilcox, President and General Manager of Cranmore Mountain Resort, New Hampshire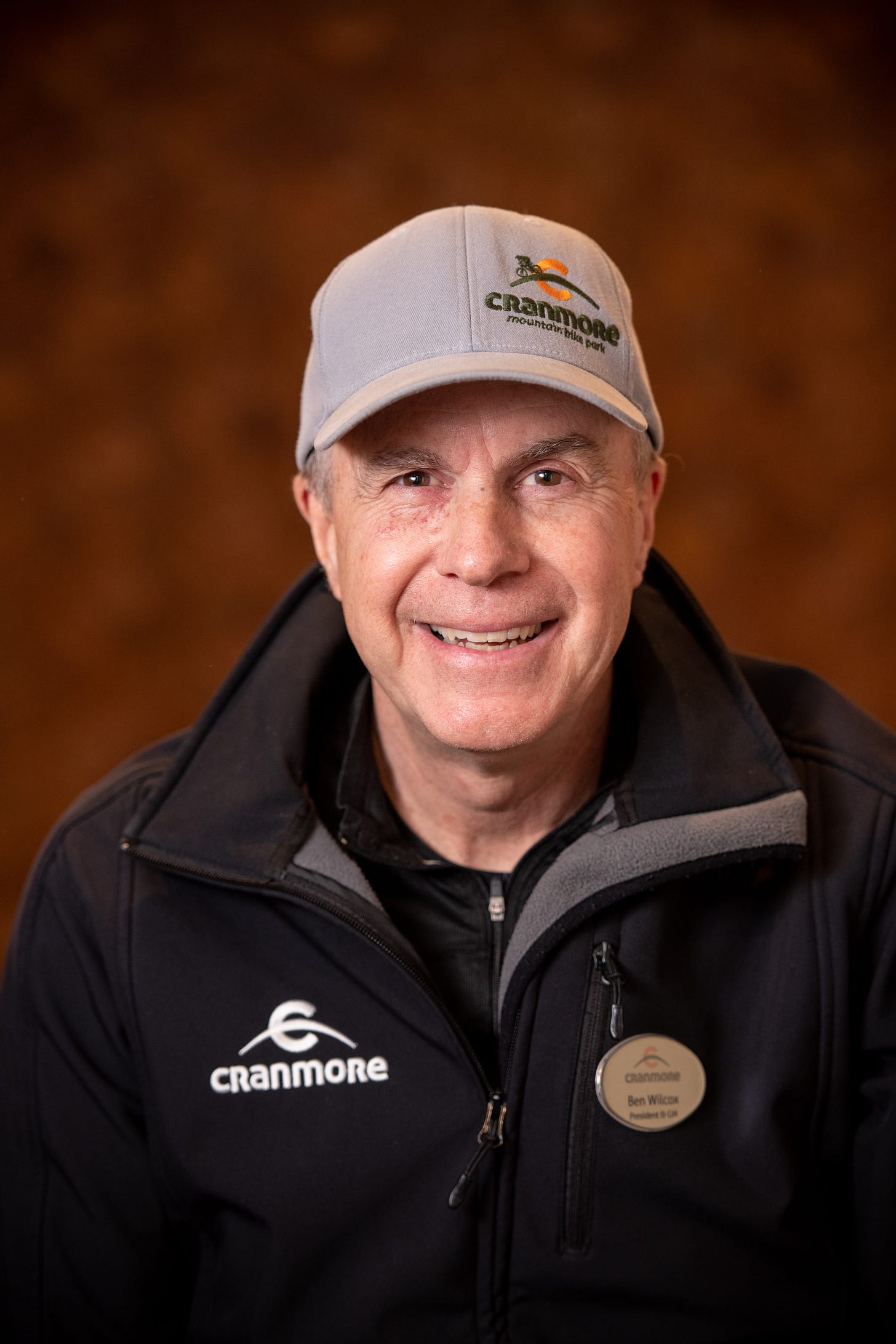 Recorded on
October 16, 2023
About Cranmore
Click here for a mountain stats overview
Owned by: The Fairbank Group
Located in: North Conway, New Hampshire
Year founded: 1937
Pass affiliations: None
Reciprocal partners: 1 day each at Jiminy Peak and Bromley
Closest neighboring ski areas: Attitash (:16), Black Mountain (:18), King Pine (:28), Wildcat (:28), Pleasant Mountain (:33), Bretton Woods (:42)
Base elevation: 800 feet
Summit elevation: 2,000 feet
Vertical drop: 1,200 feet
Skiable Acres: 170 acres
Average annual snowfall: 80 inches
Trail count: 56 (15 most difficult, 25 intermediate, 16 easier)
Lift count: 7 (1 high-speed quad, 1 fixed-grip quad, 2 triples, 1 double, 2 carpets)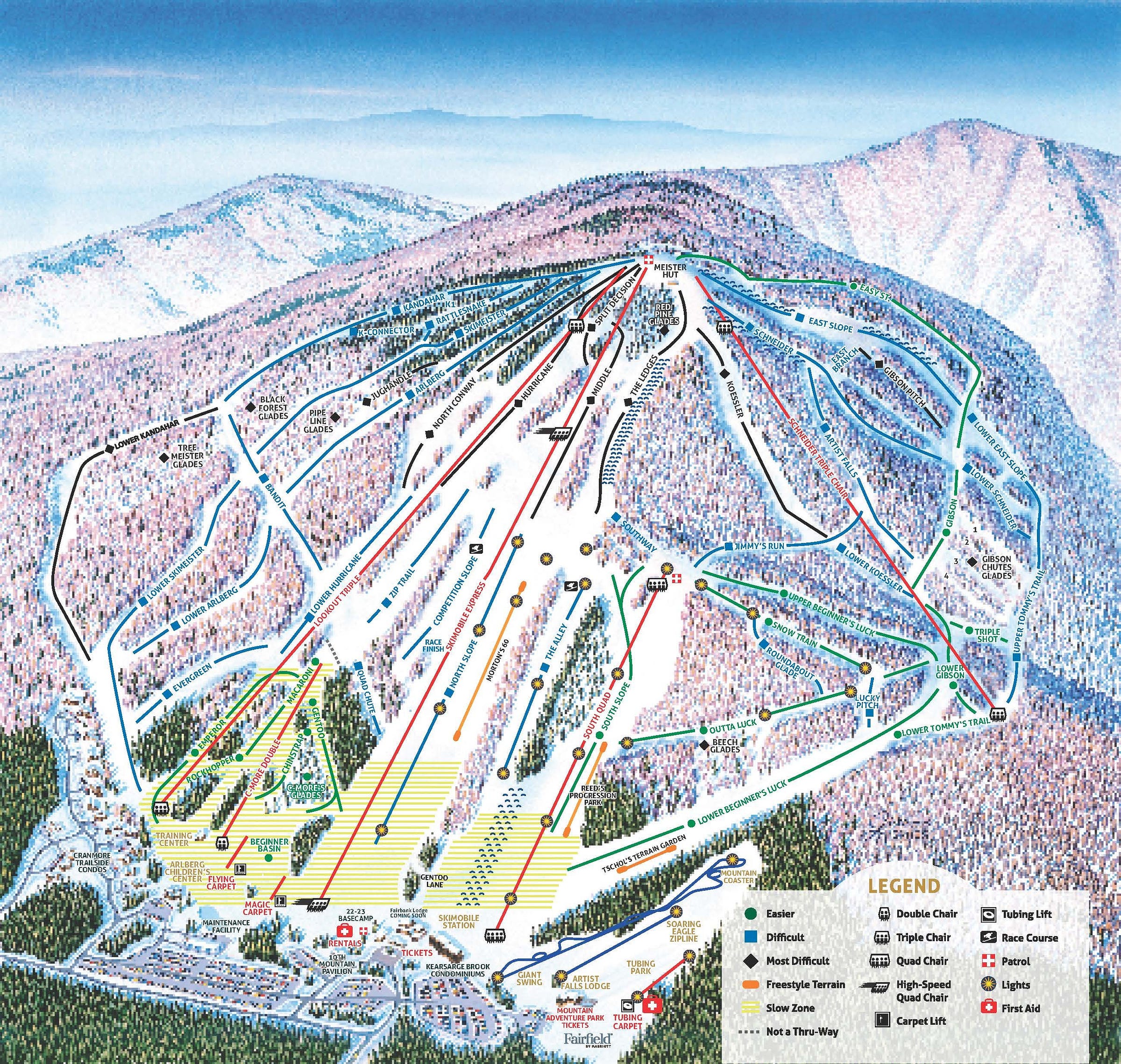 Why I interviewed him
Nowhere does a high-speed quad transform the texture and fate of a mountain so much as in New England. Western mountains, geographically dispersed and disposed to sunshine, can still sell you a ride on a 1,700-vertical-foot fixed grip triple, as Montana Snowbowl did with their new Transporter lift last year, and which Mt. Spokane has promised to do should the ski area ever upgrade its Jurassic Riblets. Midwest hills are too short for lift speed to matter as anything other than a novelty.
But in the blustery, frenetic East, a single detachable lift can profoundly alter a ski area's reach and rap. Such lifts have proven to be stabilizing mechanisms at Burke, Gunstock, Ragged, Bromley, and Saddleback – mountains without the terrain or marketing heft of their much-larger neighbors. In each case, one high-speed quad (and a sixer at Ragged), cracked the mountain open to the masses, uniting all or most of the terrain with one six-minute lift ride and, often, stabilizing operations that had struggled for decades.
Cranmore is one such mountain. Had the Skimobile Express quad not gone up in 1995, Wilcox tells us on the podcast, he's not so sure that the ski area hanging over North Conway would have gotten out of the last century alive. A "dark period" followed the Skimobile's 1990 demolition, Wilcox says, during which Cranmore, tottering along on a double chair strung to the summit, fell behind its high-dollar, high-energy, rapidly consolidating competitors. The Skimobile had been pokey and inefficient, but at least it was freighted with nostalgia. At least it was novel. At least it was cool. An old double chair was just an old double chair, and local skiers had lost interest in those when high-speed lifts started rising up the New England mountainsides in the late 1980s.
It's true that a handful of New England ski areas continue to rely on antique doubles: Smugglers' Notch, Magic, Black Mountain in New Hampshire, Mt. Abram. But Smuggs delivers 300 inches of snow per winter and a unique, sprawling terrain network. The rest are improbable survivors. Magic sat idle for half the '90s. We nearly lost Black earlier this month. All anybody knows about Mt. Abram is that it's not Sunday River.
The Skimobile Express did not, by itself, save Cranmore. If such a lift were such a magic trick, then we'd still be skiing the top of Ascutney today (yes Uphill Bro I know you still are). But the lift helped. A lot.
There is a tendency among skiers to conflate history with essence. As though a ski area, absent the trappings of its 1930s or '40s or '50s origins, loses something. These same skiers, however, do not rip around on 240s clapped to beartrap bindings or ski in top hats and mink shawls. Cranmore could not simply be The Ski Area With The Skimobile forever and ever. Not after every other ski area in New England, including Cranmore, had erected multiple chairlifts. There is a small market for such tricks. Mad River Glen can spin its single chair for 100 more years if the co-op ownership model holds up. But that is a rowdy, rugged hunk of real estate, 2,000 feet of nasty, a place where being uncomfortable is half the point. Cranmore… is not.
So Cranmore changed. It is now a nice, modern, mid-sized New England ski area, with a 1,200-foot vertical drop and a hotel at the base. More important, it is an 86-year-old New England ski area, one that began in the era when guys named Harv and Mel and Bob and Jenkins showed up with a hacksaw and a 12-pack and started building a lift-served snowskiing operation, and transitioned into a new identity suited to a new world. Wilcox, with his grasp of the resort's sprawling, mad history, is a capable ambassador to tell us how they did it.
What we talked about
The new Fairbank base lodge; what Cranmore found when they tore down the old lodge; the future of Zip's Pub; who the lodge is named after; the base lodge redevelopment plan; what happened when the Fairbanks purchased Cranmore; North Conway; traffic; Bretton Woods; Booth Creek; Cranmore pride; "if [the Skimobile Express] hadn't gone in in the mid-90s, I'm not sure if we'd still be here"; the Skimobile Express upgrade and why Cranmore didn't replace it with a new lift; the history of America's Zaniest lift, the original Skimobile; why Cranmore ultimately demolished the structure; potential upgrades for Lookout; the long-rumored but never-built Blackcap expansion; the glory and grind of southern exposure; night skiing; what happened when Vail came to town; competing against discount Epic Passes; why the days of car-counting are over; the history and logic behind the White Mountain Super Pass and the Sun and Snow Pass; Black Mountain; staffing up when your biggest rival raises minimum wage to $20 an hour; and whether Cranmore has considered a Jiminy Peak-esque wind turbine.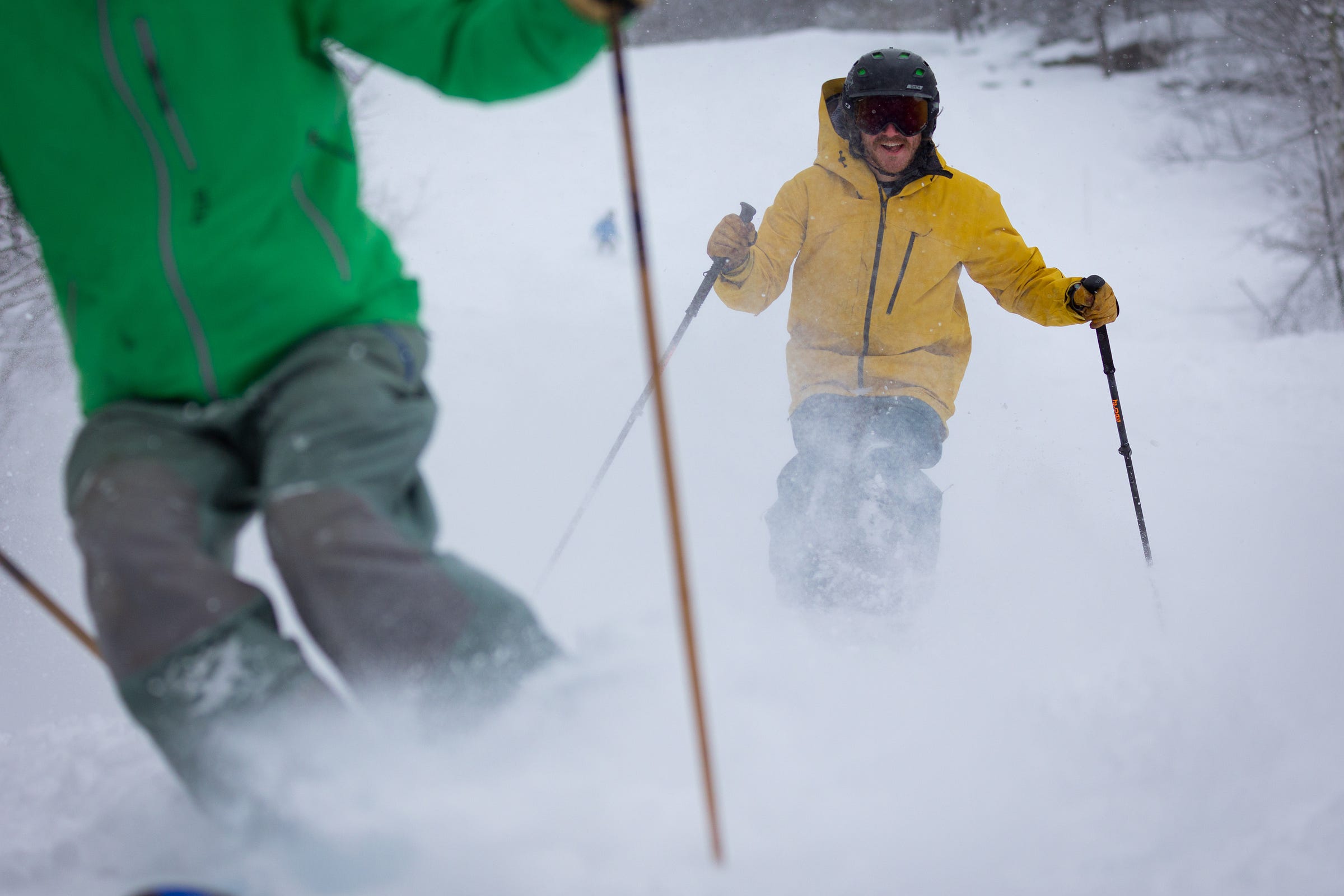 Why I thought that now was a good time for this interview
The Fairbank Group did something unsung and brilliant over the past two years. While major resorts across the continent razed and replaced first-generation detachables at a per-project cost approaching or exceeding double-digit millions, Cranmore (which Fairbank owns), and Bromley (which they operate), modernized in a more modest way. Rather than tearing down the high-speed quads that act as base-to-summit people-movers for each ski area, they gut-renovated them. For around $1 million per lift, Bromley's Sun Mountain Express and Cranmore's Skimobile Express got new, modern drives, comms lines, safety systems, and more. The result: two essentially brand-new lifts with three-plus decades of good life ahead of them.
Skiers may not see it that way, and most won't even know about the upgrades. The aesthetics, mostly, remain unchanged. But for independent ski area operators knocked into eyes-bulging terror as they see price quotes for a Double Clutch Z-Link Awesomeness 42-passenger Express Lift, the Fairbank model offers an approachable alternative. Knock down the walls, but keep the building intact, a renovation rather than a rebuild.
Boyne does this all the time, mostly with lifts the company is relocating: the Kanc quad at Loon becomes the Seven Brothers quad; Big Sky's Swift Current quad becomes Sugarloaf's Bucksaw Express; Sunday River's Jordan quad is, someday, maybe, supposedly going to land at Pleasant Mountain. Sugarloafers may grumble on their message boards about getting a used quad while Sunday River erects its second D-Line bubble lift in two years, but, as Loon President/GM Brian Norton told me about the Seven Brothers upgrade on the podcast last year, the effect of such projects are that skiers get "a new lift… you won't recognize it." Other than the towers and the chairs, the machine parts of these machines really are brand new.
Cranmore and its sister resorts have found a different way to sustainably operate, is my point here. The understated chairlift upgrades are just one expression of this. But both operate, remember, in impossible neighborhoods. Bromley is visible from almost any point on Alterra-owned Stratton, Southern Vermont's Ikon Pass freight train. Cranmore sits just down the road from Vail-owned Attitash and Wildcat, both of which are larger, and both of which share a pass – which, by the way, is less expensive than Cranmore's – with each other and with their 20 or 50 or 60 best friends, depending upon how Epic you want your winter to be. The local lift-served skiing market is so treacherous that Black Mountain, less than 11 miles north of Cranmore and in continuous operation since 1935, was saved from permanent closure last week only when Indy Pass called in the cavalry.
Yet, Cranmore thrives. Wilcox says that season pass sales continue to increase every year. Going into year five of Northeast-specific Epic Pass offerings and year six of the Ikon Pass, that's an amazing statistic. Cranmore's pass is not cheap. The early-bird adult price for the 2023-24 ski season came in at $775. It's currently $1,139. For a 1,200-vertical-foot mountain in a state full of 2,000-footers, with just one high-speed lift in a neighborhood where Sunday River runs five, statistical equivalencies quickly fail any attempt to explain this momentum.
So what does explain it? Perhaps it's the resort's massive, ongoing base area renovation that landed a new hotel and lodge onsite within the past year. Perhaps it's consumer habit and proximity to North Conway, looming, as the mountain does, over town. Perhaps it's the approachable, just-right size of the mountain or, for families, the fact that all trails funnel back to a single base. Perhaps it's the massive seasonal youth and race programs. It is, most likely, a combination of all of these things, as well as atmospheric intangibles and managerial competence.
Whatever it is, Cranmore shows us that a pathway exists for a Very Good Mountain to thrive in the megapass era without being a direct party to it. It's worth noting that Black, which nearly failed, is a fifth-year member of Indy Pass, which Cranmore has declined to join. While this conversation with Wilcox does not exactly explain how the mountain has been so successful even as it sidesteps megatrends, it's easy enough to appreciate, as you listen to his passion for and appreciation of the place, why it does.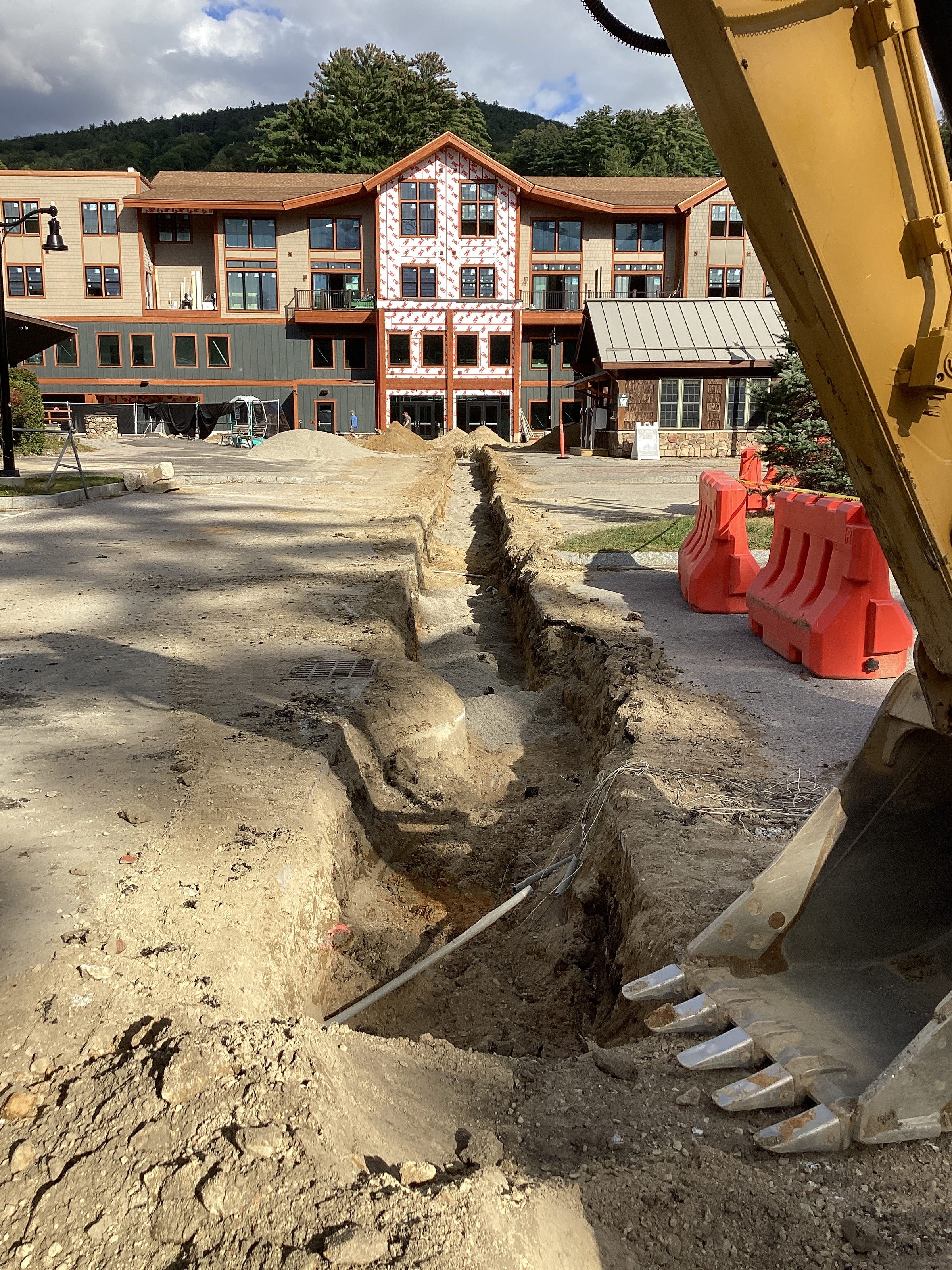 What I got wrong
I noted that the Skimobile Express quad had been upgraded "last year, or maybe the year before." Cranmore completed the lift overhaul in 2022.
I referred to Vail's Northeast Value Epic Pass as the "Northeast Local Pass."
Why you should ski Cranmore
The New England Ski Safari is not quite the social media meme that it is in the big-mountain West, where Campervan Karl and Bearded Bob document their season-long adventures over switchbacking passes with their trusty dog, Labrador Larry. Alta/Snowbird to Jackson to Big Sky to Sun Valley to Tahoe with a sickness Brah. Hella wicked rad. Six weeks and 16 storms, snowshovels in the roof box and Larry pouncing through snow in IG Stories.
Distance is not such an obstacle in the East. New England crams 100 ski areas into a six-state region half the size of Montana (which is home to just 17, two of which it shares with Idaho). Between pow runs we can just… go home. But the advent of the megapass in the Northeast over the past decade has enabled this sort of resort-hopping adventure. Options abound:
Epic Pass gives you three of Vermont's largest ski areas (Okemo, Mount Snow, Stowe); one of New England's best ski areas (also Stowe); and four stops in New Hampshire, three of which (Mount Sunapee, Wildcat, and Attitash), are sizeable. Crotched gives you night skiing.

Ikon Pass delivers four of New England's biggest, best, and most complete ski areas: Killington, Sugarbush, Sunday River, and Sugarloaf; as well as two of its best lift systems (Stratton and Loon – yes, I know the gondolas are terrible at both); and a sleepy bomber in Pico.

Indy Pass gives you perhaps New England's best ski area (Jay Peak); three other mountains that stack up favorably with anything on Epic or Ikon (Waterville Valley, Cannon, Saddleback); and a stack of unheralded thumpers where light crowds and great terrain collide (Black Mountain of Maine, Black Mountain NH, Magic, Bolton Valley, Berkshire East); and a bunch of family-friendly bumps (Whaleback, Dartmouth Skiway, Pats Peak, Saskadena Six, Mohawk, Catamount, Bigrock).
Hit any of those circuits, and you're bound for a good winter. So why tack on an extra? Cranmore is one of the few large New England independents (along with Bretton Woods, Smugglers' Notch, Mad River Glen, Bromley), to so far decline megapass membership. That makes it a tricker sell to the rambling resort-hopper.
But this is not Colorado. You can score a Cranmore lift ticket for as little as $65 on select Sundays, even in mid-winter, (including, as of this writing, the always raucous St. Patrick's Day). If you're skiing Attitash and staying in North Conway, you can roll up to Cranmore starting at 2 p.m. on Wednesday or Saturday for a $69 night-ski and some pre-dinner turns.
And it's worth the visit. This is a very good ski mountain. The stats undersell the place. It skis and feels big. The fall lines are sustained and excellent. Glades are more abundant than the trailmap suggests. The grooming is outstanding. It faces south – a not unimportant feature in often-frigid New England.
Even if you're megapass Bro (and who among us is not?), this one fits right into the circuit, close to Attitash, Black, Wildcat, Cannon, Loon, Waterville. It's easy to ski multiple New England mountains on a single trip, or even in a single day. The last time I skied Cranmore, I cranked through 17 high-speed laps in three hours and then bumped over to Pleasant Mountain, half an hour down the road.
Podcast Notes
On Hans Schneider
Henry Dow Gibson, who New England Ski History refers to as an "international financier" founded Cranmore in 1937, but it was Austrian ski instructor Hannes Schneider who institutionalized the place. Per New England Ski History:
Hannes Schneider was born on June 24, 1890 in Stuben, a small town west of Arlberg Pass in Austria. At the age of 8, Schneider started skiing on makeshift skis.

While becoming a renowned skier in his teenage years, Schneider developed the Arlberg technique. The Arlberg technique quickly caught on, resulting in Schneider becoming in demand for demonstrations, films, and military training.

Following Nazi Germany taking Austria in the Anschluss, Schneider was imprisoned March 12, 1938.

In January of 1937, international financier Harvey Gibson purchased land on Cranmore Mountain in Conway with the aim to make North Conway a winter destination. Two years later, after lawyer Karl Rosen managed to transfer Schneider from prison to house arrest, Gibson leveraged his firm's German holdings and negotiated with Heinrich Himmler to get Schneider and his family released from Germany and transported to the United States. Following a massive welcoming party in North Conway in February of 1939, Schneider took over Cranmore and worked quickly to make it one of the best known ski areas in the country.

One of Schneider's first big decisions at Cranmore was to expand lift service to the summit, which was accomplished during his first full season when the upper section of the Skimobile was installed. With top to bottom Skimobile coverage, Cranmore was second only to Cannon's tram in terms of continuous lift served vertical drop in New England.

With the onset of World War II, Hannes was reportedly involved in the training and providing intelligence for United States and British ski troops. His son Herbert served in the 10th Mountain Division during World War II, earning a Bronze Star for his heroic actions in Italy. Following the war, Herbert returned to North Conway to work for his father.

In 1949, Hannes Schneider was hired to oversee construction of the new Blue Hills ski area outside of Boston, Massachusetts. Schneider referred to the ski area was "Little Cranmore."

In the spring of 1955, Schneider was actively working to open new terrain at Cranmore, serviced by its first chairlift. Following a day of laying out new terrain in what would become the East Bowl, Schneider died of a heart attack. Schneider's son Herbert assumed control of the Cranmore ski school and, circa 1963 started a two decade run as owner of the ski area.

Schneider's name lives on at Cranmore, as a trail (Schneider in the East Bowl) and the annual Hannes Schneider Meister Cup Race.
On the Fairbank Group
Cranmore is owned by the Fairbank Group, whose chairman and namesake, Brian Fairbank, transformed Jiminy Peak from a Berkshires backwater into the glimmering modern heart of Massachusetts skiing. The company also operates Bromley (which is owned by Joseph O'Donnell), and owns a renewable energy operation (EOS Ventures), a ski industry e-learning platform (Bullwheel Productions), and a snowmaking outfit (Snowgun Technologies). For all this and more, including Jiminy Peak's early embrace of clean energy to power its operation, Brian Fairbank earned a spot in the Ski & Snowboard Hall of Fame in 2020. I hosted him on the podcast that autumn to discuss his career and achievements:
On Booth Creek Ski Holdings
In an alternate universe, Booth Creek may stand today on Alterra's throne, Vail's foil in the Skico Wars. For a brief period in the late '90s, the company, founded by former Vail and Beaver Creek owner George Gillett Jr., owned eight ski areas across the United States: Cranmore, Loon, Waterville Valley, Grand Targhee, Summit at Snoqualmie, Bear Mountain (now part of Big Bear), Northstar, and Sierra-at-Tahoe. In 1998, the company attempted to purchase Seven Springs, Pennsylvania. But, as this summary chart from New England Ski History shows, Booth Creek began selling off resorts in the early 2000s. Today, it owns only Sierra-at-Tahoe:

On the Skimobile
Had Cranmore's monolithic Skimobile survived to the present day, most visitors would probably mistake it for a mountain coaster. When it went live, in 1938, skiers likely mistook it for the future. "Well, by gum, a contraption that just takes you right up the mountain while you sit on your heinie. This will change skiing forever!"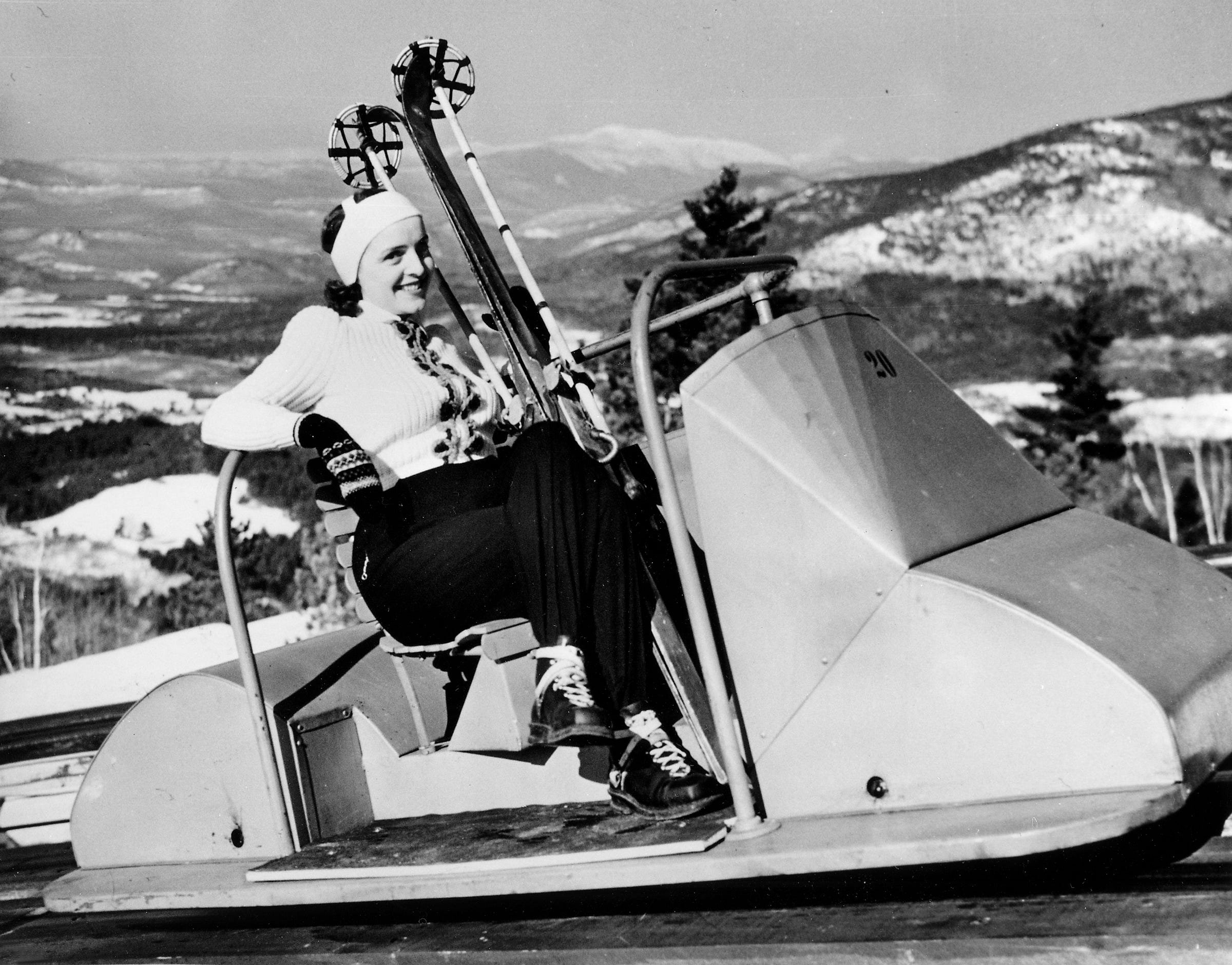 Instead, the Skimobile, a two-track monster that toted skiers uphill in single-passenger carts, passed five decades as a beloved novelty before Cranmore demolished it in 1990. The New England ski diaspora is still sore about this. But imagine building a Great Wall of China vertically up your mountain. It would kind of make it hard for skiers, Patrol, groomers, etc. to move around the bump. And someone came up with a better idea called a "chairlift." When the only feasible alternative was the ropetow, the Skimobile probably seemed like the greatest invention since electricity. But once the chairlift proliferated, the shortcomings of a tracked lift became obvious.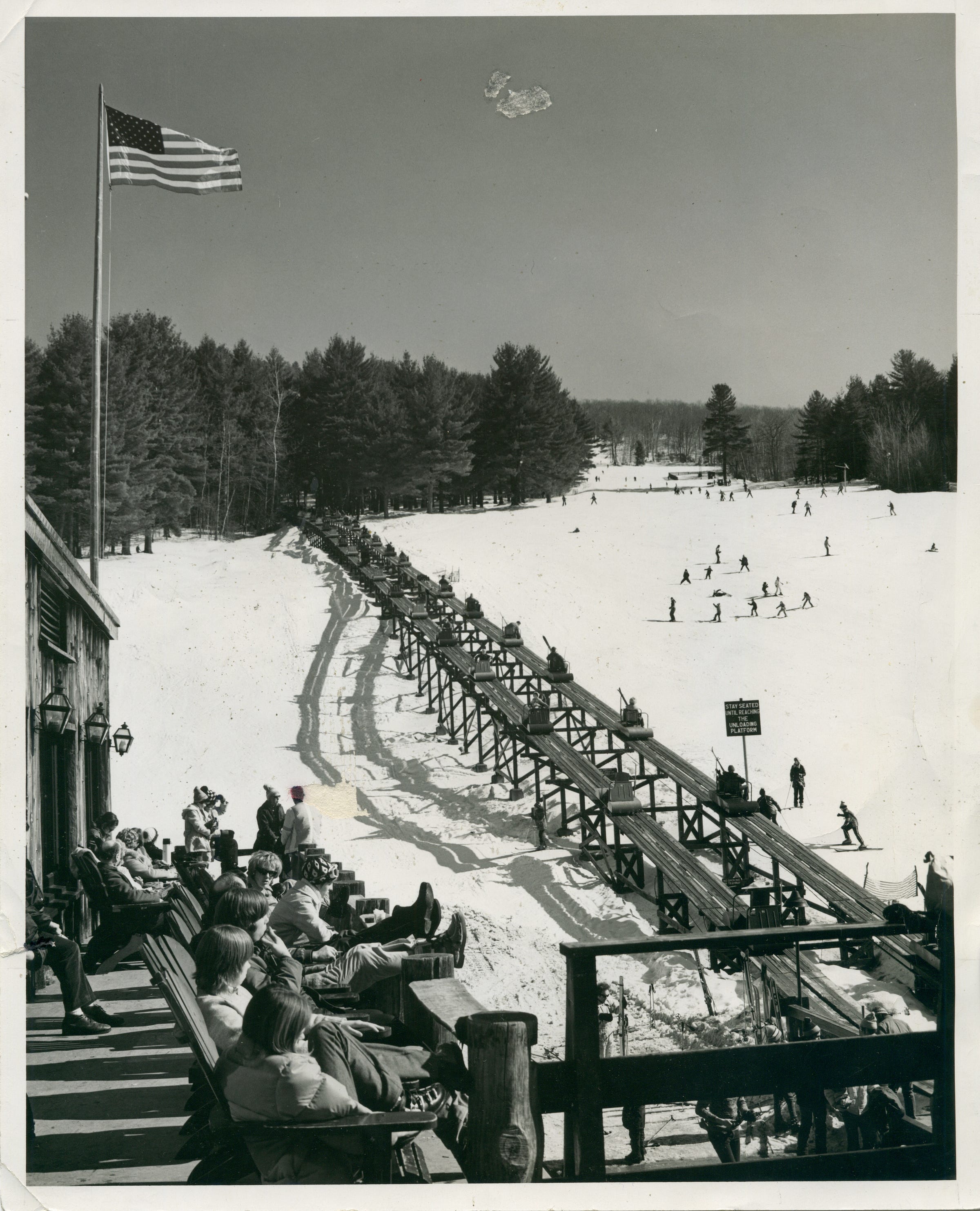 The Skimobile rose Cranmore's full 1,200 vertical feet in two sections: the lower, built in 1938, and the upper, constructed the following year. Skiers had to disembark the first to take the second. Here's how they laid out in a circa 1951 trailmap: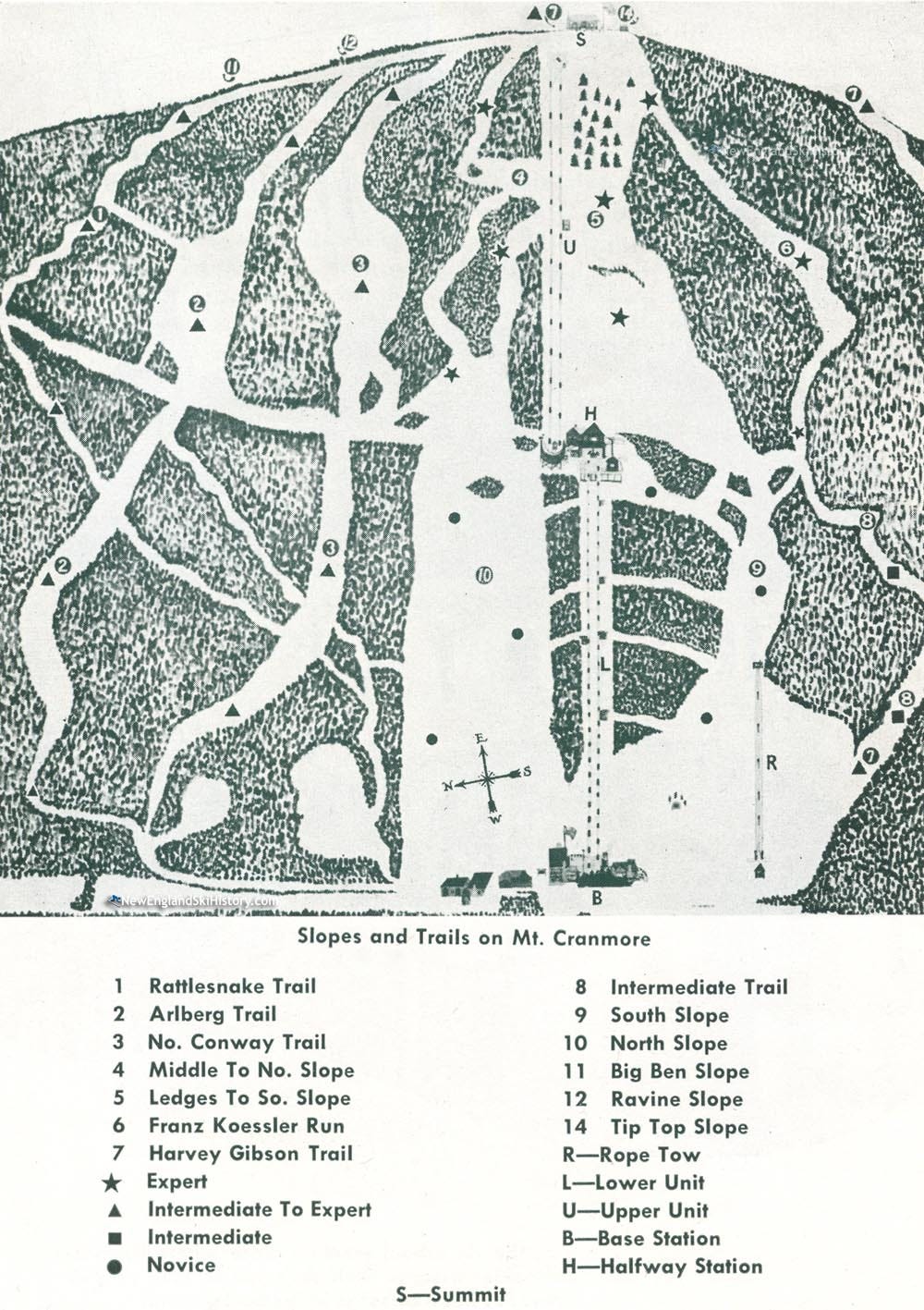 On the potential Black Cap expansion
Wilcox and I discussed Cranmore's long-proposed Black Cap expansion, which would give Cranmore a several-hundred-acre, several-hundred-vertical-foot boost off the backside. New England Ski History includes the following details in its short write-up of Black Cap:
In 1951, Cranmore obtained an easement on 500 acres of land on Black Cap, a ledgy peak located to the east of the ski area. If the ski area were expanded to the top of Black Cap, Cranmore would see an increase of 700 vertical feet to 1,800 feet, making it the second highest in the Mount Washington Valley.
Wilcox provides slightly different numbers, but doesn't rule out the possibility of this significant expansion at some future point. The current trailmap shows Black Cap looming in the background: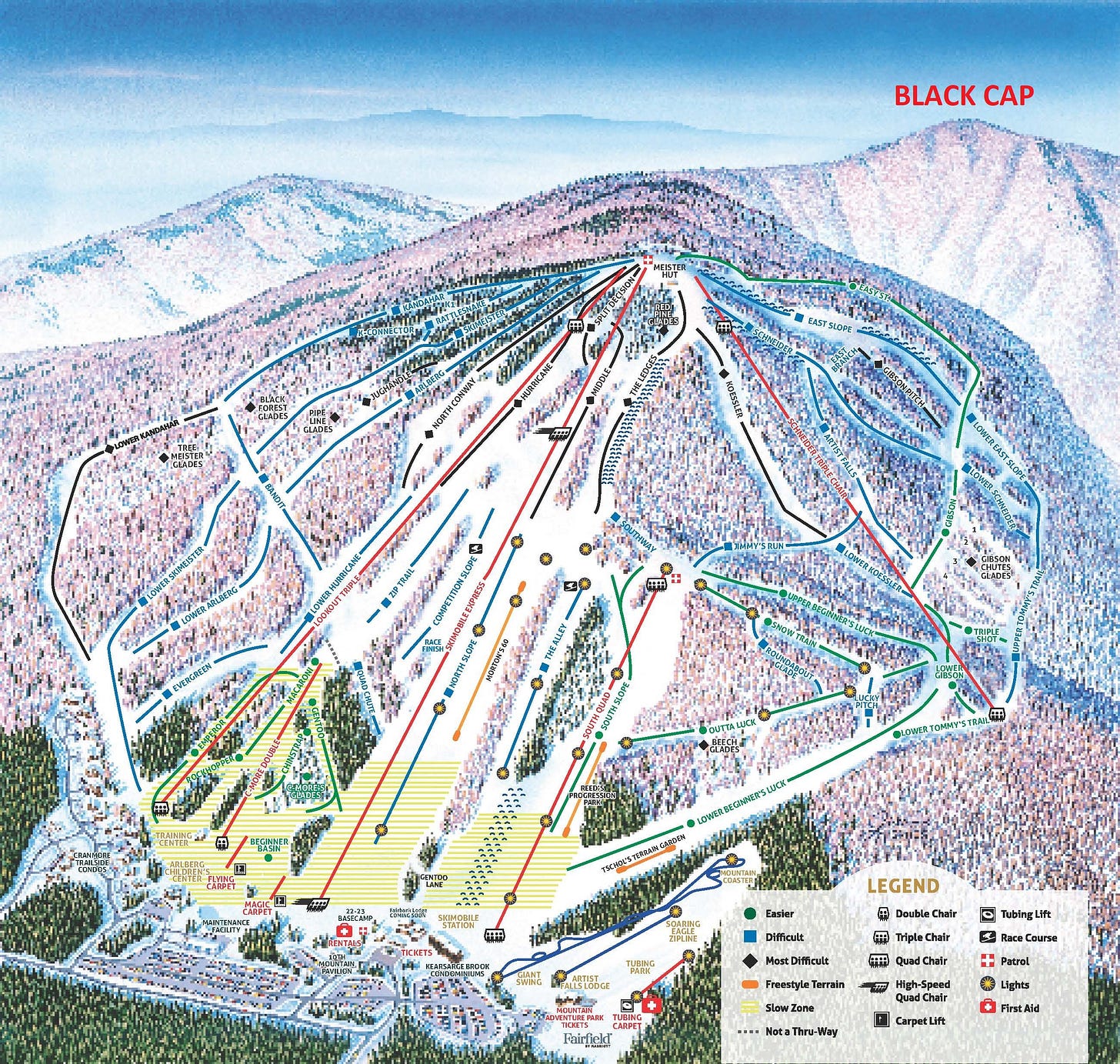 ---
The Storm explores the world of lift-served skiing year-round. Join us.
The Storm publishes year-round, and guarantees 100 articles per year. This is article 91/100 in 2023, and number 477 since launching on Oct. 13, 2019. Want to send feedback? Reply to this email and I will answer (unless you sound insane, or, more likely, I just get busy). You can also email skiing@substack.com.