The Storm Skiing Podcast #7 | Download this episode on iTunes, Google Podcasts, Stitcher, TuneIn, and Pocket Casts | Read the full overview at skiing.substack.com.
Who: Kevin Mack, General Manager of Burke Mountain, Vermont
Why I interviewed him: Because Burke is a terrific little ski area that is facing several simultaneous challenges, some permanent and some temporary: its tippy-top of Vermont map dot that makes it look like a longer drive than it is, its proximity to the northern Vermont monsters that rank among the best mountains in the Northeast and make Burke easy to overlook, and its caught-in-limbo legal status while court-appointed receiver Michael Goldberg sorts out the legal disaster that snared both Burke and sister resort Jay Peak and is preventing the former's search for a buyer. I'd overlooked Burke myself for years, and finally day-tripped up last March. That day, which I wrote about for New York Ski Blog, confirmed the social media whispers that built the place up as a beautifully pitched and rambling mountain with absolutely killer glades that far exceeded in scope and intensity what you could reasonably expect from a mid-sized ski area. I wanted to ask Kevin what it was like to run the mountain amid so much legal uncertainty, how the mountain fights the perception that it's just too far, and just Burke in general.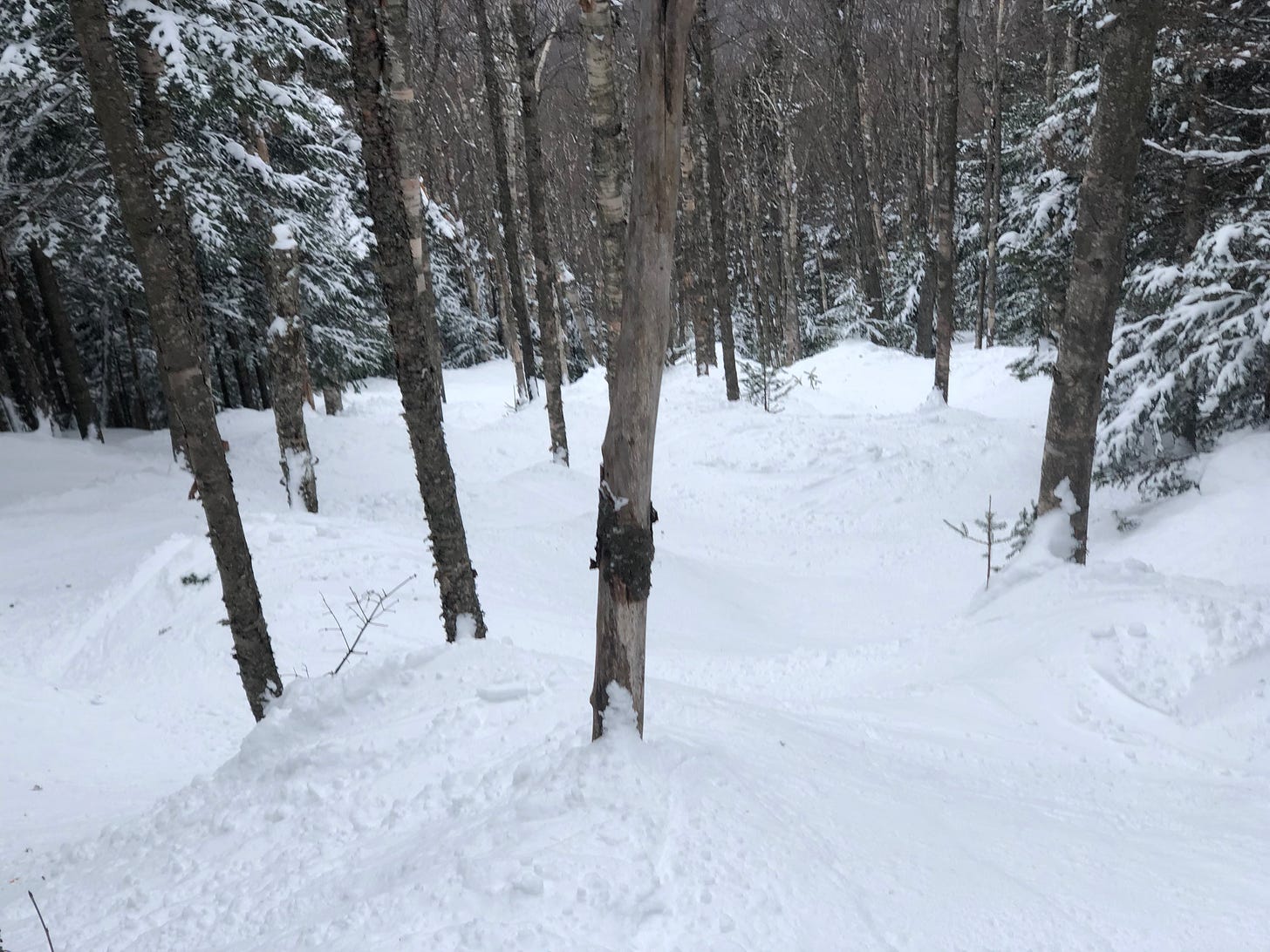 What we talked about: Burke's rad glades; the Burke Mountain Academy and how those kids help maintain the mountain; what the BMA kids do in their downtime; Burke's outstanding beginner area and seriously guys it's one of the best in the East; where the mountain moved its magic carpet lift this year; their midweek schools program; the uphill policy; how the Mid-Burke Express changed the mountain; the status of the ongoing snowmaking pond-expansion project; how that project ties back to Burke's potential sale; snowmaking upgrades in general; Kevin's conservation background and how that helps him run a ski area in environmentally conscious Vermont; why he doesn't see a tension between conservation and development; you think Burke is far far away but really it's just seven miles off I-91 so come on man just go ski there; how multiple ownership changes have prevented Burke from having a "consistency of story" that could help you understand how easy it is to get there; the importance of the Canadian market to Burke; the growing mountain bike business; how the Burke Hotel is helping to transform the mountain into a destination; the importance of Goldberg opening the mountain and the hotel, because he could have shuttered both and could you even imagine the carnage if that had happened?; the current status of receivership and why Burke's sale is held up; why Burke is on a different sales trajectory than Jay Peak even though they were both caught up in the same scandal; whether there's any possibility of them being sold together; why receivership has so far put the mountain in its best ownership situation in years; how Kevin went from laid off to running the mountain; Burke's relationship with Jay Peak and how they work together; Kevin's reaction to the mega-pass mania sweeping the Northeast; guess what Burke's pass sales are actually growing despite all the existential and industry craziness; Kevin says hey man, it's not 1988 anymore – all this evolution is a good thing whether Burke's directly part of it or not; the significance of a group of fellas known as The First 13, who are celebrated in a room at Burke and no are not the first 13 colonies; Burke's Civilian Conservation Corps legacy.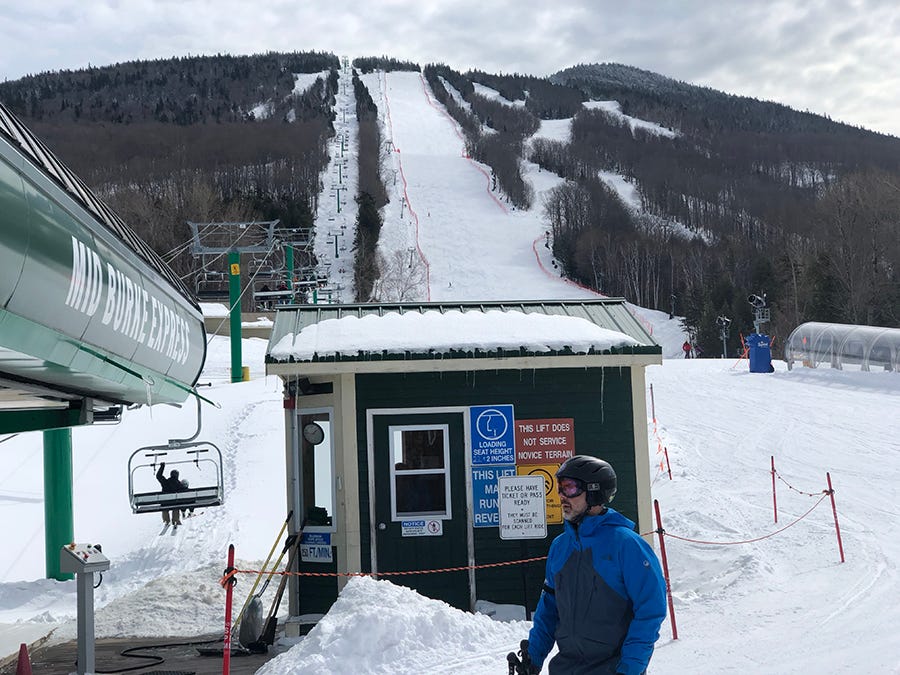 Things that may be slightly outdated because we recorded this a while ago: When we talk about the success of the hotel in attracting the kind of weekenders that may have overlooked the mountain before, Kevin says that people are booking "now" for winter travel. We recorded this interview in early September, so that's what he means by "now." Also, the whole receivership thing is evolving mostly out of site of the public, and so some of what we discuss may not represent Burke's most current legal status.
Why I thought that now was a good time for this interview: Because Burke is a case study on how one corrupt asshat can ruin something amazing. The EB5 visa scandal, in which Jay and Burke owner Ariel Quiros misused funds intended to build up Jay Peak's infrastructure, is exhibit A on why I am all for Vail, Alterra and the like buying any mountain of consequence – whatever collateral price increases or corporateification that happens when mountains get scooped up, at least they will continue to exist. The fact that receiver Michael Goldberg made the decision to keep both mountains running during the transition and despite the chaos is one of the boldest and most consequential moves in Northeast skiing over the past decade. Had he let them lay dormant while he sorted everything out, they may have rotted forever. I wanted to peak inside Burke and see how it was going amid all the ruckus. Luckily, it seems to be going along just fine.
Why you should go there: Because the mountain flat skis great. The beginner pod is one of the best in the Northeast, with rambling solid green terrain and its own high-speed lift that is completely isolated from the upper mountain. The blue cruisers are beautifully built along the upper mountain's humped contours. And those glades. My one and only thing that I truly and finally care about in all of skiing terrain is glades. You can delete the cruisers and the parks and the race courses and the bumps and everything else – as long as a mountain has glades, I am giving it five stars and a smiley face sticker. Most mountains of Burke's size have a few glades that they open like five days per year. Burke's mountain is riddled with them, both on and off the trailmap. And they are steep and consistently pitched and widely spaced and just in general a good time. Also, who doesn't want to support independent places like this, especially when they could use a little extra fist bump to let them know that hey man we got you during this receivership thing?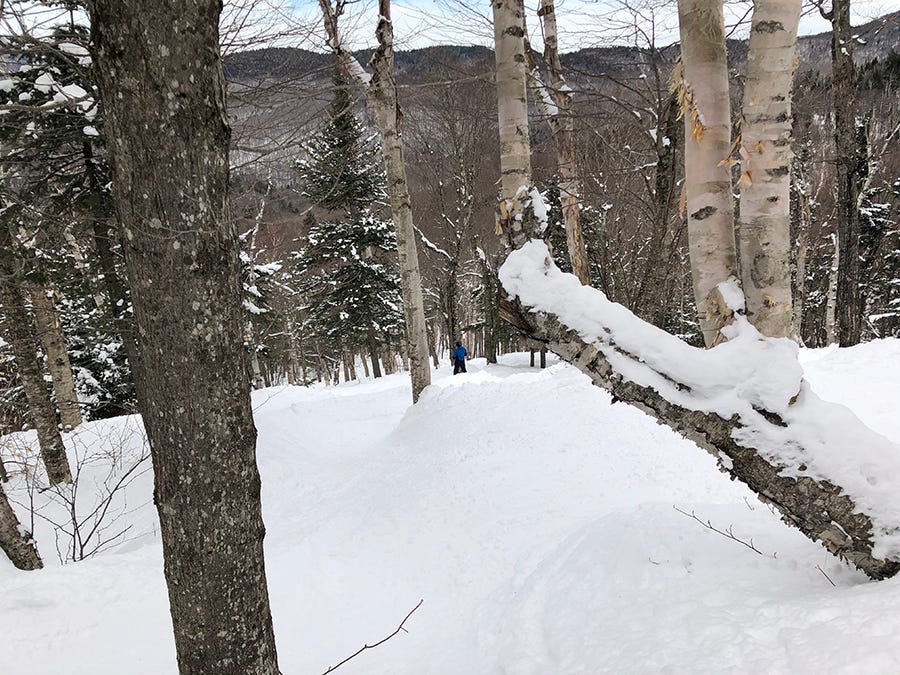 About that connection: Unfortunately, the audio is riddled with little pops throughout. While this won't prevent you from understanding anything either of us says, it may be a little irritating for the sound nerds. All I can say is that I'm still working out the kinks to improve the consistency and quality of the sound, and I hope to do better in the future.
---
The Storm Skiing Podcast is on iTunes, Google Podcasts, Stitcher, TuneIn, and Pocket Casts. The Storm Skiing Journal publishes podcasts and other editorial content throughout the ski season. To receive new posts as soon as they are published, sign up for The Storm Skiing Journal Newsletter at skiing.substack.com. Follow The Storm Skiing Journal on Facebook and Twitter.
Check out previous podcasts: Killington GM Mike Solimano | Plattekill owners Danielle and Laszlo Vajtay | New England Lost Ski Areas Project Founder Jeremy Davis | Magic Mountain President Geoff Hatheway | Lift Blog Founder Peter Landsman | Boyne Resorts CEO Stephen Kircher