The Storm Skiing Podcast is now sponsored by Mountain Gazette. The first issue drops in November, and you can get 10 percent off your order - including your annual subscription - by entering the code "EASTCOAST" at check-out.
---
Who: Karl Strand, President and General Manager of Sugarloaf, Maine
Recorded on: March 11, 2020 (for real)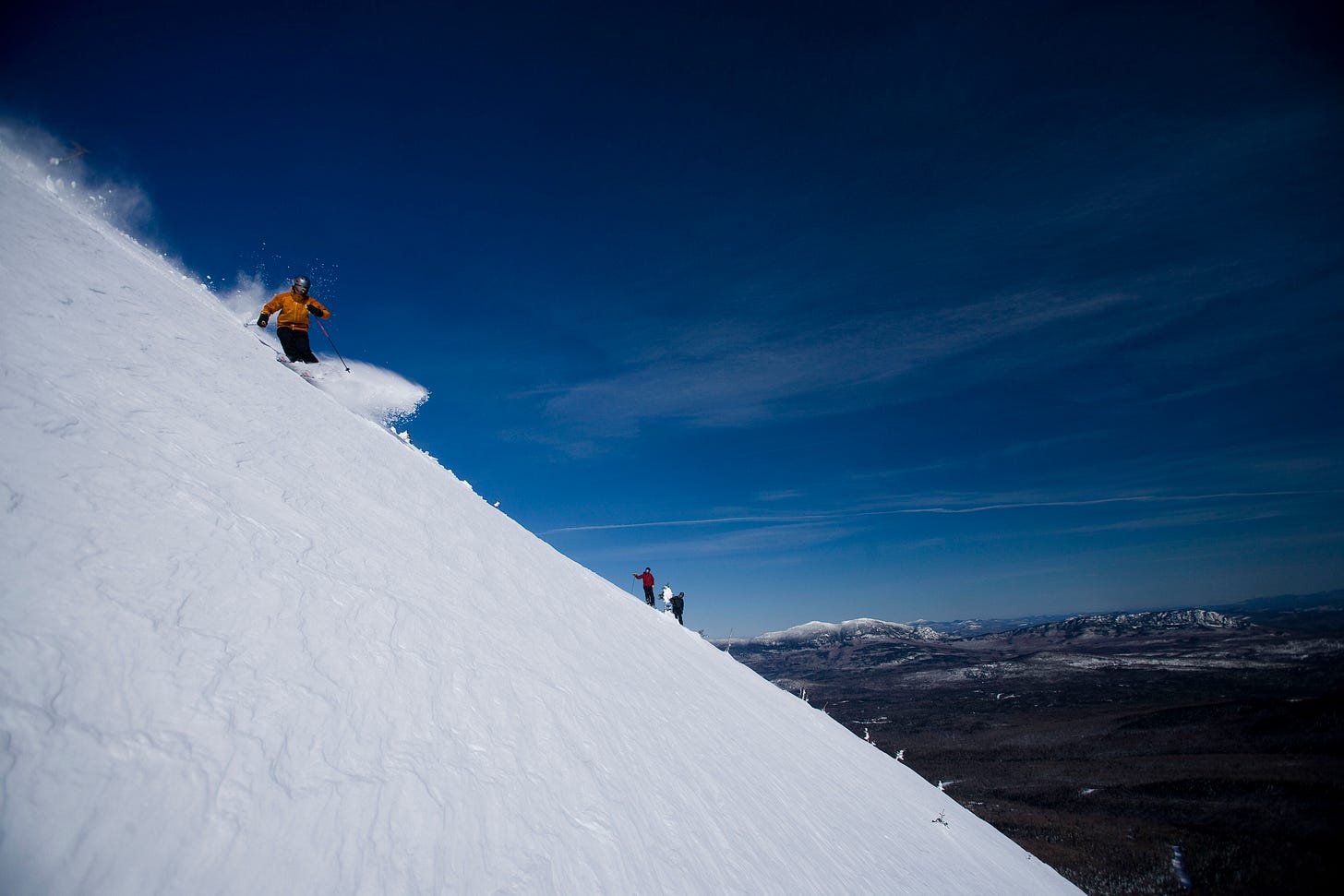 The Sugarloaf Snowfields. Photo by Skye Chalmers Photography; courtesy of Sugarloaf.
Why I interviewed him: Because Sugarloaf is the greatest ski area in the Northeastern United States. While there are a half dozen other mountains that could make that argument without being laughed out of New England (and they're all in New England), Sugarloaf is the alpha dog in this entourage for one reason: Brackett. Freaking. Basin. Well, and Burnt Mountain. Jay Peak gets more snow, Killington gets more season, pretty much everyone gets more visitors, but no one in the East has a rowdy swath of wide-open terrain like Sugarloaf's remarkable side-ish country. Yes, the summit-capping Snowfields are unique in the East and their very existence is an astonishing fact. But above-treeline skiing has never called to me like glades do and if glades are open I will not ski anything else. And the endless stacks of glades cascading down the resort's eastern flank are the most complex and enticing matrix of such skiing anywhere in the region. It's miraculous that such a thing exists at all in this overgroomed Northeast, with its micromanaged mountains and inconsistent snow, but there it is, a vast adventure zone hacked into the mountainside, as close to the unhinged West as you can get in the East. And outside of Brackett Basin you will still find an expansive and interesting mountain, dead fall line skiing cut into a true 3,000-ish-foot vertical, an expansive and rumbling ski area hoarding vast amounts of terrain: double blacks off the backside of the summit, glades all over, screaming groomers by the dozens, and, yes, the Snowfields. If you can hit it on a good day there's no reason to regret that you couldn't be anywhere else, East or West or the Alps or Goddamn Revelstoke. This is one hell of a mountain.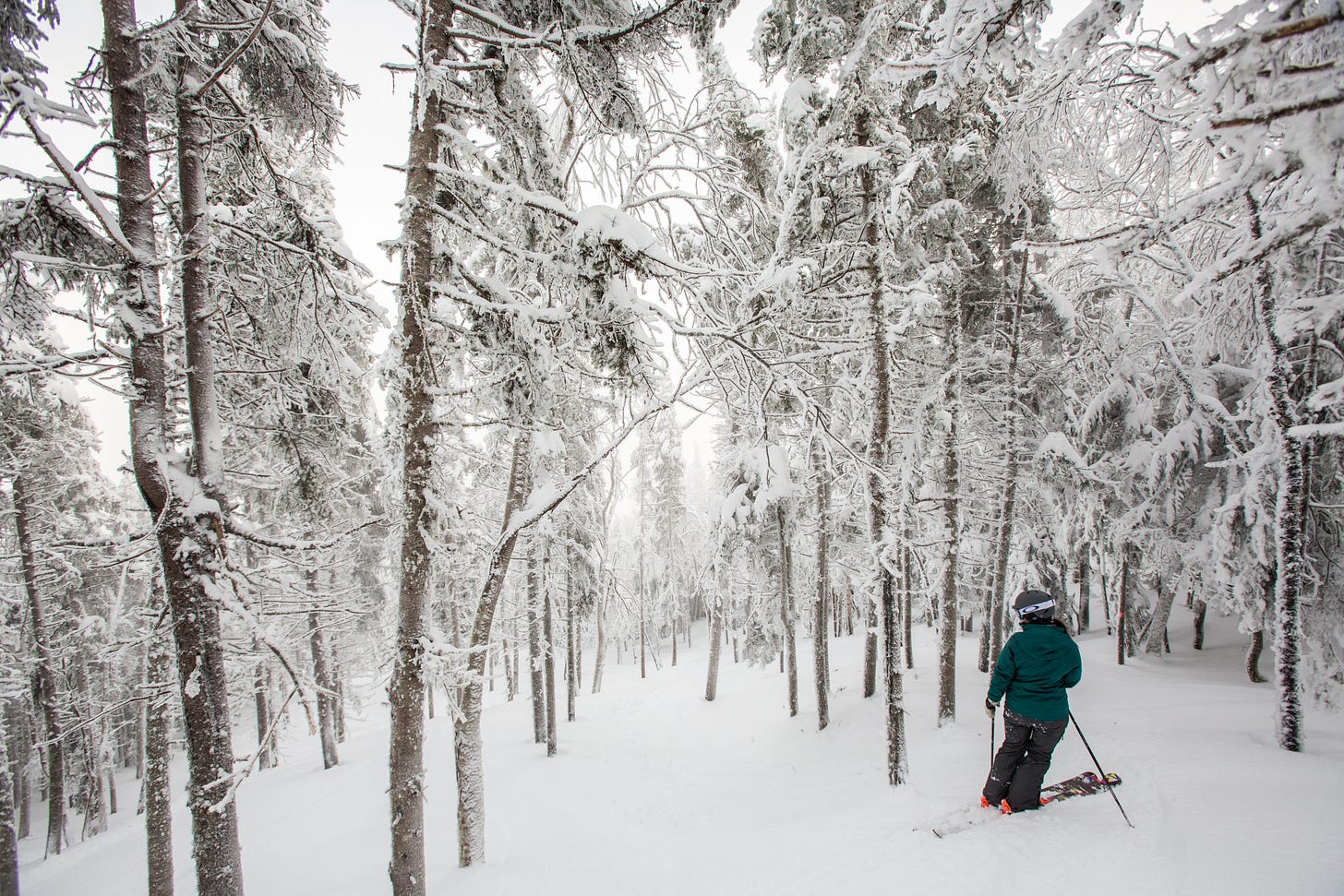 Brackett Basin is one of the best raw chunks of terrain in New England. Photo courtesy of Sugarloaf.
What we talked about: Sugarloaf 2030; the West Mountain expansion and how closely the trail network will match the conceptual map released along with Sugarloaf 2030 (see below); why the old snowtubing park failed; the method Sugarloaf is using to plan out the West Mountain trail network, including new glades; the chairlift options the mountain is considering for West Mountain and why it won't be a gondola or an eight-pack à la Loon or Big Sky; but the survey line for the new lift was cut over a decade ago; why the mountain tries to avoid ski trails beneath chairlifts; working with the State of Maine to get environmental approvals; what to expect from the housing stock going in at the bottom of the expansion; What to expect out of lift and trail upgrades at Timberline, Double Runner, the T-bar, Super Quad, and King Pine; the Carrabassett Valley Academy; real estate development in Brackett Basin and why you don't need to freak out about that; snowmaking upgrades and burying the whole mountain by Christmas; RFID gates; the Platinum New England Pass which you can't buy anymore but I left it in anyway because the context around the Ikon Pass add-on benefit is interesting; why Sugarloaf joined the Mountain Collective; the cross-country center and the novel snowmaking technology going in down there; where the new parking lots will be and how they will help reduce congestion; how they're approaching the village expansion; why the children's center may move and where it could go; recent lodge renovations; upgrading the summit building and why they won't tear it down and start from scratch; summer and mountain biking upgrades; look out, the snow bikes are here – how wild will they get?; the drive toward sustainability and whether you might see a windmill at the top of the mountain; the Sugarloaf Ski Club; Sugarloafers – what they are and how they make a great mountain better; why Sugarloaf considers itself the only true destination mountain in the East; the motley landscape surrounding the mountain and how that helps define its character; why you should never ski the backside; why do I keep calling West Mountain West "Basin?" Man I don't know but hey I'm not designing the trailmap so does it really matter?; Ski Maine – what it is and what it does; why Mt. Jefferson and Eaton Mountain didn't open last year and how Ski Maine and Maine ski areas may help them; why the return of Saddleback is good for Sugarloaf and the rest of Maine skiing; the importance of the tiny Maine ski areas that most people not from Maine will never ski; and where you should ski in Maine other than Sugarloaf.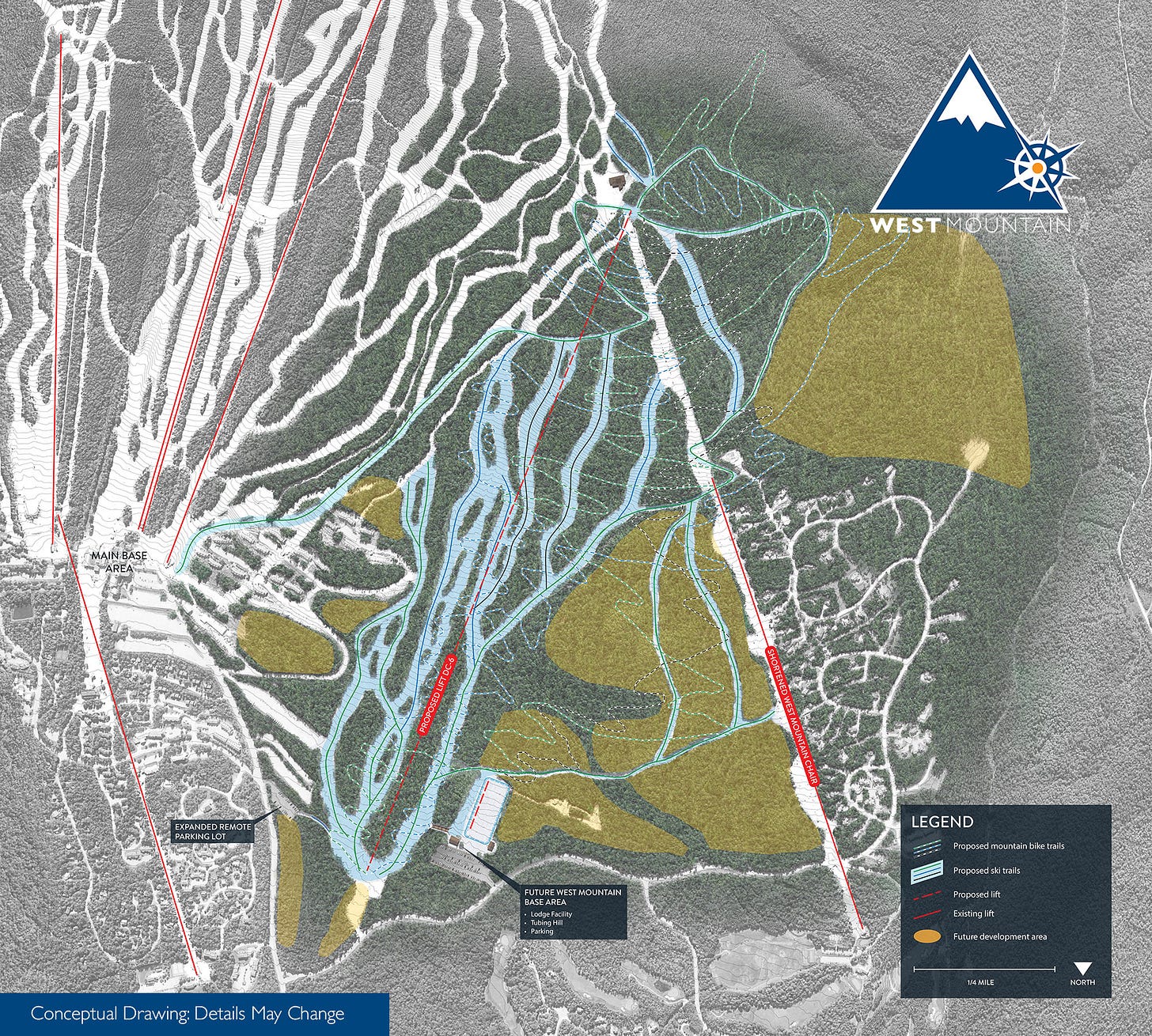 A conceptual map of the West Mountain expansion; potential trail locations shaded in blue.
Why I thought that now was a good time for this interview: For the same reason that I thought a lot of things were a good idea in early March, like handshakes and doing things indoors with other people and not stocking an emergency pallet of toilet paper in my basement: because I wanted to do it so I did. Plus the resort had just announced its transformative 2030 plan, which will drop 400-plus acres and a new chairlift onto the mountain's west side, an expansion larger than most Eastern ski areas tacked onto what is already the second-largest mountain in the region (the expansion, once complete, will make it larger than Killington, but the measurements are already dubious, with Killington counting large swaths of unskiable woods in among its total skiable acreage, so it doesn't really matter). The plan is going to completely uproot and modernize the mountain's chairlift and snowmaking infrastructure without compromising the experience of skiing its explosive and interesting terrain.
Why you should go there: Because Sugarloaf not only has the best terrain in the East, it is the least-crowded of any large mountain in the region. That's because it's far. From everything. In our social-distancing era, emptiness is your friend, and while Eastern emptiness is not the same thing as its Western counterpart, Sugarloaf is probably going to deliver a more spaced-out and less frantic experience than the more accessible monsters in Vermont and New Hampshire can. Plus the vibe is fun, the skiers are terrific, and the view from the summit is the sort of damn-the-world-is-big vista that explains a lot of our collective infatuation with skiing. For many Northeast skiers, the remoteness of the mountain and sheer number of alternatives makes this the last big ski area in the region that they visit, and that's appropriate. If you've already skied Stowe and Jay and Sugarbush and Sunday River and Killington and Cannon and every other mountain of note in a region with no shortage of them, you will not arrive at Sugarloaf and be disappointed with what you find there. That's because some of what you'll find there is this: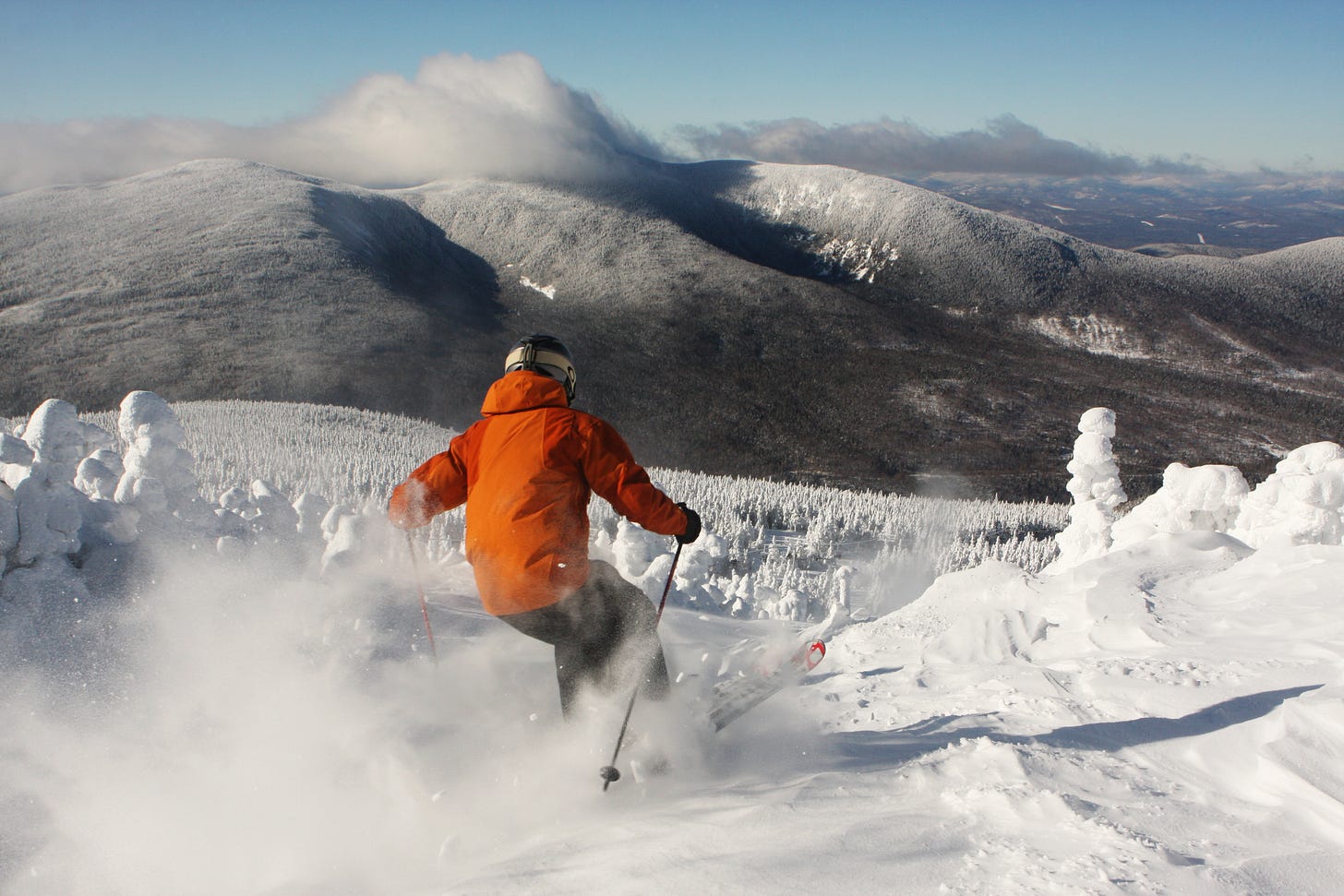 Sugarloaf's Snowfields. Photo courtesty of Sugarloaf.
Note explaining this episode in the context of the wider world: So this is actually a two-part podcast, which is a first in the short history of The Storm. Since we recorded this on Apocalypse Eve, we decided, after The Great Ski Industry Shutdown of 2020, to postpone releasing this recording to a time when everyone was less concerned about catching a deadly virus and dying on a ventilator. And while Covid-19 is still rampaging its way across the United States, we have learned a lot as a society about how to manage ourselves in its midst. One outcome of that is that we are ready to go skiing again, and we are ready to talk about skiing again. And while that point actually arrived months ago and I could have dropped this podcast any time over the summer, Karl and I agreed that a follow-up conversation was appropriate as a way to acknowledge the bizarre timing of our first talk, and I wanted that second chat to be closer to the start of the season. Given the stature of Sugarloaf, I figure that most people who are passionate about Northeast skiing will not mind hearing a multi-part conversation about it. This first call is all Sugarloaf 2030. The next podcast – which I'll release in the coming days, will focus on the shutdown, its aftermath, and the path forward into the 2020-21 ski season.
---
Follow The Storm Skiing Journal on Facebook and Twitter.
COVID-19 & Skiing Podcasts: Author and Industry Veteran Chris Diamond | Boyne Resorts CEO Stephen Kircher | Magic Mountain President Geoff Hatheway | NSAA CEO Kelly Pawlak | Berkshire East/Catamount Owner & Goggles for Docs founder Jon Schaefer | Shaggy's Copper Country Skis Cofounder Jeff Thompson | Doppelmayr USA President Katharina Schmitz | Mt. Baldy GM Robby Ellingson | Alterra CEO Rusty Gregory | NSAA Director of Risk & Regulatory Affairs Dave Byrd
The Storm Skiing Podcasts: Killington & Pico GM Mike Solimano | Plattekill owners Danielle and Laszlo Vajtay | New England Lost Ski Areas Project Founder Jeremy Davis | Magic Mountain President Geoff Hatheway | Lift Blog Founder Peter Landsman | Boyne Resorts CEO Stephen Kircher | Burke Mountain GM Kevin Mack | Liftopia CEO Evan Reece | Berkshire East & Catamount Owner & GM Jon Schaefer | Vermont Ski + Ride and Vermont Sports Co-Publisher & Editor Lisa Lynn | Sugarbush President & COO Win Smith | Loon President & GM Jay Scambio | Sunday River President & GM Dana Bullen | Big Snow & Mountain Creek VP of Sales & Marketing Hugh Reynolds | Mad River Glen GM Matt Lillard | Indy Pass Founder Doug Fish | National Brotherhood of Skiers President Henri Rivers | Winter 4 Kids & National Winter Activity Center President & CEO Schone Malliet | Vail Veterans Program President & Founder Cheryl Jensen | Mountain Gazette Owner & Editor Mike Rogge | Squaw Valley Alpine Meadows President & CMO Ron Cohen | Aspiring Olympian Benjamin Alexander