The Storm Skiing Podcast #17 | Download this episode on iTunes, Google Podcasts, Stitcher, TuneIn, Spotify, and Pocket Casts | Read the full overview at skiing.substack.com.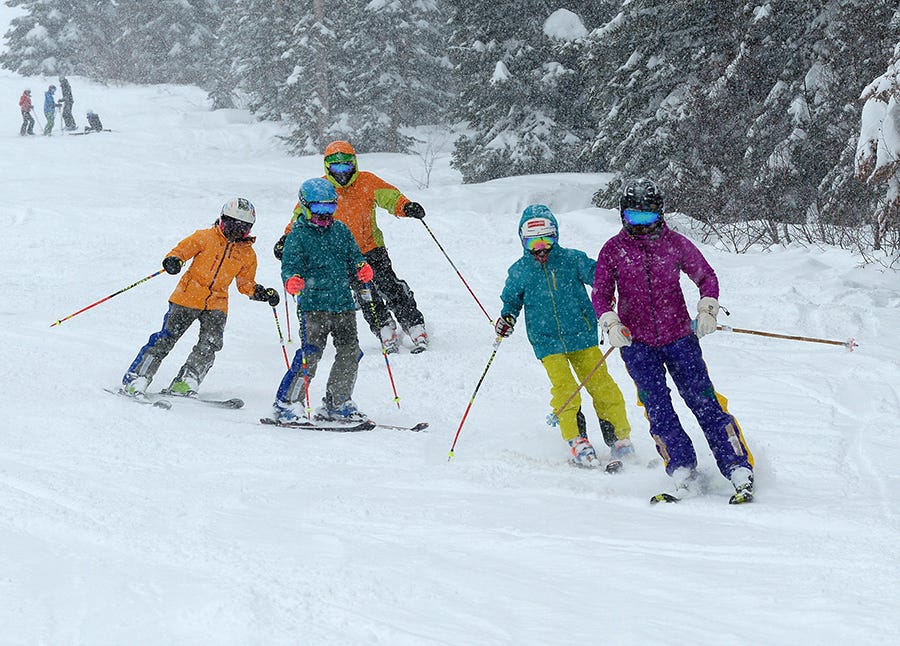 Henri Rivers, President of the National Brotherhood of Skiers, with his family at Steamboat ski area, Colorado. [Photo courtesy of National Brotherhood of Skiers and Steamboat]
Who: Henri Rivers, President of the National Brotherhood of Skiers
Why I interviewed him: Because the National Brotherhood of Skiers (NBS) is one of the most important institutions in American skiing. For 47 years, it has been the principal advocate for African American skiers in the United States, building the infrastructure to identify and nurture young talent for international competition while creating a wintertime gathering space for the 50-plus black ski clubs across the country. In a lift-served skiing world created by and for white people and marketed almost exclusively to them, the NBS has worked in ways both obvious and subtle to make sure skiing is an activity that everyone can enjoy. I wanted to talk to the organization's current leader to understand how its mission continues to evolve with the world around it.
What we talked about: NBS' mission to develop athletes of color for international competitive events and promote participation among recreational skiers; the skier-creating power of NBS events; why black ski clubs are experiencing a resurgence; the significance of the NBS' longevity and the coming induction of its founders into the Ski and Snowboard Hall of Fame; how hall of fame submissions work; how the NBS identifies and nurtures high-potential young athletes and how you can support them; past president Peggy Allen's major achievements and how Henri hopes to build upon those; why African American skiers account for just over one percent of the nation's skier visits in spite of making up more than 13 percent of the U.S. population and how the industry can begin to change that; Henri's reaction to Rob Katz's memo acknowledging the lack of diversity in skiing; how the NBS is working with the large ski companies, including Vail, to help them diversify the sport; how diversifying skiing's workforce will lead to more diverse skiers on the snow; the one U.S. ski area with an African American general manager; why NBS beginner events translate to such high retention rates and what the industry could learn from that; the potential of the Big Snow indoor ski center to help ignite more diversity in skiing; how New Jersey's National Winter Activity Center – the former Hidden Valley ski area adjacent to Mountain Creek – is helping to introduce new diverse youth to the sport and why it would be hard to replicate elsewhere; common themes behind NBS members' learn-to-love-skiing stories and how that could translate to broader participation among African Americans; reconsidering skiing from the perspective of someone showing up at a ski area where no one or almost no one looks like you; thoughts on the rising numbers of Americans who feel that discrimination is a big problem in the wake of George Floyd's death; how the NBS is dealing with the traumatic aftermath of their summit in Sun Valley last winter; Henri's reaction to his home mountain of Windham joining the Ikon Pass.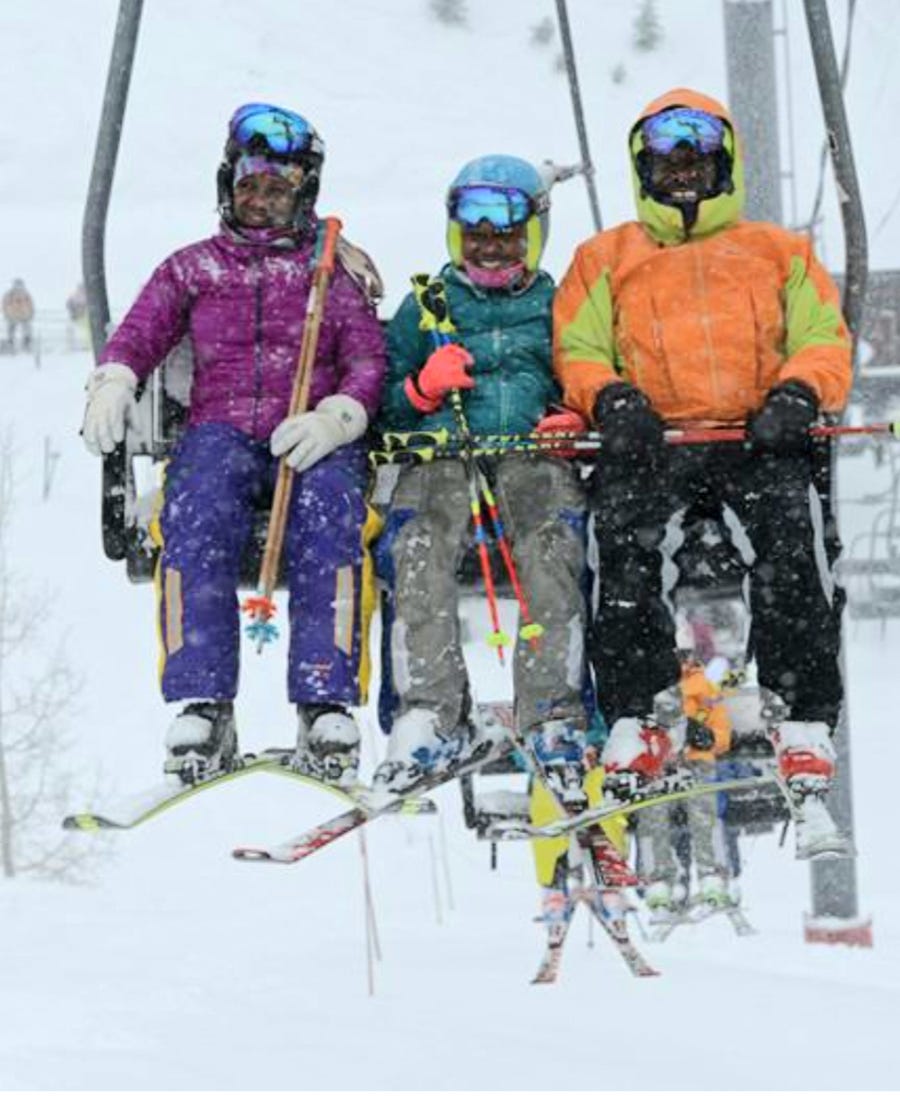 Henri on a chairlift with two of his three triplets. [Photo courtesy of National Brotherhood of Skiers]
Why I thought that now was a good time for this interview: Because in the wake of George Floyd's death and the accompanying weeks-long nationwide protests, the ski industry is finally examining its approach to diversity and inclusion and admitting it's doing a terrible job. Skiers are overwhelmingly white. The athletes who compete are mostly white. The people who run ski areas are Category 5 white. Recent memos from the CEOs of both Vail and Alterra met these facts directly and asked, humbly and sincerely: how do we change this? A good first step is to talk to the people who a) love skiing, and, b) love it in spite of the fact that it has never been marketed to their communities in any meaningful way. There is no one better positioned to speak to this and suggest a way forward than the NBS. Plus, after 25 podcasts, 22 and a half of which featured white men, it was really time to proactively seek out new voices. While it would be easy to just point to the industry and say I can only work with what exists, the truth is that it's my podcast, and it's my job to make sure the voices on here are representing what is truly universal about skiing.
Questions I wish I'd asked: In our discussion of how corporate skidom could make skiing more inclusive, I had hoped to ask Henri how he felt about the concept of installing a "chief diversity officer" at Vail or Alterra (or other large ski companies). This is a concept that is commonplace across much of corporate America, in which an executive-level individual works to increase diversity within the company and refine its image and offerings to speak to broader audiences. Would hiring such an individual be a good first step for Vail or Alterra to follow through on the commitments they've expressed? (This is not a foolproof strategy.) Similarly, I wanted to get a sense of how he would feel about some kind of report card that would grade ski companies and the industry at large based upon their efforts to diversify their staff and guests – this is a concept used by a number of trade groups to grade Hollywood and television on their diversity efforts in both the production and acting ranks.
Additional resources:
Here's a little more about how Covid-19 struck NBS' membership following the Sun Valley gathering: The New Yorker, WSJ, The Guardian
Here are the poll numbers I referenced pointing to higher numbers of Americans acknowledging discrimination as a problem in the wake of George Floyd's death.
Recorded on: June 10, 2020
---
The Storm Skiing Podcast is on iTunes, Google Podcasts, Stitcher, TuneIn, Spotify, and Pocket Casts. The Storm Skiing Journal publishes podcasts and other editorial content throughout the year. To receive new posts as soon as they are published, sign up for The Storm Skiing Journal Newsletter at skiing.substack.com. Follow The Storm Skiing Journal on Facebook and Twitter.
COVID-19 & Skiing Podcasts: Author and Industry Veteran Chris Diamond | Boyne Resorts CEO Stephen Kircher | Magic Mountain President Geoff Hatheway | NSAA CEO Kelly Pawlak| Berkshire East/Catamount Owner & Goggles for Docs founder Jon Schaefer | Shaggy's Copper Country Skis Cofounder Jeff Thompson | Doppelmayr USA President Katharina Schmitz | Mt. Baldy GM Robby Ellingson | Alterra CEO Rusty Gregory
The Storm Skiing Podcasts: Killington & Pico GM Mike Solimano | Plattekill owners Danielle and Laszlo Vajtay | New England Lost Ski Areas Project Founder Jeremy Davis | Magic Mountain President Geoff Hatheway | Lift Blog Founder Peter Landsman | Boyne Resorts CEO Stephen Kircher | Burke Mountain GM Kevin Mack | Liftopia CEO Evan Reece | Berkshire East/Catamount Owner & GM Jon Schaefer | Vermont Ski + Ride and Vermont Sports Co-Publisher & Editor Lisa Lynn | Sugarbush President & COO Win Smith | Loon President & GM Jay Scambio | Sunday River President & GM Dana Bullen | Big Snow & Mountain Creek VP of Sales & Marketing Hugh Reynolds | Mad River Glen GM Matt Lillard | Indy Pass Founder Doug Fish