Who
Jim Vick, General Manager of Lutsen Mountains, Minnesota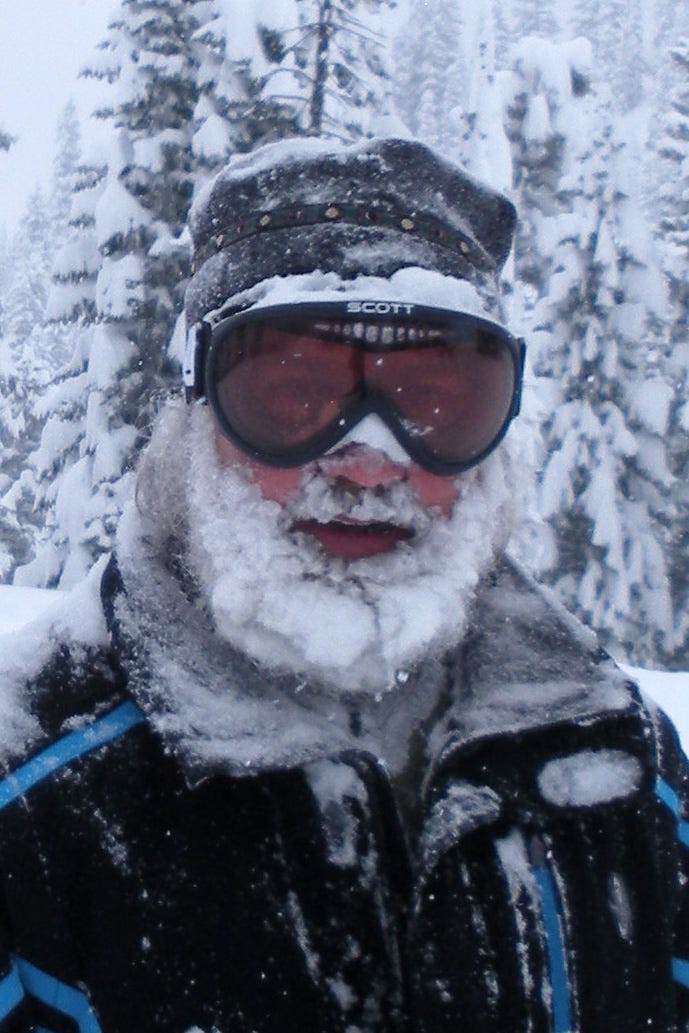 Recorded on
October 30, 2023
About Lutsen Mountains
Click here for a mountain stats overview
Owned by: Midwest Family Ski Resorts
Located in: Lutsen, Minnesota
Year founded: 1948
Pass affiliations:
Closest neighboring ski areas: Chester Bowl (1:44), Loch Lomond (1:48), Spirit Mountain (1:54), Giants Ridge (1:57), Mt. Baldy (2:11)
Base elevation: 800 feet
Summit elevation: 1,688 feet
Vertical drop: 1,088 feet (825 feet lift-served)
Skiable Acres: 1,000
Average annual snowfall: 120 inches
Trail count: 95 (10% expert, 25% most difficult, 47% more difficult, 18% easiest)
Lift count: 7 (1 eight-passenger gondola, 2 high-speed six-packs, 3 double chairs, 1 carpet)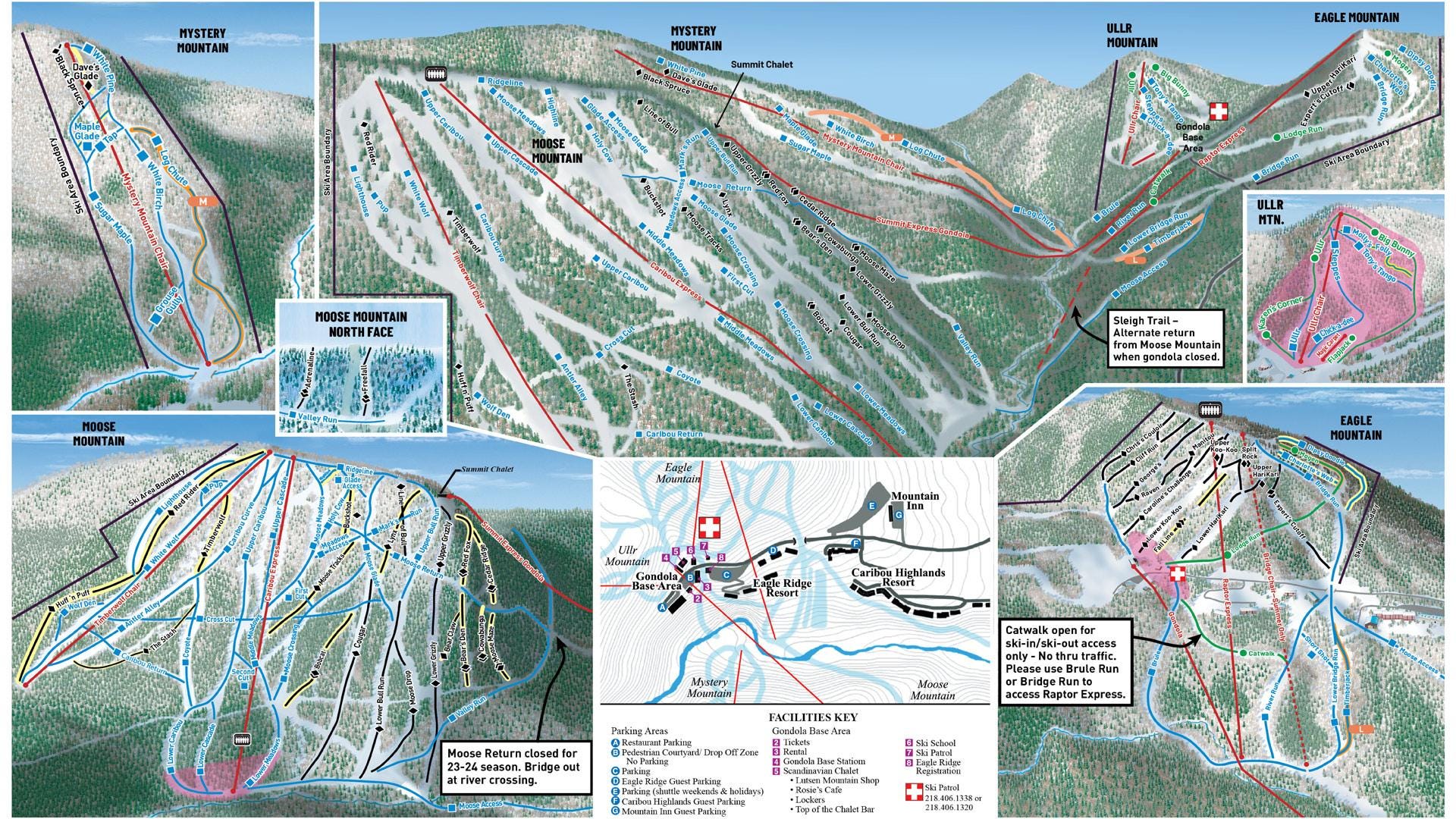 View historic Lutsen Mountains trailmaps on skimap.org.
Why I interviewed him
I often claim that Vail and Alterra have failed to appreciate Midwest skiing. I realize that this can be confusing. Vail Resorts owns 10 ski areas from Missouri to Ohio. Alterra's Ikon Pass includes a small but meaningful presence in Northern Michigan. What the hell am I talking about here?
Lutsen, while a regional standout and outlier, illuminates each company's blind spots. In 2018, the newly formed Alterra Mountain Company looted the motley M.A.X. Pass roster for its best specimens, adding them to its Ikon Pass. Formed partly from the ashes of Intrawest, Alterra kept all of their own mountains and cherry-picked the best of Boyne and Powdr, leaving off Boyne's Michigan mountains, Brighton, Summit at Snoqualmie, and Cypress (which Ikon later added); and Powdr's Boreal, Lee Canyon, Pico, and Bachelor (Pico and Bachelor eventually made the team). Alterra also added Solitude and Crystal after purchasing them later in 2018, and, over time, Windham and Alyeska. Vail bought Triple Peaks (Crested Butte, Okemo, Sunapee), later that year, and added Resorts of the Canadian Rockies to its Epic Pass. But that left quite a few orphans, including Lutsen and sister mountain Granite Peak, which eventually joined the Indy Pass (which didn't debut until 2019).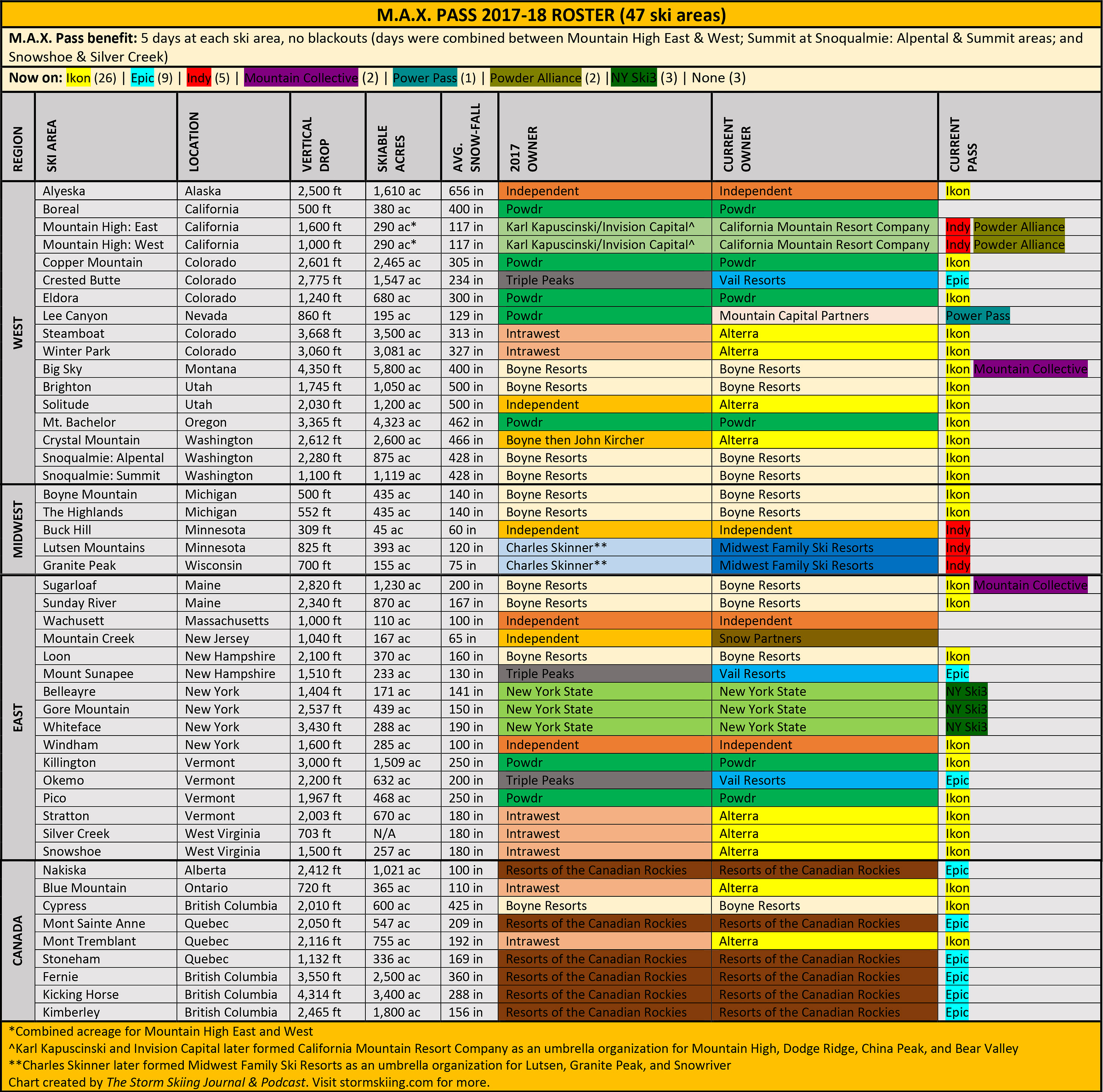 All of which is technocratic background to set up this question: what the hell was Alterra thinking? In Lutsen and Granite Peak, Alterra had, ready to snatch, two of the largest, most well-cared-for, most built-up resorts between Vermont and Colorado. Midwest Family Ski Resorts CEO Charles Skinner is one of the most aggressive and capable ski area operators anywhere. These mountains, with their 700-plus-foot vertical drops, high-speed lifts, endless glade networks, and varied terrain deliver a big-mountain experience that has more in common with a mid-sized New England ski area than anything within several hundred miles in any direction. It's like someone in a Colorado boardroom and a stack of spreadsheets didn't bother looking past the ZIP Codes when deciding what to keep and what to discard.
This is one of the great miscalculations in the story of skiing's shift to multimountain pass hegemony. By overlooking Lutsen Mountains and Granite Peak in its earliest days, Alterra missed an opportunity to snatch enormous volumes of Ikon Pass sales across the Upper Midwest. Any Twin Cities skier (and there are a lot of them), would easily be able to calculate the value of an Ikon Pass that could deliver 10 or 14 days between Skinner's two resorts, and additional days on that mid-winter western run. By dismissing the region, Alterra also enabled the rise of the Indy Pass, now the only viable national multi-mountain pass product for the Midwestern skier outside of Michigan's Lower Peninsula. These sorts of regional destinations, while not as "iconic" as, say, Revelstoke, move passes; the sort of resort-hopping skier who is attracted to a multi-mountain pass is going to want to ski near home as much as they want to fly across the country.
Which is a formula Vail Resorts, to its credit, figured out a long time ago. Which brings us back to those 10 Midwestern ski areas hanging off the Epic Pass attendance sheet. Vail has, indeed, grasped the utility of the Midwestern, city-adjacent day-ski area, and all 10 of its resorts fit neatly into that template: 75 chairlifts on 75 vertical feet with four trees seated within 10 miles of a city center. But here's what they missed: outside of school groups; Park Brahs who like to Park Out, Brah; and little kids, these ski areas hold little appeal even to Midwesterners. That they are busy beyond comprehension at all times underscores, rather than refutes, that point – something simulating a big-mountain experience, rather than a street riot, is what the frequent Midwest skier seeks.
For that, you have to flee the cities. Go north, find something in the 400- to 600-foot vertical range, something with glades and nooks and natural snow. Places like Caberfae, Crystal Mountain, Nub's Nob, and Shanty Creek in Michigan; Cascade, Devil's Head, and Whitecap, Wisconsin; Giants Ridge and Spirit Mountain, Minnesota. Lutsen is the best of all of these, a sprawler with every kind of terrain flung across its hundreds of acres. A major ski area. A true resort. A Midwestern dream.
Vick and I discuss the Ikon snub in the podcast. It's weird. And while Alterra, five years later, is clearly doing just fine, its early decision to deliberately exclude itself from one of the world's great ski regions is as mystifying a strategic choice as I've seen any ski company make. Vail, perhaps, understands the Midwest resort's true potential, but never found one it could close on – there aren't that many of them, and they aren't often for sale. Perhaps they dropped a blank check on Skinner's desk, and he promptly deposited it into the nearest trashcan.
All of which is a long way of saying this: Lutsen is the best conventional ski area in the Midwest (monster ungroomed Mount Bohemia is going to hold more appeal for a certain sort of expert skier), and one of the most consistently excellent ski operations in America. Its existence ought to legitimize the region to national operators too bent on dismissing it. Someday, they will understand that. And after listening to this podcast, I hope that you will, too.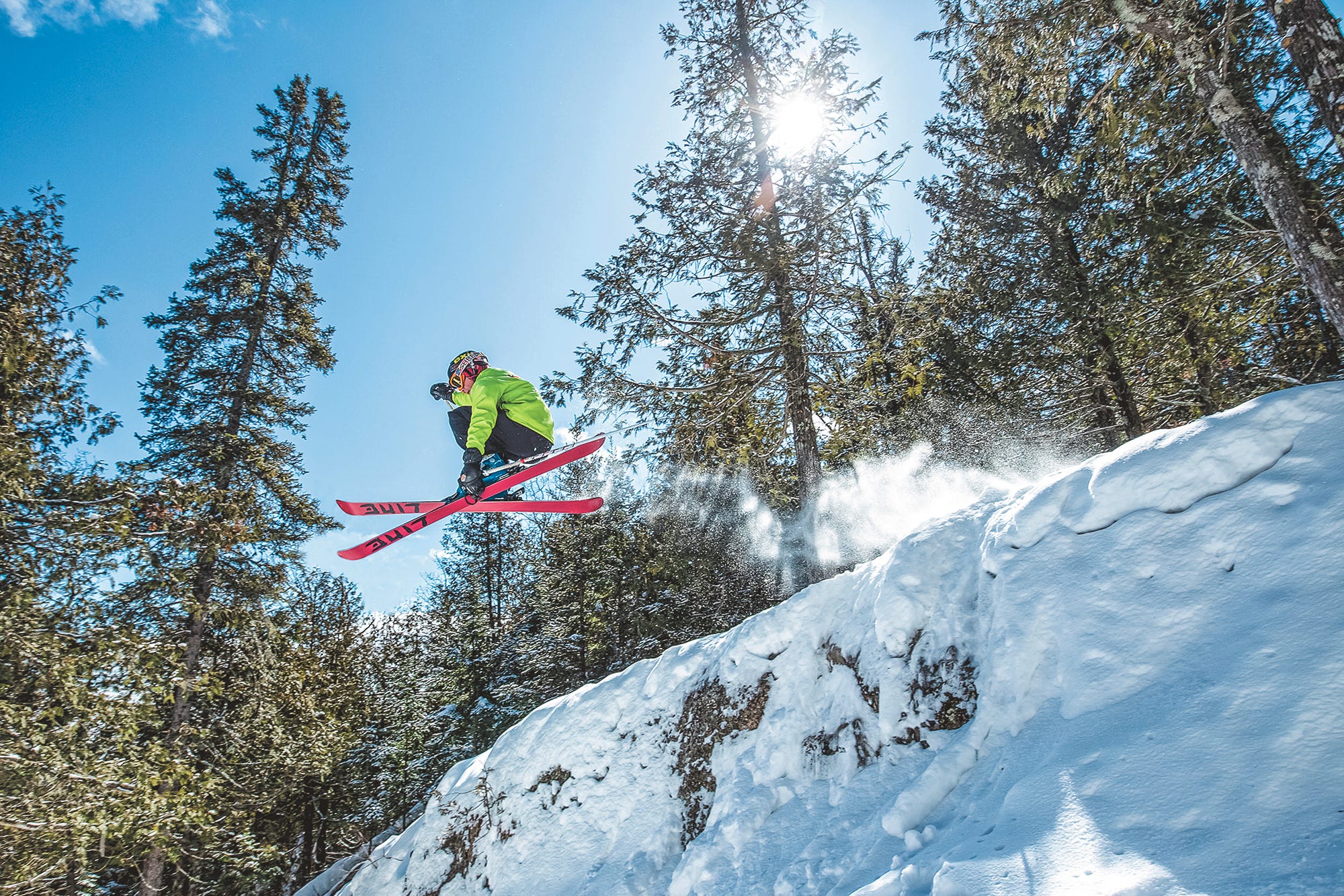 What we talked about
Why Lutsen never makes snow in October; Minnesota as early-season operator; the new Raptor Express six-pack; why the Bridge double is intact but retiring from winter operations; why Lutsen removed the 10th Mountain triple; why so many Riblet chairs are still operating; why Moose Return trail will be closed indefinitely; potential new lower-mountain trails on Eagle Mountain; an updated season-opening plan; how lake-effect snow impacts the west side of Lake Superior; how the Raptor lift may impact potential May operations; fire destroys Papa Charlie's; how it could have been worse; rebuilding the restaurant; Lutsen's long evolution from backwater to regional leader and legit western alternative; the Skinner family's aggressive operating philosophy; the history of Lutsen's gondola, the only such machine in Midwest skiing; Lutsen's ambitious but stalled masterplan; potential Ullr and Mystery mountain chairlift upgrades; "the list of what skiers want is long"; why Lutsen switched to a multi-mountain season pass with Granite Peak and Snowriver; and "if we would have been invited into the Ikon at the start, we would have jumped on that."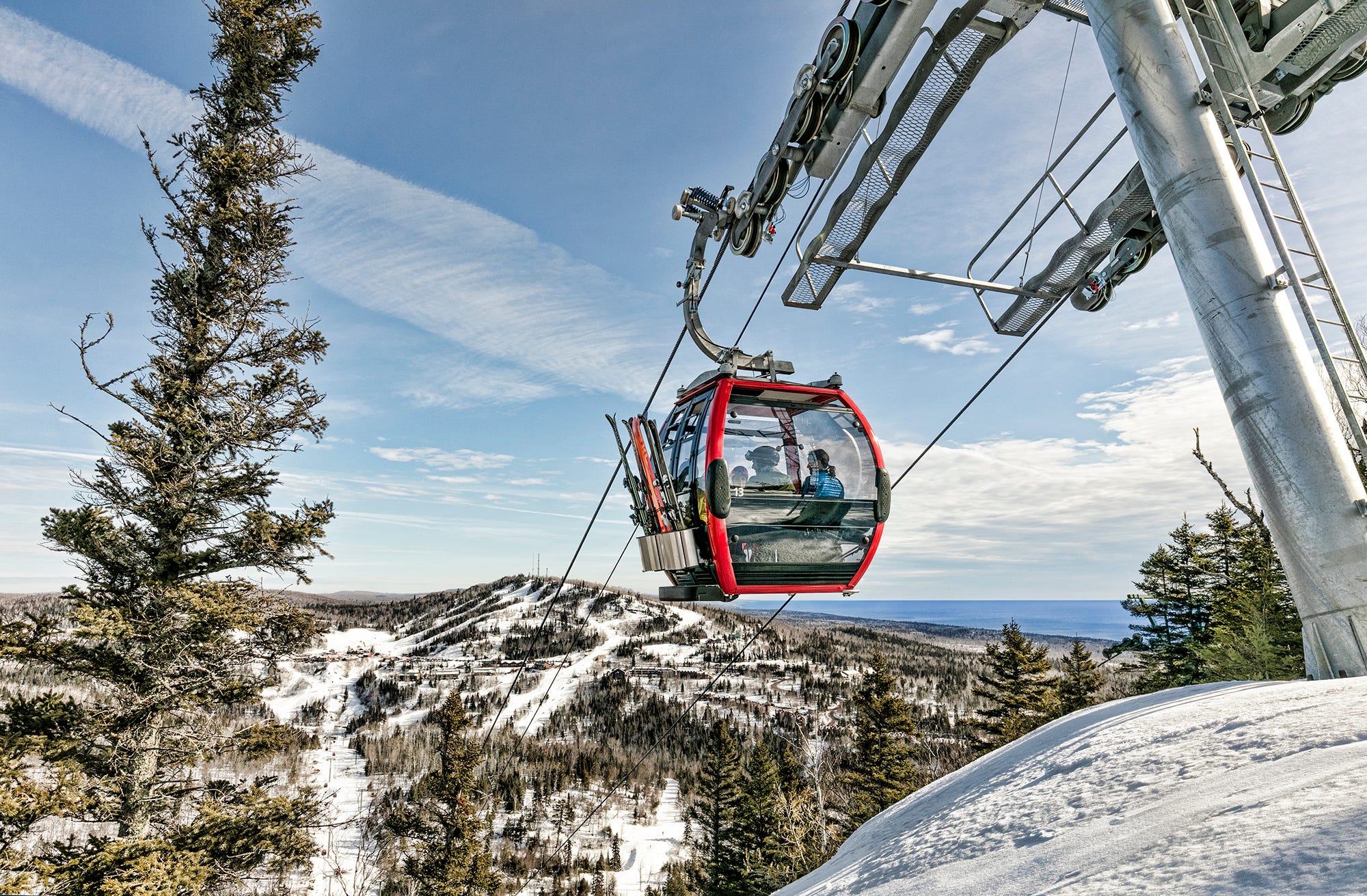 Why I thought that now was a good time for this interview
For all my gushing above, Lutsen isn't perfect. While Granite Peak has planted three high-speed lifts on the bump in the past 20 years, Lutsen has still largely been reliant on a fleet of antique Riblets, plus a sixer that landed a decade ago and the Midwest's only gondola, a glimmering eight-passenger Doppelmayr machine installed in 2015. While a fixed-grip foundation isn't particularly abnormal for the Midwest, which is home to probably the largest collection of antique chairlifts on the planet, it's off-brand for burnished Midwest Family Ski Resorts.
Enter, this year, Lutsen's second six-pack, Raptor Express, which replaces both the 10th Mountain triple (removed), and the Bridge double (demoted to summer-only use). This new lift, running approximately 600 vertical feet parallel to Bridge, will (sort of; more below), smooth out the janky connection from Moose back to Eagle. And while the loss of 10th Mountain will mean 300 vertical feet of rambling below the steep upper-mountain shots, Raptor is a welcome upgrade that will help Lutsen keep up with the Boynes.
However, even as this summer moved the mountain ahead with the Raptor installation, a storm demolished a skier bridge over the river on Moose Return, carving a several-hundred-foot-wide, unbridgeable (at least in the short term), gap across the trail. Which means that skiers will have to connect back to Eagle via gondola, somewhat dampening Raptor's expected impact. That's too bad, and Vick and I talk extensively about what that means for skiers this coming winter.
The final big timely piece of this interview is the abrupt cancellation of Lutsen's massive proposed terrain expansion, which would have more than doubled the ski area's size with new terrain on Moose and Eagle mountains. Here's what they were hoping to do with Moose: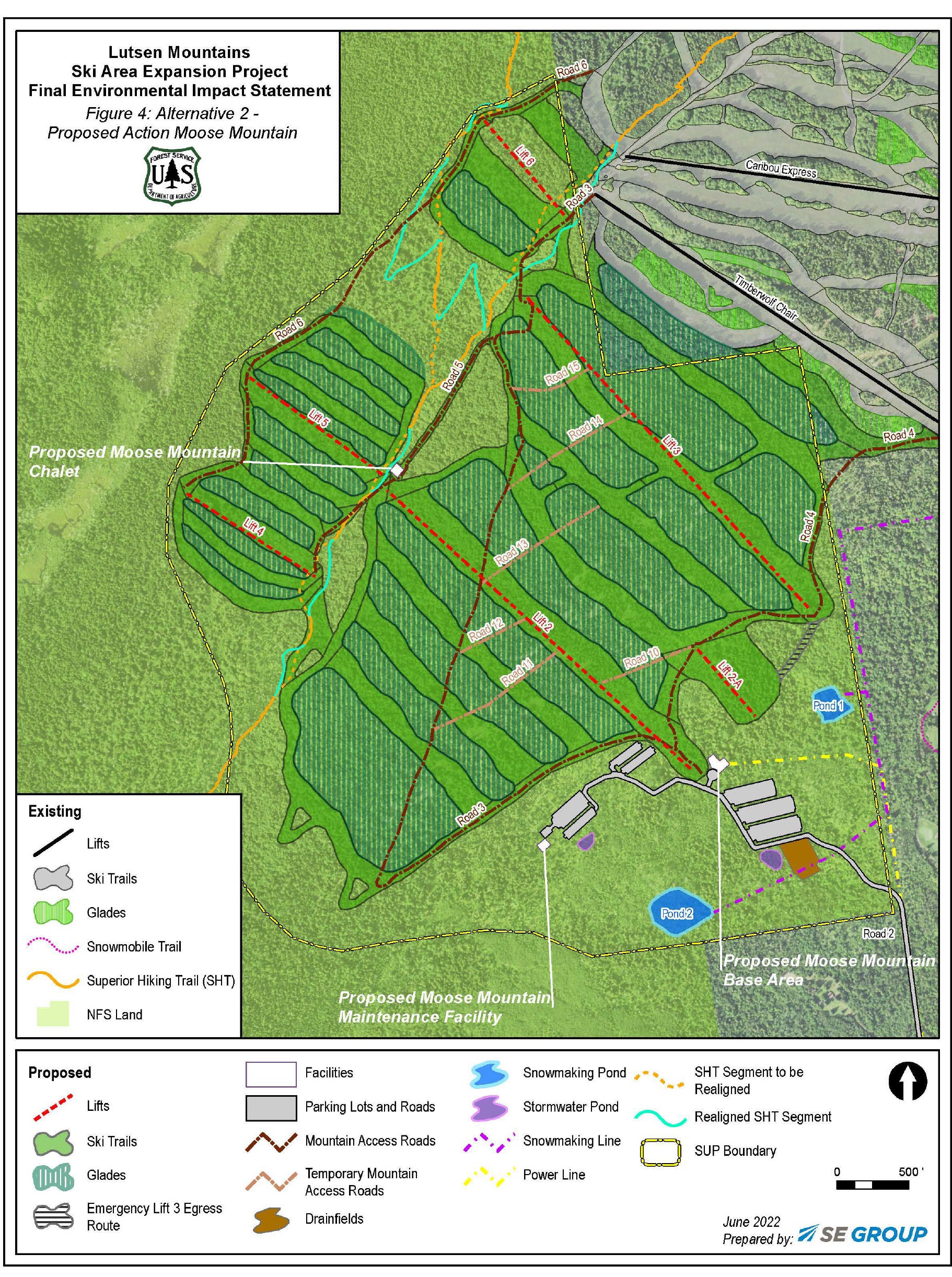 And Eagle: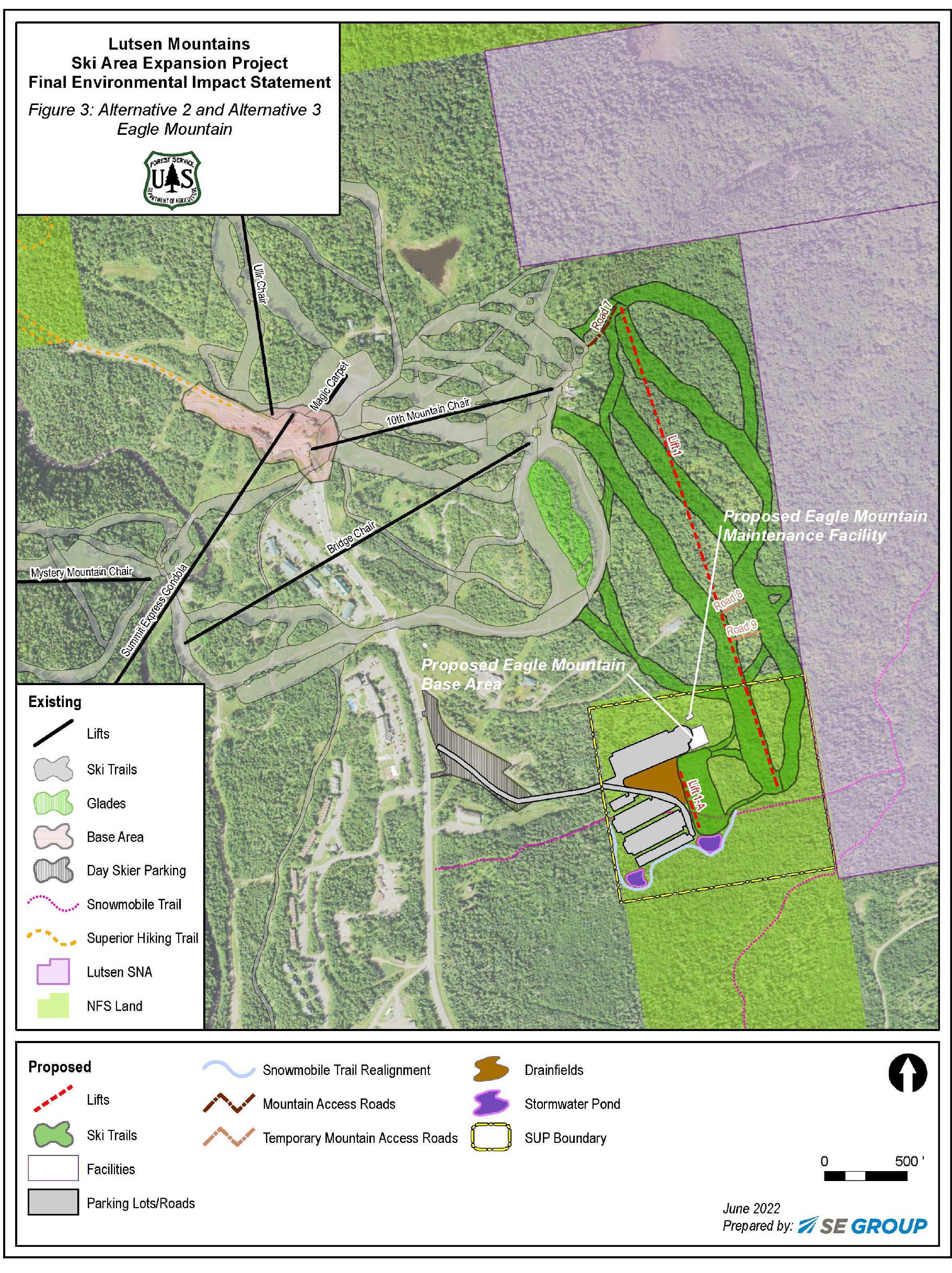 Over the summer, Lutsen withdrew the plan, and Superior National Forest Supervisor Thomas Hall recommended a "no action" alternative, citing "irreversible damage" to mature white cedar and sugar maple stands, displacement of backcountry skiers, negative impacts to the 300-mile-long Superior hiking trail, objections from Native American communities, and water-quality concerns. Lutsen had until Oct. 10 to file an objection to the decision, and they did. What happens now? we discuss that.
Questions I wish I'd asked
It may have been worth getting into the difference between Lutsen's stated lift-served vertical (825 feet), and overall vertical (1,088 feet). But it wasn't really necessary, as I asked the same question of Midwest Family Ski Resorts CEO Charles Skinner two years ago. He explains the disparity at the 25:39 mark:
What I got wrong
I said that Boyne Mountain runs the Hemlock double chair instead of the Mountain Express six-pack for summer operations. That is not entirely true, as Mountain Express sometimes runs, as does the new Disciples 8 chair on the far side of the mountain's Sky Bridge.
I referred to Midwest Family Ski Resorts CEO Charles Skinner as "Charles Skinner Jr." He is in fact Charles Skinner IV.
Why you should ski Lutsen Mountains
One of the most unexpected recurring messages I receive from Storm readers floats out of the West. Dedicated skiers of the big-mountain, big-snow kingdoms of the Rockies, they'd never thought much about skiing east of the Continental Divide. But now they're curious. All these profiles of New England girth and history, Midwest backwater bumps, and Great Lakes snowtrains have them angling for a quirky adventure, for novelty and, perhaps, a less-stressful version of skiing. These folks are a minority. Most Western skiers wear their big-mountain chauvinism as a badge of stupid pride. Which I understand. But they are missing a version of skiing that is heartier, grittier, and more human than the version that swarms from the western skies.
So, to those few who peek east over the fortress walls and consider the great rolling beyond, I tell you this: go to Lutsen. If you're only going to ski the Midwest once, and only in a limited way, this is one of the few must-experience stops. Lutsen and Bohemia. Mix and match the rest. But these two are truly singular.
To the rest of you, well: Midwest Family's stated goal is to beef up its resorts so that they're an acceptable substitute for a western vacation. Lutsen's website even hosts a page comparing the cost of a five-day trip there and to Breckenridge: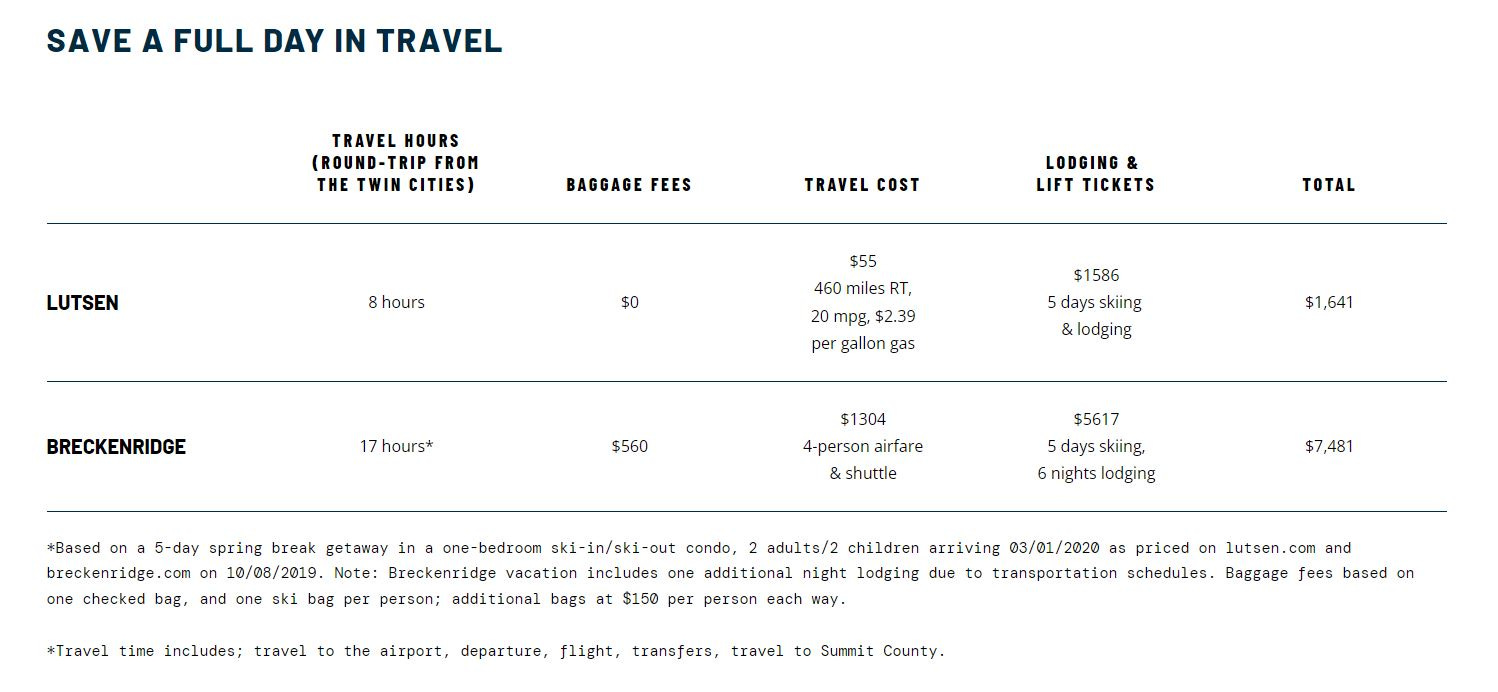 Sure, that's slightly exaggerated, and yes, Breck crushes Lutsen in every on-mountain statistical category, from skiable acreage to vertical drop to average annual snowfall. But 800 vertical feet is about what an average skier can manage in one go anyway. And Lutsen really does give you a bigger-mountain feel than anything for a thousand miles in either direction (except, as always, the Bohemia exception). And when you board that gondy and swing up the cliffs toward Moose Mountain, you're going to wonder where, exactly, you've been transported to. Because it sure as hell doesn't look like Minnesota.
Podcast Notes
On Midwest Family Ski Resorts
Midwest Family Ski Resorts now owns four ski areas (Snowriver, Michigan is one resort with two side-by-side ski areas). Here's an overview:

On the loss of Moose Return
A small but significant change will disrupt skiing at Lutsen Mountains this winter: the destruction of the skier bridge at the bottom of the Moose Return trail that crosses the Poplar River, providing direct ski access from Moose to Eagle mountains. Vick details why this presents an unfixable obstacle in the podcast, but you can see that Lutsen removed the trail from its updated 2023-24 map: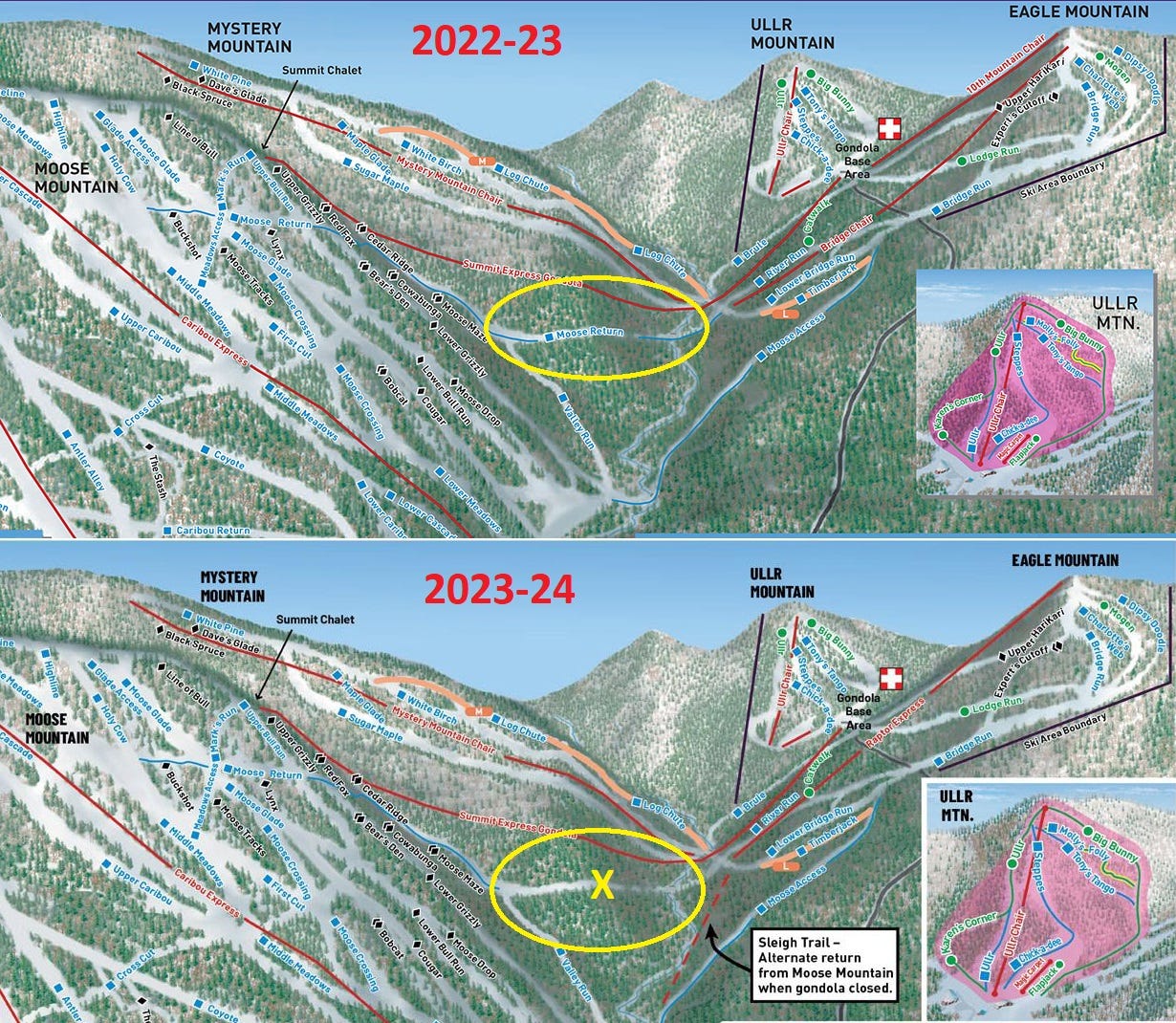 On the Stowe gondola I referenced
I briefly referenced Stowe's gondola as a potential model for traversing the newly re-gapped Moose Return run. The resort is home to two gondolas – the 2,100-vertical-foot, 7,664-foot-long, eight-passenger Mansfield Gondola; and the 1,454-foot-long, six-passenger Over Easy Gondola, which moves between the Mansfield and Spruce bases. It is the latter that I'm referring to in the podcast: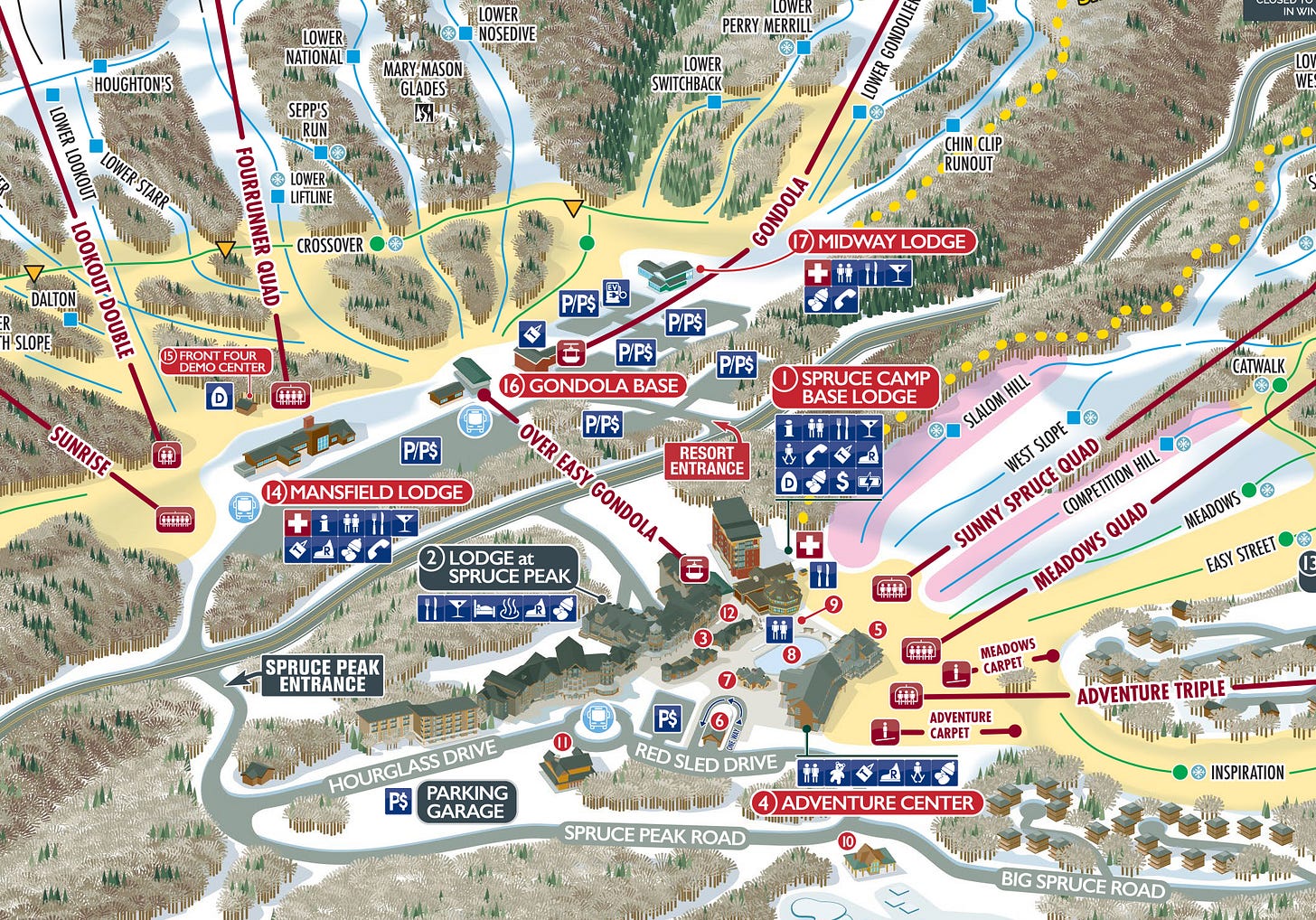 On Mt. Frontenac
Vick mentions that his first job was at Mt. Frontenac, a now-lost 420-vertical-foot ski area in Minnesota. Here was a circa 2000 trailmap: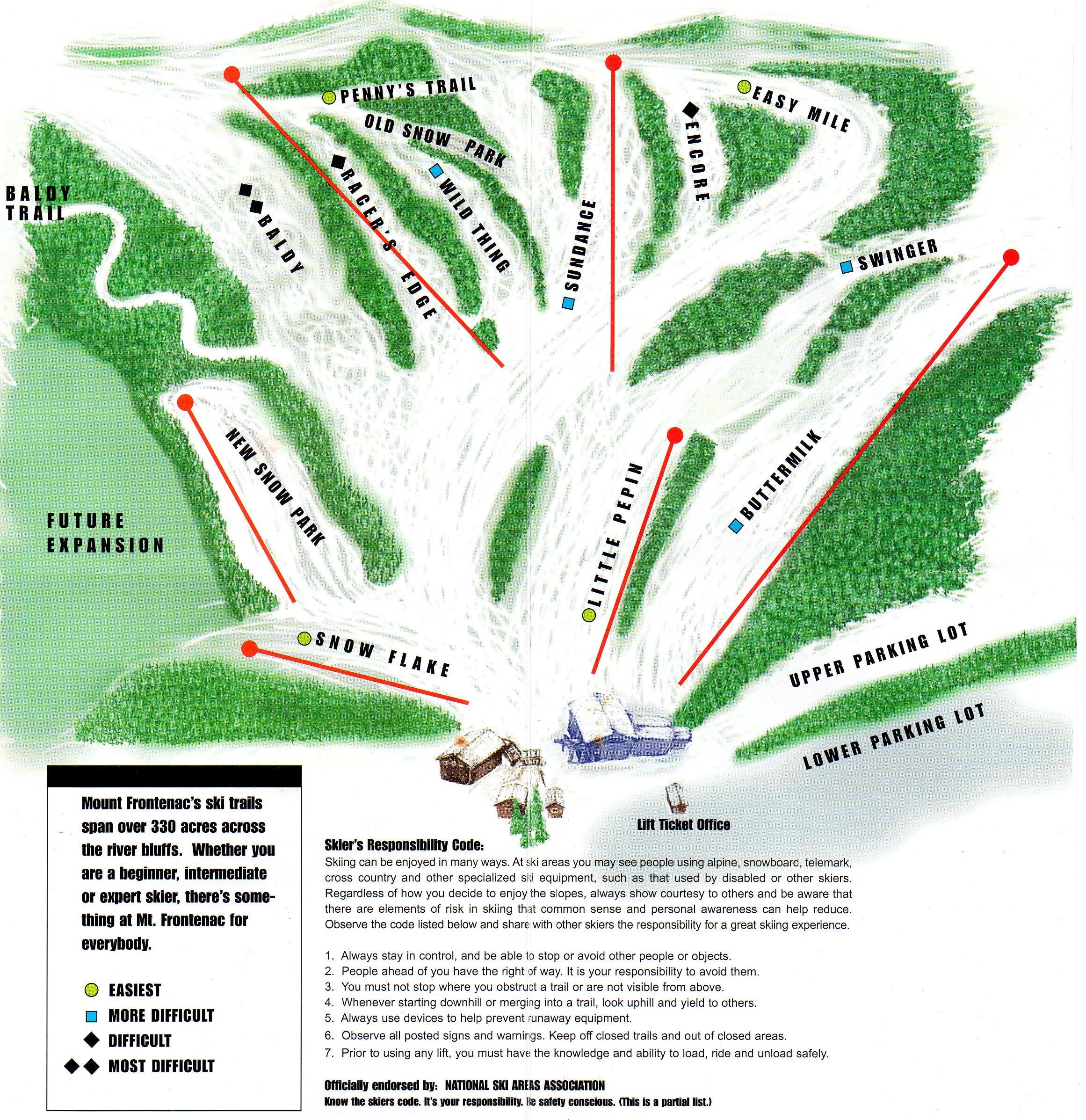 Apparently a local group purchased the ski area and converted it into a golf course. Boo.
On the evolution of Lutsen
The Skinners have been involved with Lutsen since the early 1980s. Here's a circa 1982 trailmap, which underscores the mountain's massive evolution over the decades: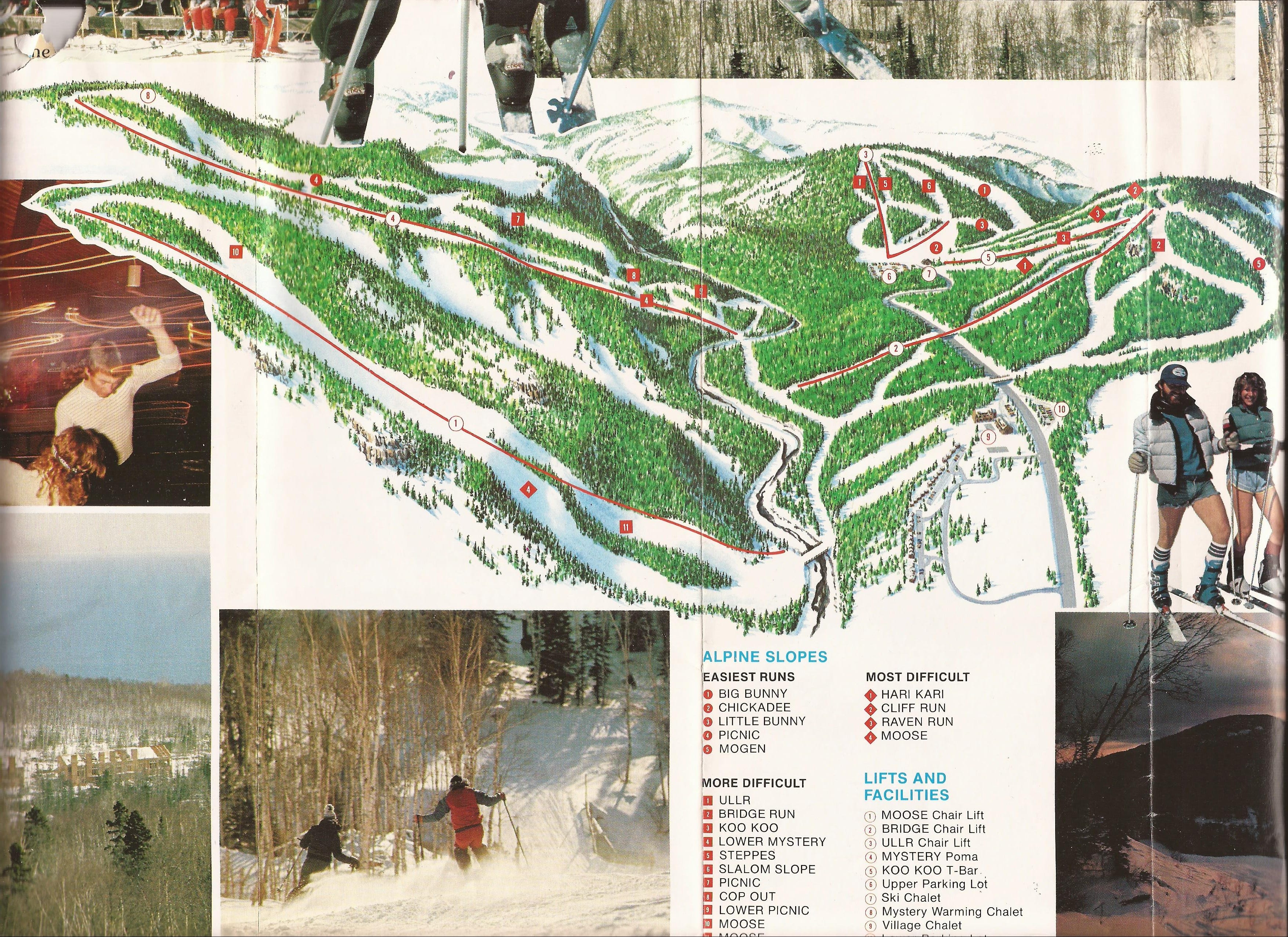 On the evolution of Granite Peak
When Charles Skinner purchased Granite Peak, then known as Rib Mountain, it was a nubby little backwater, with neglected infrastructure and a miniscule footprint:
And here it is today, a mile-wide broadside running three high-speed chairlifts: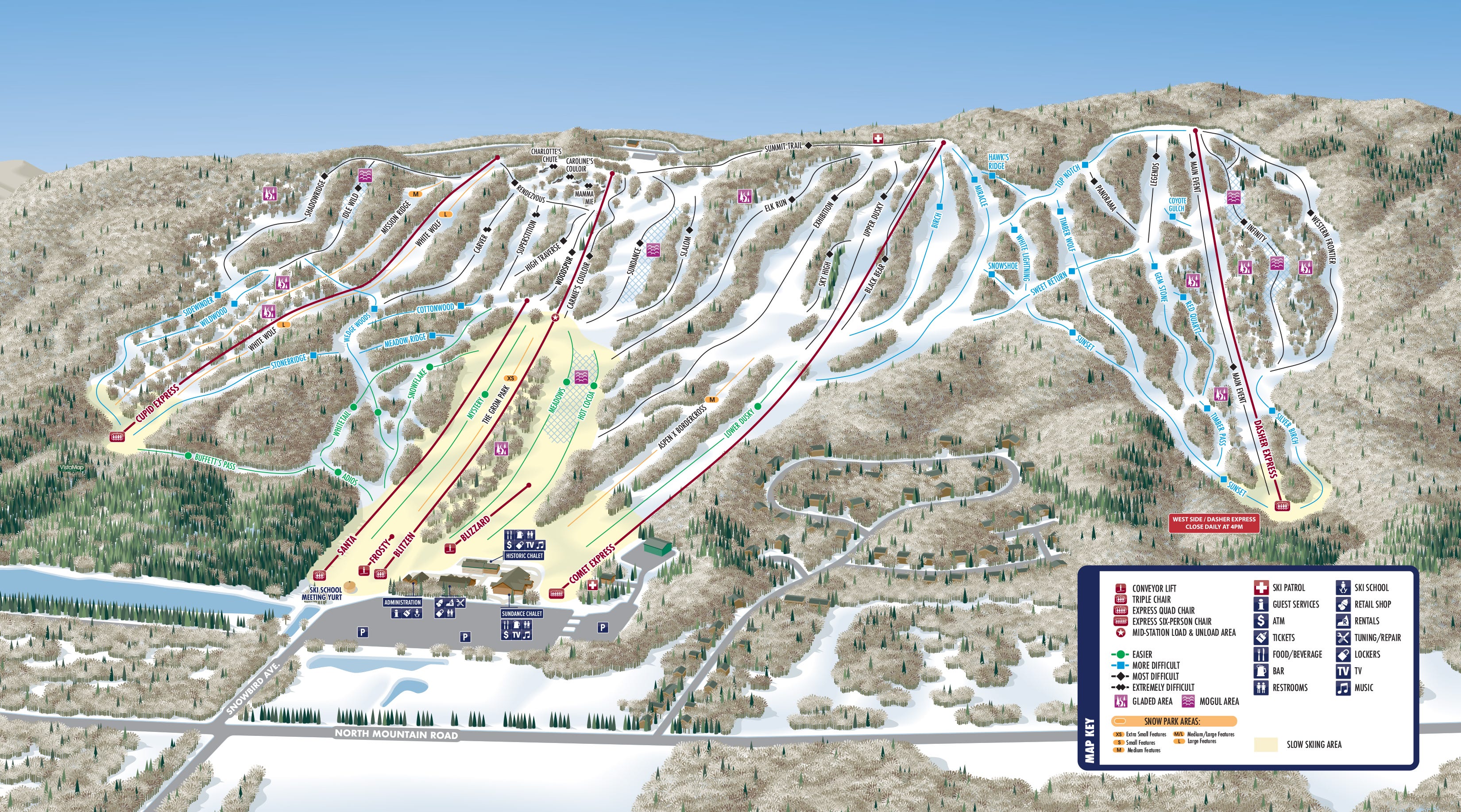 An absolutely stunning transformation.
On Charles Skinner III
Skinner's 2021 Star Tribune obituary summarized his contributions to Lutsen and to skiing:
Charles Mather Skinner III passed away on June 17th at the age of 87 in his new home in Red Wing, MN. …

Charles was born in St. Louis, MO on August 30, 1933, to Eleanor Whiting Skinner and Charles Mather Skinner II. He grew up near Lake Harriet in Minneapolis where he loved racing sailboats during the summer and snow sliding adventures in the winter.

At the age of 17, he joined the United States Navy and fought in the Korean War as a navigator aboard dive bombers. After his service, he returned home to Minnesota where he graduated from the University of Minnesota Law School, served on the law review, and began practicing law in Grand Rapids, MN.

In 1962, he led the formation of Sugar Hills Ski and purchased Sugar Lake (Otis) Resort in Grand Rapids, MN. For 20 years, Charles pioneer-ed snowmaking inventions, collaborated with other Midwest ski area owners to build a golden age for Midwest ski areas, and advised ski areas across the U.S. including Aspen on snowmaking.

In the 1970s, Scott Paper Company recruited Charles to manage recreational lands across New England, and later promoted him to become President of Sugarloaf Mountain ski area in Maine. In 1980, he bought, and significantly expanded, Lutsen Mountains in Lutsen, MN, which is now owned and operated by his children.

He and his wife spent many happy years on North Captiva Island, Florida, where they owned and operated Barnacle Phil's Restaurant. An entrepreneur and risk-taker at heart, he never wanted to retire and was always looking for new business ventures.

His work at Sugar Hills, Lutsen Mountains and North Captive Island helped local economics expand and thrive.

He was a much-respected leader and inspiration to thousands of people over the years. Charles was incredibly intellectually curious and an avid reader, with a tremendous memory for facts and history.

Unstoppable and unforgettable, he had a wonderful sense of humor and gave wise counsel to many. …
On the number of ski areas on Forest Service land
A huge number of U.S. ski areas operate on Forest Service land, with the majority seated in the West. A handful also sit in the Midwest and New England (Lutsen once sat partially on Forest Service land, but currently does not):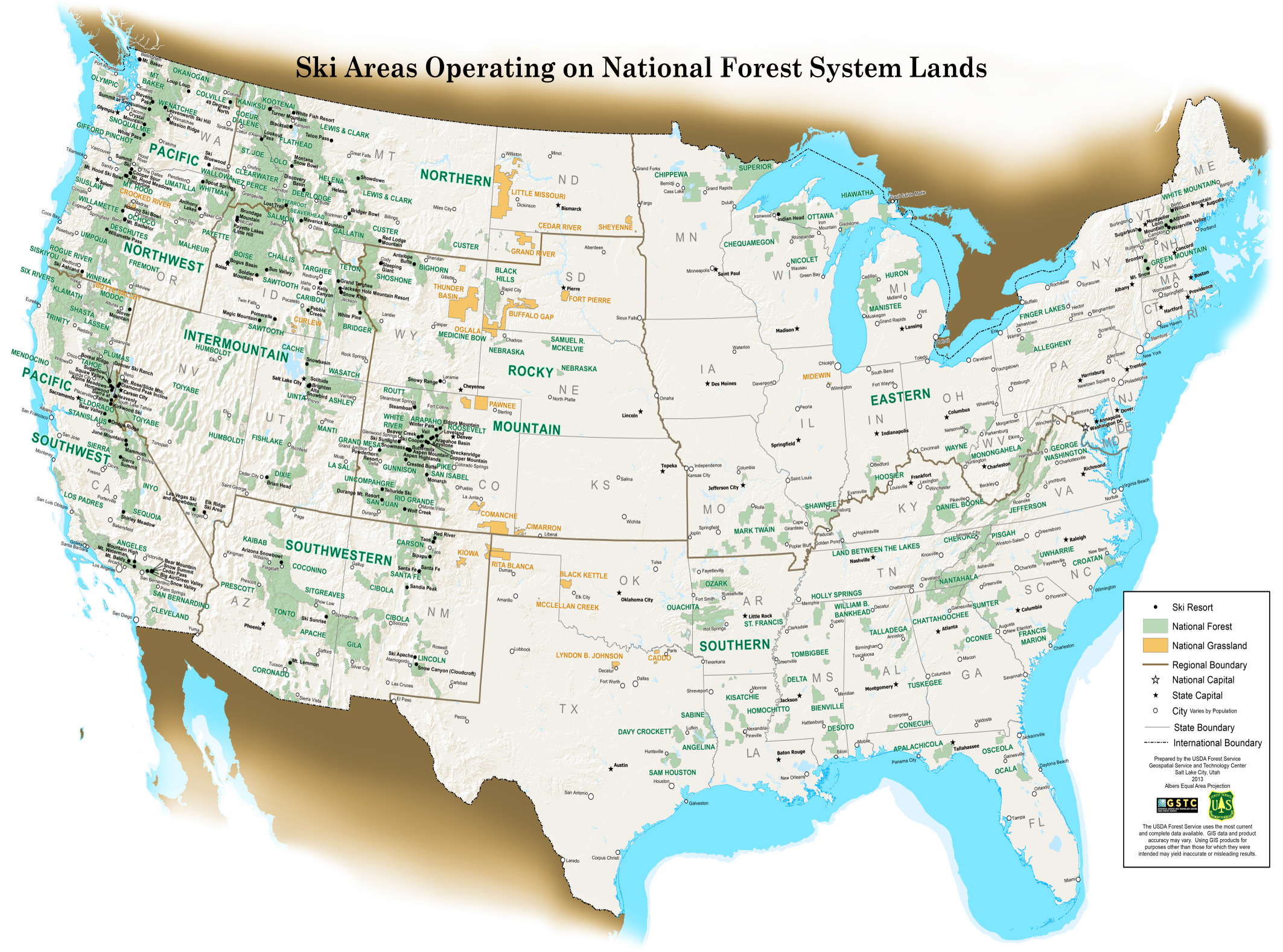 On additional Midwest podcasts
As a native Midwesterner, I've made it a point to regularly feature the leaders of Midwest ski areas on the podcast. Dig into the archive:
MICHIGAN
WISCONSIN
OHIO
INDIANA
SOUTH DAKOTA
The Storm publishes year-round, and guarantees 100 articles per year. This is article 98/100 in 2023, and number 484 since launching on Oct. 13, 2019. Want to send feedback? Reply to this email and I will answer (unless you sound insane, or, more likely, I just get busy). You can also email skiing@substack.com.