The Storm Skiing Podcast #13 | Download this episode on iTunes, Google Podcasts, Stitcher, TuneIn, and Pocket Casts | Read the full overview at skiing.substack.com.
Who: Dana Bullen, President and General Manager of Sunday River, Maine
Why I interviewed him: Because Sunday River, sprawling and varied and improbable, is one of the finest physical manifestations of New England can-do grit and individual initiative.
This is what the mountain looked like in 1961 (The main hill rising from the parking lot is Barker):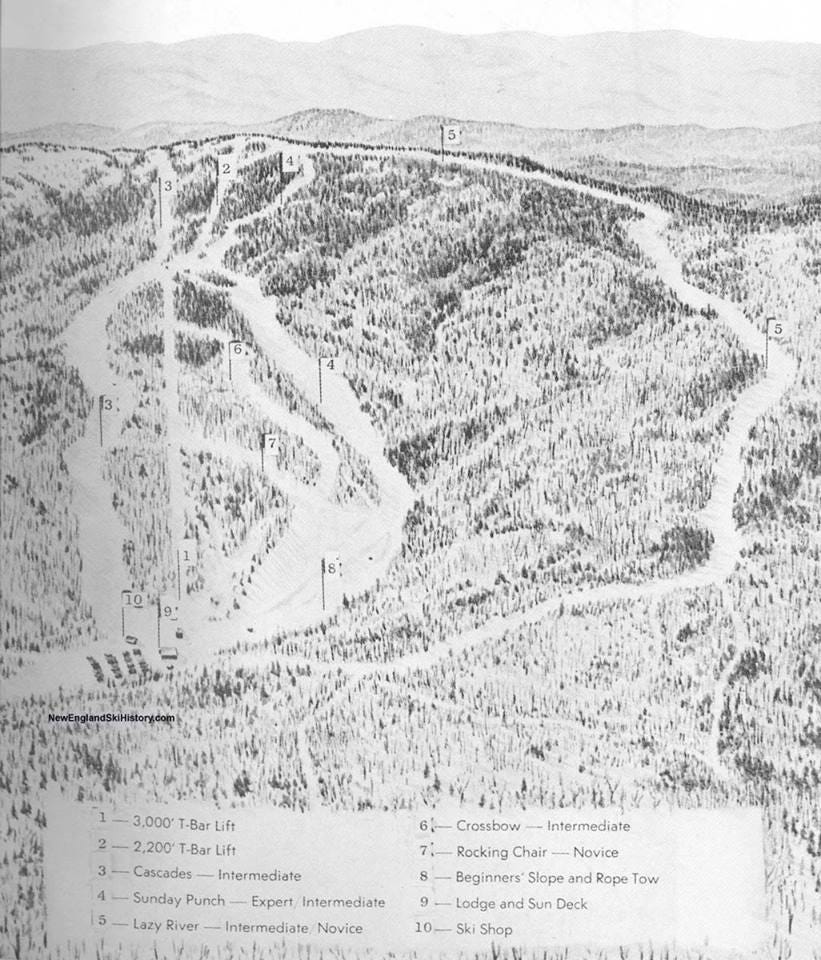 It hadn't evolved much by 1984: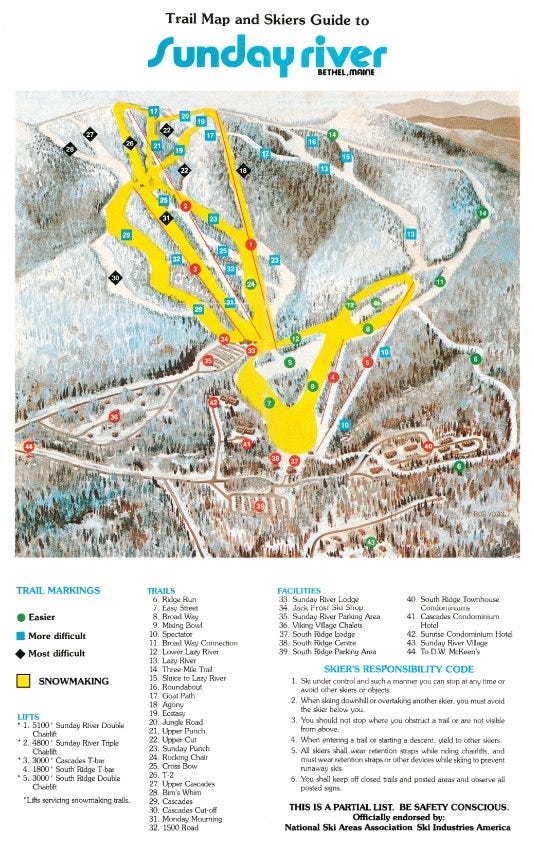 And then, all of a sudden, a decade later, it looked like some kind of vast European ski circus dropped on the western edge of Maine. The 1994 trailmap: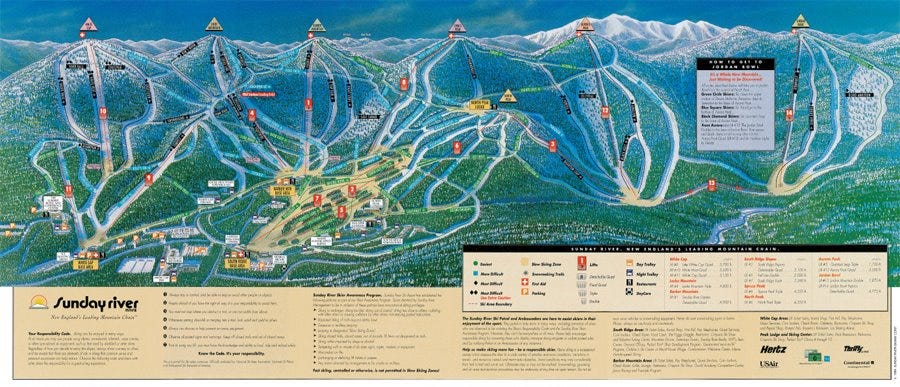 The vision to transform the mountain from a backwater to something that could roll up next to Killington in the parking lot and be like, "what?" belonged, of course, to Les Otten. But since Boyne pulled the mountain off of the ASC gurney in 2007, they have made a serious commitment to, as Dana says in our interview, bringing the rest of the resort up to the standards of the best-in-the-region skiing. I wanted to get a better sense of how the mountain would continue to evolve on top of one of the best trail and lift networks in the Northeast.
What we talked about: Sunday River 2030; working with Boyne to decide what to upgrade; Bethel and how it's tied to the mountain; RFID coming next season; doubling snowmaking capacity; why Killington usually wins the race to open and why Sunday River won't compete for last to close; what's planned for Barker and sorry it won't be next season; how the Gould Academy T-bar helped take pressure off Barker this season; why they're upgrading the Jordan lift; how new lift technology helps limit wind holds; any new lifts at Sunday River will not be high-speed quads; the Hermitage Club's six-pack bubble will not end up at Sunday River even if Boyne buys it; could Sunday River join Oktuplefest?; solving the uphill-capacity-versus-downhill-traffic equation when deciding which new lifts to install; you won't believe how many chairlifts are at these Austrian resorts that Dana just visited; near-term updates for the White Cap quad; overhauling the resort's core with upgrades to the South Ridge and North Peak quads; why they'll update the fixed-grip Aurora quad; why some lifts not currently scheduled for an upgrade may get one anyway; why the Locke Mountain Triple is OK even though it dates to 1984; how Sunday River is evolving its culinary offerings with everything from sushi to a burger bar to local coffee and beer; new real estate developments and how this is not ASC redux; the difference between working for Boyne and ASC; the potential over the very very very long term to develop three additional peaks beyond Jordan Bowl; the mountain will consider adding more terrain on existing peaks as lift capacity increases; where that new terrain may be; how they maintain the glades and yes they will add more; the legacy of Les Otten, how he's still involved with the mountain, and how often he skis there; skiing and living on Merrill Hill, which will be Sunday River's ninth peak; how the mountain rebuilt so quickly after last summer's disastrous pump-house fire; why Sunday River has night skiing, who uses it, and why it won't expand; why there's no Ikon Rage to be found on the mountain; the New England Pass in the age of Ikon; what Gould Academy is and its relationship with Sunday River; summer business; why Sunday River shut down its bike park and whether it could ever return.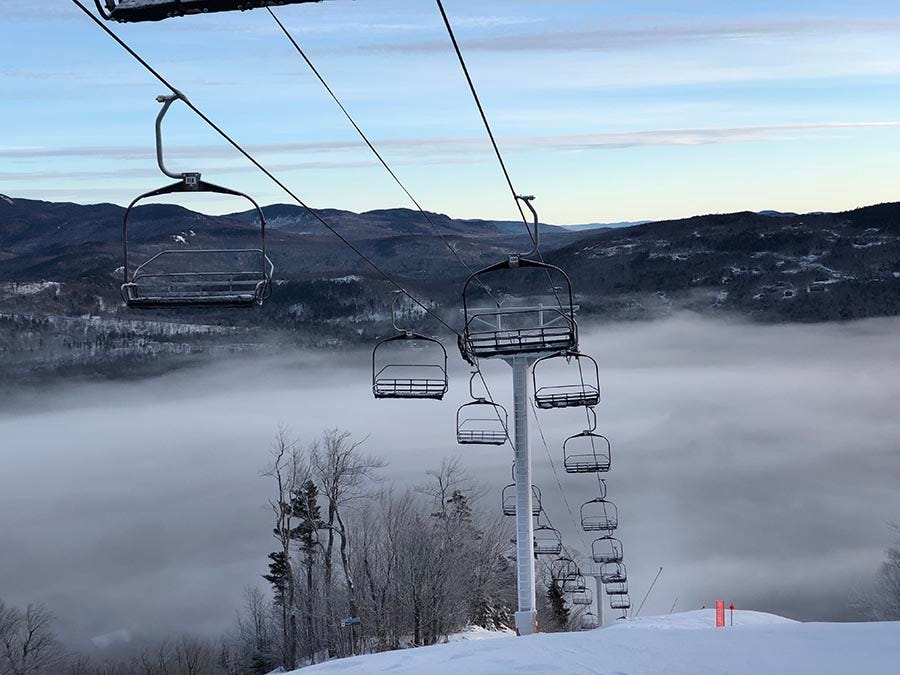 The White Cap Quad on a cold December morning.
What I got wrong: I've gotten the sense from talking to various folks who decide which lifts to invest in that there are inherent properties to high-speed lifts that make them slightly less durable than fixed-grip lifts over the long haul, but Dana clarified that this isn't necessarily true – high-speed lifts are more complicated and have more parts, but more maintenance can extend their lives as long as fixed-grip lifts in general.
Why I thought that now was a good time for this interview: Last week, Sunday River unveiled their 2030 plan, an outline of how Boyne will continue to build out the resort over the next decade. While the Sunday River hardcore may have preferred to see more direct terrain expansions or detail about lift enhancements, especially on Barker, the plan is a pragmatic acknowledgement that Sunday River's future hinges upon building up the assets surrounding the already expansive trail base. This means making Sunday River more of a true modern resort, with better food, better lodges, updated on-mountain residences, more summer activities, modern conference space, and the spa-type stuff that's expected from families with diverse vacation aspirations. But it also of course means continuing to build up the beastly snowmaking system, ditching my beloved wicket tickets for RFID technology (Sunday River and Sugarloaf are surely among the largest mountains in the country that haven't made this switch yet), and upgrading a half dozen lifts. While Dana was not forthcoming on lift details, Boyne's decades investing in state-of-the-art lift technology should reassure concerned skiers that whatever goes in there will be top notch.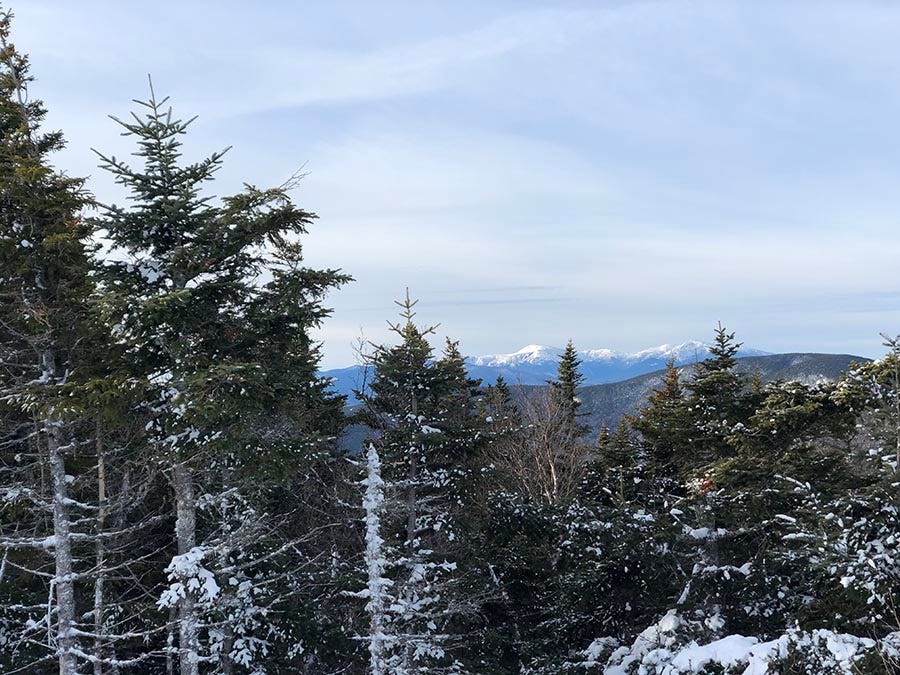 Sunday River provides a sense of being on the edge of the wilderness.
Why you should go there: Because why would you not? The literal only thing Sunday River has working against it is distance from population centers, but that is of course an asset once you arrive. If you know how to move around the mountain, you can avoid liftlines most of the time. And there's plenty to move around – I don't know if there's a more balanced mountain in New England, with more varied ways for skiers of all levels to move between peaks and end to end across the resort. A low intermediate can move from the top of Jordan Bowl to the White Cap lodge in one meandering and astonishing run, while experts can find trouble off of almost any peak if the snowpack is cooperating. The distinct peaks and pods can feel like separate ski areas, each with a personality, even as a skier moves seamlessly between them. Sunday River doesn't get as much natural snow as the Vermont monsters, but they make up for it with a snowmaking system that could bury Fenway Park in half a day. If you have an Ikon Pass, make a weekend for this one – it's worth the extra drive.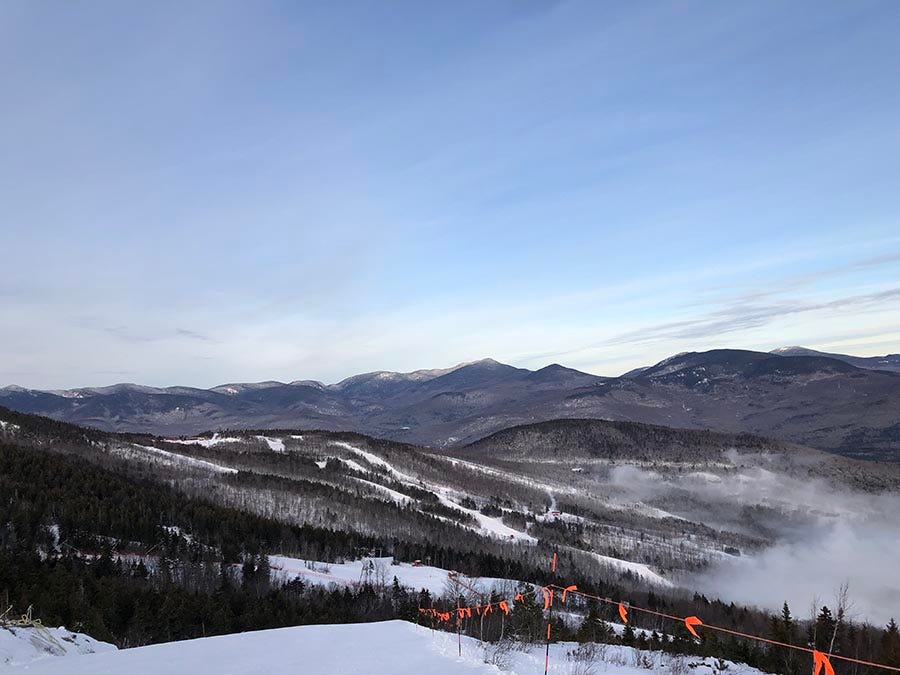 Sunday River wraps peak after peak into the distance, offering a seemingly endless ski experience.
---
The Storm Skiing Podcast is on iTunes, Google Podcasts, Stitcher, TuneIn, and Pocket Casts. The Storm Skiing Journal publishes podcasts and other editorial content throughout the ski season. To receive new posts as soon as they are published, sign up for The Storm Skiing Journal Newsletter at skiing.substack.com. Follow The Storm Skiing Journal on Facebook and Twitter.
Check out previous podcasts: Killington & Pico GM Mike Solimano | Plattekill owners Danielle and Laszlo Vajtay | New England Lost Ski Areas Project Founder Jeremy Davis | Magic Mountain President Geoff Hatheway | Lift Blog Founder Peter Landsman | Boyne Resorts CEO Stephen Kircher | Burke Mountain GM Kevin Mack | Liftopia CEO Evan Reece | Berkshire East & Catamount Owner/GM Jon Schaefer | Vermont Ski + Ride and Vermont Sports Co-Publisher & Editor Lisa Lynn | Sugarbush President & COO Win Smith | Loon Mountain President and GM Jay Scambio |