Apr 8, 2020 • 42M
COVID-19 & Skiing Podcast #6: Shaggy's Copper Country Skis Cofounder Jeff Thompson – A Pivot to Face Shield Production
Everyone's searching for skiing's soul. I'm trying to find its brains.
Download this episode on iTunes, Google Podcasts, Stitcher, TuneIn, and Pocket Casts | Read the full overview at skiing.substack.com.
What this is: This is the sixth in a series of short conversations exploring the fallout to the ski industry from the COVID-19-forced closure of nearly every ski area on the continent in March 2020. Click through to listen to the first five: author Chris Diamond, Boyne Resorts CEO Stephen Kircher, Magic Mountain President Geoff Hatheway, NSAA CEO Kelly Pawlak, Berkshire East/Catamount Owner & Goggles for Docs founder Jon Schaefer.
Who: Jeff Thompson, partner and cofounder of Shaggy's Copper Country Skis in Boyne City, Michigan
Why I interviewed him: Because as America has fractured along political fault lines over the past few decades, the bring-it-together ethos of the nation's finest moments seemed ever more distant and improbable. It was with a sense of amazement bordering on disbelief that I would read about the titanic wartime effort of the 1940s, when American manufacturing channeled its full might and ingenuity into assembling one of the greatest war machines in history. In December 1941, Japan attacked Pearl Harbor. By February 1942, automakers were retooling their factories for airplane, tank, and truck manufacturing. Factories of all kinds made similar pivots. This enormous and immediate output helped win World War II, and much of that effort took place in Michigan. When COVID-19 pounced out of the viral shadows this winter and began its inexorable creep across our globalized and interconnected world, the medical establishment everywhere was as short of medical supplies as the United States was of battle-ready Jeeps and bombers in 1941. Now, as then, small and large manufacturers of all sizes are applying their expertise in making things to the enormous and urgent project before them. American manufacturing in 2020 is not what it was in 1941, when the nation was one of the world's great factory hubs. But the work ethic, the energy, the problem-solving intelligence, and the compulsion to meet a problem and punch it in the face remain. When the scope of the COVID-19 crisis began to settle over our nation, Shaggy's Copper Country Skis, like small manufacturers across the country, shut their regular production lines and retooled for crisis. A custom ski shop, Shaggy's is now cranking out 5,000 face masks per day for front-line medical workers, playing a small but vital role in this unfolding pandemic. That is a story I wanted to hear.
What we talked about: Even as the world falls apart good things still happen, and one of those good things was Jeff having his first child just as the shutdown was taking hold across the country; what inspired Shaggy's to shut down ski production and how they honed in on face shields as an area of need they could help fulfill; the trial-and-error process of going from prototype to production; making things is a deeply ingrained family habit (that stretches back more than a century), and the Thompsons have more than one small factory locked into this effort; the practical challenges of pivoting from boutique custom ski production to high-volume repetitive stamping out of a single identical item; how Shaggy's modified their shop to switch from skis to face shields; how you move a 5,000-foot-long, 650-pound coil of plastic around a shop floor without a forklift; the challenges of sourcing materials on the fly that normally take weeks to acquire and that most suppliers don't have in the necessary volume; the materials that go into the shields and the tools used to cut and assemble them; how they're collaborating with other ski and snowboard companies to help ramp up the overall production effort; how many face shields they can turn out each day and how much extra labor it takes to do that; the simplicity of the whole operation compared to Shaggy's typical process of banging out custom skis, and the psychological reset necessary for a group accustomed to that more creative process; how the team was inherently prepared to make this kind of switch; the setbacks the shop hit in ramping up production; how they continue to update the production line to streamline the production process; how 60-year-old riveters are proving to be essential tools to the assembly process; how Shaggy's stands alone as a true independent ski company; how they allocate these invaluable resources in a time of overwhelming demand; where the shields end up and what they do with the excess shields each day; how a company spreads the word that it's a suddenly medical manufacturer with masks on offer when it's well-established as a niche ski outfit; how they honed in on the Costco-sized 150-pack as the optimal number of shields per shipped box; how operating as a direct-to-consumer brand positioned Shaggy's to easily send these shields directly to hospitals; how long this change-over might last; how this effort honors the family legacy of making things
More about Shaggy's: The company has one of the cooler stories behind its name that I'm aware of – from their website:
In 1908, our great-grand-uncle Sulo "Shaggy" Lehto starting hand carving wooden skis for our family and neighbors in the village of Kearsarge, located in the heart of Michigan's Keweenaw Peninsula, best known as the Copper Country. Shaggy carved skis for his niece, our grandmother (John's mother), and she told stories of using them to travel around town in the deep snow and ski down the tailing piles from the copper mines. That pair of skis was handed down through the generations. In 2005, when the Thompson family started making skis, they knew they had to keep the family heritage alive and dedicated their ski building endeavor with the family name of Shaggy's Copper Country Skis.

It is with great honor and a sense of pride that we use his name and hope that Shaggy is as proud of us as we are of him.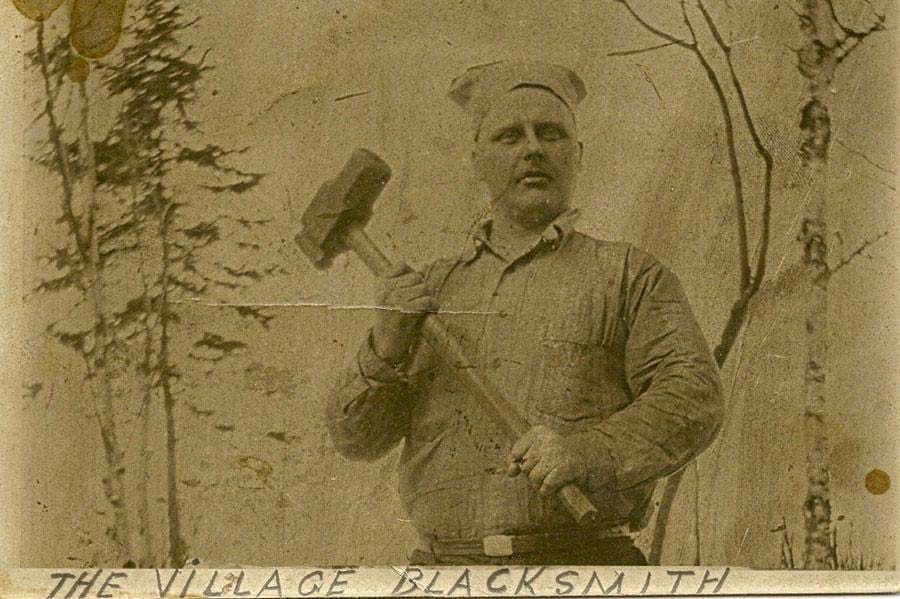 A deeper look:
Shaggy's profiles from Unofficial Networks and Teton Gravity Research. More on the face shield effort from the local news station in Northern Michigan.
Recorded on: April 7, 2020
---
The Storm Skiing Podcast is on iTunes, Google Podcasts, Stitcher, TuneIn, and Pocket Casts. The Storm Skiing Journal publishes podcasts and other editorial content throughout the ski season. To receive new posts as soon as they are published, sign up for The Storm Skiing Journal Newsletter at skiing.substack.com. Follow The Storm Skiing Journal on Facebook and Twitter.
COVID-19 & Skiing Podcasts: Author and Industry Veteran Chris Diamond | Boyne Resorts CEO Stephen Kircher | Magic Mountain President Geoff Hatheway | NSAA CEO Kelly Pawlak| Berkshire East/Catamount Owner & Goggles for Docs founder Jon Schaefer
The Storm Skiing Podcasts: Killington & Pico GM Mike Solimano | Plattekill owners Danielle and Laszlo Vajtay | New England Lost Ski Areas Project Founder Jeremy Davis | Magic Mountain President Geoff Hatheway | Lift Blog Founder Peter Landsman | Boyne Resorts CEO Stephen Kircher | Burke Mountain GM Kevin Mack | Liftopia CEO Evan Reece | Berkshire East & Catamount Owner & GM Jon Schaefer| Vermont Ski + Ride and Vermont Sports Co-Publisher & Editor Lisa Lynn| Sugarbush President & COO Win Smith| Loon President & GM Jay Scambio| Sunday River President & GM Dana Bullen| Big Snow & Mountain Creek VP of Sales & Marketing Hugh Reynolds |