Discover more from The Storm Skiing Journal and Podcast
Everyone's searching for skiing's soul. I'm trying to find its brains.
Over 13,000 subscribers
"You Can't Do NYC to MRG & Back in a Day," Said the Guy I Always Ignore
When it comes to daytrips, set your own limits and follow the snow
It is just before 9:30 a.m. on a March Friday when I heave around the final bend in Vermont Route 17 and into the Mad River Glen parking lot. If I did not know a ski area was here, it would be easy to miss. The place is astonishing, almost nothing visible from the road other than two ragged strips of white tottering uphill around the lift towers. Beneath the matted brown, green and white lies one of the best trail networks in the East, fronted by a collection of humble buildings and antique lifts. The place feels homemade, accidental almost, like a farmer tossed a couple lifts up at the back of his property and I stumbled across them on my way over to Sugarbush. That such a place exists in 2019 seems impossible, but here it is.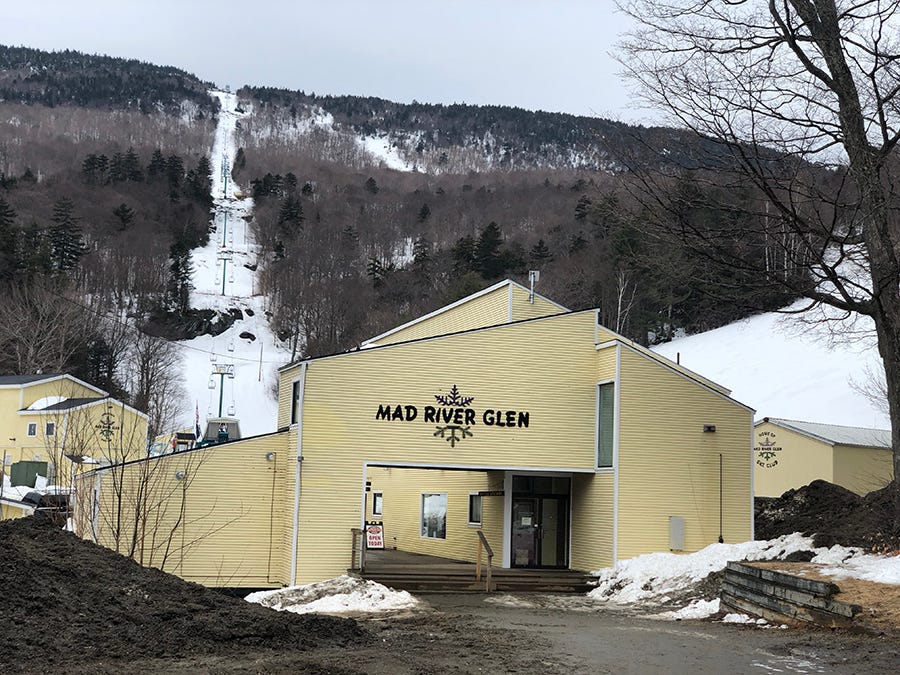 There are trails back there. March 2019 at Mad River Glen, Vermont.
---
What seems nearly as unlikely is that I'd woken up that morning in New York City, a place as different from MRG as a place can be. I would sleep there again that night. In between, I had all day to ski. That I could so deeply remove myself from the most dense and frenetic place in the country to one of its most under-built and in the same day return is a miracle at the confluence of geography, infrastructure, technology and meteorology. But here I was.
There seems to be an informal rule, declared with rote insistence by the interneters who care about such things, that ski day-trip drive time must never exceed time spent actually skiing. The thinking, it seems, is built upon some imaginary currency, in which each hour of effort (driving) is exchangeable for exactly one hour of fun (skiing).
This is utter bullshit. Though it is true that time is our most valuable resource, we each have a personal exchange rate, embedded within the algorithms of our lives, that determines the calculus of effort/reward. And when the reward increases, so too should the effort.
This was a rather remarkable March at Mad River Glen. Thirty inches of fresh had clobbered the mountain the previous weekend. You could drop a pole up to the handle on the Paradise traverse and still not hit bottom. The labyrinthine runs skier's left of the single chair were soft and buried and wide open. I wasn't missing this because of a four-hour differential between time spent skiing and time spent driving.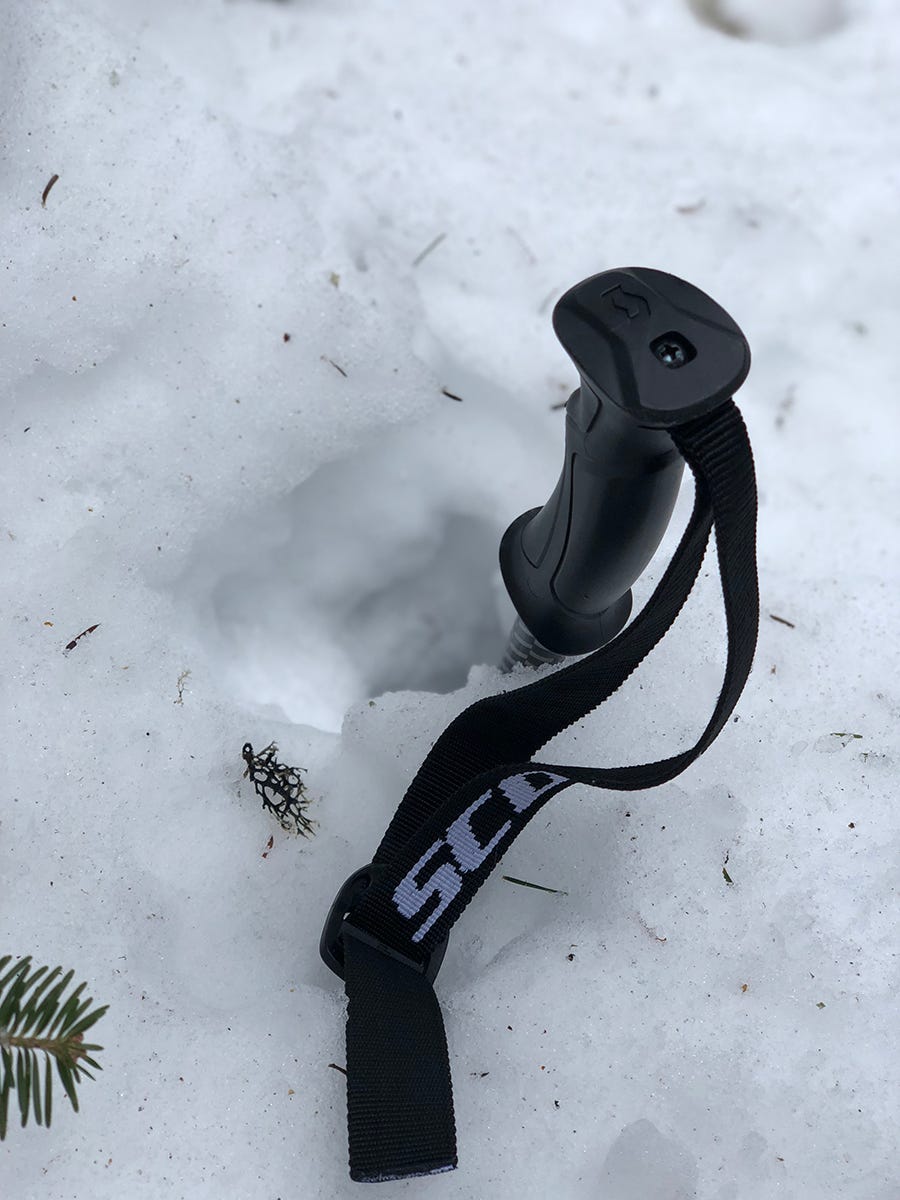 The traverse to Paradise at the top of Mad River Glen, March 2019
---
I skied 11 days in Vermont last season and never spent a night there. I would have liked to. But the current algorithm includes a toddler too young to ski and a complex work schedule and additional family considerations. So it was ski Mad River Glen today after a four a.m. alarm bell and five-hour drive, or ski Mad River Glen in 2027 when every variable of my life aligns in such a way that I can board the single chair after a leisurely flapjack breakfast at the Mad River Barn.
This was not a difficult choice, though for many years I acted as though it was. Like many New Yorkers, I became fixated on the ease with which I could travel nearly anywhere in the world via our trio of airports. I developed a sort of theory-of-ski-travel that I called the Colorado Problem, and it worked like this: could I get to Colorado faster than I could get to the Northeast destination of my choice? If the answer was yes, then I dismissed it as a possibility.
But this equation, like the drive time:ski time equivalence, was idiotic in many ways, the most obvious being that the relative proximity of Colorado via airplane is rendered irrelevant for day trips by the sheer astronomical cost of booking last-minute flights. The biggest problem with the Colorado Problem is that it wasn't a problem at all outside of the fact that I'd willed it into existence.
So in my skiing mad scientist's lab I knocked around my abacus and my TI-85 and fed it through my happy-o-meter and this is what I came up with: If I can reach a ski area's parking lot by 10 a.m. by leaving my Brooklyn apartment at 4:30 a.m., then it is worth it – and this part is crucial – if the snow is good. Given the 4 p.m. last chair at most Northeastern resorts, this leaves me a solid six hours to ski.
This opened an enormous world for me. There is no traffic in New York City at 4:30 in the morning. Not even on a weekday. It is virtually the only time that the city functions like a normal place, and you can see how good the bridge-and-highway infrastructure actually is. If I leave with a full tank of gas, this puts me within striking distance of no fewer than 135 ski areas.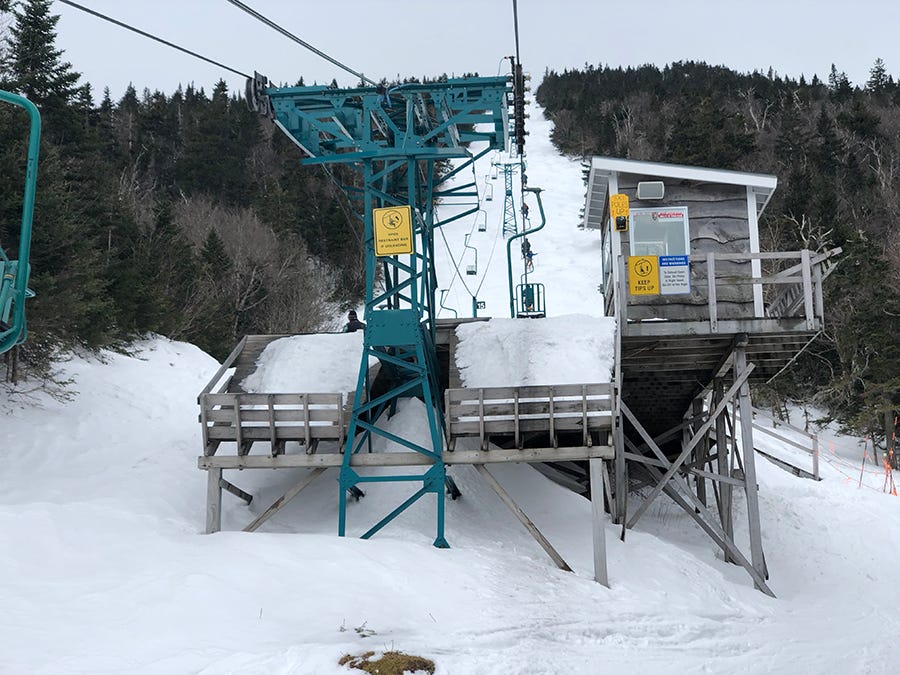 The MRG single chair mid-station.
---
There are a lot of variables, the least appreciated being that distance matters far less than the quality of the drive. The twisting inclines of double-lined Vermont state highways can knock chunks off the ski day quickly. This means that Smuggler's Notch is off limits, while Burke, slightly farther north but just seven miles off I-91, is aggressive but doable.
The second is weather, both in how it influences the reachability of certain mountains and how "worth it" the drive seems. During a storm, anything north of Stratton is borderline dangerous, and even that's dicey – I'm more likely to pull back to Plattekill or Berkshire East in those cases. And if those have snow. The variable that makes six hours of snow time equal ten or eleven hours of drive time is powder. Considering people spend all day skinning Western mountains for one looping rush of deep pow, sitting in a car and listening to the radio for a bit longer than the hours I typically spend in my office chair in exchange for two dozen lift-served runs in heavenly snow seems like a pretty reasonable bargain.
And when it all hits right and I can clear my calendar and take the day and burn north, it is magic. There is nothing quite like it, like that sensation of standing in a quiet room in the pitchblack predawn on a Tuesday, sliding into baselayers as the mighty city slumbers around you, nothing between you and stolen glory other than a couple hundred miles of pavement. It's a weekday, a workday, and somehow, though it makes no sense, before that workday cracks open you'll be gliding up a Stratton six-pack inside that snowglobe wonderland that is the closest thing most of us know to the sublime. There is something otherworldly about it, that sense of dislocation and exotic pilgrimage. Every time, I feel like a Navy Seal, preparing for some far off and impossible mission, something daring and secretive and a little subversive.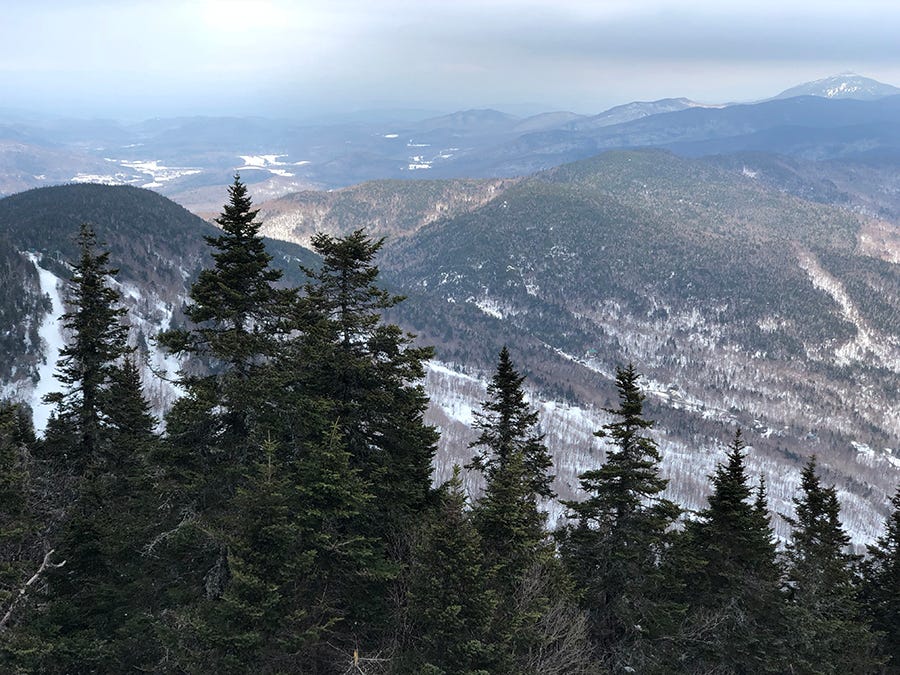 Looking across the montain from the MRG single chair.
---
And when I am blasting down a Green Mountain glade and my skis are floating like they're filled with helium and I'm delirious with the energy and adrenaline, it never occurs to me to ask if it was worth it to spend eleven hours in a car for this. In that moment, there are few tollbooths I would balk at to experience that cocktail of motion, joy, and freefalling sensation. It cannot be replicated or replaced. It can only be earned. And if that means a few more hours in the car than on the hill, well, what the hell else am I going to do with my time that will make me happier than this?
One of the conversational constructs that I find most grating is "you can't" used to reframe a personal preference or limitation as an unachievable loonybin fantasy that would destroy the fabric of space-time should it be attempted. "You can't sleep without air conditioning" is one common and very stupid example, as I have done this most of my life (yes, even while visiting the South), and literally billions of people accomplish this impossible task every single night in tropical regions all over the world. I've heard "you can't [insert easily achievable thing]" to proclaim the absurdity of things as varied as "live in New York City on under $100,000 per year," to "drive to Alaska." But these constructs do more to establish their proclaimer's lack of imagination, energy and critical insight than to actually define the parameters of what can be accomplished.
Worse than being the person that tells others "you can't" is being the person who listens to them. Unless you live in Little Cottonwood Canyon, powder days are rare and special things. In most years, in most parts of the Northeast, your number of storms is limited, and the window to enjoy them afterwards is not enormous. That's why I've developed my own annoying verbal tic over the years, this one empowering rather than disabling: "When it snows, I go." And if that means a five-and-a-half hour drive each way, so be it.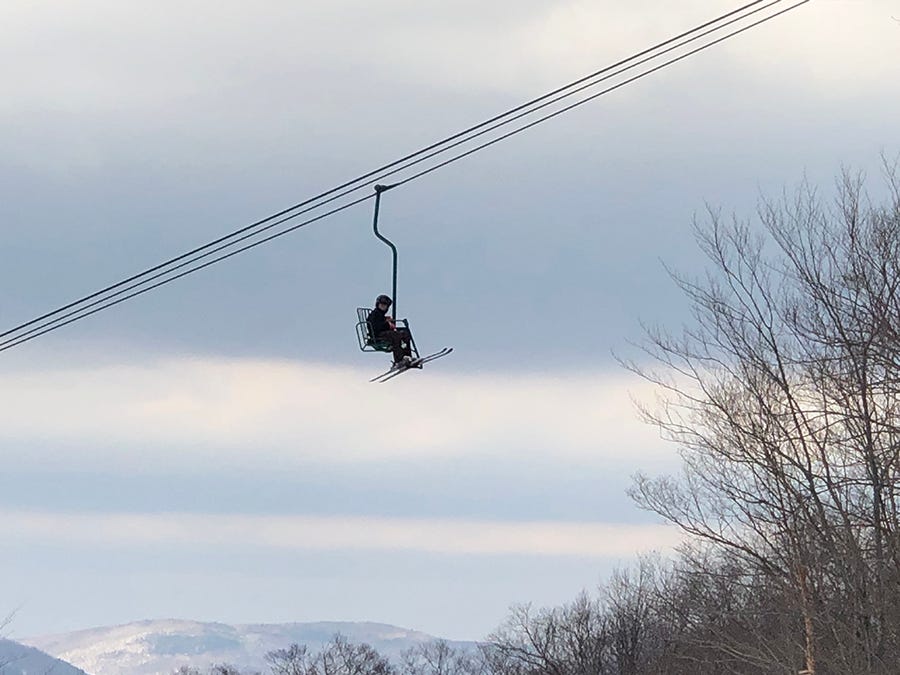 ---
The Storm Skiing Podcast is on iTunes, Google Podcasts, Stitcher, TuneIn, and Pocket Casts. The Storm Skiing Journal publishes podcasts and other editorial content throughout the ski season. To receive new posts as soon as they are published, sign up for The Storm Skiing Journal Newsletter at skiing.substack.com. Follow The Storm Skiing Journal on Facebook and Twitter.
Check out previous podcasts: Killington GM Mike Solimano | Plattekill owners Danielle and Laszlo Vajtay | New England Lost Ski Areas Project Founder Jeremy Davis | Magic Mountain President Geoff Hatheway | Lift Blog Founder Peter Landsman | Boyne Resorts CEO Stephen Kircher | Burke Mountain GM Kevin Mack | Liftopia CEO Evan Reece