Discover more from The Storm Skiing Journal and Podcast
Everyone's searching for skiing's soul. I'm trying to find its brains.
Over 13,000 subscribers
Windham, Mt. Bachelor Join Ikon Pass as Partner Mountains
Additions send reinforcements to Alterra in key markets
Alterra Mountain Company announced today that Windham Mountain, New York and Mt. Bachelor, Oregon would join the Ikon Pass as partner resorts for the 2020-21 season. Full Ikon Pass holders will have seven days at each with no blackouts, while Ikon Base Pass holders will get five days that are limited by 12 blackout days over the Christmas, MLK, and Presidents' holiday periods.
These are important additions to the Ikon portfolio that will help the pass appeal to skiers in two important markets: the 20 million-strong New York City metro region, and Oregon's Interstate 5 corridor, an area with a strong nearly year-round ski culture that has up to this point been poorly served by mega-passes.
Here are some initial thoughts on each addition and why it matters:
Answering Vail to capture the New York City day-trip crowd
Windham may at first seem like a curious partnership for Alterra. At 1,600 vertical feet and 285 acres, it is tiny compared to the other four non-Alterra-owned Ikon partners in the Northeast: Killington, Sunday River, Sugarloaf, and Loon. It is not a particularly interesting or aspirational place to ski. But it has an important location advantage that makes it a necessary and compelling addition to the Ikon Pass: it's only 2.5 hours from New York City.
When Vail bought Peak Resorts last year, it blew up the company's Northeast footprint from the regal trio of Stowe, Okemo, and Mount Sunapee to eight mountains across Vermont, New Hampshire, and New York. While Mount Snow was considered Peak's crown jewel, the acquisition of Hunter Mountain was just as important, as it instantly gave potential Epic Pass buyers in the sprawling New York City region an easy day-trip option to help cement their decision. While New Yorkers have a reputation for flooding the larger New England ski areas every winter weekend, they are also avid day-trippers, and Hunter, which is the largest Catskills ski area by most measures, is a Running-of-the-Bulls crowded testament to that enthusiasm.
The Hunter addition put Alterra at a considerable disadvantage in selling passes in this important market. Vermont access was more or less equal (Ikon offering access to Stratton, Sugarbush, and Killington compared the three aforementioned Vail mountains, though Epic offered unlimited access to those); Vail had the advantage in New Hampshire with four mountains – all unlimited – to Ikon's limited Loon access; and Alterra had the clear advantage in Maine, where Vail has no presence, with access to bombers Sunday River and Sugarloaf. Western access was more or less equal on either pass. But the closest Ikon mountain was four-hours-if-you're-lucky-and-don't-make-a-potty-stop Stratton, and Hunter, while not in Stratton's league size- or terrain-wise, is only a touch over two hours from the city. It was a powerful selling point when considering two passes of more or less equal price.
The addition of Windham instantly changes that calculation. Yes, it's only seven or five days of access, and Hunter is unlimited on the Epic Local and full Epic passes, and unlimited with blackouts on the Northeast Value Epic Pass. Hunter diehards won't be swayed by this announcement. But they never would have been. Windham is a different kind of mountain than Hunter, smaller and tamer and less confusing and (slightly) less crowded. It's big enough to spend a day exploring, but not overwhelming. It is the perfect mountain, in other words, for a New York family with kids who are planning a trip out west and a long weekend or two in Vermont or Maine, but want to mix in a few day trips as warm-ups.

Windham in March 2018.
This partnership is a logical extension of Windham's recent Ikon Base Pass add-on to its season pass for just $150. This sounds like a great deal until you realize that Windham's standalone season pass is $949. But I've picked on them enough about this. The market will tell them what to do about that in the long term. The mountain is clearly thinking creatively about how to compete in a Northeastern landscape increasingly dominated by multipasses.
This is a good addition for Ikon. It finally pulls them out of their stubborn orientation toward destination-only resorts and acknowledges the importance of regional feeders in attracting urban passholders. There are feeders all over the Northeast, from Camelback to Wachusett to Jiminy Peak, that would make equally good additions to their partner portfolio and help skiers supplement their big-time getaways with easy day trips. All of those now seem like potential partners.
I haven't always been the biggest Windham fan. The mountain is usually groomed to death and weekends are flooded like a levy broke on some kind of downstate ski novice reservoir. It's expensive, especially compared to Catskills neighbors Belleayre and Plattekill. But the mountain has invested considerably in its infrastructure over the past several years, including a new base-to-summit six-pack that climbs 1,300 vertical feet in just over five minutes. The facilities are terrific. There is plenty of slopeside lodging if you want to chill for a weekend, but it's an easy day trip from my apartment in Brooklyn. My 11-year-old loves the place. It's not for your gnar-dawgs and tree gods, but you couldn't ask for a better mountain for families.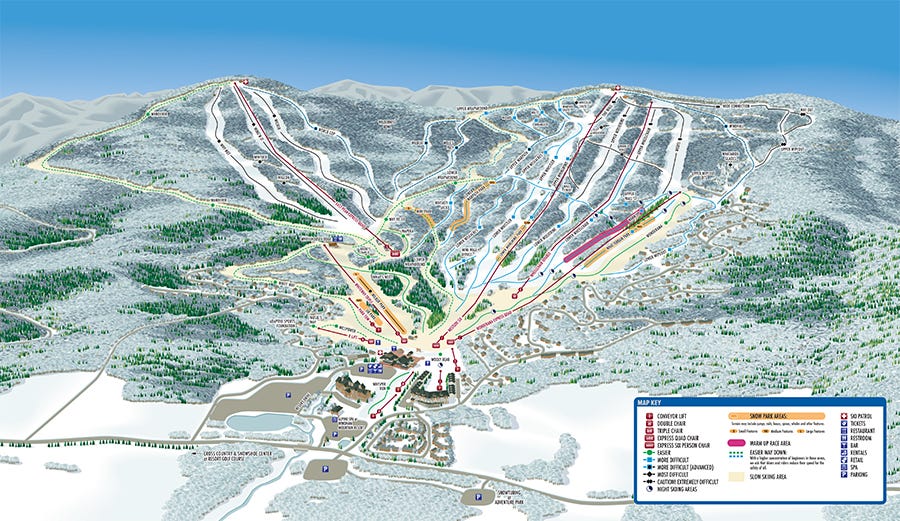 Mt. Bachelor fills Ikon's Manifest Ski Destiny and Ignites the Pass War for Oregon
Why Mt. Bachelor wasn't already part of Alterra's megapass was always a mystery, as fellow Powdr Corp. mountains Copper, Snowbird, and Killington have been Ikon staples since day one, and Bachelor was included on Ikon antecedent Max Pass. It's also a knockout mountain, the sixth largest in North America according to their website, with a 3,365-foot vertical drop and more than 4,000 acres of terrain, including above-treeline snowfields dropping off the summit of the dormant volcano. It's also unsurprisingly riddled with Powdr Corp's signature Woodward terrain parks.
The sum of all that is one of the most impressive Niehues designs from a wow-you-can-ski-that? point of view: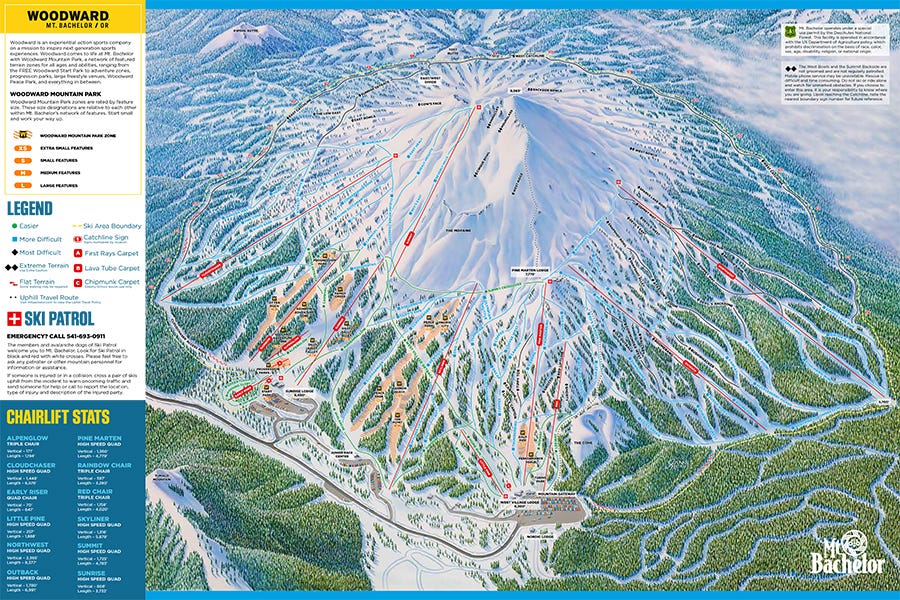 Its eventual addition to the Ikon Pass was probably inevitable, both because it makes sense to fully maximize the power of Powdr's portfolio in the pass wars, and because Oregon is an important market. It's a small state population-wise, with just over 4 million people, most of whom live along the Interstate 5 corridor in its westernmost quarter, but it's growing rapidly and is synonymous with the kind of outdoorsy upwardly mobile people who can afford to spend $700 on a ski pass. Most of the state's large ski areas – and there are many, including half a dozen on Mount Hood alone – also happen to be clustered within an easy drive of this interstate.
This doesn't necessarily bring skiing a lot closer for metro Portland, which is home to more than half of the state's population and is about equidistant three-and-a-half to four-hour drives from both Mt. Bachelor and Alterra-owned Crystal Mountain, Washington, to which all Ikon Pass holders have unlimited access. It does, however, penetrate the state's megapass forcefield and perhaps convert a few Epic-or-Ikon wafflers to the Alterra side of the fight. Though I have skied Timberline, I'm not familiar enough with that market to comment on whether that mountain or Mt. Hood Meadows would be targets-of-interest for Vail partnerships. I'd welcome any insight from Pacific Northwest readers as to how this Ikon add-on shakes up that market.
Like Windham and fellow Powdr-corp monster Killington, Bachelor offers a season pass option with an Ikon Base Pass add-on.
Cool, Bro. What about all the shredding I missed last season?
This is an exciting development for skiers in two very specific markets, who will welcome closer-at-hand ski options (Bachelor is also a slightly off-the-radar destination). Hanging over this announcement, however, is Vail's Epic Pass update yesterday. After Alterra came out with an up-to $200 Ikon Pass renewal discount and later added the option to defer the cost of the pass to next season up until Dec. 10, Vail pulled the rug out from underneath them by offering renewal credits of up to 80 percent and a (somewhat complex) refund policy that extended through next Easter.
The renewal credits are huge here, as they serve a certain kind of skier extremely well. Vail metered them so that skiers who didn't scan a single day qualify for the 80 percent discount, one day nets a 68 percent credit, two days gets 56 percent, and so on before the discount expires for anyone who scanned six or more days. And yes, most people reading this have probably skied more days than that by Thanksgiving, but there are substantial populations of skiers in Florida, Texas, Georgia, and other Southern states (and some in non-Southern states) who ski one week per year. They buy the pass because the big mountains have made it clear that you will have to show up with a duffle bag full of gold bars to afford walk-up window prices. I present to you once again this photo of the pricing grid I took in the Steamboat ticket office in February (I was in there, by the way, to buy mountain coaster tickets for my daughter and I):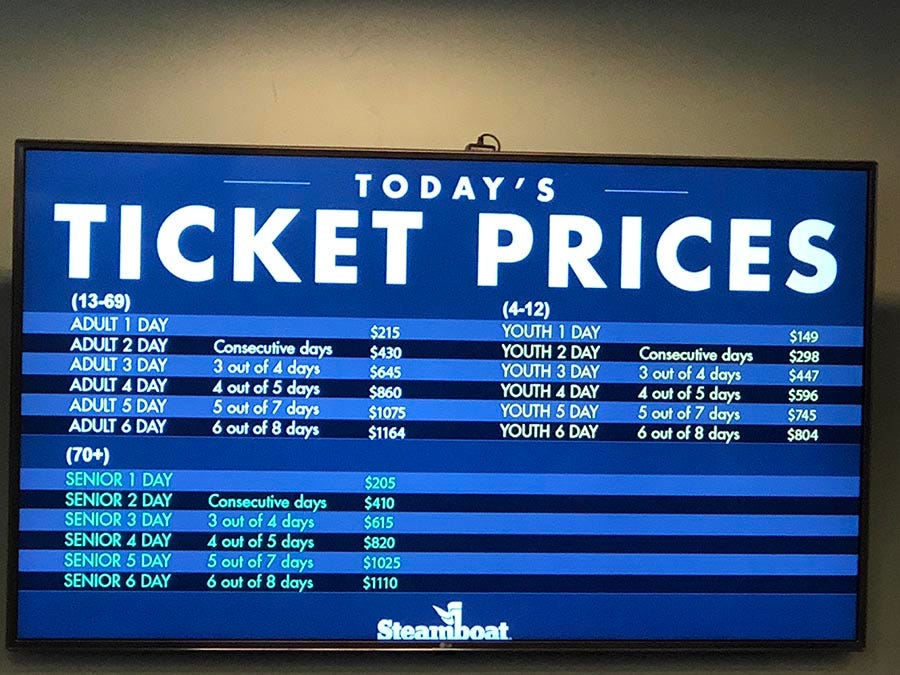 A full Ikon Pass is $999 ($799 if you're renewing), and includes a no-blackout Steamboat season pass. An Ikon Base Pass is $699 ($599 renewal), and includes five blacked-out days at Steamboat. You top those prices with the walk-up rate for five and four days, respectively. The first time you pay those prices will be the last time, and there are plenty of one-week-a-year-skiers who see the value, think ahead, and buy their pass, often to use on a spring break trip in late March or early April – the exact period that got Covid-bombed this season.
When you've built a business model on "buy this pass because you'll regret it if you don't," and people think ahead and do, and then they can't use it for the exact purpose they bought it for because of a calamitous society-wide event, then you probably need a make-good. Alterra's first effort of doubling the renewal discount was frankly more than I was expecting them to offer, but Vail really went well beyond that and set a new standard by accommodating the one-week-a-year crowd. We've already seen Alterra adjust once. In the hangover of yesterday's well-received Vail announcement, I wouldn't be shocked to see them adjust things a bit more.
---
COVID-19 & Skiing Podcasts: Author and Industry Veteran Chris Diamond | Boyne Resorts CEO Stephen Kircher | Magic Mountain President Geoff Hatheway | NSAA CEO Kelly Pawlak| Berkshire East/Catamount Owner & Goggles for Docs founder Jon Schaefer | Shaggy's Copper Country Skis Cofounder Jeff Thompson | Doppelmayr USA President Katharina Schmitz | Mt. Baldy GM Robby Ellingson|
The Storm Skiing Podcasts: Killington & Pico GM Mike Solimano | Plattekill owners Danielle and Laszlo Vajtay | New England Lost Ski Areas Project Founder Jeremy Davis | Magic Mountain President Geoff Hatheway | Lift Blog Founder Peter Landsman | Boyne Resorts CEO Stephen Kircher | Burke Mountain GM Kevin Mack | Liftopia CEO Evan Reece | Berkshire East & Catamount Owner & GM Jon Schaefer| Vermont Ski + Ride and Vermont Sports Co-Publisher & Editor Lisa Lynn| Sugarbush President & COO Win Smith| Loon President & GM Jay Scambio| Sunday River President & GM Dana Bullen| Big Snow & Mountain Creek VP of Sales & Marketing Hugh Reynolds |