Discover more from The Storm Skiing Journal and Podcast
Everyone's searching for skiing's soul. I'm trying to find its brains.
Over 13,000 subscribers
The Wrong Side of The Storm
Plastered
Ka-pow! Catskills getting absolutely jackhammered to start the month:
Should make for a bomber opening day at Platty this Saturday:
Belleayre reporting eight inches of fresh, but still only a disappointing three trails open.
After balancing on the rain/snow knife-edge for almost every big storm last season, the four Catskills areas are setting up for strong years with a big base going into the holidays.
Southern Vermont looks to be the storm's second bullseye:

Magic's not open yet, but it's setting up nicely:
The drag with early-season storms is that in most cases only a fraction of the mountain remains open at a lot of areas even as the glades fill in and the rocks and brush disappear beneath the snow and the whole world glows white. This has more to do with staffing than anything as most mountains – especially the smaller ones – don't budget or plan for a full staff until closer to Christmas. That could make this weekend a bit frustrating as all the oh-yeah-snow-exists people who forgot about skiing until they have to brush off their Tahoe before their morning commute show up for their $100 lift tickets and find only 30 percent of the mountain open.
But whatever. Get out this week if you can swing it. The one thing we all know about the Northeast is that there's no rhythm or natural logic to the weather at all, and so this could be the bellwether storm of a deep and unbelievable season or the early-season anomaly that we talk about on the chairlift in February when we're skiing on grass. So get it while it's here.
Of course this is the perfect time to open an indoor ski area
Because it's New York City adjacent, where every infrastructure or construction project seems to go years beyond schedule and billions of dollars over budget, I don't think anyone is surprised that the Big Snow indoor ski ramp is finally opening 15 years after ground broke. While it's a historical coincidence that it happens to be opening not in some snow-starved July drought but immediately following a two-foot lambasting of the easy-to-reach Catskills, I am optimistic about the long-term potential of this project to get some never-evers on skis and perhaps ignite that spark that makes a skier. While I generally think these ski domes would be more useful in a place like Miami or Atlanta where people may never or rarely otherwise see snow, the conversion potential is enormous in the Northeast, where anyone who said "hey that was neat" after fake-snow indoor skiing can then pivot to dozens of real-snow outdoor options within an easy day drive. That the whole operation is being run by the folks who manage Mountain Creek and unquestionably know how to mine white gold from concrete is only going to help.
What's not going to help is opening a spiffy new mega mall as that suburban, analogue, uninspiring chain-store monotony way of shopping sinks like the age of the battleship. That area, like almost everything in New Jersey, is already traffic clogged and inconvenient to access. There is already no shortage of things to do around here. If the whole operation spirals into a bankrupt boondoggle, no one will be surprised.
I will probably ski here at least once, however, probably in the summer. Two hours of riding will be $35. It will be a nice way to get some turns when the only alternative is a plane ride to New Zealand. The trailmap looks fine. As with so much of skiing in this part of the country, the decision of whether to ski this place or not will come down to a fairly simple question: What's the alternative? And when the alternative is not skiing, which it will be at least four or five months of the year, then a few runs in a glorified Jersey meat locker will start to look pretty damn tempting.
Hey, who wants a chairlift?
The slowest chairlifts in the Northeast can now be yours for $100 per. Belleayre ripped out its pair of green circle doubles over the summer and dropped a new quad in. After at first declaring that they were selling the lifts to another area, this video popped up on their website recently:
These 1982 Doppelmayrs absolutely crawled up the hill, rising 480 vertical feet in what seemed like hours. They felt stone-aged beside the new gondola, which rockets up the mountainside like something cannon-launched. The quad – named Lightning – that replaced them is a fixed-grip and should be faster, servicing Belleayre's outstanding beginner pod, which is mostly isolated from the radsters trickling down from the upper mountain.
Elsewhere
NY Ski Blog talks to Doug Fish, founder of the Indy Pass, and visits Gore. The story behind Bretton Woods' new gondola.
This week in skiing
Friday, 11/29
Every other year, my wife and I spend the Thanksgiving holiday with my family in central Michigan. This gives me an opportunity to beat north and check out some of the bumps that I came up skiing on. On the day after Thanksgiving, when the rest of America is engaged in knife fights over talking Cabbage Patch dolls or whatever it is that people buy for each other, I rolled an hour and a half northwest to Caberfae.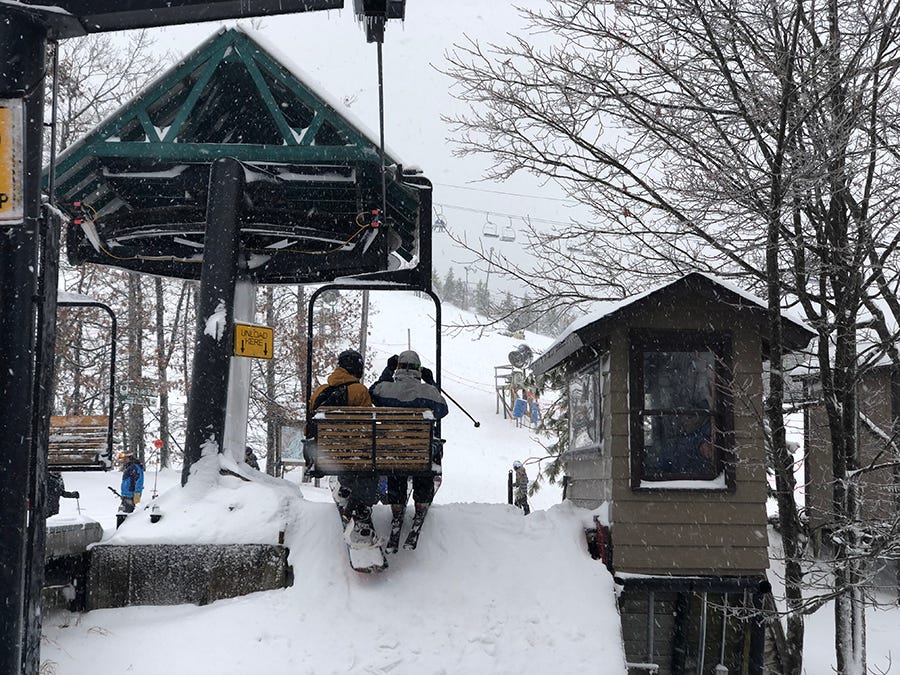 This is one of the oldest ski areas in America, a 1930s Civilian Conservation Corps legacy project that is now one of the largest hills in Michigan's Lower Peninsula. Originally a sprawling operation with legions of rope tows shooting haphazardly over low-slung rises of a couple-hundred vertical feet, the place has been landscaped upward into a twin-peaked faux Alps, with above-treeline humps hovering 500 vertical feet above the base.
Few ski areas in the country have changed as much as Caberfae has over its eight decades. The 1949 trailmap: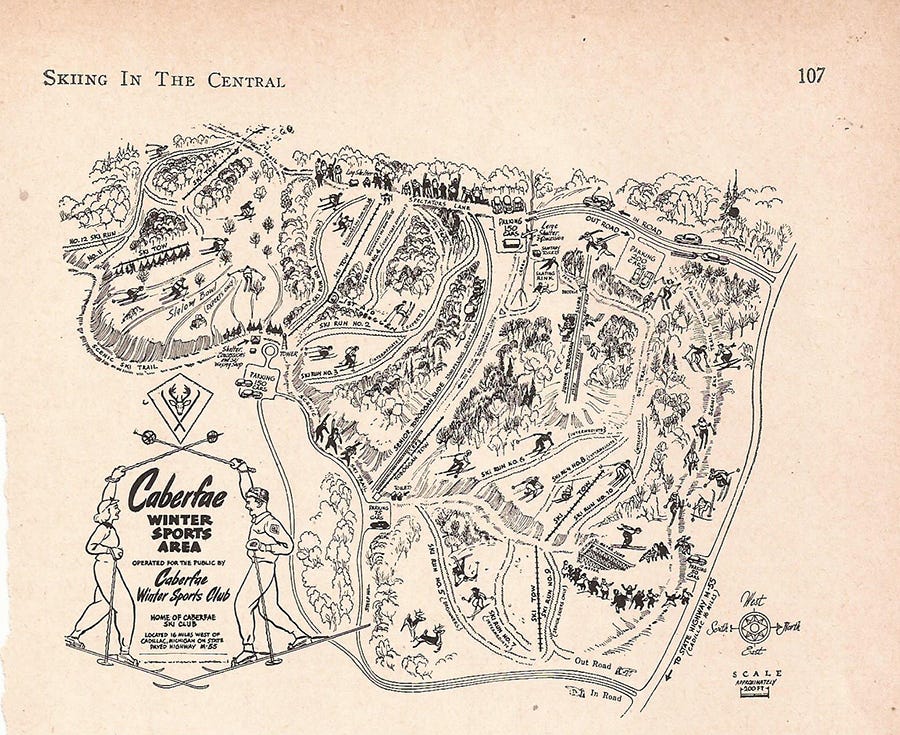 2016: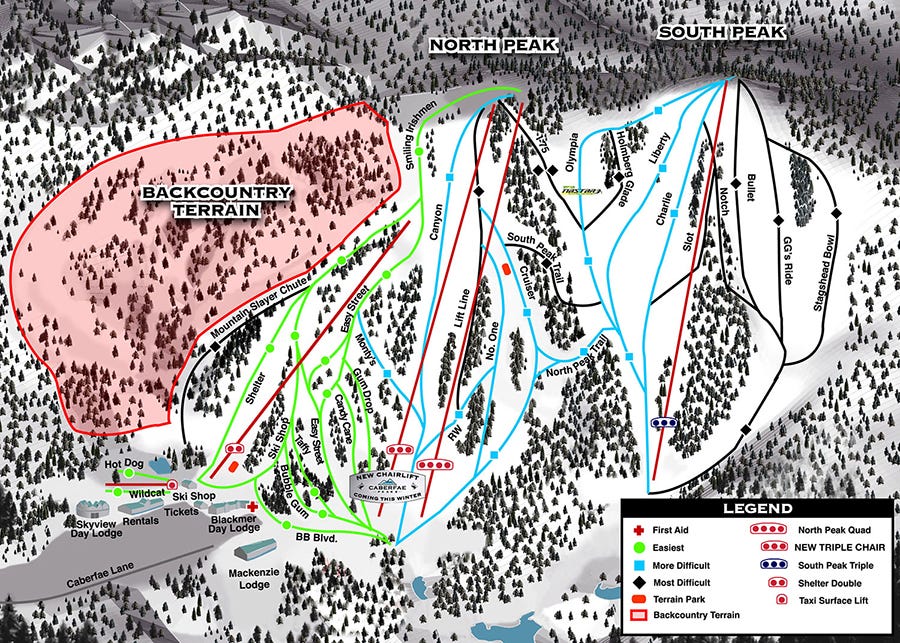 Most of the trails on that top map are now completely decommissioned. An inaugural Indy Pass mountain, Caberfae is an absolutely wonderful little spot and a must-visit for any skier who ever passes through the Midwest on some sort of ski safari. The place is family run and throttled with kids at all times. The lifties are gregarious and welcoming. The lodge is lined with crock pots and cubbies. A weekend season pass is $99. It has no terrain park and few aggressive skiers (though plenty of out-of-control ones). And while the place evokes eras of skiing's past with its slatted-wood chairs and rambling trail network, it is constantly evolving, with rumors of a third peak rising out of the forest over the next several years and a sprawling natural-snow and ungroomed area called Back Country, which can briefly evoke western adventure, opening a few years back.
With little slots and alleyways snaking through the woods and forest glens blocking views of the lodge from most vantages, the place has always had a patina of adventurous wandering to it, even when one of the peaks is closed, as it was Friday.
The snow was soft and fast and fun and wide open, with no lift lines and none of the shredding wind that can scrape the Caberfae summits into ice blocks. I only had three hours to ski, but this being the Midwest, that was still time for 24 runs, which was a hell of a lot of fun, even if those 24 runs only rang up to 7,380 feet of vert.
Sunday, 12/1
We were supposed to drive back to New York on Sunday, but with that monster storm that is painting the Catskills white set to ice bomb Pennsylvania and New Jersey, the journey – especially with two kids in the car – looked unwise. So I dropped my family at the Detroit airport on Sunday morning and fought my way back north on an unplowed white-out of a free-for-all on I-75, arriving back at Caberfae around 1 p.m.
I skied all day in the storm, never waiting for a lift. Patrol had without ceremony or indication on Caberfae's website dropped the ropes on the Back Country, and I spent hours hunting short steep lines through the woods. The drops ended in a broad snow plane that requires a pole or hike back to a double chair, and two lift rides to access. This is inconvenient, but, combined with the lack of grooming keeps this all-natural-snow area mostly empty. I spent the last hour bombing the fully open North Peak, bouncing through pow mounds on newly opened trails that had just two days before been riddled with brown poking foliage.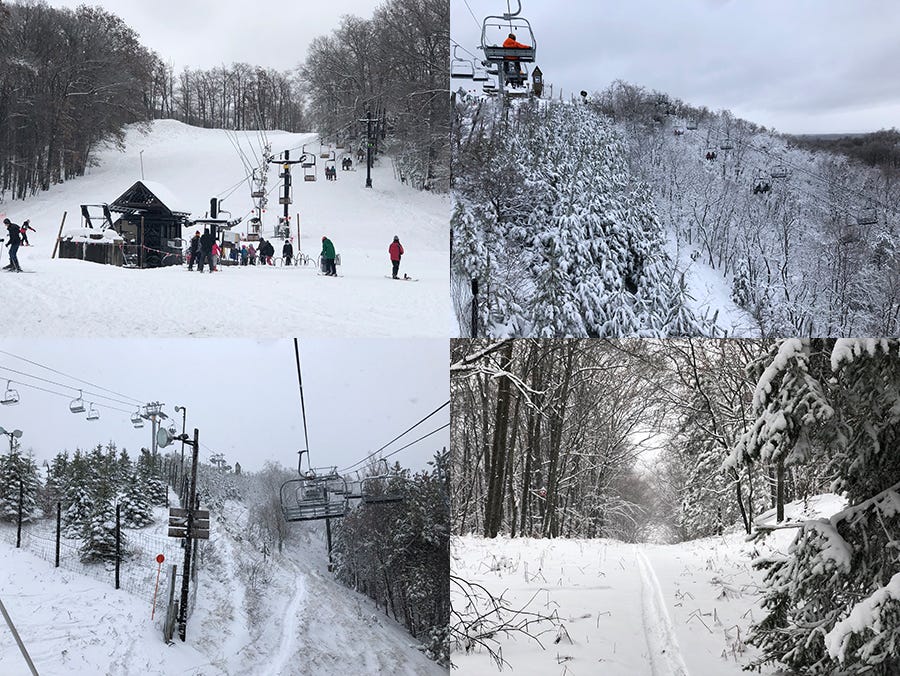 Holed up here in Michigan until I can safely travel back east, I find myself stuck on the wrong side of an eastern monster for the second time in two seasons. In January, a long-planned Michigan ski trip to reunite with some scattered childhood buddies coincided with the MLK weekend plastering of everything in New England. Unlike that storm, however, which left the Midwest dry and cold, this one dropped some winter conditions to play in, so I don't feel like I missed out. Sometimes there's nothing you can do with winter but make the best of where you're at and ski whatever happens to be in front of you.
---
The Storm Skiing Podcast is on iTunes, Google Podcasts, Stitcher, TuneIn, and Pocket Casts. The Storm Skiing Journal publishes podcasts and other editorial content throughout the ski season. To receive new posts as soon as they are published, sign up for The Storm Skiing Journal Newsletter at skiing.substack.com. Follow The Storm Skiing Journal on Facebook and Twitter.
Check out previous podcasts: Killington GM Mike Solimano | Plattekill owners Danielle and Laszlo Vajtay | New England Lost Ski Areas Project Founder Jeremy Davis | Magic Mountain President Geoff Hatheway | Lift Blog Founder Peter Landsman | Boyne Resorts CEO Stephen Kircher