The Storm Skiing Podcast is sponsored by Mountain Gazette. The first issue drops in November, and you can get 10 percent off subscriptions with the code "GOHIGHER10" at check-out. Get 10 percent off everything else with the code "EASTCOAST."
---
Who: Brian Fairbank, Chairman of the Fairbank Group, which owns Jiminy Peak in Massachusetts and Cranmore in New Hampshire, and manages Bromley in Vermont. Fairbank Group also manages real estate, snowmaking, renewable energy, and ski resort employee education companies.
Recorded on: Oct. 7, 2020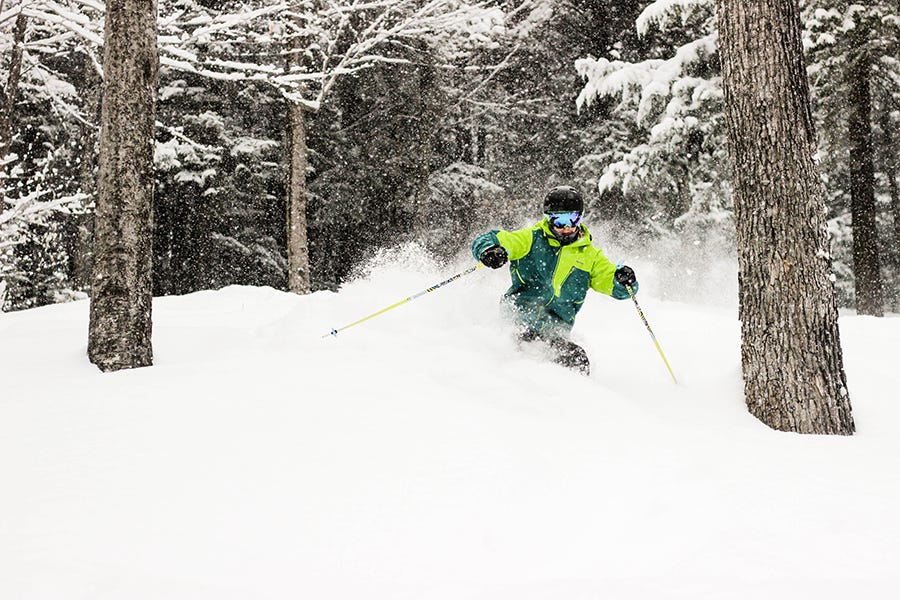 Crushing a pow day at Cranmore. Photo by Josh Bogardus, courtesy of Cranmore.
Why I interviewed him: Because in an industry littered with collapsed conglomerates and poor decisions, Fairbank has found a way to thrive. For decades. Massachusetts is not an easy place to run a downhill operation, as evidenced by the nearly 200 lost ski areas fading into its hills and mountains. But Fairbank grew Jiminy Peak into one of the state's finest ski areas and used it as a launchpad into northern New England, where he applied the lessons of place-building, intensive snowmaking, and energy efficiency that he had perfected in the Berkshires to Cranmore and Bromley, two mountains mired in brutal never-ending competition with their larger and bottomlessly capitalized neighbors. Rather than let failures like the purchase of now-defunct Brodie ski area derail or deflate him, Fairbank pushed into new, sometimes risky and expensive ventures – like dropping the nation's first windmill onto the top of a ski area – with the confidence that one setback did not portend another. Fifty-one years after arriving in Massachusetts as a 23-year-old who was obsessed with skiing and determined to make a living out of it, Fairbank has built something special. There's really no other ski company quite like it, and I wanted to see how he built it and where it's going next.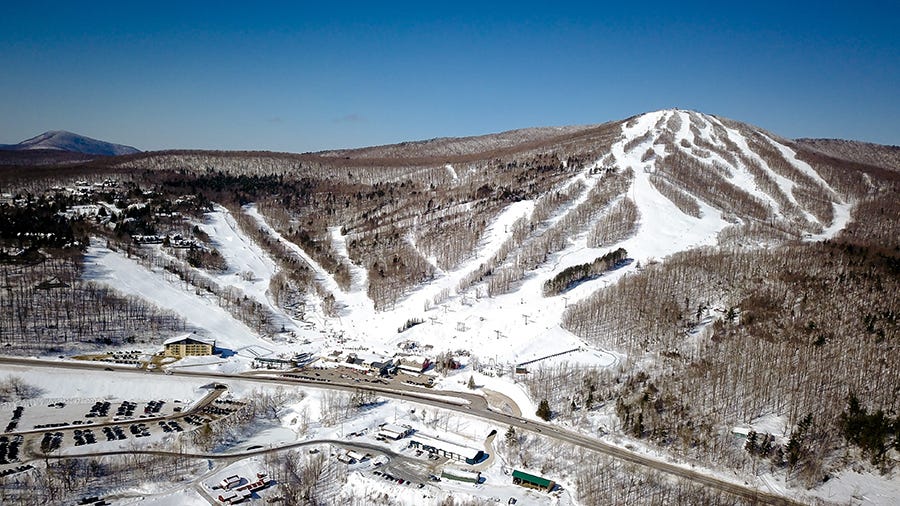 South-facing Bromley gets a lot of sun. Photo courtesy of Bromley.
What we talked about: Feelings about being inducted in the National Ski and Snowboard Hall of Fame; first memories of skiing; the kindness-from-a-stranger moment that changed the trajectory of Fairbank's life; early-career days teaching on the slopes of Western New York and Wisconsin; how Frank Lloyd Wright's Taliesin ended up influencing New England ski resort architecture half a century after Fairbank first saw it; how Fairbank ended up GM of Jiminy Peak at 23 years old and what a GM's job required in that era; what the mountain and the Berkshires ski scene looked like when he showed up in 1969; how close Jiminy Peak came to bankruptcy in the 1970s and how he saved the ski area from oblivion; the big-time mountain that Fairbank nearly left the Berkshires to manage; the business expansion that set Jiminy on a long-term sustainable trajectory; the importance of snowmaking to Jiminy Peak's survival and why Fairbank moved ahead of the industry to set up a permanent system; the deal he made to buy the mountain in the 1980s; the hard-to-comprehend grind of the decades-long place-making master-planned project that made Jiminy Peak the town-on-the-side-of-the-mountain/first-class ski area that it is today; if you're gonna build a town, you're gonna need your own sewer system; Jiminy Peak's second existential crisis and how Fairbank moved through it; so you think it's easy getting a wind turbine to the top of a mountain?; how that installation transformed the business; why Fairbank bought Brodie and what he found when he got there; the reason he ultimately shut the mountain down and why he included a clause in the sales contract that stipulated it could not be redeveloped as a ski area; why he doesn't think Brodie is a viable modern ski area even if someone did want to develop it; the condition of the former ski area today; why buying Cranmore made sense and how they approached the evolution of that ski area; how Cranmore is like a 1950s gas station in downtown Buffalo; how Covid has turbocharged real-estate sales around Fairbank's mountains; why the company took over management of Bromley; the niche Bromley has carved out that's helped it thrive amid the giants that surround it; thoughts on the evolution of Magic; why there are no significant capital improvements in store for Bromley; why the mountain had to cancel a planned new lift and expansion; the biggest terrain shortfall at Bromley; Fairbank's thoughts on skiing's late megapass consolidation and his plans to stay competitive in that environment; what Fairbank said when I asked about his mountains' pass prices in comparison to Epic and Ikon Passes; why they won't combine the three mountains onto one pass; why the company hasn't yet partnered with a limited-day multipass like Indy or Ikon; how Covid stacks up against previous disruptions; an interesting difference between Covid-era summer operations in three different states; the enormity of adapting to socially distanced skiing; thoughts on running the company with his son, Tyler.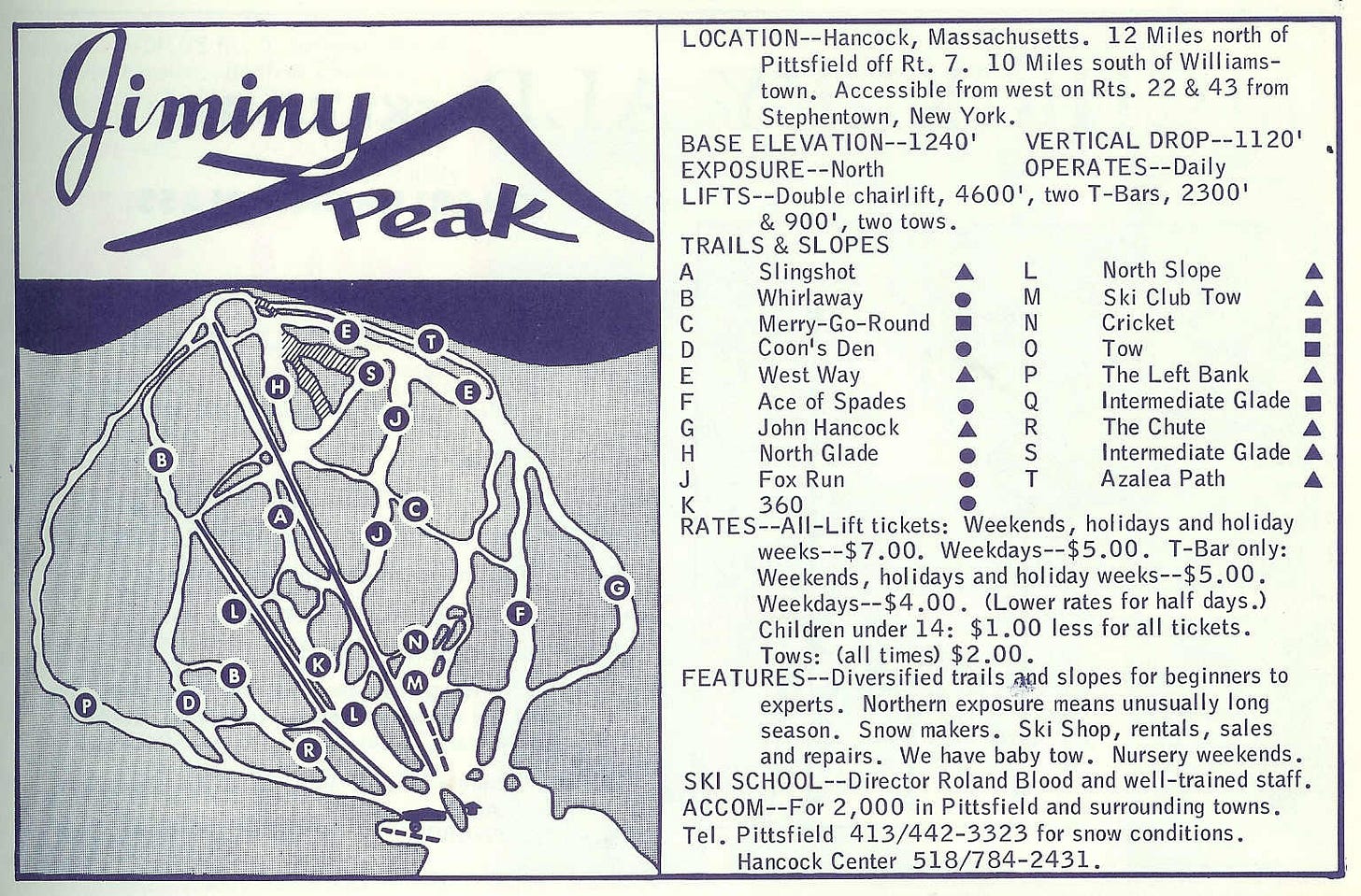 A trailmap from Jiminy Peak in 1969, the year Fairbank arrived.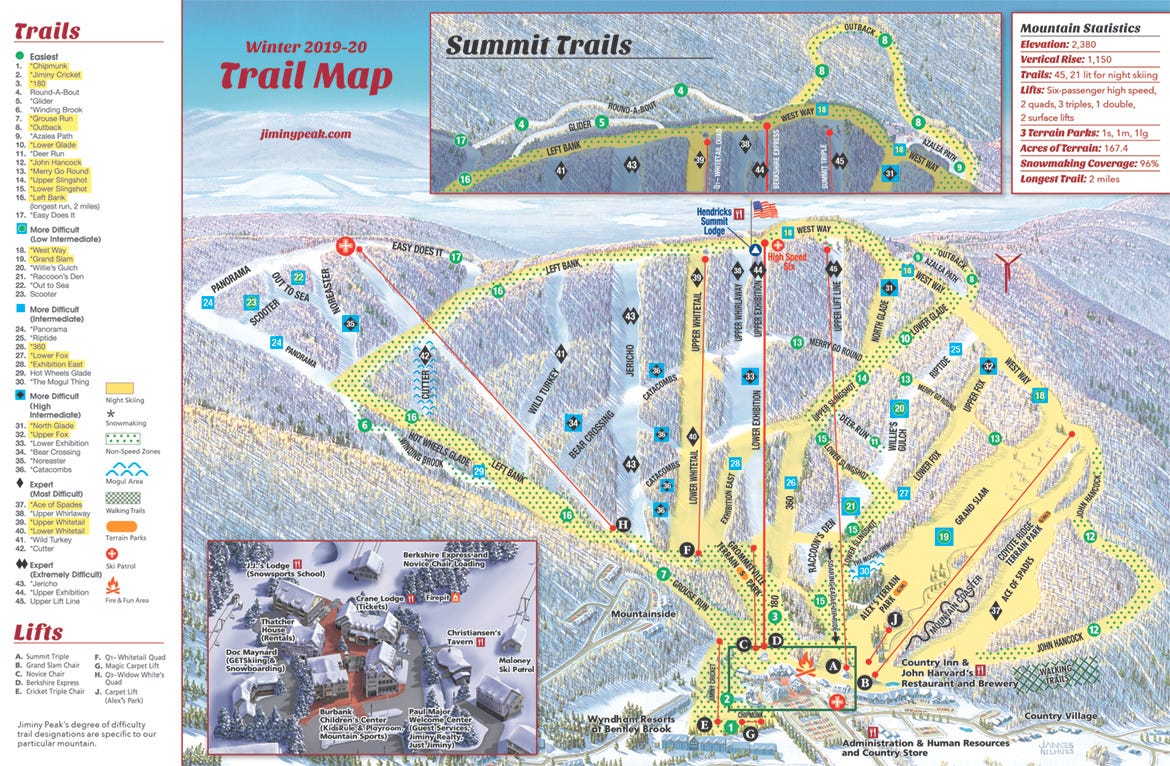 Jiminy Peak today.
A note on the Brodie exchange: Re-listening to the bit where we discussed Brodie, I realized I sounded as though I was trying to be evasive when Fairbank asked me how I'd learned about the clause in the mountain's sale that forbid its redevelopment as a ski area, and I just said, "the internet." But really I just assumed that this stipulation was common knowledge and was surprised that he was surprised. Anyway, my source for that particular tidbit was this New England Ski History article, but I've seen it elsewhere.
Question I wish I'd asked: Fairbank was the leader in starting the Mountains of Distinction coalition, which provides reciprocal lift ticket discounts to passholders at partner mountains, and I would have liked to have gotten his insight into how that started and what its current state is. It also would have been interesting to hear more about the Fairbank Group's businesses outside of its ski areas, but those are my primary interest so I prioritized Jiminy Peak, Brodie, Cranmore, and Bromley. I did want to ask how, from a personal and leadership point of view, Fairbank got past the failure of Brodie to refocus on new endeavors. I also would have liked to ask if the company would consider buying another mountain. But frankly the conversation could have gone on all day – he's accomplished so much and each one has so many dimensions that we could have eaten the Lord of the Rings trilogy before we got through it all.
Why I thought that now was a good time for this interview: Because Fairbank's inclusion in the National Ski and Snowboard Hall of Fame's Class of 2020 is an exclamation point on a distinguished career, and underscores the gravity and immensity of his decades-long contributions to the sport. This seemed like an appropriate time to review that career and those achievements. I have also been writing for months about the Northeast's evolving season pass landscape, and I wanted to get a better understanding of his mountains' approach, which is vastly different from that of the Colorado-based multipasses that are proliferating throughout the region. Finally, I wanted to see how the challenges introduced by Covid stacked up against the droughts and downturns of past decades as an existential challenge to skiing's vitality.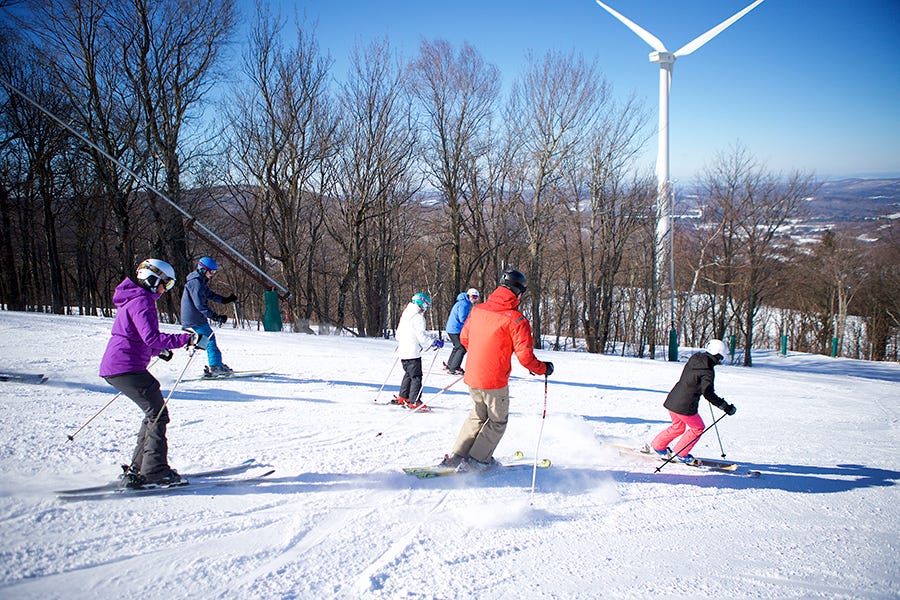 Cruising Jiminy Peak with the wind turbine in the background. Photo courtesy of Jiminy Peak.
Why you should go there: The ski hills are all slick operations, with night skiing at all but Bromley and some nasty stuff thrown in for fun. They're not where you for bunches of really rowdy stuff (though they have some), but they're good for families, and Cranmore and Bromley are both nice alternatives to the busier nearby megapass-affiliated mountains (Attitash and Wildcat in the case of Cranmore; Stratton, Okemo, and Mount Snow for Bromley). But what all three have in common is a sense of community and place, deliberately built and curated by Fairbank and his company over decades. The Northeast lacks slopeside development in comparison to most Western mountains, and the ability to set up shop slopeside is a big part of the ambience of a ski vacation. Vermont is particularly adept at frustrating development efforts, as Fairbank notes in our conversation. But they have persisted and, starting at Jiminy Peak and continuing to the ongoing development of Cranmore, have set a template for how you envision and build a community to anchor a ski area. All three ski areas also have extensive summer operations that are a really fun way to feel like you're close to skiing when the snow's all melted.
Additional reading/videos:
Brian was the 2017 recipient of the NSAA's Lifetime Achievement Award

His U.S. Ski and Snowboard Hall of Fame bio

A Berkshire Eagle Q&A with Tyler Fairbank datelined March 13, 2020. This would have been a very different conversation two days later.

A bit more about that wind turbine:
---
Follow The Storm Skiing Journal on Facebook and Twitter.
COVID-19 & Skiing Podcasts: Author and Industry Veteran Chris Diamond | Boyne Resorts CEO Stephen Kircher | Magic Mountain President Geoff Hatheway | NSAA CEO Kelly Pawlak | Berkshire East/Catamount Owner & Goggles for Docs founder Jon Schaefer | Shaggy's Copper Country Skis Cofounder Jeff Thompson | Doppelmayr USA President Katharina Schmitz | Mt. Baldy GM Robby Ellingson | Alterra CEO Rusty Gregory | NSAA Director of Risk & Regulatory Affairs Dave Byrd
The Storm Skiing Podcasts: Killington & Pico GM Mike Solimano | Plattekill owners Danielle and Laszlo Vajtay | New England Lost Ski Areas Project Founder Jeremy Davis | Magic Mountain President Geoff Hatheway | Lift Blog Founder Peter Landsman | Boyne Resorts CEO Stephen Kircher | Burke Mountain GM Kevin Mack | Liftopia CEO Evan Reece | Berkshire East & Catamount Owner & GM Jon Schaefer | Vermont Ski + Ride and Vermont Sports Co-Publisher & Editor Lisa Lynn | Sugarbush President & COO Win Smith | Loon President & GM Jay Scambio | Sunday River President & GM Dana Bullen | Big Snow & Mountain Creek VP of Sales & Marketing Hugh Reynolds | Mad River Glen GM Matt Lillard | Indy Pass Founder Doug Fish | National Brotherhood of Skiers President Henri Rivers | Winter 4 Kids & National Winter Activity Center President & CEO Schone Malliet | Vail Veterans Program President & Founder Cheryl Jensen | Mountain Gazette Owner & Editor Mike Rogge | Squaw Valley Alpine Meadows President & CMO Ron Cohen | Aspiring Olympian Benjamin Alexander | Sugarloaf GM Karl Strand – Parts One & Two | Cannon GM John DeVivo