The Storm Skiing Podcast is now sponsored by Mountain Gazette. The first issue drops in November, and you can get 10 percent off your order - including your annual subscription - by entering the code "EASTCOAST" at check-out.
---
Who: Karl Strand, President and General Manager of Sugarloaf, Maine. This is part two of a two-part podcast conversation. Listen to part one, about the Sugarloaf 2030 plan, here.
Recorded on: Sept. 24, 2020
Why I interviewed him again: So after the world went Kablooey in March, I dropped my first conversation with Karl into the bunker until it was safe to resurface without an armored vehicle and a backpack full of hand grenades. While our first conversation drilled pretty deep into Sugarloaf 2030 and how that's going to transform the mountain, Covid has changed so much so quickly that it didn't seem right to release it as-is without some sort of follow-up, especially given that we recorded it on Shutdown Eve, March 11. As it turns out, the long-term plan is still intact and Sugarloaf is running toward the 2020-21 ski season with its cape flapping in the wind behind it. But since there's no such thing as too much information about the best ski resort in all these Eastern lands, it was still a conversation well worth sharing.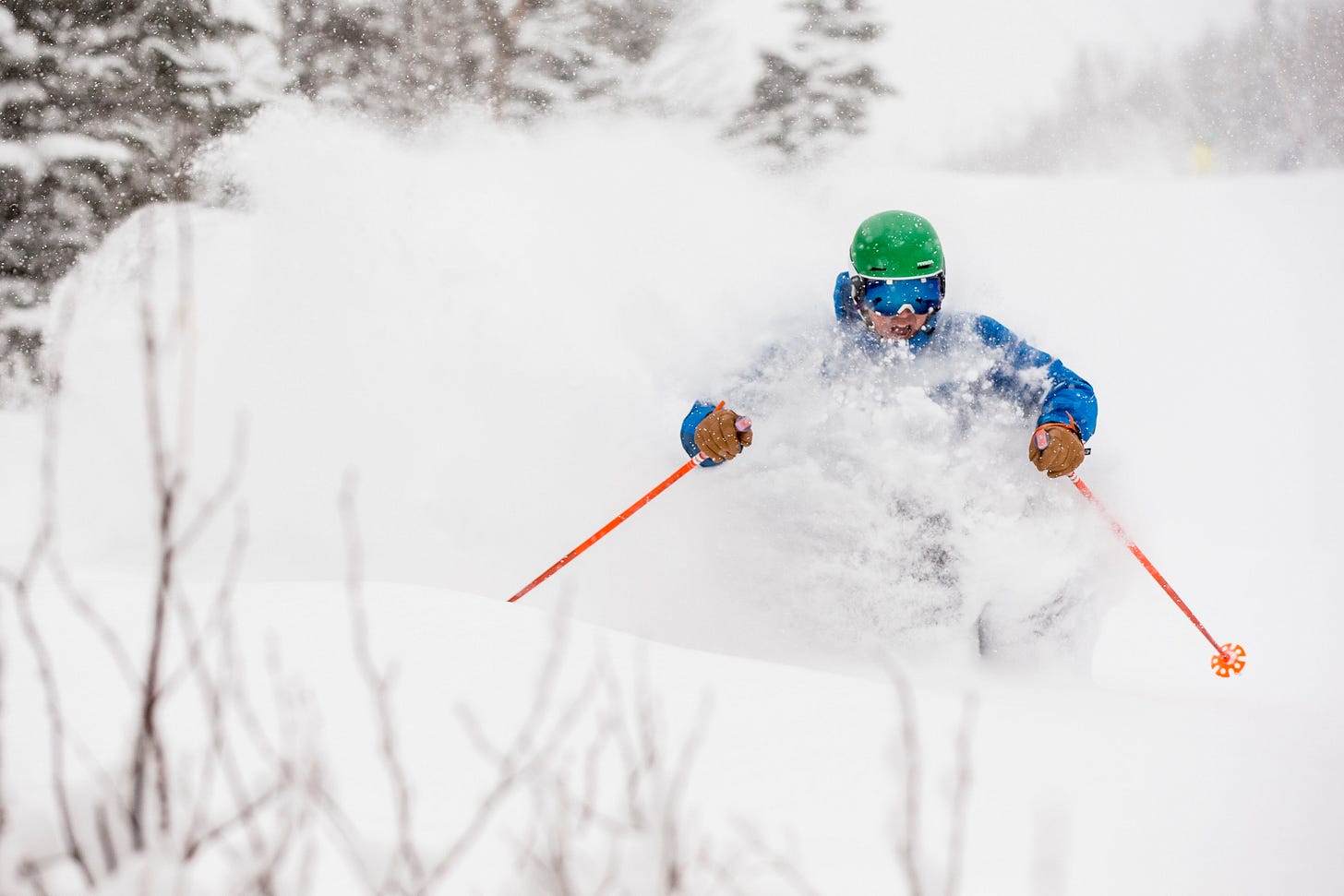 Sugarloaf on a pow day. Photo courtesy of Sugarloaf.
What we talked about: The atmosphere and precautions at Sugarloaf on Shutdown Weekend 2020; how the resort determined when to shut down; what finally pushed the decision; how locals reacted to the shutdown; whether Sugarloaf ever considered re-opening for spring skiing, why it ultimately did not, and when the mountain made that decision; when they opened for summer operations and how that's gone; whether any Covid cases had been traced back to Sugarloaf; the projected opening date for skiing and what terrain may be available; how the mountain is evolving lodges, food service, lifts, ski school, gear rentals, shuttles, hotels, and everything else for the Covid era; whether the mountain could require reservations to ski, with or without an Ikon Pass; how RFID gates and outdoor booths will change the experience of buying a lift ticket this year; why Sugarloaf teamed up with Sunday River to launch the Maine Pass after the New England Pass went off sale, and how long that pass may remain available; the importance of Massachusetts to Maine tourism and skiing; whether Sugarloaf will limit the number of skiers on the mountain each day; the creative destruction of Covid-era operations and how that could remake the modern ski resort for the better; race programs will happen; how employee housing may look different; the plan if a Covid outbreak is traced back to the mountain; optimism for the future; the timeline for implementing Sugarloaf 2030 and whether Covid disrupted that; when the mountain plans to break ground on the West Mountain chairlift; whether Boyne is still considering a bubble for that lift; and thoughts on the return of Saddleback and why its shutdown was bad for the whole industry.
Why I thought that now was a good time for another interview: Because we're far enough past the everything-sucks-all-the-time-and-will-forever phase of Covid and far enough into the yeah-this-still-sucks-and-our-political-dialogue-in-this-country-makes-swimming-in-a-bathtub-of-pirhanas-sound-appealing-by-comparison-but-at-least-we-can-do-fun-things-again-if-we're-all-careful-and-all-agree-on-a-few-basic-safety-measures phase of Covid that we can be assured that there will be a ski season. It will be a weird ski season and possibly a frustrating ski season and maybe a truncated ski season, but it will be a ski season with snow and all the glories that go with that. Sugarloaf and all the other ski resorts in the nation have had a long long looooooong summer to really think about all the ways skiing can be made to work when nothing about the lift-served ski experience except for the skiing itself is naturally conducive to social distancing, and they have a pretty good sense of how to move ahead with this. They have basic ops plans in place and have thought about how you buy tickets and ride a lift and rent gear and take a lesson and eat lunch, and now they're ready to talk about it like a bride talks about her wedding day: with the certainty it will happen.
Why you should go there: See podcast #23.
---
Follow The Storm Skiing Journal on Facebook and Twitter.
COVID-19 & Skiing Podcasts: Author and Industry Veteran Chris Diamond | Boyne Resorts CEO Stephen Kircher | Magic Mountain President Geoff Hatheway | NSAA CEO Kelly Pawlak | Berkshire East/Catamount Owner & Goggles for Docs founder Jon Schaefer | Shaggy's Copper Country Skis Cofounder Jeff Thompson | Doppelmayr USA President Katharina Schmitz | Mt. Baldy GM Robby Ellingson | Alterra CEO Rusty Gregory | NSAA Director of Risk & Regulatory Affairs Dave Byrd
The Storm Skiing Podcasts: Killington & Pico GM Mike Solimano | Plattekill owners Danielle and Laszlo Vajtay | New England Lost Ski Areas Project Founder Jeremy Davis | Magic Mountain President Geoff Hatheway | Lift Blog Founder Peter Landsman | Boyne Resorts CEO Stephen Kircher | Burke Mountain GM Kevin Mack | Liftopia CEO Evan Reece | Berkshire East & Catamount Owner & GM Jon Schaefer | Vermont Ski + Ride and Vermont Sports Co-Publisher & Editor Lisa Lynn | Sugarbush President & COO Win Smith | Loon President & GM Jay Scambio | Sunday River President & GM Dana Bullen | Big Snow & Mountain Creek VP of Sales & Marketing Hugh Reynolds | Mad River Glen GM Matt Lillard| Indy Pass Founder Doug Fish | National Brotherhood of Skiers President Henri Rivers | Winter 4 Kids & National Winter Activity Center President & CEO Schone Malliet | Vail Veterans Program President & Founder Cheryl Jensen | Mountain Gazette Owner & Editor Mike Rogge | Squaw Valley Alpine Meadows President & CMO Ron Cohen | Aspiring Olympian Benjamin Alexander | Sugarloaf President & GM Karl Strand part 1 - Sugarloaf 2030