The Storm Skiing Podcast #20 | Download this episode on iTunes, Spotify, Google Podcasts, Stitcher, TuneIn, and Pocket Casts | Read the full overview at skiing.substack.com.
Who: Mike Rogge, Owner and Editor of Mountain Gazette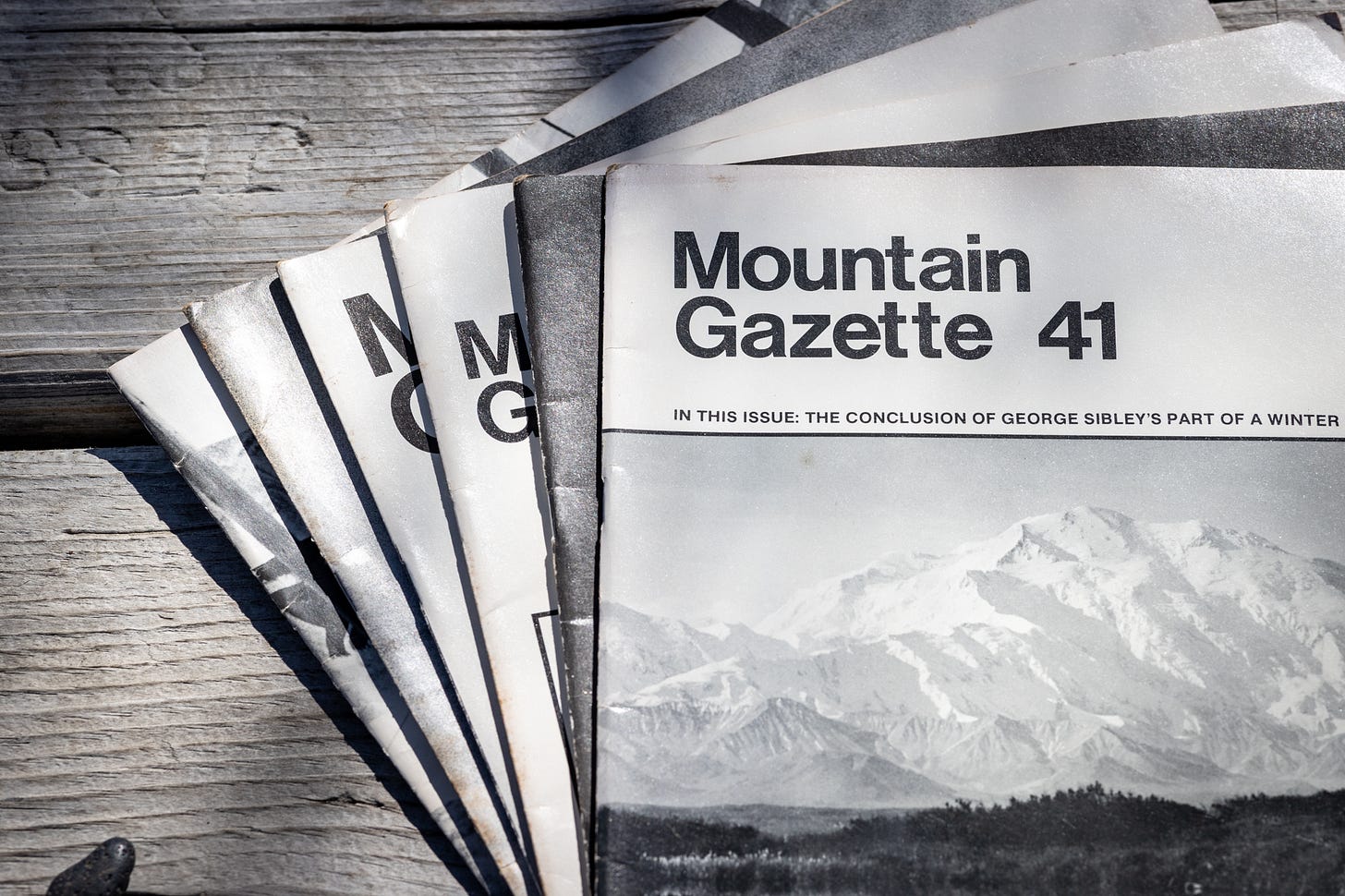 Back issues of Mountain Gazette. Photo by Chris Segal.
Why I interviewed him: Because even as the founder of a publication that lives entirely and eternally online, I have always loved the depth and expressiveness of print media in general and ski magazines in particular. I learned how to ski from fat newsstand-bought issues of the middle- to late-90s, and I learned everything else I knew about skiing there too. When I commenced the series of explosive yardsales and ever-farther roadtrips that constituted my early ski career, I knew almost no one who skied, and certainly no one who had skied the amazing snowy West. The magazines were my Yoda. There were four mainstream publications available in the Midwestern pharmacies and grocery stores of my teens, as indistinguishable as leaves on a tree to passersby, but to me, to a skier, each distinct and vital and alive. Skiing was attitude. Powder was poetry. Ski was groomers. Snow Country, trying to be a little bit of each, felt scrambled. I bought them all. Inside these glossy magazines lay an immense landscape, frantic and relentless and always stomping through snowy netherworlds put suddenly at my reach. They may as well have been tales of Narnia, so absorbing did I find these steeps and snowfields and snow-choked woods, these far-off resorts and the characters that animated them, their legends hardened through writing sharp and piercing and explosive. That's all so diminished now. Snow Country and Skiing evaporated. Powder is down to four issues per year. Ski survives, but in a massively slimmed-down state. Yes, Freeskier popped out of the glossy halfpipe at some point in the late '90s, and it still exists and does good work, though with a diminished print run. While Mountain Gazette has never been explicitly or solely a ski magazine, the publication is an important part of the ski media's print legacy, and its return – the magazine had two previous print runs, from the '60s to 1979 and from 2000 to 2012 – as a high-end, twice-annual expression of modern mountain life is a positive development, and something I wanted to hear more about.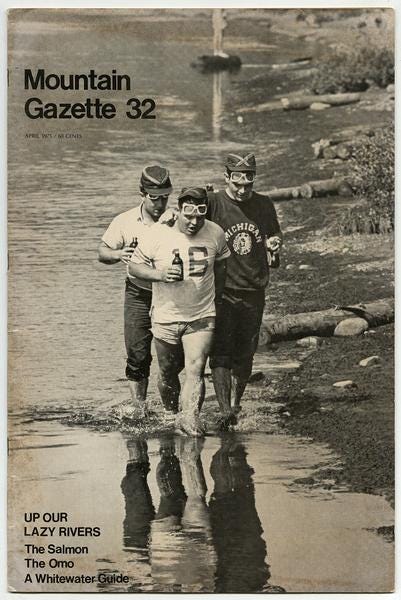 A Mountain Gazette cover from the 1970s. Yes, I chose this one because the kid on the right is rocking a Michigan sweatshirt, but this photo perfectly captures the less-geared-up rambling spirit of the mountain days of yore.
What we talked about: Covid life in Tahoe; remembering the shutdown; Mountain Gazette's history and legacy as literary journal and freewheeling transmitter of the mountain town zeitgeist; the magazine's legendary writers and editors and what drew Rogge to them; the failed professional quest that preluded his purchase of Mountain Gazette; how he reacted when he found out the magazine was for sale and how that sale went down; why now is the right time to bring it back to life; the power of a known brand; cultivating a place for explosive and hungry young writers; what you get when you buy a publication; how former readers have reacted to the magazine's resuscitation; what you do when 50 boxes of archived magazines show up at your house; how to honor a publication's legacy while pushing its evolution forward; you can help Mike complete his Mountain Gazette collection; the magazine's editorial vision; the forces behind the overall decline of ski media; Rogge's Eastern roots and how that may push the Gazette's coverage area outside of its traditional Western zone; what it means to run the magazine out of Tahoe for the first time; the blend of print, videos, and podcasts that will power the reborn publication and which of those will be the main focus; what feature stories might look like in a magazine once known for printing 100-page waxings on the joys of mountain life; the broken and tired ski mag feature story template; the regal size and presentation of the revitalized, two-times-per-year Mountain Gazette; what the super-premium print model is and why now is the right time to try it; why you won't be able to throw Mountain Gazette in the trash; why you won't see stories from previous eras on the publication's website; the current status of the first issue and what we can expect from it; why there's an imperative to pay the magazine's staff well and what that staff will look like; the advisory group guiding the publication back to life; who was trying to talk Rogge out of buying Mountain Gazette; how advertisers, writers, photographers, and the ski media in general are reacting to the relaunch; the former Gazette writers who may contribute to the mag; what Rogge sees as the biggest issues hitting mountain towns over the next several years.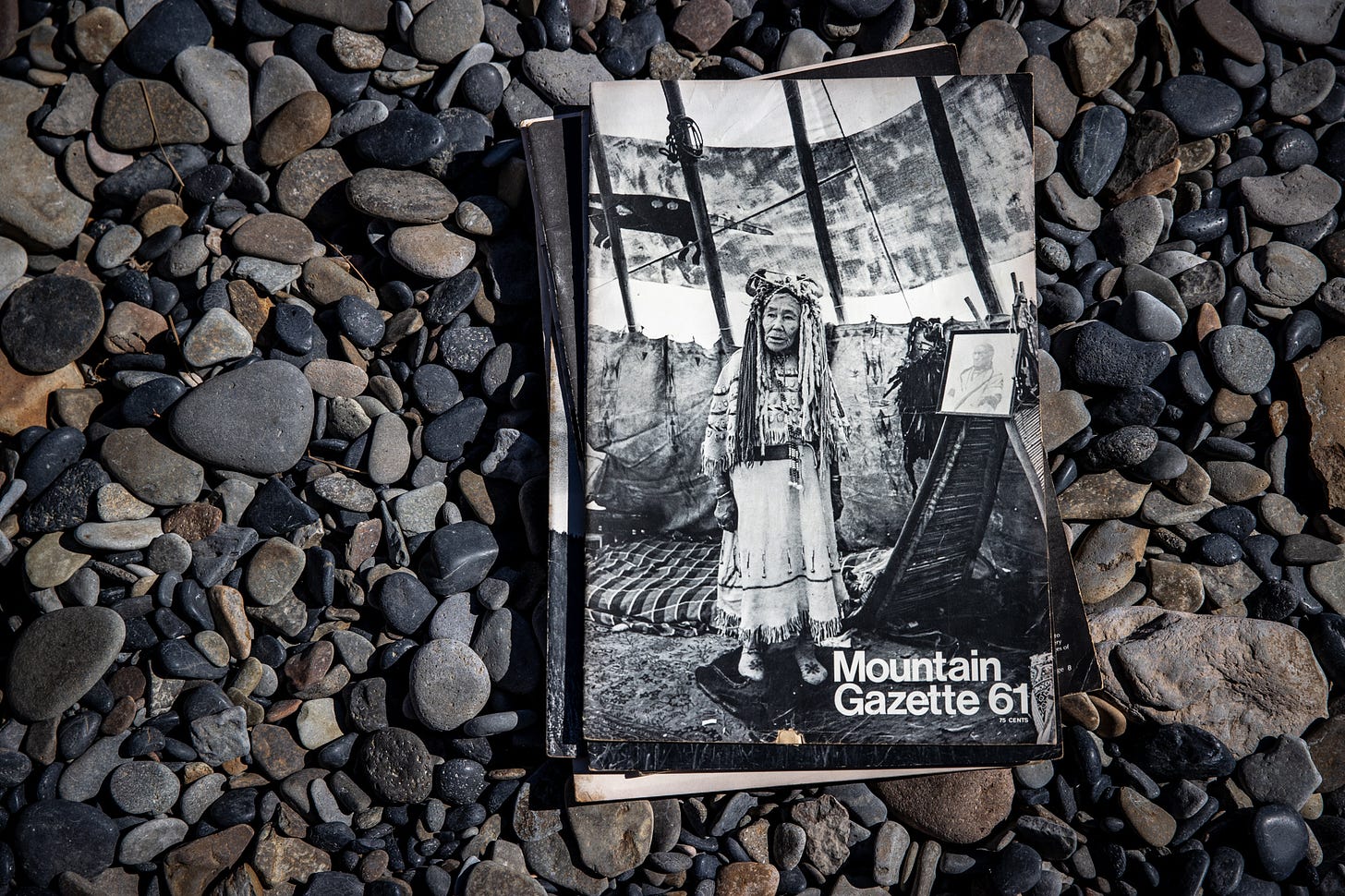 Photo by Chris Segal.
Why I thought that now was a good time for this interview: Because I've gotten so accustomed to the shuffle-and-cut dance of XYZ media company purchasing XYZ decades-old ski mag and cutting the number and length of issues that it began to feel like I was watching the sand drain from the top of an hourglass that had had its bottom cut out, forever emptying and never to be refilled. With the return of Mountain Gazette, we may have found the bottom, and I feel like Rogge may even be able to turn the ski media hourglass back over. The super-premium, ski journalism-as-work-of-art model, built around ferociously unconventional writing and photography, should be welcomed in a world weary of the cheapness of social media and the unrelenting troll armies that populate its domain. While what remains of the legacy ski media is doing its best to find a sustainable print-digital hybrid, Rogge, by tapping the enormous power of a beloved but dormant magazine, is able to start with both tremendous brand recognition and a totally new-to-skiing concept. It took some vision to get there, and I wanted more insight into how we could expect this thing to unfold over the coming months.
Additional reading:
A brief history of Mountain Gazette by ski writing legend Dick Dorworth

Read Dorworth's classic Night Driving, to get a sense of the 1970s Mountain Gazette, where the stories first appeared.

Jason Blevins' Colorado Sun profile of Rogge's Gazette resurrection
Recorded on: July 21, 2020
---
COVID-19 & Skiing Podcasts: Author and Industry Veteran Chris Diamond | Boyne Resorts CEO Stephen Kircher | Magic Mountain President Geoff Hatheway | NSAA CEO Kelly Pawlak | Berkshire East/Catamount Owner & Goggles for Docs founder Jon Schaefer | Shaggy's Copper Country Skis Cofounder Jeff Thompson | Doppelmayr USA President Katharina Schmitz | Mt. Baldy GM Robby Ellingson | Alterra CEO Rusty Gregory | NSAA Director of Risk & Regulatory Affairs Dave Byrd
The Storm Skiing Podcasts: Killington & Pico GM Mike Solimano | Plattekill owners Danielle and Laszlo Vajtay | New England Lost Ski Areas Project Founder Jeremy Davis | Magic Mountain President Geoff Hatheway | Lift Blog Founder Peter Landsman | Boyne Resorts CEO Stephen Kircher | Burke Mountain GM Kevin Mack | Liftopia CEO Evan Reece | Berkshire East & Catamount Owner & GM Jon Schaefer | Vermont Ski + Ride and Vermont Sports Co-Publisher & Editor Lisa Lynn | Sugarbush President & COO Win Smith | Loon President & GM Jay Scambio | Sunday River President & GM Dana Bullen | Big Snow & Mountain Creek VP of Sales & Marketing Hugh Reynolds | Mad River Glen GM Matt Lillard | Indy Pass Founder Doug Fish | National Brotherhood of Skiers President Henri Rivers | Winter 4 Kids & National Winter Activity Center President & CEO Schone Malliet | Vail Veterans Program President & Founder Cheryl Jensen