The Storm Skiing Podcast #16 | Download this episode on iTunes, Google Podcasts, Stitcher,TuneIn, and Pocket Casts | Read the full overview at skiing.substack.com.
Who: Doug Fish, Indy Pass Founder and President, Snowvana Founder and Producer, Chair of Fish Marketing
Why I interviewed him: Because the Indy Pass, with its yeah-we're-doing-this-go-ahead-and-stop-us attitude, is a novel and necessary entry into a lift-served ski landscape increasingly accessed and defined by multi-mountain passes. As this world consolidates and skiers can more easily access sprawling collections of the largest and most developed ski areas on the continent with one relatively inexpensive pass, the independent mountains have a choice to make. Alone or together. Some, like Mad River Glen or Wolf Creek, have strong enough brands and loyal enough communities to fight on from their own islands. Others risk being lost. The Indy Pass is a vehicle these smaller-but-still-fight-worthy mountains can ride, a national brand with an inexpensive entry point and a premise rooted in the late appeal of all things handmade and local. For skiers, the pass delivers a season's worth of skiing for less than the cost of a peak day ticket at a big Western mountain and cracks open some well-rounded but often overlooked ski areas for exploration. It's also a growing brand with an evolving story that I've been watching from launch, and I wanted to talk to the guy who was making it all happen.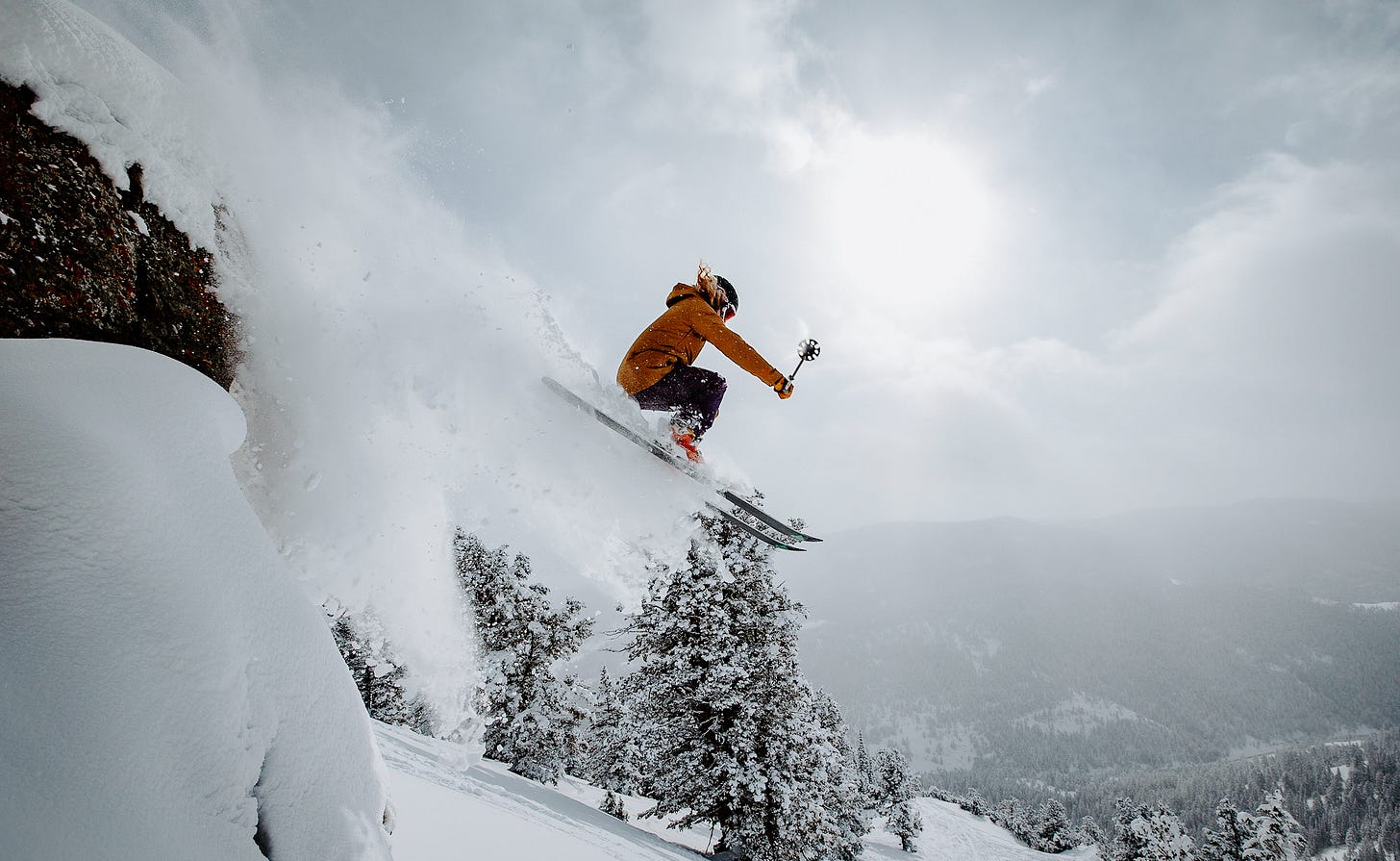 Beaver Mountain, Utah. Photo courtesy of Indy Pass.
What we talked about: How the Indy Pass concept was born on a chairlift in Red Lodge, Montana; the long process of transforming the idea into an actual product you can buy; making skiing affordable in the era of $200 day tickets; the advantage of rolling scattered and little-known indies under one national marketing umbrella; who signed first and how that got the Indy Pass snowball rolling down the mountain; the logic behind the $199 price and two-day access at each mountain; what rack rate is and why that isn't the real price of skiing; Indy is the sampler pack of skiing; what Pats Peak was worried about when they signed onto the pass; why reciprocal passholder programs like the Powder Alliance and the Freedom Pass are bad long-term deals for ski areas and why the Indy Pass offers a better approach; the thrill of selling the first few passes; which state bought 30 percent of all Indy Passes; how you can get a free Indy Pass for life and why Doug thinks no one will ever do it; the largest number of days anyone redeemed on their Indy Pass last season; how the pass calculates payout for ski areas with vastly different day ticket prices; why the Indy Pass initially didn't offer child passes and the logic behind the new $99 kids pass; why the season pass add-on is $30 cheaper than it was last season; why some mountains are still deciding whether they'll institute Indy Pass blackouts for next season, which would only be accessible with the new Indy+ Pass; the thinking behind the simple pass assurance program; the number one factor keeping potential new partners from committing to the Indy Pass for the 2020-21 season; how huge the Cannon signing is for the pass' momentum and growth in the Northeast; why Indy Pass became the must-have multimountain pass in the Midwest with its new signings in Minnesota, Wisconsin, and Michigan; Tamarack and the unsung glory of Idaho skiing; a bit about snow-blitzed new partner, Sasquatch, British Columbia; where remote and little-known China Peak, California fits into the pass' long-term vision; potential new partners in the Midwest; why Mount Bohemia, the Midwest's best pure skier's ski area, will never join the Indy Pass; opportunities to grow still in the Northeast; why the pass hasn't been able to crack the Colorado or Tahoe markets; the obstacles to adding Oregon's largest ski areas to the pass; the potential for growth in yeah-there's-damn-good-skiing-there Arizona and New Mexico; how many ski areas Doug expects to be on the pass by the time the 2020-21 season starts; the max number of ski areas the pass could eventually host.
Question I wish I'd asked: I had some questions prepared about Doug's initial adventures in the Midwest and Northeast – two regions he was unfamiliar with from a skiing point of view prior to launching the Indy Pass. I always like hearing people's first impressions of things I know really well. I also wish I'd had time to go a bit into Indy Pass' Southeast partners in North Carolina, Virginia, etc., as I think that's a really interesting ski region that I don't know a great deal about. I also would have liked to have explored the fallout from the Covid shutdown, the pass' oddball blackout day structure, possible future pass tiers, and why there's no physical pass. The pod is already pretty long though. Next time.
Why I thought that now was a good time for this interview: Indy Pass just dropped its 2020-21 product suite, adding seven new mountains while sticking with its $199 price tag for two days at each partner ski area. Indy introduced a $99 kids pass and a $129 season pass add-on for passholders at any partner mountain, and outlined one of the simplest pass assurance programs in skiing, pegging 2021-22 pass credits not to mountain closures or injuries or volcanic eruptions but the number of days used. I figured this was a good time to tell the Indy Pass' backstory and understand how this thing materialized out of thin air in a ski world already dominated by two Colorado-based megapasses. I also wanted to advocate for a few mountains that I'd really like to see on the pass, both to Doug as the guy in charge, and to the ski areas themselves, many of whom are considering joining the pass but have not yet committed.  
Why you should pick up the Indy Pass: Doug's take is that this pass serves infrequent skiers who feel priced out of Mt. Bigmore but are willing to pay a modest sum for access to quality mountains. This is no doubt true. I think this pass serves another group just as well, however. I believe the Indy Pass acts as an excellent complement to an Epic or Ikon Pass, a parachute into local radsters like Magic or Berkshire East that are solid weekend alternatives to the bowling-for-humans ice slaloms of Stratton or Mount Snow. These are the places that you think you're too good for because they're slightly smaller, they don't have lie-flat seats on their chairlifts, and they don't serve organic sesame seed celery scones in their cafeteria. But you're wrong. These are terrific mountains, and they are all worth a visit. If you're in the Upper Midwest, the Northeast, or the Pacific Northwest, this pass is an absolute must-buy, regardless of which other passes you've picked up.
Additional reading/videos: I did a complete breakdown of Indy Pass' 2020-21 pass suite recently.
Recorded on: May 27, 2020
---
The Storm Skiing Podcast is on iTunes, Google Podcasts, Stitcher, TuneIn, and Pocket Casts. The Storm Skiing Journal publishes podcasts and other editorial content throughout the ski season. To receive new posts as soon as they are published, sign up for The Storm Skiing Journal Newsletter at skiing.substack.com. Follow The Storm Skiing Journal on Facebook and Twitter.
COVID-19 & Skiing Podcasts: Author and Industry Veteran Chris Diamond | Boyne Resorts CEO Stephen Kircher | Magic Mountain President Geoff Hatheway | NSAA CEO Kelly Pawlak | Berkshire East/Catamount Owner & Goggles for Docs founder Jon Schaefer | Shaggy's Copper Country Skis Cofounder Jeff Thompson | Doppelmayr USA President Katharina Schmitz | Mt. Baldy GM Robby Ellingson | Alterra CEO Rusty Gregory
The Storm Skiing Podcasts: Killington & Pico GM Mike Solimano | Plattekill owners Danielle and Laszlo Vajtay | New England Lost Ski Areas Project Founder Jeremy Davis | Magic Mountain President Geoff Hatheway | Lift Blog Founder Peter Landsman | Boyne Resorts CEO Stephen Kircher | Burke Mountain GM Kevin Mack | Liftopia CEO Evan Reece | Berkshire East & Catamount Owner & GM Jon Schaefer | Vermont Ski + Ride and Vermont Sports Co-Publisher & Editor Lisa Lynn | Sugarbush President & COO Win Smith | Loon President & GM Jay Scambio | Sunday River President & GM Dana Bullen | Big Snow & Mountain Creek VP of Sales & Marketing Hugh Reynolds | Mad River Glen GM Matt Lillard