The Storm Skiing Podcast #11 | Download this episode on iTunes, Google Podcasts, Stitcher, TuneIn, and Pocket Casts | Read the full overview at skiing.substack.com.
Who: Win Smith, President and Chief Operating Officer of Sugarbush
Why I thought that now was a good time for this interview: Because after standing as one of the last large independent mountains in the East for nearly two decades, Sugarbush is as of Jan. 14 owned by Alterra Mountain Company. Championed by a core skier base as passionate as any in the country and rooted in a proud local community and culture, Sugarbush will provide the greatest test yet of Alterra's commitment to maintaining the identity of its individual resorts. Communities do not materialize out of nowhere, and this one was not easily won. Win Smith has, by virtue of consistency, transparency, and engagement, earned the community's trust and built something special in the Mad River Valley while orchestrating the mountain's return to profitability. Anyone who's skied there over the past several years can testify that the place is in phenomenal shape, and there's no question that Alterra will continue to invest in the mountain. For now, Win still runs Sugarbush and nothing changes, but the triple realities of megapass mania, climate change, and the cost of doing business in Vermont that drove him to sell are only going to compound, and that will mean that the mountain will evolve in predictable and unpredictable ways. How Alterra plans to do that, and what part Win would play in that planning both over the short and long term, is something I wanted to hear first-hand.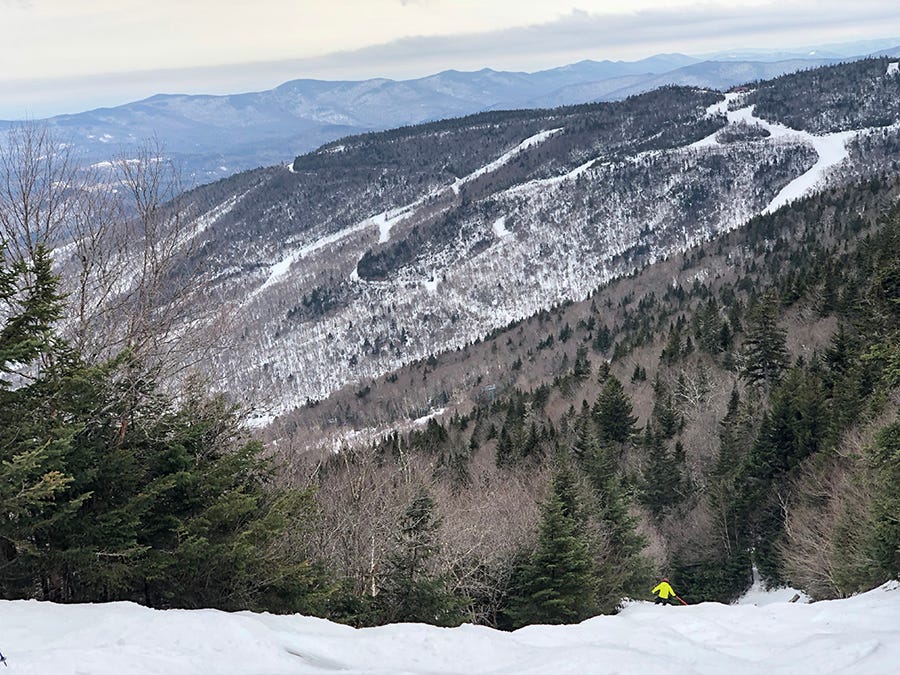 Looking over toward Lincoln Peak from Castle Rock, a field of spring bumps below.
What we talked about – on Sugarbush: How Win is feeling now that he's officially handed over the keys to his mountain; why he chose Alterra as the buyer; the Sugarbush community's reaction to the sale; how last season's Ikon Pass partnership acted as a de facto trial period for the sale; what Ikon brought to Sugarbush; why Vail buying Peak acted as a catalyst for the sale; the three big trends driving his decision to sell; why it's so expensive to do business in Vermont; Vermont Act 250: what works about it and how revising it could help ease some of the financial burdens; whether anyone else approached with an offer to buy Sugarbush; why Win ditched a career in New York City finance; why he didn't move to Vermont right away upon buying the mountain, and what changed when he did; the matrix of challenges that materialized from the moment Win took ownership, from a 100-year drought to the untimely death of his business partner to the are-you-freaking-kidding-me-Universe existential surprise of taking ownership of the mountain on Sept. 10, 2001; the challenge of winning over the community in a pre-social media era of memos taped to ticket windows explaining why the mountain couldn't make snow over that first Christmas period; the state of the mountain when he bought it; how he started the turnaround and when it took hold; the American Skiing Company's legacy and why that organization failed; how his three-decade career at Merrill Lynch prepared him to run a huge complex mountain grounded in networks of machinery and dependent on weather; why admitting what you don't know is an essential leadership quality; what Sugarbush's many former owners contributed to the place; Win's on-mountain enhancements and upgrades wish list; whether he has a successor for his job in mind; why he doesn't see the need to replace or upgrade any chairlifts over the next three to five years; what might replace the Heaven's Gate Triple when the time comes; why high-speed quads can do more harm than good; why the Slide Brook Express may outlast every other lift on the mountain even though it's the longest chairlift in the world; why Slide Brook Basin will never be developed; why Sugarbush won't install top-to-bottom lifts on either mountain, and hasn't yet installed any enclosed lifts; why Castle Rock is so damn rad and why they leave it that way; why they rebuilt that double chair to the exact same specs and why the locals went lynch mob when a previous owner threatened to run a quad up the slope; why it took so long to open that pod this year, and why Slide Brook still isn't open; the mountain's friendly hike-to policy; how Sugarbush works with the Forest Service to thin woods and hey man don't call them glades; how much of its land Sugarbush owns; why the mountain will never challenge Killington for last-to-close in the East; how Sugarbush may be slotted on the various Ikon Pass tiers; the mountain is most likely staying on the Mountain Collective Pass; the possible fate of the mountain's other passes; how season passholders are feeling about Ikon; Sugarbush's busiest day ever over MLK weekend and what that says about the mountain's future; Sugarbush-Mad River Glen bonhomie; what drove Sugarbush's record 2018-19 ski season; how many days Win's skied so far this year.
What we talked about – on the National Ski Areas Association: is the great ski area weed-out over?; the need for more diversity in skiing and how that might be achieved; the potential of the New Jersey Snowdome to help attract new folks to skiing; why megapasses increase participation; whether last year's huge season was a fluke confluence of great weather and cheap passes, or if more positive long-term trends also contributed to the fourth busiest season on record.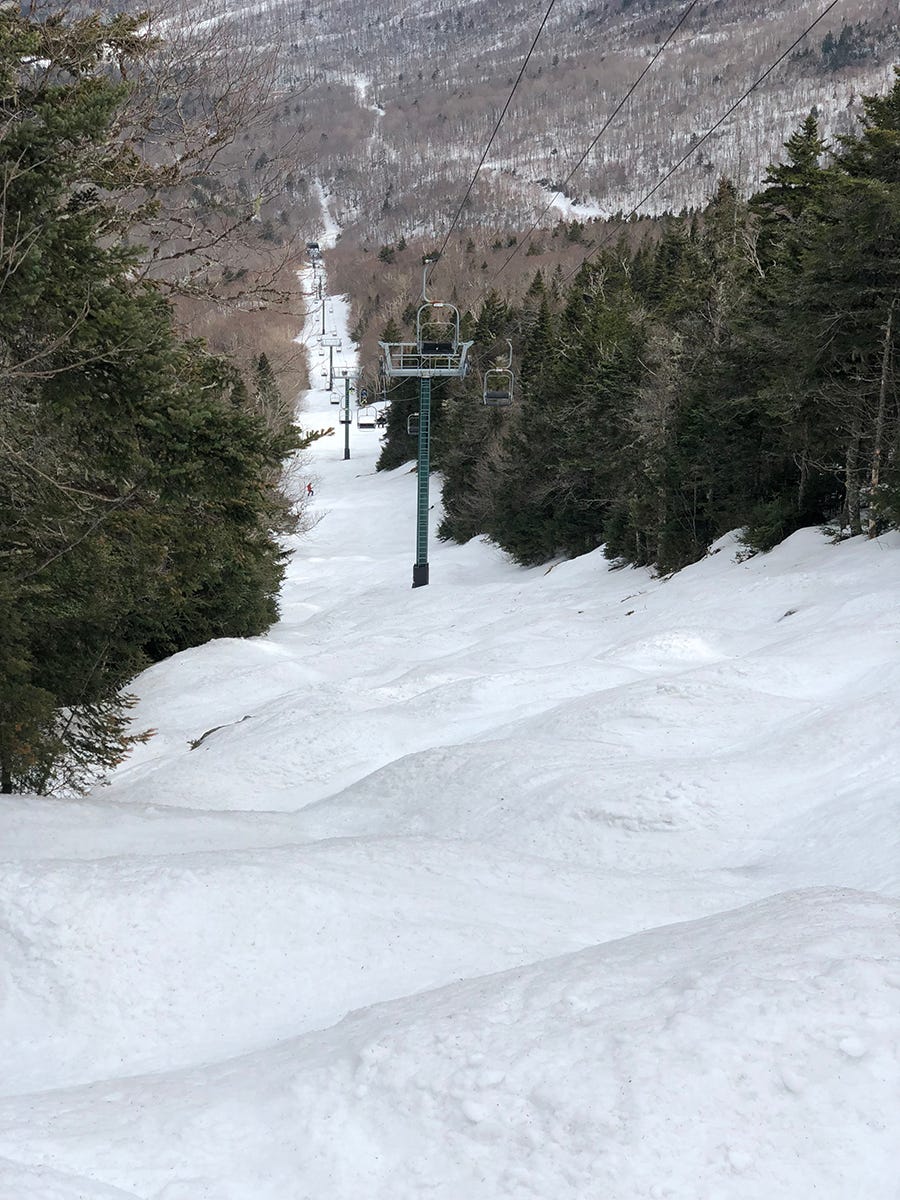 Fox hole-deep moguls on Castle Rock. They don't make snow on this peak, and I took this photo on April 12.
Questions I wish I'd asked: I wish I'd gotten a bit more into the personal side of how difficult it was for Win to give up something he had worked so hard to build. While most of us will never own ski resorts or anything close to that scale, each of us will eventually have to decide how to move on from something that is at the very core of who we are and how we define ourselves, and I imagine that after two very full careers, he could have offered some good insight on that.
Why you should go there: Because everybody loves Sugarbush. It is a crown jewel of Northeast skiing, the kind of place you can take your cousins from Denver who have never skied east of Loveland and who are all like, "Ice Coast sucks," and you get out there and they're like, "Well yeah this place is actually kinda great." It's one of the few Eastern mountains that can legitimately eat up a week's worth of skiing, cut as it is into vast and rambling zones of pure fall line skiing, a complete mountain with glades and bumps and long groomers and parks and a huge vertical drop. It's position anchoring the spine that runs north through Mad River Glen and Bolton Valley and Stowe and Smuggs and Jay means it gets more high-quality snow more often than almost anywhere else in the Northeast, and its northern perch means that that snow often stays good for a very long time. When Slide Brook is running and the whole place is open and you can get lost in the woods, the place skis like one vast adventure, a mini-Whistler-Blackcomb in the Green Mountains of Northern Vermont, two killer mountains side by side with a vastness to explore in between. And Win, with his always-on-the-snow grassroots commitment to planting Sugarbush at the very heart of the Mad River Valley community, has over the past two decades built something that at once feels vast and intimate, a place that is a defined and real place in a McDonald-ified America in which destinations can often feel stamped from a vast mold.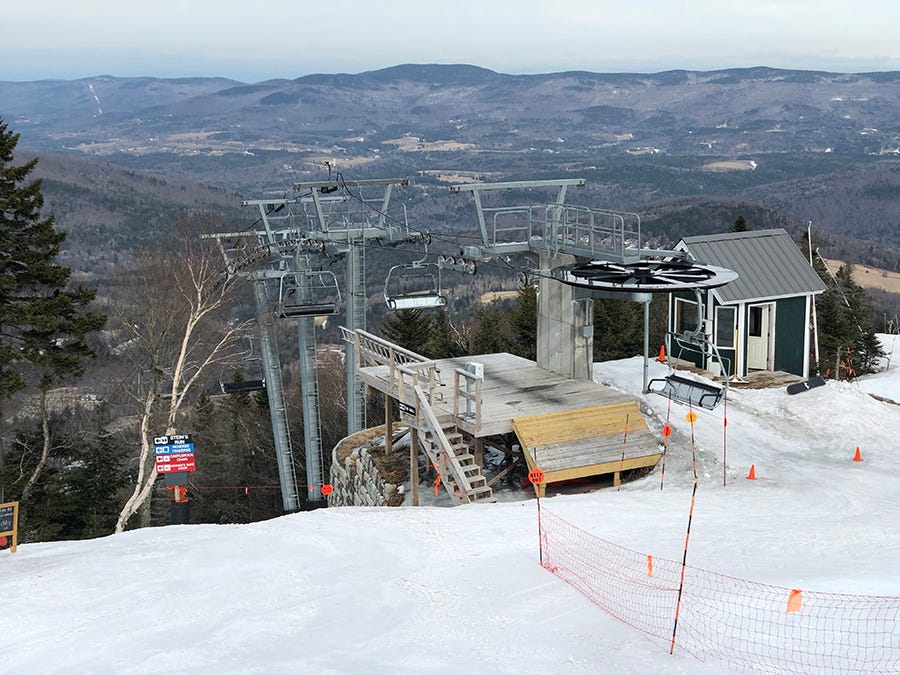 The top of the Valley House Quad.
Things that may be slightly outdated because we recorded this a while ago: Nothing. We recorded this Tuesday, and other than saying that the Castle Rock double started spinning "today" for the first time all season, this interview is as close as the podcast will ever be able to get to representing my guests' most recent thinking. As I move beyond a launch phase during which I felt compelled to record and hoard interviews to guarantee I'd be able to quickly build a library, I am working on streamlining the entire interview-to-go-live process so that there is rarely more than a couple of days delay between the two. And while I have interviews lined up for each of the next three weeks and plans to produce each of them quickly, sometimes schedules change, particularly in the heart of ski season when my subjects are people who run ski areas. While that means that the podcast will not always necessarily be released on a weekly basis, I plan to make up for that with more timely information. I'm happy to make that tradeoff, and happy to ditch this section after this mailing.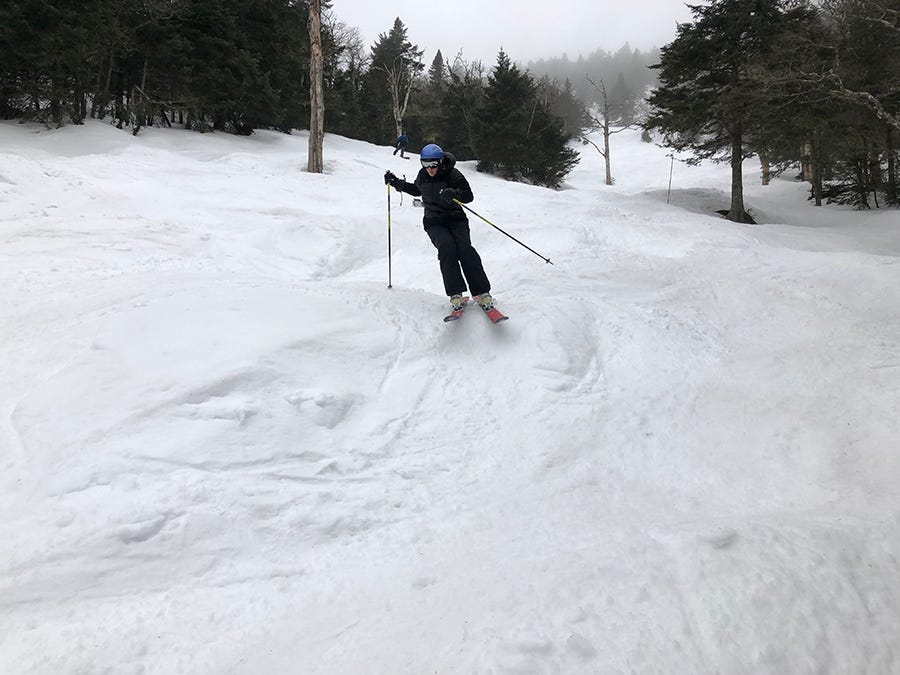 Spring bumpin' on Paradise.
What I got wrong: When describing the benefits that Sugarbush season passholders would receive as full Ikon Pass holders, I said that they'd get seven days at a variety of mountains, including "Sugarbush." By that, I meant "Sugarloaf." This is a mistake I make constantly, and not because I don't know the difference between these two very different mountains, but because words are hard and sometimes I say them wrong. I'm honestly shocked that I only made this mistake once over the course of this interview. It was also kind of silly of me to ask if the NSAA was providing loans to small ski areas, because of course trade groups don't do that, but it was more of a general, "hey are they taking this seriously" kind of question, and that bad example came out.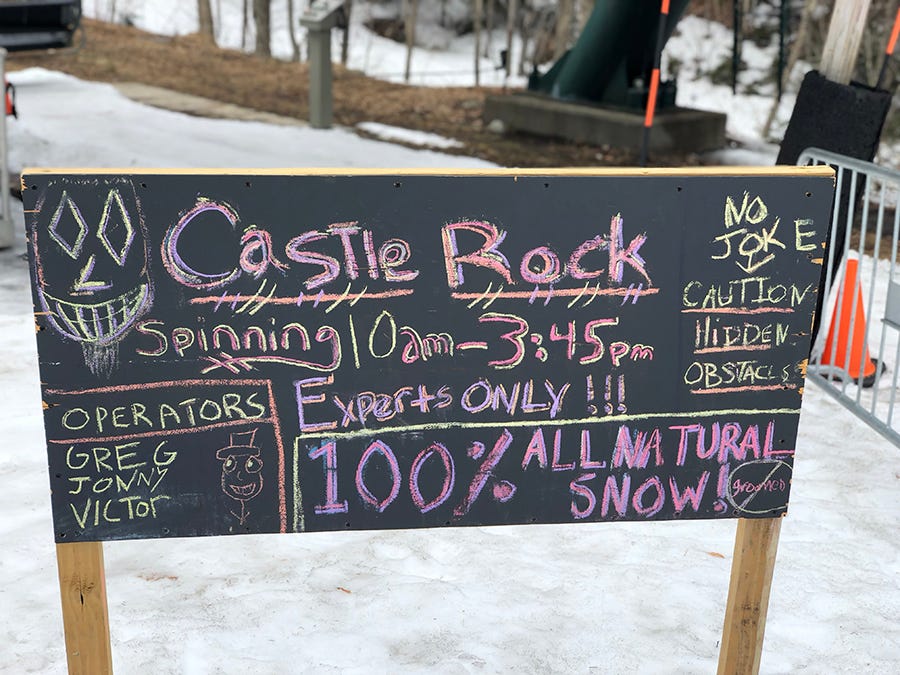 If you see this sign, you're about to have a good time.
For further reading:
The Storm Skiing Podcast is on iTunes, Google Podcasts, Stitcher, TuneIn, and Pocket Casts. The Storm Skiing Journal publishes podcasts and other editorial content throughout the ski season. To receive new posts as soon as they are published, sign up for The Storm Skiing Journal Newsletter at skiing.substack.com. Follow The Storm Skiing Journal on Facebook and Twitter.
Check out previous podcasts: Killington GM Mike Solimano | Plattekill owners Danielle and Laszlo Vajtay | New England Lost Ski Areas Project Founder Jeremy Davis | Magic Mountain President Geoff Hatheway | Lift Blog Founder Peter Landsman | Boyne Resorts CEO Stephen Kircher | Burke Mountain GM Kevin Mack | Liftopia CEO Evan Reece | Berkshire East & Catamount Owner & GM Jon Schaefer | Vermont Ski + Ride and Vermont Sports Co-Publisher & Editor Lisa Lynn |