Discover more from The Storm Skiing Journal and Podcast
Everyone's searching for skiing's soul. I'm trying to find its brains.
Over 11,000 subscribers
Next Season's Casualties Begin to Pile Up in Aftermath of COVID-19 Shutdown
So far, we're only cancelling chairlifts
Cancel Oktuplefest
To absolutely no one's surprised, Boyne delayed construction of Loon's Kancamagus 8 chairlift until next summer (they also delayed Big Sky's Swift Current quad-to-six-pack upgrade). This was unavoidable. While we all want to think that we'll be crushing Superstar bumps by May 1 and hitting baseball games Memorial Day Weekend, the reality is that whatever return we have to normal is likely to be phased, halting, tentative, and subject to quick reversals by local, state and national officials as COVID-19 retreats, surges back, and spikes in pockets around the country. To think the summer will be wide open for construction is delusional.
As Boyne Resorts CEO Stephen Kircher told me on the podcast last week, the risks of tearing out the existing Kancamagus 4 and then getting hit with a 45-day disruption if workers were to be sent home again is just too great. Loon needs that lift to function, and the current quad is only 25 years old and in good enough shape that Loon GM Jay Scambio told me on The Storm Skiing Podcast in February that it would likely replace the circa 1985 Seven Brothers Triple across the mountain once the Kanc 8 was in place. The Kanc 4 can last another season and it can probably last another 20 if needed.
It won't be needed. Boyne has been an industry leader in lift technology for decades, and it will get the East's first eight-pack drilled into that mountain at some point. As far as we're-back-fuck-you-COVID statements go, that will be a big one when it happens.
Elsewhere in the Northeast, Vail's decision to cancel its 2020 lift projects presumably postpones the previously announced Quantum/Green Ridge upgrade at Okemo. Alterra also cancelled most of this year's big capital investments, though it did not have any major chairlift projects scheduled at its Northeast mountains next season. With the coronavirus response costing billions in New York, I expect the state to cancel ORDA's extravagant capital allocation at some point. Magic, however, should be able to finish its already partially built Black Chair, as mountain President Geoff Hatheway told me on the COVID-19 & Skiing podcast last week.
The question of Saddleback
I missed this Outside story about the rebirth of Saddleback because it came out the same March week New York City went to hell and so I was busy sorting my life out. It's a beautifully written piece that includes both an homage to Saddleback's past and a portrait of new owner Arctaris' do-gooder investment ethos:
On January 31, Arctaris spent $6.5 million to purchase a beloved but troubled backwoods ski mountain—Saddleback Maine, which has been shuttered for the past five seasons. Arctaris plans to radically renovate the base lodge this summer. It'll open the lifts in December and will eventually spend $38 million in hopes of turning Saddleback into a funky and humane nirvana, replete with affordable housing, fair compensation, day care, and bus transport for its workers—and also, yes, crazy-steep trails and a laid-back lodge where the PBR will flow at an amiable people's price.

Arctaris's Saddleback bid typifies an investment model that's mushroomed since the term "impact investing" was coined in 2007 to describe funds seeking to effect social change as they make money. ... In Maine it hopes to breathe new life into the charming but financially challenged outdoor sports mecca that sits at Saddleback's base—Rangeley, population 1,100 …

Arctaris will start by shelling out $7.3 million to improve uphill capacity at Saddleback, which has a vertical drop of 2,000 feet and a storied glade called Casablanca that's central to the mountain's reputation as an authentic and uncurated gem. A creaky 1963 top-to-bottom double chair will be replaced by a new high-speed quad. An old T-bar will likewise give way to a spiffy new one, allowing the mountain to stay open on winter's windiest days.

That's just the beginning. The founder and managing partner of Arctaris, 47-year-old Jonathan Tower, who happens to be an avid skier, also aims to provide Saddleback's projected 220 employees with a staffing program unique to the ski industry—one that would link winter employees to warm-weather jobs (say, as fishing guides or dishwashers) and also provide full-timers with 401(k) plans and health care benefits. The snowmaking pumps at Saddleback will, naturally, be powered by a soon-to-be-built solar-energy farm, per Arctaris's plan.
I'm excited about Saddleback. I believe it's essential not just for the sake of the ski area and community itself, but for the entire industry that Arctaris resuscitate that mountain. However, reality has reconstituted itself over the past several weeks into a Matrix-esque Insideopolis that makes The Upside Down look like Barbados. The author of four weeks ago would have had no way of knowing that the T-rex-sized to-do list Arctaris outlined as necessary to jump-starting the mountain was about to morph from tough-but-doable-with-good-old-fashioned-let's-knock-this-shit-out construction-guy brio to it-would-be-easier-to-build-a-life-size-recreation-of-Pangea-with-Legos-than-actually-accomplish-this mess in the new era of work stoppages, social distancing, and plague patterns as unpredictable as storms in a Northeast winter. Just a partial list as itemized in March:
Right now Arctaris's first priority is the logistical challenge of making Saddleback skiable. Jimmy Quimby needs to hire at least 15 people over the next four months, and then those folks need to go into ballistic mode, disassembling the T-bar and the 1963 chairlift to make way for lift-installation companies. They need to hack the weeds off the trails and chainsaw down the saplings that have sprouted over the past five years.

Arctaris hasn't even developed a site plan for affordable housing yet. The employee busing and day care are still in the early planning stages, as is the solar farm, and while Arctaris's Jonathan Tower is working with the State of Maine, hoping to get the staffing office launched by next winter, he might not meet his deadline.
It is hard to imagine anyone achieving "ballistic mode" when most of us are barely allowed outside to pick up a bag of Pizza Rolls at the supermarket or walk the dog. This constrained state of existence is all but guaranteed to persist until at least May 1, and then it will be rolled back only tentatively and regionally, and could and probably will be reactivated on varying levels several times.
Still, someone figured out how to take down an entire stack of lift towers on the antique Rangeley Double while adhering to social distancing protocols, as you can see in this awesome video.  
The aftermath looks like this: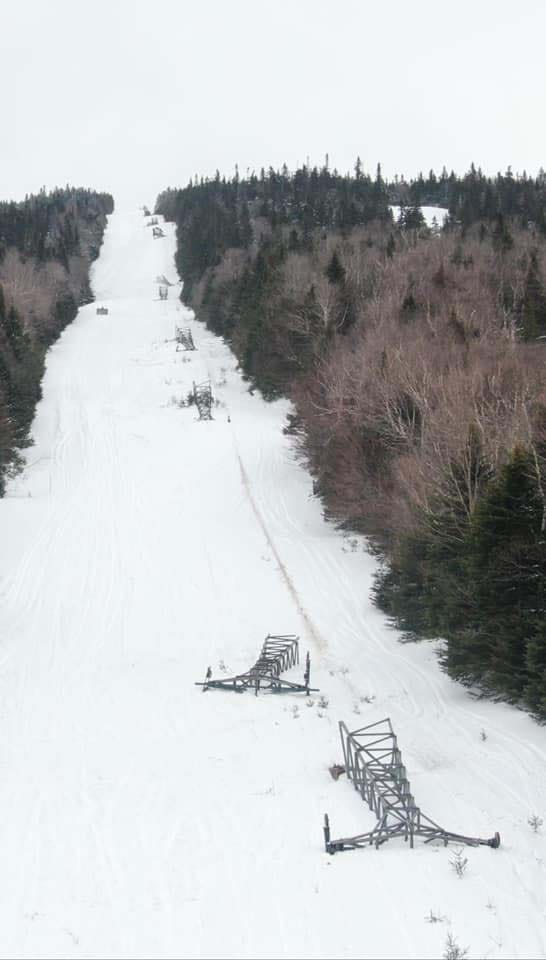 Saddleback, idle five winters and poised at last for a comeback under committed new owners, may not get lifts spinning for 2020-21, even if the rest of the Northeast is able to reactivate. I have little doubt that it will eventually reopen, but this whole crisis is likely to inhibit that timeline in one way or another.
What I am far more concerned with, gazing toward the far-off winter horizon, are the teeny-tiny-barely-making-it-under-normal-circumstances feeder bumps dotting the Northeast. How many of them follow Ski Blandford into the Bermuda Triangle of lost ski areas will have important consequences for the region's skiing for decades.
More COVID-19 Fallout
New Hampshire's Tuckerman Ravine is closed. Fed up with crowds flouting social distancing guidelines, Sugarbush and Mad River Glen last Thursday joined most of the rest of the dormant Vermont ski areas in banning uphill travel on their slopes. Magic may be the last Vermont mountain that has not explicitly forbidden uphill travel, though they are limiting access to locals and discouraging it in general. If you still want to go skiing, try Sweden.
Wintry Mix Podcast follows its outstanding series of six COVID Quickpods with an analysis of three possible outcomes for the post-shutdown ski industry. The High Falutin Ski Bums podcast talks with a Killington local about the dire life in suddenly shuttered ski towns.
Both Vail and Alterra's CEOs will forego their salaries for the immediate future as they furlough large numbers of their year-round employees and, as noted above, cut most major capital projects. Ski areas on Forest Service land are hoping the agency will waive or postpone the lease fees the mountains pay to operate on federal land.
Ski manufacturers of all sizes are pivoting to produce face masks, gowns, and other medical supplies. Homegrown efforts like the Goggles for Docs initiative that Berkshire East owner Jon Schaefer founded and discussed in my COVID-focused podcast series earlier this week are sprouting everywhere. Here's some background on another effort, launched by Northeast Skiology founder and personal friend Matthew Bramble, to 3D print and distribute face shields to front-line health care workers.
The NSAA issued additional guidance on obtaining the small business loans that the organization's president, Kelly Pawlak, discussed with me on the COVID-19 & Skiing podcast last Thursday.
Ski spotlights why one backcountry skiing guide in Tahoe is refusing to lead expeditions, and how he is keeping busy instead. Powder's Staying Home series looks at how pro skiers Angel Collinson, Cody Townsend, and Drew Petersen are staying healthy and productive under stay-at-home orders.
Vermont Ski + Ride Editor Lisa Lynn wrote an overview for Powder itemizing how resort towns and companies are supporting ski area employees in the shortened season's aftermath.
Should mountains have closed sooner?:
[University of Colorado public health expert Glen] Mays thinks of Vail, Aspen, Gunnison and other resort towns as "special nodes" that serve as a bridge between Colorado's local communities and far-flung populations around the country and the world.

Often that's a good thing — but not in a pandemic.

By mixing so many people from different places together — on the mountain, yes, but more importantly in packed restaurants, bars and other gathering places — the towns pose an outsized risk, said Mays, who chairs the Colorado School of Public Health's Department of Health Systems, Management and Policy. He also directs a program that produces the National Health Security Preparedness Index.
The consequences of not closing sooner have been enormous. The Wall Street Journal ($) documents the devastating fallout after the National Brotherhood of Skiers' annual meeting landed in Sun Valley just as COVID-19 made its silent descent on the community.
Elsewhere
Vail quietly announced the replacement of Mount Snow GM Erik Barnes with Mount Sunapee GM Tracy Bartels last week. The company will announce a new GM for Sunapee "shortly."
Ski magazine's annual reader resort survey is open. Dear God please people who have skied at more than one mountain fill this in so that I don't have to write another essay like this one comparing last year's ranking of Seven Springs over Stowe to our inevitable downfall as a species in the coming Age of Robots.
If a magnitude 6.5 Idaho earthquake shaking the Sawtooths into a vast avalanche zone at the end of the same month that all the state's ski areas abruptly shuttered to end the winter sounds like an are-you-freaking-kidding-me-with-this-bullshit end-times plot point, well it does feel that way.
Enjoy this dispatch from ancient times – Freeskier's ski test montage from the first week of March in Aspen – because why the hell not:
Then go stream five Matchstick classics.
This week in not skiing
Some days after work if the weather is pleasant I go for a run. Parked outside my door as it has been for a week is a yellow cab, one of 13,000 in the city, vehicles made to move, to never stop moving, passed from one shift to the next by part-owners who pooled their life savings for the medallion and its right to pick up strangers off the street. But there are no strangers to pick up and so this Toyota like the city itself sits dormant.
Adjacent to my apartment is a vast industrial district of warehouses and parking lots and small-batch factories. There are no people walking around there ever but now there is no traffic either, the heavy trucks that typically hammer up the streets in their burly charge like some kind of mighty wheeled furnace bunched in silent parallel all along the vacant streets.
The path I follow runs beneath the Kosciuszko Bridge, a newly christened symbol of economically combustible New York that is despite its newness choked at all times with traffic. But there is no traffic anymore because there is nowhere to go and nothing to do and no stores open to sell any of the things that would normally be taken to them in the trucks that would be clogging the BQE as this highway is colloquially known and those trucks all sit idle in parking lots. The few vehicles on the bridge now flow like ships on open water and if you're that driver in that moment who knows that bridge you're happy about that but also disturbed because this is not normal and it is not good.
The city cancelled street cleaning weeks ago and no one appears to be enforcing sidewalk cleaning either and now the gutters and the streets are a tornado's indiscriminate aftermath of dirtied and discarded masks and rubber gloves and wet wipes, the detritus of a pandemic unfolding in surreal real time.
When I am not running the only other time I leave the house is to pick up the babysitter in the morning and to drop her off in the afternoon. She is sequestered with only her mom and her sister and none of them are going out either and so our circle is kept small. On the drive 90 percent of the pedestrians are wearing masks like extras in some kind of steampunk dystopian far-future world of pollution and disease that we cannot imagine but are still somehow living in.
The ambulances wail through Brooklyn as they do throughout the city and the helicopters clatter overhead more frequently than usual but other than that it is silent and that is its own sort of trauma. I have lived in New York City for 18 years and this is not any version of the city I have ever known. In the newspapers I read scenes from the hospitals and it's like reading about Civil War field hospitals in that the whole thing seems so improbable and horrifying and ever-escalating into some foggy hell world of frantic death, a city with noplace even to store its dead, the bodies multiplying and the morgues overflowing and talk of burying them in parks.
And yet my wife and I, lucky to be still among the employed, sit at our kitchen table and work a shift that's probably longer than what we typically would and we eat every meal together for probably the first non-vacation time since we met seven years ago. All day our son plays downstairs with the sitter and in the evenings we take him in the yard and he runs around and plays hide-and-seek only he's 3 and doesn't really understand it so he just crouches on the ground facing the fence or the grill with his eyes closed as though that makes him invisible. And so our job right now is to keep him safe and to keep my daughter safe and to keep ourselves out of the way and hope that one day the city and the nation will emerge from this.
---
The Storm Skiing Podcast is on iTunes, Google Podcasts, Stitcher, TuneIn, and Pocket Casts. The Storm Skiing Journal publishes podcasts and other editorial content throughout the ski season. To receive new posts as soon as they are published, sign up for The Storm Skiing Journal Newsletter at skiing.substack.com. Follow The Storm Skiing Journal on Facebook and Twitter.
COVID-19 & Skiing Podcasts: Author and Industry Veteran Chris Diamond | Boyne Resorts CEO Stephen Kircher | Magic Mountain President Geoff Hatheway | NSAA CEO Kelly Pawlak | Berkshire East/Catamount Owner & Goggles for Docs Founder Jon Schaefer
The Storm Skiing Podcasts: Killington & Pico GM Mike Solimano | Plattekill owners Danielle and Laszlo Vajtay | New England Lost Ski Areas Project Founder Jeremy Davis | Magic Mountain President Geoff Hatheway | Lift Blog Founder Peter Landsman | Boyne Resorts CEO Stephen Kircher | Burke Mountain GM Kevin Mack | Liftopia CEO Evan Reece | Berkshire East & Catamount Owner & GM Jon Schaefer| Vermont Ski + Ride and Vermont Sports Co-Publisher & Editor Lisa Lynn| Sugarbush President & COO Win Smith| Loon President & GM Jay Scambio| Sunday River President & GM Dana Bullen| Big Snow & Mountain Creek VP of Sales & Marketing Hugh Reynolds |