Long-Declining Holiday Mountain, NY to Restore Lost Terrain, Upgrade Lifts Under New Owner
"We're gonna make this a really fun place to ski, and we're gonna cut new trails in, and we're gonna reopen all the old stuff" - New Holiday Mountain owner Mike Taylor
The Storm Skiing Journal and Podcast is a reader-supported publication. To receive new posts and support my work, please consider becoming a free or paid subscriber.
Shut out of Vermont, avoiding air travel, I spent the Covid winter exploring New York's scattered ski centers: Toggenburg, Song, Labrador, Four Seasons, Swain, Hunt Hollow, Royal, Maple Ski Ridge, Willard, Victor Constant, Oak, Dynamite Hill, Newcomb, Titus, West, Plattekill, Snow Ridge, Mt. Peter. Long hauls in a minivan down endless snow-caked backroads. Slide many of these 500-plus-footers 600 miles west into Michigan and they would be major ski centers, destinations rivaling Boyne. But in New York they're community bumps, cloaked but mostly thriving. Doing what can be done to fend off ORDA, Vail, Windham. Most family-owned, not a high-speed lift among them. Cheap tickets, no lines. The calm I sought in a world coming apart.
The common thread among these vastly different ski areas was an orderliness, improvised as it was. Most had shifted to an online ticket-purchasing system in response to the previous year's sudden Covid shutdowns. All had found a way to keep their entire terrain footprints open. This was a marvelous winter, without a refreeze from MLK weekend until after Presidents' Day. The reprieve we all needed, the skiing excellent, everywhere.
And then there was Holiday Mountain, a little-known 400-footer 100-ish miles from my home in Brooklyn. The website offered no online purchase option, directing skiers to call in advance to reserve a ticket. A call to the ski area ended at a recording that lectured the caller not to leave a message, and to instead phone during business hours, which did not include non-holiday Mondays, Tuesdays, or Wednesdays. When I finally reached an irritated clerk, she sighed, assured me she had my name, and hung up without further instruction. When I arrived an hour later, the girl at the ticket counter handed me a lift ticket without referencing any sort of list.
Then there was the skiing, which I documented in a newsletter shortly after my visit in February 2021:
A boomer snowstorm was hammering across the landscape to the south [from Plattekill, where I'd skied the morning], and I drove an hour down to Holiday Mountain, a ramshackle operation that feels on the edge of insolvency, its triple chair creaking up the main rise above the lodge. Near the resort's entrance, through a sort of fun park gate that feels cut-and-pasted from a Simpsons episode, a crippled double rises above a long-abandoned pod that once crawled with surface lifts. Past this another double, still active on the trailmap but idled due to Covid, stands over more dormant trails. It was snowing heavily though and it's a beautiful little hill, its three remaining active trails plunging through long rows of evergreens and more narrow paths secretly cut off the summit and linking the active ski pod with its deactivated neighbors. I think I was the only person over the age of 14 skiing there and despite the rinkydink collapsing hokiness of it I had a nice time and then drove home through the snowstorm.
I left convinced that Holiday Mountain would be New York's next lost ski area. The baseline competence ordering most of the state's independent mountains was entirely absent here. If installing snowmaking had been the dominant factor determining which ski areas had survived the '80s and '90s, then establishing an online presence, grounded in consistent on-the-ground operations, would determine which ones would survive the 2020s. Not only was purchasing or reserving a lift ticket online almost impossible, but Holiday Mountain was nearly invisible on social media, making exactly one Facebook post between March 8, 2020 and Oct. 21, 2021. There was no way this place could compete against the substantial Catskills ski centers to the north and the frenetic, ever-improving Poconos mountains to the south.
Nothing seemed to improve over the next two seasons. The ski area opened late, closed early. It was never entirely clear whether they were open at all. The double chair never re-activated for skiing. As indies like Plattekill and Titus and West seemed to thrive in the Covid-driven outdoor boom, Holiday languished.
Then, earlier this month, a shift in tone. A bold and lively Instagram post interrupting the mountain's anodyne stream of go-cart videos and generic snowgun photos. "The Holiday team was cleaning out the old snowcat maintenance shop today, found this wall map hidden away," it read. "Who'd like to see all these trails back open?"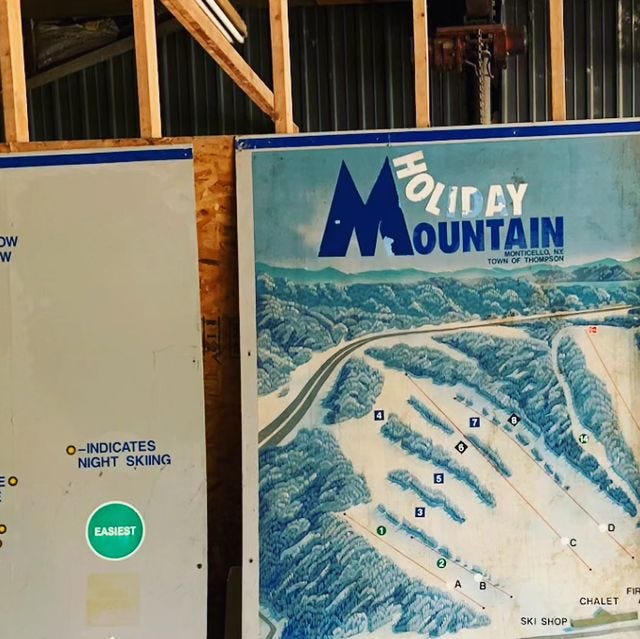 Holiday Mountain on Instagram: "The Holiday team was cleaning out the old snowcat maintenance shop today, found this wall map hidden away. Who'd like to see all these trails back open? If you could name a trail - what would you call it? Best answer gets a Holiday Mountain t-shirt!
#skiholiday
#skiholidaymountain
#holidaymountain
#skithecatskills
#iskiNY
"
Mike Taylor had arrived. And he was there to save Holiday Mountain.
Below the paid subscriber jump: who is Mike Taylor, and what is Holiday Mountain? Plus: why New York is such a tough state to run a ski area, details on Taylor's plans to restore lost runs and replace lifts, and more.
This post is for paid subscribers