Discover more from The Storm Skiing Journal and Podcast
Everyone's searching for skiing's soul. I'm trying to find its brains.
Over 13,000 subscribers
Indy Pass Solidifies Second-Year Coalition as It Breaks Into Wyoming, Loses Mt. Abram
The upstart pass enters its second season with two days each at 55 ski areas for $199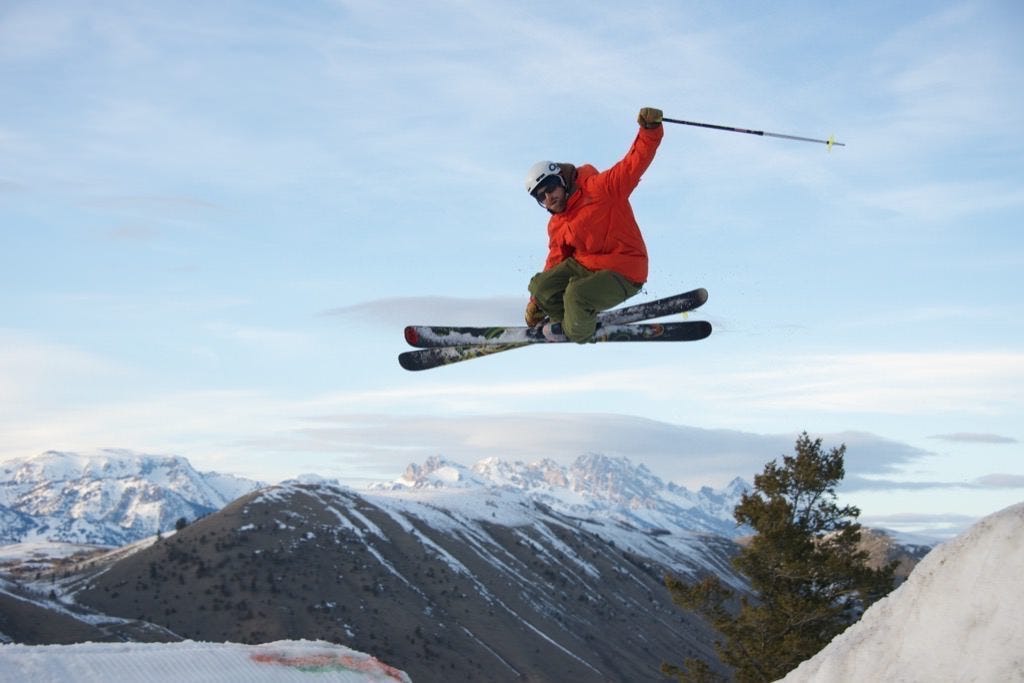 Airing it out at Snow King, Wyoming. Photo courtesy of Indy Pass.
The Indy Pass today officially added four new ski areas, including the venerable Snow King, Wyoming, to bring its number of new partners for the season to 11 and its total to 55. The other three additions are White Pine, Wyoming; Buck Hill, Minnesota; and Winterplace, West Virginia. The Indy Pass, which goes on sale today, gives skiers two days at each partner ski area for $199.
After announcing the addition of new Northeastern crown jewel Cannon in May, Indy unfortunately parted ways with Maine's Mt. Abram after just one season. The pass' offerings in the region remain strong, however.
With a roster of 55 partner areas, the Indy Pass has become a must-buy ski pass for anyone in the Northeast, the Upper Midwest, and the Pacific Northwest and Northern Rockies. That continued strength in just its second year, headed into a ski season that is likely to be defined by Covid-induced capacity restrictions, reinforces the strength of the Indy Pass as a coalition-building tool that can help independent ski areas build the marketing firepower and multi-mountain access necessary to confront the competition of cheap and ubiquitous Epic and Ikon passes.
Here's a breakdown of what Indy Pass' latest announcement means for skiers:
Northeast remains a point of strength despite the loss of Mt. Abram

Black Mountain, New Hampshire. Photo courtesy of Indy Pass.
With Mt. Abram out, Indy Pass loses a presence in the vital ski state of Maine. That this 1,150-vertical-foot ski area sits right down the road from high-dollar Sunday River helped Indy continue a narrative of partnering with punchy little indies near megabuilt resorts and their titanic crowds (Bolton Valley/Stowe; Magic/Stratton; Berkshire East/Jiminy Peak; etc.).
No matter. The Indy Pass remains an automatic buy for meandering skiers in the Northeast, especially with the May addition of Cannon. If you have kids, the Mohawk-Catamount-Shawnee (Pennsylvania) triplex is about as perfect a family-friendly trio as you can find. Berkshire East is probably the most under-appreciated ski area in the Northeast. Magic and Bolton Valley offer slightly miniaturized versions of the radness you expect from Vermont skiing. Greek Peak sits in snowy Western New York and has a sprawling and interesting trail network. And so on. Get the pass and go exploring.
Hello Jackson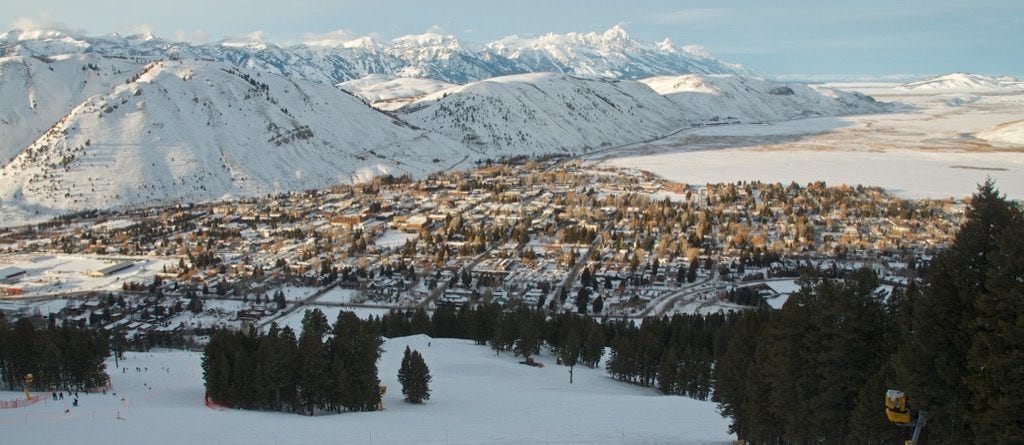 The town of Jackson, as seen from the slopes of Snow King. Photo courtesy of Indy Pass.
You know how if you could airlift Pico like anywhere else in the Northeast other that right next to freaking Killington it would be considered a really terrific ski area instead of The Beast's exiled seventh dwarf?
Snow King is kind of like that, only instead of sitting right beside the largest ski area in the East, it's sitting right beside the greatest ski area in America. It's fine. Jackson Hole embarrasses everyone. But Snow King is still a damn fine ski area. From my favorite ski area-description site, skibum.org:
Mid-sized area, smaller neighbor to Jackson Hole. Looks downright dinky by comparison; would be quite respectable almost anywhere else on earth. As it is, it just might be overall one of the steepest ski areas going. Any Jackson Hole skier should spend a day at Snow King…short lines, cheap prices, walk in from town and jump on a lift that quickly takes you to some downright hairy drops. Fun, excellent ski area. Like its big brother, Snow King has all sorts of hidden trails, unofficial routes, little cut-offs…ideal for the wanderer. Upper Exhibition is one of the ultimate hotshot trails, but they're all over at Jackson. Even has a couple of hike-to chutes. Sounds scary, but Mom and Dad can also spend a few hours with Junior in the Rafferty chair area, where beginners and emerging blues earn their chops.
If you have an Ikon Pass and you're planning a trip out to Jackson Hole, there's little reason not to detour to Snow King for a day, especially a weekend day. The mountain is right in town, so if you're staying in Jackson, it can save you the morning shuttle ride and spare you the crowds.
Indy's other Wyoming addition is the snowy and remote White Pine, which I don't know much about. It looks fun, though, with an 1,100-foot vertical drop and 250 annual inches of snow.
Indy remains the pass to buy in the Midwest, Pacific Northwest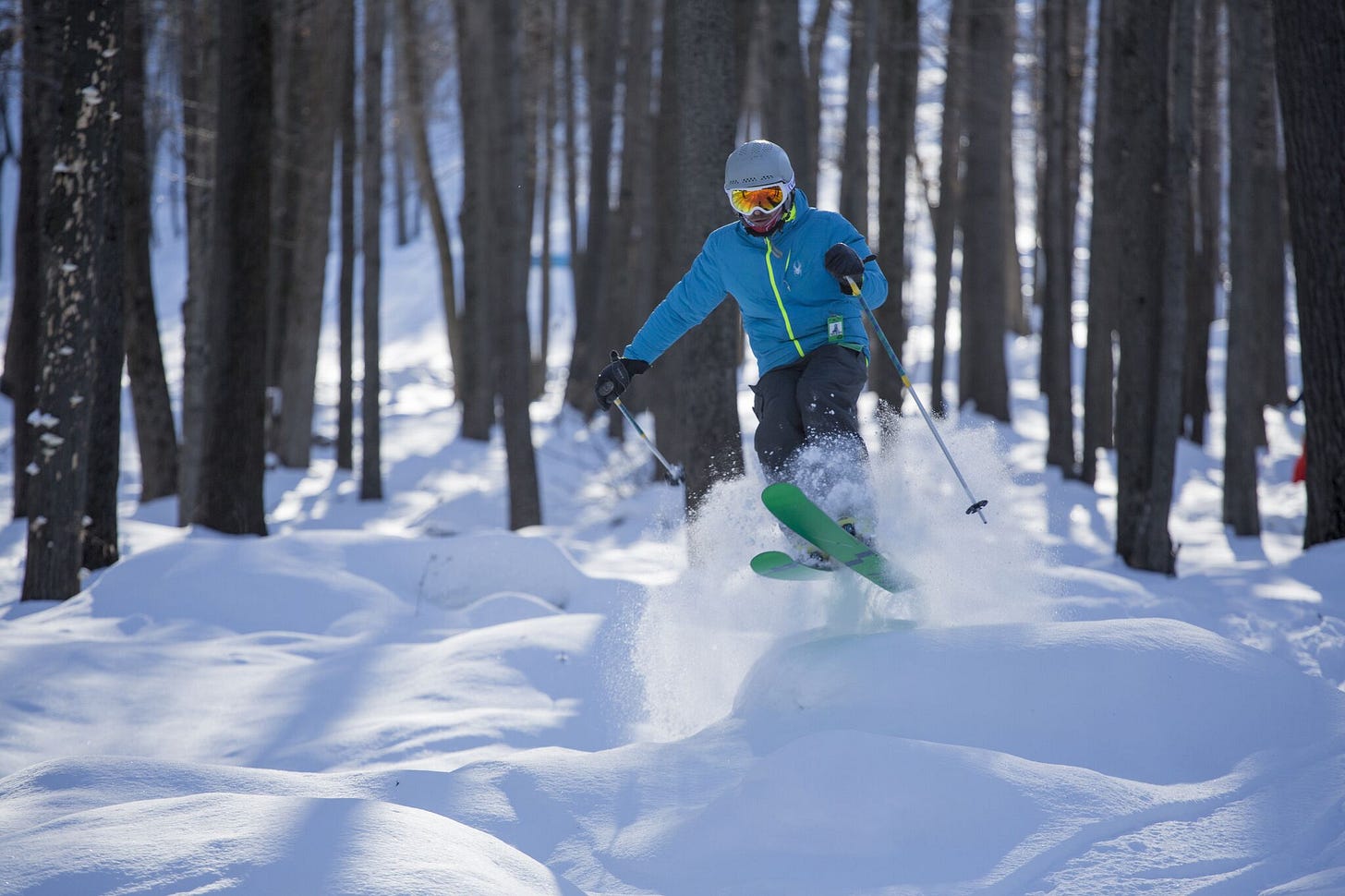 Granite Peak, Wisconsin. Photo courtesy of Indy Pass.
If you ski the Upper Midwest, the Indy Pass is the biggest no-brainer since beer. Epic does have plenty of Midwest mountains, but they are all forgettable feeder hills useful mostly for park laps and learning, so the pass is really only a must-have for those planning a destination trip West or East (yes, the Northeast is considered a destination for Midwesterners). Ikon has the two sprawling and well-run Boyne mountains, but these are difficult to access if you don't live in Michigan. Indy, on the other hand, has locked in partnerships with the best mountain in Wisconsin (Granite Peak), the two best in Minnesota (Lutsen and Spirit), and three of the six largest ski areas in Michigan's Lower Peninsula (Caberfae, Shanty Creek, Crystal). This is just a sampling of the ski areas in the region - you can read my full breakdown of Indy's Midwest strength here.
I broke down Indy's offerings in the Pacific Northwest and the Upper Rockies in that same post, and I won't rehash it all here. What I will say is imagine a snow-choked Narnian landscape of empty-ish ski areas so huge they could eat Stowe for breakfast, and you can maybe sort of start to get a sense of what skiing in the region outside of the big, famous destinations is like. Many of these – Brundage, Silver, Mission Ridge, and 49 Degrees North – are Indy Pass partners. If a socially distanced winter is you're thing and you're worried about getting shut out of the Sun Valleys and Big Skys of the world, this is your pass for a powder-bombed winter roadtrip. The addition of the Wyoming mountains – especially Snow King – helps seal this, even if they are a bit out of the way.  
Yeah Covid ruined everything, but what does that mean for the Indy Pass?
The two great questions of this skiing offseason have been how to approach season passes and how to approach operations in a world of mandated social distancing. The first has been largely answered, at least in the Northeast, with 59 ski areas – including all of the big ones other than Bretton Woods – outlining some sort of refund or deferral policy. While it is not a ski area operator, Indy did articulate a very simple pass credit policy back in May: ski zero days, get an 80 percent credit toward a 2021-22 pass; ski one day, get 60 percent; two days, 40 percent; three days, 20 percent. It doesn't matter if your days are curtailed because Covid karate kicked the season again or a comet rended the planet in two or you stuck your hand in a snowblower on Thanksgiving weekend – the credit is reason-agnostic. It's also kind of a hey-just-buy-this-again-you'll-do-better-next-year loyalty program for lazy people, and I'm OK with that.
As to the second question, Indy Pass really has no control because, again, they don't own or operate any mountains. Recreational skiing is going to be weird this year, at least at first, with Vail dropping a mandatory universal reservation system last week, even for Epic Pass holders. Expect pretty much anyone with the resources to do so to follow. While many of Indy's partners do not have the resources to do so, some do, and Vermont's Magic Mountain was the first ski area in the region to commit to developing a reservation system that favored season passholders.
While nearly every mountain will have a slightly different operational approach, they seem disinclined so far to limit Indy Pass use. Of Indy's 55 partners, only four – Granite Peak, Lutsen Mountains, Mission Ridge, and Silver Mountain – plan to have holiday or peak weekend blackout dates (skiers can buy up to a $299 Indy+ Pass to avoid these). This is, frankly, surprising, as controlling capacity, particularly during peak periods, seems to be the top operational challenge for this coming season. Remember, though, that this is not the million-plus-seller Epic Pass – the whole operation only accounted for just under 9,000 skier visits last year, which is probably about half of a Saturday on Vail Mountain.
While the pass is likely to grow substantially in popularity as word spreads and reservation systems at larger mountains organically send skiers in search of open terrain, the two-day limit will more or less ensure that Indy Pass holders never overwhelm Cannon or Magic in the same way Ikon Pass holders bombarded Aspen or Jackson to the point they fled the Base Pass. Indy Pass Founder Doug Fish said as much on The Storm Skiing Podcast in May, telling me that the two-day limit was likely to stick around as a safeguard against cannibalization of season passes.
A payment plan, group discounts, and some other cool stuff
If you can't break off the full $199 right away, Indy is offering a four-part payment plan until Sept. 15. If you're some kind of club or team, you get one pass free if you buy 10. A kids Pass is $99, and if you're a season passholder at any Indy mountain, you can tack on a full Indy Pass for $129 ($69 for kids).
Access details for the no-limits, $299 Indy+ Pass are a bit nuanced, so read them carefully before buying. The blackouts are extensive, and include not only the expected Christmas-to-New-Year's period and the MLK and Presidents' Day long weekends, but additional weekends in January and February. That still leaves plenty of calendar to knock your two days off, especially if you live anywhere in the vicinity of the blacked-out mountains. As outlined above, only four ski areas have instituted blackouts, and none of them are in the Northeast, so there is really very little reason to upgrade to an Indy+ Pass outside of very organized people with very specific plans to ski a very specific blacked-out mountain on a very specific day.
When you've bought you're pass and are ready to start daydreaming about where it can take you, plug your roadie into this rad little interactive Google Map that Indy dropped onto their site. If you're not van-lifeing it, Indy has set up a lodging discounts section that will feature, "independently owned lodging properties that are operated by partner resorts or their affiliates in nearby ski towns."
What's next for Indy?
Fish told me on the podcast that his ambition is to add at least a couple dozen more ski areas to the pass over the next several years. Expect some churn as partnerships come and go, but the overall trajectory is pointing toward growth, especially given that fear of Covid capacity restrictions didn't shrink the current roster.
Nationally, the growth areas are obvious, with big holes in Colorado and around Lake Tahoe, both skiing epicenters rippling with ski areas of all sizes. We went over all this in the podcast, and it's worth a listen if you're curious about why certain ski areas haven't been added or where the pass is targeting growth.
There is no shortage of prime candidates in the East, either. Here's my rough wish list:
Pennsylvania: Montage, Blue Mountain, Camelback (unlikely)

New York: Plattekill, ORDA (Belleayre, Gore, Whiteface)

Connecticut: Ski Sunrise

Massachusetts: Jiminy Peak, Wachusett, Butternut

Vermont: Bromley, Mad River Glen, Smugglers' Notch, Burke, Jay Peak

New Hampshire: Bretton Woods, Waterville Valley, Ragged, Gunstock, Cranmore

Maine: Saddleback, Shawnee, Mt. Abram
If I had to pick five, it would be Plattekill, ORDA, MRG, Jay, and Saddleback. That's coming from an NYC day-tripper's point-of-view and a love of the big northern mountains.
Fish has said that density can work against the pass, as it sometimes discourages competing ski areas from joining. From a skier's point of view, density drives sales, and the steady accumulation of Northeast partners last year finally drove me to buy the pass, with the addition of Magic being the clincher.
This is what the future of multi-mountain coalitions looks like
As Vail, Alterra, Boyne, and Powdr have taken control of many of the Northeast's largest mountains and flooded the region with cheap passes, the remaining independents have been faced with an existential dilemma as serious as diminishing snowpacks. The expensive single-mountain season pass model that they existed on for so long is obsolete. Most of them are not large enough to interest one of the big companies as an acquisition, and outside of the Schaefers of Berkshire East, they are not in a position to be buying one another.
The Indy Pass sprang out of the West to offer a viable alternative: band together in a partnership that provides that coveted multi-mountain access and delivers the marketing heft of a megapass. Unlike reciprocal partnerships such as the Freedom Pass or the Powder Alliance that guarantee comp tickets to passholders from other mountains, Indy pays its partners for each visit. The pass' super-cheap ($129) add-on price also acts as a powerful sales incentive for independent mountains. It is a win-win for skiers and ski areas, and it's a model that make so much sense that the emergence in the near future of a competitor would not surprise me at all.
COVID-19 & Skiing Podcasts: Author and Industry Veteran Chris Diamond | Boyne Resorts CEO Stephen Kircher | Magic Mountain President Geoff Hatheway | NSAA CEO Kelly Pawlak| Berkshire East/Catamount Owner & Goggles for Docs founder Jon Schaefer | Shaggy's Copper Country Skis Cofounder Jeff Thompson | Doppelmayr USA President Katharina Schmitz | Mt. Baldy GM Robby Ellingson| Alterra CEO Rusty Gregory | NSAA Director of Risk & Regulatory Affairs Dave Byrd
The Storm Skiing Podcasts: Killington & Pico GM Mike Solimano | Plattekill owners Danielle and Laszlo Vajtay | New England Lost Ski Areas Project Founder Jeremy Davis | Magic Mountain President Geoff Hatheway | Lift Blog Founder Peter Landsman | Boyne Resorts CEO Stephen Kircher | Burke Mountain GM Kevin Mack | Liftopia CEO Evan Reece | Berkshire East & Catamount Owner & GM Jon Schaefer| Vermont Ski + Ride and Vermont Sports Co-Publisher & Editor Lisa Lynn| Sugarbush President & COO Win Smith| Loon President & GM Jay Scambio| Sunday River President & GM Dana Bullen| Big Snow & Mountain Creek VP of Sales & Marketing Hugh Reynolds | Mad River Glen GM Matt Lillard| Indy Pass Founder Doug Fish | National Brotherhood of Skiers President Henri Rivers | Winter 4 Kids & National Winter Activity Center President & CEO Schone Malliet | Vail Veterans Program Founder & President Cheryl Jensen | Mountain Gazette Owner and Editor Mike Rogge