Discover more from The Storm Skiing Journal and Podcast
Everyone's searching for skiing's soul. I'm trying to find its brains.
Over 13,000 subscribers
It's in Jersey, first of all, that crease of bland sprawling chainstrips and shipyards and chemical industry tucked between ever-beating Manhattan and the vast treed infinity to the west, the East Coast's version of flyover country, a noplace you must drive through on your way from New York City to anywhere south or west. To the extent that anyone outside of Jersey likely thinks of Jersey at all, it is through the prism of the dominant cultural caricatures of the place, the Mafioso or the commuting investment bankers or the shirtless boardwalk bros, slick-haired and brawling and fatuously self-assured. While proximity for me long ago erased those stereotypes, I've viewed Jersey mostly as source of cheap beer and a driving irritant, realm of impossible-to-turn-from divided highways and of drivers indifferent to all speed limits and traffic laws. There is a small-town Jersey and a scenic country Jersey and a beachy Jersey, but this is not the Jersey of the popular imagination, and so that works against anything within it from the start.
But there, on the state's northern perch, sits Mountain Creek, very much preoccupied, like Jersey itself, with not giving a shit what you think about it. If you have skied the Northeast at all, you likely have an opinion of this mountain. That opinion is likely negative. And some combination of the reasons below probably explains why.
To ski Mountain Creek is to enter a free-fall zone of bus-tripping novices careening wildly through and directly into one another. Outfitted in an excess of jeans and rental gear, girls in puffy parkas with faux fur-trimmed hoods snowplow along while dudes with wide-open Jets jackets tremble bent and wide-limbed, straightlining toward a snow gun. The riders that are not terrible are aloof, cool kids too rad to ride the lift with you, park rats rocking backpack speakers and filming one another spinning and soaring off the hits on South Peak.
The mountain itself is quirky and idiosyncratic, four peaks stitched together with meandering traverses cut across the fall line, its forests littered with enormous boulders that look placed by some set designer prepping for a Flintstones reboot. There is no true novice terrain and no real expert terrain either, the whole of it designed, it seems, to do nothing so effective as funnel awful skiers into very-broad-but-not-broad-enough supersnowhighways of menace and collision. It is almost entirely lacking that essential ingredient of ski resort operation – snow, the forty-some inches the area claimed last season perhaps accurate but entirely irrelevant, since the vast majority of it disintegrated in the rain inevitably wrung from the tail end of its own storm system.
And then there is the Cabriolet, possibly the oddest lift in the East, a conveyor line of hanging buckets inside of which you stand with strangers who do not talk to you as you ride to the top of Vernon Peak. At Stratton, its original destination before an Intrawest reroute, this lift would perhaps have seemed like an interesting novelty. At Mountain Creek, an experienced skier visiting the place for the first time just looks up and says, "of course."
The challenges begin long before you even enter the lodge, however, as the parking lots will either give your car the automotive equivalent of a root canal or require a foot trek long enough, when beladen with ski gear, to qualify as a Tough Mudder event.
As for my personal preferred menu of ski terrain, Mountain Creek offers very little. I like moguls (it rarely has moguls), glades (prior to this week it had no marked glades, and there has not been enough snow here to cover the tree-bound boulder gardens dotting the rest of the mountain since the Pleistocene), or at least fresh snow (see above). I dislike crowds and ice (it has no shortage of either).
And yet, I love this little mountain in all its unapologetic brashness. This confession elicits reactions, from puzzlement to outright disbelief to scorn, from my confederates at peaks north. And sometimes, to be honest, from me. But I have reasons.
First, it is close. From my Brooklyn apartment, I can be booting up in an hour and 15 minutes on a weekend morning. It is a bargain. My no-blackout pass for the 2019-20 season was $230. It is deceptively large, stretching two miles from Vernon to Bear Peaks along New Jersey state highway 94. Its just over thousand-foot vertical drop means the runs feel substantial. It has night skiing, making it possible to start my day at my Midtown Manhattan desk job and finish it hooking forty-mile-an-hour turns down a frozen mountainside. The place is quite beautiful. Really. A panorama of rolling hills and farmland stretches northwest off the summit. The snowmaking system is excellent. They opened on November 16 this year and closed on April 7 last season, a by-any-measure horrible winter with too many thaws and wave after wave of base-destroying rain. And, if you know the time and place to go, Mountain Creek can be a hell of a lot of fun, thanks to the grown-up chutes-and-ladders terrain of South Peak, an endless tiered sequence of launchpads, rollers and rails (OK, I don't ski rails), that will send you caroming down the mountain like an amped-up teenager (I am more than twice as old as any teenager).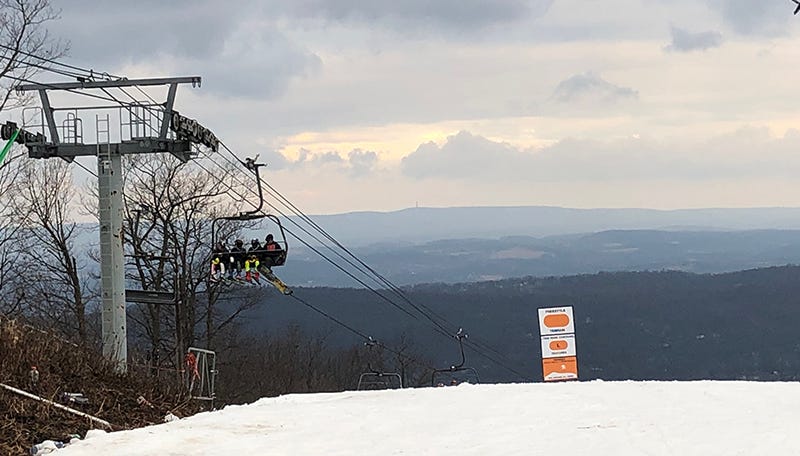 There are worse views than this one from the top of Mountain Creek's South Peak.
If you still are not impressed, I understand. The mountain is loved by those who love it not because it is great, but because it is necessary. I need this mountain to exist in my backyard-across-the-Hudson. And guess what? East Coast skiing needs it too. Seriously. Picture Northeast skiing, the whole rowdy sweep of it, from the Poconos beehives up through the Catskills and Adirondacks and all of New England, every town rope tow and megapass crown jewel. Now subtract Mountain Creek. It doesn't work. Like the forest food chain crippled by the extinction of some humble insect, the East Coast ski assembly line buckles without Mountain Creek. It would not be an extinction event, but it would matter. Those twentysomething bus skiers jumbled among yardsaled poles and skis are the same people booking slopeside condos for their family of five at Killington in 2027. As the closest ski area to New York City, the place acts as an initial transfer point from the chronic societal disease of hating winter to the crucial-to-our-pastime attitude of embracing it.
And, admit it or not, metropolitan New York is one of the key economic engines of this whole icy enterprise, spreading the world's pilfered lucre up the Appalachian spine and around New England. It's hard to say exactly how many mountains the Northeast could sustain without that very real pipeline of New York City cash pumping north – and yes I hear your "Oh-gee-what-would-we-do-with-no-more-New-Yorkers" sarcasm caroming about the internets – but the region's skiing would not be as built up, varied, vibrant, modern and competitive as it is without that raw input of money, energy and attitude from the 20 million-strong metropolitan region. And for a lot of those New York-area skiers, the passion that sparks that economic send-up starts at Mountain Creek.
Still. I know what Mountain Creek is. I would not go there on purpose. I would not ski there past noon on a Saturday. The East Coast rule of never-drive-south-to-ski emphatically applies here. This is not the place for your hotshot gear or high expectations. It is the place I go when I can't get to Vermont, when I can't spare a full weekend day to tag Belleayre or Plattekill, when I need a weeknight fix of arcing adrenaline, when the three or even two hours of skiing that I can sneak in there beats the zero hours of skiing I would be doing if Mountain Creek didn't exist.
An example: on a Saturday last March, I awaken at five a.m. to the sound of snowplows echoing down my Brooklyn street. Rain had been forecast, but here is four inches of snow piled atop the hedgerows. Twenty minutes later, I am headed north, alternately dislodged from space-time on empty snow-choked roads boring through the blackness and stalled in a surreal pre-dawn traffic jam behind a phalanx of snowplows. Typical what-the-fuck Jersey. I arrive at South Peak at 7:40. With snow still pumping like white confetti in the dawn I boot up in the lodge and head outside and stand in a cluster of skiers where the mountain's two high-speed quads converge at the base of Bear and South Peaks.
Eight a.m. comes and goes and the South Peak Express – their alpha lift – sits unmoving. A liftie walks over bearing the dreaded news: icing. Apologies. When will it open? No one knows. Grumbling. An air of mutiny. From the crowd, the observation that, "there's significant avalanche danger up in those passes." To be silent would be unnatural. This is Jersey. All week we sit on stalled trains and in traffic, yo-yoing around this enormous traffic-clogged clusterfuck of a region. Today, we ski. We will complain until we complain that fact into existence. Our version of tourists – day skiers – are warming up their Subarus as we speak. Only season passholders are permitted on the lifts before nine, and we must exercise that privilege on this rarest of things – a Mountain Creek powder day. For half an hour we stand shuffling and griping with snow piling up on our jackets and the crowd swelling behind us. The teenage lifties stand helpless, holding their handheld ticket scanners. I am silent but antsy. I do not have a full day to ski. Finally, at 8:40, the Bear Peak Express rumbles to life. We pile whooping and quick stepping through the gate like they'd just parted the doors on the Jackson Hole tram. I make the third or fourth chair, ascending in chunks of fluffy dumping snow and descending in four inches of heavy untouched powder. I hammer through a dozen runs, bouncing through the still-falling snow, launching ramps with fearless joy. At 11 I leave. At 12:30, I am home, making snowmen in our backyard with my 2-year-old son. Because of Mountain Creek, I didn't miss the powder day, and I didn't miss anything else either.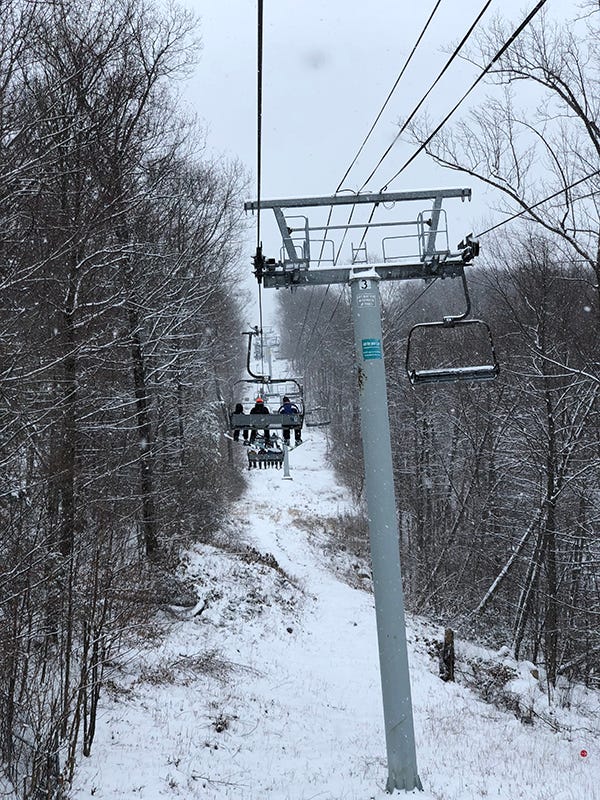 This is about as close as we got to a powder day at Mountain Creek last season, but trust me, we were all ecstatic.
Cute, right? Go ahead and scoff. You won't hurt our feelings. Mountain Creek may have the most self-aware skiers in the Northeast. No season passholder over the age of 12 is under the delusion that this is a real ski resort. This is not the Poconos, where you get the feeling that they don't know any better. This is Jersey, where everyone exists in the gravitational pull of the city that constantly reminds you there is always something or someone bigger, better, richer. But screw you, it is ours. If Vail was in our backyards, we would ski Vail. But it isn't. So screw Vail. Here is a ski hill. Let's go ski.
---
The Storm Skiing Podcast is on iTunes, Google Podcasts, Stitcher, TuneIn, and Pocket Casts. The Storm Skiing Journal publishes podcasts and other editorial content throughout the ski season. To receive new posts as soon as they are published, sign up for The Storm Skiing Journal Newsletter at skiing.substack.com. Follow The Storm Skiing Journal on Facebook and Twitter.
Check out previous podcasts: Killington GM Mike Solimano | Plattekill owners Danielle and Laszlo Vajtay | New England Lost Ski Areas Project Founder Jeremy Davis | Magic Mountain President Geoff Hatheway | Lift Blog Founder Peter Landsman | Boyne Resorts CEO Stephen Kircher