Apr 19, 2020 • 35M
COVID-19 & Skiing Podcast #7: Doppelmayr USA President Katharina Schmitz – "We Are Used to Making Adjustments"
Everyone's searching for skiing's soul. I'm trying to find its brains.
Download this episode on iTunes, Google Podcasts, Stitcher,TuneIn, and Pocket Casts | Read the full overview at skiing.substack.com.
What this is: This is the seventh in a series of short conversations exploring the fallout to the ski industry from the COVID-19-forced closure of every ski area on the continent in March 2020. Click through to listen to the first six: author Chris Diamond, Boyne Resorts CEO Stephen Kircher, Magic Mountain President Geoff Hatheway, NSAA CEO Kelly Pawlak, Berkshire East/Catamount Owner & Goggles for Docs founder Jon Schaefer, and Shaggy's Copper Country Skis Cofounder Jeff Thompson.
Who: Katharina Schmitz, President of Doppelmayr USA
Why I interviewed her: Because if my spending is your income, then my budget cuts are your revenue cuts, and one of the most significant down-the-chain victims of the Great Ski Shutdown of 2020 is chairlift manufacturers. When a company like Vail says very bluntly that the immediate financial impact of the coronavirus-caused shutdown could be as much as $200 million, they have to make up some of that deficit somewhere. Often, the big-ticket items go first, and nothing in skiing is more big ticket than chairlifts. They are millions of dollars apiece, and they often aren't absolutely necessary. Thanks to decades of consistent investment, the chairlift infrastructure at most large U.S. resorts is in quite good condition. The Kancamagus Quad at Loon, for example, is only 25 years old, and GM Jay Scambio told me on The Storm Skiing Podcast that it was still in good enough shape that there was a high probability that it would replace the Seven Brothers triple chair when the resort tore the quad out to make room for a new eight-pack this offseason. So when Boyne suddenly lost up to $22 million in end-of-season revenue, the obvious choice was to delay installation of the very expensive (perhaps eight figures expensive, but Boyne won't say), new Kancamagus 8 and keep the perfectly good Kanc 4 running until it's feasible to move ahead with the project without interruption. More significant perhaps than short-term cost savings, a delay avoids the risk of tearing out a key old lift and not being able to replace it prior to winter in the event of another work stoppage. Loon would descend into gridlock without some version of the Kanc lift. So I wanted to see how lift manufacturers were managing this sudden slowdown. Aside from the business component here, chairlifts are a central part of the resort skier's experience, with lifts bound inextricably to the mountains we love and our conception of those places. While most of us couldn't name the manufacturer of our favorite lifts, we realize that these companies are essential, and how they weather this economic fallout matters.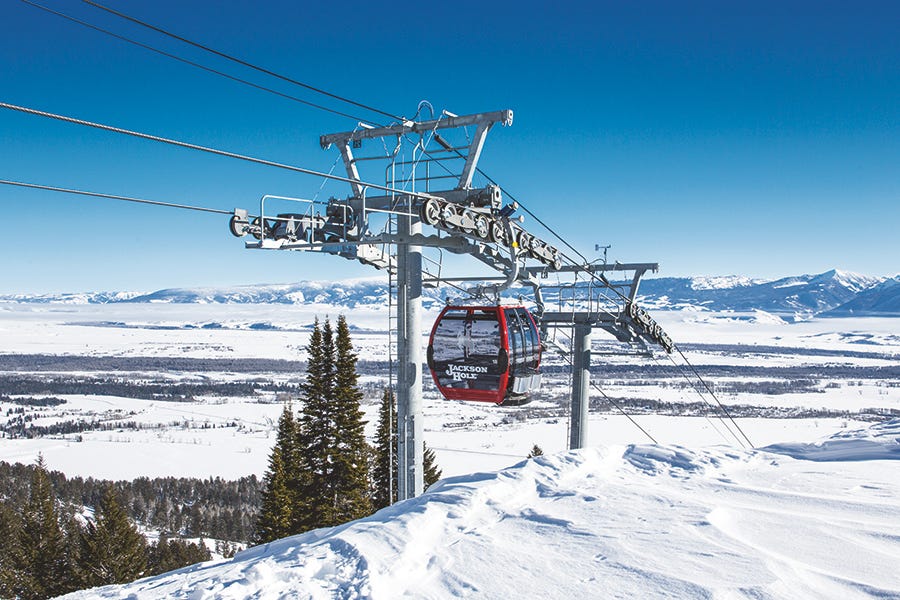 Doppelmayr installed Jackson Hole's Sweetwater Gondola in 2016.
What we talked about: What it's like to start a new job in the midst of a pandemic/business crisis; the slow realization of the scope of the shutdown and how it would trickle down to cuts in capital spending; how Doppelmayr USA coordinated with their colleagues in Europe to prepare as the crisis amped up over there; how the company worked with the big ski conglomerates to postpone projects in a deliberate and orderly fashion; how much it helps that there aren't that many lift companies and there aren't that many big ski companies and those relationships have been very tight for a very long time; since the number of lifts the company builds varies by year, a sudden slowdown isn't as much of a system shock as it could be for more steady-production business; how much manufacturing is proceeding during the shutdown; where they store the lifts that are already made but won't be on the mountain until 2021 at the earliest; what Doppelmayr makes in Utah and what their global supply chain looks like; supply chains are so far mostly intact; where the labor comes from for on-mountain installations; why the crews in Alaska are still at work on the Icy Point Straight gondola project; how the company is working with various states to proceed with on-the-ground work under their varying shelter-in-place orders; how the company is preparing to work under social distancing and enhanced sanitation rules; what happens contract-wise when a ski area postpones a lift; the status of postponed projects at Loon, Big Sky, and Beaver Creek; where Doppelmayr is storing the Loon 8-pack until they can install it; why the state-of-the-art D-Line lifts are still made in Austria; the status of non-cancelled projects at Sun Peaks, Sun Valley, and Timberline, Oregon; the status of installations at dormant Saddleback and Timberline Mountain, West Virginia; Yup Saddleback sure did pull down the old Rangeley Double with a snowcat; the long-term future of the lift industry; why she's optimistic that this crisis could stoke demand for lifts as urban transit
References:
In the intro, I refer to stats on the cost of chairlifts from New England Ski History. You can browse those here.
Here is Lift Blog's 2019 North American lift construction recap, as well as its databases of new lifts that are planned for 2020 and 2021.
Recorded on: April 17, 2020
---
The Storm Skiing Podcast is on iTunes, Google Podcasts, Stitcher, TuneIn, and Pocket Casts. The Storm Skiing Journal publishes podcasts and other editorial content throughout the ski season. To receive new posts as soon as they are published, sign up for The Storm Skiing Journal Newsletter at skiing.substack.com. Follow The Storm Skiing Journal on Facebook and Twitter.
COVID-19 & Skiing Podcasts: Author and Industry Veteran Chris Diamond | Boyne Resorts CEO Stephen Kircher | Magic Mountain President Geoff Hatheway | NSAA CEO Kelly Pawlak| Berkshire East/Catamount Owner & Goggles for Docs founder Jon Schaefer | Shaggy's Copper Country Skis Cofounder Jeff Thompson |
The Storm Skiing Podcasts: Killington & Pico GM Mike Solimano | Plattekill owners Danielle and Laszlo Vajtay | New England Lost Ski Areas Project Founder Jeremy Davis | Magic Mountain President Geoff Hatheway | Lift Blog Founder Peter Landsman | Boyne Resorts CEO Stephen Kircher | Burke Mountain GM Kevin Mack | Liftopia CEO Evan Reece | Berkshire East & Catamount Owner & GM Jon Schaefer | Vermont Ski + Ride and Vermont Sports Co-Publisher & Editor Lisa Lynn | Sugarbush President & COO Win Smith | Loon President & GM Jay Scambio | Sunday River President & GM Dana Bullen | Big Snow & Mountain Creek VP of Sales & Marketing Hugh Reynolds |