59 Ski Areas, 55 Days – the 24 Coolest Things I Saw During the 2022-23 Ski Season
High-speed ropetows, wind-resistant chairlifts, snow that could bury Manhattan, Narnia views, & so much more
The Storm Skiing Journal and Podcast is a reader-supported publication. To receive new posts and support my work, please consider becoming a free or paid subscriber.
My Pet Rectangle tells me that I skied 55 days during the 2022-23 ski season, at 59 ski areas in 16 U.S. American states and one Canadian province. I clocked 695,000 vertical feet in 962 runs, with a peak altitude of 11,152 feet and a top speed of 39.2 miles per hour (I am not a fast skier, my average speed for the season was 16.6 miles per hour).
I used the Slopes app to track all this. I missed one run, when I forgot to turn the app back on after driving from Mountain High West to Mountain High East. So that's 1,600 vertical feet that my Pet Rectangle is unaware of. I know a lot of you are opposed to tracking apps because Can't You Kids Just Enjoy Skiing or something but please just let me be App Tracker Bro. It's fun and I like the data and I like the map:
I've been using Slopes since 2018 - here's my aggregate scorecard:
You may wonder why I, a skier who can and does ski anywhere I want to, would deliberately travel from New York to the Midwest or the Mid-Atlantic to ski. It's because, as I see it, that's what you're paying me for – to explore the vastness of North American skiing and report back, to lay the current macro- and micro-trends in skiing against a more global context, and to accurately assess the ongoing evolution of ownership, infrastructure, alliances, and rivalries through a lens of actually knowing what the hell I'm talking about.
You may also wonder why I, a skier who constantly pushes for and celebrates the long season, am wrapping it with months left to go. As many of you will recall, I busted my leg into about 500 pieces last February. That I was back on skis in November instead of learning how to walk on a wooden leg is a miracle of modern medicine. But my leg was never quite right. I was at 85 to 90 percent on my best day. So rather than push it to the extremes of skiing into spring or even summer, I'm refocusing on daily workouts to rebuild strength and get as close to fully healed as I can. Plus I have a family and they're like "Seriously Bro?" Plus it's five hours to Killington and they have one run open. Plus I've used up all my husband points on back-to-back trips to California and Banff. Plus I'll probably go to Big Snow soon.  
Anyway, you don't visit 59 ski areas without being surprised at some point. No matter how much you read about a mountain, it's impossible to really get it until you pull into the parking lot and look around and say, "oh." With skiing, there's rarely a let-down. In fact I can't think of one. Pretty much anyplace is going to be better than whatever version of it you've created in your head. Perhaps because there is really nothing like the act of skiing and, so immersed, your surroundings activate in the amped-up way of a sublime dream. I don't know. But I had a hell of a time out there. Here, in no particular order, are 24 things that impressed me first-hand during the 2022-23 ski season (all photos and videos by Stuart Winchester, unless otherwise specified):
1)    Midwest high-speed ropetows
You're probably thinking, "Bro, did you mean to write, 'coolest things you saw during the 1942-43 ski season?'" Which would be a fair reaction. But check out these kids at Spirit Mountain, Minnesota (the videos may not play in email - click through to a browser or open the Substack app to view):
I spent five days skiing Minnesota, Wisconsin, and Michigan in February. These high-speed ropetows are everywhere. Rick Schmitz, the owner of Little Switzerland, Nordic Mountain, and The Rock Snowpark in Wisconsin told me they can move 4,000 skiers per hour. For context, the average high-speed six-pack moves around 3,000 skiers per hour. An eight-pack can do 3,600. As a mechanism to separate skiers who only care about lapping the terrain park from everyone else, these machines are brilliant.
And cheap: another Midwest operator told me that the all-in cost for a high-speed ropetow – including engineering and the lift itself – was around $50,000. Compare that to Windham's just-installed 300-vertical-foot high-speed quad, which came with a $5 million pricetag. The ropetows are cheap to operate, too – as long as there's line of site from top to bottom, one operator can watch over the whole lift (pending state regulations). Here's another one, at Vail-owned Afton Alps, Minnesota:
I don't understand why these ropetows aren't everywhere. Yes, the average Midwest bump gives you less vert than an interstate exit ramp. But how long is the average terrain park? And how often do you see kids bootpacking laps on a micro-section of an enormous ski area? And what percentage of the liftline on the average out-of-base workhorse quad is Park Brahs who just wanna Park Out, Brah?
Here's another, at Buck Hill, Minnesota:
There is a learning curve. The kids have this down – swoop in with momentum and melt into the rope. Become one with the machine. Watch how the kids angle down and grab the line at Welch Village, Minnesota:
I grabbed on a few times from a standstill and nearly had to fly home without my shoulders. But for the spryest among us, who care always and only about spending as little time as possible with their skis connected to the snow, there is no better or more practical lift.
2)    Sunday River's Jordan 8 Flying Through the Wind
Then again, riding a $25 million ($30 million? I'm guessing here), lift is a mesmerizing experience. Especially when that eight-passenger Doppelmayr D-Line bubble chair with heated seats is operating on one of New England's most wind-prone developed ski peaks and solves the decades-old problem of skiing disintegrating anytime a bird flaps its wings within 200 yards of the summit.
I landed at Sunday River on a wind-choked February Friday. Every upper-mountain lift sat idle from open to close: White Heat and Locke and Barker and Spruce and Aurora and Oz and… what's this? Jordan was spinning? The high-speed quad that formerly served the resort's western-most peak was one of the most windhold-prone lifts in New England. General Manager Brian Heon told me that wind impacted that lift an average of 20 or more days per year in past seasons, but only two or three with the new eight-pack.
I couldn't tell you the exact wind-speed that day. I seem to remember somewhere in the 50s. But it was enough to paralyze the entire resort… except for Jordan. The lift is not wind-proof. Again, they still lost two to three days to wind. Think of it more like an iPhone – water-resistant rather than waterproof. And the lift did run far slower on that big wind day than it did on subsequent days. But as a transportation solution to wind-prone peaks where you really can't live without a lift – think Sky at Heavenly, which is the only lift that delivers skiers back to Nevada from California – these big, heavy, ungodly expensive lifts are as close to bulletproof as we've got right now. They're also just awesome to watch up close:
3)    The High Country T-bar at Waterville Valley
When Waterville Valley installed the White Peaks Express quad in 1988, they ran the lift all the way from base to summit. It was glorious. Two thousand vertical feet in one blow. One of the first high-speed lifts in New England:
One problem: it was a terrible idea. Wind halted operations so often that, by 2000, Waterville had shortened the lift by 400 vertical feet, so that it landed well shy of the summit.
Skiers could still reach the summit via the High Country Double, a 1966 Stadeli lift. But that didn't perform much better in the wind. Then GM/President Tim Smith had an idea: in 2018, the resort tore down the ancient double and replaced it with a basically wind-proof T-bar. The all-in cost was approximately $750,000, a fraction of what a new chairlift would have run at the time. In five seasons, the lift has been on wind hold for exactly one day. And that was in its first or second year. "Knowing the speed tricks that we know now, we may have been able to keep it going at a lower speed," Smith told me.
The T-bar solution won't work everywhere – Waterville's summit dumps off into intermediate terrain, and not a lot of it. Again: 400 vertical feet. The better fall lines are down the mountain, below the top of the sparkling new, $12 million Tecumseh six-pack. But in a world of ever-more expensive chairlifts and ever-longer construction timelines, a simple, cheap T-bar to replace an old, unreliable, wind-prone lift could help a lot of smaller ski areas modernize without mortgaging their kidneys.
4)    That California snow
After a several-year hiatus, Palisades Tahoe revived the double-black-diamond trail rating this season. The hope was to prevent the uninitiated from stumbling into some of the severe lines that give this California bomber its reputation as the freeskiing capital of America.
By the time I arrived in March, vast stretches of the resort's famous cliffs and chutes lay buried beneath hundreds of inches of snow. Palisades Tahoe Chief Operating Officer Dee Byrne joked to me that they were considering lowering the trail ratings across the mountain. Here were KT-22's famous and ferocious Fingers on March 21, neutered by the biggest snowfalls in California's recorded history:
According to Ski California, at least 11 California ski areas (and one in Nevada, which the association also tracks) broke their all-time snowfall records this year:
Even those that didn't break records reported "Damn, call Grandma and tell her!" type seasons:
It's hard to translate these numbers into anything tangible. Seven hundred inches of snow is enough to bury a five-story building. Or 10 six-foot-tall humans. Or two adult brontosauruses. But really how often do any of us go around stacking up dinosaurs and covering them with snow? Once per decade, tops. Here are some things that make more sense:
Kirkwood GM Matt Jones told me that, when the resort built this sign, everyone was asking, "why they built it so high off the ground?"
Snow Valley, which Alterra just purchased, is littered with disused lifts. I arrived a couple weeks after the February-to-March megastorm, which buried the discards: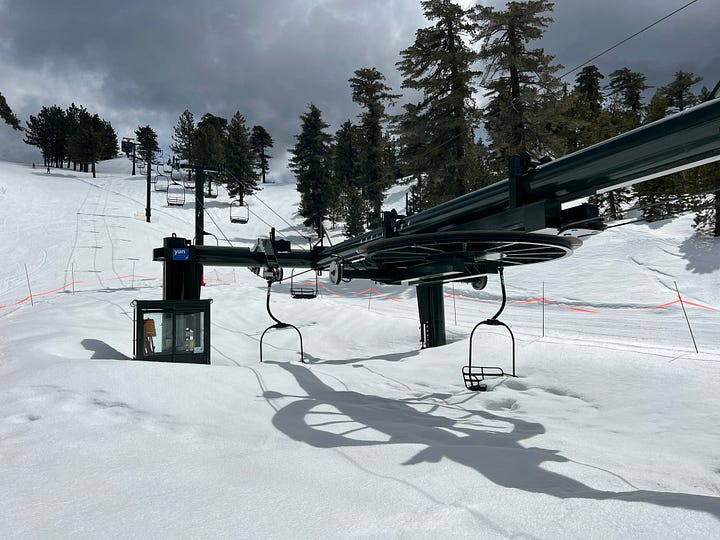 Here's Northstar General Manager Amy Ohran, standing over the Comstock Express canyon – the funny thing is that the lift was built flush to the ground (click to watch the video with Amy on Instagram):
More Northstar: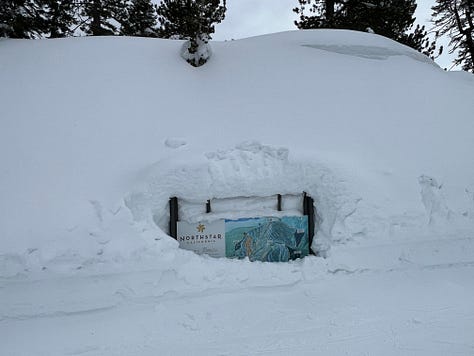 And here's the view out of my second story window at Kirkwood:
Below the paid subscriber jump: a new resort rises, America's most advanced lift fleet, surprise terrain in unexpected places, lost ski areas return, first tracks, and much more.
This post is for paid subscribers