Discover more from The Storm Skiing Journal and Podcast
Everyone's searching for skiing's soul. I'm trying to find its brains.
Over 13,000 subscribers
Windham Becomes Third in the Northeast to Include Ikon Base Pass with Its Season Pass
Because hey let's think about something else for five minutes
Just a couple weeks after Killington and Boyne's New England Pass - which acts as the season pass to Sugarloaf, Sunday River, and Loon - stapled an Ikon Base Pass onto their top-tier season passes, New York's Windham Mountain has done the same. For $1,099, skiers get unlimited access to Windham, plus the substantial benefits of an Ikon Base Pass: unlimited blacked-out access to Stratton and Sugarbush, a no-blackout season pass to Tremblant, five days each at Killington, Sugarloaf, Sunday River, and Loon, and oh yeah all that access out west (but not access to Aspen or Jackson Hole).
Windham will still offer a standalone season pass with no Ikon add-on for $949. The mountain is not joining the Ikon Pass, and there are no Ikon benefits at Windham as far as I can tell.
This is an interesting and surprising development for a variety of reasons. To start, this is the first non-Ikon Pass-affiliated mountain that I am aware of to offer an Ikon Base Pass along with their season pass. Ikon partners Jackson Hole and Aspen started this pass add-on trend that for the 2019-20 season, ostensibly to please their tomato-throwing locals who were grumbling about all these damn tourists flooding the local tourist attractions. Boyne-owned Ikon partner Big Sky also unsurprisingly joined that club this year, as did Snowbird, but the addition of a small-ish (but well-appointed) Catskills mountain in Windham is something completely unexpected. Here's a breakdown of what this probably means and why it likely happened:
Windham had to do this
With neighbor and main competitor Hunter unlimited with no blackouts on the $729 Epic Local Pass, Windham's $949 standalone season pass looks absurd. And it is. After driving prices as high as the market would tolerate for decades, all mountains in the Northeast are now reckoning with the fact that the era of the single-mountain season pass is over in this region. Good riddance.
Windham had to team up with someone. It is not big or varied or interesting enough to draw the kind of cult following that other remaining standalone mountains – like, say, Mad River Glen – have (and MRG's pass is far cheaper, or at least it was last season). To give their passholders the option of tossing on an Epic Local Pass equivalent in the form of an Ikon Base Pass for just $150 more than their all-access $949 pass price is a really smart move.
Alterra also kinda-sorta had to do this
One of Vail's great advantages over Alterra is its network of feeder mountains – places like Mount Brighton, Michigan and Afton Alps, Minnesota - that compel large ski-obsessed populations in nearby cities to pick up Epic Passes for weekend and evening sojourns and then blow ten grand on a Christmas week trip to Park City or Vail. Alterra has pursued a different strategy, focusing mostly on acquiring or partnering with best-in-the-region super-mountains such as Jackson Hole or Big Sky or Killington.  
One of the additions that made Vail's pick-up of Peak Resorts so smart was Hunter Mountain, perhaps the ultimate feeder hill on the continent. It is big and interesting enough to legitimately entertain a family for the weekend and close enough to New York City to be almost universally known to its skiers. For many of the city's flush, well-traveled ski glitterati, the choice between Epic and Ikon became a foregone conclusion with the Peak addition: with Western and New England resorts on either pass offering a more-or-less equal awe-factor, the pass with the closest decent mountain made sense. Stratton is a four-hour drive. Hunter is just over two. There you go.
This answers that purchase by Vail, even if it doesn't fix it entirely. It at least gives Alterra a roundabout presence in the Catskills. For New Yorkers who favored Windham but were leaning toward switching to Hunter just because of the holy-craparoni value of an Epic Local or Northeast Value pass, this is probably enough to compel them to stay.
It's an interesting partnership by Alterra, too, because it presents an alternate model to straight up buying smaller mountains. They can say, "Hey, Cityfolk who like to ski weekends at the local bump but then fly out to Winter Park for a week, take a lookie over here."
This may be the best outcome for Windham skiers
One of the issues with Alterra buying Windham outright and dropping the place onto the Ikon Pass is that it would have immediately resembled Black Friday at a Long Island Wal-Mart: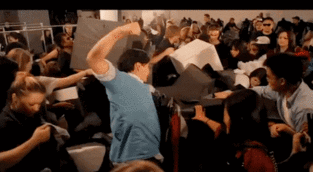 Instead, Windham passholders get an enormous added value to their pass for what appears to be the same price as last year, without the extra crowds. Windham is fairly overrun as it is. It is not really big enough to absorb any more without completely ruining the experience of being there. Hunter, which is already unskiable on most weekend days after 10:30, is only going to grow more congested as Epic Passes of all kinds become more ubiquitous in the Northeast.
But this is still not an amazing deal
Don't kid yourself – this is still Windham. It is unquestionably the most boring mountain in the Catskills. They rarely let anything bump up. Glades are few. They don't make any special effort to open early. And it is nearly always the first mountain in the Catskills to close – not by a few days, but by at least two weeks. It is a great family mountain, but that is about all it's great for.
At $949, Windham's standalone season pass is the worst skiing deal in the State of New York, bar none. I'll repeat here that a $729 Epic Local Pass includes a season pass at not only Hunter, but every other Vail mountain in the Northeast, including Stowe (though that one has some blackouts), and access out west. For $979, you can get a full Epic, which is unlimited at every Vail mountain in the world, including Whistler. While the $1,099 full Windham pass with the Ikon Base included is far more palatable than the standalone one, there is no version of reality in which a season pass at Windham is worth more than a season pass at the largest ski resort on the continent.
The best way to look at this is as a $400 add-on to the Ikon Base Pass. And that only makes sense if you live near Windham or have a condo there or just really like it for some reason. Still, it is waaaaaaaay better than the single-mountain, $1,499-at-full-price pass they offered last year.
We could see more of this
I have so far argued that the best thing independent mountains can do is to form reciprocal pass partnerships with fellow independents, as smaller ski areas have done out west and as the Freedom Pass has done to some extent in the East. But this is another good option, now that Alterra has shown a willingness to do it. While I don't think you'll see partnerships with very small mountains, this makes a lot of sense for mid-sized ski areas near cities that also cater to weekend overnighters – places like Jiminy Peak, Wachusett, or Camelback (which actually ran an Ikon promotion in the fall, giving Camelback season passholders the option of adding an Ikon Pass on at spring rates).
While we're still sorting out the COVID-19 fallout and what it means for ski areas, I think it's very likely that the coming economic downturn is going to put resort acquisitions on hold for quite some time. This kind of partnership can act as an interim workaround, giving Ikon access to city skiers and local ski areas a huge incentive to keep their locals loyal as Vail Godzilla steps onto the scene with its dirt-cheap passes.
Whatever happens, one thing is abundantly clear - skiing, for those of us who ski frequently, is going to continue to grow more affordable as the Northeast steps fully into the season pass wars.
---
The Storm Skiing Podcast is on iTunes, Google Podcasts, Stitcher, TuneIn, and Pocket Casts. The Storm Skiing Journal publishes podcasts and other editorial content throughout the ski season. To receive new posts as soon as they are published, sign up for The Storm Skiing Journal Newsletter at skiing.substack.com. Follow The Storm Skiing Journal on Facebook and Twitter.
Previous podcasts: Killington & Pico GM Mike Solimano | Plattekill owners Danielle and Laszlo Vajtay | New England Lost Ski Areas Project Founder Jeremy Davis | Magic Mountain President Geoff Hatheway | Lift Blog Founder Peter Landsman | Boyne Resorts CEO Stephen Kircher | Burke Mountain GM Kevin Mack | Liftopia CEO Evan Reece | Berkshire East & Catamount Owner & GM Jon Schaefer| Vermont Ski + Ride and Vermont Sports Co-Publisher & Editor Lisa Lynn| Sugarbush President & COO Win Smith| Loon President & GM Jay Scambio| Sunday River President & GM Dana Bullen| Big Snow & Mountain Creek VP of Sales & Marketing Hugh Reynolds |