Discover more from The Storm Skiing Journal and Podcast
Everyone's searching for skiing's soul. I'm trying to find its brains.
Over 13,000 subscribers
"Why Would I Ever Do That?" – Defiant Big Squaw Owner Says Name Will Not Change
Also assures us that the cell phones and lightbulbs are "just fads"
Next thing you know those Goddamned kids will try to outlaw pants because they're offensive to shorts
After burly and bruising Squaw Valley – alpha dog of U.S. skiing, onetime Olympic host, co-crown jewel of Alterra's Ikonic empire – humbled itself last month by admitting that, yeah, its 1940s name wasn't jiving with a 2020 world and it was time for a change, a reporter from the Portland Press Herald tracked down the owner of remote Big Squaw ski area to see if they would listen to calls from a trio of Maine women to follow the bigger Squaw's example.
"Why would I ever do that?" [mountain owner James] Confalone asked in a phone interview Thursday. "What do you think the Kennedy compound in Massachusetts is called? Squaw Island. If it's good enough for the Kennedys, it's good enough for me. When this issue was first raised (in the early 2000s) we had 200 calls a day come into the hotel, and not one person said they wanted the name changed."

Confalone said the resort's current name "memorialized the head of the Native American household."

"It has nothing to do with insulting anyone," Confalone said. "People in Maine don't know what property rights are. They think they own everything. We have the legal right to name it (what we want)."
The phone call apparently ended before Confalone could start arguing for a return to the gold standard or ask the reporter how Y2K turned out. The reference to a two-decade-old fight was telling – this was an antiquated argument from someone with a mindset frozen in another time.
But here's the thing: that the word "squaw" is only considered derogatory by a snowflake fringe bent on manufacturing reasons to be offended is not uncommon. Just click through and read the comments beneath Squaw Valley's Twitter post announcing the decision to change their name:
There is plenty of how-dare-you-tell-me-Mrs.-Hodgkins-lied-to-me-in-second-grade-history-hour indignation in there, plenty of certitude unchecked by research, plenty of indignation with a world gone soft. It is all very predictable, and all very tired.
The question of whether or not the word "squaw" is considered offensive has been settled. Most major dictionaries and journalism style guides categorize the word as offensive or derogatory, and most of the 574 recognized Native American tribes in the United States do as well. Seven states have passed legislation mandating that place names using the word "squaw" must be changed. Squaw Valley organized all of this information and much much more here when considering their own name-change decision.
The question of how to define and use the word "squaw" has, unfortunately, been caught up in the same vapid social-political vortex that can't agree on the shape of the planet or whether a virus that's killed nearly 200,000 Americans is real. Opinions of whether a word is offensive often fall across a left-right/yes-no spectrum, with those inclined to say "no" frustrated that terms once deemed innocuous are suddenly taboo. That people feel ambushed by what can seem like ever-changing standards and react defensively is understandable.
But the standards do evolve, partly, as Squaw Valley Alpine Meadows President Ron Cohen told me a few weeks ago on The Storm Skiing Podcast, because Native Americans have finally, in the past few decades, found people willing to listen to their perspective.
But the request to change Big Squaw's name was not a surprise attack. As it happens, one of the states that acted earliest to eliminate the word "squaw" was Maine. Not only did this law pass 20 years ago, but officials renamed the mountain that the ski area sits on from Big Squaw Mountain to Big Moose Mountain shortly thereafter. Confalone, who has owned the ski area since 1995, was presumably aware of this and did nothing (the law applied only to state-owned places).
Doing nothing appeared to be Confalone's strategy with the ski area as well. He stopped operating in the early 2000s, according to the Press Herald, after the summit chair failed, injuring four people. Big Squaw subsequently sat abandoned for several years. The state eventually sued him for failure to maintain the ski area (an explicit requirement of the original sales agreement), illegal timber harvesting, and tax delinquency.
The mountain, meanwhile, is the skiing equivalent of a duct-taped 1950s muscle car sputtering along the streets of Havana. Described by skibum.net as "at one time a huge, terrific ski area, more recently a huge, dysfunctional ski area," its upper mountain has been abandoned, its onetime 1,650-foot vertical drop reduced to 587 feet of lower mountain served by a triple chair. It is now run by a Friends of Big Squaw group that is apparently so humiliated by Confalone's defiance that it has changed the name of its surprisingly huge Facebook group to "Friends of the Mountain."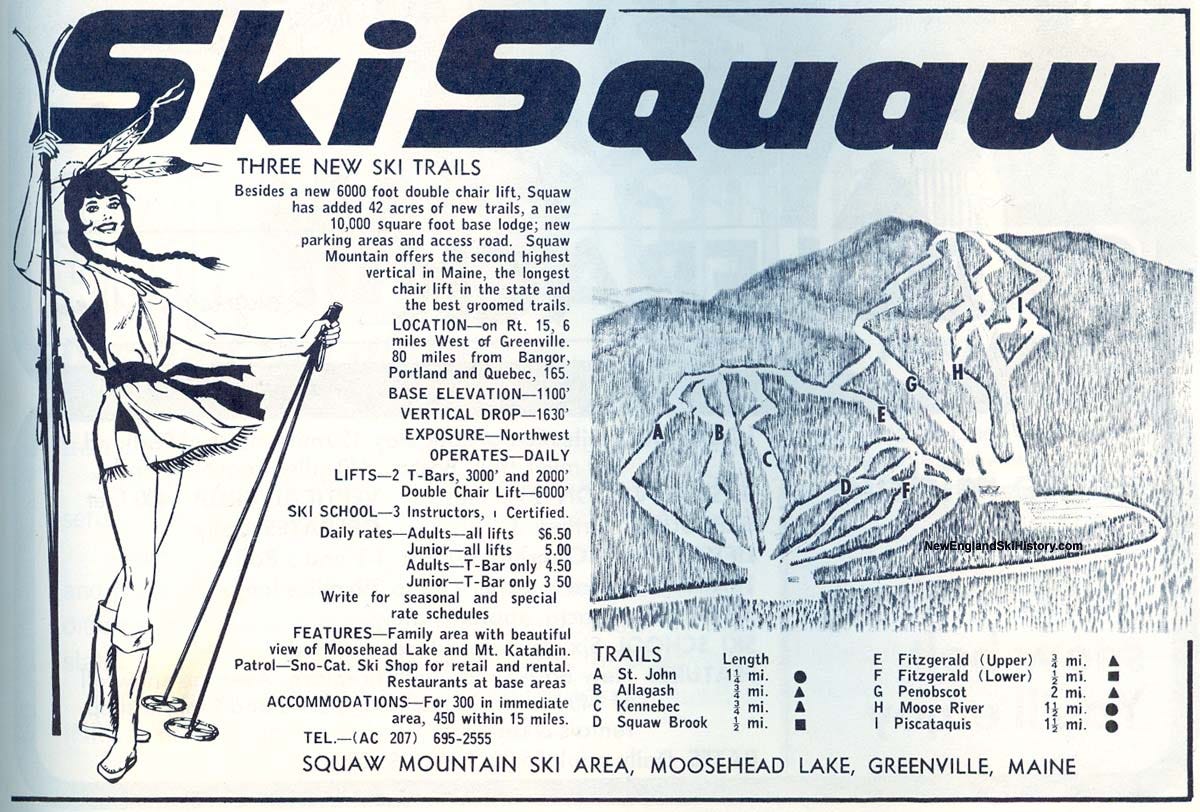 Big Squaw's 1967 trailmap, showing skiing on both the upper and lower mountain.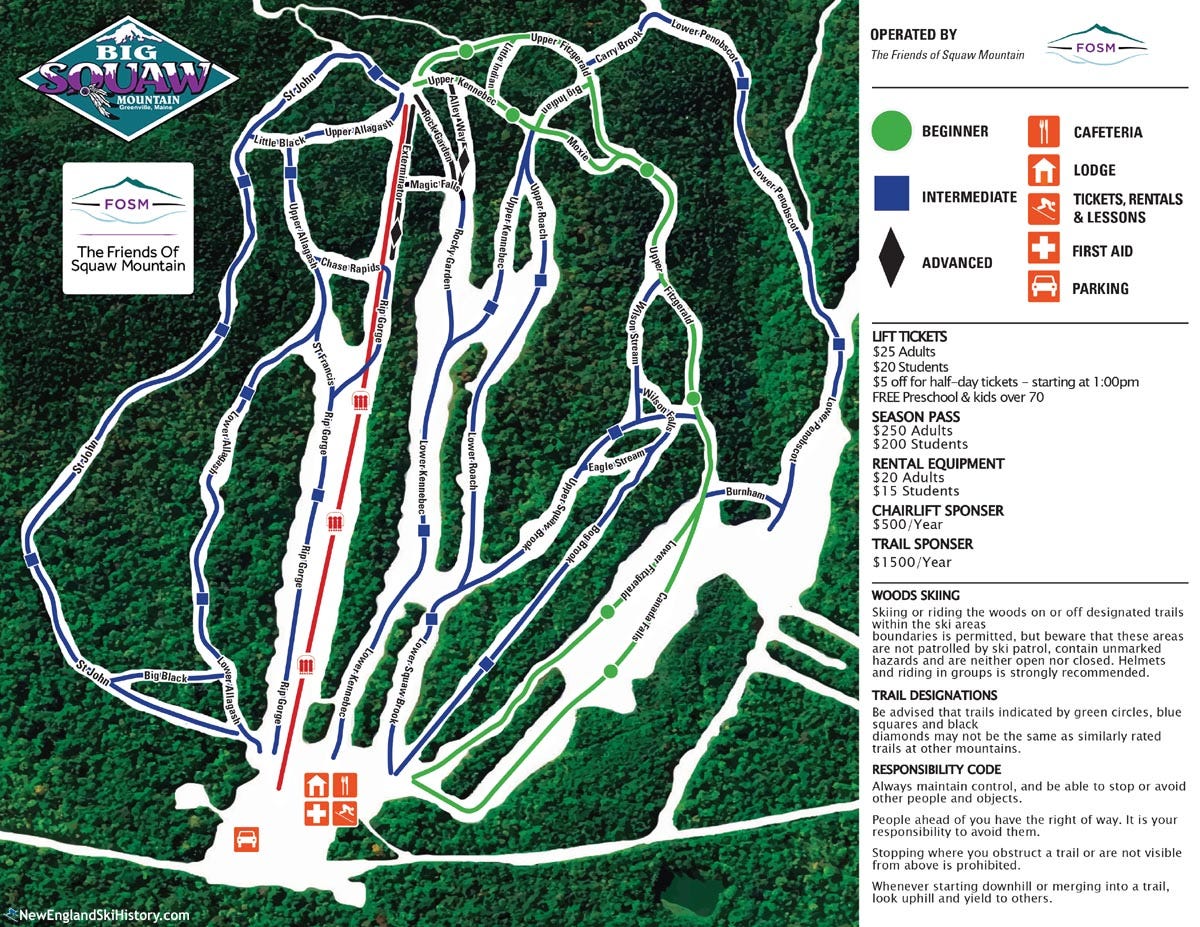 The 2019 trailmap only shows the lower mountain. The ski area removed the upper mountain lift after a 2004 accident.
So what to do? Boycotting the place, which is barely in business as it is, seems counterproductive for a rural community asset that would likely fade back into the mountain forever should it be abandoned for a second time. No one is cutting new ski areas in Maine even if they want to, as I've noted many times before, so preserving what exists is essential. It seems as though Confalone needs a better carrot than "Hey you're an asshole," which frankly is usually a bad strategy for achieving anything. Perhaps there's a better incentive. The State of Maine, in the aforementioned lawsuit, is already asking that Canfalone pay into an escrow account that would be used to return the ski area to its fully functional state (he allegedly raised $4 million to invest in the ski area and then did not invest in the ski area). Perhaps the state could modify the terms, or recruit some benefactor to again make his mountain a viable alternative to Sugarloaf or the resurgent Saddleback – if he agrees to change the name.
A better case scenario would be a sale to a more enlightened group or a change of perspective from Confalone himself. While we're waiting for those tectonic plates to shift, I think we have to acknowledge that Big Squaw is not Squaw Valley, and one of the biggest battles in the war to remove "squaw" from common usage has been won. The Tahoe ski resort – with more than half a million annual skier visits and placement as an Ikon Pass flagship – has probably the most high-profile placement of the word not just in skiing, but of any public or private entity in the entire United States. That the resort and, by association, Alterra acted decisively rather than dawdle and wait for this to become a PR nightmare on the scale of the Washington Football Team is a powerful statement that will likely resonate through its community and into the wider culture.
Squaw Valley is what every ski area wants to be and Big Squaw is what no ski area wants to become. The former, with all its razzledazzle and success, can afford this fantastically expensive rebranding project. It probably gets more skier visits on a powder day than Big Squaw sees in a good season. Just changing the sign out front would probably require a Go Fund Me page and a year of effort for the Maine ski area. Nonetheless, I think we will get to a new name. The world and the people in it are changing too rapidly to let this sit forever. But patience will be useful here if we want to preserve the skiing part of this classic but underdeveloped little ski hill.
Pennsylvania decides it would be cool if fewer people skied
Operating on the thesis that if you don't have kids skiing today then you won't have adults skiing 20 years from now, ski areas in Pennsylvania, New York, Vermont, New Hampshire, and many other states have long banded together in statewide coalitions that provide school-age kids – usually around fourth or fifth grade – lift tickets for a nominal fee. For families that are cash-strapped, tired of hibernating all winter, or just curious to explore a variety of ski areas, the plans are a brilliant godsend, an enabling mechanism in a sport that seems to go out of its way to be inconvenient and expensive.
So it was shattering to see Pennsylvania's fourth and fifth grade Snow Pass program became an official Covid casualty last week. It is impossible to calculate the fallout when opportunity and access disappear. It's not like a factory closing, where X dollars in income existed in a community and then they don't. This is intangible, the unspooling into the ether of a possible life path straight into the stormy mountains. How many how-I-became-a-skier stories begin with, "no one in my family skied, but I went with my class…"? This is how I became a skier, and maybe you did too. Surely some of the young Pennsylvanians who would have had such stories will not end up having them because they happened to be 10 years old the one year this program didn't exist. Hopefully it will return next year.
The other states in the region with similar programs don't appear to have made a decision yet. As of Sept. 15, New York, Vermont, and New Hampshire had yet to release details for the 2020-21 season. Let's hope they find a way to make it work.
But hey how about this up at Saddleback
And then there's this: an extraordinary anonymous donation will give every child in Rangeley, Maine's schools access to a $50 Saddleback season pass for the next five years.
"In a culture that prioritizes time in front of a screen over time outdoors, and understanding the impact a sedentary lifestyle and disconnection from nature is having on the physical and mental health of our entire population, especially our youth, places like Saddleback are a critical connection to the outdoors for our youth," Saddleback Director of Marketing Doc Tulin wrote in a Facebook post on the Friends of Saddleback group announcing the donation.
Saddleback has never had it easy. It's not quite a destination and the local economy is not quite big enough to support the mountain on its own. That the place can be viable is unquestioned – there are too many examples of successful-but-remote U.S. ski areas for that not to be true. It just needs the right leadership and the right vision. And it needs all the skiers it can get. This is an awesome start.
Elsewhere:
Progress at Saddleback. Jay Peak is now running the tram with restricted capacity and has released their operating plan for the season. Sunday River did too. Mad River Glen blows past its fundraising goal to get a James Niehues-painted trailmap – worth clicking through for the video alone. Wachusett launches a podcast. New York Ski Blog with an Indy Pass 2019-20 adventure roundup. Why you should love 200-foot ski hills.
Freeskier compares Southern Hemisphere resort operations and guesses at a most-likely scenario for U.S. mountains. SAM on projected opening dates, reservation systems, and capacity restrictions out west. Vermont Ski + Ride runs down operating plans for four Vermont indies.
Lift Blog with a good roundup of Western ski areas caught in or near wildfires.
Trailer for the new Level 1 film, dropping Oct. 1:
If you want more of that, Freeskier put together a 10-year trailer archive.
This week in not skiing:
So like probably all of you I am getting goddamn tired of not skiing. This offseason has been painfully long and there's two months to go it looks like. When the shutdown happened in March I figured I'd soon stop writing about skiing but here this is the 64th email I've sent out since the last time I skied and still I am not skiing. So thank you if you've been reading all of that and especially this bullshit self-indulgent section at the end, but at some point skiing began to feel like an abstract concept or a beat I was covering for an exceptionally poor-paying local newspaper and not like an actual thing that I do. But it is a thing that I do and when I do it I feel like some kind of super creature that can glide and bend and flex in contours and angles so amazing that if flies were alive in the wintertime they would buzz about us amazed at our dexterity and grace. I've been thinking a lot about flies lately believe it or not because hordes of them invade my kitchen each summer. And one of my observations is that their aerodynamic maneuvering capabilities are astonishing acts of nature. The U.S. government has made an amazing hobby of outspending itself on $100 million warplanes that are the pinnacle of human technology but look as graceful as a block of cheese next to the common fruit fly, which can take off at amazing angles, accelerate like something exploded, hover, and avoid all hurled objects like some kind of impossible cartoon ninja. But it was cool for the first time in months yesterday even down here in broiling New York City, and soon all the flies will die and I will be pointed north, backseat folded down and skis in the back of the SUV, on my way to once again feel that sensation of speed and improbable motion.
---
The Storm Skiing Podcast is on iTunes, Google Podcasts, Stitcher, TuneIn, and Pocket Casts. The Storm Skiing Journal publishes podcasts and other editorial content throughout the ski season. To receive new posts as soon as they are published, sign up for The Storm Skiing Journal Newsletter at skiing.substack.com. Follow The Storm Skiing Journal on Facebook and Twitter.
COVID-19 & Skiing Podcasts: Author and Industry Veteran Chris Diamond | Boyne Resorts CEO Stephen Kircher | Magic Mountain President Geoff Hatheway | NSAA CEO Kelly Pawlak| Berkshire East/Catamount Owner & Goggles for Docs founder Jon Schaefer | Shaggy's Copper Country Skis Cofounder Jeff Thompson | Doppelmayr USA President Katharina Schmitz | Mt. Baldy GM Robby Ellingson | Alterra CEO Rusty Gregory | NSAA Director of Risk & Regulatory Affairs Dave Byrd
The Storm Skiing Podcasts: Killington & Pico GM Mike Solimano | Plattekill owners Danielle and Laszlo Vajtay | New England Lost Ski Areas Project Founder Jeremy Davis | Magic Mountain President Geoff Hatheway | Lift Blog Founder Peter Landsman | Boyne Resorts CEO Stephen Kircher | Burke Mountain GM Kevin Mack | Liftopia CEO Evan Reece | Berkshire East & Catamount Owner & GM Jon Schaefer | Vermont Ski + Ride and Vermont Sports Co-Publisher & Editor Lisa Lynn | Sugarbush President & COO Win Smith | Loon President & GM Jay Scambio | Sunday River President & GM Dana Bullen | Big Snow & Mountain Creek VP of Sales & Marketing Hugh Reynolds | Mad River Glen GM Matt Lillard | Indy Pass Founder Doug Fish | National Brotherhood of Skiers President Henri Rivers | Winter 4 Kids & National Winter Activity Center President & CEO Schone Malliet | Vail Veterans Program Founder & President Cheryl Jensen | Mountain Gazette Owner and Editor Mike Rogge| Aspiring Olympian Benjamin Alexander