Discover more from The Storm Skiing Journal and Podcast
Everyone's searching for skiing's soul. I'm trying to find its brains.
Over 13,000 subscribers
The Vail Fan Club Is Going to Need a New Recruiting Strategy
Vail to Bargain-Hunting Skiers: Drop Dead
After years headlining Liftopia's New England sub-pages, former Peak Resorts Mount Snow, Wildcat, and Attitash vanished from the site just before Christmas. The only former Peak mountain that appeared to have survived on the site is Hunter, and that in extremely watered down form, with $69 tickets available most Fridays, Saturdays and Sundays through mid-April.
In November, I asked Liftopia CEO Evan Reece on The Storm Skiing Podcast if he was anticipating Vail pulling these mountains from his site, as it has done with other properties after every previous acquisition. He was understandably non-committal, while noting that there are very few ski companies that can also aspire to be tech companies. Clearly Vail is the rare ski corp that can muster those resources, and I don't think this is a huge surprise to anyone.
I did expect it to take longer. Typically Vail will at least let the post-acquisition season cycle through before killing third-party discounts. That they appeared to remove their mountains, with no warning, just a couple weeks after cutting off Epic Pass sales for the season – and therefore depriving skiers of the option of making an educated decision balancing the cost of per-day Liftopia tickets versus the larger one-time output of an Epic Pass – seems a little mean spirited.
While the timing was probably a coincidence, it is this sort of abrupt and sweeping Vail Way heavy-handedness that turns skiers against them. Expect all local ski club discounts and similar longstanding programs to face a similar execution in the lead-up to the 2020-21 season, if not sooner. This Epic Pass-or-nothing strategy doesn't become any less obnoxious the more times the folks bent on driving the MTN stock ticker ever higher orchestrate it.
Hating Vail for the sake of doing so is counterproductive, as I've noted before. And I do not hate Vail. I have an Epic Pass and have skied at most of their North American mountains, and I appreciate the efficiency with which they're run and the infrastructure that supports them.
But in the category of community empathy, they are not doing themselves any favors. Yanking their newly bought mountains from the nation's largest lift ticket discounter just before Christmas is emblematic of their larger approach to the non-Epic Pass-buying community, which is basically "fuck off." In the long game of ski area survival, the community that you build up around a mountain probably matters more than how many high-speed 12-passenger hot tub lifts you install. No one runs a mountain better than Vail, and no one pisses off the skiers that love those mountains on a more consistent basis.
Over the long run, that is a tension that will snap in unpredictable ways. When Powdr bought Killington, they invested in the mountain but did basically everything else wrong, killing the long season, blocking anyone who whispered a complaint from social media, and acting like being the biggest mountain in the East was reason enough to earn skiers' loyalty. In the process, a lot of what made Killington The Beast shriveled. Only when Powdr realized that Killington wasn't Park City and put Mike Solimano in charge did the place recapture its wonderful brawling swagger.
Peak, for all its faults, did a respectable job of honoring the culture at its flagship mountains and keeping them affordable. Yes, walk-up ticket prices crept up, but ski club and online deals were never difficult to find, and the discount bus skiers that mob Mount Snow and Hunter on weekends played an essential part in churning new participants into a sport that desperately needed it. So did the Drifter Pass, the 20s-only rock-bottom all-access Peak Pass that in my opinion was one of the most important ski products in the country over the past decade. And while Peak's southern mountains were always mobbed, Wildcat still after all those years felt like Wildcat, uncrowded and aggressive and moody and minimalist, a proper home to a cult of diehards as loyal as any in the country.
The Epic Pass is unquestionably the best deal in Eastern Skiing, when you divide dollars spent by sheer access. Whether that alone will be enough to win the hearts of the people who have built communities around these mountains stretching back decades remains to be seen.
Vail is also too good for NY Ski Day
Every January, New York organizes a discount day at most of the state's major ski areas. This year, you can buy $12 or $24 lift tickets to ski on Thursday, Jan. 16 (or Friday, Jan. 17 for select areas). There are also terrific deals for first-timers that presumably includes equipment rental and some form of instruction. This of course includes the New York State-owned Belleayre, Gore and Whiteface, but also large mountains like Windham and Holiday Valley.
Notably, it does not include Hunter, even though I'm fairly certain that it did in past years, because, well, Vail. And this sort of no-thank-you-we-will-have-no-part-in-this-statewide-attempt-to-build-a-larger-community-around-snowsports mentality seems petty, counterproductive, and, if I'm betting long term, unsustainable.
Another great New York State program is their Ski & Ride Passport, which lets third and fourth graders ski free (with a small processing fee for the pass) up to three days at most ski areas in the state with the purchase of an adult lift ticket (Hunter is still a part of this program; Stowe and Okemo still participate in Vermont's program for fifth-graders, so perhaps this is one aspect of community-building that Vail is committed to). I used this for my daughter a few years ago, and most ski areas would grant me the free kids ticket even if I bought on Liftopia in advance. There's also a version that includes one day of rentals and lessons at each mountain.
And don't forget about Pennsylvania
Pennsylvania also has a kids program, Snowpass, for fourth- and fifth-graders. Ski PA does an admirable job of organizing the state's two dozen or so ski areas, and January is Learn to Ski and Snowboard month, with deals just about everywhere, including Vail's five mountains (Jack Frost, Big Boulder, Whitetail, Roundtop, and Liberty).
While the state doesn't get a ton of snow and the slopes can resemble a disaster movie evacuation scene, it has some terrific mountains – check out Elk and Blue Knob, especially – that are worth chasing to in a southern storm.
Indy Pass continues to grow in the Northeast
1,150-foot-vertical-drop Mt Abram, Maine became the 47th Indy Pass mountain recently. I've never skied there, so I defer to the description of my favorite ski area description site, skibum.net:
See all those people waiting in line over there at Sunday River? Did you know they only have another 370' of vertical for all that waiting? Can you believe those prices over there? And those crowds! There must really be something wrong over here at Abram… snow seems good, no lift lines, great value. A dozen different ways down the mountain isn't huge, but it's not bad. Guess it's just not as fancy as Sunday River. OK, OK, we pick on the Riv too much. Sunday River is great, no question, but those of us from the "old school" head to Mt. Abram on Saturdays and holidays. Fact is Mt. Abram has a terrific local vibe, and it skis much bigger than it is. Terrain is challenging, and just long enough. For added fun, the trail names all have a Rocky & Bullwinkle theme.
The Indy Pass is like a good stock – the value keeps compounding. You can now ski two mountains in New Hampshire (Black and Pats Peak), three in Vermont (Bolton Valley, Suicide Six, and worth-the-price-of-the-pass-alone Magic), and two in Massachussetts (best-in-the-state Berkshire East and Catamout), plus Mohawk in Connecticut, Greek Peak in New York, and Shawnee in Pennsylvania. It's currently $239 for two days at each mountain, though discounts are out there.
Breaking news from the land of eternally deferred maintenance
The not-so-secret secret that any semi-regular Mountain Creek skier knows is to avoid the Vernon base area as though it were ground zero for Ebola Pox and instead head two miles down NJ 94 to the far calmer and easier-to-walk-to-the-lifts South Peak base area. This is where all the racers race and the park rats park out. And since it's somewhat difficult to figure out how to ski to South from Vernon – especially for the Wild Bunch novices ripsawing down the greens beneath the Cabriolet – the place doesn't have nearly the volume of yardsaling speeding bullets caroming through the masses as its sister peak.
The eternal problem with the South Lodge has been an access drive pockmarked by potholes the size of meteor impact craters. These are not regular wintertime Northeast potholes – I'm fairly certain that their depths held clues to the extinction of the dinosaurs somewhere within their pancaked geological layers.
So imagine my extreme joy when I pulled into the lot on Sunday morning, slowed to the three-mile-per-hour speed necessary to avoid spine replacement surgery, and a smooth ribbon of new asphalt awaited me. The lot itself still looks like the surface of the moon, but I'm taking this as a sign that new-ish principle owner Joe Hession – CEO of Snow Operating, which also runs the New Jersey Snow Dome (Big Snow) – is committed to larger long-term improvements at the mountain.
I know Mountain Creek is somewhat shunned by the Northeast hardcore. Since it's the closest mountain with a real vertical drop to me and is often the only option I have other than not skiing, I choose to look at what it does well, which is more than you probably think.
Elsewhere
Ski Magazine's Joe Cutts with a really nice write-up of Stratton, which is my personal favorite of the Southern Vermont corporate mountains. The mag says their speculative article about the potential of Vail buying Smuggs was one of their most popular of 2019. Ice Coast Magazine assembles an eight-item East Coast skiing bucket list that's hard to argue with. They also write up a roadie to Killington and Sugarbush that also touches on the challenges of keeping up a rad-level ski calendar with a newborn, which I can relate to. NY Ski Blog continues their very cool Indy Pass tour with visits to Greek Peak and Berkshire East. New England Ski Journal on beginner programs at Pats Peak and Ragged, the under-the-radar resuscitation of New Hampshire's Tenney Mountain from the lost ski areas graveyard, and how Jay Peak keeps it going through the challenges of receivership.
Speaking of Greek Peak, the Meier family recently became sole owners of both that mountain and New York's Toggenburg after buying out former 50-50 partner Marc Stemerman. This probably means very little to daily operations, though John Meier told Ski Area Management that becoming sole owners would allow them to continue development of the twin areas under a "unifying vision." (If anyone knows why Greek Peak is on the Indy Pass and Toggenburg is not, please let me know; the trailmap looks fun, and I'd love to check it out at some point).
This has nothing to do with the Northeast, but I'll include it since it's something I care about deeply - Powder says that this story by longtime ski writer John Clary Davies documenting the fall of the once-great Sugar Loaf ski area in Michigan was one of its most popular of the entire decade:
In the mid-1970s, it attracted 3,000 to 4,000 skiers a day—numbers that compete with all but the biggest ski areas. "The Loaf" was once the largest employer in Leelanau County. It wasn't just the best place to ski in the state, it was the gem of the entire Midwest. Known for its steeps and après parties, the area was a sizable blip on the national skiing radar. Wayne Wong and the K2 Performers showed up, and the resort hosted a FIS-sanctioned slalom. The ski school attracted top-tier talent; the ski shop made a killing; and the hotel, lodge, and condos that line the base area were regularly at capacity. One run in particular captured the imaginations of the brave and adventurous skiers who visited. Those who tamed it became legends.
While that is somewhat overstated - particularly the "gem of the Midwest" bit, where Sugar Loaf had substantial competition - it still shocks me that a place that large (relative to its neighbors), and popular could just poof and be gone. I skied there often in the '90s, and I was stunned when it ceased operations. I still am. There are only a half dozen ski areas of comparable size in Michigan's Lower Penninsula, which is home to nearly 10 million people and a rabid skiing community. The 4,000-plus member Friends of Sugar Loaf Facebook group is a testament to how sorely this place is missed. Now 20 years since the lifts (which have since been torn out) spun, I personally have little hope that the current ownership group - which seems bent on a luxe-or-nothing ski concept - will ever resuscitate it in any meaningful way.
Hey, do you want to watch a Hollywood ski movie with a double entendre title denoting both the primary film setting and the trajectory of the main character's relationships? You're in luck:
This week in skiing
I didn't ski between Christmas and New Year's. I typically don't. It doesn't have much to do with crowds – my day job is in Times Square and I know how to work my way around a stampede. But life has to be balanced and I'm the only one in my immediate family that truly loves skiing and so we typically go somewhere else that week. This year it was Southern California, where we drove around on highways as wide as the Hudson River and toured Joshua Tree after a rare snowstorm and sightsaw on LA mountaintops and took a little wine country tour and took the tyke to Disney and just generally hung out and had a good time. Yes I realize there is skiing in Southern California, but this wasn't the trip for that.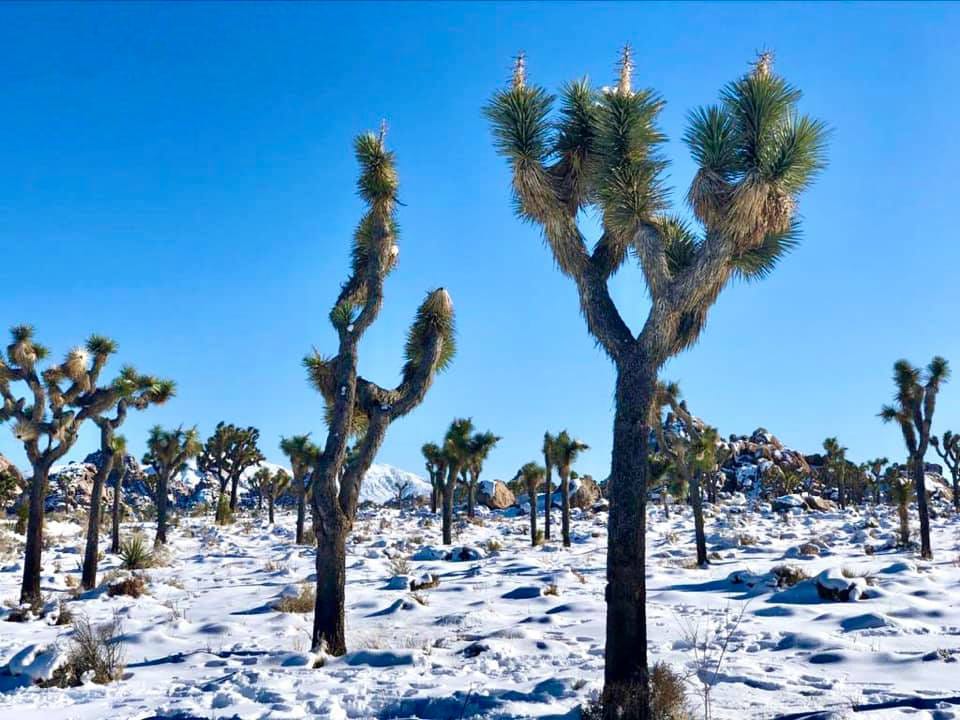 California's Joshua Tree National Park after a rare snowstorm in December 2019 - it was at least eight inches deep in spots.
But the weekend before Christmas, I took my 11-year-old daughter on a long New England swing up to Sunday River, pit-stopping to ski on the way there and back. We left on a Friday and if you think traveling on the Friday before Christmas is an awful time then you are good at knowing things. It took an hour and a half of stop-and-go beeping mayhem to edge our way out of New York City and up into the windy wild backroads tilting toward the New York-Connecticut state line. I'd planned to break up the seven-ish-hour drive to Maine with a stop at Mohawk Mountain, and while a rationale person may have backed out of this stopover as the arrival time on the GPS ticked ever later, I am rarely rational when it comes to skiing.
We swung into the parking lot at 7:30 and the mountain hung eerie and apocalyptic and industrial like some kind of vertical factory above us in the pitchblack. This is how I think all ski areas look at night and it adds a patina of adventure and daring to the whole exercise. The place was utterly empty and the coverage was excellent and we skied border to border with the snowguns buzzing all around us. It was the kind of New England cold that is hard to imagine when you're not in it, a quadruple-layered, warmers-in-boots-and-gloves kind of dead-freezing night that humans have no business being outdoors in.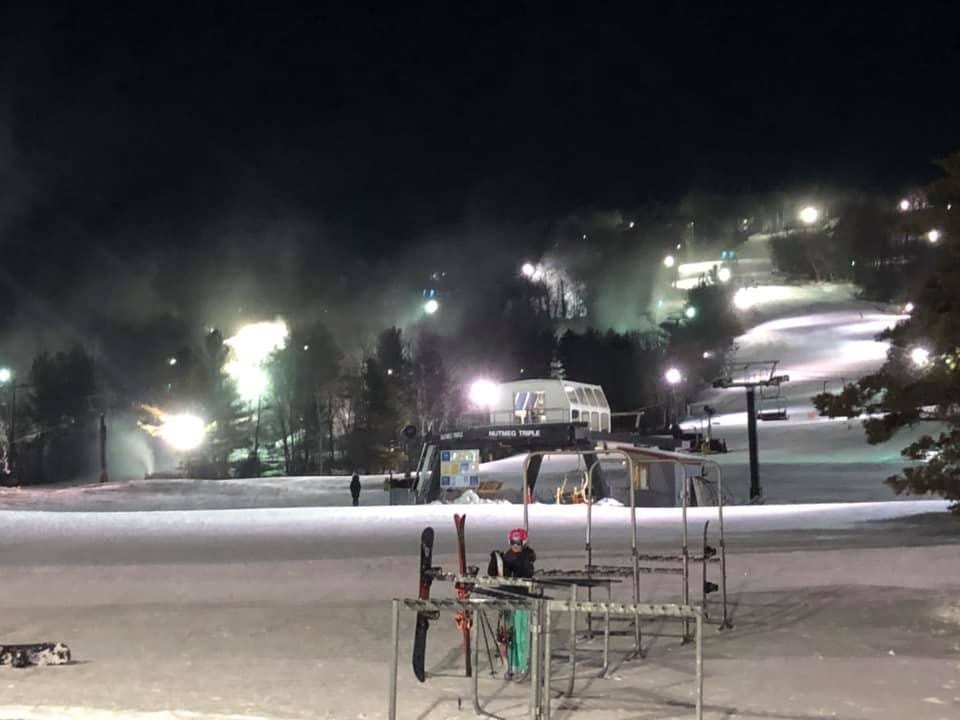 Mohawk Mountain on a freezing evening.
We rolled out of the parking lot with a GPS ETA of 3:30 a.m. at Sunday River. I bought a Bang energy drink and gassed up and bent into it, my daughter snoozing in the passenger seat and the roads cleared of traffic and Pandora cartwheeling through its endless playlist. I only had to stop once, to top off the tire pressure when a warning light came on. We pulled in sometime after 3, and by the time I had wheeled everything up to our room and set up my daughter's bed and prepped for the next day, it was 5 a.m.
I woke up with no alarm at 7. I debated sleeping in but with that enormous mountain bristling outside and the lifts spinning in an hour I saw no reason to. There was no new snow and no glades and the highlight of the day would be groomers and so I needed to snag that corduroy before the early holiday crowds pounded it into a skating rink. I let my daughter sleep in and exited the back of the hotel and ripped from White Cap to Jordan Bowl and back, racking 20,000 vertical feet in the crisp five-degree morning.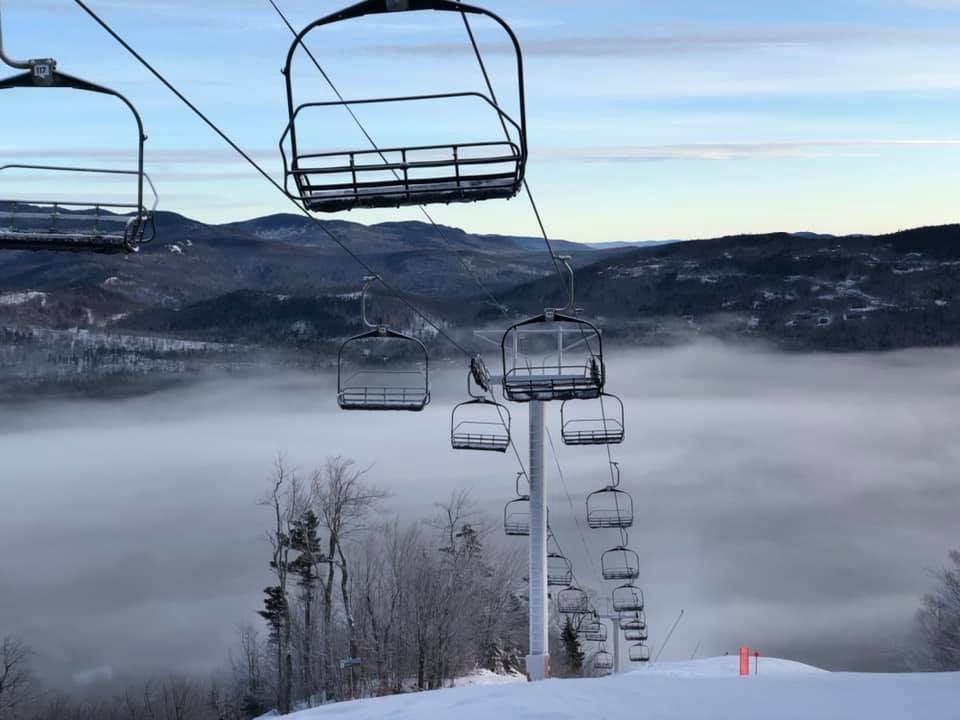 An early-morning inversion at Sunday River.
Sunday River is really a tremendous place, nearly everything accessible from nearly everywhere else, the flow from peak to peak seamless and varied and well-marked. Even though it was a Saturday before a holiday, I encountered very few liftlines outside of the South Ridge base. This was the day that White Heat opened for the season. Patrol dropped the rope with whales humped everywhere and minutes after the snowguns had shut down and without even a cursory run from the groomers. This is their signature run and the mobs attacked it and it was a glorious thing to witness. I don't love super-steeps just for the sake of them but I skied it once before working my way to the opposite side of the mountain. The snow on blue-square Excalibur at Jordan was sun-warmed and empty and wide-open and fun, and I lapped this and headed back to the hotel to scoop up my daughter at lunchtime. We skied until nearly close.
The next day she was in all-day ski school and I repeated my border-to-border ping-pong from the day before. By mid-day, the mountain was skied off and that fine morning grooming had given way to paved iced. These are my least favorite conditions; I stop trusting my skis to turn and regress about seven levels, certain that opening up my turns will result in some sort of tumbling death cartwheel down the mountain. No one grooms or builds a base better than Sunday River, but even they can only do so much without refills from the sky. Typically in these sorts of conditions I retreat into the glades, but there were no open glades to retreat into, and so I absconded into the Foggy Goggle instead and drank a pint on the deck overlooking the chondola and the beginner quad. It's amazing to watch a ski day wind shut, the people and their bags and their gear and their little squads, all of it so amazingly chaotic when viewed en masse and satisfyingly rational when zoomed down to the individual.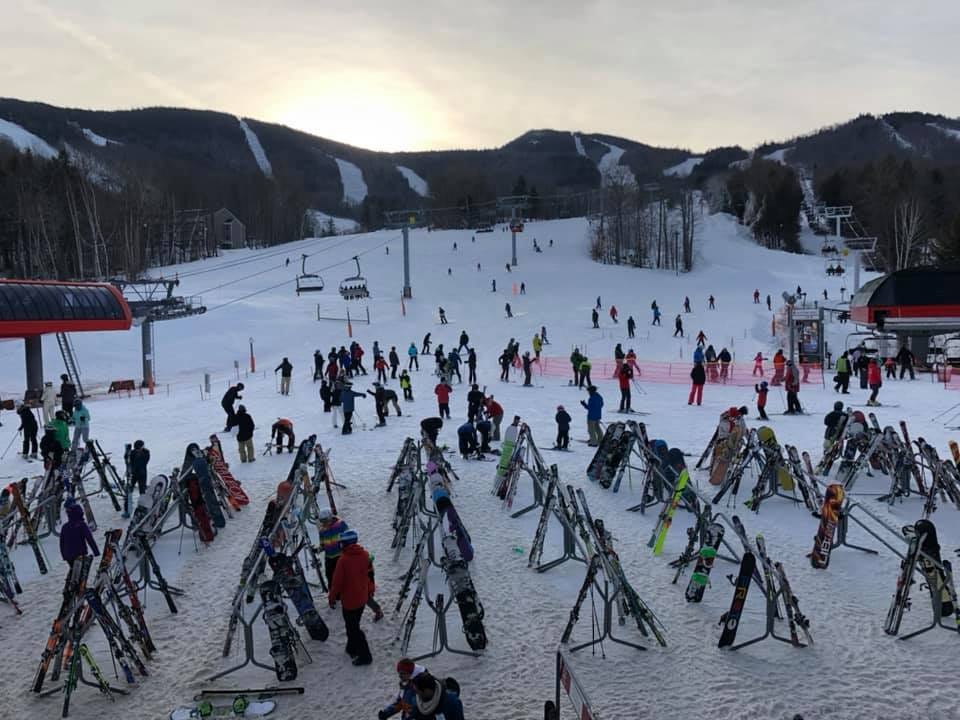 The view from the Foggy Goggle deck at the main Sunday River base.
On Monday we skied Loon, arriving before the lifts opened, the lines backed up dozens deep at every ticket window and the parking lot filling rapidly. Christmas week was here. The mountain has newly installed RFID gates and we went directly to the lift with our Ikon Passes. There may not be a better intermediate mountain in New Hampshire than Loon, the runs long and distinct and dotted with pleasing little tree islands, the whole place lined with evergreens and right-across-the-road mountain vistas. The weather had warmed into the forties and the snow sank soft beneath our tilted skis and we lapped both peaks until the trails hardened up in the late afternoon. Loon has some of the most interesting lifts in the East and when you're with an 11-year-old you are required to ride these, the honest-to-God steam engine chugging between the Octagon and Governor Adams lodges and the Tote Road Quad dipping between Loon and South Peaks.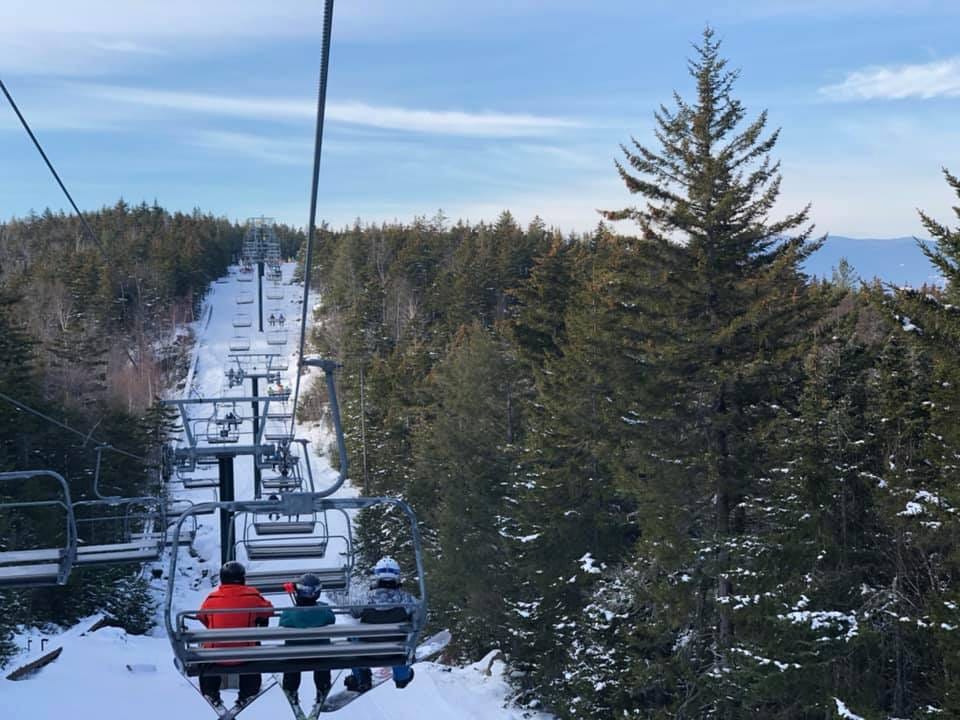 Going peak to peak at Loon.
The next day that I was able to get out was yesterday, the aforementioned trip to Mountain Creek, my for-better-or-worse home mountain. The place is at its best later in the season, post-President's Day, when the race programs wrap up and the city folk forget about skiing until next Christmas and the whole mountain is open. The place was mobbed fairly early on Sunday, lines forming at Bear and South Peaks around 10, and all those skiers stuffed into about 50 percent of the terrain that will be open in a month or so. But we arrived at eight and blasted off a handful of runs and headed home for lunch, which is typically how I ski Mountain Creek and is about the most sensible way to approach what can be a wild place.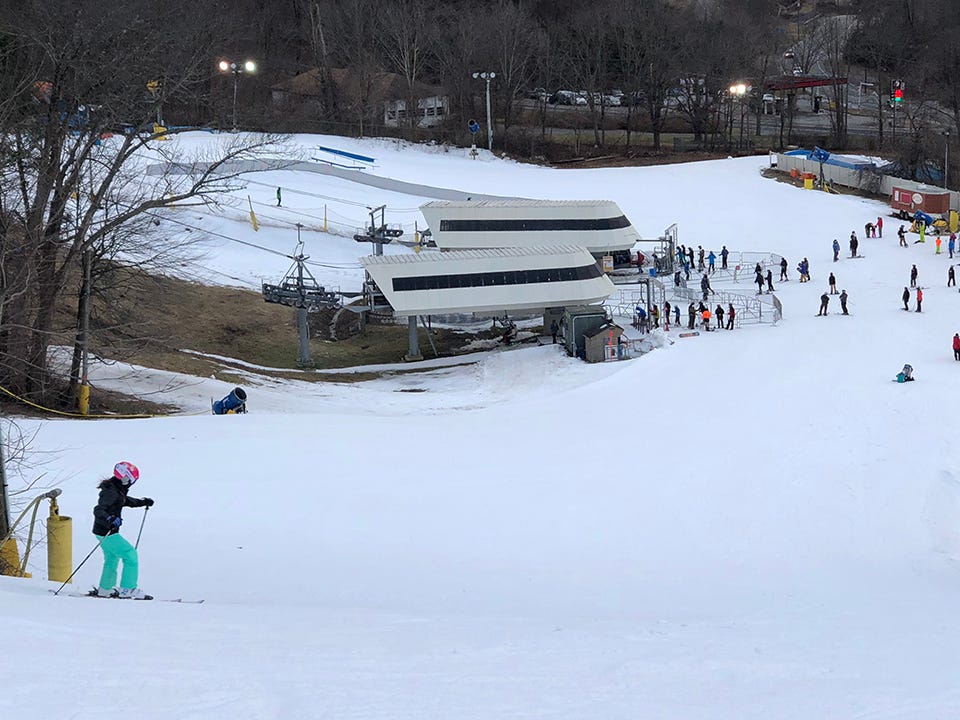 Early morning at Mountain Creek, before the weekend crowds move in.
---
The Storm Skiing Podcast is on iTunes, Google Podcasts, Stitcher, TuneIn, and Pocket Casts. The Storm Skiing Journal publishes podcasts and other editorial content throughout the ski season. To receive new posts as soon as they are published, sign up for The Storm Skiing Journal Newsletter at skiing.substack.com. Follow The Storm Skiing Journal on Facebook and Twitter.
Check out previous podcasts: Killington GM Mike Solimano | Plattekill owners Danielle and Laszlo Vajtay | New England Lost Ski Areas Project Founder Jeremy Davis | Magic Mountain President Geoff Hatheway | Lift Blog Founder Peter Landsman | Boyne Resorts CEO Stephen Kircher | Burke Mountain GM Kevin Mack | Liftopia CEO Evan Reece | Berkshire East & Catamount Owner & GM Jon Schaefer|