Discover more from The Storm Skiing Journal and Podcast
Everyone's searching for skiing's soul. I'm trying to find its brains.
Over 11,000 subscribers
Whiteface, Gore, Belleayre's NY SKI3 Pass Offers Deferrals, Pushes Early-Bird Deadline to Sept. 2
Bretton Woods now stands alone among large Northeast ski areas in not offering any sort of season pass guarantee
Whiteface, Gore, and Belleayre, the trio of New York State-owned ski areas managed by the Olympic Regional Development Authority (ORDA), yesterday announced a season pass protection program and pushed the deadline for their lowest pass prices from Aug. 12 to Sept. 2.
ORDA was one of the last remaining large ski organizations to release a season pass protection plan after Covid-19 abruptly shut down the North American ski season in mid-March and cast uncertainty over next season's operations. The plan had been in the works for several months. Today's announcement leaves Bretton Woods as the largest ski area in the Northeast to not offer some kind of refund, credit, or deferral option to passholders.
Under ORDA's plan, skiers will have until Dec. 1 to trade in the full value of their SKI3 Pass – which is good for unlimited access at all three mountains – for a credit that can be used any time through the end of the 2021-22 ski season. While most similar plans have only offered credits for unused passes, ORDA will allow skiers to tap their passes as much as they'd like prior to Dec. 1.
Here's a more detailed look at what the announcement means:
If socially distant skiing feels like standing in line outside of Walgreens, then you don't have to keep doing it
ORDA's trade-your-pass-for-credit policy generously allows what only one other Northeast ski area that I am aware of does: try out skiing in a World of Covid before handing in your pass. Despite the insistence of Social Media Freedom Bros that this season will be mostly normal, it probably won't be. Expect some combination of reduced capacity, reservation systems, transformed operations, restrictions on freedom of movement within base lodges, stern lift line control, and enhanced sanitation measures that could drive up costs and wait times for everything from food to rentals to lift tickets.
While these features of skiing in the steampunk apocalypse that we all suddenly find ourselves living in are likely to vary widely by region and ski area, they could have the cumulative effect of making skiing feel more like a chore than a release. You stand in line for 30 minutes outside of the pharmacy because, as irritating as the wait and the distancing is, you need medicine to live. You may decide that replicating that experience to board the Northwoods Gondola isn't worth the hassle.
And in that case, you just turn in your pass for a 100 percent credit.
It's notable that skiers can use the pass as many times as they'd like prior to Dec. 1. The only other ski area to offer a similar policy – Waterville Valley – only allows passholders to ski one day before requesting a credit.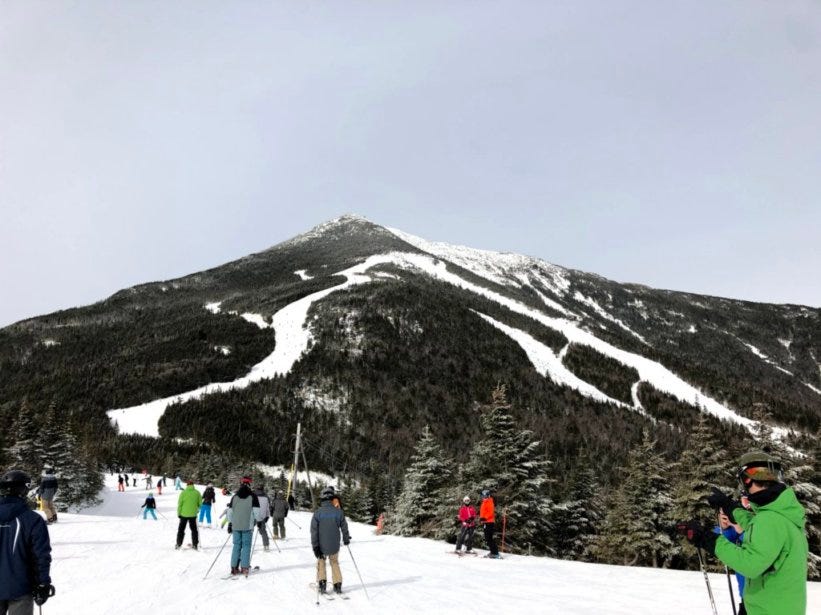 Whiteface on a busy holiday weekend.
Given ORDA's history of early openings, Dec. 1 should provide enough time to try this whole dystopian skiing thing out before trading in your pass
Dec. 1 is a bit on the early side for making the trade-in-my-pass call – Boyne's deadline for New England Passes is Dec. 10, and Alterra pushed theirs all the way to April 11 (neither allows you to ski before deferring) – but given ORDA's historic commitment to getting its mountains open early, that date should be enough time to get a sense of whether you want to run with the 2020-21 season or take a rain check. Here are the past five year's opening dates for each mountain, according to Snowpak.com:
2019: Nov. 29
2018: Nov. 17
2017: Nov. 24
2016: Nov. 25
2015: Dec. 4
2019: Nov. 15
2018: Nov. 17
2017: Nov. 18
2016: Nov. 25
2015: Nov. 27
2019: Nov. 15
2018: Nov. 17
2017: Nov. 18
2016: Nov. 24
2015: Nov. 26
That's remarkable consistency, and suggests that, unless we have an unusually warm autumn, all three mountains should be ready to go well before Dec. 1.
Unless of course 2020 keeps being 2020 and we experience some kind of Jurassic-style hottening event that plunges the planet into endless tropical summer and the dinosaurs rise again from the earth, launching us into a global war against the reptiles that lasts for eons and extinguishes even the memory of skiing from the human experience. Don't tell me it can't happen.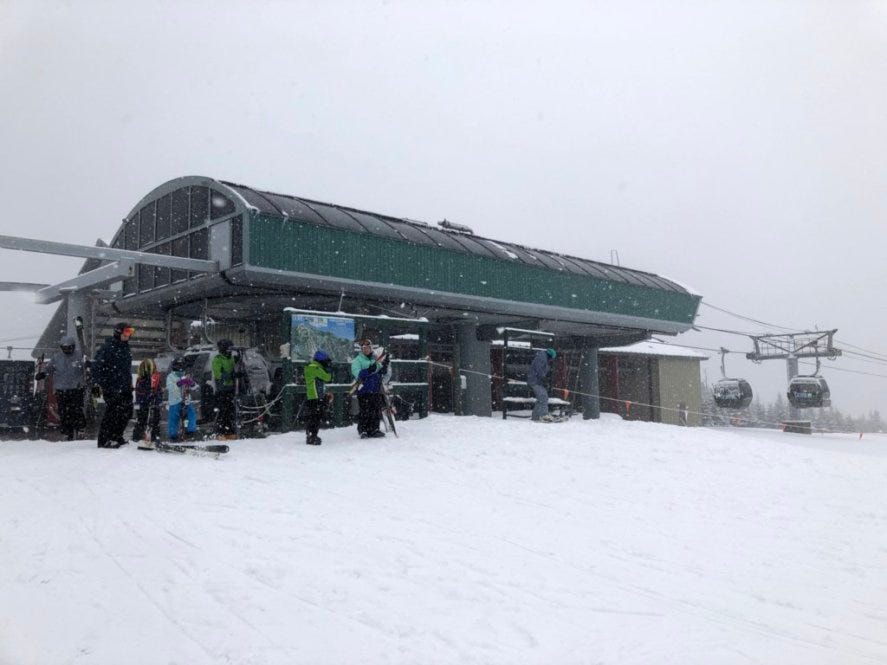 The top of the Northwoods Gondola at Gore on a snowy day.
The credit is not limited to the following season, or to passes
Most mountains that have articulated some kind of credit policy have done it in the form of a deferral, allowing skiers to transfer the value of this season's pass to a 2021-22 pass. ORDA's credit is more expansive, allowing anyone who turns in their pass by Dec. 1 to begin using it as soon as Dec. 2 and apply it to pretty much anything online or in-person at any of the three mountains: season passes, lift tickets, lessons. So if skiing in November feels like waiting in line for a Covid test, but the whole thing blows over by February and you're ready to ski again, you can drop your credit right then to get back on the hill.
Or you can wait – you'll have until the end of the 2021-22 ski season to use up the balance.
You have a bit more time to decide whether to buy
ORDA was one of the first ski organizations to push its early-bird pass deadline back when Covid kicked open the door, yelled "Welcome to my world, Assholes," and sprayed the room with machine gun fire. They moved it from sometime in the spring all the way out to Aug. 12, a date that once seemed distant but is now right there. So it made sense that, with this pass policy change, ORDA is also pushing its deadline again, this time to Sept. 2.
This is a pragmatic move and should provide sufficient time for skiers to make their decision. ORDA has been working on this policy for months – I have been emailing with representatives about it at least since mid-May – but since the state owns the mountains, any sign-offs require state approval. And New York State was a bit preoccupied with other things since Mid-March or so, in case you hadn't heard.
Another thing that ought to help potential passholders make the decision: the no-interest four-part payment plan that ORDA introduced at the pandemic's outset, when they kicked the deadline out to summer.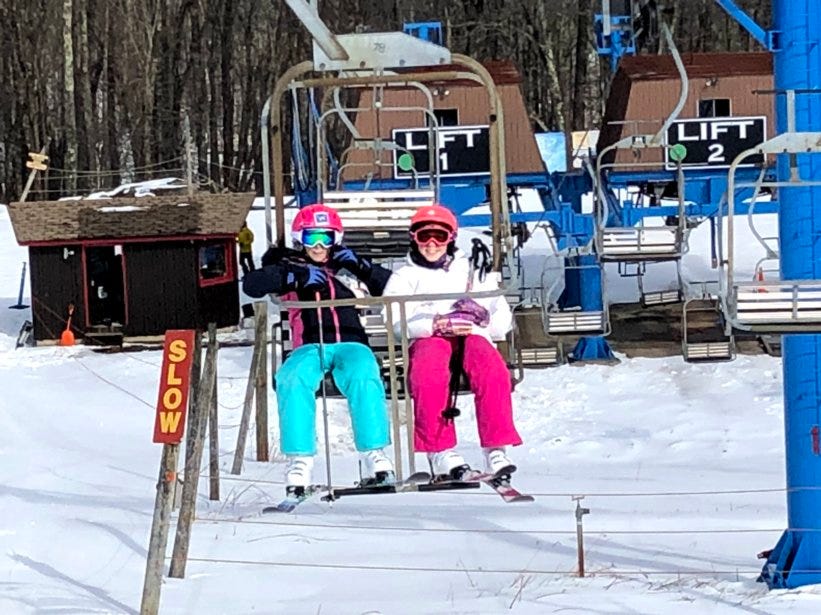 The old Belleayre double chairs, which the mountain replaced last year with a quad.
Which just leaves the question of another mid-season shutdown
While the Dec. 1 deadline grants skier plenty of time to gauge how the Year Everything Was Terrible will continue to evolve toward ski season, it is unclear what will happen if there's another shutdown beyond Dec. 1. But ORDA does appear to be considering additional policy modifications that would address this possibility.
"We are investigating as much information as possible and want to be thoughtful about all situations for this upcoming winter season," said ORDA Director of Marketing Liz Mezzetti. "We recognize that many may have questions and we are listening. We are formulating our plans and will share details as we know more."
So, wait and see. As we've seen from Alterra's four-plus Ikon Pass policy revisions since April, there is plenty of time to modify these things once they're live.
Bretton Woods is the guy in the grocery store who refuses to wear a mask
All of which takes us back to Bretton Woods, the largest ski area in New Hampshire and the last large ski area in the Northeast to step out of its house after the tornado, see its truck upturned in the driveway and an alligator in its swimming pool, and say, "Yep, everything looks just fine here," and go back inside and cook dinner.
Which is just like whatever. The world is filled with individuals who decide not to do what everyone else is doing just to be an asshole. Bretton Woods stiffs the bartender on a round of drinks. Bretton Woods doesn't bring a gift to your wedding. Bretton Woods walks past the "mask required for entry" sign at the gas station without wearing a mask because he knows the 18-year-old clerk behind the counter won't stop him. Bretton Woods is how Bretton Woods is because that's what Bretton Woods has always been and if you have a problem with that then Bretton Woods will kick your stupid ass.
Bretton Woods did not respond to a request for comment from The Storm Skiing Journal asking why it is the only large ski area in the Northeast to tell its skiers to go fuck themselves.
---
The Storm Skiing Podcast is on iTunes, Google Podcasts, Stitcher, TuneIn, and Pocket Casts. The Storm Skiing Journal publishes podcasts and other editorial content throughout the ski season. To receive new posts as soon as they are published, sign up for The Storm Skiing Journal Newsletter at skiing.substack.com. Follow The Storm Skiing Journal on Facebook and Twitter.
COVID-19 & Skiing Podcasts: Author and Industry Veteran Chris Diamond | Boyne Resorts CEO Stephen Kircher | Magic Mountain President Geoff Hatheway | NSAA CEO Kelly Pawlak | Berkshire East/Catamount Owner & Goggles for Docs founder Jon Schaefer | Shaggy's Copper Country Skis Cofounder Jeff Thompson | Doppelmayr USA President Katharina Schmitz | Mt. Baldy GM Robby Ellingson | Alterra CEO Rusty Gregory | NSAA Director of Risk & Regulatory Affairs Dave Byrd
The Storm Skiing Podcasts: Killington & Pico GM Mike Solimano | Plattekill owners Danielle and Laszlo Vajtay | New England Lost Ski Areas Project Founder Jeremy Davis | Magic Mountain President Geoff Hatheway | Lift Blog Founder Peter Landsman | Boyne Resorts CEO Stephen Kircher | Burke Mountain GM Kevin Mack | Liftopia CEO Evan Reece | Berkshire East & Catamount Owner & GM Jon Schaefer | Vermont Ski + Ride and Vermont Sports Co-Publisher & Editor Lisa Lynn | Sugarbush President & COO Win Smith | Loon President & GM Jay Scambio | Sunday River President & GM Dana Bullen | Big Snow & Mountain Creek VP of Sales & Marketing Hugh Reynolds | Mad River Glen GM Matt Lillard | Indy Pass Founder Doug Fish | National Brotherhood of Skiers President Henri Rivers | Winter 4 Kids & National Winter Activity Center President & CEO Schone Malliet