Discover more from The Storm Skiing Journal and Podcast
Everyone's searching for skiing's soul. I'm trying to find its brains.
Over 13,000 subscribers
When a Certain Type of Skiing Died and We Were All Better for It
Props forever to the man who sent "reckless and ill-mannered" snowboarders to our hills - and saved our collective asses by doing it
The death of skiing as we knew it was a glorious thing
There was a two- or three-year period in the mid-90s when I thought that skiing was dying. One by one, almost every person in my loose collective of riding buds stashed away the straight and stodgy planks of the day for a snowboard.
It was easy to see why. The switch brought a vast simplification in the volume and complexity of gear. Snowboard boots were warm and comfortable. And snowboarding made you instantly cool. Skiing was the teenage snowsports equivalent of a wood-paneled station wagon, clumsy and overdone and hard to handle. Snowboarding was a Mustang, cool and sleek and easy to drive – though only in the way that a stick shift is easy to drive after you spend a few days stalling out at stoplights.  
Not that the mid-90s teenage version of me even knew The New York Times existed, but the paper pre-wrote skiing's obituary in a 1997 analysis of snowboarding's rapid growth, echoing common arguments of the day: "Today, about 80 percent of children going into a snow sport end up snowboarding by their 12th birthday, according to a survey by another industry group, Ski Industries of America. If trends hold up, within 15 years snowboarders will outnumber skiers."
That several major resorts – including Park City, Aspen, Keystone, and Taos – still banned snowboarding at the time only fueled the sport's rebellious appeal among my peers.
"Resorts that ban snowboarding are supported by skiing customers who refuse to cave in to the snowboard onslaught and contend that snowboarders are too reckless and ill-mannered on the slopes," The New York Times observed in 1995. "This complaint reflects the division between traditional downhillers and the younger wave of snowboarders who brought their surf and skateboarding roots, a preference for baggy clothes and kerchiefs and a renegade image to the mountain."
At the time, skiers still outnumbered boarders five to one (it's now around three to one). It's easy to forget how rooted to the ground skiing was in those days, how carve- and groomer-centric. Latter parts of that Times article read as though it was written by a curious space alien who had dropped down from the mothership to see what all this snowsports nonsense was all about:
It is in part because of the sport's daring-do that ill will between different generations has developed on the slopes. The innate athleticism of youth translates into jumps, spins and flips on a snowboard. The aerial attack on the mountain can be threatening to adults who are used to limiting their thrills to how fast they can ski.

In an effort to woo the growing number of snowboarders – and to confine some of the high-flyers to one area – ski managers have opened up special parks for boarders. Man-made artifices offer snowboarders a place to let their boards rip over obstacles with names like table tops, spines, half-pipes and rail slides.
Two years later, that same paper was crediting snowboarding with saving the downhill industry.
I never did take up snowboarding. But because I rode mostly with snowboarders and because I was young and because I found (and still do find) groomers to be so deathly boring that I spent all of my on-mountain time bombing over the slopes like a heat-seeking missile in search of any small hump to launch off of, I adopted that ethos of creativity and line-seeking and airborne wildness that transformed skiing from a novel pastime into a lifelong obsession (even if I'm less of an air maestro these days).
All of which is a long way of saying that when Jake Burton Carpenter passed away last week at 65, it was an enormous loss to every skier and snowboarder everywhere. In pushing his upgraded Snurfer into the mainstream, the godfather of one-plankers probably saved our collective asses, drawing enough young 'uns in to keep the industry financially viable, and in turn forcing and inspiring technological changes to skis that finally drew the sport out of its dude-with-a-sweater-doing-stem-Christies-before-enjoying-a-cup-of-cocoa 1960s rut.
Skiing did not die in the 90s, of course, but the kind of always-on-corduroy, stay-out-of-the-trees, moguls-are-for-the-Olympics, hey-you-little-brats-there'll-be-no-building-of-jumps-here-on-Mount-Snoozemore paradigms that had defined the sport for decades were gleefully dismembered, collateral casualties of those enormous advances in equipment that drove a renaissance in the attitude, energy, infrastructure, and establishment that runs the mountains. Skiers have of course long been allowed in those "special parks," glading became commonplace, and many mountains have opened vast ungroomed playgrounds for the adventurous (the best example in the East being Sugarloaf's Brackett Basin, which would have been unthinkable in its current untamed form 30 years ago). We collectively owe a debt to snowboarding, and in turn Carpenter, for dynamiting what was redundant and uninspiring in the flattened resorts of the past and enabling the more free-flowing exploratory mountains that replaced them.
While a few mountains still regrettably ban snowboarding, the sport is now sufficiently mainstream enough that you don't get any extra cool points for walking up to the lodge toting your board. Snowboarding itself may have plateaued. Most of my 90s posse that fled those skinny planks are finding their way back to skiing, coaxed by the vastly better-than-old-school-straight-skis gear that they claim is a bit easier on their creeping-into-middle-aged bodies than snowboards. The peer pressure to do so long gone, I will probably never try snowboarding, as it seems mostly like a good way to injure myself badly enough to end my ski season. But I do appreciate how Carpenter's imagination, persistence, and energy changed this thing that is so important to me in so many ways.
A few of the best obituaries and tributes:
There is no doubt that Carpenter helped put snowboarding on the map. When he started making his snowboards at age 23 in 1977, not one ski mountain in the U.S. permitted snowboarders. He pioneered a largely unknown backyard hobby into a mainstream sport that is now allowed at 473 of the nation's 476 ski resorts. In those early days, the Burton brand was synonymous with snowboarding, as Carpenter spurred the industry—though he insisted he didn't invent it. "There was this guy Winterstick and later Simms that got involved. We were all just chasing it. But I was chasing it better than anybody else," he explained. 

Indeed. By developing a snowboard that had the same edge control as a ski, working with resorts to demonstrate the equipment's safety, setting up global distribution channels and launching the Burton U.S. Open (to date, the longest-running event in snowboarding), Carpenter successfully catapulted snowboarding from a niche hobby to a globally recognized sport. 
Veteran snowsports journalist Steve Casimiro inAdventure Journal:
It's impossible to overstate Burton's impact on the winter sports community. Though there is debate about who really invented the snowboard, it was Burton who took the Snurfer he'd grown up with sliding sideways down Vermont hills, lit a fuse under the concept, and watched as it exploded, transforming, and in many cases saving, ski resorts worldwide.

But there were so many ways in which that almost didn't happen.

Infatuated with skiing, Burton moved out to Colorado to attend the University of Colorado's Boulder campus in the early 1970s, with starry-eyed dreams of making the ski team. He did not. Burton was becoming disillusioned with where skiing was headed at the time and started thinking more and more about improving on the Snurfer. Had he made the ski team, who knows if those thoughts would have ever crystallized.
Mr. Carpenter's initial goal was to make a better Snurfer, employing a small staff in a converted barn in Londonderry, Vt., and drawing on a $150,000 bequest from his grandmother. But that first year was filled with rejection, largely by customers at surf, ski and skateboard shops.

"Yeah, I was like Willy Loman," he said in an interview in 2017 for NPR's How I Built This, referring to the defeated protagonist in Arthur Miller's classic play Death of a Salesman. "I remember once going out with 38 snowboards, visiting dealers in New York State, and came back with 40 because one guy gave me two back he had bought."
But for a young man who thrived on the thrills of speed, Mr. Carpenter got off to a slow start in business. While bartending at night, he worked away in a barn in Londonderry, Vt., experimenting with various woods and plastics and other materials to make a superior snowboard.

"I did everything myself," he said, according to the book Snowboarding by Patricia Oudit, "sawing and gluing with my own two hands, then doing trial runs on the slope behind my place."

He ran up tens of thousands of dollars in debt. A central problem was that the renegade spirit of snowboarding that excited him and other enthusiasts proved less appealing to operators of ski resorts, who regarded snowboarders as wintertime skateboarders and did not relish their presence among the more-refined skiers who frequented their slopes.

"The people who had been ski bums when they were kids wouldn't accept it, didn't want this youth culture back on their mountains," Mr. Carpenter once told an interviewer. "The process of getting snowboarding into resorts was really tough."
Inc., resurfacing a piece written by Carpenter in 2014:
The first people I hired were two relatives and friends. That was a mistake. I didn't know how to manage people then--that skill comes with experience. What I've learned is that from the very beginning, you need to surround yourself with people who are different from you and who complement you. Do not hire your spitting image--or people you like. I did, and that failed for me. After that, I started hiring high school kids on a part-time basis. They lived and breathed snowboarding, and a couple of them went on to become world champions. Through them, I learned more about the sport and the market than I knew possible. That turned out to be a brilliant move, because they understood the market differently than I did.
A nice Vice video profile of Carpenter from a couple years ago:
Most timelines are boring. This one, mostly written by Carpenter himself, is not. It's still somewhat astonishing to me that staid Stratton was the first mountain to officially open to snowboarding. Popular Mechanics on Carpenter's innovations in width, sidecut, and bindings. Vermont Ski +Ride profiled Jake and his wife a couple years ago, and also recently wrote about the very cool Burton-founded Chill program that works to connect kids with winter sports.
Elsewhere
Alterra CEO Rusty Gregory joins Win Smith for a community meeting in Warren, home of Sugarbush, to assure the community that they will retain the mountain's entire staff. Meanwhile, Vail announces layoffs of corporate staff at former Peak mountains. NY Ski Blog visits Hunter.
This is the best season pass deal in skiing
Lodged in the remote wilds of Michigan's Upper Penninsula is Mount Bohemia, a powder-throttled paradise sprawling across several peaks above Lac La Belle. It is one of the newest and most unique mountains in the United States. There is no beginner terrain. They don't make snow. They don't groom. It is a skier's mountain that is almost nothing but glades dotted with cliffs and chutes. Its 900-foot vertical is yeah small for Colorado or whatever, but it towers over everything else in the region. And since it's far from everything – it's a nine-and-a-half-hour drive from the Detroit airport – it's rarely crowded.
Once a year, for a few days, the mountain offers what is the best season pass value that I'm aware of: a $99 no-blackout season pass that includes bonus days at nine mountains across Michigan, Washington, Montana, Colorado and Wyoming. That sale runs from Nov. 27 to Dec. 7 this year. Miss this window, and the pass is a still-reasonable $340. Considering a single-day lift ticket for any age is $74, this is a worthwhile buy even if you're just sweeping through for a weekend on some epic cross-country powder chase. Hell, the three days at Whitefish alone would justify picking up the pass.
Unfortunately, Bohemia doesn't have any partners in the Northeast yet, and most skiers from this region are hitting the west or Europe if they travel. But if you only ski one Midwestern resort in your life, this is the one to hit, and picking up this pass is the way to do it.
This week in skiing
Despite my local, Mountain Creek, cracking open the lifts for the season, I couldn't find a window to get up there. I did, however, spend a snowy day bombing empty groomers at Mt. Snow. It snowed all day. Some people prefer bluebird, but man I absolutely love riding through the gut of a storm, being out in all the raw energy of it, free refills keeping the trails fresh all day, the crowds slowly emptying out, the mountain, by day's end, all mine.
I've been hard on Mt. Snow over the years, turned off by the overgrooming that is my top gripe with non-Magic Southern Vermont ski resorts in general. I hadn't been there in years, but I picked up an Epic Pass when Vail bought Peak, figuring that broad of access couldn't be a terrible thing when I'm chasing storms. I was pretty happy with what I found - their mountain ops folks have done a hell of a job getting the place going top to bottom, and it's a breeze to get there from NYC. Plus, hauling ass over empty weekday groomers isn't the worst way to spend an early-season get-in-ski-shape day.
My buddy Matt from Northeast Skiology (a snowboarder, as it happens), rode with me and did a more detailed conditions write-up on his group's page.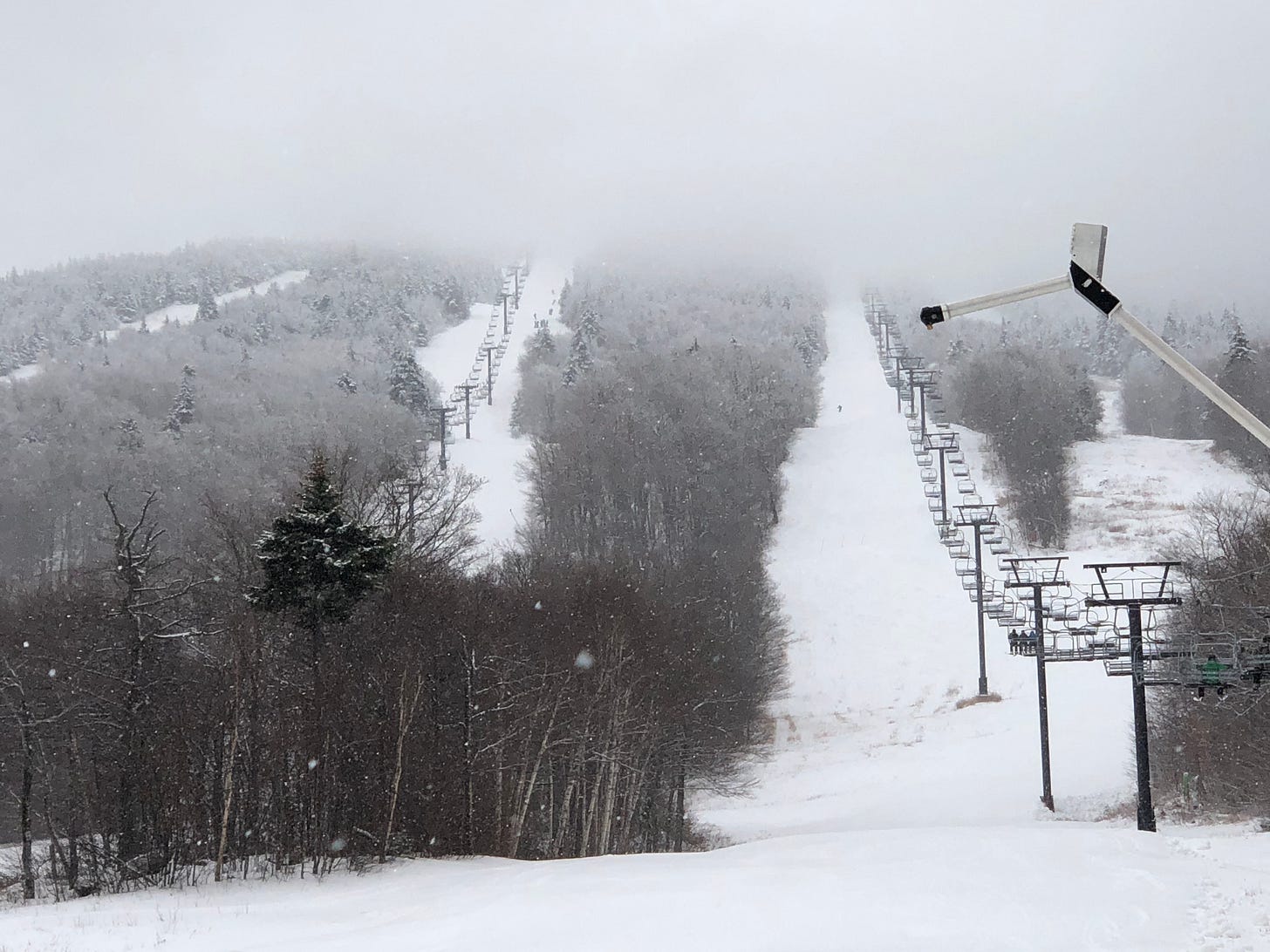 The North Face at Mt. Snow during an early-season storm.
---
The Storm Skiing Podcast is on iTunes, Google Podcasts, Stitcher, TuneIn, and Pocket Casts. The Storm Skiing Journal publishes podcasts and other editorial content throughout the ski season. To receive new posts as soon as they are published, sign up for The Storm Skiing Journal Newsletter at skiing.substack.com. Follow The Storm Skiing Journal on Facebook and Twitter.
Check out previous podcasts: Killington GM Mike Solimano | Plattekill owners Danielle and Laszlo Vajtay | New England Lost Ski Areas Project Founder Jeremy Davis | Magic Mountain President Geoff Hatheway | Lift Blog Founder Peter Landsman | Boyne Resorts CEO Stephen Kircher