Discover more from The Storm Skiing Journal and Podcast
Everyone's searching for skiing's soul. I'm trying to find its brains.
Over 13,000 subscribers
What's 204 Feet Tall and Costs $2.9 Million?
ORDA and the gold-plated gondolas of New York State
New York's Olympic Regional Development Authority (ORDA) – which manages Belleayre in the Catskills and Gore and Whiteface in the Adirondacks, in addition to a ski jump facility and other venues – would receive $147 million in new capital funding under Governor Andrew Cuomo's fiscal year 2021 budget (see pg. 32).
This is an astonishing number when put in context alongside the investments that private or publicly traded companies are making in their mountains – Vail's capital plan for all 37 of its mountains allocates between $210 and $215 million in 2020, while Alterra will invest $181 million in its owned properties by the end of the 2019/20 ski season (they have not updated this estimate since acquiring Sugarbush).
This is a good time to note that Vail owns three of the four largest ski areas on the continent in Whistler, Park City, and Vail. Whistler alone clocks around 2 million skier visits in a good year. ORDA's three mountains combined totaled around 650,000 skier visits last year, and their combined skiable acreage would fit comfortably in Vail's Back Bowls.
This disparity in dollars invested to sheer volume of skiers and terrain to manage is noteworthy mostly because ORDA's capital improvements are funded entirely with New York State taxpayer (of which I am one) dollars. ORDA consistently loses money from its operations - $21 million in fiscal 2016-17 – and earned a stern finger-wagging from the state Comptroller's Office in 2014 for patching together outside cash contributions to fill holes in its budget.
And despite continued losses, the state's capital contributions keep growing – the proposed $147 million would be a 78 percent increase over last year's $82.5 million, which was in turn a jump over 2018-19's $62.5 million and 2017-18's $20 million. Whether this year's $147 million would include the $100 million investment to modernize the Lake Placid Olympic Venues in advance of the 2023 World Winter University Games that the authority announced in July or the $14 million the state has pledged to replace Whiteface's burned-down mid-mountain lodge is unclear (at least part of the latter cost is likely to come from insurance).
The common line among officials is that they are trying to position Lake Placid as direct competition to Park City as a winter recreational destination, though I would not be surprised if Governor Cuomo, whose love of giant infrastructure projects is legendary, is trying to position the state for another Winter Olympics bid. And the former aspiration is achievable. While Whiteface is unlikely to start pulling Utah-grade and quantity snow on a consistent basis, ORDA can certainly update the skating, hockey, ski jump and other facilities to compete with anything in the world.
The specifics of how the money will be allocated, though, are hazy. With more and more cash trucked in every year and no obvious return on investment, things are getting as suspicious as a floating pizza in a Scooby Doo haunted house. The Adirondack Daily Enterprise said as much in an editorial last year:
As more money pours in to upgrade the state's winter sports venues, we're realizing how much the public doesn't know about how these tax dollars are being spent.

We don't want to be suspicious or accusatory. We just want more information.

We'd like leaders of New York's Olympic Regional Development Authority have to tell people how, as precisely as possible, they plan to use $82.5 million Gov. Andrew Cuomo has proposed to upgrade venues this coming fiscal year. We'd also like them to publicly make their best pitch for why these venues should get so much more after the state invested the same amount in them over the last two years: $20 million in 2017 and $62.5 million a year ago.

That's just for capital improvements. For operations, it would be nice if ORDA's skier and visitor revenue covered its spending, but in reality it always falls short. The state gave it $10 million last year, and now Cuomo is ready to give it $27 million, including an $18 million increase for as-yet-unexplained contractual services.
When Vail or Alterra announce capital plans, they detail the lifts and lodges and terrain expansions that these dollars will go toward. ORDA does no such thing. And while Belleayre, Gore, and Whiteface all have master plans online, they are exceedingly dense and largely outdated, and the logic behind their execution pace and strategy is rarely clear. It would be nice, for example, to know how Belleayre's expansion onto the shuttered Highmount ski area next door is proceeding, and how or if any of the hundreds of millions promised ORDA this year will go toward this project. Here's a diagram of the proposed expansion, circa 2014: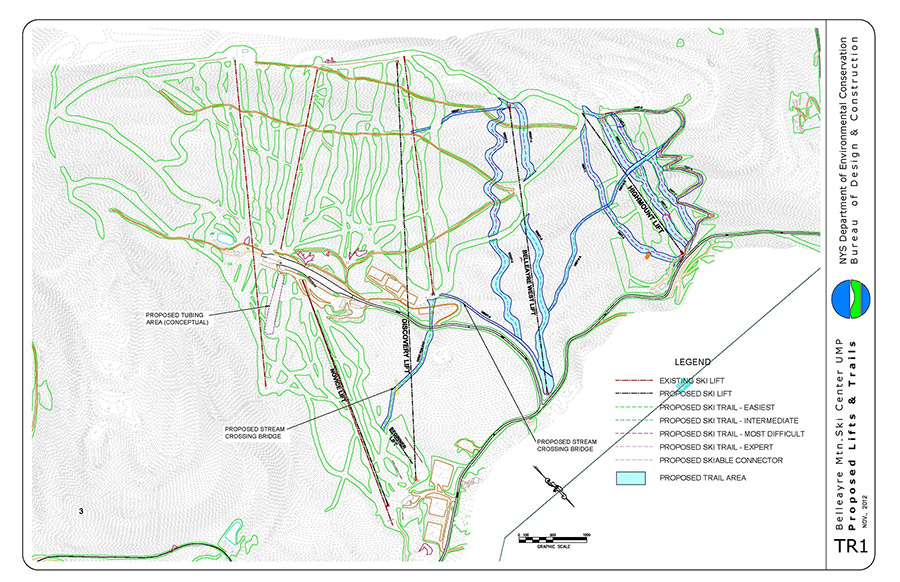 Belleayre's current trail map is below for context; the "Discovery Lift" noted above ended up becoming the Catskill Thunder Gondola. The theoretical future "Highmount Lift" far skier's left looks to follow the path of the double chair from the abandoned Highmont ski area, which still stands and is easily accessible off of intermediate Deer Run, which forms the boundary of the current resort: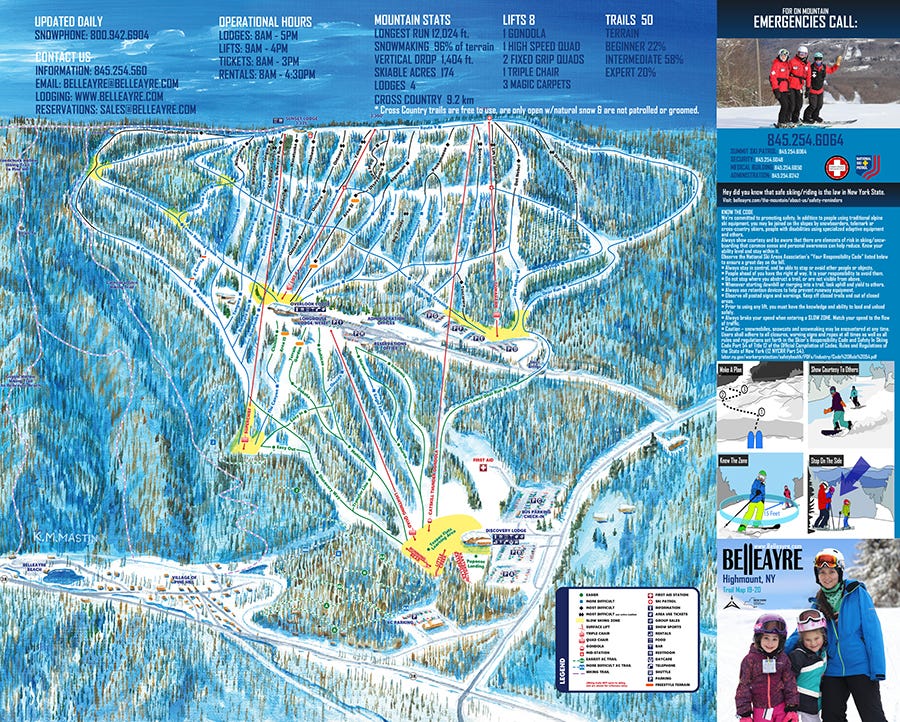 And here are a couple of pictures I took of said abandoned chairlift last season: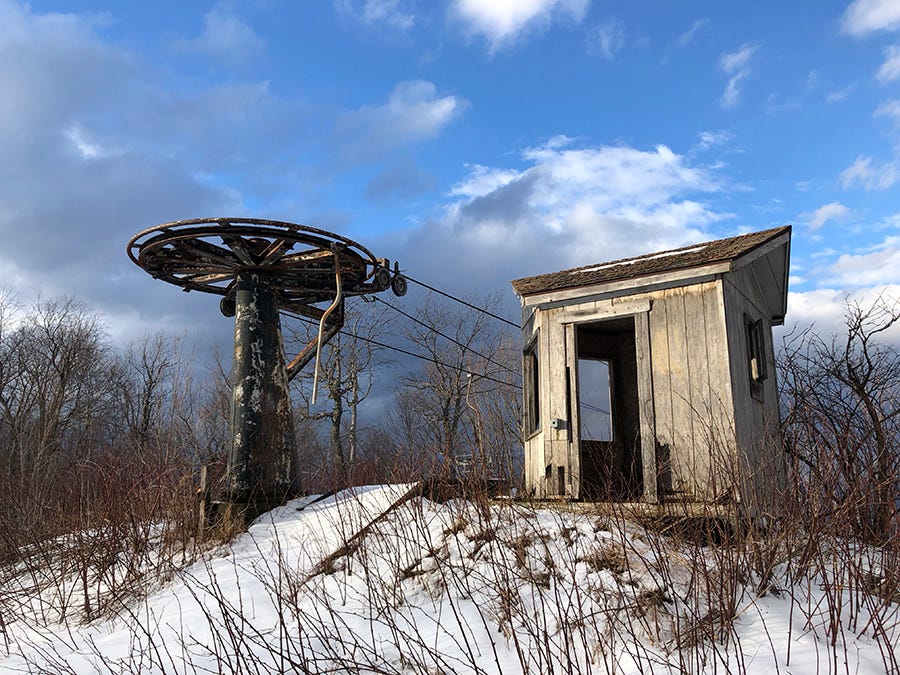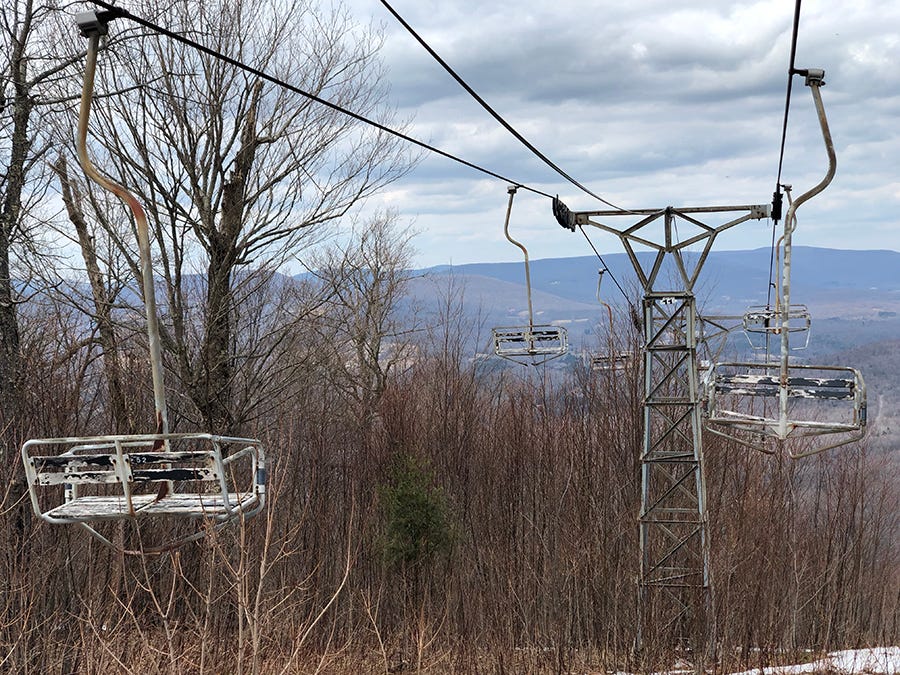 That gondola cost $8 million. I love that mountain and that lift, which is unquestionably the nicest ski lift in the state. But the skeptic in me has to acknowledge that it is also maybe the most unnecessary one, given the mountain's modest 1,400-foot vertical rise; a much cheaper top-to-bottom chairlift would have done just as well to unite this formerly segregated mountain.
Even worse: the ORDA-managed Lake Placid Olympic Jumping Complex just installed a new $2.9 million gondola that rises a grand total of just over 200 vertical feet, replacing a Poma double chair. While that is not an unreasonable cost for a gondola, the fact that it's an enclosed lift rising the height of a small Midwestern bump may surely qualify it as the most overbuilt ski lift on the continent.
While I find ORDA's stated mission to "Improve the physical fitness and recreational education of the people of New York and the United States" to be an admirable one in our yo-let's-Halo-Flix-the-weekend-into-oblivion couch-potato society, this outsized investment – and what amounts to subsidized lift tickets – in a few ski areas disadvantages the private mountains that have to compete with it.
Plattekill owner Laszlo Vajtay told me as much on The Storm Skiing Podcast, wondering why tickets at built-up Belleayre should be priced the same as at two-chairlift Plattekill, when they should be more in line with prices at Vail-owned Hunter and similarly gold-plated Windham. That the Vajtays' tax dollars go to subsidize their neighbor (you can see each mountain from the summit of the other), only compounds their frustration.
While I am not an everything-should-be-privatized free market fundamentalist, I am also not certain that the State of New York is the most competent manager of these ski hills. I would rather see them managed by Vail or Alterra or Boyne or Powdr – companies with an imperative to draw capital improvements from operating profits or financing, and who know where to most effectively allocate those dollars and how to communicate those plans to skiers. This is the model long used at Alterra's Winter Park, which is owned by the City of Denver.
And there are plenty of other ways that New York State can support the winter sports industry that do not disadvantage independently owned mountains, dozens of which have gone out of business in recent decades. The state's I Ski NY initiatives, including the kids' passport and coordinated statewide discount days, are excellent examples of this.
ORDA has in many ways done a good job of upgrading its three outstanding ski hills, and I enjoy skiing at each of them. But no business would survive if it continually lost millions of dollars annually while drawing enormous amounts of outside capital. The State of New York does need these ski areas to exist and to thrive, but it does not need to run them. There is someone out there who does nothing but run mountains that would be happy to have them in their portfolio - and would pay the state a hefty annual sum for the privilege of doing so.
Driving up mountains while tanked continues to be a bad idea, according to police
The Vermont State Police issued the following incident report on Saturday:
On 01/24/2020 at approximately 22:56 hours, Troopers from the Vermont State Police and Officers from the Winhall Police Department responded to a report of a male attempting to drive a motor vehicle from the parking area up the ski slopes at Magic Mountain Ski Area, Londonderry, VT. Upon arrival, Troopers met with the operator, identified as Frederick P. Brechter, who displayed indicators of impairment. Brechter displayed additional indicators of impairment on subsequent Standardized Field Sobriety Tests and was taken into custody. Brechter is scheduled to appear in Windham County Superior Court on 03/17/2020 at 08:00 hours to answer to the charge.
"Obviously late at night is not a good time for decision-making," said Magic Mountain President Geoff Hatheway in an emailed statement. "Thankfully no one was hurt and our staff, with the fantastic help of Vermont State Police and Town of Winhall Police, were able to get this driver, who was found to be under the influence, off the 'road' so he didn't hurt himself or anyone else. The driver was not a patron of Magic or the Black Line Tavern that day."
I would like to tell you that Mr. Brechter was a misunderstood rogue pioneer testing out an innovative four-wheel lift system that would solve the twin problems of lift lines and constant chairlift maintenance. Unfortunately, he is just the latest genius to get hammered and go uphilling.
To see what could have happened had the police not stopped Mr. Brechter in time, look to my home hill of Mountain Creek, where a tanked-up off-duty detective rolled his Jeep Wrangler an estimated 20 times when attempting to navigate a now-permanently closed double black diamond trail in 2013.
While the incident upended the guy's life and cost him his job, it could have been a lot worse – his 6-year-old son was ejected from the backseat and somehow survived by landing in the bushes. This story about the local mechanic who scrambled up the mountain to retrieve the boy reads like a plot from an episode of Lost:
Hayes said he had dropped off his 16-year-old son at Minerals Golf Resort on Saturday afternoon and was about to drive away when he heard a "crunching noise."

Glancing up, Hayes spotted the 2007 Jeep Wrangler — with a married couple from Vernon and their 6-year-old son inside — beginning its terrifying, unfathomable descent down the steepest of Mountain Creek's 42 ski trails.

"I must have seen this thing tumble 20 times in the air," Hayes, 57, a married father of two from Hamburg, said in a telephone interview Tuesday.

"It was spinning three or four times in the air, before it came down and went up again," Hayes recounted.

…

Hayes, who stands nearly 6 feet tall and weighs about 200 pounds, was not dressed for a perilous scramble up the mountain.

"I had just sneakers on, flat sneakers which were terrible running uphill. It was like ice skating on weeds," Hayes said.

The wreck was concealed by trees and brush, so Hayes was not exactly sure when it landed.

From the Minerals parking lot, he began scrambling toward some boulders, about 300 yards away, which he correctly guessed had halted the Jeep.

As if getting to the site was not sufficiently challenging, Hayes first had to evade a large bear, near what turned out to be the crash site.

"I stood my ground. He snorted a couple of times. I stayed calm. He just moved a couple of feet, then started going past me," Hayes said.
All this before Hayes even found the wreck, assessed the condition of the unconscious driver, checked for gas leaks, and pushed 100 yards uphill to find the boy. I mean how many times in your life do you witness a car accident and how many times in your life do you see a bear, and unless you crash into a bear, what are the chances of those things happening within five minutes of one another? Imagine you are this dude and you just drop your son off and look up and you're like, "Oh, there's a Jeep tumbling down the mountainside. That's unusual." And so you go tromping into the forest in shoes that are maybe adequate for crossing the parking lot at Shop Rite and there standing in front of you is, of all the animals on planet Earth, a gigantic black bear. And if you went out into the woods right now and searched for a week you probably couldn't find a bear if you had a drone and binoculars and a bag full of bear traps and did nothing but look for bears, but here's a bear just standing there like "what?" when you're trying to respond as the lone witness of a horrifying accident, and that dude has got to just be thinking "man are you fucking kidding me?" And at that point I may have just assumed that I'd slipped into an alternate dimension or was in some kind of hallucinatory dream and just said, "Hey Bear, I just witnessed an improbable and most likely deadly car wreck and I could use some help possibly prying some passengers or what's left of them from the shell of their Wrangler, so if you want to lend me a paw I'll totally drive you to Shop Rite after this and we can clean out the honey aisle." And then the bear probably would have eaten me and there would have been a very different newspaper story to write.
This just in: skiers continue to like snow, skiing on it
Ikon Passer Sugarbush and not-on-any-pass-that-I'm-aware-of Gunstock both experienced their busiest days on record over the MLK holiday weekend, which coincided with a pair of snowstorms.
While the Ikon Pass likely helped drive traffic at Sugarbush, mountain President Win Smith pointedly said that the majority of the visitors were season passholders. That distinction will disappear next season anyway, as the Ikon Pass becomes their season pass (no word on Base Pass coverage yet). That's a great deal for Sugarbush passholders, who, for roughly the same price, are going to pick up seven days at Killington, Loon, Sunday River, and Sugarloaf, in addition to season passes at Stratton and Tremblant and tons of western access. That tradeoff may be worth whatever uptick in traffic they experience at their longtime home mountain.
That Gunstock also experienced record crowds is the interesting thing here, as that mountain is about as independent as they get. It underscores the importance of these holiday periods for all mountains and suggests that skiers are unlikely to abandon their local en mass to hop on the Epik/Ikon trains.
But didn't it also snow last MLK weekend? It did, but, as New England Ski Journal points out – and honestly I would not underestimate this as a factor – this year, the Pats were not playing in the AFC Championship Game, as they had been on the same weekend in 2019.
RIP Man
When Kobe Bryant was preparing to retire from basketball in 2016 after a 20-year career, he told Sirius XM NBA Radio's Jared Greenberg that he'd like to try, "skiing a little bit. I've never been skiing before. Maybe a do a little surfing maybe. Maybe a little skydiving."
To help make that happen, the Utah Jazz presented him a pair of fat Salomons as a parting gift:
You can imagine Kobe's otherworldly athleticism unleashed on a pair of skis, airing over the Fingers at Squaw Valley or sending it into Corbet's. Not, probably, at 41, of course, but had he somehow ended up a ski kid instead of a hoops kid.
The sentiment that he wanted to try skiing is more important - that someone who had already done so much was willing to try so much more. The statement articulates a mentality of active living, an appreciation for novelty, and a courage to try something even if it might make you look stupid that I think most skiers can appreciate.
I actually worked for the NBA's league office in New York for several years, two of which corresponded with the Lakers' back-to-back championships in 2009 and '10. I was at the Staples Center in Los Angeles when they won the second of those, a sea of Kobe jerseys and confetti and a raucous home crowd. It was a glorious moment to witness, even though I had no connection to the team.
I'm not sure if Kobe ever got a chance to break out those Salomons. But the guy lived a full life, even if it never included skiing. And I'm not really sure there's anything any of us can do other than that.
Elsewhere
A lowball offer of $4 million for Hermitage Club – including the ski area, golf course, inns, and undeveloped land – is likely to find challengers at auction, including a group of former club members. Boyne, meanwhile, has bid $3.5 million for the resort's six-passenger bubble lift, which would be a bargain for the almost-new six-pack.
Vail Resorts' skier visits dropped 7.8 percent in the early winter period. This included the Peak mountains. This means, well, nothing. Remember, Vail already has our money, whether the snow falls or not (and it didn't in some areas, thus the skier-visit drop), and lift ticket revenues ticked up even with the drop in skier visits.
Sleeping Giant, Wyoming is sadly destined to become a lost ski area at the end of the season. Larry Demarse, co-founder of Bristol, New York, dies at 82.
Powder on the New England ski club scene. New York Ski Blog at Bolton Valley. Vermont Ski + Ride on the state's new drone fleet, parts of which will be used to track down lost skiers in the woods. The High Falutin Ski Bums podcast visits Sugarbush.
This week in skiing
No skiing. That's life with little kids. You plan skiing and then sometimes skiing doesn't happen. Nothing to do but shrug your shoulders and look to the next week (which I anticipate will be better).
---
The Storm Skiing Podcast is on iTunes, Google Podcasts, Stitcher, TuneIn, and Pocket Casts. The Storm Skiing Journal publishes podcasts and other editorial content throughout the ski season. To receive new posts as soon as they are published, sign up for The Storm Skiing Journal Newsletter at skiing.substack.com. Follow The Storm Skiing Journal on Facebook and Twitter.
Check out previous podcasts: Killington & Pico GM Mike Solimano | Plattekill owners Danielle and Laszlo Vajtay | New England Lost Ski Areas Project Founder Jeremy Davis | Magic Mountain President Geoff Hatheway | Lift Blog Founder Peter Landsman | Boyne Resorts CEO Stephen Kircher | Burke Mountain GM Kevin Mack | Liftopia CEO Evan Reece | Berkshire East & Catamount Owner & GM Jon Schaefer| Vermont Ski + Ride and Vermont Sports Co-Publisher & Editor Lisa Lynn |