Discover more from The Storm Skiing Journal and Podcast
Everyone's searching for skiing's soul. I'm trying to find its brains.
Over 13,000 subscribers
Vail to Require Reservations for All Skiing This Season, Limits Early-Season Access to Epic Pass Holders
Reservation system is part of a comprehensive rethinking of every part of Vail's resort-skiing experience
In an extraordinary change to the pull-up-and-ski ethos that has defined the sport for decades, Vail will require reservations for all skiers during the 2020-21 season, including Epic Pass holders. The changes, which will apply to all 34 of the company's North American ski areas, are the central component of a complete rethinking of every part of Vail Resorts' customer-facing operations to adapt to the physical-distancing imperatives of a society upended by Covid-19.
"Since the beginning of this crisis, we have made a commitment to all of our stakeholders that we will operate in a way that puts safety first and uses the insights we have gleaned from operating so many resorts around the world,"  said Vail CEO Rob Katz in a letter to guests this morning. "Given how fluid and ever-changing the situation with Covid-19 is, it has also been our goal to design an approach that can remain in place for all of this season. We do not want to be caught off guard or find ourselves needing to make reactionary changes. Striving for consistency will provide our guests, employees and communities with as much predictability as possible this season, which we believe is worth the extra effort."
As with everything Vail does, the plans are thorough, thoughtful, expansive, and slightly confusing. Here are the highlights:
Welcome to the Stadium Era of skiing
I do like concerts but the reason I rarely go to them is that acquiring tickets is a digital combat sport that makes Mortal Combat look like the Care Bears. That's because there is typically a finite number of seats at any given venue, and when they're gone, the tickets shuffle onto a third-part pseudo black market with the kind of fees that would embarrass payday lenders.
The same thing is about to happen to skiing (minus the secondary market [probably]). Vail is going to set a daily limit on the number of people allowed on each of its mountains. To access the resorts, skiers will have to make a reservation in advance. Non-passholders will have to buy lift tickets in advance, and none of Vail's ski areas will sell them onsite.
Vail is not, however, transforming its resort ecosystem into a series of Yellowstone Clubs – the capacity restrictions will be large enough that, Vail says, "for the vast majority of days, we expect that it will not be an issue for anyone to access our mountains." Still, this will be a significant change for a sport that has primarily restricted capacity by the size of its parking lots, and most ski area parking lots are expansive enough to act as a staging ground for a land army.
If the state of the world changes and the reservation system is no longer necessary, Vail may discard it, the company says, either companywide or on a mountain-by-mountain basis. The reservation system does not currently apply to Epic Pass use at partner resorts, which include monsters like Telluride and Sun Valley that will likely create their own version of a reservation system.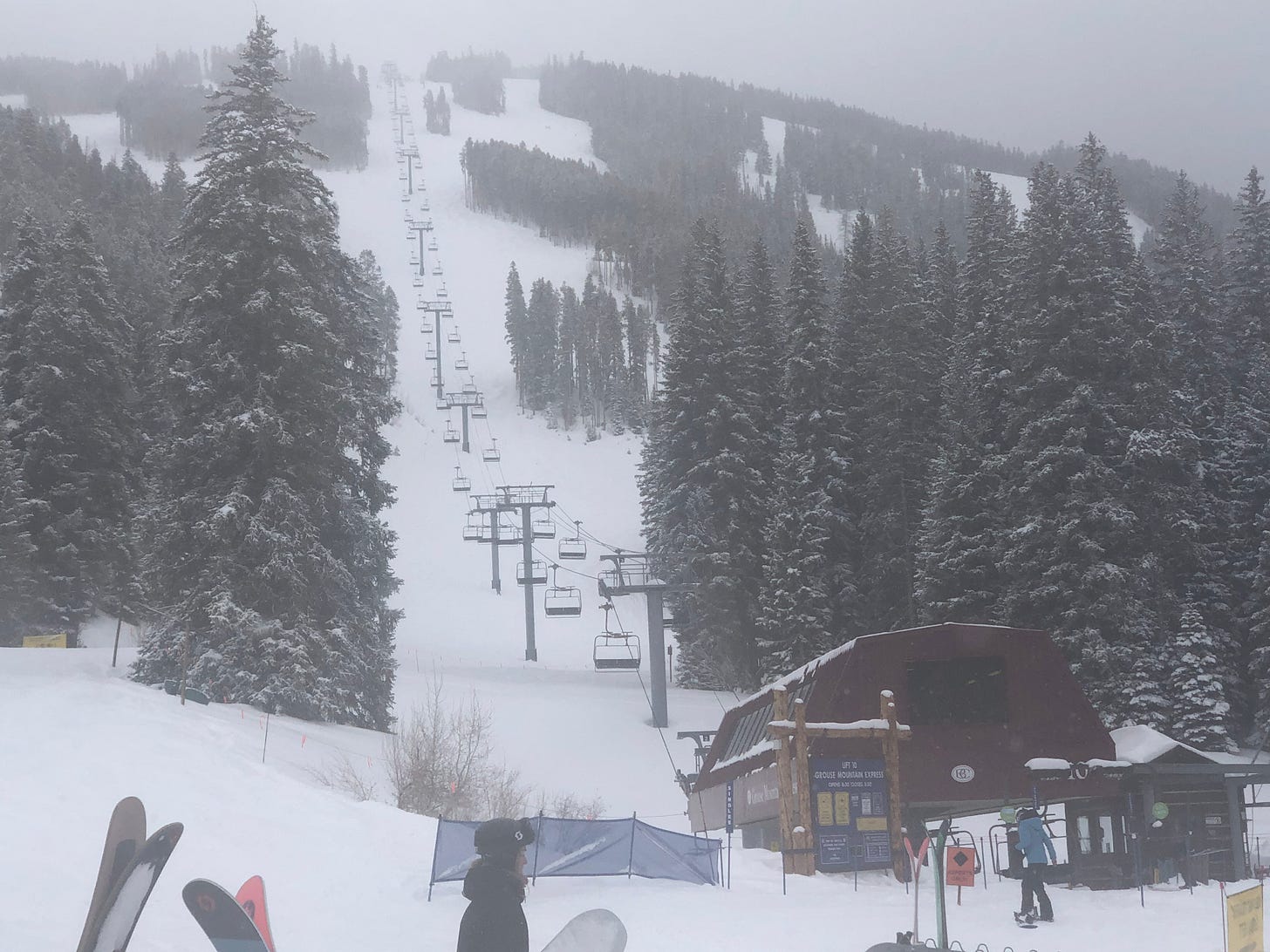 Beaver Creek's Grouse Mountain on a powder day.
The reservation system will prioritize Epic Pass holders, who will be the only ones allowed on the mountains before Dec. 8
Beginning Nov. 6 and until Dec. 7, only Epic Pass holders will be able to reserve days for what Vail calls its "core season," which stretches from Dec. 8 to April 4. Passholders can reserve up to seven "priority reservation days" at a time. When they use one day, they can reserve another. Days are free to reserve and cancel. On top of this seven-day limit, passholders can add as many days as they are able within the coming week. There is no waitlist if a day fills up.
This is all managed through epicpass.com (you can also do this over the phone if you happen to be reading this in 1972), but I am hoping for some kind of slick app to manage this whole process. Vail has the resources to make this happen and they should.
Individuals who are not buying an Epic Pass – and why on Earth would you ski a Vail mountain if you didn't have one, given the cost of day tickets? – are going to have to wait until Dec. 8 to hope lift tickets are available for the dates they want them. If Epic Pass holders claim all the tickets on a given day, individual lift tickets will not go on sale for that day at all.
Significantly, non-passholders will not be able to ski a Vail mountain at all prior to Dec. 8. For Epic Passholders, reservations for dates prior to Dec. 8 will become available week-by-week. You will still need a reservation to ski those days, but those days will not count against your seven-day priority day limit. So if you have a trip planned to Park City in February and you lock those days in on Nov. 6, you can book and ski day-to-day through November without consequence.
November is rarely congested at Northeast ski areas after we get over the initial Killington-is-open bullrun and a few more mountains open to spread the noise out a bit. As far as Vail's properties in the region go, many could be open and for members only for a number of weeks prior to Dec. 8. Here is the projected opening and closing dates for each of the company's Northeast mountains:
Attitash - Friday, Dec. 4, 2020 – Sunday, April 4, 2021
Crotched - Saturday, Dec. 5, 2020 – Sunday, March 28, 2021
Hunter - Friday, Nov. 20, 2020 – Sunday, April 11, 2021
Mount Snow - Saturday, Nov. 14, 2020 – Sunday, April 11, 2021
Mt. Sunapee - Wednesday, Nov. 25, 2020 – Sunday, April 4, 2021
Okemo - Saturday, Nov. 21, 2020 – Sunday, April 4 2021
Stowe - Friday, Nov. 20, 2020 – Sunday, April 18, 2021
Wildcat - Friday, Nov. 13, 2020 – Sunday, April 11, 2021
Big Boulder - Thursday, Nov. 26, 2020 – Sunday, March 21, 2021
Jack Frost - Friday, Dec. 11, 2020 – Sunday, March 28, 2021
Liberty - Friday, Dec. 11, 2020 – Sunday, March 21, 2021
Roundtop - Friday, Nov. 20, 2020 – Sunday, March 21, 2021
Whitetail - Friday, Dec. 11, 2020 – Sunday, March 21, 2021
For passholders, this could make for a terrific experience if the early-season snow hits as it has over the past two seasons.
Let me also add here however that I am absolutely heartbroken to see Vail preemptively fail to commit to two longstanding Northeast traditions – the early (usually pre-Thanksgiving) opening of Big Boulder and the May-or-bust close at Wildcat, which typically joined Killington, Sugarbush, Jay Peak, Sunday River, and Sugarloaf in this run-for-the-sun. For diehards making a decision between the two megapasses, this gives the Epic Pass zero late-operating mountains in the region and the Ikon Pass four. I realize these are preliminary dates and this is an unusual season, but putting Stowe down as your latest operator with an April 18 date (though typical for that mountain), is not a great look in a region where May skiing is expected and cherished.
The more you need out of your skiing experience, the more complicated this is going to get
If you're day-tripping from home, booting up at the car, skiing solo, and eating lunch on the lift, this isn't going to affect you much outside of adjusting to the reservation requirement. If you're flying into Eagle from Atlanta with four kids who all need lessons, well, the logistics might get tricky.
If you book a spot in ski school (advanced reservation required), your ski reservation is also set. If you book a spot at a Vail lodging property, however, it isn't, and you need to make the ski reservations separately. There will be no daycare. You can bring your own food, but indoor capacity will be restricted. Rental reservations will be available but not required. Ski school sizes will be limited to six. You can pick up, but not buy, lift tickets at the mountain. No on-mountain dinner service. Restaurants and cafes will be open but Dear Lord full-service on-mountain bars will not be.
How much fun are we having on our $20,000 vacation, Kids? Traveling with kids is always part survival camp and part enlightenment experience to show you how easy your day job is. Covid hasn't made that any easier, and that isn't really Vail's fault, but the fact is that for every hurdle skiing already required, the pandemic has added five more. These adjustments are inconvenient but also unavoidable.
Once you're on the mountain, Vail has thought through every part of the experience to accommodate life on Planet Covid: mandatory facemasks anytime you're not actively eating or bombing the snow, reduced seating and capacity at on-mountain restaurants and cafes (all of which Vail is committing to opening), all-cashless transactions (except where required by law to accept cash), expanded outdoor dining capacity, expanded rental delivery services, increased sanitation everywhere, etc.
The most interesting parts of this plan, to me, are the guidelines for managing chairlifts and gondolas, which are the only part of the lift-served skiing experience, other than bathrooms, that I consistently use. Crucially, Vail plans to operate all lifts (as conditions allow). Capacity-wise, only "related" parties can share a chair or cabin in most instances. Singles (and there will be singles lines), however, can sit on opposite sides of a quad, six-pack, or gondola; and doubles can sit on opposite sides of a sixer.
The part that made me LOL in this otherwise very thorough FAQ outlining "the winter experience" is that Vail's liftline management plan was to "believe any initial lines will level out as guest spread out across the resort." Which is about the time I will remind Vail that they now own five ski areas in Pennsylvania and this is what liftlines look like in Pennsylvania: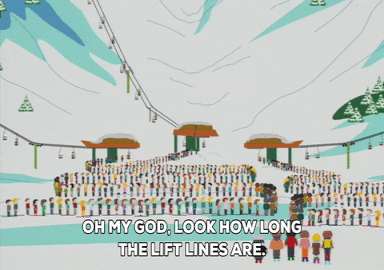 I doubt capacity restrictions will eliminate this problem on such small mountains. On the whole, though, I am satisfied with the comprehensive nature of Vail's plans, and Katz acknowledged in his letter that this is a can't-please-everyone situation. "I realize not everyone will agree with our approach – some feeling we are being too conservative or aggressive," he said. "And I recognize the changes we are implementing will be an inconvenience. But I ask for your understanding and patience. In return, you can count on us to try and do everything we can to help keep you safe and make skiing and riding a reality this entire winter."
Hey Vail, this sucks. I want a refund
OK, here you go.
One of the positive consequences of Covid is that most serious ski areas have stopped acting like North Korean border police and have begun behaving more like Amazon, which would probably refund your purchase if you sent them an opened and eaten can of potato soup. In other words, the ski industry is beginning to see the value in establishing long-term relationships through responsive customer service that acknowledges human existence within uncontrollable external systems rather than eking out an existence through all-sales-are final authoritarian fist-pounding.
There are two primary ways this shift is visible here: 1) if you can't reserve your desired priority days, you can request a full refund and your 2019-20 passholder credit will roll over to next season; and, 2) if you're reading this and thinking some version of I WILL NOT ABIDE BY THIS SOCIALIST RESERVATION SYSTEM BECAUSE IT IS AN INFRINGEMENT ON MY PERSONAL LIBERTY, then Vail will refund your pass if you request a refund by Sept. 17. Frankly I can understand why they wouldn't want you on the mountain because you are probably also going to argue with the lifties and lunchline people about face coverings being AN INFRINGEMENT ON MY PERSONAL LIBERTY. You will also lose your 2019-20 passholder credit if you request a refund because your LIBERTY WILL NOT BE COMPRIMISED.
Dear God this is all getting so exhausting, isn't it?
There are some caveats and such to all this and you can read about them all here. Vail has extended the deadline for early-bird Epic Pass prices and for redeeming any 2019-20 season credit from Sept. 7 to Sept. 17.
So yeah we're doing this
This is sooner than I'd expected such a detailed operations plan from Vail, but they've obviously been consumed with this since the March 14 shutdown, and this is five months of long hard thinking distilled into something tangible that will help us plan our winter.
Alterra, I'm told by a source at a partner mountain with knowledge of their operations, is working on a similar system. Loon announced yesterday that day tickets would be limited this winter. Magic President Geoff Hatheway dropped the first reservation system on the Northeast a couple of weeks ago. Just as nearly every mountain of size or consequence in the region has updated its season pass policy to accommodate potential Covid shutdowns, expect them to modify and restrict lift-served operations to adapt to a socially distant world and the battle-scarred skiers who inhabit it.
COVID-19 & Skiing Podcasts: Author and Industry Veteran Chris Diamond | Boyne Resorts CEO Stephen Kircher | Magic Mountain President Geoff Hatheway | NSAA CEO Kelly Pawlak | Berkshire East/Catamount Owner & Goggles for Docs founder Jon Schaefer | Shaggy's Copper Country Skis Cofounder Jeff Thompson | Doppelmayr USA President Katharina Schmitz | Mt. Baldy GM Robby Ellingson | Alterra CEO Rusty Gregory | NSAA Director of Risk & Regulatory Affairs Dave Byrd
The Storm Skiing Podcasts: Killington & Pico GM Mike Solimano | Plattekill owners Danielle and Laszlo Vajtay | New England Lost Ski Areas Project Founder Jeremy Davis | Magic Mountain President Geoff Hatheway | Lift Blog Founder Peter Landsman | Boyne Resorts CEO Stephen Kircher | Burke Mountain GM Kevin Mack | Liftopia CEO Evan Reece | Berkshire East & Catamount Owner & GM Jon Schaefer | Vermont Ski + Ride and Vermont Sports Co-Publisher & Editor Lisa Lynn | Sugarbush President & COO Win Smith | Loon President & GM Jay Scambio | Sunday River President & GM Dana Bullen | Big Snow & Mountain Creek VP of Sales & Marketing Hugh Reynolds | Mad River Glen GM Matt Lillard | Indy Pass Founder Doug Fish | National Brotherhood of Skiers President Henri Rivers | Winter 4 Kids & National Winter Activity Center President & CEO Schone Malliet | Vail Veterans Program Founder & President Cheryl Jensen | Mountain Gazette Owner and Editor Mike Rogge