Discover more from The Storm Skiing Journal and Podcast
Everyone's searching for skiing's soul. I'm trying to find its brains.
Over 11,000 subscribers
Vail Officially Cancels Spring Skiing, Tiptoes Toward Summer
Heavenly, Breck, Whistler will not re-open to finish the 2019-20 ski season
Did you miss Wednesday's post on Cannon joining the Indy Pass? Read it here. A Storm Skiing Podcast conversation will be coming with Indy Pass founder Doug Fish by the end of the week.
Vail pulls its own pass
Vail's famous Yellow Jackets, those sentries of its Western slow zones whose aggressive policing of all things fast and airborne is often ridiculed by the Brah-just-let-me-gnar set, must have Zoom-bombed CEO Rob Katz' mountain ops meetings when the re-opening question hit the agenda. Their verdict: slow the F down.
In an email last Thursday from Katz to employees that was shared with The Storm Skiing Journal, Vail confirmed that it will not re-open Whistler, Breck, and Heavenly, an option that the company had kept alive when it closed its other North American mountains in March. Vail will focus, instead, on ramping up its trio of Australian resorts and safely starting summer operations at its North American mountains by early July.
"We intend to take our time to reopen, and we acknowledge that we may be slower to open than others," Katz wrote. "Our goal is not to win the race to reopen, it's to look back one day with great pride in our track record on safety. Before we reopen, we want to make sure we have taken the time to truly understand what changes are needed in our operations, processes, equipment, and trainings."
So this will be a slow roll. No surprise there: 2020-21 will be a weird ski season, with thinner on- and off-hill crowds, new rules and protocols, and a rethinking of the whole experience. "Re-Imagine the Mountain Experience" [caps original – thank you Corporate America For Always Violating Grammar in The Name of Inflating Importance; the only think that would make this better is if Vail had jammed two words together into one word to make it MountainExperience], appear to already be articulated as Vail's corporate vision. What would typically seem banal now strikes me as prescient, since rethinking everything from how skiers arrive at the hill to where they boot up to how they navigate rental shed hell will have to be thought through in detail and modified in kind.
As I wrote last week, this rethinking will likely yield some benefits for us skiers. This may include, most dramatically, fewer people on the hill, depending upon the degree of social distancing mandated by local governments and put in place by Vail itself. Katz acknowledges this possibility directly: "In the months ahead, we will likely have fewer guests in our resorts than in times past." It is unclear, however, if this possibility was being attributed to general fear of travel, patchwork responses across the nation that permitted some citizens to travel more freely, or capacity restrictions imposed by Vail itself. It's probably safe to assume that it's a combination of all three.
"Safety is about ensuring that we develop our own processes and procedures, taking into account local government guidelines, best practices from others companies and our unique knowledge and insight about our operations," Katz said. "We will soon have more to share about the many new Standard Operating Procedures we're working on - but, it's not just about good SOPs, safety is also about building trust."
So, stand by. The official cancellation of hoped-for reopenings at Vail's trio of late operators is likely disappointing for locals and for the contingent of radsters that descend on Whistler's glacier for summer camps. Still, the decision is unsurprising. The fallout from a re-opening going sideways far outweighs the short-term that's-cool boost from social media images of skiers riding chairlifts in May. It was a calculated decision, and probably, long term, the correct one.
Elsewhere, the southern ski season appears endangered in the western hemisphere. Argentina's Las Leñas, the second-largest ski resort in South America, will not open for the 2020 ski season, citing government orders and Covid. Flights in and out of the country are shut down until September anyway. There's more hope for skiing in New Zealand and Australia, where aggressive measures to fight Covid have yielded good results.
Northeast season pass updates – all changes reflected in

this chart
Deferral or refund options introduced this week
This isn't a season pass, but Indy Pass last week added seven new mountains, a $99 kids pass, a $129 season pass add-on at partner mountains, and a simple pass assurance program that grants a credit toward a 2021-22 pass based upon how many days you ski and nothing else: 80 percent if you ski zero days; 60 percent for one; 40 percent for two; 20 percent for three. I did an extensive write-up on this, but there seems to have been some kind of technical glitch where some subscribers didn't receive it; you can read it here.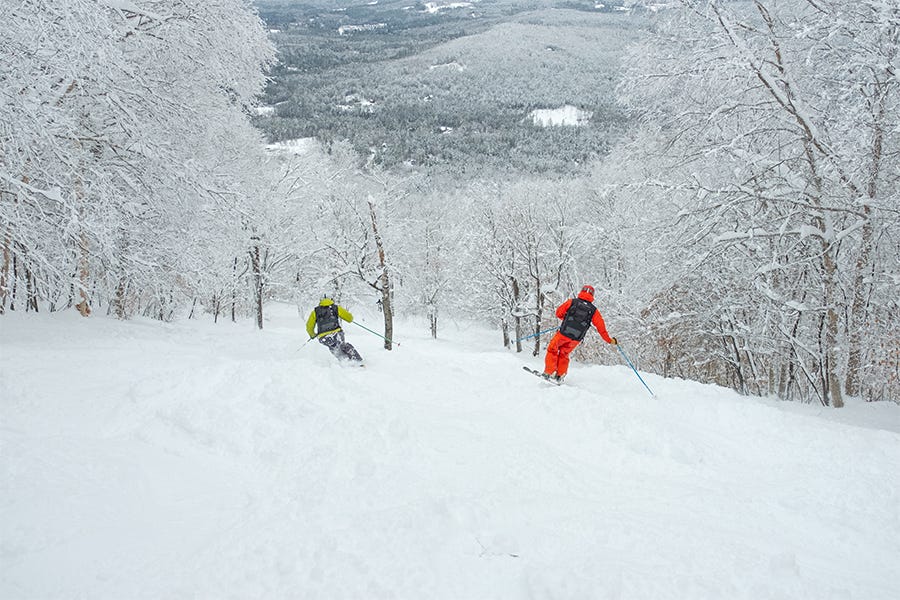 Skiers shredding Magic Mountain, Vermont, which returns to the Indy Pass for the 2020-21 season.
Wachusett introduced a four-part payment plan and an option to defer the entire value of a 2020-21 season pass to the 2021-22 season before the mountain's opening day. The mountain will also pro-rate a credit for a 2021-22 pass "if you have used a portion of your pass after opening day but cannot complete the season." It is unclear how the percentage of the season would be calculated for purposes of that credit, as Wachusett has not made a minimum-days guarantee of the sort that other mountains are using to gauge these credits.

Jiminy Peak and Cranmore, both owned by Fairbanks Group, introduced a no-questions-asked refund policy by Nov. 1 and guaranteed a 100-day season. The mountains will credit passholders one percent of the value of their 2020-21 pass toward the purchase of a 2021-22 pass for each day fewer than 100 that they are open. The mountains had previously introduced payment plans and moved their early-bird deadline out to July 15 and June 30, respectively. The $869 Jiminy price is still pretty rich for a pass that only gets you access to one mountain. Cranmore's $659 pass is a bit more in line with its New Hampshire neighbors. Curiously, Bromley, which is managed (but not owned) by Fairbanks Group, appears to be sticking to its no-refund policy.

Bristol introduced a no-questions asked season pass refund by Oct. 1. The mountain, whose $845 single-mountain season pass is among the most expensive in the Northeast, previously announced a payment plan.
Running list of Northeast mountains offering refunds on 2019-20 season passes or deferrals to 2021-22 season passes: Vail/Epic Pass (Stowe, Okemo, Mount Snow, Wildcat, Attitash, Crotched, Mount Sunapee, Hunter, Roundtop, Whitetail, Liberty, Jack Frost, Big Boulder); Alterra/Ikon Pass (Stratton, Sugarbush); Pats Peak, Waterville Valley, Cranmore, Windham, Mount Peter, Plattekill, Bristol, Jay Peak, Burke, Magic, Bolton Valley, Killington-Pico, Smugglers' Notch, Boyne 3 (Loon, Sugarloaf, Sunday River), Lost Valley (ME), King Pine (NH), Elk (PA), Blue Mountain (PA), Spring Mountain (PA), Yawgoo (RI), Berkshire East/Catamount, Jiminy Peak, Wachusett
Mountains that have committed to some sort of refund/deferral policy, but have not yet provided details (new category based upon my podcast conversation with Mad River Glen GM Matt Lillard): Mad River Glen
Notable holdouts (I have been told off the record that some of these mountains are working on policies): ORDA 3 (Whiteface, Gore, Belleayre), Greek Peak-Toggenburg, Holiday Valley, Bromley, Cannon, Bretton Woods, Gunstock, Black N.H., Ragged, Shawnee Peak (Maine), Mt. Abram, Saddleback, Camelback, Seven Springs-Hidden Valley-Laurel
Price adjustments
After briefly raising season pass prices from $469 to $539, Pats Peak appears to have dropped prices down to $489 until Sept. 8, when they will jump back to $539.
Additional Northeast season pass notes
This week's Northeast season pass deadlines
Monday, May 25: Smugglers' Notch, Lost Valley (Maine)

Saturday, May 30: West Mountain, New York

Sunday, May 31: Berkshire East/Catamount Summit Pass, Black Mountain (New Hampshire), Bretton Woods, Spring Mountain (Pennsylvania)
Elsewhere
The Hermitage Club's new ownership group has appointed former Mountain Creek President and COO Bill Benneyan as its executive director and general manager.
Vail appointed two new GMs in the Northeast:
Mount Sunapee: Peter Disch will take over the GM spot previously held by Tracy Bartels, who recently assumed the same position at Vail's Mount Snow. He comes from also-Vail-owned Wilmot Mountain in Wisconsin. While the mountains are smaller in the Midwest, the conditions are quite similar to the Northeast in their snowmaking-reliant, icy-hardpack-freeze-thaw wildness, so Sunapee skiers don't have anything to worry about there.

Wildcat: Josh Klevans, who is currently Vail's director of health and safety out of the company's corporate office in Colorado, is the new GM at Wildcat. He takes over for Brian Heon, who recently took the GM job at Boyne-owned Sunday River. Wildcat is the most unique mountain in the former Peak portfolio, a remote, rowdy, and challenging ski area spectacularly adjacent to Mount Washington. It will be interesting to see how Vail balances that legacy alongside its corporate imperative to Improve The Experience. They have so far managed similarly situated Kirkwood – long the outlaw of Tahoe – fairly deftly, and I would think the same let-it-be approach is advisable here.
New York Ski Blog on finding the perfect ski buddy. SAM Podcast explores the eternal clusterfuck of the rental shed in the age of Covid. New Ski Bums podcast.
This week in not skiing
Well it was an interesting, somewhat tragic week. It's too much for this little tack-on section, and I'm working on a full post that I'll send out sometime in the next several days.
---
The Storm Skiing Podcast is on iTunes, Google Podcasts, Stitcher, TuneIn, and Pocket Casts. The Storm Skiing Journal publishes podcasts and other editorial content throughout the ski season. To receive new posts as soon as they are published, sign up for The Storm Skiing Journal Newsletter at skiing.substack.com. Follow The Storm Skiing Journal on Facebook and Twitter.
COVID-19 & Skiing Podcasts: Author and Industry Veteran Chris Diamond | Boyne Resorts CEO Stephen Kircher | Magic Mountain President Geoff Hatheway | NSAA CEO Kelly Pawlak| Berkshire East/Catamount Owner & Goggles for Docs founder Jon Schaefer | Shaggy's Copper Country Skis Cofounder Jeff Thompson | Doppelmayr USA President Katharina Schmitz | Mt. Baldy GM Robby Ellingson| Alterra CEO Rusty Gregory
The Storm Skiing Podcasts: Killington & Pico GM Mike Solimano | Plattekill owners Danielle and Laszlo Vajtay | New England Lost Ski Areas Project Founder Jeremy Davis | Magic Mountain President Geoff Hatheway | Lift Blog Founder Peter Landsman | Boyne Resorts CEO Stephen Kircher | Burke Mountain GM Kevin Mack | Liftopia CEO Evan Reece | Berkshire East & Catamount Owner & GM Jon Schaefer| Vermont Ski + Ride and Vermont Sports Co-Publisher & Editor Lisa Lynn| Sugarbush President & COO Win Smith| Loon President & GM Jay Scambio| Sunday River President & GM Dana Bullen| Big Snow & Mountain Creek VP of Sales & Marketing Hugh Reynolds | Mad River Glen GM Matt Lillard