Discover more from The Storm Skiing Journal and Podcast
Everyone's searching for skiing's soul. I'm trying to find its brains.
Over 13,000 subscribers
Vail Offers Substantial Epic Pass Renewal Discounts, Drops Insurance Upcharge, Includes Shutdown Safeguards
Discounts will be as high as 80 percent for skiers who never swiped their 2019-20 Epic Pass
In a move that acknowledges the shortened 2019-20 ski season and shields buyers against a 2020-21 recurrence, Vail Resorts today announced substantial renewal discounts – up to 80 percent – for its full suite of North American Epic Pass products and expanded and dropped the upcharge for its pass coverage, which acts as a sort of insurance policy and now includes refunds for resort closures. Vail also locked in Sept. 7 – U.S. Labor Day – as the last date to both use the renewal credit and purchase Epic Passes that include the maximum number of discount days.
The long-expected news follows Alterra's announcement earlier this month that it was doubling its Ikon Pass renewal discount and extending the deadline for its best prices to May 27. Facing immediate and overwhelming public pressure following that announcement, the company introduced an option to defer the value of any purchased pass to the 2021-22 season by Dec. 10, for any reason, a couple of days later. Vail's updated policy offers no deferral option, instead outlining refunds that would be provided in response to resort closures or due to personal circumstances such as injury or pregnancy.
The specifics of the renewal discount and insurance policies are both highly dependent upon individual circumstance, including number of days skied in both the past and upcoming seasons. Skiers also must make a number of choices at checkout, including whether they would like coverage applied to a Thanksgiving-to-Easter "core season" or a specific week, and whether they would like coverage to apply to all or specific resorts.
If you want to understand how all this works, you can read through the coverage and renewal credit FAQs. Or you can just go out in your yard and run around a tree 50 times. Either will make you equally dizzy. To help keep you from this entertaining but likely counterproductive exercise, I'll summarize the main points below:
Substantial discounts for returning Epic Pass buyers acknowledge that the sudden shutdown sucked
We have all spent the past six weeks reading all-caps social media rants from Angry Ski Bro PISSED that the CORPORATE OVERLORDS who have taken over skiing SCREWED HIM out of two years of the ski season. Or whatever. The discounts Vail offers won't likely appease this guy, but it should accommodate the majority of passholders with a sliding scale that pegs the percentage amount of the refund to the number of days they skied.
The minimum renewal credit is 20 percent if you used your Epic Pass for five or more days. The credits increase to 32 percent if you only skied four days, 44 percent for three, 56 percent for two, 68 percent for one, and an astonishing 80 percent if you didn't use it at all.
This adds up to substantial discounts. I'll use the 20 percent benchmark here to calculate post-credit pass prices, assuming most people reading this are avid skiers and will top out at the minimum discount. Applied to posted Epic Pass rates, the renewal credit would knock the price of a full Epic Pass down to $783.20, an Epic Local pass to $583.20, the Northeast Value Pass to $479.20, and the Northeast Midweek Pass to $359.20 (all prices approximate and based on my own calculations – Vail will send you an individualized email on May 13 if you bought an Epic Pass last year, and May 21 if you bought a Peak Pass that outlines your discounts).
[UPDATE, May 14: The credit is not based on the current price of the pass. It is based on the cost of the pass that you purchased last year. So if you purchased a 2019-20 Epic Local Pass for $699 and used it five or more days, your credit would be 20 percent of that, or $139.80. You could then deduct the amount of that from the current cost of the Epic Pass of equal or greater value, so the $979 Epic Pass would be $839.20; the $729 Epic Local Pass $589.20. If you buy a lesser-priced pass, such as the Northeast Value or Midweek Pass, then you get a 20 discount rather than the dollar value credit. All totals calculated based upon a credit granted in my personal email from Epic Pass.]
These prices compare favorably to the full Ikon renewal rates of $799 for a full pass and $599 for an Ikon Base Pass (Alterra offers no Northeast-specific equivalent). The discounts also apply to anyone who bought a Peak Pass before Vail purchased Peak Resorts last summer, and appear to work even if you want to step down a pass tier. So if, for example, you bought an Epic Local Pass last season, when there were no Northeast-specific Epic variants, and you now want to step down to a Northeast Value or Midweek pass, you can apply the percent discount to those. If you were not an Epic Pass holder last year, none of this applies and you are paying full freight.
There are no refunds for last season – you must purchase another Epic Pass and apply the value of the credit to that. If you are expecting a refund, go join this guy's lawsuit, and good luck with that. When this works its way through the courts in 2026, you can use your $32 cut to go buy an "I Hate Vail" hat on Etsy. More likely, you will receive zero dollars because this lawsuit is likely going nowhere, and the renewal credit will be long gone.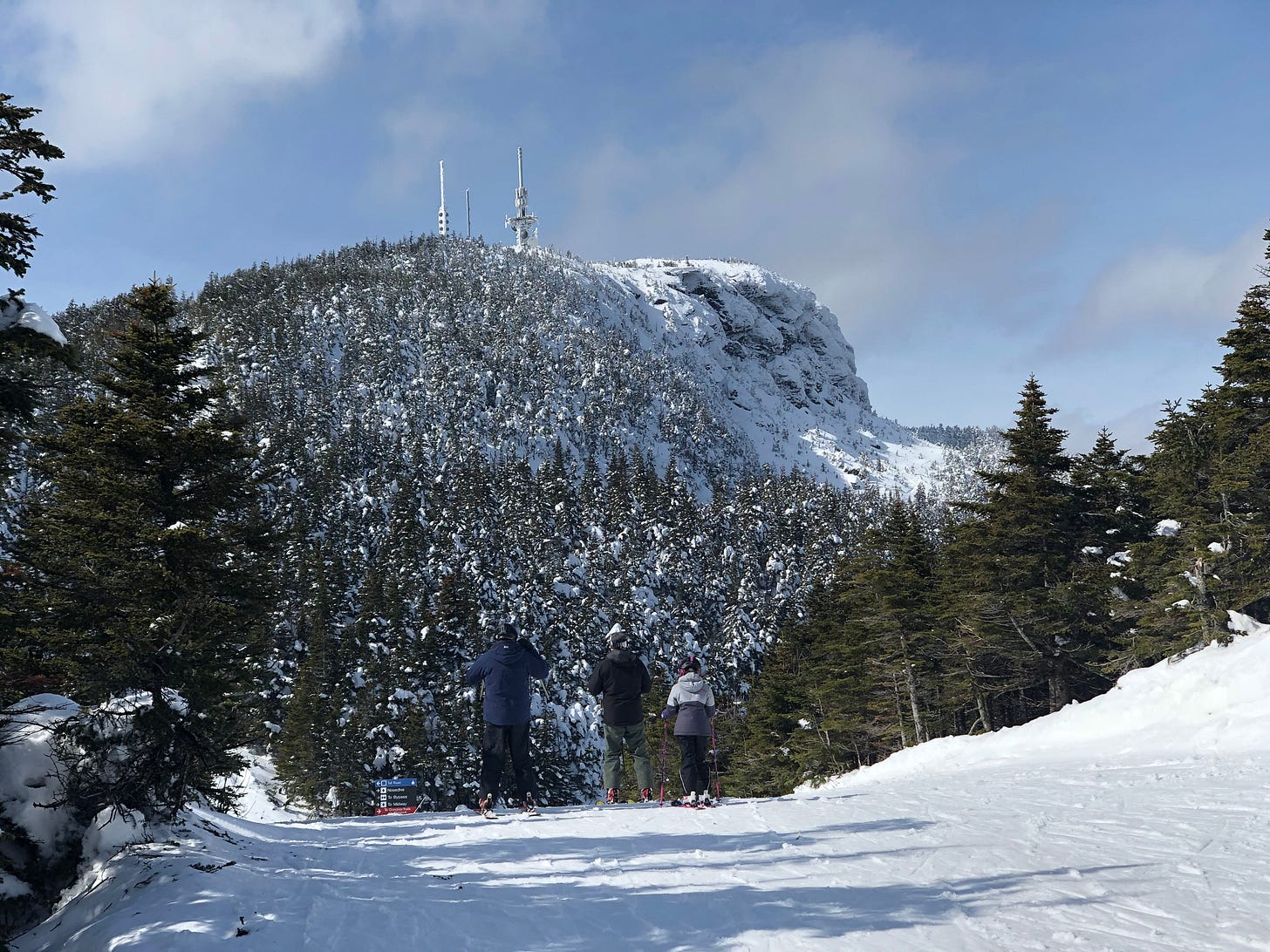 The top of Stowe in March 2020.
Buying an Epic Pass no longer feels like buying a toaster at Sears
At least part of the reason for my satisfaction with the online shopping experience compared with in-store purchases is that I no longer have to face the judgmental sales clerk when I decline to pay $9.99 for a Platinum Protection Plan to assure that my $17 toaster is covered in the event of a calamitous Pop-Tart fire. I can simply click "no I would not like to protect my purchase because I am irresponsible and myopic," no matter how passive aggressively this check-box language is worded. It is simply easier to weather the judgement of robots.
For the most part, I click "no" every time, regardless of the purchase, for the simple reason that 100 percent of the time I have succumbed to such sales pressure, I have either not needed it or have been denied coverage when I actually requested it. Such explains my decision to decline season pass insurance. But Vail has done away with this irritating little bug and simply folded its coverage policy into its pass architecture. So if you buy an Epic Pass, your pass has protection, even if you never need it, just like you have a season pass to Whistler even if you never cross the border to Canada.
This is a welcome move and one that I hope is widely emulated. And unlike the discount grid, it is automatic for everyone who purchases an Epic Pass, regardless of whether they held one last season.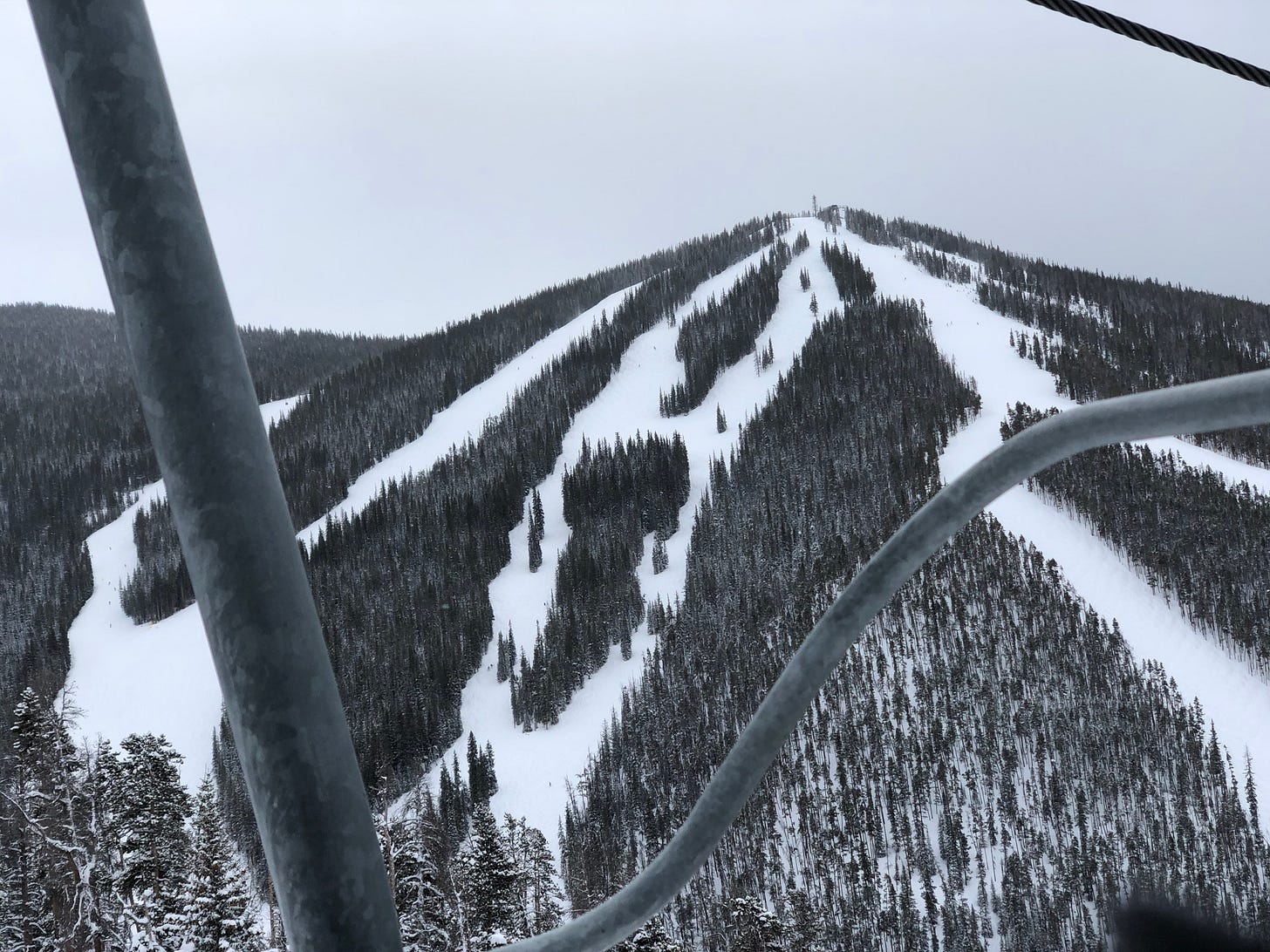 Keystone's North Peak as viewed from the Ruby Express lift in February 2020.
Insurance now covers a Covid-nuking, but there are choices to be made
The Epic Pass insurance policies have long covered things like injuries, pregnancy, and employment transfers, but this "personal coverage" category has been expanded to include "stay-at-home orders from county, state, country." Vail has also added a "resort closures" category that includes shutdowns for things like disease, war, terrorism, and natural disaster (which do not include snowstorms dude, because, come on), during the core season, which is defined as American Thanksgiving to Easter.
Refunds vary depending on whether your claim is tied to a personal event or a resort closure. The amount of a refund you would receive should any of the mountains shut down is tied directly to a pair of choices that you make at checkout: whether the coverage should apply to all mountains or specific ones, and whether it should apply to the core season or to a specific week.
The bar is set fairly high if you choose "all mountains." If you choose that option and Tahoe shuts down but Summit County is open, well, you're out of luck, as all of the core mountains – Vail, Whistler, Breck, Beaver Creek, Crested Butte, Keystone, Park City, Heavenly, Northstar, and Kirkwood – have to be shut down to activate a refund if you purchase the Epic, Epic Local, Epic Day, or Military passes. If you choose the Northeast Value pass, those core mountains are classified as Stowe, Mount Snow, Hunter, Okemo, and Mount Sunapee. For other local passes, 100 percent of covered mountains must be closed. If you choose a specific mountain, then only that mountain needs to be closed in order to trigger eligibility for a refund.
The refund is then metered to the percentage of the season that the mountains are open if you choose "core season," or the percentage of the week they were closed if you choose "specific week." The refund formula if you choose the "specific week" option is also tied to the number of days skied - including those that you used prior to that week - ranging from 100 percent back for zero days down to 14 percent for six days, and no refund once you hit seven days. Refunds for personal events are also tied to days skied, using the same formula.
This has all been outlined in very, very exhaustive detail by Vail's lawyers here, and it's best consumed along with five Red Bulls, but in essence, you should choose based upon the kind of skier you are. If you are a vacation skier who lives in Texas and plans to ski Heavenly on your kids' spring break, then pick specific week/specific mountain. If you are like me and just amble through the ski season jumping all around the country to ski whatever is convenient, choose all mountains/core season. It's fairly comprehensive and also fairly specific, so read carefully before making your selections.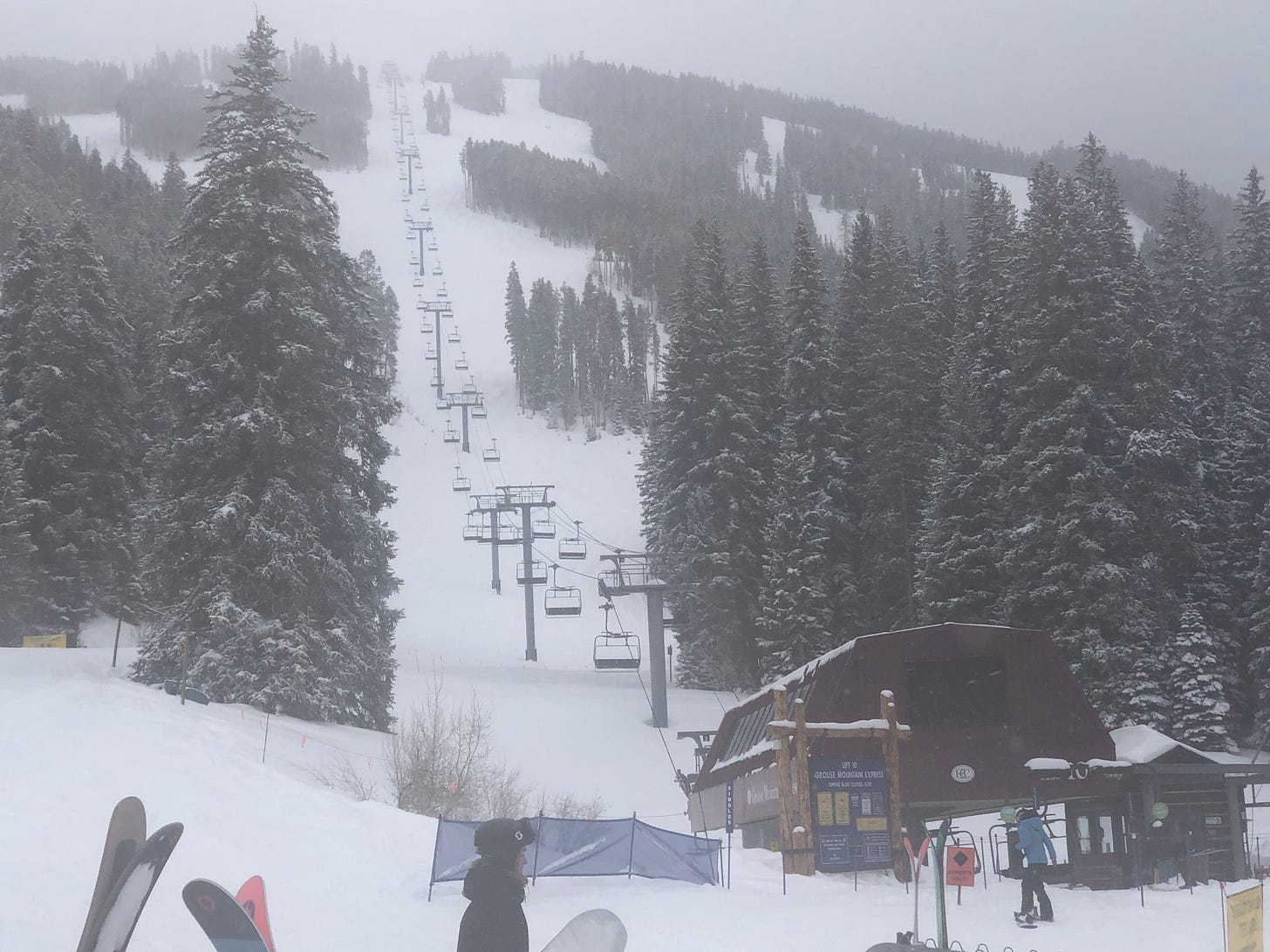 Beaver Creek's Grouse Mountain Express Lift on a powder day in February 2020.
Other things of note
None of these credits appear to apply to Australia passholders, since they had a full 2019 season.

Only the number of days skied pre-shutdown will be used to determine your 2020-21 pass credit. So if Heavenly, Whistler, or Breck do reopen, you can go ski your ass off and those days will not impact the amount of your credit. But if you are the kind of person who skis in May or June, then you probably clocked more than six days on your Epic Pass by March 14.
I'm surprised that Vail didn't come out with some kind of first-responders discount, as Alterra and Magic Mountain have done. This seems like not only an easy PR move, but a necessary one now that their largest rival has done it. But this is a publicly traded company and there are a lot of, um, stakeholders who likely had to approve this plan, so my guess is that such a discount was floated and then shot down in favor of the more democratic renewal discounts. I would not be surprised to see them double back on this one, however, as they have a history of accommodating distinct groups – the $169 Epic Pass for active military is probably the greatest discount deal in all of skiing.
---
COVID-19 & Skiing Podcasts: Author and Industry Veteran Chris Diamond | Boyne Resorts CEO Stephen Kircher | Magic Mountain President Geoff Hatheway | NSAA CEO Kelly Pawlak| Berkshire East/Catamount Owner & Goggles for Docs founder Jon Schaefer | Shaggy's Copper Country Skis Cofounder Jeff Thompson | Doppelmayr USA President Katharina Schmitz | Mt. Baldy GM Robby Ellingson|
The Storm Skiing Podcasts: Killington & Pico GM Mike Solimano | Plattekill owners Danielle and Laszlo Vajtay | New England Lost Ski Areas Project Founder Jeremy Davis | Magic Mountain President Geoff Hatheway | Lift Blog Founder Peter Landsman | Boyne Resorts CEO Stephen Kircher | Burke Mountain GM Kevin Mack | Liftopia CEO Evan Reece | Berkshire East & Catamount Owner & GM Jon Schaefer| Vermont Ski + Ride and Vermont Sports Co-Publisher & Editor Lisa Lynn| Sugarbush President & COO Win Smith| Loon President & GM Jay Scambio| Sunday River President & GM Dana Bullen| Big Snow & Mountain Creek VP of Sales & Marketing Hugh Reynolds |