Discover more from The Storm Skiing Journal and Podcast
Everyone's searching for skiing's soul. I'm trying to find its brains.
Over 11,000 subscribers
The Most Important Ski Area in America
We're gonna need a few more of these indoor ski thingys
With Magic and Cannon shutting their lifts yesterday and rain and warm temps blasting over the region, it was hard not to contemplate the long-term weather shifts that are challenging ski area operators everywhere. While the region has spent decades building up its snowmaking capacity and efficiency and should recover just fine as colder temps roll back through this week, climate change is only one of the industry's urgent long-term challenges.
Another is the obvious lack of diversity on the slopes. When I walk to the grocery store in Brooklyn or ride the train into Manhattan or go to a Yankee game, I step into an everyperson's world of varied faces. Forty-five miles from my apartment, on the slopes of Mountain Creek, I see almost none of this diversity, a stark and jarring step into a world that increasingly does not resemble my everyday surroundings. I point to Mountain Creek because it is one of the closest ski areas to the city, but this is not a Mountain Creek problem (and it is actually one of the better ski areas from a representaion standpoint) – I have never found a ski area where this lack of diversity wasn't true.
This tidbit from Chris Diamond's excellent new book Ski Inc. 2020 crystalizes the issue: "There has been only slight growth in ethnic minorities on the slopes over the past decade, compared with the segment's increase in the overall population. (The ethnic percentage in the U.S. is 39 percent, compared with 61 percent non-Hispanic white. Ethnic participation in skiing is 13 percent, up from 11.9 percent a decade ago.)"
That low participation rate, and its slow growth, matter for a lot of reasons, not the least of which is that the country's demographic complexion is evolving fast. If skiing is to continue thriving, it has to find new ways to attract groups that it has failed to appeal to in the past.
That's why this report out of the Colorado Sun that Big Snow is pushing 2,000 skiers per day up its slopes is so encouraging. With its $70 all-gear-and-lift-access-and-instruction-included beginner packages, proximity to richly diverse New York City, and easy access via public transportation, Big Snow may have cracked the access code that for the better part of a century had skiing filed alongside yachting and big game safari hunting as a thing rich white dudes did.
By removing some of the critical challenges facing skiing — like long trips to a far-flung mountain, pricey access and a daunting learning curve — Big Snow founder Joe Hession hopes he's found a key for a resort industry that needs new skiers to thrive as older generations fade from the sport. And those new skiers need to look different than the departing skiers. Of the roughly 9.5 million Americans who ski, about three-quarters are white, according to the latest participation survey by the SnowSports Industries America trade group.

"Who else is doing more to grow the sport?" Big Snow Founder Joe Hession says amid hundreds of first-time skiers and snowboarders exploring their first moments on snow. "Anyone who wants to argue that point, they should come visit us here and see this diversity."
I should point out that this story was not tossed together by some overworked New Jersey beat reporter dispatched by editors to go cover that new indoor snowskiing thing. It comes from the Sun's Jason Blevins, one of the most respected reporters in skiing and one who certainly understands the macro challenges the industry faces.
The Holy Grail here may be the school bus trips that Hession alludes to later in the story. This is how I got my start in skiing, and I imagine a lot of other people who didn't come from skiing families did as well. While most people who come to Big Snow will probably not become the kind of skiers who subscribe to skiing podcasts or drive headlong into blizzards for first tracks, some of them who otherwise never would have experienced the sport will, and that is good for all of us.
For its potential to pull huge numbers of never-evers into the addictive and thrilling gravitational pull of Planet Ski, Big Snow may end up being the most important ski area on the continent. It is cheap. It is always open. It sits hard against the fourth busiest interstate in the country and is embedded into a metro population of 20 million that has outsized influence on national and global trends. Over the coming decades, this ugly oversized refrigerator may introduce millions of people to the sport.
I was admittedly a Big Snow skeptic. I am not in general a cynic, but I have spent most of the past six years staring at this odd-shaped snowdome from my office window across the Hudson, and it was becoming increasingly difficult to believe that anyone could muster the resources and willpower to actually swing the doors open.
That Hession and his crew not only did so, but orchestrated such a seamless and welcoming first-timer experience at a realistic price bodes extremely well not only for the facility's long-term survival, but for the concept's possible expansion into other markets. The Sun article touches on Hession's discussions to open a similar, larger facility in Miami. There are dozens of other U.S. markets where this could work.
If Big Snow wants to become the McDonald's of skiing, with its signature upside-down crippled-L buildings rising off the flatlands across America, I am fine with that. Millions of urbanites annually cycling through these facilities could, in not that many years, fix our participation and diversity problems for good. And the more we fix the participation problem, the more people we will have focused on the climate problem.
New York State to build a new mid-mountain lodge at Whiteface
Good news out of New York:
The estimated price tag for this new building is $14 million, some of which will come from insurance. The state has already pumped nearly a quarter-billion dollars into its Olympic Regional Development Authority-managed properties (including Whiteface, Gore and Belleayre), over the past few years, and it looks as though they will continue to invest in them.
A couple winters ago I was having a crummy day at Whiteface. It was a Times Square-crowded holiday weekend and all the interesting terrain was shuttered from lack of natural snow and the groomers had been skied off to their track-marked bases by mid-morning. On a good day I will ski forever but this was not a good day and so I swung into the mid-mountain lodge for a break.
I went inside and bought a beer and I expected it to be like nine dollars but it was something like three and I actually asked the cashier if she'd made a mistake. I hadn't paid a reasonable price for anything at a ski resort in probably a decade which is the main reason why I almost never buy anything food beer or otherwise at a ski resort.
I went outside and sat at a picnic table and just kind of looked at the view and it really is spectacular up there in the Adirondacks. At the table next to me sat the diehard retiree crew that exists at every ski area in the Northeast, and they were sipping beers at 11 a.m. and talking in familiar detail about the mountain and swapping war stories about it and you could tell they'd been skiing it forever and skiing together forever and it was really great to listen to them. The sun cracked open the clouds and it was kind of comfortable out there and so I went in and bought another beer and just hung out for an hour or so and thought that was a hell of a place to put a deck like that.
Whiteface is a little underbuilt, and I know a lot of people want it to stay that way. I think it could use a little more trimmings, personally, so that the facilities that are there don't get so overwhelmed. I haven't been to Whiteface yet this season, but I can imagine that the lack of that mid-mountain lodge is causing a cascade of crowding issues lower on the mountain. It's good to see the state has a plan to get a new one up as soon as possible. I just hope they don't over-fancy it and ruin that vibe that made it a place worthy of the mountain it sits on.
Let's get into the woods
I linked to this in my article accompanying my podcast conversation with Vermont Ski + Ride and Vermont Sports editor Lisa Lynn last week, but really you should check out this overview they just published about Vermont's exploding backcountry scene:
Since 2016, five sanctioned glade-cutting projects have been established on federal and state lands around Vermont. Since the Rochester-Randolph Area Sports Trails Alliance formed in 2013 and became the Catamount Trail Association's first chapter, five other chapters have cropped up across the state. Some, like the Dutch Hill Alliance of Skiers and Riders (DHASH) and Northeast Kingdom Backcountry Coalition have developed new glades. Others like the Mad River Valley and Grateful Shreds Backcountry Coalitions are still building support to launch projects.

What's happening around Vermont is a backcountry revolution of sorts. "In Vermont, we have communities that have made a commitment to developing backcountry ski zones where the sport can bring people together," says Matt Williams, executive director of the Catamount Trail Association.
Vermont is not the only state opening up new routes to more adventurous skiers. New England Ski Journal documents efforts to cut a route between Black Mountain of Maine and Whitecap Mountain:
When the cutting was completed over a two-day period by volunteers in October 2019, the new trail and gladed zones became the first in Maine to be cut on publicly accessible land. Now, users can access this remote terrain via a "backcountry gate" — common at many resorts in the western U.S. — and embark on an 8-mile point-to-point tour. Along the way, there are six gladed downhill zones that offer a variety of skiing through ecologically unique red pine forests and diverse ecosystems. Both sides offer uphill-specific skin tracks to access the zones. And while starting on the Black Mountain side does require an uphill pass, the amenities available can make it worthwhile.
Look for more projects like this as megapass mania drives more crowds to Northeast mountains that are already bursting at the seams, in turn alienating some of the more frequent skiers who can do without the Saturday afternoon madhouse. For adventurous skiers looking for some relief and novelty, there really isn't anything better on this side of the continent.
Elsewhere
After sternly lecturing Ski (I'm sure they were devastated), for blowing their top 20 eastern resorts list this season, I'll give it to them that they more or less got the top 10 family resorts right. Their list of top 10 "skier's mountains" is also pretty accurate (though, come on, Mount Snow?). Their list of top spring break destinations, though, is a bit of a retread of their overall list and misses some of the East's best spring-skiing spots (Jay, Sugarbush).
Arctaris' fundraising effort to unlock tax credits that will help it reopen Saddleback appear to be proceeding at an aggressive pace. It's nice to see real money working toward this goal, but I'll believe that Saddleback is reopening when Saddleback reopens.
New England Ski Journal visits Black Mountain, New Hampshire, which recently joined the Indy Pass:
Ski Area Management with a really comprehensive overview of holiday traffic at mountains across the country (the running theme: it could have been worse). A nice tribute to the power of childhood ski trips. And I forgot to include Lift Blog's wrap-up of 2019 lift installations in last week's news update.
This week in skiing: Jackpot
Wednesday, Jan. 6 – McCauley Mountain, New York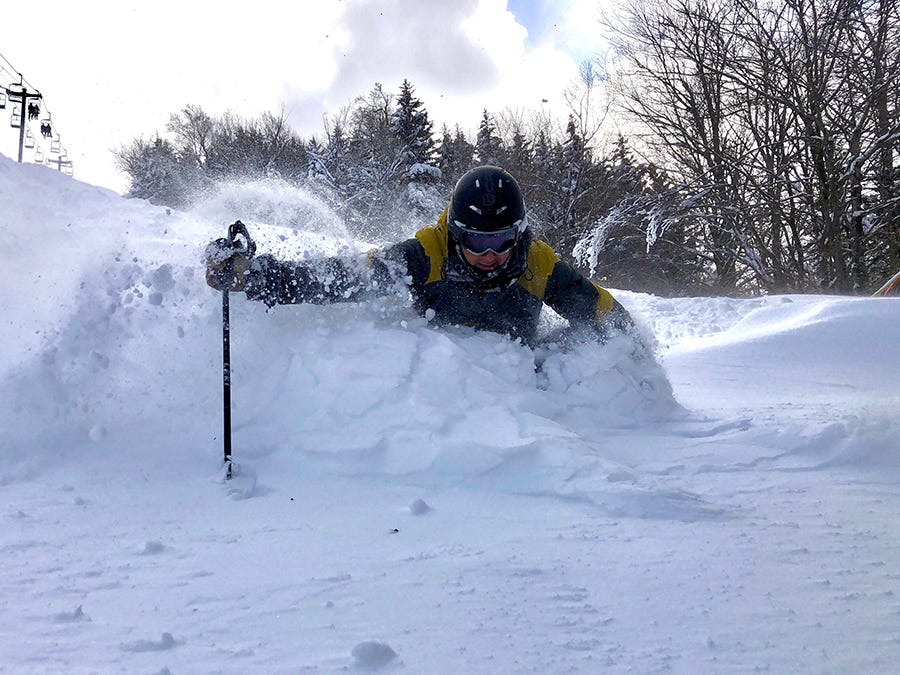 Sometimes I dream about skiing and when I do it is never about a place I've skied or even one that actually exists. It is about fantastical places powdery and oddly situated and with Goldbergian lift systems tottering maniacally up and over hillsides. The runs vary wildly between blasted-open snowfields and chutes and wild endless snowy glades. Invariably it is a managed resort and invariably it is empty, the whole place my own and the snow bottomless. These are rich dreams and satisfying ones but when I wake up I know they are not real.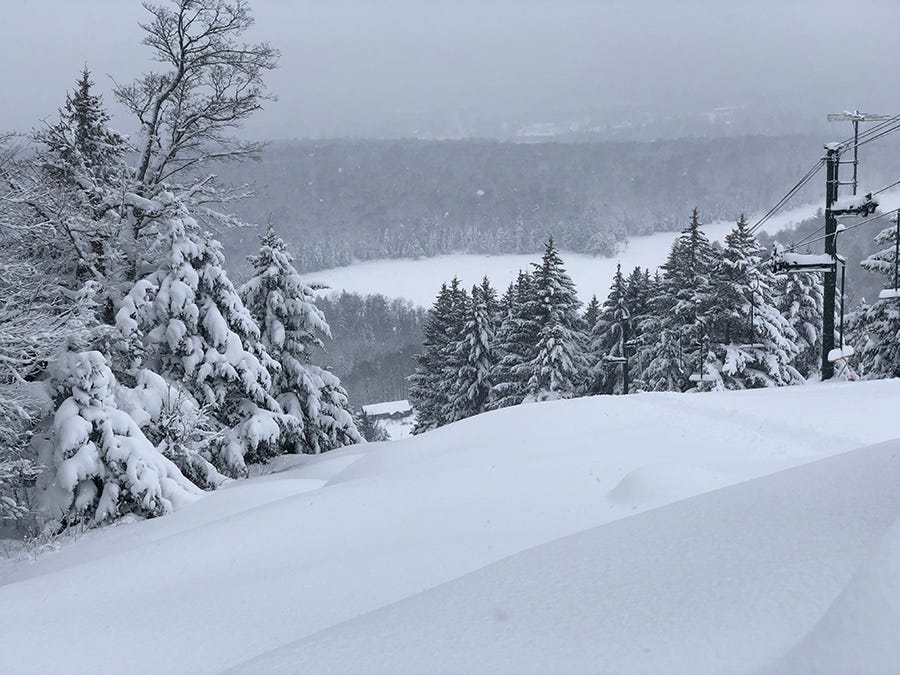 If I had dreamed about McCauley and what I encountered there last Wednesday, I would not have believed in it. It is an unassuming bump in the central Adirondacks, a Midwestern ski area airlifted east over the Great Lakes, barely 600 feet from top to bottom serviced that day by a Hall double chair that came chugging like an extinct animal out of some lost decade.
But the terrain that dinosaur passes over and around and that humps off the mountain's flanks is as gnarly and spectacular and rowdy as any I've ever encountered in the East, boulder gardens that in the summer must look un-skiable, massive imposing arrangements of unmovable stone propped like sculptures down the fall line.
The mountain had been closed Tuesday and draped over this improbable terrain lay 18-inches of Utah-light powder that had dropped since Monday night. I charged into this and it took me a few runs to realize what I was dealing with and when I did I exited into a sort of frenzy, bounding over these rock gardens and into the glades blindly bashing into snow humps mounded up over rocks and fallen logs. We dropped over pillow lines in the trees and blasted off 10-foot drops without even realizing until mid-air what was happening and every run the snow seemed to refill as though we were on some fabulous carnival ride that funneled out new powder as we rode the lift.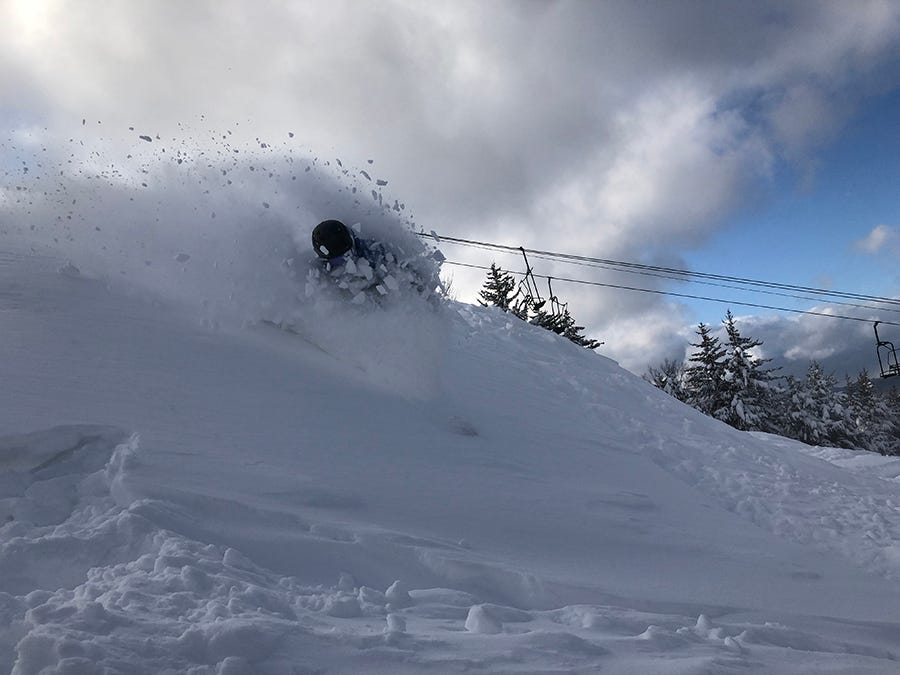 I have never experienced a day like that in the Northeast and I have barely ever experienced a day like that at all. I was just in Utah for a storm cycle and it was some of the best skiing of my life and I had to seriously think this week about whether this was better than Alta and man don't kill me but it might have been. Alta is a skiing cathedral and there is nothing quite like it but the locals are so good and the mountain hasn't been a secret for like 50 years and the place gets skied out in like nine seconds. At McCauley on Wednesday I skied 40 runs and I got fresh tracks on every single one and it was so good that I never even stopped to go to the bathroom.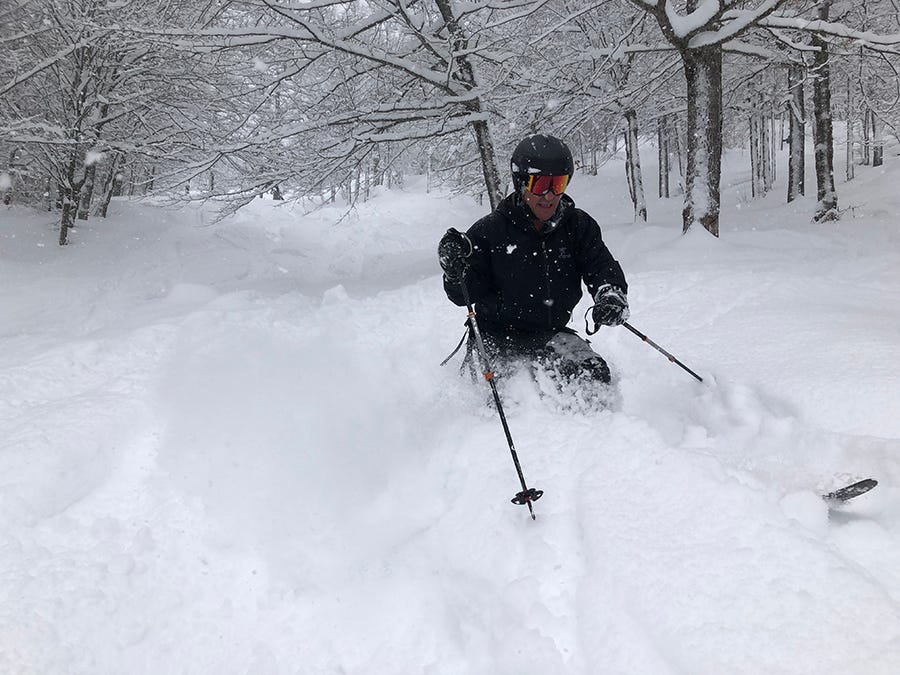 It snowed on and off all day, sometimes heavily, and that little mountain never got boring or skied out or repetitive. I have no idea what the use of it would be if it wasn't a powder day because 90 percent of the terrain outside of a few strips of groomers would have been unskiable without North Pole-grade snow draped over it. We are not talking about Stratton glades here, where the pow settles and you can ski them packed down – this is serious, otherworldly terrain.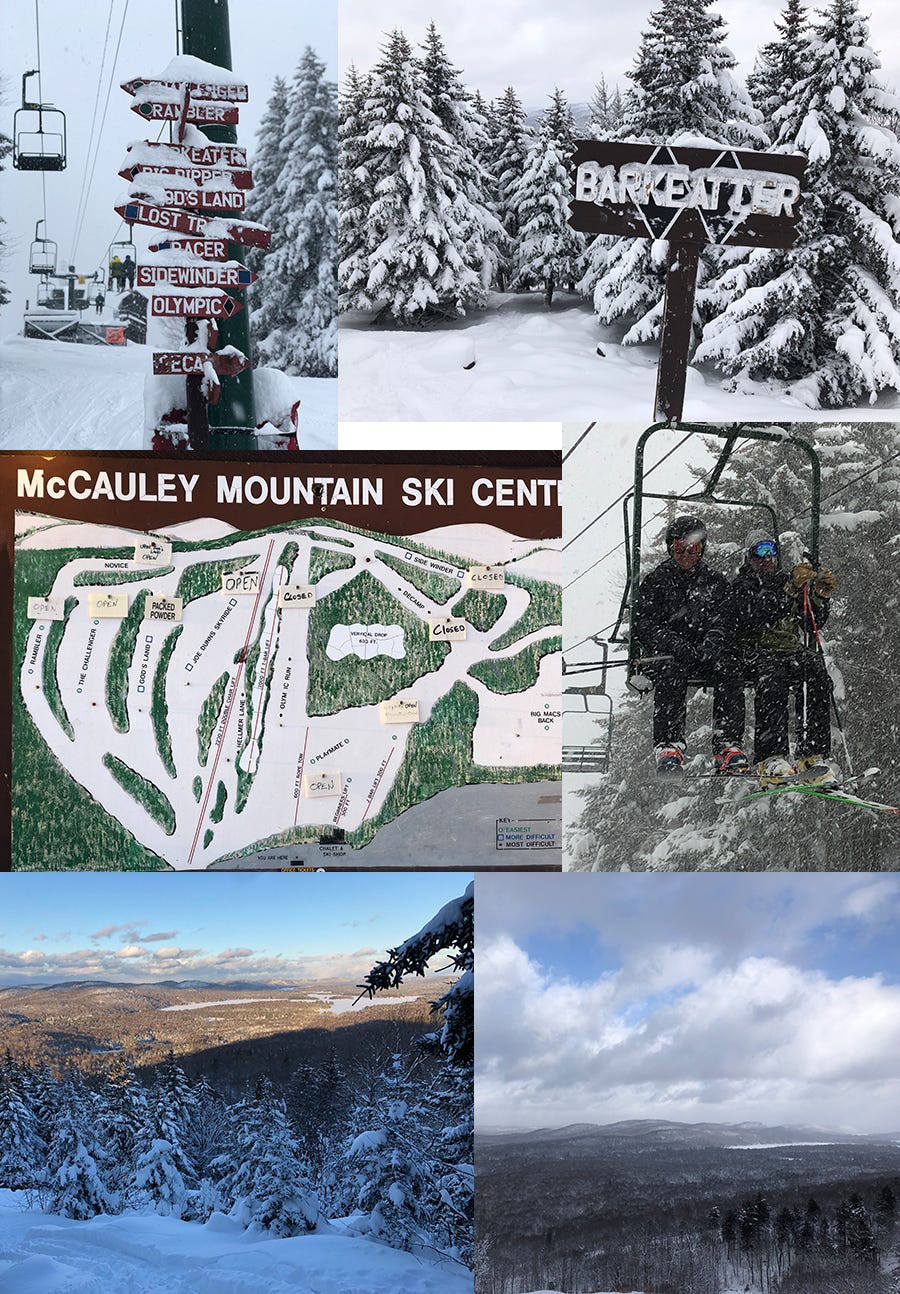 Perhaps the most unbelievable part of all this is that the lift ticket was 18 bucks on Liftopia the day before.
Look, I don't want to belabor this. I was skiing with Harvey from New York Ski Blog and Matt from Northeast Skiology, and they have already delivered the legend of this day to their combined followings of 12,000-plus diehards. When you're skiing with the person who knows New York skiing better than probably anyone and the person who tracks Northeast weather more accurately and consistently than probably anyone, you're bound to eventually hit the jackpot. But I am still high from this day and probably will be for a very long time.
Read Harvey and Matt's recaps.
Saturday, Jan. 10 – Hunter and Plattekill, New York
And then I remembered that actually, no, I don't live in Utah.
When I ski Hunter on a weekend I make sure to get there for the rope drop at the Kaatskill Flyer and ski like mad until 11 or so and then bounce when the crowds start to bombard the place. Though nearly the whole place was open, conditions weren't great on Saturday, with ice ponds seated like landmines in the places where the groomers leveled off and the snow upredictably icy even where freshly groomed and bare patches stretching across nearly the full breadth of some runs and the Flyer swaying drunkenly in the wind. The place was busy anyway of course because Hunter is always busy, and I bombed up and down and stacked up 14,000 feet by 10:50 and headed out.
I drove 50 minutes across empty Catskills roads to Plattekill, where New York Ski Blog was hosting its annual powwow. Driving from Hunter to Plattekill in one morning is about as close as you can realistically get to inventing a time machine. Hunter is frantic and space-aged and all moxie and attitude. Plattekill just moseys along, its triple chair hauling above the half dozen or so open runs, not a liftline to be seen. The snow was similar in consistency to the slushy-with-an-icy-underlayer coverage at Hunter, but without the hordes to dodge.
Most of the mountain sat bare and morose in the January thaw, but far off the closed doublechair summit owners Danielle and Laszlo Vajtay had deeply buried a double black called Northface. Because we knew they wouldn't care, we walked over the ridgeline and dropped in. It was the best run of the day, soft snow atop whales blown to bury the slope against the unseasonable weather.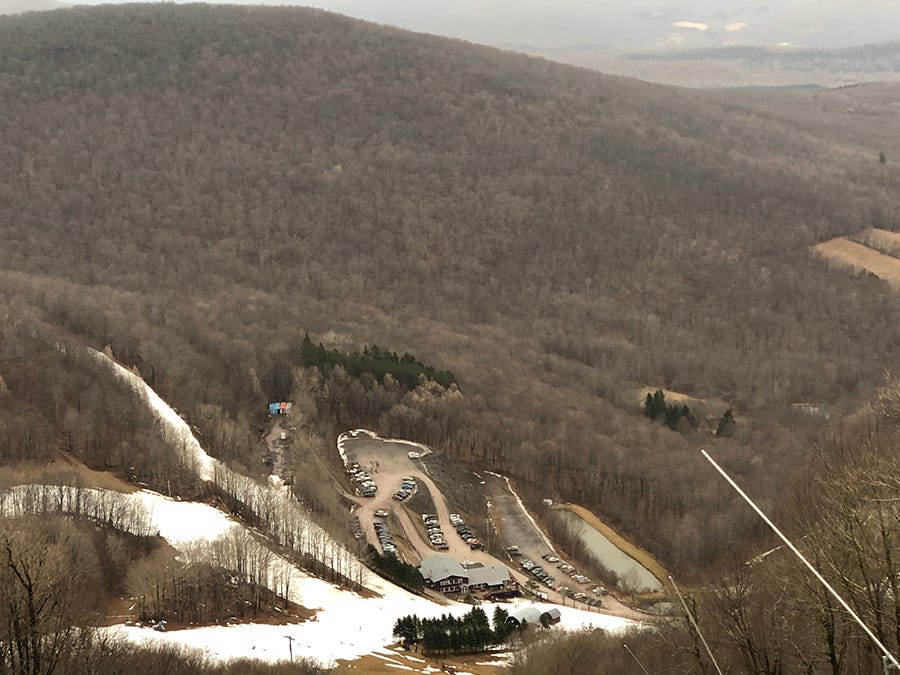 This was a call-it-a-day-before-last-chair kind of afternoon and we did, skiing until around four and then heading into the lodge for a beer. I'll let Harv tell the full story: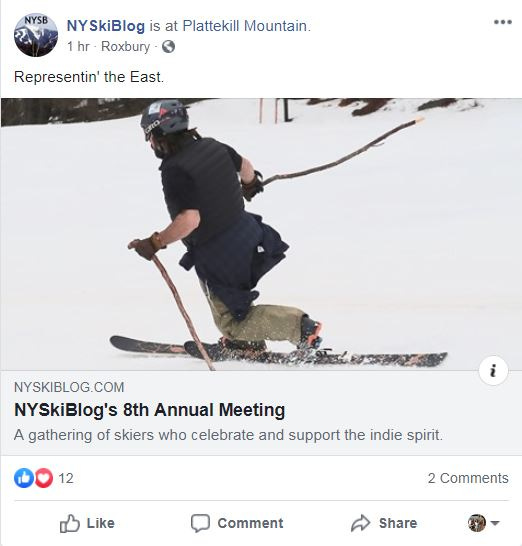 ---
The Storm Skiing Podcast is on iTunes, Google Podcasts, Stitcher, TuneIn, and Pocket Casts. The Storm Skiing Journal publishes podcasts and other editorial content throughout the ski season. To receive new posts as soon as they are published, sign up for The Storm Skiing Journal Newsletter at skiing.substack.com. Follow The Storm Skiing Journal on Facebook and Twitter.
Check out previous podcasts: Killington & Pico GM Mike Solimano | Plattekill owners Danielle and Laszlo Vajtay | New England Lost Ski Areas Project Founder Jeremy Davis | Magic Mountain President Geoff Hatheway | Lift Blog Founder Peter Landsman | Boyne Resorts CEO Stephen Kircher | Burke Mountain GM Kevin Mack | Liftopia CEO Evan Reece | Berkshire East & Catamount Owner & GM Jon Schaefer| Vermont Ski + Ride and Vermont Sports Co-Publisher & Editor Lisa Lynn|