Discover more from The Storm Skiing Journal and Podcast
Everyone's searching for skiing's soul. I'm trying to find its brains.
Over 13,000 subscribers
That One Time When The Ski Industry Confused Vail Resorts With a Deadly Pandemic
Are Northeast ski areas learning the wrong season pass lessons as they respond to Covid-19?
Hey if you haven't listened to The Storm Skiing Podcast interview that we recorded last week with Alterra Mountain Company CEO Rusty Gregory yet, you can do it here.
We would have gotten away with it too, if it weren't for that meddling Vail
When the Covid ICBM dropped on the United States in mid-March, nuking the ski industry and taking most of the rest of the American economy with it, spring season pass sales – crucial offseason maintenance and operations revenue for ski areas – disintegrated. Most mountains don't make their figures public, but government-owned Gunstock recently estimated a 50 percent drop in season pass revenue.
To amp pass sales back up, many mountains large and small made some combination of four concessions: extending early-bird deadlines, offering payment plans, introducing refund or deferral options, and lowering prices, mostly via renewal discounts. Problem solved, right?
Not really. Because Covid, while all-consuming, is likely not the only dynamic at work in cratering Northeast season pass sales. The other is the now-forgotten release, the week before the shutdown, of Vail's basket of bargain-priced Northeast-specific Epic Passes: a $599 Northeast Value Pass with nearly unlimited access to 15 mountains and 10 days at regional crown jewel Stowe, and a Midweek version for just $449. A step up to the Epic Local Pass, which eliminates blackouts at all but Stowe and adds nearly unlimited Western access, is only modestly more expensive at $729. The week before that, Alterra dropped Sugarbush and Stratton to unlimited blacked-out access on its $699 Ikon Base Pass.
These offerings immediately reset consumer expectations for what a season pass in the region was worth. And the answer was: not what they're priced at currently. Elk Mountain, Pennsylvania's pass was $795 last season. So-so Camelback is still charging $599. Windham's standalone pass is an absurd $1,049 (no sane person would pay this; you can step up to a version that includes an Ikon Base Pass for another $150). There are plenty of other examples.
Here is what season passes are actually worth in the megapass-controlled kingdom of 2020: a Stowe-caliber mountain can not realistically price its pass higher than the $979 cost of the Epic Pass. And we are low on Stowe-caliber mountains here in the Northeast. There's like five. And, considering all the access that the Epic Pass comes with, both in the region and out West, a single-mountain pass should be priced considerably below that. The next step down is Mount Snow and Okemo, both of which reach unlimited access on the Epic Local Pass. Those are both spectacularly boring mountains, but nonetheless extremely well-maintained and threaded with outstanding lift and snowmaking infrastructure. So mountains in that category – and there are not many of those, either; think Bretton Woods or Waterville Valley – should top out at that pass' $729 price. Mountains in the Wildcat/Attitash/Mount Sunapee bracket – which is most of the rest of the mid-sized to smallishly-large ski areas in the Northeast – can't be priced higher than the $599 Northeast Value Pass that provides unlimited access to all three.
Shortly after Vail dropped this new price menu on March 3, I wrote that the era of the expensive single-mountain season pass was over in the Northeast. Like Clark Griswold's Jelly of the Month Club membership that slid between the courier's seat in Christmas Vacation, this memo seems to have been lost in the chaos. Few Northeast mountains have budged on pricing. A handful have offered renewal discounts to last year's passholders. Only Magic and Smugglers' Notch have dropped prices for everyone.
This is all a terrible accident of timing. Independent owners of mountains across the Northeast see pass sales fall off a cliff at the exact moment that Covid clobbers the economy, and of course it makes sense to assign full blame to the virus. That the pandemic connected on its uppercut less than two weeks after Vail and, to a lesser extent, Alterra, turned the region's season pass game upside down and made most current pricing grids irrelevant is a wicked coincidence that masks the full impact of the megapass era's arrival in earnest on the East Coast.
Looking west for answers
Independent Western mountains mostly solved the puzzle of how to stay competitive among giants a long time ago. The pass wars have raged there for more than two decades, and the region's mid-sized mountains have responded by dropping pass prices significantly and forming reciprocal coalitions that provide lift tickets to passholders of partner ski areas. I've written in detail about how Colorado's Loveland and Arapahoe Basin have adjusted their pass approach to deal with the reality of cheap unlimited passes feeding tourist hoards into their larger and better-capitalized Summit County neighbors. In the shadow of Vail's Independence Day mothership-sized cheapo pass offerings, Eastern ski areas will have no choice but to eventually do the same.
It's become clear that they aren't going to realize that en masse this year, even after Vail and Alterra have updated their offerings with substantial renewal discounts. Eight weeks after Covid walked into our collective living room, grabbed a beer out of our fridge without asking, sat down in our favorite chair, put its muddy feet up on our coffee table, killed the live sports channel, and left us with nothing to watch but morons fighting over whether the virus was cooked up in a government-run lab across the ocean, Northeast ski areas have finally asked it politely to leave. Bromley, for example, has added a payment plan and pushed their early-bird deadline to mid-June.
Take that, Covid. But the virus will go away eventually. Vail isn't going anywhere, and neither is Alterra. And the response to Vail and Alterra has so far been no response. The pass price for Bromley and only Bromley – humble, boring Bromley –  remains $925.
I don't mean to pick on Bromley again, but when you're next door to Stratton and you're the least exciting mountain of the two and Stratton's pass is just a touch more expensive and in some cases cheaper and comes with a pass to Sugarbush and days at Killington and Sunday River and Sugarloaf and Loon and basically unlimited access out West, then you have to seriously consider the value of your pass in the marketplace.
Enter Vail in the Northeast
When Vail pulled their boats up onto the shores of New England three years ago with the purchase of Stowe, some skiers recoiled. But the Broomfield Beachstormers arrived as liberators, here to vanquish the crime of overpriced single-mountain passes that had priced most skiers out of the product and sequestered those who did buy them to one mountain. In a single year, Stowe's pass priced plummeted from $2,313 to $899, according to New England Ski History. And that $899 was for a full Epic Pass, with all of its over-the-horizon access to the monsters out West. The rest of the shellshocked Vermont giants followed Stowe downward: Sugarbush dropped from $1,779 for the 2016-17 season to $1,149 for 2017-18; Okemo went from $1,619 to $1,375; Killington from $1,486 to $1,261. Those prices have continued to fall, of course, with an Okemo season pass becoming basically being a throw-on to a Stowe pass after Vail purchased that mountain in 2018, a perk like some mountains might throw in 10 percent off hamburgers on non-holiday Wednesdays.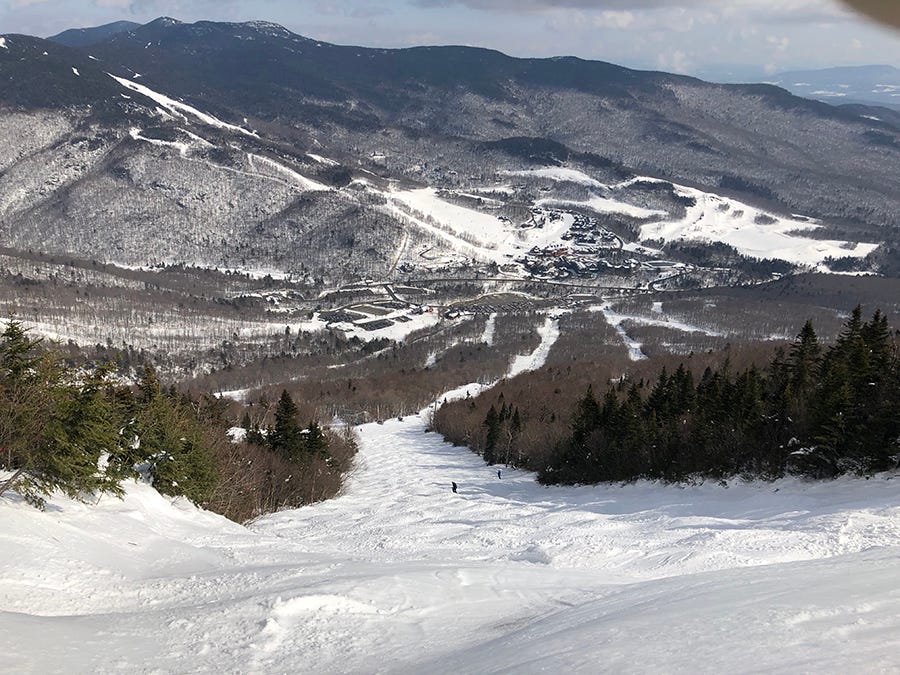 Stowe in March 2020.
In this new megapass era, there are a limited number of Northeast mountains that will retain their pricing power as standalone entities. Those that do will have some combination of four things: a singular atmosphere, a commitment to a long season, access to multiple mountains, and exceptional terrain.
Killington, with its season that sprawls across nine months some years, gigantic trail network, access to quiet-but-fun Pico, and general feeling of pedal-to-the floor Northeast Autobahn skiing, qualifies, and can likely retain its $999 pass (for an additional $345, skiers can step up to Killington's Beast 365 Pass, which includes access to everything else the mountain does, like golf and mountain biking, and includes an Ikon Base Pass). Boyne can justify its New England Pass as the most expensive pass of any kind in the Northeast ($1,169 for the Gold Pass; $1,549 for the Platinum Pass that includes an Ikon Base Pass), only because it includes unlimited access to two of the largest and best mountains in the region, an October-to-May season at least half the time, and days at its Western mountains, including Big Sky. There are also a very limited number of singularly special mountains – rugged and clannish Mad River Glen, snowy Jay Peak – that can justify prices north of an Epic/Ikon base pass offering.
The rest are going to need to restructure their pass prices to meet the reality of life in Cheap Passville. Unfortunately, because of Covid, the problem will not clearly be recognized as a problem in time to make adjustments for the 2020-21 season.
Northeast season pass updates – all changes reflected in

this chart
Deferral or refund options introduced or clarified this week
While this is not on their website, Mad River Glen confirmed in comments on their Facebook page several weeks ago that, "If we can't open due to Covid-19 refunds would be automatic" on season passes. I'm going to hold off adding them to the running list of mountains offering refunds/deferrals below, however, until the policy is articulated on the mountain's website.

In addition to its long-announced no-questions-asked refunds by Oct. 1, Jay Peak added a note stating that skiers would be able to request a full refund or defer the value of their pass to 2021-22 if the mountain doesn't open for the season.

While Elk Mountain, Pennsylvania has still not listed 2020-21 pass prices, I poked around their site a bit and realized that they already have a 100-day season guarantee, and provide a prorated credit to the following season's pass if they do not hit that milestone, so I'm adding them to the running list of mountains offering deferrals or refunds below.
Running list of Northeast mountains offering refunds or deferrals on 2020-21 season passes: Vail/Epic Pass (Stowe, Okemo, Mount Snow, Wildcat, Attitash, Crotched, Mount Sunapee, Hunter, Roundtop, Whitetail, Liberty, Jack Frost, Big Boulder); Alterra/Ikon Pass (Stratton, Sugarbush); Pats Peak, Windham, Mount Peter, Plattekill, Blue Mountain, Jay Peak, Magic, Bolton Valley, Killington-Pico, Smugglers' Notch, Lost Valley (ME), Elk (PA), Spring Mountain (PA), Yawgoo (RI)
Notable holdouts: ORDA 3 (Whiteface, Gore, Belleayre), Greek Peak-Toggenburg, Holiday Valley, Bristol, Mad River Glen, Burke, Fairbanks Group (Bromley, Jiminy Peak, Cranmore), Wachusett, Berkshire East/Catamount, Waterville Valley, Cannon, Bretton Woods, Gunstock, Black N.H., Ragged, Shawnee Peak, Mt. Abram, Saddleback, Boyne 3 (Loon, Sugarloaf, Sunday River – update has been promised "in early May"), Camelback, Seven Springs-Hidden Valley-Laurel
This week's season pass price adjustments
This week's extended season pass deadlines
Jiminy Peak extended their early-bird deadline to July 15. Their single-mountain $869 pass is still among the most expensive in the Northeast. In an era in which you can score season passes to multiple better mountains in the region on a single pass for hundreds of dollars less (see above), I continue to be confounded by the logic here.

The White Mountain Super Pass – good for unlimited access at Bretton Woods, Cannon, Waterville Valley, and Cranmore – extended the deadline for its $999 price to June 30. I humbly suggest that the deadline was not the problem here – these guys need a payment plan and a deferral guarantee pronto.

Saddleback pushed its early-bird deadline for its probably-a-bit-too-expensive $699 pass from May 8 to June 15.

Shawnee Peak, Maine, had previously listed an April 21 early-bird deadline for its expensive $695 pass. They've removed any reference to this or any deadline, other than a June 15 date for the first post-deposit installment if you use their payment plan.

Snow Ridge, New York finally nailed down an early-bird pass deadline: May 15.
Additional season pass notes
Once again, the deadline for the combined Labrador/Song pass in New York is listed as May 1, but the $469 pass price still appears to be valid. The mountains appear to be sticking to their lame $25 processing fee for tapping the payment plan, and there are still "NO REFUNDS" for "ANY REASON." There is still no way to avoid writing in all caps on the internet without coming across as slightly insane.

Lost Valley, Maine, which introduced a deferral-to-next-season-in-the-event-of-a-government-shutdown option last week, also apparently has a payment plan for its $395 pass. While I can't find details of this on their main season pass page, the mountain refers to it on the page detailing this deferral policy.

Blue Knob's April 30 early-bird deadline passed, but its $299 sale price still appears to be valid.
This week's Northeast season pass deadlines:
May 10: Gunstock, New Hampshire

May 15: Snow Ridge, New York
Elsewhere
A comprehensive overview of Timberline, West Virginia's history and planned 2020 comeback. After becoming the first mountain to re-open post-Covid shutdown, Mt. Baldy closed for the season after conditions deteriorated. Timberline, Oregon – where the season typically stretches to September – still aims to re-open, pending a green light from the governor. New England mountains will only install three new lifts this offseason, and one of those is the already partially installed Black Chair at Magic. New Ski Bums podcast episode is live.
This week in not skiing
After a winter of rain and above-freezing temps in NYC, I took this video in my yard yesterday afternoon:
Follow me on Twitter if that's your thing.
This was the least of it. Pics filtering down from the miraculously snowy north showed skiers shredding on closed and supposedly off limits mountains all over New York and New England. It looked like midwinter and it looked amazing and after 60 days or whatever stuffed in this apartment it looked like a god-damned dream, a rendering of some Narnia outside of this world, an otherplace not only unreachable but practically inconceivable.
Since my son was born three-odd years ago I have woken up without an alarm clock at around 6 a.m. pretty much every day, weekend or no. This has surprised even me as I'm not naturally wired this way and have always been an over-sleeper but I guess I'm not anymore. Everyone else sleeps until around eight and so in these early hours after I feed the cat I exercise or write or take care of things that are logistically difficult to focus on with children awake and cannonballing around the house, which of course is always now that we are all under this strange house arrest. So this morning at maybe 6:30 I walked a few blocks over to the main strip in our neighborhood to buy Mother's Day flowers for my wife and everything even the bodegas that are normally open 24 hours were shut tight. There was no one on the streets and it was extremely cold and overcast and I wore my ski jacket and gloves and a winter hat and a facemask of course and I wondered if the flowers wouldn't have all shriveled and died.
Finally on the corner by the subway station that I once used every day but now have not descended into in two months I found an open stall manned by a bundled and facemasked and good-natured fellow who may have been some kind of flower wizard because there bunched by the hundreds against the morning chill were flower arrangements of all sorts and sizes. I paid cash and told him to keep the change even though I don't really think tipping flower guys is a thing but I felt like this guy is going to stand here all day getting exposed to anyone who decides to walk up to him so I guess he can consider the three dollars hazard pay.
And anyway I was walking back to my apartment carrying my giant flower bundle when across the street a woman called out to me, "Hey, where'd you get those?" She was standing in front of the same plastic-sheet-wrapped store that I had been staring into 10 minutes before and looking as bewildered as I was that a bodega on a Brooklyn main street would be closed for any reason ever. And I told her and pointed toward the corner and she looked down the street and headed that way. And I don't know why or how this happened but I had like a visceral reaction to this and almost felt choked up for a second because this was the first interpersonal reaction I'd had with a stranger in months. And I was like, "Wow I want to do something like that again." Like talk to a person and be helpful and be part of a community and not just drift as far away as possible as we approach one another on the sidewalk and get suspicious if they're not wearing a mask wondering if they feel invincible since they've already been infected or if they're just an asshole flouting the governor's order. I'd like this whole thing to go away and to stop living in a half-assed version of socially distant New York and just be in the city again, be part of the rush and churn of it, get on the train and ride into Manhattan and get off wherever and walk through the park and go sit and have a beer somewhere and not have to wonder, at every step and stage, if I'm acquiring some malicious thing that I'll carry home Trojan horse-style with me.
That's not happening anytime soon, but one question from one woman this morning triggered some kind of realization of everything that's been stripped away that hasn't been articulated in statistics of job losses and business shutdowns and freefalling transit ridership and new cases and deaths. That freedom to live in a place dense and wild and unpredictable and interesting, a place once improbable in strip-mall-and-subdivision America and now rendered impossible by a disease that thrives on the exact attributes that make the city the place that it is.
---
COVID-19 & Skiing Podcasts: Author and Industry Veteran Chris Diamond | Boyne Resorts CEO Stephen Kircher | Magic Mountain President Geoff Hatheway | NSAA CEO Kelly Pawlak| Berkshire East/Catamount Owner & Goggles for Docs founder Jon Schaefer | Shaggy's Copper Country Skis Cofounder Jeff Thompson | Doppelmayr USA President Katharina Schmitz | Mt. Baldy GM Robby Ellingson| Alterra CEO Rusty Gregory|
The Storm Skiing Podcasts: Killington & Pico GM Mike Solimano | Plattekill owners Danielle and Laszlo Vajtay | New England Lost Ski Areas Project Founder Jeremy Davis | Magic Mountain President Geoff Hatheway | Lift Blog Founder Peter Landsman | Boyne Resorts CEO Stephen Kircher | Burke Mountain GM Kevin Mack | Liftopia CEO Evan Reece | Berkshire East & Catamount Owner & GM Jon Schaefer| Vermont Ski + Ride and Vermont Sports Co-Publisher & Editor Lisa Lynn| Sugarbush President & COO Win Smith| Loon President & GM Jay Scambio| Sunday River President & GM Dana Bullen| Big Snow & Mountain Creek VP of Sales & Marketing Hugh Reynolds |