Discover more from The Storm Skiing Journal and Podcast
Everyone's searching for skiing's soul. I'm trying to find its brains.
Over 11,000 subscribers
That One Time When Everybody Was Talking About Skiing in New Jersey
You know how everybody dreams about skiing in a giant toolshed?
For years now you could see it rising off the shoulder of the Jersey Turnpike, angular and metallic and mottled red and yellow, a Seussian contraption dropped from some faraway fantastical storybook land, improbable and absurd and ridiculous as any Whoville could ever be.
"That was supposed to be an indoor ski area," I'd say to whoever was in the car with me whenever I'd drive past it over the past dozen years, which was not very often because there is no reason to ever drive in New Jersey except to move through it.
"Really?" my passengers would say with varying degrees of bewilderment. "What happened?" they'd ask. "Will it ever open?"
I didn't know. But I hoped that it would. Because building and then tearing down a gigantic single-purpose building right beside where New Jersey demolished a stadium that still carried $110 million in debt and then built a new stadium that served exactly the same purpose right beside it would be a sort of new American absurdity that frankly I'm not ready to process. And because with all the stupid Disney fake-experience crap we've built in this country there's no reason we shouldn't have at least one of these things. Because I want to be able to ski in July without flying to South America or New Zealand. And because I like novelty and variety and here was the potential for something different.
I'm not going to bother recapping the whole stupid history of this place, except to say that if you want to know why everything in America takes too long to build and costs too much, there aren't a lot better places to study this dynamic than Xanadu, er, Big Snow American Dream, which is as unimaginative and appropriate a name as you can give a thing that's staked out its existence inside of a shopping mall.
What I will say is that I'm glad this exists. I'm also in no rush to get there. Unlike conditions in the rest of the Northeast, which can transition from where-did-I-park-my-reindeer-oh-they're-buried-beneath-the-newfallen-snow to hmm-I've-never-seen-robins-this-far-north-in-January in the space of an afternoon, Big Snow will maintain constant and perfect snowpack from now until the day that the whole operation goes bankrupt and no I'm not going to predict when or if that will happen.
In the meantime, I'll wave vaguely toward next summer and say I'll check it out then. I don't see any reason to ski inside while I can easily ski outside right now with very little effort. And since I hate air conditioning and being indoors in the summer for longer than 20 minutes drives me into a sort of nervous dysfunctional state that could probably be diagnosed as some sort of psychosis, I will probably wait until that July-to-August mid-summer lull when I start dreaming about skiing and stop believing that it's real and have fantasies of Narnian snow-choked fantasy woods running in Flinstonesian-background repeating loops through my daydreaming imagination that I'll finally go check it out.
I already have friends who I cannot convince to ski with me on real snow saying to let them know when I go there because they want to go too. I guess you can attach anything to a mall and make it an Epik Experience. For now, I'm going to enjoy reading articles by people who clearly know nothing about skiing and have been dispatched to report on this novelty that gave people "a jump on ski season," (which started more than a month ago in Vermont, and three weeks ago in, um, New Jersey), and think this guy "looks like a pro."
All cynicism aside, the place has gotten a far better reception than I'd anticipated, even within the skier community (from what I can see on social media), and in an age of reflexive negativity, I appreciate that. Let's shred:
In case you hadn't heard, Magic's where it's at
As I said when I interviewed Magic Mountain President Geoff Hatheway on the podcast last month, Magic may be the best story in skiing. The mountain crushed its opening weekend on the trail of winter storm whatever-it-was-called that dropped serious base on the Catskills, the Berkshires and southern Vermont.
Vermont Ski + Ride crushed it in this profile of the mountain that gives props to Hatheway and his crew for figuring out the formula to draw maximum potential from this mountain within its real and immutable constraints:
Hatheway, a Dartmouth grad and marketing veteran, has seen Magic through a series of owners and financial ups and downs. He grew up as a weekend skier, commuting from Westchester, N.Y. to spend weekends at the farmhouse his parents bought in Jamaica, Vt., a place that had no electricity at the time and operated on a generator. "I kept coming up after I was married, mainly skiing Stratton. Then one day after we had kids, we started to ski Magic. There were no lines. It had this old-school, relaxed vibe and I loved it." He loved it so much that he left New York and went to work as the area's marketing director from 2011 to 2014, a period during which Magic stood on shaky financial ground. Then, in 2016, after a season of terrible snow and  an early season closing, Hatheway succeeded in rallying a group of 16 investors, a group he describes as "half  local skiers who are in it for the passion, the other half, buddies from Dartmouth who look at this as a business."

They formed Ski Magic LLC, bought the area and set up a five-year plan. "Magic would have not opened (for the 2016-17 season) if we hadn't come along and bought it," Hatheway told The Brattleboro Reformer at the time. The new owners opened the tubing park that December and by February were drawing record crowds. On some weekends so many people showed up they had to close the ticket window.  Since then, as Hatheway says, "If we fill up the parking lots we stop selling lift tickets. We don't want this place to get too crowded." "Too crowded" today means 2,000 skiers. 
Vermont Ski + Ride just generally killing it: profile of a dude who skied all 110 Vermont peaks above 3,000 feet, why you should ski Middlebury Snow Bowl, Bolton Valley tries to be New Jersey north with an indoor skate park.
No really, we're not going to mess this up
Hey, remember when I said not to read too much into Rusty Gregory being in New York, and then like five minutes later Alterra announced that it bought Sugarbush, which of course was probably why he was in Manhattan and talking to bankers? Well, a few days later, Mr. Gregory and Win Smith hosted a little community powwow up in Warren, home of Sugarbush, to assure the community that hey we're not going to screw up your mountain. You can watch that whole town hall here:
Catskills stoke (really)
Catskills going off like what? last week. Plattekill dropped ropes on the season 100 percent open, with their earliest opening ever:
Hunter looking like Alta east (or at least better than Hunter at any point last season):
Hope you got out while you could – because this is the Northeast, of course a rainstorm is disintegrating this holy-crap-glades-already base as you read this.
This week in skiing
So I ended Thanksgiving weekend stuck in Michigan while the Northeast got Kablooied by early-season snow. Luckily I am able to work wherever I have a computer and it snowed a good bit in the Midwest as well, meaning the geographic displacement didn't really stop me from being productive or skiing, but I did most likely miss the early-season deep that temporarily fast-forwarded our southern-most outposts of decent vertical to February.
I had vague notions of skiing my way back to New York, a quest that was foiled when 300-foot-vertical-drop Southeast Michigan mainstay Pine Knob went out of commission due to a transformer failure. Boo. I didn't realize this until I pulled in for an evening session and found empty parking lots: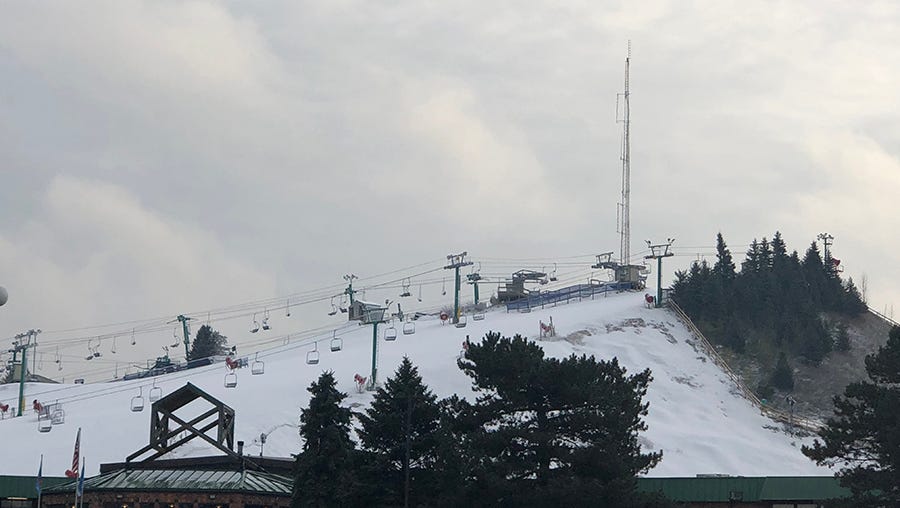 Then I checked the website: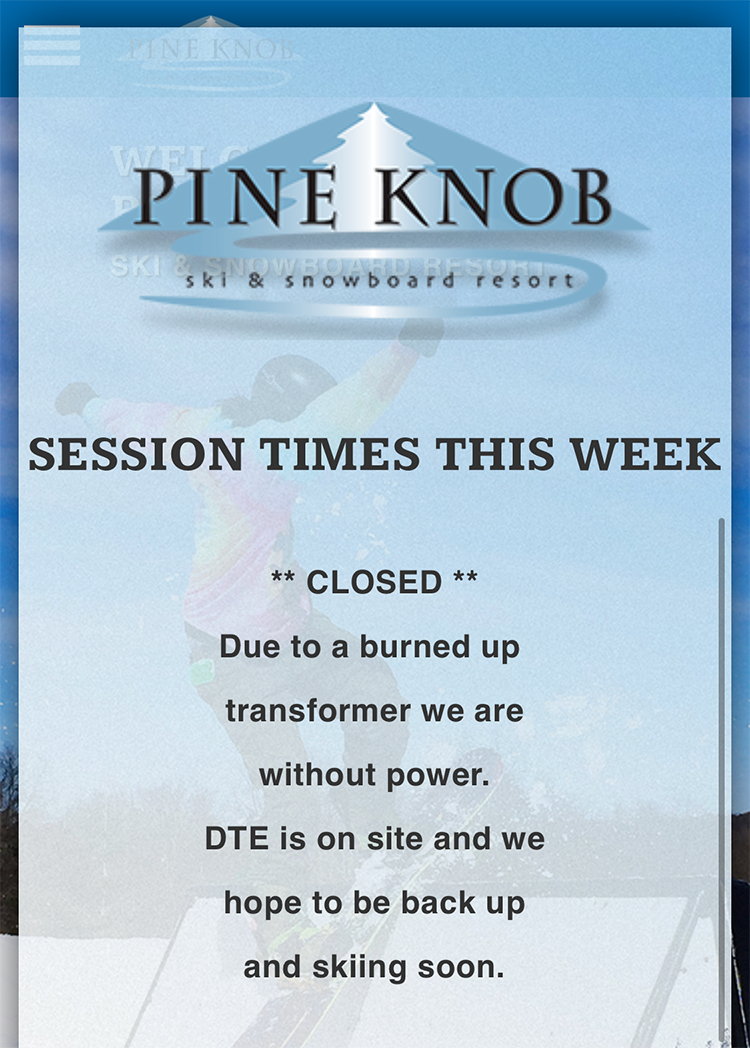 I was only planning on bouncing around the place for a couple of hours, but it's always disappointing when I plan on skiing and get all the gear in order and build that sense of anticipation that riles me up even when I'm just hitting some dinky place and then I get shut out. I mean, it's not like I got stoned at the bottom of Little Cottonwood Canyon or something, but it was still a bit of a bummer.
I ended up crashing that night at a casino hotel in western New York with a parking lot the size of Connecticut, the kind of off-the-freeway monolith that rises like some kind of Tolkein-esque fortress against the outer world and reminds me why I am constitutionally incapable of living anywhere in America outside of New York City.  
From there it was three hours to Greek Peak, which sat beneath a reported 16 inches from the storm. The base was deep and the snow soft and the slopes were empty. Only the pod around the Visions Express Quad was open even though the whole place easily could have been had they had enough staff or customers. None of their ski glades were open, but they had plenty of bike glades that were roped off but very skiable once you somehow navigated past patrol's orange-tape barricades. They weren't really cleared and there were plenty of logs and such strung across the paths and the paths were narrow, but it was thrilling to be in the woods in the early season. I also ducked ropes into Olympian, which was a grass-throttled but skiable and bumpy pitch far skier's left. It snowed most of the time I was there.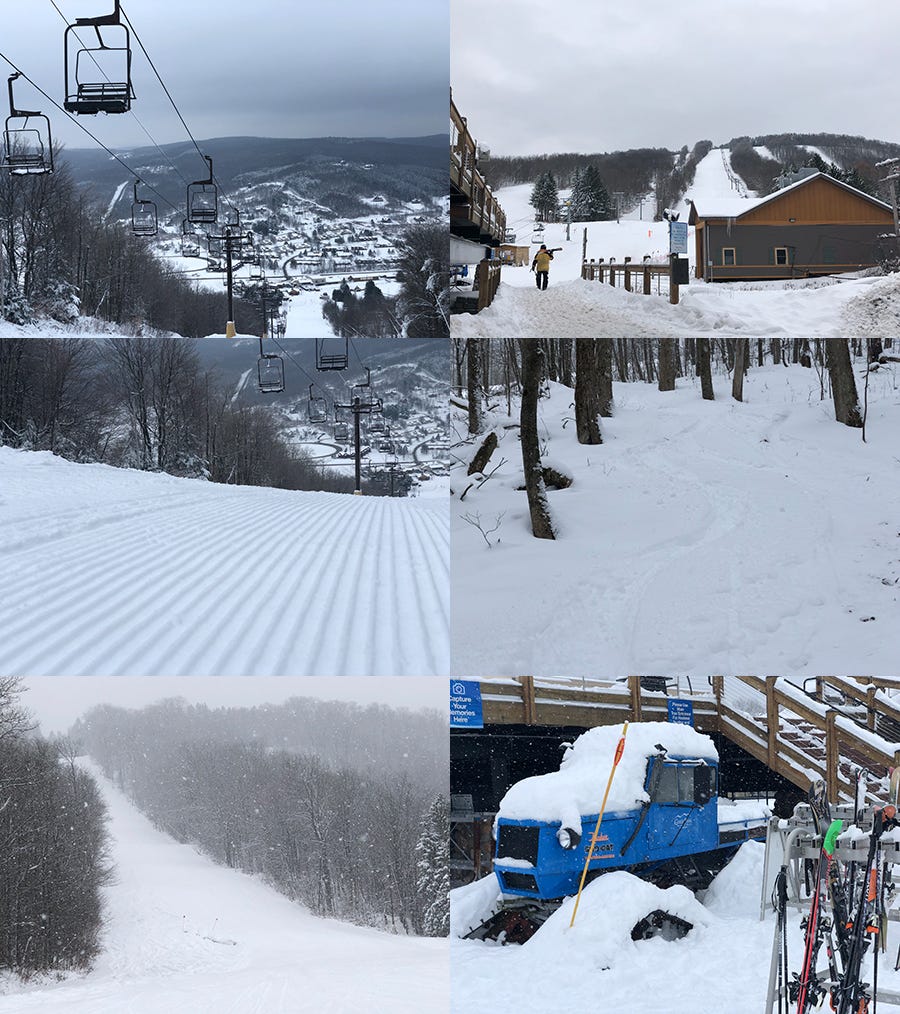 I was hoping to get out again before this week's rainstorm, but it didn't work out, and my attention right now is on the Wasatch, where with any luck I'll be bombing some pow later this week.
---
The Storm Skiing Podcast is on iTunes, Google Podcasts, Stitcher, TuneIn, and Pocket Casts. The Storm Skiing Journal publishes podcasts and other editorial content throughout the ski season. To receive new posts as soon as they are published, sign up for The Storm Skiing Journal Newsletter at skiing.substack.com. Follow The Storm Skiing Journal on Facebook and Twitter.
Check out previous podcasts: Killington GM Mike Solimano | Plattekill owners Danielle and Laszlo Vajtay | New England Lost Ski Areas Project Founder Jeremy Davis | Magic Mountain President Geoff Hatheway | Lift Blog Founder Peter Landsman | Boyne Resorts CEO Stephen Kircher | Burke Mountain GM Kevin Mack |