Sorry Kids, Killington Says No North Ridge In October – Skiing Starts In November This Year
The Beast confirms reservations will be required, lifts will operate at 50 percent capacity, Pico will open for 2020-21 ski season
Killington released a comprehensive operations plan for its 2020-21 ski season today, outlining a resort experience that looks far different from past years: reservations will be mandatory; day tickets, rentals, and lessons must be purchased online and in advance; lifts will run at 50 percent capacity; booting up at the car will be required.
Perhaps the most significant modification from a culture-of-skiing point of view is that the mountain is surrendering its traditional as-soon-as-humanly-possible opening for a very achievable Nov. 14 date. Only season passholders and Ikon Passholders will be permitted on opening day, and perhaps for some time after.
Killington also confirmed that sister resort and underappreciated neighbor Pico will aim to open on Dec. 19, officially shutting down rumors that the smaller mountain would remain closed for the season.
Killington's announcement follows a similar reservations-required plan outlined two weeks ago by Vail for its 34 North American resorts, including its 13 ski areas in the Northeast. While it is just one mountain, The Beast's announcement – as a made-in-the-East outline of ski life in our cartoon version of reality known as 2020 – is arguably more important. Killington is, after all, the most important and high-profile ski area in the Northeast. It is the biggest. It has the longest season. It is the most intense and frenetic. It's the one Eastern ski resort that your aunt who's surprised you're still skiing in March has probably heard of. What Killington does resonates with its regional neighbors in a way that a plan cooked up in Broomfield probably never could.
Below are some highlights from Killington's announcement today. If you doubt my authority to condense and convey such information, just watch this video from Killington General Manager Mike Solimano:
Impractical and crowded, October skiing was an easy casualty of the Covid era
About every other year, The Beast manages to orchestrate a pre-Halloween opening. Most years, they are the first in the region to get the lifts spinning. It's a massive and impressive undertaking, involving tons of snow blown in usually marginal temperatures in the mini-ski-area-in-the-sky known as North Ridge. Reaching this improbable 500-vertical-foot paradise requires a gondola ride from the K-1 base and a long and somewhat-precarious-in-ski-boots journey down a steeply pitched and narrow wooden walkway.
What you find when you navigate to the end of this is a joyous but crowded scene, as every hardcore skier within a 300-mile radius who could weasel a vacation day bunches at the base of the North Ridge quad to make start-of-the-season laps and transmit selfies to their Instapost fans.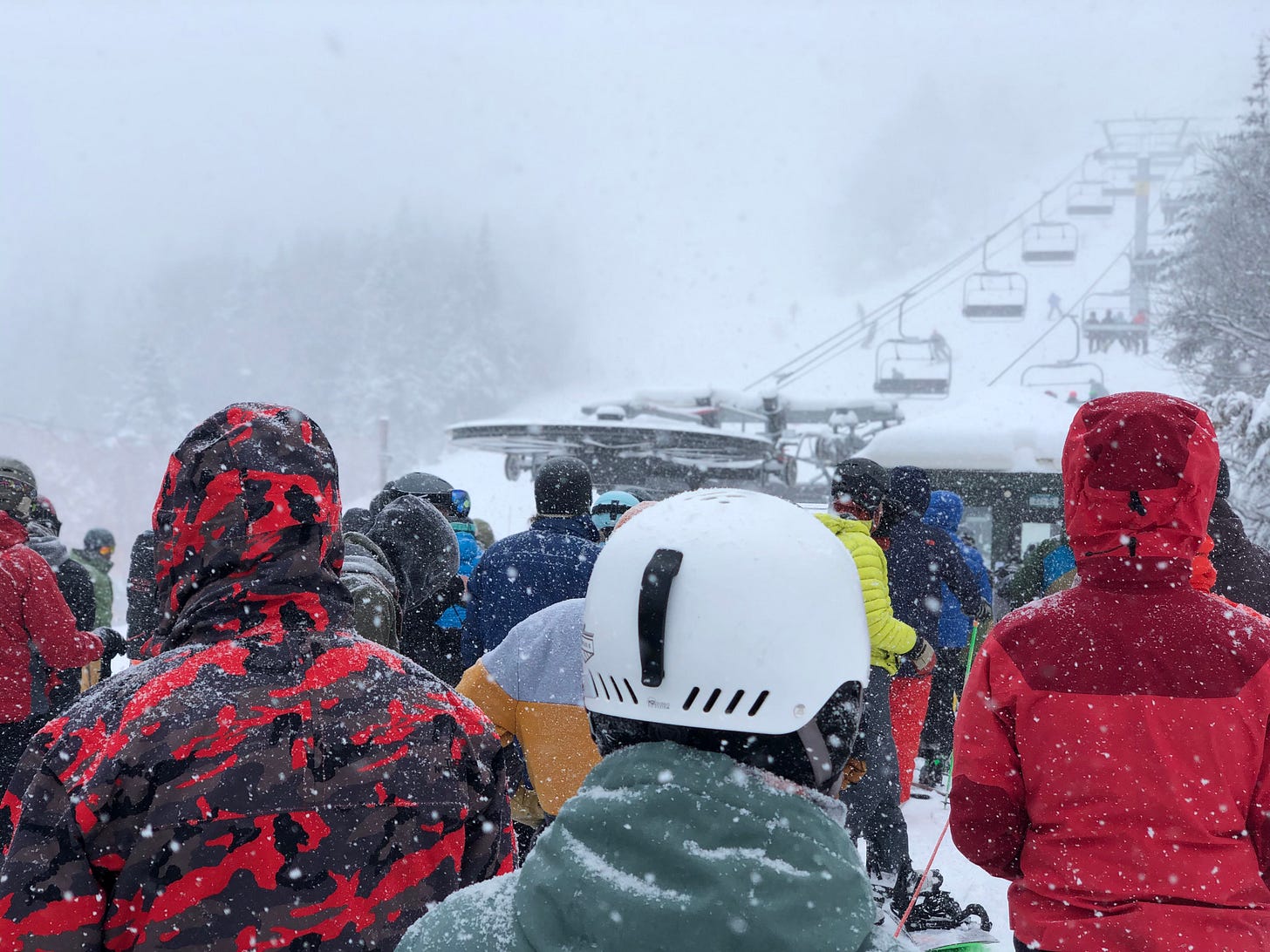 The lift line at the North Ridge Quad on a weekday in November 2019. Killington was the only mountain in the Northeast open at the time.
None of that was going to work this year, and the mountain decided to forego the speculation and marketing fireworks of the race-to-open and settle on Nov. 14 to get the lifts spinning. All of which, Killington admits, was both weird and necessary.
"Yes, it feels a little unnatural to announce a projected Opening Day at Killington," Solimano said in a note posted to Killington's website. "We pride ourselves on putting in the work early season to get lifts running as soon as possible, but we need ample time to prepare top-to-bottom terrain to ensure proper physical distancing. We're confident that starting our season with more acreage and lifts open will help guests spread out and maintain an appropriate distance while also providing a higher quality on-snow experience from day one of the season." 
I had already decided to skip the jolly season intro and wait for a rationalization in lifts and terrain to spread the traffic out, but I'm relieved that Killington made the decision for me.
Only season passholders and Ikon Pass holders will be allowed "on opening day and for a period of time as we assess operations and capacity limits." Once the lifts are spinning, mountain ops will focus snowmaking on North Ridge and Killington Peak before expanding into Snowdon. They don't plan on opening Snowshed and Ramshead until mid- to late-December, focusing on the higher-elevation areas, which should in turn help expand terrain and capacity as quickly as possible.
Could there still be skiing in the Northeast in October? Sure. Sunday River could make a go of it. Boyne has guaranteed an aggressive 150-day season across their three New England resorts, and any day a lift is spinning counts toward that. But it's unlikely. No one in the densely populated and ski-crazy Northeast is going to be in a hurry to be the only mountain open in our crowds-are-bad moment. And, well, Killington sets the standard, and Killington is saying that this year, we wait. So we probably will.
Guy who was shaking his fist in anger at Vail is found spinning in circles in a Rutland gas station
No sooner had Vail dropped its reservation system a couple weeks back than Angry Ski Bro materialized on social media to shake his digital fist at anyone who would dare to suggest that the winter world of 2020 would require a different approach than exactly what we have done for the past 50 years. YOU SCOUNDRELS ARE BRINGING COMMUNISM TO MY MOUNTAINS I WILL NEVER SKI A VAIL RESORT EVER AGAIN, Angry Ski Bro declared to his 15 Twitter followers.
Well he can now strike Killington from his itinerary as well, because The Beast will require reservations this ski season. The mechanics of this remain foggy, however, as this is framed as a "parking reservation." Details are forthcoming, but this will apply to everyone, including season passholders.
And while the mountain does not expect to have to restrict season passholders, it will be "limiting the number of tickets we sell on any given day." Day tickets will have to be purchased online and in advance, and picked up at on-mountain kiosks only. Discounts are likely to be limited. Killington did not provide details on how they will determine capacity.
There is no specific guidance on whether the number of Ikon Pass redemptions will be limited on any given day, but most of the resort managers I've spoken with seem to agree that limiting a la cart day tickets is the best method for managing capacity. Any impact on Ikon Passes is likely to be minimal.
There is almost no way Killington could have feasibly operated without some kind of severe modifications to how it sets and monitors capacity, and all of these changes were, I believe, necessary. Part of the unwound joy of skiing Killington is sinking into the mob. The energy of the place is addictive and unmatched. But since March, our world has been turned upside down, dipped in acid, placed into a woodchipper, and served to the friendly aliens for breakfast. Some things in skiing have to change, and controlling the number of people on the mountain is, I believe, the most important among them.
Here's the one thing short of Jurassic Park coming to life and sending dinosaurs on a rampaging death march across the continent that could un-crowd Killington's slopes
Killington's plan to run lifts at just 50 percent capacity could effect the on-mountain skiing experience more profoundly even than restricting ticket sales and requiring reservations. People skiing together will be allowed to fill a lift to capacity, but unrelated skiers can only fill it halfway. It's unclear what this means for triple chairs. The mountain also promises modifications to the queues to ensure physical distancing.
The results of these restrictions, once you get on the hill, are likely to be somewhat glorious. Sometimes navigating Killington's main slopes feels like trying to ski through a music festival. This should thin those crowds considerably. There are few upsides to Covid, but this could be one of them.
I also appreciate that Killington, along with Vail, has defined clear limits for chairlift capacity. A few smaller mountains such as Bolton Valley have come out and said that they would let skiers self-regulate, which is basically like saying their plan is to have no plan. In a time in which uncertainty reigns and people have been isolated and on edge for months and have forgotten how to interact with their fellow humans, I appreciate the mountains taking a more proactive role in how the mechanics of getting uphill are organized.
The largest question here is obvious, however: how many lifts will Killington run? Fewer skiers probably means less revenue, and lifts are expensive to operate. Between social-distancing imperatives and a desire to not let lift lines spiral out of control for skiers who went through the fuss of making a reservation, the mountain ought to consider running as many lifts as terrain will allow on any given day.
Your Ford Focus is the new K-1 lodge
Remember when Killington promised to tear down the old K-1 lodge and build a new K-1 lodge so capacious and sleekly futuristic that you could conceivably launch it into space with the population of Delaware aboard?
Just kidding. For all practical purposes, there will be no lodge this year: "the new normal for this season at Killington and Pico will be booting up in the parking lot, going straight to the lift and back to your car without ever going inside the lodge." I boldfaced it here because Killington boldfaced it on the website, but I do have one question:
"Um, Mr. Killington, Sir, what if I have to go to the bathroom?"
Then you shall go in the chamber pot you keep in your hatchback.
"What if I just go in the woods?"
No one is allowed to relieve themselves in the 1,509 acres of skiable terrain at Killington resort, even if half of that is unskiable forest clotted with four-foot-high underbrush.
"Thank you, Mr. Killington."
Actually we will have additional outdoor bathrooms available. I think you were just writing all that to be a smartass.
That's true. Anyway, I get that there are parts of the country where booting up in the lodge is considered odd, and I was a committed boot-up-at-your-car guy throughout my teens and twenties. But after a five-hour drive up to Vermont that started at 4 a.m. it is damn nice to sit in a heated environment for 10 minutes before heading out into the frozen midwinter. But we're all making sacrifices here, Rusty, and if this is the biggest one I have to make so that skiing happens, well, I'm OK with that. (And BTW Killington is still building its super-futuristic new K-1 lodge, though Covid did push the whole project timeline back a bit.)
Just in time for Christmas, it's Pico!
Just down the road and a few decades in the past is Pico, a smaller and less busy version of Killington that would be a major ski area if it were anywhere other than right next door to Killington. Despite unsubstantiated rumors that big brother K would mothball its Robin this year, Pico will open on Dec. 19, barring some kind of temperature catastrophe [2020 cracks knuckles, grabs Scepter of Doom, prepares for December meltdown].
This is the year to already be good at skiing
If the least pleasant part of skiing is the lines, then the least pleasant lines are those for rental sheds and ski schools, which seem to have been conceived of and organized by the same demons who orchestrate severe weather events and American politics. Covid may be inadvertently helping us here by forcing the industry to move to online everything, including, in Killington's case, reservations for ski school and rental equipment.
Even if you can score a ski school reservation, Killington is limiting this to private lessons with related parties – at least to start the season. Lessons won't begin until mid- to late-December. Some seasonal programs will be offered, but Ministars, youth group lessons, and learn-to-ski programs will not be. Childcare is out completely.
So if you need to rent, or if you need to learn, or if you need to stash Atticus Jr. in daycare so you can go sip whisky from a flask in between laps on Bear Peak, well, you're going to need to plan for all that a little more carefully than usual. For a lot of people, none of this will matter. For families with little kids in various states of consuming solid foods and learning, it will be the only thing that matters. Killington knows how important business from the latter is, but in The Year Where You Can't Do Everything, some things had to go, and unfortunately some of the services that families rely on were among those things.
Some other random stuff you might care about
A lot of what's in Killington's plan is unsurprising to anyone who's been conscious for the past six months, but here it is: masks are mandatory, food will be grab-and-go only, alcohol will be served only when seated at a table with food, employees will get daily temperature checks. Uphill access will be prohibited early season.
Any and all of what's outlined above could change as the season moves on and Covid evolves. All the mountain can do is adapt to what a variety of interests and agencies are saying it should do right now, a list that includes state and local agencies, the NSAA, and parent company Powdr Corp.
"We continue to monitor Covid-19 and, given its dynamic nature, have prepared thorough, adaptable operations plan that are consistent with the Vermont Department of Health and follow the National Ski Areas Association's Ski Well, Be Well best practices," Solimano said. "An important part of our planning includes putting in place assurances of appropriate physical distancing, sanitation and protocols that ensure the health and wellbeing of guests and staff."
If you've already bought your pass, but all of this sounds terrible to you, then Killington is allowing no-questions-asked refunds until Nov. 20, as previously announced. The mountain has also articulated a partial credit policy should Covid force another mid-season shutdown.
And of course none of this is going to matter if Vermont doesn't revise its 14-day quarantine-upon-arrival requirement for out-of-state visitors. While many people will ignore this, it is creating enough uncertainty and confusion that it is likely to impact visitation at Vermont ski areas this winter.
The Storm Skiing Podcast is on iTunes, Google Podcasts, Stitcher, TuneIn, and Pocket Casts. The Storm Skiing Journal publishes podcasts and other editorial content throughout the ski season. To receive new posts as soon as they are published, sign up for The Storm Skiing Journal Newsletter at skiing.substack.com. Follow The Storm Skiing Journal on Facebook and Twitter.
COVID-19 & Skiing Podcasts: Author and Industry Veteran Chris Diamond | Boyne Resorts CEO Stephen Kircher | Magic Mountain President Geoff Hatheway | NSAA CEO Kelly Pawlak| Berkshire East/Catamount Owner & Goggles for Docs founder Jon Schaefer | Shaggy's Copper Country Skis Cofounder Jeff Thompson | Doppelmayr USA President Katharina Schmitz | Mt. Baldy GM Robby Ellingson| Alterra CEO Rusty Gregory | NSAA Director of Risk & Regulatory Affairs Dave Byrd
The Storm Skiing Podcasts: Killington & Pico GM Mike Solimano | Plattekill owners Danielle and Laszlo Vajtay | New England Lost Ski Areas Project Founder Jeremy Davis | Magic Mountain President Geoff Hatheway | Lift Blog Founder Peter Landsman | Boyne Resorts CEO Stephen Kircher | Burke Mountain GM Kevin Mack | Liftopia CEO Evan Reece | Berkshire East & Catamount Owner & GM Jon Schaefer | Vermont Ski + Ride and Vermont Sports Co-Publisher & Editor Lisa Lynn | Sugarbush President & COO Win Smith | Loon President & GM Jay Scambio | Sunday River President & GM Dana Bullen | Big Snow & Mountain Creek VP of Sales & Marketing Hugh Reynolds | Mad River Glen GM Matt Lillard | Indy Pass Founder Doug Fish | National Brotherhood of Skiers President Henri Rivers | Winter 4 Kids & National Winter Activity Center President & CEO Schone Malliet | Vail Veterans Program Founder & President Cheryl Jensen | Mountain Gazette Owner and Editor Mike Rogge | Squaw Valley Alpine Meadows President & COO Ron Cohen