Discover more from The Storm Skiing Journal and Podcast
Everyone's searching for skiing's soul. I'm trying to find its brains.
Over 13,000 subscribers
So We're Going to Keep Pretending Stratton's Special? OK, Cool.
Ikon't wait to hit Sugarbush next year
Win Smith confirmed on Vermont Public Radio that the Ikon Pass will be the Sugarbush season pass for the 2020-21 season, meaning perhaps-disgruntled long-time passholders fearing some kind of mega-pass tidal wave can at least be sated by bonus days at Killington, Sunday River, Sugarloaf, and Loon, and a season pass at Stratton, though it isn't clear to me why anyone who has easy access to Sugarbush would ever go there.
While Ikon Pass backlash doesn't really exist as a mob activity in the Northeast, where all of the mountains have all been too busy on peak days since time began, it's nonetheless helpful to hook up longtime passholders who had been paying a premium for a one-mountain pass and may now have to share their mountain a bit more broadly.
This does clarify that, unsurprisingly, Alterra isn't going to scoop Sugarbush into some exclusivity bucket with Deer Valley, which they own but still keep on a separate season-pass that retails for a shocking $2,766. While this gold-plated price does include an Ikon Base Pass and a bunch of other benefits, Alterra's exclusive treatment of this property when Vail includes equally chichi Beaver Creek on the full Epic Pass is a little puzzling, though likely explained by Deer Valley's much closer proximity to a large population center.
What still remains unclear is whether Sugarbush will be unlimited with blackouts on the Ikon Base pass, or whether Alterra will continue to restrict skiers to five days on that tier, as they've done with Stratton. While this exclusive-iffying of Stratton made sense given its proximity to Northeast population centers when the Ikon Pass dropped last January, it seems a little foolish at this point, with Vail offering no-blackout unlimited access to nearby Mt. Snow and Okemo on its cheaper-than-Ikon-Base Epic Local Pass.
This East Coast pass war has evolved so quickly that it's easy to forget that when Alterra announced the Ikon Pass, Vail owned exactly one Northeast mountain: Stowe. They didn't even buy Triple Peaks, and thus Sunapee and Okemo, until last September. But between that and the Peak acquisition, Vail now owns three mountains in Vermont and four in New Hampshire, and here's Alterra still pretending like Stratton's special. Which it isn't.
Sugarbush is special, but it's still right down the road from Stowe, which, with the likely exception of 11 blackout dates, will probably continue to offer unlimited access on the Epic Local. I wouldn't be surprised, necessarily, if Alterra decides to continue restricting Sugarbush access, but I would find it puzzling from a business point of view, as Vail is clearly offering more access at similar mountains for a better value throughout the region.
In western regions thick with ski areas, such as Tahoe or Summit County or the Wasatch, Alterra has matched Vail's access even at its largest and most well-regarded mountains. Squaw Valley, maybe the best mountain in a region dripping with world-class resorts, is unlimited with blackouts on the base pass because nearby Heavenly, Northstar and Kirkwood offer that access on the Epic Local. Winter Park, which is one of the best all-around mountains in the entire country, is unlimited with no-blackouts even on the Ikon Base because it's close enough to Colorado's Summit County, with its huge, unlimited-access-on-either-Ikon-Base-or-Epic-Local mountains, that it has to be.
The obvious argument against expanding access is that it will make Sugarbush and Stratton busier. Perhaps. But with so many mountains now on these passes and the sheer numbers of skiers stuck in 1992, it's hard to see how this argument makes sense. For skiers deciding which pass holds more value, the obvious answer, for now, remains Vail.
More Sugarbush
Vermont Ski + Ride did a nice overview package of the acquisition, including this exploration of the rationale behind the sale that gets into why Alterra didn't pursue Peak and will reassure you that Sugarbush is unlikely to change in any noticeable way.
Hey man, let's go skiing. No airplane required.
With a couple dozen Northeast operations of varying sizes cranking up their lifts this past week, we've moved through the pricing-out-flights-to-Argentina midsummer daydreaming and the is-a-flight-to-Denver-worth-it-to-ski-A-Basin-when-only-four-runs-are-open early-season westward-looking envy and the wait-how-far-of-a-drive-is-Killington-and-really-you-have-to-do-that-wooden-stairstep-walkway-thing-still early-eastern calculating and arrived at the stage in which you can just get in your car and be skiing within an hour or two pretty much regardless of where you live in the region.
And it's been a hell of a start, with blocks of cold that have allowed mountains as far south as the Poconos and New Jersey to roll into winter pre-Thanksgiving. The mountains that aren't open are blowing mounds of snow deep enough to bury a busload of Hunter Mountain weekend daytripers. This early cold is crucial to the success of the entire Northeast season, as it will allow the resorts to stack the kind of deep manmade bases that will ensure full-freight-paying Christmas-week mobs.
The layers of natural have helped too of course, but the deepest of it has fallen on not-yet-open far-north mountains that typically have no shortage of snow or low temps to blast out a decent season once they emerge from hibernation. But this is an artificial-snow-dependent region even in its best years, and this early setup gives us a necessary ingredient for the kind of long and deep season we're all hoping for.
This week in skiing
The lifts had to spin without my input this past weekend, as I was busy traveling to sate my other unreasonable obsession, college football. But I did take advantage of last Monday's Veteran's Day no-school holiday to crack open my daughter's ski season.
Sunday River had activated some backup for Killington, but that's a bit far for me and so we worked out a daytrip to Vermont. We spent the day lapping K1 and going top to bottom down the wide snowy blue square boulevards through rush-hour-intense skier traffic. It snowed all day and the snow stayed soft and fun and the crowds thinned out around two and it felt good to just be back out there. And the place was in great shape.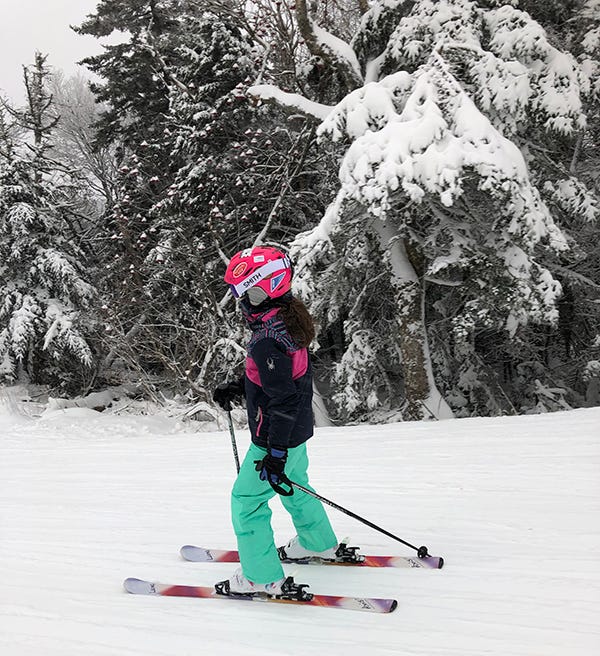 My daughter took it slow and easy as the teenage do-a-flippy-move-off-every-little-bump-on-the-mountain-types slalomed around her. I don't really mind this since the skill level of the average early November skier is so much higher than that of your average February weekender just given the probability that the never-evers will think to ski so early in the season that there's little risk of collision no matter how wide she needs to stake her turns. But it's always a strange and interesting dynamic there at the beginning of the season before the tricksters have quarantined themselves within the massive terrain parks to just see them out bombing around with everyone else.
Don't forget
Vail looks to be shutting down Epic Pass sales this Sunday, Nov. 24. It's cool if you're not into Vail or whatever, but just don't complain later in the year when you're like crap when did lift tickets become $200 a day?
---
The Storm Skiing Podcast is on iTunes, Google Podcasts, Stitcher, TuneIn, and Pocket Casts. The Storm Skiing Journal publishes podcasts and other editorial content throughout the ski season. To receive new posts as soon as they   are published, sign up for The Storm Skiing Journal Newsletter at skiing.substack.com. Follow The Storm Skiing Journal on Facebook and Twitter.
Check out previous podcasts: Killington GM Mike Solimano | Plattekill owners Danielle and Laszlo Vajtay| New England Lost Ski Areas Project Founder Jeremy Davis | Magic Mountain President Geoff Hatheway