Discover more from The Storm Skiing Journal and Podcast
Everyone's searching for skiing's soul. I'm trying to find its brains.
Over 13,000 subscribers
Skiing on Weekends Sucks. Coronavirus May Fix That – For a Price
Plus a complete list of Northeast ski areas now offering refunds or deferrals on 2020-21 season passes
What good could come of this, and what bad could come from that good
When was the last time you paused mid-slope at a Northeast ski area on a Saturday afternoon and thought, "Man, I'm having a really good time right now?"
Probably, if you're being honest, never. This is the consequence of a confluence of factors, including but not limited to: 1) the reality of life in a densely populated region; 2) increased accessibility at large ski areas due to cheap multipasses and perhaps a spillover onto formerly less-populated mountains as a result; 3) the ubiquity of high-speed lifts that dump ever more skiers onto the mountain; 4) a slowly declining number of ski areas; and 5) a crowd control philosophy at most Northeast ski areas that goes something like, "however many cars will fit in our parking lots" (the answer is: many).
One of the positive unintended consequences should life in Covidville compel us to continue social distancing practices into this winter is that ski areas may have to aggressively manage the number of skiers on the slopes. Achieving this could mean some combination of a few different strategies that could be deployed to limit traffic: a reservations-required ski experience, even for season passholders, with metered access at specific times a la California's Mt. Baldy; severe limits on the number of day tickets sold; extremely high prices on those day tickets; and the end of walk-up lift tickets, with all sales moving online.
While it is too soon to predict Covid trendlines for fall into winter, and social distancing mandates would likely vary widely by state and by region, ski area operators are starting to think about this. This must-listen Ski Area Management podcast last Monday, which was mostly focused on the season pass trends that I have been documenting and update below, also featured an extended segment on how ski area operators would manage such a circumstance.
"If we think about some type of restricted capacity next year, which I think we all have to think about … I think that's going to be a part of how we go to business successfully is to potentially have some type of restricted access in terms of number of people that are allowed in the resort," said Magic Mountain President Geoff Hatheway. "I don't know what that number is, I don't think any of us do, but we kind of have to potentially prepare for that."
Hatheway – who also noted in one of Magic's recent Alpine Update emails that the mountain had been selling a "record" number of season passes since announcing reduced prices, a payment plan, and coverage in the event of another government shutdown – said that season pass revenue is "pretty much spent" before the season even starts, and that capacity limits would likely mean the end of all discount products and full-priced day tickets.  
That means planning for the possibility of reduced capacity now, and communicating that to skiers.
"What we have to do now is prepare the message," Howard Katkov from Red Mountain, British Columbia. "I'm a big believer in, no surprises. And if you think you're going to get bombarded with visitation that's going to impair the ability to freely let passholders come and ski, then I think you … have to at least put them on notice that it's not going to be business as usual next year. And I don't think it's going to be."
Should these sorts of capacity limits arrive, they would likely result in a weekend ski area experience that more closely resembled the very pleasant weekday ski experience. But there would be many negative consequences, including shutting a lot of people out, perhaps especially families, who may find group reservations harder to nail down. While day tickets in the Northeast have not nearly approached the mortgage-your-car levels they have out west, this could nudge them substantially higher, particularly at the larger mountains such as Killington or Stowe. It could also make some off-the-radar ski areas busier, as skiers shut out of, say, Jiminy Peak migrated to the emptier Berkshire East, or turned-away Hunter or Windham skiers show up at Catamount or Plattekill.
As I wrote last week, however, it's hard to imagine how a ski area like Hunter, which is built on a volume model and has the expensive infrastructure that that requires, could operate at all on severely reduced capacity. If opening means losing money, Vail may just decide it makes more sense to forfeit the season and let the region's smaller ski areas, which are rarely full now and would not likely have to reduce capacity much to meet state mandates, have the overflow.
It is way too soon to say which way any of this might go. But the podcast makes it clear that, once season pass policy is hammered out – and we're rapidly arriving at that point – this is going to be the next great issue facing the industry as it prepares for the 2020-21 ski season.
Northeast season pass updates – all changes reflected in

this chart
Though we haven't exactly reached critical mass on the number of Northeast ski areas that have articulated some sort of 2020-21 season pass refund or deferral policy, the percentage of skier visits that are represented by the companies or ski areas that have done so is substantial. The big ones this past week, of course, were Vail, which owns 13 mountains in the region, and Killington. I outlined each policy on the days they announced them, but Smugglers' Notch, Plattekill, Lost Valley (Maine), Spring Mountain (Pennsylvania), and Yawgoo also came out with a refund or deferral policy this past week. More details below:
Deferral or refund options introduced this week
Vail of course rolled out its widely praised Epic Pass update. Unfortunately, decoding it is like trying to read the blueprint for an F-35 fighter jet. In brief:

Renewal discounts range from 20 to 80 percent (don't get too excited, you phase out of the best discounts after you hit ski day four).

Pass protection, formerly an optional upcharge add-on, is now free and automatic

Refunds, should you need to activate pass protection, are calculated using a complex, multi-variable scheme split into two buckets: personal event and resort closure.

If you trigger a personal event (job loss, pregnancy, etc.), you are eligible for a refund on a sliding scale based upon how many days you've skied, from a full refund for zero days to a 14 percent refund for six days. You lose eligibility once you've skied seven days.

Whether you trigger a "resort closure" refund will depend on whether you set up your account for a "specific week," or for the American Thanksgiving-to-Easter "core season," and also whether you chose "specific resort," or "all resorts." It's all very complicated and you can exhaust yourself with it here. Or you can go learn quantum physics from a book written in 9th century German. Good luck either way.

Killington and Pico extended their early-bird pricing deadline to July 15, allowed no-questions-asked refunds until Nov. 20, and offered modest rebates that 2019-20 passholders can apply to the purchase of a 2020-21 season pass. The mountains already offered a payment plan.

Smugglers' Notch will defer 2020-21 passes to the 2021-22 season if "the resort can't open due to Covid-19."

Plattekill extended its early-bird price deadline from April 30 to Oct. 15, offered to refund passes for anyone who previously purchased next season's pass but whose "situation has changed," and promised that "whatever the reality is" next winter, the mountain would "make things right," whether that meant, "issuing refunds or" deferrals to 2021-22.

Lost Valley, Maine added a Pass Assurance program that will credit one percent of the 2020-21 pass cost to a 2021-22 pass for each day that the government closes the ski area between Dec. 26, 2020 and March 14, 2021.

Spring Mountain, Pennsylvania is permitting full refunds up to opening day and is offering proportional credits toward a 2021-22 pass for the percent of the 2020-21 season lost to a Covid shutdown.

Yawgoo, Rhode Island will provide a full credit for 2021-22 season passes "if the government closes ski areas for the season" before opening day of the 2020-21 season due to coronavirus. The ski area will also institute a payment plan when its preseason rates begin. Confusingly, even though the May 1 deadline has passed, the early-bird rate of $349 still appears to be valid, and the payment plan does not appear to kick in until the pass goes up to $389, which it was supposed to have done already.
Running list of Northeast mountains offering refunds or deferrals on 2021-22 season passes:Vail/Epic Pass (Stowe, Okemo, Mount Snow, Wildcat, Attitash, Crotched, Mount Sunapee, Hunter, Roundtop, Whitetail, Liberty, Jack Frost, Big Boulder); Alterra/Ikon Pass (Stratton, Sugarbush); Pats Peak, Ragged, Windham, Mount Peter, Plattekill, Blue Mountain, Jay Peak, Magic, Bolton Valley, Killington-Pico, Lost Valley, Spring Mountain, Yawgoo, Smugglers' Notch
Notable holdouts: ORDA 3 (Whiteface, Gore, Belleayre), Greek Peak-Toggenburg, Holiday Valley, Bristol, Mad River Glen, Burke, Fairbanks Group (Bromley, Jiminy Peak, Cranmore), Wachusett, Berkshire East/Catamount, Waterville Valley, Cannon, Bretton Woods, Gunstock, Black N.H., Shawnee Peak, Mt. Abram, Saddleback, Boyne (Loon, Sugarloaf, Sunday River – update has been promised "in early May"), Camelback, Seven Springs-Hidden Valley-Laurel
Price increases
Windham's Ultra Pass, which includes an Ikon Base Pass, increased from $1,099 to $1,199 on May 1. The single-mountain pass increased from $949 (lol) to $1,049 (gtfolol), which means that a season pass to Windham, which is about the 49th best mountain in the Northeast, is now the most expensive single-mountain season pass in the Northeast. Buy the Ultra Pass if you're going to get one, but since Windham is now on the Ikon Pass just buy that, since five or seven days there is probably more than enough for most of us anyway. The next deadline if you still want to purchase this overpriced pass is Aug. 31.

The option to use a payment plan to purchase Greek Peak's family pass expired on May 1, and the pass price increased from $550 to $650 for an individual on May 1. The next deadline is Sept. 30. Toggenburg season passes increased from $350 to $450 on May 1. That price is good until Sept. 30. The Greekenburg pass, good for unlimited skiing at Greek Peak and Toggenburg, shot up from $575 to $725 on May 1.

Cazenovia Ski Club season passes increased from $450 to $495 on May 1. The pass jumps to $540 on Oct. 1.

McIntyre season pass prices increased from $259 to $309 on May 2. The next deadline is Aug. 1.

Blue Mountain season passes increased from $429 to $529 on May 1.
Additional season pass notes
This week's season pass deadlines:
Elsewhere
According to Lift Blog, New York State-owned Gore and Whiteface are set to get three new chairlifts between them this summer. As a skier who loves those two mountains, I'm like, "cool." As a New York State taxpayer watching the state drop cash at an alarming rate on the Covid battle, I'm like, "WTF Guys, can't this wait a year?" Vail may be done with acquisitions through January 2022. Vermont Sports investigates whether out-of-state skiers brought Covid-19 into the state.
This week in not skiing
This has not been a great week to be honest with you. The sheer human toll of this thing, with 18,021 dead in the city alone and that number ticking ever upward, is beginning to echo in unavoidable ways. Mostly I'm shielded here in my quarantine bunker but Monday night the fallout finally wormed its way in like I guess I always knew it would when a ski friend texted me about the suicide of Dr. Lorna Breen after weeks of living in ER Covid hell and then catching it herself, which you may have heard about and if not please read this before you go any further.
I knew Dr. Breen as it happens. We were both members of the same ski club here in the city and I met her on a trip to Italy in 2016. Generally when I meet someone I avoid asking them what they do for as long as possible because I find the question a little superficial and stupid and people in New York almost invariably have these incredibly esoteric corporate jobs that are hard to describe or understand and it's not like anyone has ever answered that question with, "Well actually I live in the sewers and I'm the sensei to this group of human-sized crime-fighting turtles that I've trained in the ninja arts." But anyway eventually of course it came up that Lorna was not just a doctor but an ER doctor which is like a super doctor and I remember thinking it was kind of amazing to meet someone like that because it's the kind of job that seems too hard to be real, like if you ever met a fighter pilot because how in the fuck can anyone actually land a super-sonic $80 million plane on a listing aircraft carrier in the middle of the goddamn ocean? And an ER doctor seems just as improbable to me because how is it an actual job that a human can do that you can just be chilling there in your workplace and someone comes in impaled on a railspike or they accidentally swallowed their gerbil and you have to figure out what to do about that situation? Like in my line of work it counts as a crisis if someone misspells a word in a headline and emails are sent with red exclamation points appended to their subject lines and buckets of people are cc'd to be made aware of this and kept updated on the progress of the repair efforts and wow OK I guess we better attend to this pronto. But it's not like there's a chance that I may have to suddenly tend to a helicopter crash victim or perform emergency brain surgery.
So needless to say she was impressive just by virtue of that but also she was just a really sweet person. I skied with her and her group of inseparable snowboard pals a day or two that week and met up with them at one of those understated mountainside Euro lunch shacks for a meal that was better than every meal I've ever had at a U.S. ski resort combined and my wife and I had dinner with them a couple of times that week.
She was just very normal and very nice and very well adjusted and funny and kind and a great snowboarder. And we weren't in touch with her in a deliberate way after that but I did see her again a couple of years later on the annual club trip that I take to Utah. And I'm not always great at remembering names to be honest with you but when the trip leader sent around the contact sheet I did remember her and I was glad she was going. We never skied together that weekend or even hung out really but one evening on my way to the elevator in Snowbird's Cliff Lodge I found her in the hallway and you know you never know if someone will remember you either but of course she did. And we stood there for five or maybe 10 minutes and kind of caught up, and she had moved on from being just a regular ER doctor to being a head ER doctor so like a super duper doctor and I was just like well no surprise there and that's a good thing for whatever hospital gets her. And she seemed genuinely interested in updates on my life which is just a normal life with nothing terribly interesting about it, and then I went on to wherever I was going which probably involved procuring some kind of alcohol and she smiled and went on and she had this really terrific smile. And she was just a person who I figured would always be around because we were part of the same ski club and she was the adventurous sort and life is long so there was no need to attach any kind of importance to that meeting. But actually that isn't true and now she's gone.
Which is weird and tragic and awful and unfathomable in a way that this all is. Like here's a picture of us standing on the top of a mountain in fucking Italy just a bit over four years ago and she looks young and strong and healthy and invincible and it's one of those moments among the eternal mountains when everything is glorious and there doesn't seem like there could ever be an end to anything. And right now is also one of those nothing-can-end moments but in a different and malicious way, when a cresting of new cases and deaths in this shuttered and battered city may be just the very beginning of an endless interconnected chain of human and economic and social suffering that will unfurl over years. So complete has the lockdown been that those of us in New York City have been able to be among and apart from this all at once, aloof and distracted enough to believe this was something being taken care of by other people and that we would emerge in some summer dawn unharmed and unchanged. What a stupid thing to believe. How awful, all of it.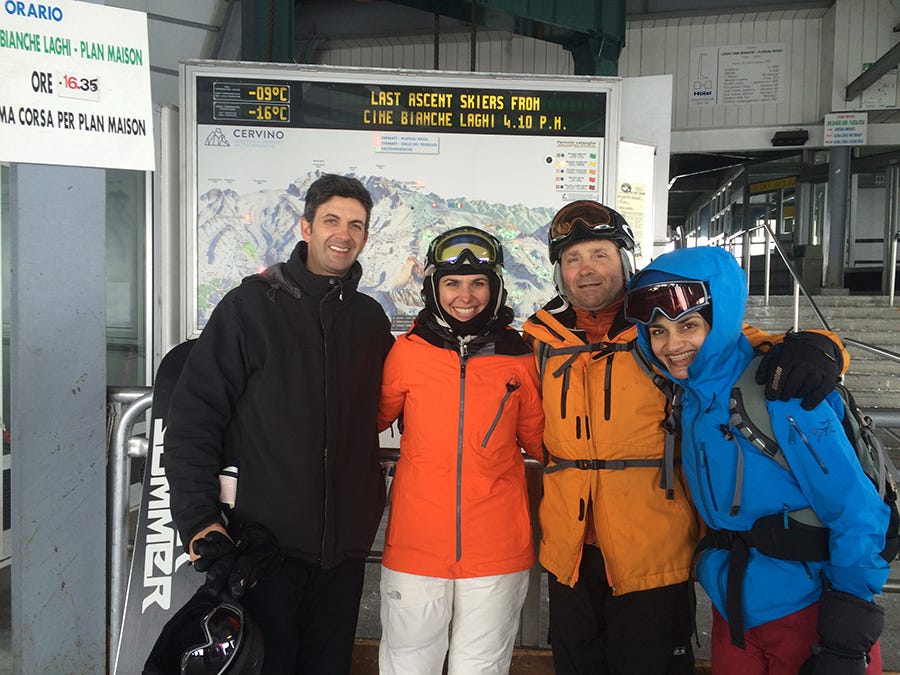 Me on the left, Lorna in the orange, with other members of our ski club.
---
COVID-19 & Skiing Podcasts: Author and Industry Veteran Chris Diamond | Boyne Resorts CEO Stephen Kircher | Magic Mountain President Geoff Hatheway | NSAA CEO Kelly Pawlak| Berkshire East/Catamount Owner & Goggles for Docs founder Jon Schaefer | Shaggy's Copper Country Skis Cofounder Jeff Thompson | Doppelmayr USA President Katharina Schmitz | Mt. Baldy GM Robby Ellingson|
The Storm Skiing Podcasts: Killington & Pico GM Mike Solimano | Plattekill owners Danielle and Laszlo Vajtay | New England Lost Ski Areas Project Founder Jeremy Davis | Magic Mountain President Geoff Hatheway | Lift Blog Founder Peter Landsman | Boyne Resorts CEO Stephen Kircher | Burke Mountain GM Kevin Mack | Liftopia CEO Evan Reece | Berkshire East & Catamount Owner & GM Jon Schaefer| Vermont Ski + Ride and Vermont Sports Co-Publisher & Editor Lisa Lynn| Sugarbush President & COO Win Smith| Loon President & GM Jay Scambio| Sunday River President & GM Dana Bullen| Big Snow & Mountain Creek VP of Sales & Marketing Hugh Reynolds |