Discover more from The Storm Skiing Journal and Podcast
Everyone's searching for skiing's soul. I'm trying to find its brains.
Over 11,000 subscribers
Powder Highway Giant Red Mountain Joins the Ikon Pass
The rich get richer as one of the last unaffiliated large ski areas in North America signs on with Alterra
---
Powder Highway gem Red Mountain joined the Ikon Pass today, making it the 44th destination on the pass. Full Ikon Pass holders will get seven days with no blackouts at Red, and Base Pass holders get five days with blackouts.
Here's a breakdown of Alterra's newest partner, and what it means for the pass:
Red is a seriously amazing place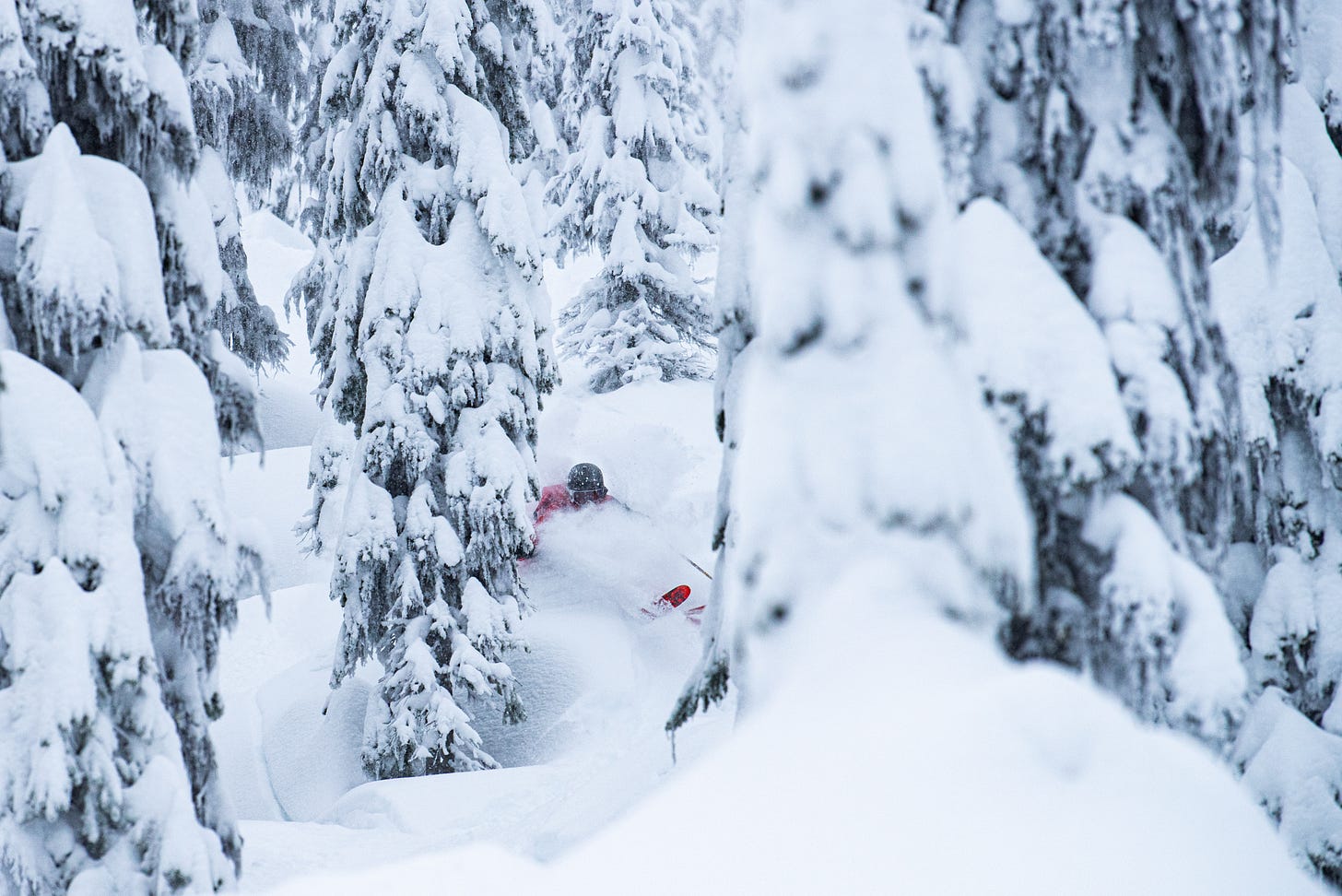 Red Mountain, British Columbia; all photos courtesy of Alterra Mountain Company.
When most Americans think of skiing in British Columbia, they do a hard stop at Whistler. Fair enough, because if you could only ski one place for the rest of your life, the vastness and sheer awesomeness of Vail's crown jewel is impossible to dispute. But the real goods in BC lie a few hundred miles inland along a circle of mountain roads known as the Powder Highway.
Red is the southwest anchor of this beastly lineup of sprawling snow-throttled ski areas, any one of which would be one of the best ski areas in the United States if it were teleported to Colorado (snow totals intact): Revelstoke, Kicking Horse, Panorama, Kimberley Alpine, Fernie, and Whitewater. Instead, most of them sit hulking and underutilized, the skiing infinite and fabulous. If you want to know what skiing Jackson Hole or Snowbird or Telluride was like in the pre-mass-mountain-tourism days of the 1970s, go here and go nuts.
Red itself is 3,850 acres on a nearly 3,000-foot vertical drop, a vast tree-skiing paradise that's bigger than the claimed acreage of Killington, Okemo, Sugarbush, Stowe, and Jay Peak combined. Dropping Red onto the Ikon Pass isn't just a cute little addition across the northern border – it's like adding another Jackson Hole or Steamboat or Winter Park. It's that good.
Red + Revelstoke = a vacation you won't want to return from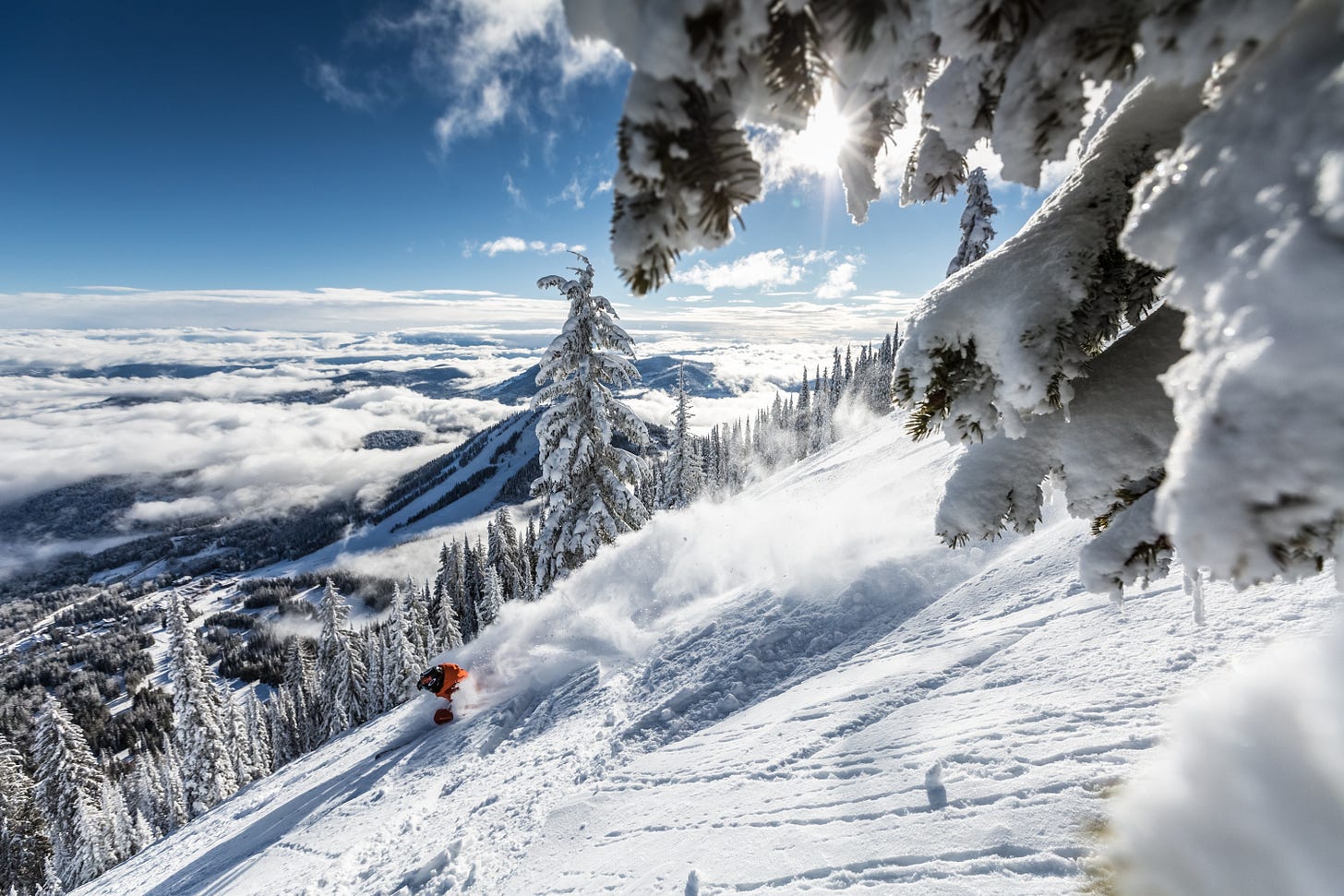 Density and the appeal of hitting multiple otherworldly ski fantasias on a single trip is what can really sell the value of a multipass, and Alterra crushes it here by dropping Red onto the pass alongside ski god Revelstoke.
While several hours of highway separates Red from Revelstoke, it's worth splitting your trip into two and hitting both. One of the newest lift-served ski areas on the continent, Revelstoke is also one of the most glorious, its hard-to-comprehend 5,620-foot vertical drop looking down and laughing even at Whistler. Wrapped in that endless vertical drop is a labyrinth of cliffy glades that will make every run distinct, unforgettable, and impossible to replicate.
If you're feeling really ambitious or have a ton of time to shred, you can jam Ikon partner Banff Sunshine-Lake Louise-Norquay, not so far over the border in Alberta, onto your trip. The so-called Big 3 don't tend to get the buckets of snow that the Powder Highway banks like some kind of cackling mad snow hoarder, but the skiing is vast and varied and it's one of the most beautiful places on Earth.
The Powder Highway writes snow guarantee into its pre-nup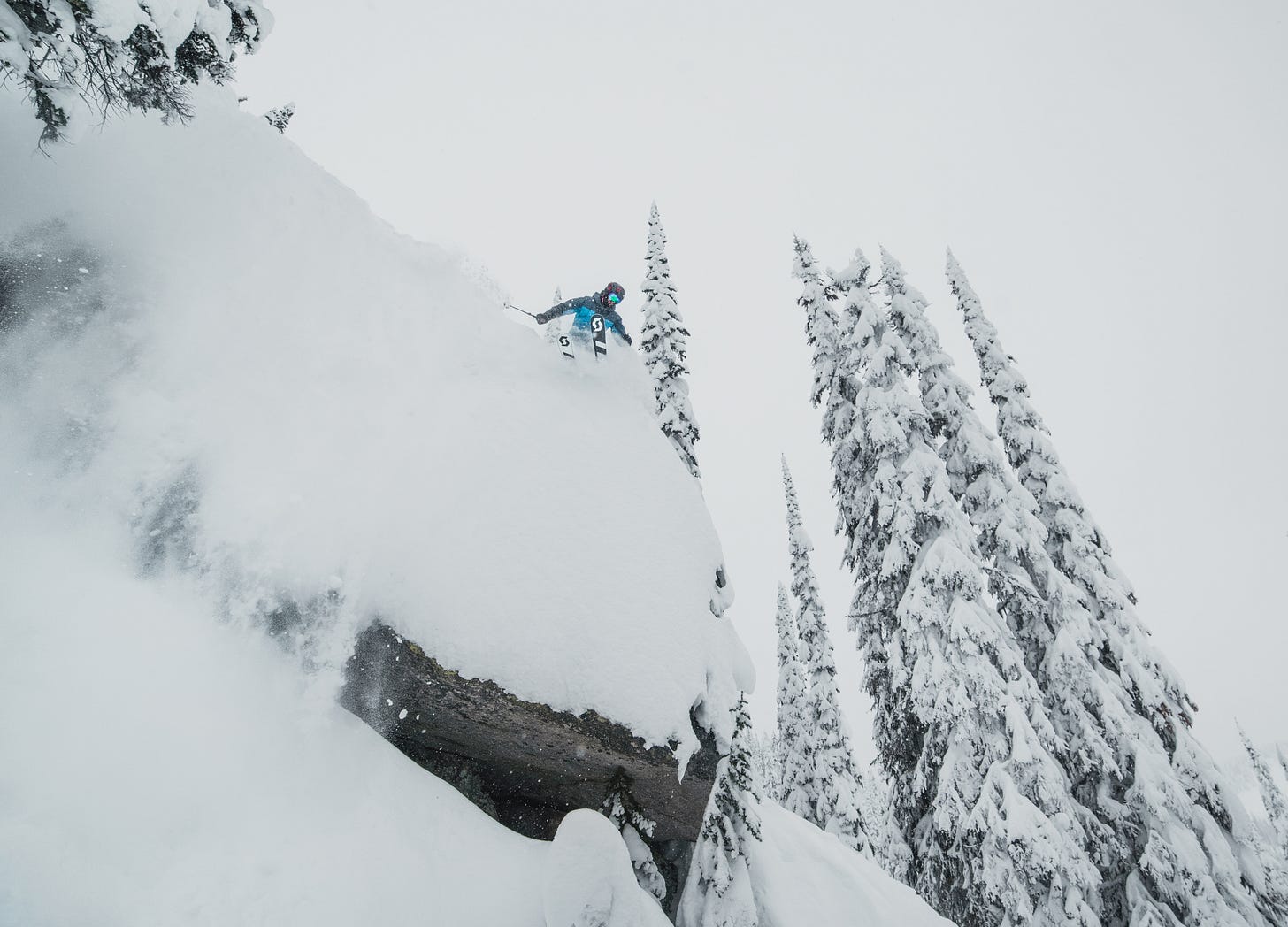 With the Red signing, most of the large Powder Highway ski areas have been married off to one multipass or another. Fernie, Kicking Horse, and Kimberley are all part of the Resorts of the Canadian Rockies group, which is an Epic Pass partner. Panorama recently signed with Mountain Collective. Revelstoke is double-dipping on Ikon and Mountain Collective.
That leaves fair Whitewater, a shit-kicking good mountain that claims Alta levels of snow and was once a member of our dearly departed MAX Pass. Someone needs to scoop this most eligible mountain up ASAP.
But OK I didn't really need another reason to buy an Ikon Pass, you know?
I stopped running out of reasons to not buy an Ikon Pass a long time ago. Here in the Northeast, the pass grants admission to the earliest-opening mountains (Killington, Sunday River), and most of the latest-closing (Killington and Sunday River again, plus Sugarloaf and Sugarbush). These also happen to be four of the best mountains in the region. The base pass recently upgraded Stratton and Sugarbush to unlimited-access-with-blackouts from their former five-day-each limits. The addition of day-drive-from-NYC Windham only boosted Ikon's case, and under the category of Western access, the pass may as well just list "infinity."
So the addition of yet another powder dump the size of Long Island that I won't likely be able to visit until my kids are in grad school doesn't amp me up the way it maybe ought to. It's a good move by Ikon, however, as it balances Vail's massive strength in BC with a second anchor mountain that's tough to drive past without stopping.
Too bad we can't go there
But even if I could magically dissolve the geographic and logistical barriers standing between me and Red Mountain pow bliss, the U.S.-Canada border remains closed and likely will for the foreseeable future. That is of course because us U.S. Americans have summited our flag-draped mountaintop in our 12-wheel-drive Double Escalade, pet bald eagle Freedom on our shoulder and bandolier of AR shells draped across our naked torso, looked down upon the burning shitpile of Covid scorching the carcasses of 183,050 fellow citizens below us, turned to our patriotic brothers, and said, "Man, I don't see any problem here, do you?"
Oh well, have fun chewing up that BC pow without us, Canada. We'll be back someday.
---
COVID-19 & Skiing Podcasts: Author and Industry Veteran Chris Diamond | Boyne Resorts CEO Stephen Kircher | Magic Mountain President Geoff Hatheway | NSAA CEO Kelly Pawlak| Berkshire East/Catamount Owner & Goggles for Docs founder Jon Schaefer | Shaggy's Copper Country Skis Cofounder Jeff Thompson | Doppelmayr USA President Katharina Schmitz | Mt. Baldy GM Robby Ellingson | Alterra CEO Rusty Gregory | NSAA Director of Risk & Regulatory Affairs Dave Byrd
The Storm Skiing Podcasts: Killington & Pico GM Mike Solimano | Plattekill owners Danielle and Laszlo Vajtay | New England Lost Ski Areas Project Founder Jeremy Davis | Magic Mountain President Geoff Hatheway | Lift Blog Founder Peter Landsman | Boyne Resorts CEO Stephen Kircher | Burke Mountain GM Kevin Mack | Liftopia CEO Evan Reece | Berkshire East & Catamount Owner & GM Jon Schaefer | Vermont Ski + Ride and Vermont Sports Co-Publisher & Editor Lisa Lynn | Sugarbush President & COO Win Smith | Loon President & GM Jay Scambio | Sunday River President & GM Dana Bullen | Big Snow & Mountain Creek VP of Sales & Marketing Hugh Reynolds | Mad River Glen GM Matt Lillard | Indy Pass Founder Doug Fish | National Brotherhood of Skiers President Henri Rivers | Winter 4 Kids & National Winter Activity Center President & CEO Schone Malliet | Vail Veterans Program Founder & President Cheryl Jensen | Mountain Gazette Owner and Editor Mike Rogge