The Storm Skiing Podcast #12 | Download this episode on iTunes, Google Podcasts, Stitcher,TuneIn, and Pocket Casts | Read the full overview at skiing.substack.com.
Who: Jay Scambio, President and General Manager of Loon Mountain, New Hampshire
Why I interviewed him: Because in a state brimming with big, complete ski areas, Loon finds a way to stand out. It does this partially via massive ongoing investment and partially via terrific location and partially via its home in the massive Boyne portfolio, which in turn plants it among the half dozen Northeast mountains on the Ikon Pass. In the big, tough, cold White Mountains, Loon is an oasis: well-groomed, well-covered, and well-run, not so big and tough that it overwhelms and not so small or gentle that it's boring. Finding and maintaining such a well-defined identity amidst the constellation of outstanding New Hampshire ski areas is a trick that Loon has been nailing for decades, and I wanted to get a better understanding of how they do it.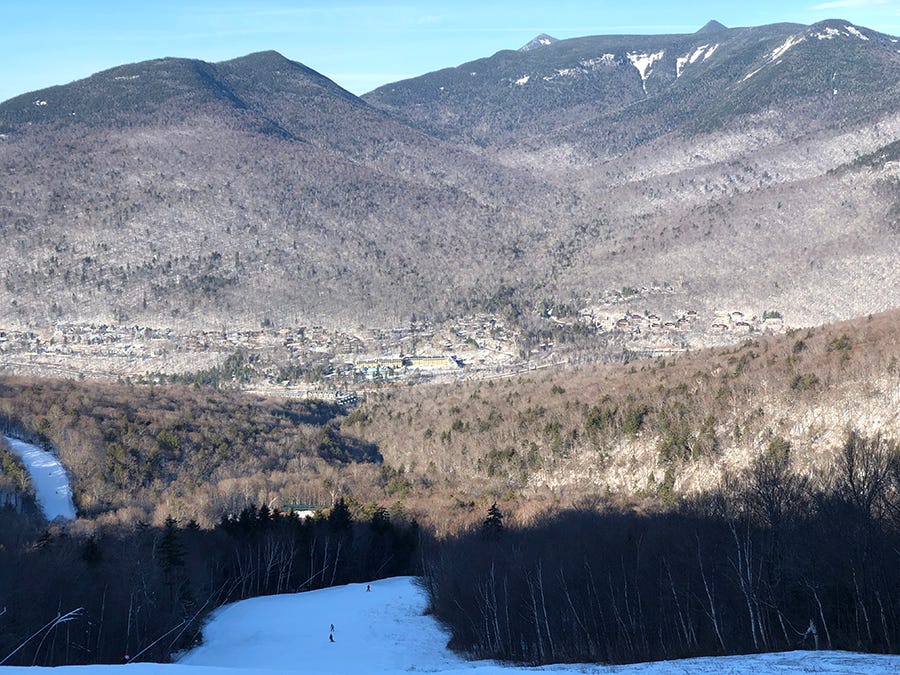 The White Mountains heaving in the distance off the slopes of Loon.
What we talked about: How Loon worked with Boyne to prioritize and develop its 2030 plan; why West Basin (anchored by the Governor Adams Lodge), will be the first area redeveloped; how Loon is looking west to Big Sky to inform how they can reconfigure that jumble of buildings into a more coherent, experiential whole; a deep, deep dive on the Kancamagus eight-pack, which will be the first such lift on the East Coast, including: tech and specs, its Inspector Gadget arsenal of zippity-do-dah gizmos, the number of chairs and how they'll be allocated and stored, why the chairs have RFID tags, its footprint on the mountain and why they didn't extend the terminal higher, expected groundbreaking and ribbon-cutting dates, how it differs from its cousin Ramcharger 8 on the slopes of Big Sky, whether higher capacity will equal overcrowding, how it may take pressure off the gondola, the thing may as well be an amusement park ride, and what might happen to the current Kancamagus Express Quad, which is in perfectly good working order; the wildly varying cultures of Loon's ski pods; what kinds of upgrades we may see to the gondola and the Lincoln and North Peak Express Quads; don't worry kids, the J.E. Henry Railroad may be older than your grandpa's joke book, but it isn't going anywhere; how the mountain maintains a steam locomotive that was made in 1934 and that you can't just buy parts for on Amazon; potential trail expansions on North and South Peaks; where we might see glades thinned (but not anytime soon); the possibility of a ski link to and from South Peak; potential facility upgrades at the Summit Cafe, Camp III, and Pemigewasset Base Camp; why it may be a challenge to add more parking to South Peak; upgrading what is already a beastly snowmaking system; the two Loon trails that don't have snowmaking and why one of them may stay that way; "Hey man, do you really need a fork that you're gonna use once and then throw in the Dumpster to sit for the next 10,000 years?" and other ways Loon and all of Boyne are aiming for a zero net carbon footprint; how much less energy modern snowcats and snowguns use than their predecessors from just a dozen or so years ago; Boyne's zippy RFID tech and where it can be used besides lift gates; why terrain parks are so important and so difficult to do right; and how to keep them fresh so the teenage shredders don't call you out their socials Brah.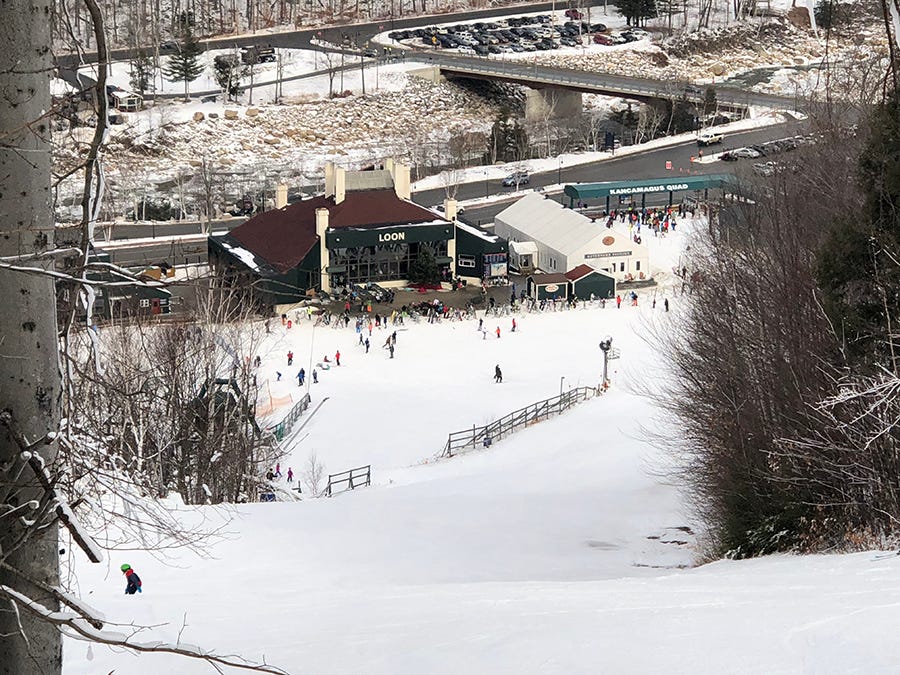 This jumble of West Basin buildings will likely give way to a more deliberately planned village-esque experience, anchored by the East's first eight-passenger chairlift, in Loon's 2030 plan.
Question I wish I'd asked: I'd liked to have discussed a bit more explicitly the choice to swap out Kancamagus before updating the gondola, as the latter seems more backup-prone to me, but Jay implied all of the answers, and the plan to anchor a reimagining of the whole West Basin area with a new signature lift and hopefully take some pressure of the gondy in that way makes a lot of sense.
Why I thought that now was a good time for this interview: Because Loon 2030. Because Jay is a young guy who's only been head of the operation for a bit over two years, which means he is in a very good position to see this plan through and probably very hungry to do so. Because when Oktuplefest comes to the Northeast, you swing by the party to see what's making all the noise. And because frankly I wanted to hear firsthand from the guy who knows the mountain better than anyone the exact what, when, why, where and how of Loon's extensive proposed upgrades to lifts, lodges, snowmaking, trails, and other infrastructure. Most of us already knew about Oktuplefest because the plans were made public in Forest Service documentation months ago, but most of the rest of it was kept in Boyne's locked briefcase until recently, and I'm assuming that, like me, you wanted as much color as possible for how the broad 10-year plan would be applied to the mountain where you'll actually be skiing.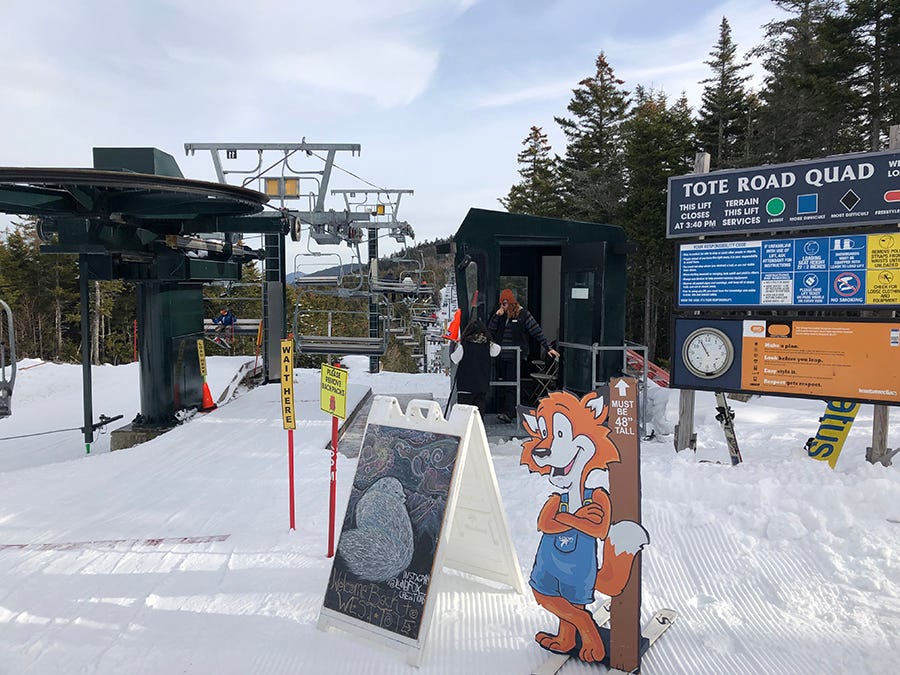 Right now, skiers travel between Loon and South Peaks on the Tote Road Quad. A ski connection between the peaks, while not imminent, is possible.
Why you should go there: First of all because it's easy to access, practically high-fiving I-93 and just south of the pinch point where the highway collapses to one lane through Franconia Notch. But also because it's frankly just a really terrific mountain with long uninterrupted fall lines and a nice mix of terrain along the green-to-blue-to-black spectrum that is well designed to minimize trail overlap and let you open it up on the descent. While this isn't the place you go to scare yourself stupid, it is one of the best intermediate mountains in New England. As we discuss in the interview, Jay is a parks guy, and his influence is clear in the extensive terrain turned over for that use. The lifts, while in need of the coming capacity upgrades, are in excellent shape. With little tree islands scattered about and long tunnels of evergreens siding the trails, the place has a bit of a winter fantasyland feel to it. And when you step off the North Peak Express and turn around and all of northern New Hampshire rolls out before you, the mountains humped and glorious and Mt. Washington shimmering in the distance like some kind of palace materializing from an impossible Fantasia, you're going to know unequivocally that you are in a special place.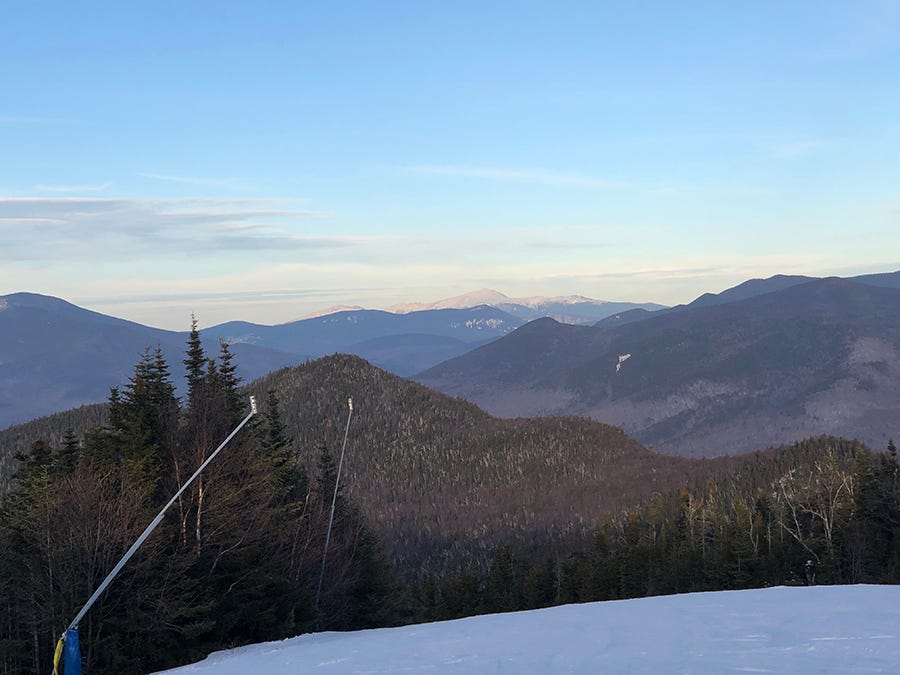 Looking northeast off the North Peak Express Quad. Mt. Washington is visible on the horizon.
---
The Storm Skiing Podcast is on iTunes, Google Podcasts, Stitcher, TuneIn, and Pocket Casts. The Storm Skiing Journal publishes podcasts and other editorial content throughout the ski season. To receive new posts as soon as they are published, sign up for The Storm Skiing Journal Newsletter at skiing.substack.com. Follow The Storm Skiing Journal on Facebook and Twitter.
Check out previous podcasts: Killington & Pico GM Mike Solimano | Plattekill owners Danielle and Laszlo Vajtay | New England Lost Ski Areas Project Founder Jeremy Davis | Magic Mountain President Geoff Hatheway | Lift Blog Founder Peter Landsman | Boyne Resorts CEO Stephen Kircher | Burke Mountain GM Kevin Mack | Liftopia CEO Evan Reece | Berkshire East & Catamount Owner & GM Jon Schaefer| Vermont Ski + Ride and Vermont Sports Co-Publisher & Editor Lisa Lynn| Sugarbush President & COO Win Smith|