Discover more from The Storm Skiing Journal and Podcast
Everyone's searching for skiing's soul. I'm trying to find its brains.
Over 13,000 subscribers
Overheard at the New Jersey Snow Dome: "Which Way to the Back Bowls?"
Salon misses the point in its critique of America's newest ski center
Wait, I thought this would be exactly like skiing the Rockies
After surprisingly positive initial press for everything it's doing right, the New Jersey Snow Dome (NJSD), gets impaled in Salon. The author argues that malls are dead, the place is an environmental boondoggle, and the experience amounts to the skiing equivalent of scuba diving in a backyard swimming pool.
While I haven't skied there and won't until summer, I know enough about the place to say that anyone going there expecting the NJSD to be a substitute for actual skiing is badly missing the point. Of course the skiing feels monotonous, industrial, and baldly commercial. It likely provides just enough of an approximation of outdoor skiing to shake off turn withdrawal on a July afternoon. No one is puzzling over brochures and deciding between spending their weekend here or at Jay Peak.
The NJSD is, very simply, the greatest learning center in American skiing. I have argued that it is the most important ski area in America because it is cheap, because it is open all year, and because its location in the heart of the 20 million-strong New York City metropolitan area makes it a magnet for the diverse participants that the sport desperately needs to sustain growth. I will stand by that.
The author also lingers over the environmental costs of the facility's existence and operation:
Think of the massive amounts of energy the mall will consume to keep Big Snow at 28 degrees year-round. And in an era when climate change and rising sea levels remind us of the importance of wetlands to absorb rain and storm surges, the mall slices off yet another piece of the Meadowlands, leaving the mall and the region around it more vulnerable to flooding.
Someone already did calculate those "massive amounts of energy" – and they aren't so massive. Founder Joe Hession estimates that the NJSD's annual electric bill will be around $1 million, which is $2.5 million less than he pays to run sprawling Mountain Creek - which has an enormous lift network and huge snowmaking needs - over a ski season that is at most four and a half months long.
Running the NJSD seems like a bargain by comparison. Of course they should be searching for ways to mitigate this cost, as Berkshire East and Jiminy Peak have done by installing in-house power grids in the form of summit-top windmills. In the case of an indoor ski center, which doesn't have that developable real estate, I would argue that the onus falls on the power provider to deliver energy from renewable sources and lower that environmental burden. New Jersey is already working on this, with a mandate that 35 percent of the grid's energy come from renewable sources by 2025, and half by 2030.
Besides, this country is overflowing with energy inefficiencies that have nowhere near the social benefits of an affordable ski center, from the emphasis on automobiles as the primary means of transportation to the enormous size of the average American home to our love affair with air conditioners. In an industrialized society, the "think of the carbon footprint" argument is always going to lose – the best course is to try and find a way to do these things more efficiently.
No, we should not develop on wetlands. But someone did. And then it just sat there for 15 years (!) and finally someone came along with a plan that will make sure the thing doesn't rust back into the earth to the point where it becomes a backdrop for some future Planet of the Apes movie. Instead, it will likely become the greatest factory of new skiers in modern times.
The ultimate send
One of my favorite skiing podcasts is the Low Pressure Podcast, which is run by a guy named Mark Warner out in Whistler. The format is similar to mine, only he interviews athletes and journalists, which makes a hell of a lot of sense since that's where they all are. On my way home from Bolton Valley last week I listened to his interview with Trevor Kennison, the sit skier who launched Corbet's Couloir at the Kings & Queens of Corbet's event last year at Jackson Hole.
If you haven't seen this send, here's a deep look:
Kennison became paralyzed from the waist down in a 2014 snowboarding accident. I always thought that if I suffered some kind of life-altering injury like that where I couldn't ever walk again or whatever I'd just be like "nice knowing you dudes see you on the other side" and fall into a canyon or something. Like I tweaked my shoulder out in Utah a couple months ago and even though I can still ski just fine I've had trouble sleeping through the night ever since and I'm annoyed about it constantly. And here's a dude who lost the ability walk in his early twenties, and instead of checking out he reconfigured his life and now he's launching Corbet's Coulior on a fucking sit ski. And I've never been to Jackson but I don't know if I'd have the nerve to hit Corbet's on my best day even if it was a goddamn powder sink after a masher of a blizzard. I mean this dude might be the biggest badass and inspiration in skiing right now.
This year's Kings & Queens event just went down, and you can watch the full thing:
What everyone is talking about though is Veronica Belle Paulsen stomping a backflip off the cornice:
And I mean dear God I can't even do a summersault on dry land. So impressive.
Anyway, what got me thinking about all this was the New England Ski Journal write-up on UVM student and PSIA Adaptive Alpine instructor Cayla Hammaker, which is worth a read.
The B.A. Baracus of chairlift shenanigans
One of the cool things about living in the internet age is that it gives you a window into amazing things at obscure places that you never would have otherwise seen. Like 20 years ago maybe a local paper would have written it up and maybe one of the ski mags would have translated that to a paragraph if a reader had thought to send it along. But you never would have seen it or probably even a picture of it.
Kids, the internet is here and it's changing all that. Check out this video of a fast-moving squadron of patrollers and others extracting a little girl from an Elk Mountain double chair last weekend:
Back in the pre-LOL olden days when the idea of watching videos on a phone seemed so bizarre that not even movies about the far far future envisioned it, you would have had to settle for something like this write-up:
A jammed ski pole prompted a quick rescue on Elk Mountain on Sunday.

In a video sent in by viewer Kyle Kappmeier, you can see Elk Mountain personnel quickly and efficiently responding to a skier who had trouble getting on the lift after she had gotten her pole stuck in the chair lift.

The incident prompted a brief shutdown of a section of ski lift while responders assisted the individual.
Apparently the girl went right back to skiing. Man, what a story. I mean it's a cool thing to watch and then tell other people about, but when you live something like that as a kid and you come out unscathed it becomes part of your legend and you tell that story for the rest of your life and it's the most amazing thing ever.
This reminded me of a much scarier incident last year at Grouse Mountain, Vancouver, in which a pack of teenagers A-teamed together a safety net out of temporary fencing and one of those pads patrol buckles around lift towers to catch a kid dangling from the chairlift "an estimated" 18 feet above.
This one has 1.8 million views and appears to have been shot from the chair in front of it. The whole circus is so improvised and unlikely that it only seems appropriate that it was a bunch of kids that threw the whole thing together, their zest for finding an answer overruling the plain logic that this was a terrible idea that could have gone sideways in a very gruesome way. Luckily this was one of those things that was over when the kid landed safely and the boys in the video are all identified as "hero" and were set to receive "certificates of appreciation" from local authorities and season passes from Grouse for their efforts.
Spring passes arrive
President's Weekend is a glorious occasion for me. Not only does it signal the end of the typical recreational skier's Christmas to mid-winter ski season, considerably thinning out the crowds for the rest of the year, but this is the time that many mountains offer their best prices on next year's season passes.
I picked up my no-blackout 2020-21 Mountain Creek season pass the other day for $230. It's also good for the rest of this season beginning Feb. 19. Considering a day ticket is $80, this pays for itself pretty quickly.
There are plenty more. Killington's spring pass – good for unlimited skiing from March 13 through the end of the Beast's extended season – is only $229. Consider that March is often one of the best months at Killington, when almost all of their terrain is open and the holiday crush is over.
I'm sure there are plenty more out there – please let me know what they are and I'll pass them along in next week's email.
Yeah this is kind of the point of it all
Powder ran this account by a Chicago woman who learned to ski at 50 to, basically, have something to do in the wintertime other than partaking in the great American pastime of growing fat indoors:
I am a black woman who learned to downhill ski for the first time at 50. My husband, Mike, has been a downhill skier his entire life. Every winter, he would watch the falling snow and remark, "I could be skiing right now." However, circumstances kept him from the slopes. Circumstances like being married to a non-skier.

Then, we adopted an eight-year-old. Eric is a doe-eyed, peanut butter-brown little boy. He is lithe and full of kinetic energy; an adrenaline chaser. He is happiest on the move. What could we do, as a family, to interrupt seemingly endless winter breaks spent watching kids' movies and playing video games? What activity could harness his infinite energy? Skiing, of course.
There is so much that is so cool about this. 1) I have a deep admiration for people who adopt skiing or snowboarding later in life, when many people forsake adventure and novelty for habit and familiarity. 2) Man winter is long long long and if you don't find something to do that will make you look forward to it, you're gonna have a bad time. 3) Our sport has an enormous diversity problem that we have not so far reckoned with in any kind of scaled or meaningful way. This author and others like her serve as unofficial ambassadors to people of color who may otherwise consider skiing too white to bother with.
Who knew running a ski area was so much work?
One of the reasons why I started The Storm Skiing Podcast is that I wanted to get a better understand of how ski areas run and why they do the things they do instead of the things that we all think they should do. Now that I'm several months in and I'm getting a better understand of the enormous expense and labor and matrix of machinery required to keep the whole of these operations going, I'm starting to actually wonder how there are any ski areas operating in America at all. Like I'd thought about it on a very basic level insofar as considering the cost of insurance and snowmaking and chairlifts, though if you'd asked me to guess how much a chairlift cost before I started doing this I'd probably have said, "I don't know, a hundred grand?" and that's why I don't manage a ski area.
This video about the volunteer operation behind the continued improbable existence of Whaleback, New Hampshire will give you a sense of everything I'm talking about above. And even though this is made by L.L. Bean and corporate videos in general tend to be over-produced propaganda, this one is worth your four minutes and 58 seconds:
I've never been to Whaleback, but it's of course on my list because every ski area that I haven't been to is on my list. New Hampshire, though it now hosts four Vail mountains, is still a national epicenter of rad little indies: Tenney, Black, Gunstock, Cannon, Bretton Woods, Waterville Valley, Pats Peak, King Pine, McIntyre, Granite Gorge. I'm sure I'm missing some (Gunstock and Cannon are government owned, and I didn't include Cranmore and Ragged because they are part of larger ski area mini-glomerates). I get a ton of requests for podcast episodes focused on New Hampshire, and the long-term goal is to get to every mountain in the state.
Elsewhere
Ice Coast Magazine visits Sugarbush. New York Ski Blog poaches Saddleback, hits Whiteface and Jay during last week's monster storm, and returns to McCauley after that ridiculous day I tripped into there last month. The High Falutin Ski Bums podcast visits Western New York's Peek'N Peak. An expansion is planned for the Glen Ellen base lodge at Sugarbush in partnership with Vermont Adaptive.
New England Ski Journal with a solid write-up of North Country, a short film currently running through the festival circuit:
The film tells the story of the Lahout family and its significance in Littleton, N.H. and the New England ski industry. Billed as the oldest ski shop in the United States, Lahout's is one of the region's most dependable retailers with a history as rich as the mountains that surround their eight locations.

In 2015, director Nick Martini and Stept Productions presented a short film profile of Joe Lahout, the 93-year-old who had helped run the shop for decades.
New England Ski Journal TV at Waterville Valley:
This week in skiing
Magic Mountain, Vermont
With the glades finally filled in and with new snow coming the night before and all through the ski day I headed north. New snow failed to materialize in any substantive quantity overnight and what did fall hid a crusty layer in the woods that sent me crunching and at times hop-turning through the neatly spaced fall line glades.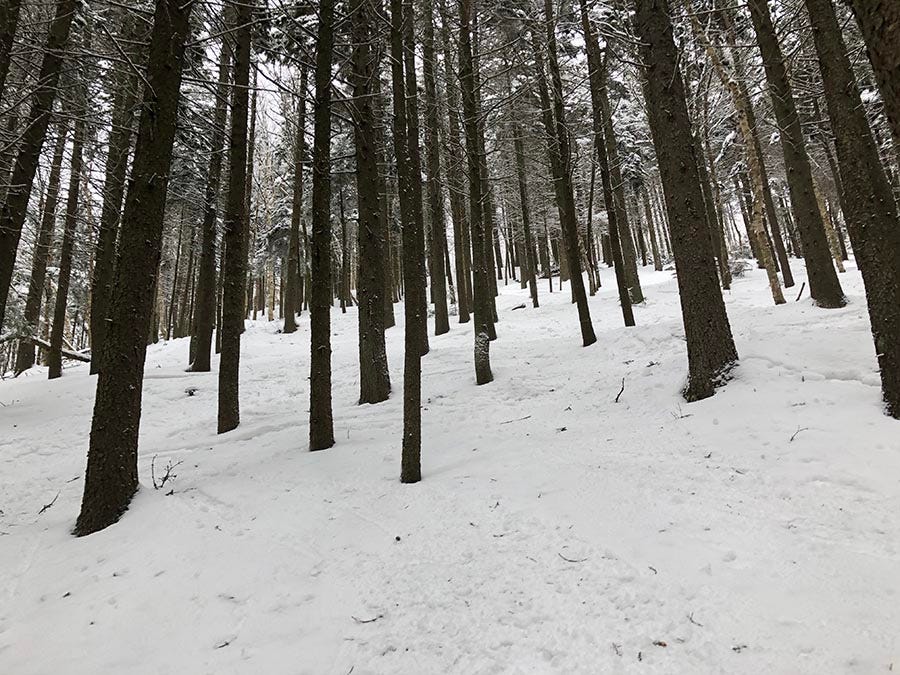 All day I lapped the Red Chair and the snow was choppy on the ungroomed and fast and forgiving on piste. The West Side skied slightly better and the woods skied cruddy everywhere but the tip top of Glebe. It snowed lightly at times and sleet fell at others and toward day's end a creamy fog wrapped itself around the summit and it seemed to make everything very quiet and focused and skiers appeared out of it like thrown things and slid silently past and disappeared again into the fog below.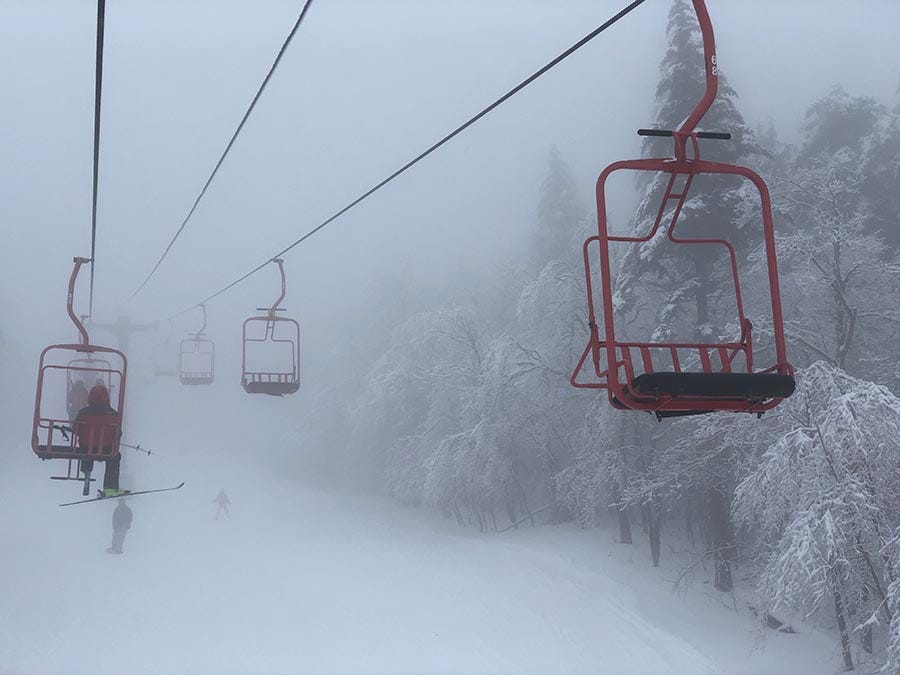 Toward the end of the day I skied down the Black Line, the towers standing dutifully awaiting the chairs that at this point I don't expect to see attached until the leaves have grown back out of the trees.
Campgaw, New Jersey
Two weeks after his inaugural journey yo-yoing along the conveyor belts of extreme lower Catamount, I took my son skiing again, this time at tiny Campgaw.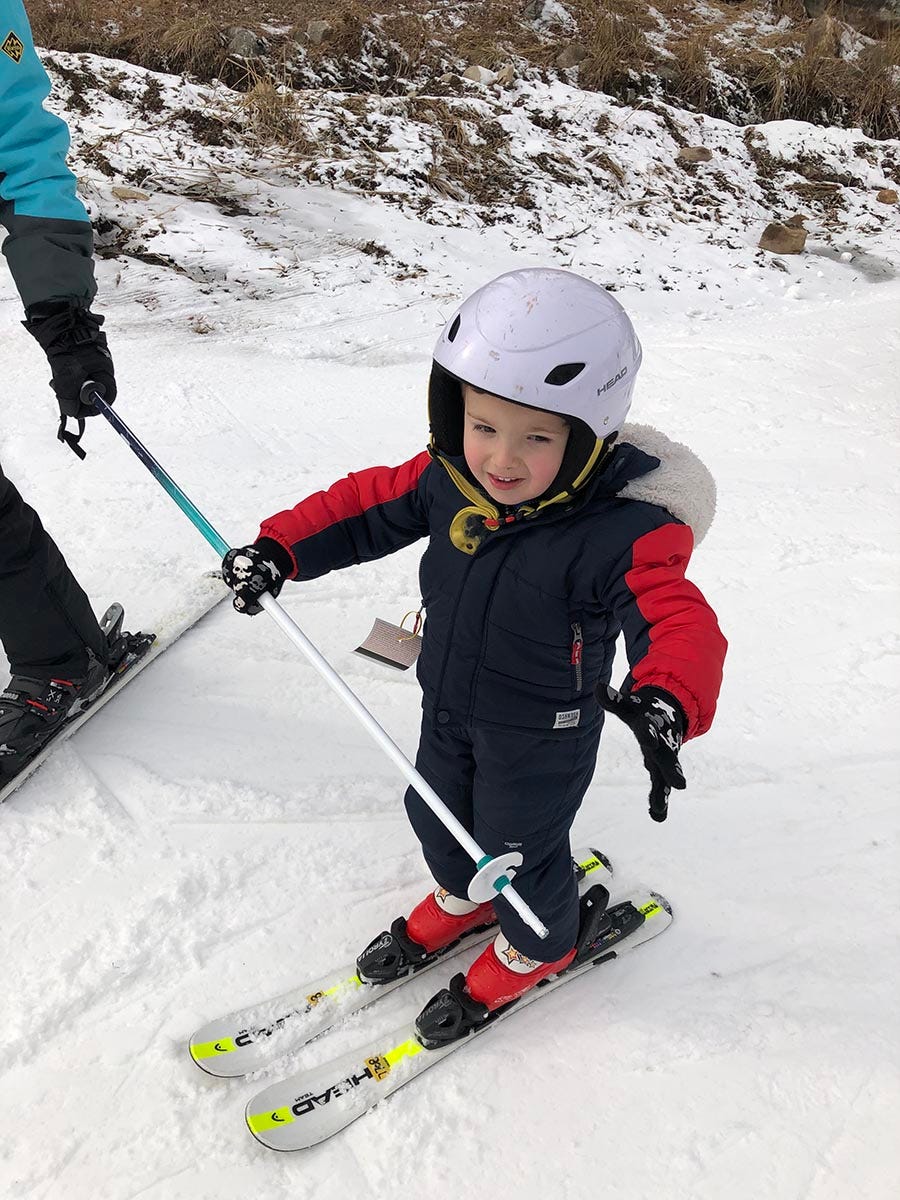 It is the closest ski area to my Brooklyn apartment. That means it is also the closest ski area to about 10 million other people's apartments, which means that on President's Day Sunday it resembled Times Square on New Year's Eve: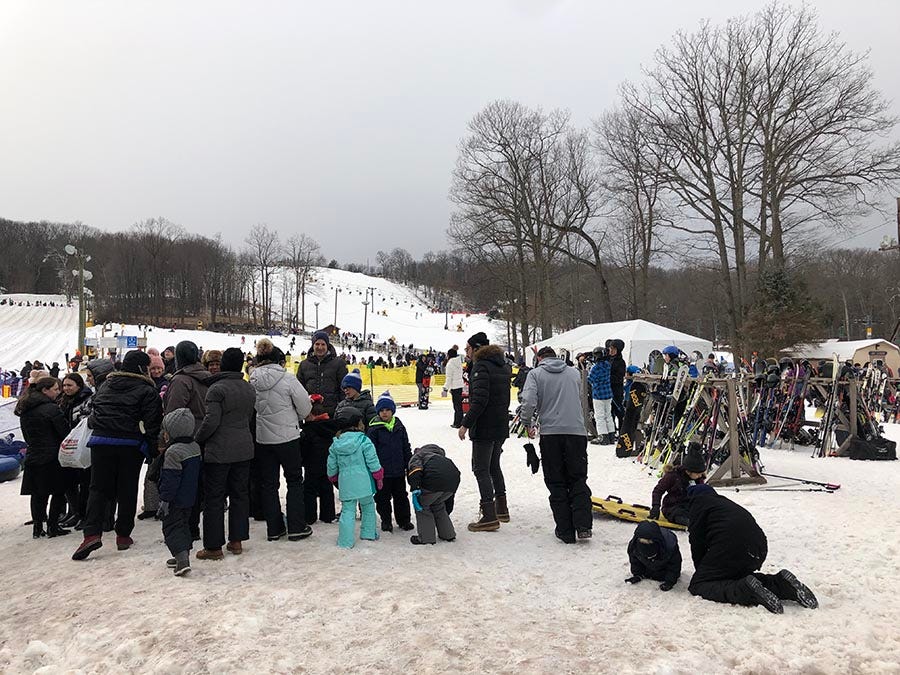 A lot of the people in this pic were just there for the party, however. I've never seen a higher ratio of people actually skiing to people standing at the bottom watching them ski. And I use the term "ski" liberally here. Of the 90,000 or so people jammed onto that tiny snowy square of land, maybe six of them were capable skiers. Subtract Ski Patrol and that number falls to negative four. The carnage spilling off the steep ridge that drops beneath the two summit double chairs was spectacular in its consistency and ruthlessness. I've never seen someone lose a helmet in a yardsale but yesterday I witnessed several, and it turns out that when a helmet blows off upon impact it sails down the hill like a thrown bowling ball. I witnessed at least two people fall off the chairlift after boarding. And me without a GoPro. Forget the Alta powder day – this would have been priceless footage.
Fumbling first-time skiers notwithstanding, the day did not showcase stellar management. Only one of the two carpet lifts was running – on a holiday weekend – apparently due to, as one of the teenage lifties described it, a "manpower issue." Meaning the lift worked just fine, and they did not feel inclined to pay anyone to operate it. The average worker appeared to be young enough that you could ask them what grade they were in. I'm all for teenagers getting jobs, but they should at least be given the broader context necessary to understand that job – when I asked one kid for a trailmap, he first looked at me like I was speaking Martian. Then he went and checked with someone in the back office. Then the girl next to him pointed to the map on the wall and said, "we don't print them out because it's always changing." Which I think means she was confusing the trailmap with the snow report, because the trailmap hanging on the wall is identical to this one from three years ago: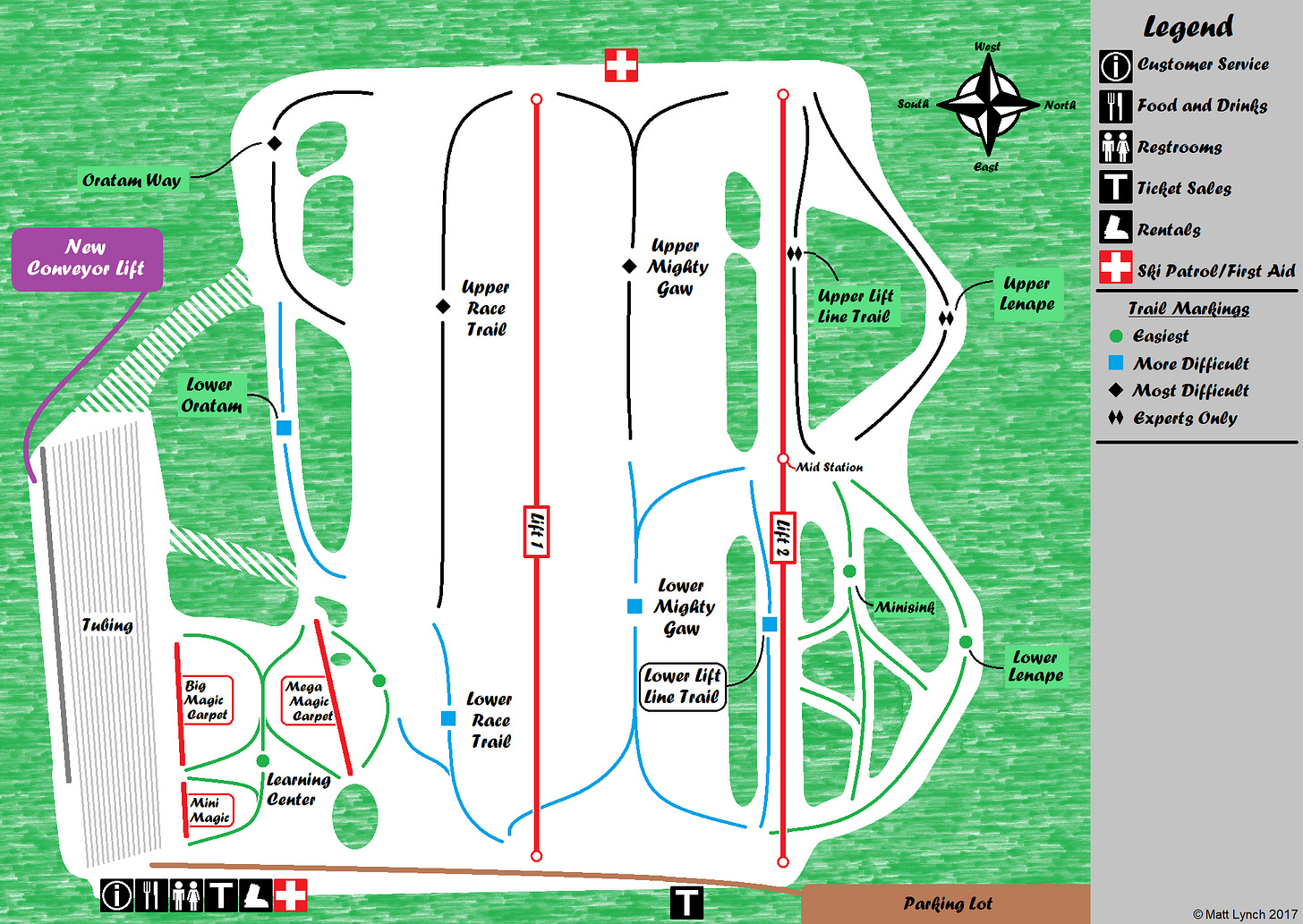 Whatever. It's not Stowe. And that's not the point of it. I tease the place a little here, but I won't overlook the essential goodness of it. It is a non-intimidating, affordable, accessible ski center in the throbbing heart of the nation's largest metropolitan area. I have never seen a more diverse group of skiers. The sprawling ragtag lodge was large enough to accommodate everyone, even on a holiday weekend. This place – along with Mt. Peter and Thunder Ridge a bit further north and, now, the New Jersey Snow Dome to the south – are necessary learn-to-ski factories that offer an entree to the sport at a fraction of big mountain prices.
And besides. The snow was soft and the energy high. You could get four to six good crushing turns out of the ridgeline at the top. For about 15 minutes in the afternoon, real snow blew out of the clouds. And somewhere in that yardsaling mob were the kickass skiers of 10 years from now.
---
The Storm Skiing Podcast is on iTunes, Google Podcasts, Stitcher, TuneIn, and Pocket Casts. The Storm Skiing Journal publishes podcasts and other editorial content throughout the ski season. To receive new posts as soon as they are published, sign up for The Storm Skiing Journal Newsletter at skiing.substack.com. Follow The Storm Skiing Journal on Facebook and Twitter.
Check out previous podcasts: Killington & Pico GM Mike Solimano | Plattekill owners Danielle and Laszlo Vajtay | New England Lost Ski Areas Project Founder Jeremy Davis | Magic Mountain President Geoff Hatheway | Lift Blog Founder Peter Landsman | Boyne Resorts CEO Stephen Kircher | Burke Mountain GM Kevin Mack | Liftopia CEO Evan Reece | Berkshire East & Catamount Owner & GM Jon Schaefer| Vermont Ski + Ride and Vermont Sports Co-Publisher & Editor Lisa Lynn| Sugarbush President & COO Win Smith| Loon President & GM Jay Scambio| Sunday River President & GM Dana Bullen|