Discover more from The Storm Skiing Journal and Podcast
Everyone's searching for skiing's soul. I'm trying to find its brains.
Over 13,000 subscribers
Nobody Cares About Skiing Anymore
But here's some news if you still do
We can all keep pretending if we want to
An email arrived this morning informing me that a late-June concert I'd recently purchased tickets for was cancelled. This is not surprising or even really a letdown at this point, as basically anything that isn't work or making sure my kids have food has been similarly eliminated in the past week. As a nation, we are about three Oval Office addresses away from cancelling the Fourth of July.
And yet some people think skiing is still going to happen. Well OK. Maybe it will.
Vail:
Maybe Breck and Heavenly will re-open. Whistler – sure. They do summer camps up on the glacier anyway. If Breck makes it, I suppose A-Basin will too:
Here in the East, the Alterra mountains – Sugarbush and Stratton – have indefinitely suspended operations but have not officially closed. Killington shut Pico down the other day and extended its closure:
It could happen, but frankly, this: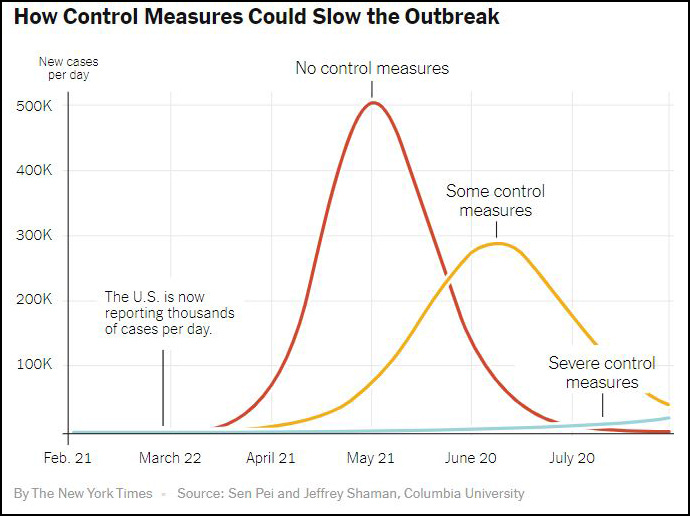 So we either peak at apocalyptic daily caseloads in mid-May or at less serious numbers toward the end of July - either way, the snow is long gone. And right now we are just getting started. It's unlikely baseball season is happening, let alone the end of ski season. We'll get football this year if we're lucky.
For now, skiing in the Northeast is done. The final four holdouts crumpled one after the next on Wednesday in New Hampshire, starting with state-owned Cannon:
A few ski areas, none of them major, remain in operation across the country. Here's a somewhat inaccurate list. Many of them are in the Upper Midwest, specifically Michigan's Upper Peninsula. This doesn't surprise me at all. The UP, as its colloquially known, feels like the end of the world. It constitutes 29 percent of the state's land mass but only contains three percent of Michigan's population of 10 million. To believe that the outside world has no effect on you is entirely rational there, because it normally doesn't. This isn't normally, and these remaining areas won't last much longer.
Meanwhile, after getting almost totally skunked in February, it's dumping in Tahoe. It ain't fair, Man.
Hey Bro, you're totally screwing me out of the end of my season
Angry Ski Bro has been orchestrating a social media takeover to make one thing very clear: He was SCREWED out of the end of his season because of your stupid overreaction to this phony virus, and now he demands to know how the ski area/Vail/Alterra is going to make it up to him.
We all know this guy. He's also I-Would-Have-Been-In-The-NFL-If-My-Coach-Hadn't-Screwed-Me Guy and Why-Should-I-Pay-My-Rent-When-My-Landlord-Hasn't-Sprayed-The-Trees-For-Caterpillars Guy. We all hate this guy, but unfortunately in the great democracy of social media, every idiot gets a voice.
If you bought a season pass of any kind, you are unlikely to receive any kind of concession or refund. Vail has already estimated that this shutdown is going to cost it as much as $200 million. Alterra's hit will be smaller, as they only own 15 mountains to Vail's 37, but both companies will be 100 percent focused on forestalling a total collapse over the next several months. Yes, part of this is outreach to customers – I think it's likely that they will extend early-bird pricing deadlines – but refunds on passes for a season that was running by mid-November in most regions and stretched four more months are improbable.
There have been some initial exceptions, and perhaps these will nudge the big guys into some kind of concession. Jay Peak is giving passholders golf, water park, and movie theater access, among other benefits. Indy Pass is way out ahead, however, extending a 30 percent discount on next year's pass to anyone who didn't redeem a lift ticket on a full-priced Indy Pass. Skiers who scooped up Indy's late-season $139 offer and did not redeem their pass will be able to apply the full amount to next season's pass.
Indy Pass is in a unique position here – they don't own any mountains, so the operational urgency of maintaining gigantic resorts in the offseason is not part of their mandate. That gives them a lot of flexibility in pricing structure – thus the bargain-basement $139 end-of-season pass. And small operations can be far more nimble than their corporate giga-competitors, as Berkshire East and Catamount demonstrated in becoming the first ski areas to close for the season as a direct result of COVID-19.
Vail and Alterra could take some hints here. While the shutdown was more or less out of their hands, they could acknowledge that a lot of skiing was left and skiers are bummed, while also incentivizing pass purchases among people who are currently in the process of securing combination locks to their wallets. Even a slight bump in the Ikon Pass renewal discount could go a long way, and Vail, which offers no such discount for its Epic Pass, could add one.
With much of the country's services- and experiences-based economy shut down and more closures coming each day, we are probably about to witness a financial calamity of meteor-that-killed-the-dinosaurs proportions. A $699 Ikon Base Pass doesn't look like such a bargain when you can't afford a can of Spaghettios. To keep their companies from collapsing as the nation's discretionary income evaporates, Vail and Alterra are probably going to have to get creative.
More COVID-19 in skiing coverage
The most comprehensive view of the crisis' scale comes in the form of these six Wintry Mix mini-podcasts. High Falutin Ski Bums reckon with the crisis as well. I have some plans for The Storm Skiing Podcast around this, but it was tough to get momentum this past week.
Vermont Ski + Ride was all over the COVID fallout: Killington and Jay Peak hooked up employees with food and other assistance, Stowe-based Inntopia is adapting its software to schedule coronavirus tests, and this loose timeline outlines the stories behind many ski area closings. They also profiled Skiology founder Matt Bramble – a friend of mine – who used his large Facebook group to push for early closures across the Northeast.
New England Ski Journal examines the shame-on-you-for-skiing versus the yo-dude-it's-outside-and-you're-covered-up fight that made up roughly 104 percent of all skiing-related social media posts over the past 10 days. Some people still think the lifts should be spinning – note that the author of this piece, Rob Story, is a veteran ski journalist who is intimately familiar with the on-the-ground dynamics of ski towns.
With the system-wide closure official, Vail's seasonal employees have until March 27 to vacate employee housing, according to Powder.
The National Ski Areas Association cancelled its trade show and convention for the first time in 58 years.
Ice Coast Magazine mourns the abrupt end to the season.
And oh yeah, it's going to snow.
It's official
Hey, look who's back:
That this is the worst possible timing of a ski area opening since lift-served Revelstoke debuted just before the 2008 financial crisis is likely not lost on new owners Arctaris. Luckily this is an investment group that should have ample resources to backstop any temporary losses at the ski area.
Season passes are actually already on sale. At $699, I wouldn't call them a steal. I've argued that in the megapass era of $599 Northeast Epic Passes and free Ikon Base Passes with season pass purchases at Killington, Sugarloaf, and Sunday River, the expensive single-mountain season pass was a relic that would soon disappear in our region. I still believe that is true, and that most single-mountain passes will drift down into the $300-$500 range and add significant partner benefits, as they've done out west.
Saddleback is a little unique, of course, in that it's so remote, and nearby Sugarloaf's season pass is still far more expensive (though it includes access to Boyne's other two New England mountains, Sunday River and Loon). After five idle years, locals are likely amped to return. And the pass includes two free days at Jay Peak, a nice start to what will hopefully be a network of independent mountains offering reciprocal tickets to help them thrive in the Ikon/Epik era.
The A1 steak sauce of the COVID-19 crisis
Recently before everything went to hell a meme was circulating on social media about how A1 steak sauce was invented dead in the midst of the Civil War:
It was a reminder that no matter how wild the this-is-what-history-will-remember things become, there will always be other things going on. Like right now there's this national crisis and it's all-consuming for doctors and researchers and medics and such, but tens of millions of us are just sitting around like, "Well I guess now is as good a time as any to binge-watch all 15,762 episodes of Guiding Light."
So it is that in the initial days of the COVID crisis a group of former Hermitage Club members scooped up the ski area and related assets for a bit over $8 million. Crucially, this includes the six-pack Barnstormer bubble. Unfortunately, Vail already made off with 41 snow guns and other equipment, porting it over to neighboring Mount Snow.
So there are some holes to fill, but otherwise this should be a more or less functional ski area. What to do with it next is far from clear. The private club model has had limited success in New England. Converting it back to a public ski area is possible, though southern Vermont is already well-served by Alterra-owned Stratton, Vail-owned Mount Snow, Magic (which has a cult following), and Bromley (a low-key family spot). Chris Diamond outlined the challenges awaiting the former Haystack's next owners in his recent book, Ski Inc. 2020:
If someone can acquire Haystack for a deeply discounted number, it's still questionable whether the private club model can be resurrected. It was just too much, too fast, with no financial discipline. From the outside, it looked like the classic "too good to be true." And it was. With better management, could it have succeeded? We have no way of knowing, and that's the big problem. Prior members would have to step back and put in more cash, possibly substantially more cash. And so much hinges on successful real-estate sales, while the strength of the New England resort market is still uncertain. Could Haystack have a future as a stand-alone ski area? I'm not sure how it could begin to compete with Mount Snow, given the significant enhancements there in the last decade. There don't appear to be a lot of good options for whoever winds up with the assets.
This, again, is extremely poor timing. Should job losses continue to accelerate, the general appetite for high-priced private-mountain memberships is likely to be low.
Elsewhere
Here's a piece from the ancient times of last week – this New York Ski Blog write-up of Tremblant is what stories of the splendors of Rome must have sounded like to Europeans in the Middle Ages wearing potato sacks and eating gruel. So does this gallery of Ski's best photos of the year and these good reads from Powder.
Powder's guide to free ski vids. Ski's suggestions for what to do now that ski season is over. Meditations on continuing to ski when the lifts are all shuttered.
Help the Sugarbush employees whose gear was stolen this week.
This week in not skiing
So all ski season I ended the weekly newsletter with this self-indulgent section recounting where I'd skied for the week. I'm assuming most people skipped this. I'd say that at least my mom and wife read it, but neither of them ski so I doubt it. Anyway, I thought I'd end here with a brief sum-up for anyone who cares about what life is like in New York City right now.
First, we are, fortunately, safe, healthy, and well-stocked with food and alcohol. The grocery store is a block away and is a small family-run outfit, not one of those stripped-bare Whole Foods fiascovilles where people are knifing one another for toilet paper.
We are staying in. I haven't been on the subway since March 12. We are fortunate to have a car to run what limited errands are necessary. I'm keeping the tank topped off in case we need to bug out at some point, but I'm not worried about that happening as long as there are no disruptions to the food supply.
Both my wife and I are working from home. Our kitchen table has been transformed into a sort of command center and looks like this: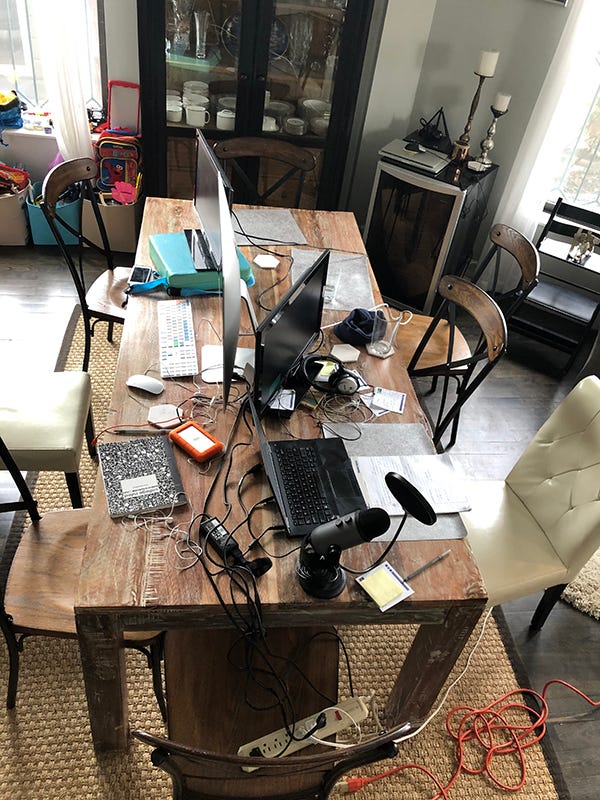 Our 3-year-old son is of course home from school, but for now we still have someone to watch him during the bulk of the day, meaning we can actually be fairly productive. He is not great without a routine and is probably watching too much TV, but I'm not worried about him being denied admission to Yale because he missed 12 weeks of formal instruction 15 years before.
The city itself has the feel of a 3 a.m. weekday. There is nothing going on. Nothing. It is so damn weird. When I drive my daughter back to her mother's apartment in Manhattan, I cruise right over the 59th Street Bridge and over to First Avenue without even having to wait at a stoplight. A city built for 8 million is now accommodating a fraction of that – not that people have fled necessarily, but they are just all indoors. There is no reason to go outside because there is nothing to do.
It's been six days since I last skied, but it feels like months, like a memory of a distant time. In the absence of skiing I have turned to recovering from ski season. I tweaked my shoulder at Snowbird in December and it never really got better despite twice weekly physical therapy – probably because I kept skiing. I'm resting this week before working more activity into my routine to break up my home-bound days.
With life slowed down and uncertainty menacing all of us, I've turned to my networks for escape. Finding texting insufficient, I've spent hours on the phone this week with friends in Florida and Illinois and across town in Brooklyn, trying to make sense of the world and coping with what's happened so far and the uncertainty that looms. It's amazing how calming it is just to hear the voice of someone that you have a deep history with, how much more intimate and affecting that is than a text.
I miss skiing and I miss working without children screaming from the next room and I miss the mix and energy of New York. Each day the urgency of local officials grows and their response mirrors that concern in intensity. It is hard not to feel a little anxious in such circumstances.
Normally I would be eyeballing this snowstorm that's massing out of the West and is supposed to drop up to two feet of snow on New England this week. I'd be moving meetings around and clearing my obligations to burn a vacation day and road-trip north. But in this second straight week of no skiing, I've accepted the fact that no such trip will happen again for quite some time.
---
Previous podcasts: Killington & Pico GM Mike Solimano | Plattekill owners Danielle and Laszlo Vajtay | New England Lost Ski Areas Project Founder Jeremy Davis | Magic Mountain President Geoff Hatheway | Lift Blog Founder Peter Landsman | Boyne Resorts CEO Stephen Kircher | Burke Mountain GM Kevin Mack | Liftopia CEO Evan Reece | Berkshire East & Catamount Owner & GM Jon Schaefer| Vermont Ski + Ride and Vermont Sports Co-Publisher & Editor Lisa Lynn| Sugarbush President & COO Win Smith| Loon President & GM Jay Scambio| Sunday River President & GM Dana Bullen| Big Snow & Mountain Creek VP of Sales & Marketing Hugh Reynolds |