Thanks for nothing, Governor
New York Governor Andrew Cuomo became a bit of a folk hero this spring with his 100 days of avuncular press conferences, in which his calm demeanor, deep empathy, and total Covid war footing positioned him as a national leader in comprehensive virus response. Long-time observers know him as a bit more of a jackass, petty archenemy of New York City mayor Bill de Blasio and early-stage Covid mis-manager who probably contributed to thousands of nursing home deaths in the state. There's a strain of knucklehead New Yorker arrogance to him, so I was not at all surprised to see the governor drop this hand grenade last week:
Which of course inspired every Twitter user who has ever skied outside of New York State to pounce.
Which is annoying not because they're wrong – New York is probably the third best ski state in the Northeast, behind Vermont and New Hampshire, and roughly tied with Maine (this can vary wildly by the day), and somewhere in the top dozen nationally, above Pennsylvania and below most of the West (this does not vary wildly, ever) – but because they're utterly missing the point.
New York is a great ski state not because it has the best skiing, but because it has a lot of ski areas and a lot of skiers, because the state itself is invested in the growth and promotion of the sport, because ski history is anchored in Whiteface's Olympic legacy, and because as the fourth most-populous state in America and one of the richest, it powers the national ski industry in ways both subtle and obvious.
It is tempting to think of ski areas as you may think of ski area terrain itself: as seated on graduated tiers, with most skiers leaving green circles behind when they graduate to blues, and so on. I know many skiers like this. They have skied the West and refuse now to ski the East under any circumstances. "It isn't the same," they say and of course it is not. "It isn't as good," they say and well actually sometimes it is. Last season I skied Alta and Snowbird and Steamboat and Copper and Beaver Creek, and my best day all year was not at any of those places, but at 633-vertical-foot McCauley in the Adirondacks: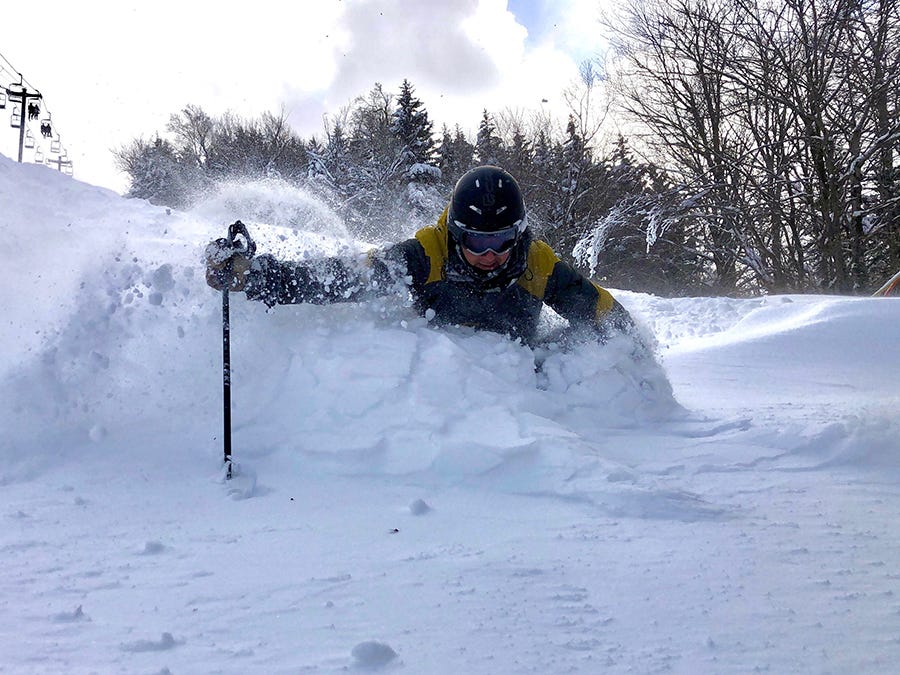 Yeah the snow was a little chunky and wind-blown by the afternoon, but it was two feet deep and kept refilling in squalls all day long. This line, right underneath the chairlift, was still untracked at 12:30 [Photo: Matthew Bramble]
Last season I had powder days in Utah and powder days in Colorado and they were spectacular but the locals are so numerous and so knowledgeable that the mountains are tracked out in minutes. At McCauley that day I took 40 runs, each one through the kind of powder that showers over your knees like cartoon rainbows, and never waited in a lift line. On any given day if you gifted me a teleporter and the choice between skiing McCauley or Alta I'd probably choose Alta 100 times out of 100, but in this real non-teleporter-enabled world if I only ski Alta and its Western cool kid cousins then I'm only skiing 10 days per season and this year I'm probably not skiing at all. And I'm not OK with that.
The true magic in New York skiing is that it's Right. Fucking. There. Yes you've probably skied Hunter and thought it sucked and it often does. Go to Plattekill instead. It's cheaper and more fun and there's no one there. Yes, you probably took a bus trip on an icy Saturday and vowed never to waste another lift ticket dollar on Ice Coast survival skiing. Follow the Northeast Skiology Facebook group and start pegging your ski trips to storm cycles, rather than Saturdays and holidays when crowding is at its peak and conditions at their worst. Yes, you've probably been Out West and hit that magic pow day and now you say you can't go back to skiing the East because the West is so much better. Of course it is. But unless you live there, that attitude transforms skiing from a lifestyle into a luxury, because it can only be accessed occasionally and with some sacrifice.
My whole orientation toward skiing changed when I stopped viewing Mountain Creek as an overcrowded slalom course of terrible skiers (which it is), and started viewing it instead as a 1,000-vertical-foot-drop mountain laced with high-speed lifts where I could stomp three hours of early-weekend or weeknight turns just an hour and 15 minutes from my Brooklyn apartment (which it also is).
Yes, Mountain Creek is in New Jersey, which also definitely does not have the best skiing in the United States. But most of New York's remaining ski areas, having survived the great die-off, are going to give you a good day of skiing. If you're not familiar with the soulful stops on the state's ski train, start by exploring the archives on New York Ski Blog, which will catch you up pretty quick.
On The Snow quietly re-opens
After Vail shuttered its On The Snow and Skiinfo websites in July, it seemed to signal the end of a certain type of crowdsourced online ski information hub anchored outside of big-time social media. The sites went dark and it seemed as though they were following movie theaters and office buildings into Covid oblivion.
Earlier this month, On The Snow popped back online after an investment group led by site veteran Chad Dyer purchased Mountain News Corporation, the umbrella company for those two sites and other assets.
Which is great. A360 Media's announcement that it would mothball 49-year-old Powder as of Nov. 20 seemed to be ski media's yeah-we're-done-here moment. The skiers of America have declared via their behavior that their preferred snowsports-related digital interactions involve answering such deeply inspired Facebook queries as "I haven't skied in 12 years but I just booked a heliskiing trip to Camelback - what kind of boot warmers should I buy?"  
So it's nice to see the reanimation of a legitimate ski news website managed by professional journalists (I think Powder will find a similar savior). I do hope they overhaul the UX, as navigating around the site feels like trying to drive a backhoe through a crowded antique store. I keep knocking shit over and I can never quite find what I'm looking for. God damnit I just want to find the vertical drop of Mount Sunapee, and instead I'm pulled into a drop-down menu with "Ohio" listed under the "snowiest regions" category of the "resorts" tab, which is like dropping the cast of Tiger King onto a list of "most normal people in any given room."
Counting is hard - someone please help me
The NSAA released its annual state-by-state list of the number of operating U.S. ski areas during the 2020-21 ski season, with the Northeast reporting the following: Pennsylvania (26), New Jersey (3), New York (51), Connecticut (5), Rhode Island (1), Massachusetts (13), Vermont (23), New Hampshire (30), Maine (18).
Some notes:
I frankly have no idea where that New York number comes from and I've never been able to figure it out. Ski NY lists 38 ski area on their website, and at least one of them is a cross country-only facility. On The Snow counts 33. Skibum lists 54, but at least a half dozen of those have not operated in years: Tuxedo Ridge, Nevele, Hickory, Cortina, Bobcat, and Big Tupper. Ski Central says 43, but they also list Tuxedo Ridge. So how do we get to 51? Please help.

I guess the NSAA is not counting private ski areas, because New Jersey ought to have four, with the National Winter Activity Center – which exclusively teaches groups of school kids – in addition to the publicly available Mountain Creek, Campgaw, and Big Snow.

If you find yourself needing to come up with ski trivia: the three states with one ski area besides Rhode Island are Maryland, Tennessee, and – no shit – Alabama; of the five ski areas in Ohio, Vail owns four; Thirty-seven U.S. states have operating ski areas.

The total count of 470 operating ski areas included four new ones (including Big Snow), and is six fewer than the 476 reported following the 2018-19 ski season. In the Northeast, Saddleback and Hermitage Club are set to re-open for the 2020-21 season, while Cockaigne, in Western New York, may or may not be doing so. Timberline in West Virginia will also be re-opening. Massachusetts' Ski Blandford is the only ski area in the region that I'm aware of that operated last season but will not re-open.
Elsewhere
Ski Vermont makes the regrettable decision to join New Hampshire and Pennsylvania in suspending its fifth-grade passport program for the season. Screw you, Kids.
New York announced state guidelines for ski area operation – unrelated singles or doubles will be able to share a gondola, but chairlifts will be reserved for members of the same party (the only gondolas in New York State are, I will point out, owned and operated by New York State, perhaps explaining the capacity exception). Indoor capacity will be limited to 50 percent, while the state recommends selling no more than 75 percent of the ski area's historical average of lift tickets. Also, a look at Vermont versus New Hampshire travel restrictions by New England Ski Journal.
The first maps of Sunday River's small Merrill Hill expansion show (probably tentative) positions of the new chairlift and ski trails – this is primarily a real estate development, so don't get too excited about the terrain. Alterra CEO Rusty Gregory says Ikon Pass sales have been "unbelievably strong." Vermont Ski + Ride profiles Killington groomer and budding social media star Brian Hughes.
New pods: Wintry Mix hosts OpenSnow's Joel Gratz and Colorado Mountain School's Jason Maurer. Ski Bums explore the death of Powder and talk to Indy Pass founder Doug Fish. Low Pressure Podcast with Mountain Gazette owner Mike Rogge. Out of Bounds with Cannon Director of Sales and Marketing Greg Keeler, Phantom Snow Industries, and Kurt Niiler, author of a Presidentials skiing guidebook.
This week in not skiing
We live in the middle of a Goddamn miracle, a world stocked with sci-fi gadgets that would astonish time travelers from just a couple generations ago. This is what I was thinking through much of two days last week when I found myself first in the ER and then overnight at a Brooklyn hospital, where with a series of enormously complex and expensive machines the staff scanned my heart and my brain and my blood to determine why I had blacked out Wednesday morning on my bedroom floor. This incalculable volume of data collected and processed, they declared all internal systems clean, the incident likely the result of an inherited condition, one that had stalked me in my teens and that I had thought outgrown, one with no treatment or cure but no long-term consequences either other than occasional embarrassment and possible head trauma if I don't hit the deck when I feel that awful sensation creeping along the nerve that ties the heart to the brain, signaling the unwelcome approach of a blackout. So I'll stay alert. We can see into the heart and we can see into the brain but we can't see everything, including the future, and I don't think a machine is coming along for that anytime soon.