Discover more from The Storm Skiing Journal and Podcast
Everyone's searching for skiing's soul. I'm trying to find its brains.
Over 11,000 subscribers
Magic Resets Northeast Season Pass Template in Response to COVID-19 Economic Fallout
Prices drop, deadlines extended, payment plan introduced, Indy Pass upsell added, and clarity on what happens if we cancel 2020-21
Competitors should be paying attention, even if they don't follow
Following Alterra's rejiggering of its Ikon Pass rates, deadlines, and offerings yesterday in the aftermath of the COVID-19-forced ski industry shutdown, Magic Mountain followed with the most emphatic acknowledgement yet by an independent Northeast ski area that the pandemic-induced economic fallout required a new approach to season pass sales.
Magic dropped prices, pushed its early-bird deadline out to mid-June, introduced a payment plan, and launched a menu of new passes, including one for members of the military and first responders. Perhaps controversially, they also backed out of the comp ticket-based Freedom Pass and became the first mountain in the region to announce an Indy Pass add-on for a modest $129. And while passes will remain non-refundable, the mountain is also the first in the region to guarantee full or partial credit toward 2021-22 passes if additional government-mandated shutdowns curtail or cancel the 2020-21 season.
Outside of Alterra, the Northeast ski industry response to the financial pain inflicted on consumers by COVID-19 shutdowns has so far been tepid. This is understandable. Most mountains had to pivot from full-throttle midwinter with packed lodges and pits being dug for pond skims to absolutely shuttered with a day's notice or less. What is normally the deliberate work of weeks or months was compressed into hours. It was an evacuation of sorts, and maybe you don't sweep the kitchen floor when you're panic-packing the car to outrun a hurricane.
But it's been several weeks now. There have been some deliberate responses. Many mountains, including the ORDA three (Belleayre, Gore, and Whiteface), Bristol, Ski Sundown, Jiminy Peak, Bromley, Bolton Valley, Jay Peak, Pico, Smugglers' Notch, Cranmore, Gunstock, Pats Peak, Ragged, Saddleback, Shawnee Peak (Maine), and Boyne's New England Pass (Sugarloaf, Sunday River, Loon), are offering payment plans (some of these existed pre-shutdown). Many mountains have pushed out the due dates for their best prices. But almost no one has dropped prices, perhaps out of fear that volume will be depressed regardless, and it would be financial suicide to take a voluntary pay cut.
Magic is making a different bet. By aggressively addressing every element of this ongoing pandemic in a straightforward way, the mountain is wagering that the combination of lower prices, staggered payments, and a deadline just far enough away that we can believe things could be better by then – underwritten by a worst-case-scenario back-up plan protecting the pass investment in the event of further shutdowns – will be enough to nudge expense-cutting skiers into committing to their season pass purchase in spite of widespread uncertainty about, um, everything.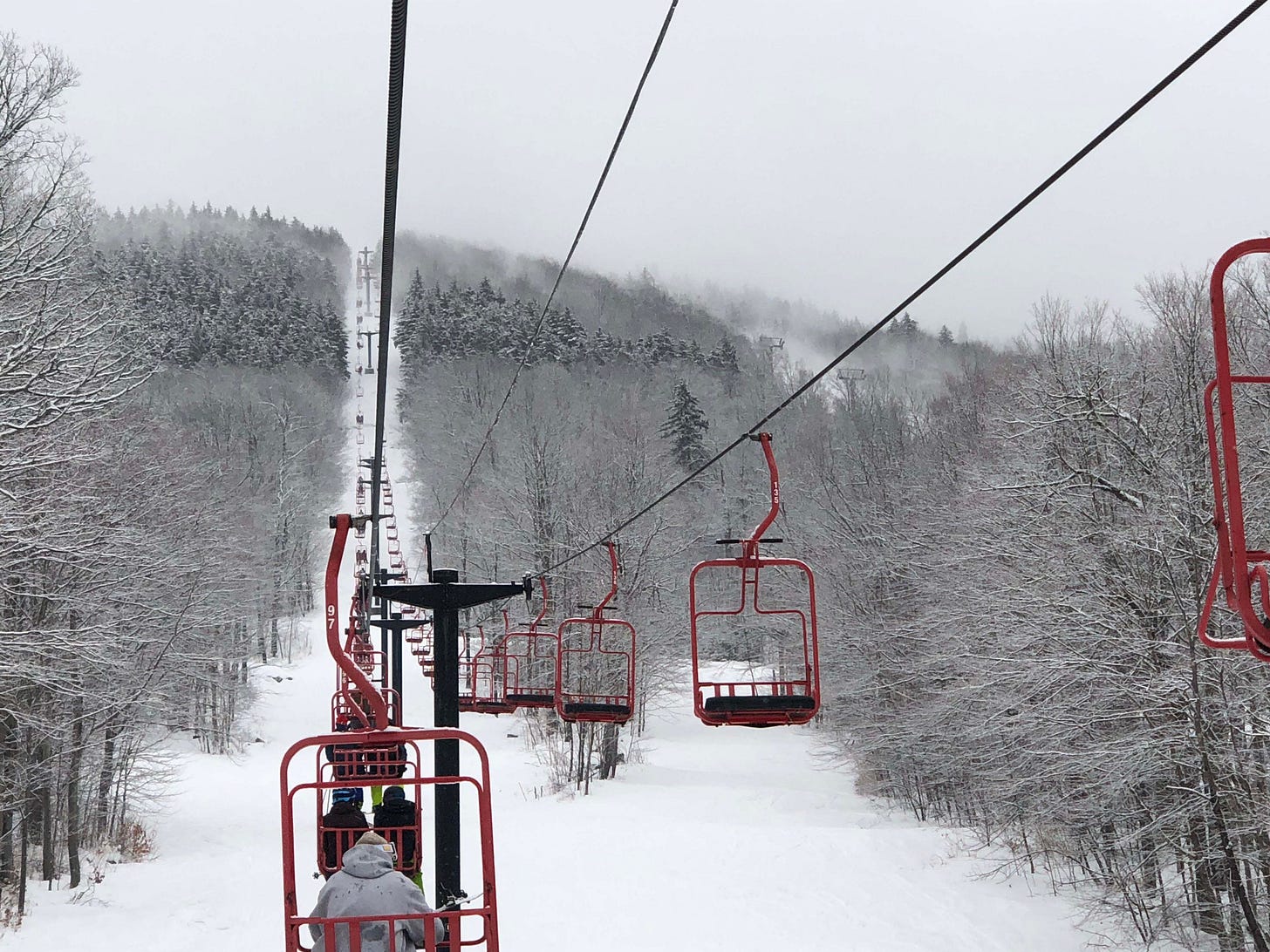 Magic's workhorse Red Chair in February 2020.
It is an experiment worth watching. The conceit of a modern Magic has always been somewhat counterintuitive, a throwback with low-speed lifts fighting for oxygen in a Vermont dotted with a half dozen of the best and most built-up ski areas in the Northeast. Indeed, the place was shuttered for six winters in the '90s, and it looked to be as dead as Betamax. But it rose again, and Magic has continued to thrive even as Alterra and Vail have boxed the mountain in on all sides.
President Geoff Hatheway told me on The Storm Skiing Podcast last year that pass sales had doubled since the investment group that he leads took over the mountain following the disastrous 2015-16 winter. If you want to understand how that's possible, look at what they have done here with season passes, as it is emblematic of their customer-centric approach, which deftly combines pass variety, pragmatism, anti-corporatism, and legend-building to create an entity that skiers want to be a part of.
So it's worth taking a closer look at what Geoff and the gang have done here. It is the most complete response yet to the pandemic and its economic fallout, Alterra included. Here are the highlights:
Cheaper passes set Magic up in a fair fight with larger competitors
Any discussion of Magic pass prices must begin with an acknowledgement that it is only a four-day-a-week operation outside of Christmas and President's weeks and the MLK Monday. This puts it at a disadvantage with the must-ski-every-day-I'm-alive crowd, but it frees up otherwise unprofitable weekday space for lucrative private mountain rentals, a strategy also employed by Plattekill and Pico. The mountain has also committed to opening any time there is six or more inches of new snow (and they're not already pre-booked for a private rental).
Still, most people ski on weekends, and you can still rack up a substantial enough number of days that way to justify a pass purchase. So Magic's $539 top-tier unlimited adult pass is a good value, especially compared to the $679 price last season. Other pass prices have also dropped substantially: the couples pass dropped from $629 per person to $499, the youth and senior passes from $399 to $269, and the 18-29 pass from $329 to $269. These substantially lower prices should entice more than a few waffling skiers uncertain whether to proceed with a pass purchase to commit.
Looking ahead, I would not be at all surprised to see these price points stick as a new baseline in future years. The Epic and Ikon passes are (probably) here to stay, and now that they have fully infiltrated the Northeast, independent mountains will have no choice but to drop prices to compete. Your single-mountain pass cannot be more expensive than Vail's cheapest all-access regional pass, which provides unlimited access to four New Hampshire mountains (including the venerable Wildcat), and blacked-out access to two of Vermont's largest mountains (plus Hunter if you care about that), and 10 days at Stowe. There are limited exceptions: Killington, with its sprawling mountain and nearly eight-month (some years), season, can charge more (and its passes also include access to Pico for variety). Mad River Glen is a kind of unique animal with co-op ownership that compels minimal annual spending by each member, much of which goes to season passes. Jay Peak is snowy and remote enough that it serves a specific market and a specific need as the Northeast's sole true powder keg. Most other mountains are going to have a hard time making the argument that their mountain alone is worth more than the expansive regional access available via the $599 Northeast Epic or $699 ($599 renewal price) Ikon Base Pass. Magic, for all its inherent coolness and charming rustic throwbacky atmosphere, is going to be challenged in positioning itself as more valuable than the corporate passes, but I think a commitment to the lower price points published today will help it continue to thrive.
(Even more) new passes, for first responders, large families, and locals, meet the current moment head on
Magic already had the raddest pass assortment in all the land, with midweek plus powder days, blackout (no holidays), whiteout (only holidays), Sunday-only, party (transferable), and local passes, in addition to all those enumerated above. They've added to this with a trio of new passes that offer breaks to groups who may be disproportionally affected by the shutdown, or who are contributing in an outsized way to the fight against the pandemic.
The One Big Family pass is a smart way to acknowledge the extra hardship that families with children may be feeling at the moment. For $1,735, a family of any size with children up to age 21 can ski all next season. This is still a lot of money, particularly for any family that finds one or more breadwinners unemployed, but for someone with three or four skiing-age kids and steady jobs, this can be enticing. Maybe it's an accident that the price of this is almost exactly equal to the price of two Ikon Base Passes ($699 each without the renewal discount), and two Ikon Base child passes ($169 each when purchased with adult passes by May 27), which would be good around the corner at Stratton, but with blackouts (you know, the only weekdays kids can actually ski in general, especially in the night-skiing desert of Southern Vermont). Whether that's intentional or not, the math of a Magic pass is appealing for those fortunate enough to still be able to afford such an outlay.
The new Service Pass is a class move, and is far more expansive than the Nurse Pass addition that Alterra made to their Ikon Pass yesterday, as it includes all active-duty first responders: police, firefighters, paramedics, nurses, and ER/ICU doctors. These are the people who are shouldering the bulk of the vital front-lines work in this pandemic, and this is a move that is going to win Magic a lot of fans. Even if no one else follows them on lowering across-the-board prices, look for independent resorts across the region to similarly acknowledge the efforts of the people who are actively risking their lives every day while the rest of us deep clean our coat closets and Google recipes for pumpkin-avocado-cucumber-lambchop bread. The pass also includes active duty and retired military members and their spouses.
The third new pass is for Vermont state residents, who can scoop up an unlimited Magic pass for an astonishing $289. These resident passes were formerly restricted to those with school-age children. At that price, you are well out of comparison range to the Axis of Epik/Ikon. If you ski and live in Southern Vermont, there's almost no reason not to pick this up.
Extended deadline and payment plan acknowledge economic uncertainty
Pushing the early-bird pass price deadline is the one obvious step that nearly every ski area or company in the country has already taken. This past month has been like the part of Deep Impact when you know the comet is on a collision course for Earth but you don't yet know where or when it will hit and hey maybe the nukes will save us. So everyone just needed a minute to figure out exactly what the fuck was going on. We still don't know, but we have more clarity on certain things than we did on March 15, when Magic closed for the season. And the one thing we all know for sure is that we need more time to sort this whole thing out.
Maybe June 15 will be enough time for that. Maybe not. I wouldn't be surprised to see these deadlines pushed again. The payment plan will no doubt help. I'm astonished that more ski areas haven't done this, as spreading out large payments like this is probably the number one way they can help skiers rationalize a large purchase in this uncertain moment. The two-part plan that Magic introduces here is not ideal – most ski areas that have implemented such plans are allowing customers to spread the cost of the purchase out across four payments. That the second payment is not due until September 1 does help, but a four-part plan would be more appealing for a wider range of circumstances.
Clarity around what happens if there is no 2020-21 ski season removes uncertainty
In sifting through hundreds of ski season pass offerings over the past several days, I have found almost no give in the strict no-refund policies that seem to be the industry's default posture. The lack of an articulated contingency plan in the event of a 2020-21 season cancellation was the biggest disappointment in what I thought was an otherwise strong response to the coronavirus crisis from Alterra. The Ikon Pass FAQ simply states that "At this time, all Ikon Pass destinations plan to be open for the 20/21 winter season. All Ikon Pass, Ikon Base Pass, and Ikon Base Plus Pass purchases paid-in-full are non-refundable."
Magic meets the possibility of no season directly: "Although season passes, as always, remain non-refundable, Magic will provide full credit for a new 21/22 season pass if the government closes ski areas for the season before our 20/21 opening day due to COVID-19. Some partial credit toward a future season pass will be done if the season is shut down early before February 1, 2021. Therefore, your Early Bird pass investment is protected."
This is smart. Full refunds would not, in the event of a further shutdown, be practical. Without significant and sustained government assistance, most ski areas would collapse in this circumstance. By the time the snow fell in fall 2021, there wouldn't be a ski industry left to support. While it may end up being too risky to guarantee these credits if Magic is actually forced to close and defer passes to the following season, thereby cutting into 2021-22 pass revenue, it is a goodwill gesture that should earn the ski area further support in the event that other mountains and companies cut and run with collected 2020-21 pass revenue and then charge again for 2021-22 passes.
The Indy Pass replaces the Freedom Pass
This is the part that's probably going to piss off legacy passholders the most. The Freedom Pass was a free add-on to the full-priced Magic pass that offered three comp tickets each at 18 other ski areas, including locals favorites Plattekill, Bolton Valley, and Black Mountain, N.H. While some ski areas are still advertising this benefit, Geoff told me on a COVID-focused podcast earlier this month that Magic was no longer participating, and Plattekill or Bolton Valley are no longer promoting it. The pass may be dead altogether.
What replaces it is the upstart Indy Pass. But instead of being an automatic free add-on, it's $129 upsell, and skiers get two days at each partner mountain, rather than three.
But stay with me here. The total cost of a full-priced adult pass ($539) and an Indy Pass add-on ($129) is $668, which is still cheaper than Magic's $679 full season pass last year that inluded Freedom Pass benefits. And while two days is certainly fewer than three, Indy Pass buyers get far more mountains, including the rad and underrated Berkshire East, Mt. Abram in Maine, Pats Peak, and Greek Peak. More will surely be added by the time Indy announces its 2020-21 lineup.
This splitting of the add-on benefit from the main pass price does a couple of other things as well. Number one, it acts as a de facto extra payment plan by pushing the final $129 out to September (it is not clear if there is a deadline for purchasing this add-on, but it cannot be done until the Indy Pass goes on sale Sept 1). Second, it splits out the cost for those who only want to ski Magic. The Freedom Pass wasn't really "free." Magic likely had to absorb the cost of offering comp tickets to other area's passholders somewhere, and that was probably in higher pass prices. And that leads to the third benefit – the Indy Pass is a better deal for independent ski areas because they get a payout for each redeemed ticket. I am uncertain how much this payout is, but the fact that Magic amped up their partnership is an indication that they were probably satisfied with last year's yield.
Many parts of our economy are going to undergo rapid forced change from this prolonged economic shutdown and the uncertainty and carnage that will follow. This is creative destruction in the classic sense, accelerated by crisis as these things so often are. The ski industry that emerges from this in six months or a year or two years is not going to look like the one we walked away from six weeks ago. If you want to see where it is going to evolve, there are worse places to start than the changes Magic announced today.  
---
COVID-19 & Skiing Podcasts: Author and Industry Veteran Chris Diamond| Boyne Resorts CEO Stephen Kircher| Magic Mountain President Geoff Hatheway| NSAA CEO Kelly Pawlak| Berkshire East/Catamount Owner & Goggles for Docs Founder Jon Schaefer| Shaggy's Copper Country Skis Cofounder Jeff Thompson|
The Storm Skiing Podcasts: Killington & Pico GM Mike Solimano | Plattekill owners Danielle and Laszlo Vajtay | New England Lost Ski Areas Project Founder Jeremy Davis | Magic Mountain President Geoff Hatheway | Lift Blog Founder Peter Landsman | Boyne Resorts CEO Stephen Kircher | Burke Mountain GM Kevin Mack | Liftopia CEO Evan Reece | Berkshire East & Catamount Owner & GM Jon Schaefer| Vermont Ski + Ride and Vermont Sports Co-Publisher & Editor Lisa Lynn| Sugarbush President & COO Win Smith| Loon President & GM Jay Scambio| Sunday River President & GM Dana Bullen| Big Snow & Mountain Creek VP of Sales & Marketing Hugh Reynolds |